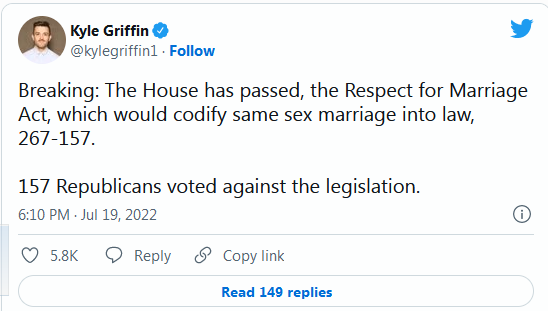 And 47 Republicans voted *for* it. Now, as NBC News points out, we need at least 10 Repub Senators to find some human dignity:
The House passed the Respect For Marriage Act Tuesday to codify legal same-sex marriage nationwide, fearing that the conservative majority on the Supreme Court will rescind the right after it overturned Roe v. Wade last month.

The vote was 267-157, with 47 Republicans supporting it.

The bill would repeal the Defense of Marriage Act of 1996, enshrine legal same-sex marriage for the purposes of federal law, and add legal protections for married couples of the same sex…

House Democrats plan to vote later this week on a similar bill to codify the right to contraception, which was established by a more liberal Supreme Court in the 1965 Griswold v. Connecticut ruling.

Rep. Mondaire Jones, D-N.Y., who is openly gay, emphasized the importance of Congress stepping in to protect same-sex marriage rights. "Imagine telling the next generation, my generation, we no longer have the right to marry who we love. Congress can't allow that to happen," he said.

Speaker Nancy Pelosi said the bill would "enshrine into law a fundamental freedom: the right to marry whomever you choose."

"As radical justices and right-wing politicians continue their assault on our basic rights, Democrats believe that the government has no place between you and the person you love," she said.

Rep. Jim Jordan of Ohio, the top Republican on the Judiciary Committee, blasted the legislation as "the latest installment of the Democrats' campaign to attempt to intimidate the United States Supreme Court."…

The legislation now goes to the Senate, where its prospects are uncertain, as it requires at least 10 Republican votes to defeat a filibuster. So far the same-sex marriage protections have only one GOP backer: Sen. Susan Collins of Maine.

The proposal has put GOP senators in a bind, caught between their culturally conservative base, which opposes same-sex marriage, and a large majority of the country that wants it to remain legal…
As I said, when Massachusetts was the first state to legalize marriage equality, it's amazing how quickly opposition ebbs when 'normal' voters discover how much the new law doesn't change anything in their own lives (except for maybe making some of their family members, acquaintances, and neighbors inexplicably happier).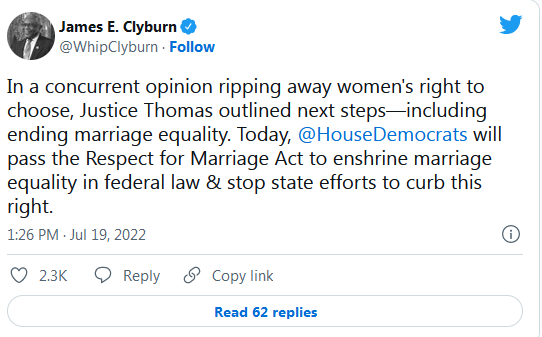 Marriage equality is a constitutional right. That's why we must pass the Respect for Marriage Act, which enshrines and protects same-sex and interracial marriages.

We owe it to families to defend their right to live freely, and prevent far-right justices from taking it away. pic.twitter.com/iG9oP6jqGn

— Rep. Ted Lieu (@RepTedLieu) July 19, 2022
Justice Thomas told us that this far-right Supreme Court is coming for marriage equality. As one of only nine openly gay members of this Congress, this attack is as personal as it gets.

Our community is counting on Congress to act. We need to pass the Respect for Marriage Act. pic.twitter.com/EGsOM53zmx

— Rep. Mondaire Jones (@RepMondaire) July 19, 2022
Actually, the Respect for Marriage Act would:
Repeal DOMA
Enshrine marriage equality for federal law purposes
Provide additional legal protections such as prohibiting states from denying recognition of an out of state marriage based on the sex, race, ethnicity or national origin https://t.co/iPt1nT1wdV

— GLAAD (@glaad) July 19, 2022