This week it's all about the heroes.
Liminal Owl sent in this act of heroism. I am totally charmed by this high schooler.
Corion Evans, 16, said he immediately ran over, took off his shoes and shirt and went into the water when he saw the car sinking and heard the three occupants shouting for help.

"I was just like, 'I can't let none of these folks die. They need to get out the water,'" Evans, a Pascagoula High School student, told Biloxi, Mississippi, ABC affiliate WLOX. "So, I just started getting them. I wasn't even thinking about nothing else."
There is a longer interview with him here – unfortunately, the station is preventing me from embedding it.
=========================
Adam sent this one:
He slammed on his brakes, turned his car around and pulled into the driveway. Then he realized he'd left his phone at his home a few miles away and couldn't dial 911.

—–

Seionna Barrett, 18, was babysitting her three siblings and her sister's friend while their parents were out on a date night playing darts. Seionna had smelled smoke and was frantically trying to wake up everyone to get them out of the house when Bostic busted through the back door.

Bostic said he hustled everyone outside — then Seionna told him the baby was missing. Bostic would soon learn she was referring to 6-year-old Kaylani, nicknamed "Baby K," who was still in the burning house.
=========================
This one happened here, not far from me:
Brighton Police credited the women at Rumors Salon & Spa in Brighton with saving a victim from a domestic violence abuser.
=========================
The timing on this from Alison Rose couldn't have been more perfect. Sending it to me yesterday; it's just the way to bring a smile. Hero kitteh! From the Dodo: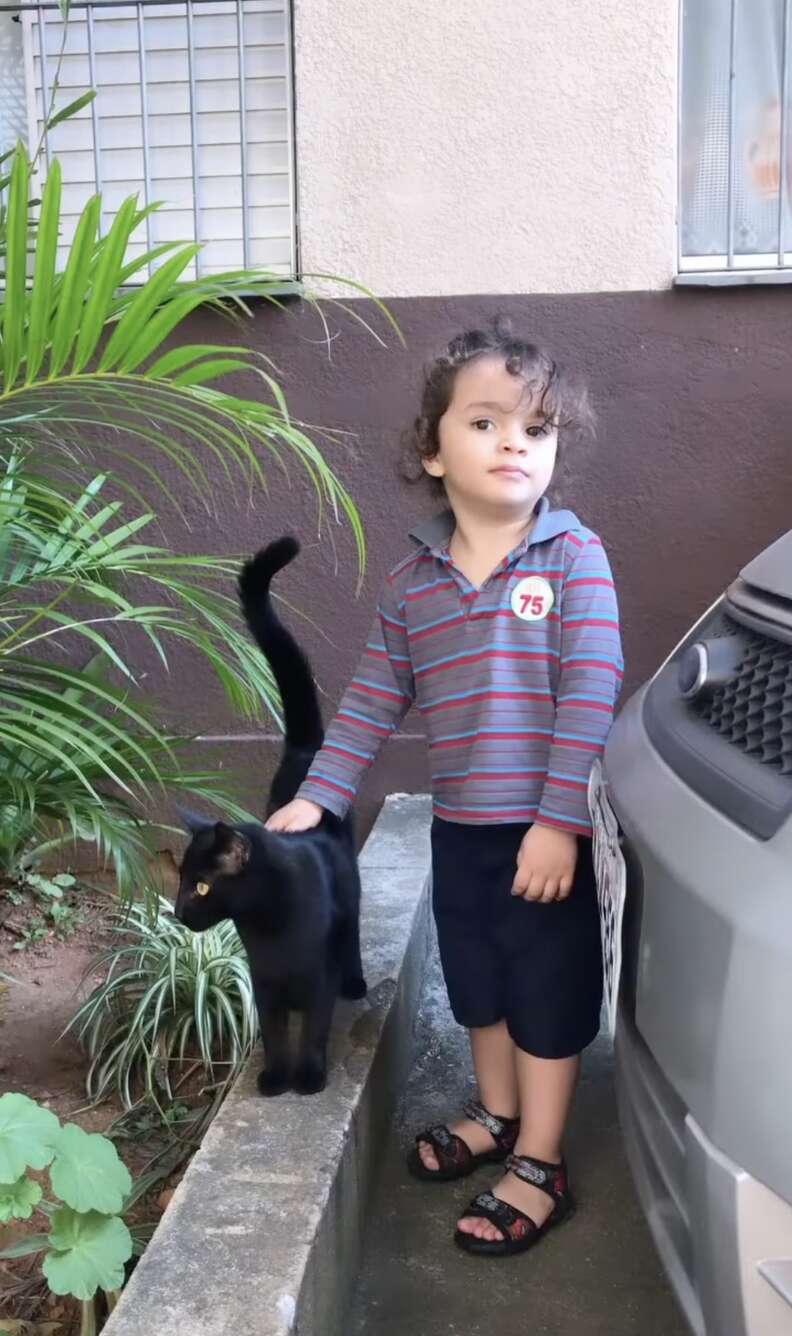 Meira's son, who'd been playing with her house keys, decided to drop them down a random hole that had formed near a walkway. (Kids, right?)

But try as Meira did, she was unable to retrieve them — threatening to strand her outside indefinitely. But then a hero appeared.

It was a friendly black cat named Pantera, who belongs to one of Meira's neighbors. With his slender paws, Pantera stepped in to help.

Here's that moment on video:
Pantera did it!

Though it did take him a few tries, the gracious cat eventually returned the keys Meira's son had dropped. She was stunned.

"If I didn't film it, no one would believe it," Meira told The Dodo. "I was surprised, because I thought he put his paw in the hole just to play, but his intention was to really get the keys. I was super happy."
As a reward for his good deed, Meira gifted Pantera a toy and gave him some treats. But he got something even more special, too.

"He won my love," Meira said. "I was already in love with cats, but now there's no question."
=====================
And finally, I know some have asked for a Frank update. My friends sent along photos with an explanation: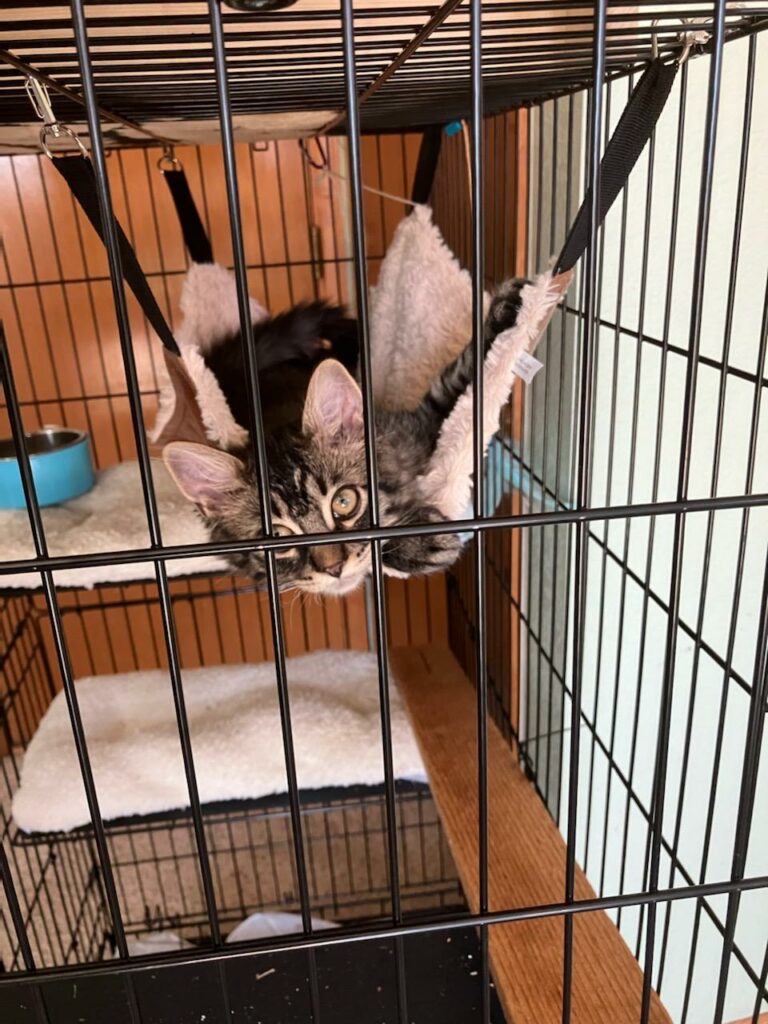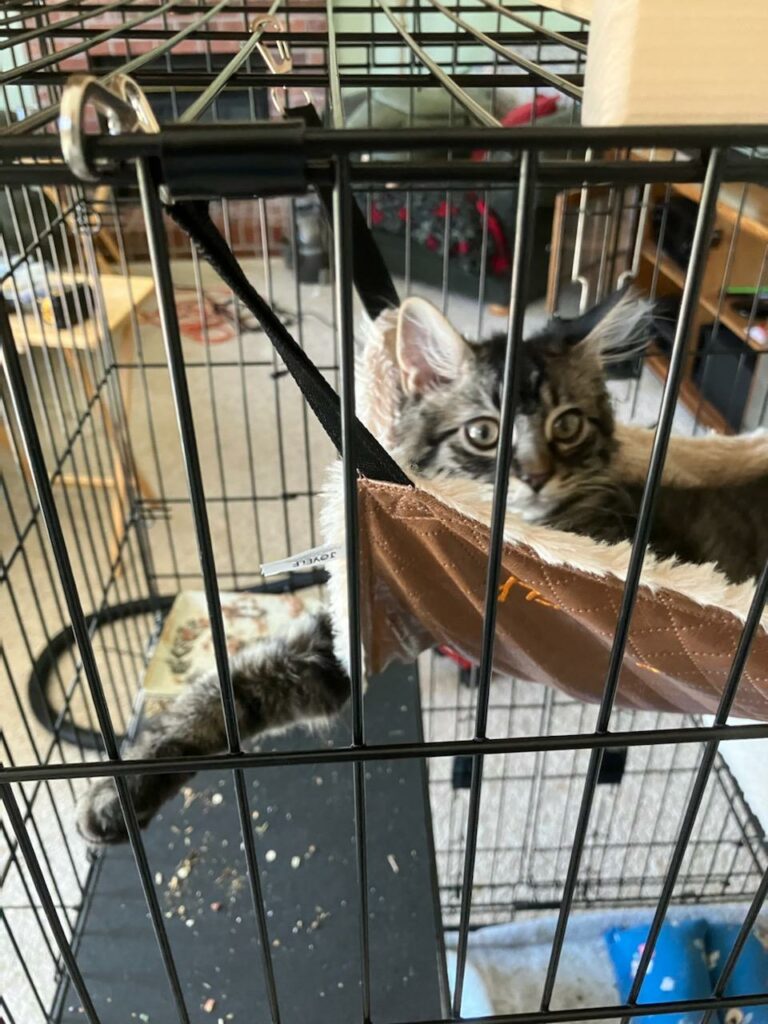 Frank was only about 2 lbs, barely, when he came to live with them, and he became obsessed with their rabbits. One of their bunnies was a cranky 10 lb male, and they were afraid if Frank got into the rabbit hutch at night, Finnegan would kill him (that big boy has bitten me, so I know he could do it, too. I still have the scar). They figured when Frank got to be bigger, it wouldn't be an issue. So they crated him at night. He didn't mind.
Unfortunately, as my friends rescue special needs bunnies, both of their sweet things passed this last month (after many happy years with my friends). Finnegan, from what they and the vet had hoped would be a slow-growing tumor, and Lil' Bit from kidney failure. I'm so glad they have Frank to help with the grieving process.
Anyway, they were going to put the crate away, it's about 6′ tall, but it turns out, nope, Frank loves it. So they added a hammock, and it's his own little castle. They took the door off, added a cubby outside on the top, and he comes and goes as he pleases in his own little cat tree-like castle.
He is a plump six pounds now and a healthy whirlwind of a kitten.  After which there is heavy napping: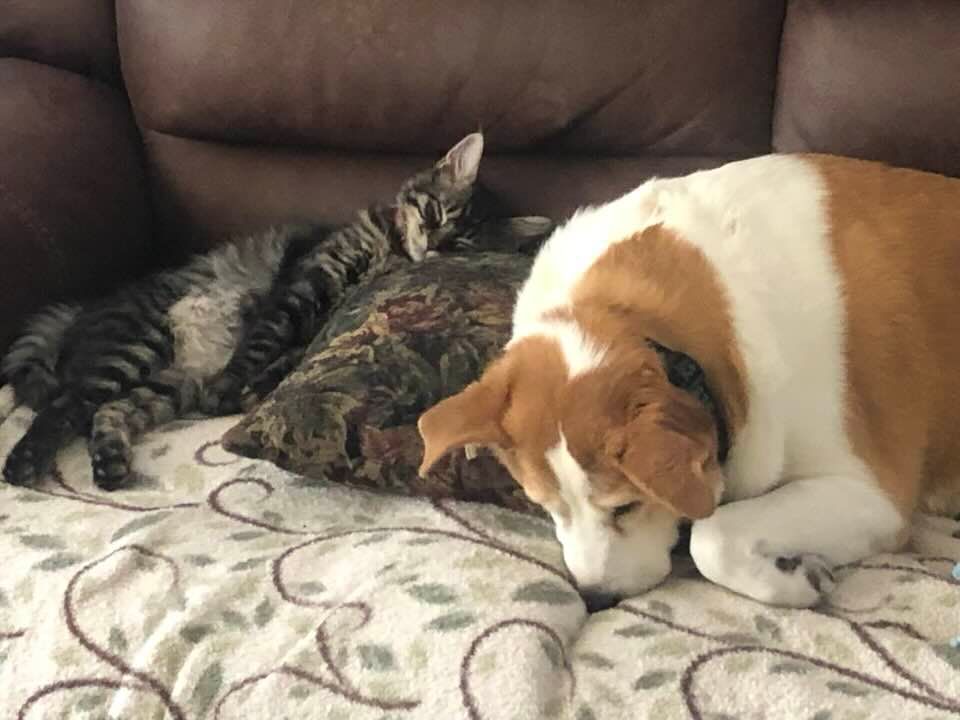 That's it for this week. I'm heading to the Chocolate Festival this weekend, barring falling into a chocolate coma, will be back with more kindness next week, LOL
Remember, kindness begins at home. Be kind to yourself today.
Thanks to everyone for sending me acts of kindness, each one brightens my day and I'm stock piling them all for future posts.