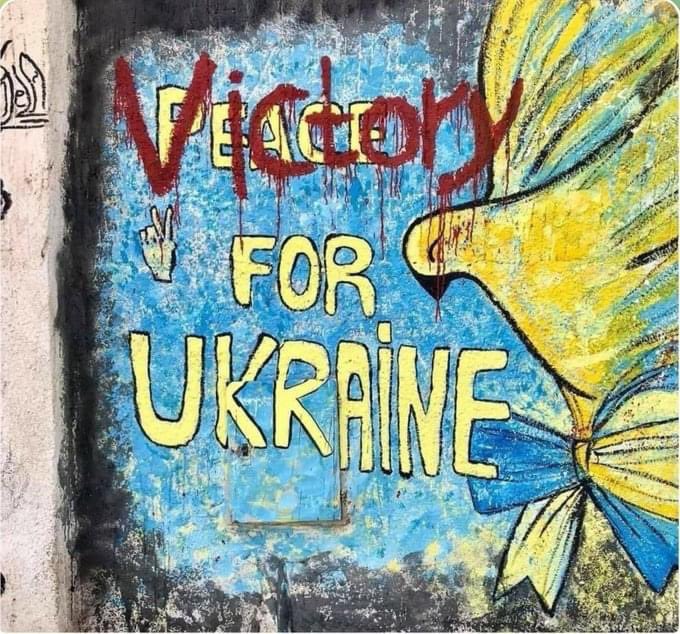 Here's President Zelenskyy's address from earlier this evening. Video below, English transcript after the jump (emphasis mine):
Ukrainians!

All our defenders!

Every day, the occupiers give new reasons for recognizing Russia as a terrorist state. Last night, they carried out a missile attack on a village in the Odesa region – 7 sea-based "Kalibr" missiles against an ordinary village. These are not cheap or simple missiles – Russia was very proud of them. And what did they hit? An ordinary rural field and a non-working farm, rural houses, outbuildings, a lyceum, a cultural center. No military sense. Just terror.

Fortunately, there were no casualties – people reacted in time to the air-raid warning signal. But six locals were injured, including a 5-month-old child. She and her mother are given all the necessary aid. These are the targets of Russian cruise missiles. And what kind of wimp do you have to be to fulfill commands for such missile strikes at peaceful villages and cities? Even fish and rapana in the Black Sea have more dignity than the officers of the Russian fleet.

Over the past day, the targets for Russian shelling were also Nikopol and other settlements of the Dnipropetrovsk region, the Kharkiv region, Mykolaiv, Kramatorsk – a cruise missile hit the center of the city, Slovyansk, Toretsk and other cities of Donbas. Many casualties, many wounded… The occupiers shelled the border areas of the Sumy region. At the captured Zaporizhzhia NPP and in Enerhodar there are new facts of terror against workers and local residents… No matter how the occupiers try to hide, the Armed Forces of Ukraine and our intelligence will ensure retaliatory strikes and our state will identify every Russian criminal who is guilty in the terror of Ukrainians.

Increasing American support for Ukraine, additional assistance to protect people from Russian terror, addressing humanitarian needs are all the tasks of the ongoing visit of the First Lady of Ukraine to the United States. Today, on the second day of the visit, a meeting at the White House with First Lady Jill Biden took place – President Biden, Vice President Kamala Harris and her husband came to greet the First Lady of Ukraine. I am grateful to the presidential couple of the United States, all representatives of the American Administration and every American family for their warmth towards our country and our people.

And I expect from this visit of the First Lady significant results for Ukraine in cooperation with America. It is important right now. There have already been meetings with Secretary of State Antony Blinken, with Samantha Power and other influential female politicians representing the government and parliamentary structures of America. Tomorrow Olena will speak in the Congress – on behalf of all Ukrainian mothers, all Ukrainian women, and it will be an important address. And I really believe that it will be heard by those on whom decision-making in the US depends.

Today I had phone conversations with three leaders. I informed President of Poland Andrzej Duda about the situation on the frontline. We discussed further steps in countering Russian aggression. I spoke with Prime Minister of Italy Mario Draghi. I thanked him for his honest and principled position in defense of our common European values. In the evening, I also spoke with the President of Côte d'Ivoire. I informed him about our efforts to counter the food crisis, which was created by Russia and which threatens the world with large-scale hunger.

The renewal of the power vertical of the state is in progress. Today I appointed new heads of regional offices of the Security Service of Ukraine in the Zakarpattia, Poltava, Sumy, Dnipropetrovsk and Kharkiv regions. I also dismissed one of the deputy heads of the Security Service of Ukraine.

I am grateful to the members of the competition commission on the election of the head of the Specialized Anticorruption Prosecutor's Office for finalizing the competition. The decision on the winner has been approved.

A new Minister of Social Policy of Ukraine – Oksana Zholnovych – was appointed as well. I expect her to be more active in explaining to people all the nuances of state social policy – specific people's rights, payment mechanisms and other opportunities provided by the state. It is also necessary to speed up the modernization of the regulatory framework for social policy, and the role of the minister in this should be significant.

It is very important that today the Verkhovna Rada of Ukraine implemented the initiative of Head of the Office of the President Andriy Yermak to set up a special commission to control the use of weapons provided by our partners. The commission included representatives of all parliamentary factions and groups.

I want to emphasize: there is no ground for any claims to our state in this regard. Our partners are fully informed about how we use the weapons provided. But in order to put an end to any manipulations of Russian propagandists and those who help them in Ukraine or somewhere else, such an additional parliamentary control tool will enter into force.

I signed another decree on awarding our warriors. 185 servicemen were awarded state awards, five of them posthumously.

Eternal memory to all those who gave their lives for Ukraine!

Glory to all who defend and strengthen our state!

Glory to Ukraine!
Ukraine's MOD posted an operational update today (emphasis mine):
The operational update regarding the russian invasion on 06.00 on July 19, 2022

Glory to Ukraine! The one hundred forty sixth (146) day of the heroic resistance of the Ukrainian people to a russian military invasion continues.

In the Volyn and Polissya directions the rotation of units of the armed forces of the republic of belarus, which are involved in covering the section of the belarusian-Ukrainian border, continues. In the border areas, aerial reconnaissance by UAVs is conducted. The threat of missile and air strikes from the territory and airspace of the republic of belarus remains.

In the Siversky direction, units of the armed forces of the russian federation continue to carry out enhanced protection of the section of the Ukrainian-russian border. The enemy fired mortars and artillery at the Mykolayivka settlements of the Chernihiv region and the settlements of Zarutske, Zhuravka, Bilopillia, and Iskryskivshchyna of the Sumy oblast. Enemy units continue conducting aerial reconnaissance.

In the Kharkiv direction, the enemy is conducting combat operations in order to hold the occupied lines. The enemy carried out shelling from artillery of various calibers, particularly in the vicinity of Rusky and Cherkasy Tyshki, Pytomnyk, Borschova, Ruska Lozova, and Chuhuyev.

Enemy combat reconnaissance in the area of ​​the settlement of Uda completely failed. The occupiers suffered losses and withdrew.

In the direction of Slovyansk, the enemy is trying to create conditions for resuming the offensive in the direction of Slovyansk. Carried out fire damage from tanks, barrel and rocket artillery near Velyka Komyshuvakha, Dolyna, Chepil, Dibrovne, Novomykolaivka and others.

After an airstrike near Husarivka, the occupiers tried to attack this settlement. Our soldiers met the enemy with heavy fire and pushed the invaders back.

In the Kramatorsk direction, the enemy fired from barrel and rocket artillery in the areas of the settlements of Bilohorivka, Bohorodychne, Kramatorsk, Raihorodok, Donetske, Verkhnyokamianske, Spirne, Starodubivka, Siversk, Dronivka and Ivano-Daryivka. Conducted an airstrike near Verkhnokamyanske.

The enemy carried out assaults near Spirne, had no success, retreated. Attempts are being made to advance in the direction of Hryhorivka, hostilities continue.

In the direction of Bakhmut, the enemy shelled the areas of the settlements of Bakhmut, Novoluhanske, Pokrovske, Vuhlehirska TPP, Vershyna, Vesela Dolyna, Yakovlivka, Berestove and Zaitseve. Airstrikes were recorded in the vicinity of the Vuhlehirska TPP, Mayorsk, Toretsk, Berestove, Soledar, Vershyna, Shumy, and Pokrovske.

Ukrainian soldiers successfully repelled all attempts of assaults in the direction of the settlements of Semihirya, Vershyna, Pokrovske and the territory of the Vuhlehirska TPP.

The enemy did not conduct active operations in the Avdiyivka, Novopavlivka, and Zaporizhzhia directions. Conducted an airstrike near Kamyanka.

In the South Buh direction, the enemy is firing from afar from tanks, barrel and rocket artillery along the contact line, conducting aerial reconnaissance by UAVs. Continues to equip additional lines of defense.

There remains a high level of threat of missile strikes throughout the territory of Ukraine, do not ignore air warning signals.

In connection with large sanitary and irreparable losses, forced mobilization measures continue in the temporarily occupied territories of Donetsk and Luhansk regions. Dissatisfaction with the actions of the Russian command is growing among servicemen of non-Slavic nationalities, who are mercilessly thrown into the most risky attacks on the territory of Ukraine.

We believe in the Armed Forces of Ukraine! Together to victory!

Glory to Ukraine!
Here is today's assessment from Britain's MOD: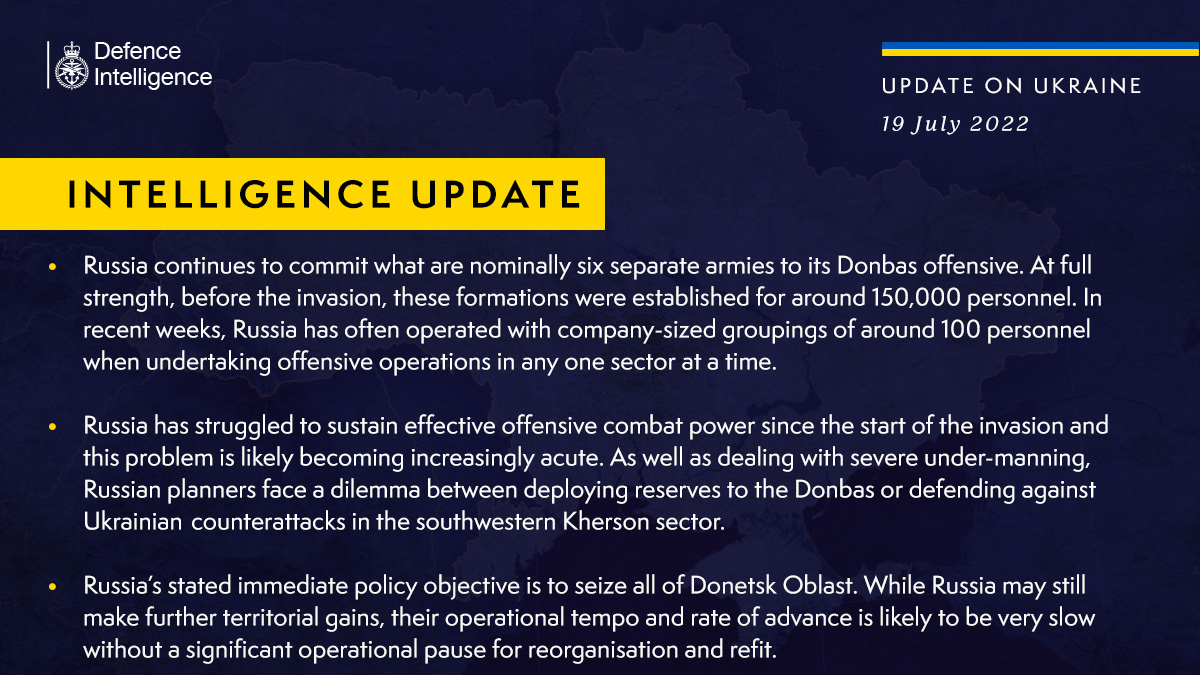 And here is their updated map for today: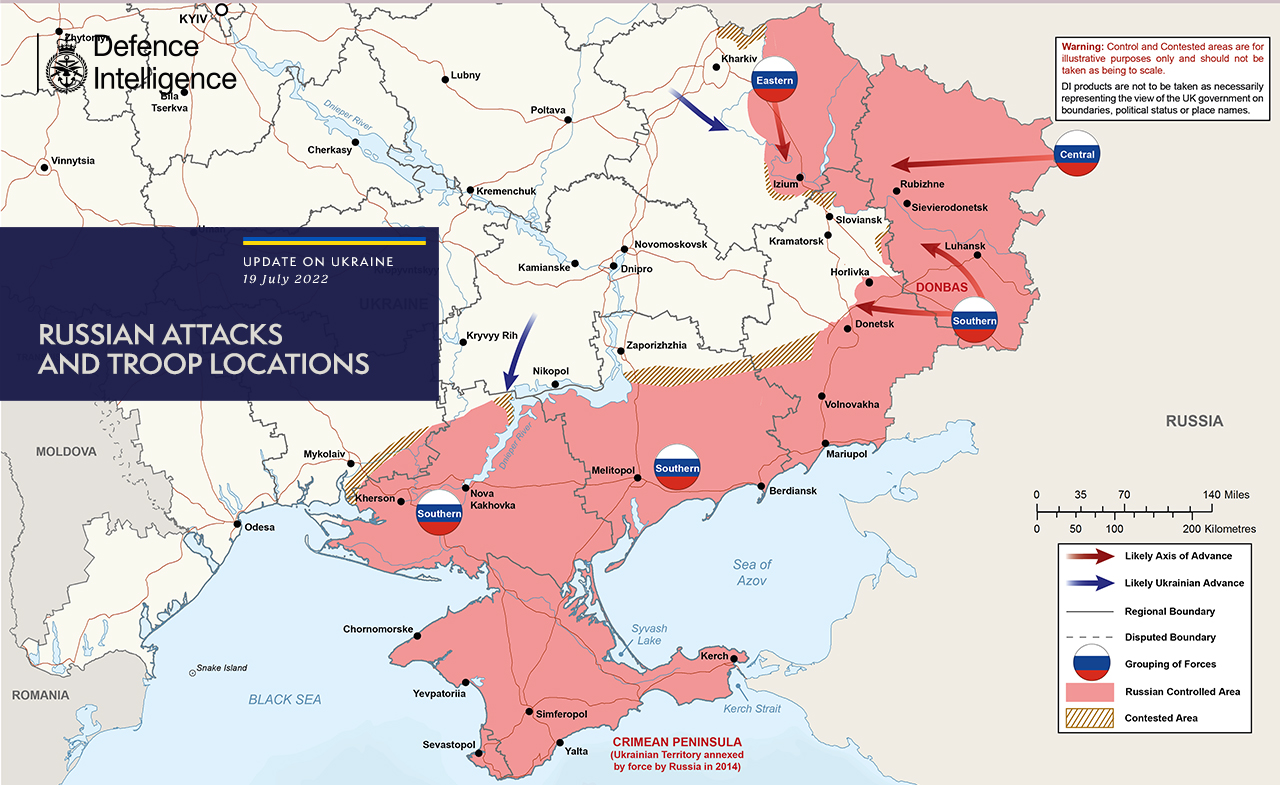 The Ukrainians reached out and touched the Antonovskiy Bridge in Kherson earlier today.
In case you haven't seen this: pic.twitter.com/zFfyfundXF

— Illia Ponomarenko 🇺🇦 (@IAPonomarenko) July 19, 2022
The Ukrainian Air Force also downed another Russian SU 35 fighter over Kherson Oblast.
Excellent work of the 🇺🇦 Anti-aircraft missile forces.

Ground air defense of 🇺🇦 "landed" another 🇷🇺 fighter jet near Nova Kakhovka.(approximately – SU-35)

Glory to Ukraine! pic.twitter.com/pRxCdbTwOY

— Ukrainian Air Force (@KpsZSU) July 19, 2022
The Kyiv Independent's Illia Ponomarenko takes a deep dive into what Ukraine's counteroffensive to liberate Kherson might look like:
One way or another, according to Ukraine's leadership, it's bound to happen.

Even though the Battle of Donbas is far from over, Ukraine is expected to open the next chapter of the war sometime in the near future — a highly anticipated, major counter-offensive operation in the south, particularly to liberate the Russian-occupied city of Kherson.

Kyiv has declared its intentions to liberate the only regional capital captured by Russia following the Feb. 24 full-scale invasion.

Experts across the world agree that retaking Kherson is the most feasible way for Ukraine to score a major victory over Russia and turn the tide of the war. As part of a counter-offensive operation, Ukraine would likely seek to block the occupied city, cut the Russian garrison off from supplies and reinforcements, and hold the blockade until Russia surrenders.

This would be a daring mission, demanding the most effective contribution of all components ranging from infantry to air defense and counter-battery activity.

Thanks to local terrain and Russian military flaws, Ukraine's plan may in fact be realistic.

But in order to carry it out, Ukraine's military would have to demonstrate excellent coordination of war power and do the difficult work of clearing the area of Russian forces, supply lines, and ammunition depots — before going in.

Ukraine lost Kherson as early as March 2, amid little armed resistance, as Ukraine's defenses in the south quickly collapsed to Russia's heavy blitz.

Now, after over 140 days of war, Russia claims Kherson Oblast is "full-fledged Russian territory," and is threatening to stage a "referendum," thereby annexing yet another Ukrainian region like it did with Crimea in 2014.

According to Ukraine's Defense Minister Oleksiy Reznikov, President Volodymyr Zelensky has already charged the military with a mission to establish a plan to de-occupy Ukraine's south, as its seaside regions are vital to the national economy.

Ukraine has already launched campaigns in Kherson Oblast as a counterweight to Russia's large-scale offensive in Donbas. As a result, Ukraine has liberated a total of 44 villages and towns, according to Ukraine's local military-civilian administration in Kherson Oblast.

But these campaigns don't have much to show for themselves. Among experts polled by the Kyiv Independent, these Ukrainian operations carried out by small groups were more attempts to probe Russian defenses and keep Russian forces away from Donbas rather than operations to make substantial territorial gains.

As of now, the 200-kilometer-long Kherson frontline bordering Mykolaiv Oblast is being held by considerably depleted parts of Russia's 49th Combined Arms Army, including elite airborne units, the 22nd Army Corps, and units with Rosgvardiya.

According to estimates, Russia may have deployed at least over 10 battalion tactical groups (BTGs) to the area.

This is likely Russia's least saturated front-line sector since Russia has given the top priority to hostilities in Donbas, where it has deployed nearly 50 BTGs within the most crucial zone between Izium and Bakhmut.

Nonetheless, Russia is beefing up its defenses in the south as Kherson becomes an increasingly obvious target for a Ukrainian counter-strike beyond Donbas. On July 12, social media users and local media in occupied Melitopol posted videos showing "an endless" Russian military column moving towards Kherson.

Recently, open-source monitors have also indicated a growing number of poorly-trained troops mobilized in occupied Donbas and deployed to Kherson, which may indicate an ongoing lack of manpower.

This is one of the favoring factors behind a potential Ukrainian counter-offensive.

"Russians are not capable of completely securing the whole duration of the giant frontline in Kherson," said Kirill Mikhailov of the Conflict Intelligence Team (CIT), an open-source investigative project.

"They can't have a wholesome line of trenches. The best they can have is strong points in certain populated areas or road junctions. In many cases, they will not be able to coordinate their actions. And Ukraine will have the opportunity of picking them off one by one."

"Nor is Russia capable of sending quick reinforcements to the area, as they would have to drastically reduce or even abandon their offensive in Donbas."

The Kherson frontline, distinct from concentrated Donbas, is rather loose and porous, which would allow Ukrainian advance parties to break through it.

"I will not be surprised if it turns out that Ukrainian scout groups infiltrate the Russian-held zone to probe their defenses and see how deep it is possible to go," said Igal Levin, a Ukraine-born Israeli defense expert.

"Ukrainian infantry has so far been good at carrying out operations in smaller units."

There are three key objectives Ukraine has to meet in order to encircle Russian troops and force them to surrender in Kherson.

Ukraine would have to impose firm control over the M14/P47 highway that runs east of Kherson and connects the city with Nova Kakhovka, one of Russia's key bases in Ukraine's southern Kherson Oblast and the site of recent attacks on Russian ammunition depots carried out with the help of newly delivered Western weapons.

It would also need to destroy two bridges across the Dnipro River, the Antonivsky Bridges, one for vehicle traffic and the other for railway, close to the town of Antonivka on the outskirts of Kherson. The two bridges currently allow Russia to reinforce its garrison in Kherson from occupied territory across the river.

Ukraine would also have to cut off the Kakhovska Hydroelectric Power Plant in Nova Kakhovka some 55 kilometers east of Kherson. The dam also serves as a bridge, along which the M14/P47 highway runs.
Much more at the link!
The Kyiv Independent also provides greater details on why President Zelenskyy fired two top officials:
Editor's Note: Prosecutor General Iryna Venediktova and Security Service Head Ivan Bakanov were fired by parliament on July 19, 10 hours after the article was published.

President Volodymyr Zelensky dropped major news on a typically slow Sunday evening, removing from office two of his staunchest allies – Prosecutor General Iryna Venediktova and Security Service Head Ivan Bakanov.

Zelensky cited the high number of suspected traitors in their agencies' ranks as the main reason for his decision.

"As of today, 651 criminal proceedings have been registered regarding high treason and collaboration among employees of prosecutors' offices, pre-trial investigative bodies, and other law enforcement agencies," Zelensky said in an address on July 17, an hour after the announced dismissals.

"Such an array of crimes against national security and connections between the employees of Ukrainian and Russian secret services pose very serious questions about the leadership of these agencies," Zelensky added.

Yet according to Ukraine's Constitution, the president lacks the powers to single-handedly fire the two officials, with their fate to be decided by a parliamentary vote.

The Kyiv Independent looks into what led to the ousting of Zelensky's top allies, what happens next, and whether their departure signals reforms.

On July 17, Zelensky signed two separate decrees removing Venediktova and Bakanov from office, in what is the biggest government shakeup in two years.

The decision came as a shock for many: Both officials are known as long-time loyal allies of Zelensky.

Venediktova has been prosecutor general since March 2020. She has repeatedly come under criticism from anti-corruption activists and the media, who point to her failure to prosecute high-profile cases and her office's role in sabotaging corruption investigations against people affiliated with Zelensky, including members of his party and administration.

Zelensky's childhood friend and long-time employee Bakanov was appointed in August 2019. Before becoming the head of the Security Service (SBU), Bakanov had no experience in public service or law enforcement agencies. He was a lawyer and a top manager at Zelensky's entertainment company Kvartal 95.

In the weeks before his dismissal, several media outlets reported that Zelensky wanted to fire Bakanov for failing to adequately respond to Russia's full-scale invasion of Ukraine.

Ukrainska Pravda reported it in early June, citing their sources in the administration and Politico echoed it later that month. Zelensky responded at the time that if he really wanted to fire Bakanov, he would have done it already.

On July 17, Zelensky removed Bakanov. The decree said the security agency chief was neglecting his duties.

Bakanov and Venediktova didn't respond to the Kyiv Independent's request for comments.

Bakanov hasn't yet said anything about the removal. Venediktova put out a cryptic Facebook post, where she appeared to hint that her dismissal wasn't final.

According to Zelensky, both were removed because of endemic treason in their agencies.

The accusation isn't a surprise. There have been signs that Zelensky is after the SBU for failures related to the invasion.

In April, Zelensky deranked two top generals of the Security Service – Andriy Naumov and Serhiy Kryvoruchko – because they "violated their oath and betrayed their homeland."

Naumov was the former head of SBU domestic security, while Kryvoruchko headed the Security Service in Kherson Oblast, where the Russian invasion was particularly successful.

According to Zelensky, more than 60 employees of the Prosecutor General's Office and the Security Service remain in areas recently occupied by Russia and are collaborating with Russians there.

On July 16, the State Investigation Bureau said that a top-level Security Service official had been arrested for leaking intelligence and classified information to the Russian special services.

Although the Bureau did not specify the name of the official, the Ukrainska Pravda media outlet identified him as Oleh Kulinich, the former deputy head of the SBU in Crimea.

"Such an array of crimes against the foundations of the national security of the state and the connections that have been recorded between the employees of the security forces of Ukraine and the special services of Russia pose very serious questions about the relevant leaders," Zelensky said.

For Venediktova the reasoning was similar, with Zelensky's spokesman Sergii Nykyforov saying that "hundreds of treason cases are in the works."
Much more at the link!
Also, John Kirby, who is now on the National Security Staff at the National Security Council, has provided an assessment on Putin's plans for Ukraine. More of the same.
NSC's John Kirby says the the US has intel that Russia is planning to annex additional parts of Ukraine, plans could include "sham" referenda, installing proxy officials, establishing the Ruble as official currency and forcing Ukrainian citizens to apply for Russian citizenship.

— Natasha Bertrand (@NatashaBertrand) July 19, 2022
Circling back to Mariupol, the citizens of that city are still at the mercy of their Russian occupiers. Ukrayinska Pravda has the details:
In the temporarily occupied city of Mariupol and its outskirts, there are four filtration centres where Russians are currently holding more than 10,000 people.

Source: the Mayor of Mariupol, Vadym Boychenko, in a briefing

Quote from Boychenko: "There are filtration centres both in the city of Mariupol and outside the city; four of them have been working all this time. Unfortunately, they have detained more than 10,000 local people."

Details: According to Boychenko, many civil servants and municipal employees are being held captive. There are no doctors in the filtration centres, so detainees are not receiving medical care.

He added that almost 2,000 men are currently being held in one of the centres. In his opinion, this is due to the upcoming mobilisation: "we understand why they are doing this. They announced that sometime in September, they would distribute these pieces of paper called Russian passports and immediately a ticket to the front."
I think that's enough for tonight.
Your daily Patron!
🇺🇦 is now one of the most mine-contaminated countries globally. 🇷🇺 landmines keep taking lives of civilians in 🇺🇦. According to 🇺🇦 officials, it may take 10+ years to clear 🇺🇦 of mines. It is an optimistic forecast, as it is hard to assess the impact on the occupied territories. pic.twitter.com/OOBZTm36bC

— Anton Gerashchenko (@Gerashchenko_en) July 17, 2022
And a new vid from Patron's official TikTok:
The caption translates into English as:
What wouldn't you do for that beautiful figure… #pespatron #patrondsns #slavaukraini
Open thread!