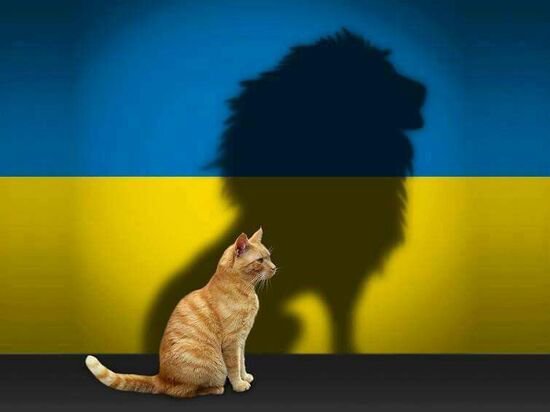 Ukraine's First Lady Olena Zelenska addressed members of both parties in Congress today:
I addressed to the USA Congress not as the first lady, but as a mother and daughter. As a part of nation, which mourn those who perished in the war. Ukraine needs modern air defense. We need to protect the sky. No child in the world should cry at the sound of falling rockets. 2/2

— Олена Зеленська (@ZelenskaUA) July 20, 2022
From Politico:
Ukraine's first lady delivered an emotional speech to American lawmakers on Wednesday, emphasizing the human toll of Russia's war on her country and pleading with Congress for more weapons.

Olena Zelenska, who addressed members of both chambers at the invitation of Speaker Nancy Pelosi, showed images of Ukrainians who have been killed, injured and displaced, in particular young children. It was an appeal to lawmakers not as politicians but as "mothers and fathers, grandmothers and grandfathers, daughters and sons."

"While Russia kills, America saves. And you should know about it. We thank you for that," said Zelenska, who delivered her address in Ukrainian. She denounced "Russia's hunger games, hunting for peaceful people and peaceful cities of Ukraine."

After thanking Congress for the tens of billions of dollars in military and humanitarian assistance, Zelenska said more needs to be done. She specifically asked for air defense systems that can intercept Russian missiles that are killing Ukrainian civilians daily, and acknowledged the upcoming August recess that will send lawmakers back to their home states for a critical stretch of the war.

"I am asking for weapons — weapons that would not be used to wage a war on somebody else's land, but to protect someone's home and the right to wake up in that home," she said. "Russia is destroying our people."

Hours before Zelenska spoke, Defense Secretary Lloyd Austin announced that the U.S. will provide four additional rocket launchers to Ukraine as part of a forthcoming package of military assistance.

Austin, speaking at the fourth meeting of the Ukraine Defense Contact Group, said the High Mobility Artillery Rocket Systems "have made such a difference on the battlefield." So far, the United States has spent roughly $6.1 billion on military aid to Ukraine.

Around 100 lawmakers attended Zelenska's speech, including top congressional leaders from both parties. She received multiple standing ovations. Rep. Bill Pascrell (D-N.J.), who was draped in a Ukrainian flag, flashed the peace sign at Zelenska as her speech was wrapping up.

"America, unfortunately, knows from its own experience what terrorist attacks are and has always sought to defeat terrorism," Zelenska said. "Help us to stop this terror against Ukrainains. And this will be our joint great victory in the name of life, freedom and the pursuit of happiness."

During her introduction, Pelosi noted that Zelenska traveled to Washington "from the heart of the war zone." Others saw her speech as a call to action.

"She's basically conveying to Congress what the human tragedy has been in Ukraine, and putting faces to it," said Rep. Michael McCaul of Texas, the top Republican on the House Foreign Affairs Committee.
More at the link!
President Zelenskyy's nightly address is after the jump. Video first, English language transcript after it (emphasis mine).
Ukrainians!

All our defenders!

I'm sure you've seen how effective the weapons provided by the partners are, especially modern MLRS. The name HIMARS has become almost native to our people – just like Javelin or NLAW, like "Stugna" or "Neptune" earlier.

And it is obvious that the next equally important name will appear from modern air defense systems, which we are requesting from partners. The representatives of our state did not stop working for a single day to obtain an effective air defense system. And we have certain agreements on this, there is certain success that allows us to destroy part of the missiles, but a completely different speed and scale of protection is required.

But everything depends, unfortunately, not on us, but on political decisions that can be made in key capitals. And that is why this topic of air defense became key today in the speech of the First Lady of Ukraine in the Congress of the United States of America. It was the first time in history that the First Lady made such an address to the Congress, and it is certainly an honor for Ukraine, for all our people.

The speech was as practical and sincere as possible – actually on behalf of all our families. Olena spoke about the victims of Russian terror and about the real opportunity for our American friends to help us stop this terror. This can be our joint victory – of the Ukrainian and American nations.

I am hopeful that the answers to our requests will be provided shortly. Russian terror must lose.

Today, I discussed the issue of increasing pressure on Russia for the war and additional support for Ukraine during a meeting with the Foreign Ministers of Austria and the Czech Republic who visited Kyiv. I thanked both countries for the assistance already provided and outlined the needs for the near future.

The Czech Republic holds the Presidency of the Council of the European Union, and it is therefore important that the Czech leadership retains all available power. During these six months, we must take basic steps to prepare for the beginning of negotiations regarding Ukraine's membership in the EU.

I also spoke with President of the European Council Charles Michel. Financial support for Ukraine is among the main topics. We are preparing for the next Ukraine-EU Summit, as well as for the institutional strengthening of our state on the path to the European Union. Soon there may be important news in this regard – we are preparing some historic decisions for our participation in the life of a united Europe.

The seventh sanctions package of the European Union is in the final stage of approval. Its elements have already been announced, including a ban on the import of Russian gold. But this is not enough, and I frankly tell my partners about it. Russia must feel a much higher price for the war so that it forces it to seek peace.

And now it is worth looking at what is happening on the European energy market. We see how erroneous the policy of some old leaders of European countries, who made Europe hostage to gas supplies from Russia, was. And while the EU does not dare include gas in the sanctions packages, Russia uses gas for its own sanctions against every European family, literally hitting the family budgets of Europeans with pressure on the energy markets.

Ukraine has always said that Russia cannot be considered a reliable supplier of gas. And if our position had been listened to earlier, there would be no need now to look for emergency ways to fill the deficit that Russia is artificially creating on the European market.

When we turn to our partners with this or that request, with this or that advice or demand, it is based on the experience of Ukraine – on what we have already experienced. Russia is testing in Ukraine everything that can be used against other European countries. It started with gas wars and ended with a full-scale invasion, missile terror and burned cities of Ukraine. And so that this does not happen to anyone else, we must ensure a tangible joint victory over Russia in Ukraine. The sooner this is done, the less damage and suffering will be experienced by all European families, all European countries.

Therefore, after the approval of the seventh package of sanctions, it will be necessary to immediately start working on the eighth. Therefore, it is necessary to increase the supply of modern weapons to Ukraine, to provide our state with effective air defense.

We will do everything so that our partners have this understanding and for it to never weaken.

I am grateful to everyone who helps Ukrainians on the way to victory!

I am grateful to everyone who defends our country!

Glory to Ukraine!
Ukraine's MOD posted an operational update earlier today (emphasis mine):
The operational update regarding the russian invasion on 06.00, on July 20, 2022

Glory to Ukraine! The one hundred forty seventh (147) day of the heroic resistance of the Ukrainian people to a russian military invasion continues.

There are no significant changes in the enemy's activity in the Volyn, Polissya, and Siversky directions. The enemy shelled the areas of Mykolaivka, Chernihiv oblast, and Volfyne, Yastrubyne, and Pavlivka, Sumy oblast, with barrel and jet artillery.

In the Kharkiv direction, the enemy carried out fire damage in the areas of Mospanove, Petrivka, Ruski Tyshki, Bazaliyivka, Pechenigy, Tsyrkuny, Pytomnyk, Dementiyivka, Korobochkyne and Prudyanka settlements.

In the Slovyansk direction, shelling from tanks and artillery was recorded near Dolyna, Krasnopill, Kostyantynivka, Chepil, Husarivka, and Adamivka.

In the Donetsk direction, the aggressor shelled the areas of Kramatorsk, Siversk, Serebryanka, Hryhorivka, Verkhnokamianske, Spirne, Ivano-Daryivka settlements with barrel and rocket artillery. Conducted an airstrike near Verkhnokamyanske. Conducts assault operations in the direction of Ivano-Daryivka, hostilities continue.

In the Bakhmut direction, the occupiers are conducting combat operations with the aim of creating conditions for an offensive on the city of Bakhmut and taking over the territory of the Vuhlehirska TPP. Shelling was carried out from barrel and rocket artillery and tanks in the areas of the settlements of Berestove, Bilohorivka, Yakovlivka, Pokrovske, Soledar, Bakhmutske, Bakhmut, Vesela Dolyna, Kodema. The enemy carried out airstrikes on Berestove, Yakovlivka, Bakhmut, Vershyna, New York and Pokrovsky.

Fighting continues in the direction of the settlements of Berestove, Vershyna and Novoluhanske.

On the Avdiyika, Novopavlivka, and Zaporizhzhia directions, shelling was noted in the areas of the settlements of Novobakhmutivka, Vuhledar, Novopil, Poltavka, Hulyaipole, Kamianske, and a number of others. The enemy launched an airstrike near Avdiyivka.

Conducted combat reconnaissance in the area of ​​Novoselivka Druga and advanced in the direction of Mykilske, had no success, withdrew.

The enemy maintains a high intensity of reconnaissance with unmanned aerial vehicles in the South Buh direction. In the waters of the Black Sea, there are three Kalibr cruise missile carriers outside the base points. Reciprocal shelling from barrel, rocket artillery and tanks continues along the entire contact line. The enemy launched missile and air strikes in the area of ​​Murakhivka. There is a shortage of ammunition, food and water in the enemy units.

According to the available information, the command of the Northern Fleet of the russian federation is taking preventive measures in connection with the very low level of military discipline in the units involved and planned to be involved in hostilities on the territory of Ukraine. Drunkenness and disobedience to commanders' orders flourish.

Ukrainian aviation and missile artillery units continue to successfully fire missions at enemy command posts and logistic support bases.

We believe in the Armed Forces of Ukraine! Together to victory!

Glory to Ukraine!
Here's some of what Ukraine accomplished with its strike on the bridge in Kherson yesterday:
A Ukrainian strike takes out a very expensive advanced Russian air defense radar Podlet-K1 in Lazurne, the Kherson region, which is over 80 kilometers away from the frontline. They are used to designate targets for S-300s, S-400s and things like that. pic.twitter.com/D2M7dBflPn

— Illia Ponomarenko 🇺🇦 (@IAPonomarenko) July 20, 2022
And the Ukrainians struck again earlier this evening (local time):
Fresh Ukrainian strikes in Kherson Oblast.
The night comes down. pic.twitter.com/S7FrhRuPPh

— Illia Ponomarenko 🇺🇦 (@IAPonomarenko) July 20, 2022
Here is the British MOD's assessment for today: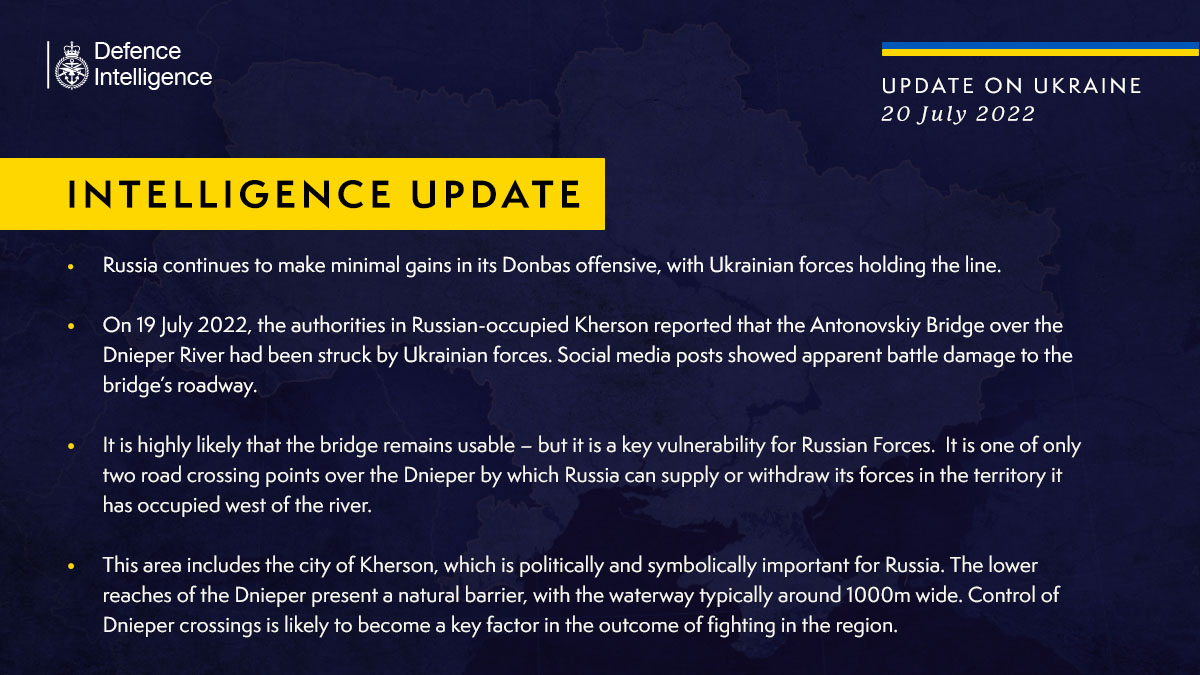 And here is their updated map for today too: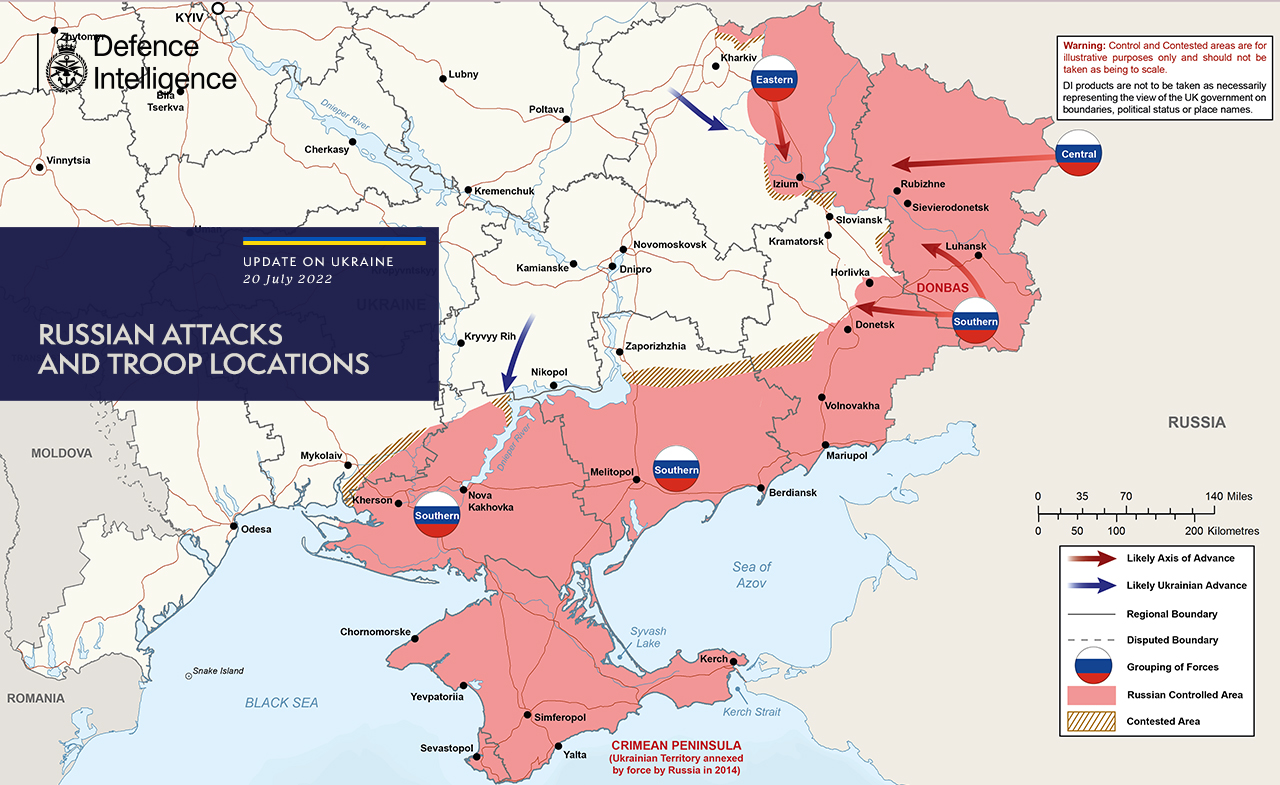 In the comments last night, YY_Sima Qian asked an interesting question about the macro level maps posted by British intelligence that I repost here every night:
@ Adam. The UK MOD map is showing the Russian forces have pushed the territories it occupies further NW from Kherson? That goes against what we are hearing about Ukrainian counteroffensives there over the past several weeks. If anything, the contested zone has shifted much closer to Mykolaiv, but we hanger heard of any Russian offensives in the South, so what gives?

Or maybe the older UK MOD maps were wrong in this sector. Having an almost perfect trapezoidal shaped area under Ukrainian (or Russian, for that matter) control, & the closes point almost on the outskirts of Kherson, never made much sense to me. The currently drawn battle line is much more in line w/ what one would expect in a largely stalemated front.

Here is the UK MOD map on 7/14, for reference. Ukrainian controlled territories were almost to Kherson itself.
The link that YY_Sima Qian included is dead and I don't have a saved 14 JUL map, but the map below is from 13 JUL: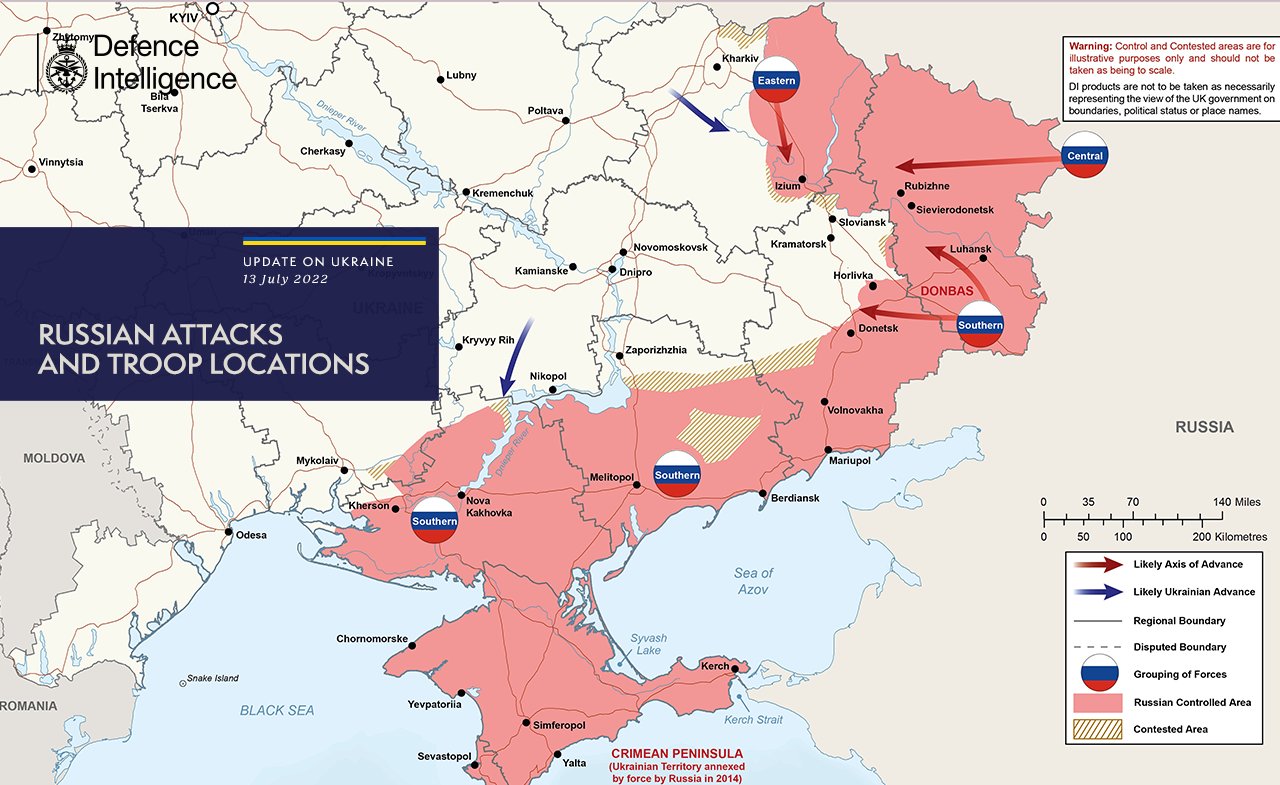 I think there are several things going on here including the fact that much of the non Ukrainian war correspondents in country covering the war are still overly focused on the battle in Donbas and not what is going on in Kherson. This over saturation in the east means we have not getting enough quality open source reporting from Kherson and Mykolaiv Oblasts. I think the other major issue is that while the Russian military is still not performing at any level of efficacy that anyone would've expected prior to the re-invasion, the Russian military leadership have explicit orders to take the south all the way to Odesa. And they're smart enough to pay attention to the reporting on the current low intensity, but heating up, Ukrainian counteroffensive to push them out of the region. As a result they've been reinforcing their own positions and doing what they can to get their own lines sorted out all the way to Mykolaiv. Especially given Russia's recently restated objective:
This has not exactly been a secret. When peace talks with Ukraine collapsed in the spring, Putin made it clear he saw no prospect for a peaceful settlement and appeared determined to capture as much Ukrainian territory as possible.https://t.co/CPNKgCVga7

— max seddon (@maxseddon) July 20, 2022
I think the macro level revisions we're seeing on the British maps is the result of these overlapping items.
At the same time, the partisan resistance in Kherson is still active:
These resistance leaflets are especially impressive bc drawn. People keep making the life of the occupiers a living hell despite enormous danger they are facing. "There will be no referendum, but will be the trial in the Hague", "Kherson is Ukraine". Pure bravery & courage pic.twitter.com/yS19zi8RRQ

— Olena Halushka (@OlenaHalushka) July 19, 2022
Russia is continuing its active measures and Information Warfare campaign against Ukraine. Vice has the details:
Russian government hackers tried to trick Ukrainian and international volunteers into using a malicious Android app disguised as an app to launch Distributed Denial of Service (DDoS) attacks against Russian sites, according to new research published by Google on Tuesday.

Since the beginning of the Russian invasion, Ukraine has resisted not only on the ground, but also online. A loose collective of technologists and hackers has organized under an umbrella quasi-hacktivist organization called the IT Army, and they have launched constant and persistent cyberattacks against Russian websites.

The Russian government tried to turn this volunteer effort around to unmask Ukrainian hackers, in a smart, but ultimately failed attempt.

"This is interesting and new, and [Russian government hackers] sort of testing the boundaries again, and trying to explore different things. The Russian groups definitely keep us on our toes," Shane Huntley, the head of the Google research team Threat Analysis Group, told Motherboard in a phone call.

Huntley said that in recent years, Russian hackers have done hack and leaks, supply chain hacks, and now fake apps. "There's this constant evolving of them not sitting on one particular attack path, but actually trying different things and evolving their techniques and seeing what works. Not all of their attempts work and not all their approaches do, but there's considerable innovation in the ways and things they're trying and it looks almost like an experimental mindset to me."

Google researchers wrote in the report that the app was created by the hacking group known as Turla, which several cybersecurity companies believe works for the Kremlin. Huntley said that they were able to attribute this operation to Turla because they have tracked the group for a long time and have good visibility into their infrastructure and link it to this app.

The hackers pretended to be a "community of free people around the world who are fighting russia's aggression"—much like the IT Army. But the app they developed was actually malware. The hackers called it CyberAzov, in reference to the Azov Regiment or Battalion, a far-right group that has become part of Ukraine's national guard. To add more credibility to the ruse they hosted the app on a domain "spoofing" the Azov Regiment: cyberazov[.]com. 
Much more at the link!
It is important for all of us to keep in mind that Russia is not going to be slowing down or backing off its Information Warfare efforts. They will continue targeting Ukrainians in Ukraine, Americans, citizens of the EU and/or NATO member states, as well as non-EU and non-NATO member states. In the case of the US, this will be part of the ongoing campaign that is going to continue to ramp up as we approach the midterms this Fall.
The Russians are trying to get us to tear ourselves apart," Mr. Wray said. "The Chinese are trying to manage our decline, and the Iranians are trying to get us to go away.
In news that will be of utmost importance to our Patron fans, the Ukrainian EOD personnel sent to de-mine Snake Island have recovered a cat that had been living under Russian occupation:
Ukrainian Defenders de-mined Zmiinyi (Snake) island. They found a lot of weapons there as well as personal documents and electronic information carriers – all abandoned by Russia – @DI_Ukraine

Our Warriors also evacuated a cat that spent several months in occupation pic.twitter.com/ly0BcUYAeW

— Anton Gerashchenko (@Gerashchenko_en) July 20, 2022
I think that's enough for one night, so we segue from a Ukrainian cat rescued by Ukrainian EOD to everyone's favorite Ukrainian EOD officer. Your daily Patron!
I'm a Birthday boy today. Three happy years🎉🐶 I wish I'll be alive in the day when one stupid dictator will die. Or two. Long life I have to live 😆 #Patron #dogsoftwitter #sapperdogpatron pic.twitter.com/fpEDSyuUXk

— Patron (@PatronDsns) July 20, 2022
I accept gifts in the form of positive thinking, smiling and donations. Today, I'm collecting feed for animals from shelters. @UAnimalsENG will help me. PayPal: [email protected] https://t.co/l6oDcY8fGp pic.twitter.com/D4PVC8fh9d

— Patron (@PatronDsns) July 20, 2022
Party hard with Tom 😆 pic.twitter.com/5aXgZvS8sW

— Patron (@PatronDsns) July 20, 2022
And birthday video from Patron's official TikTok!
The caption translates as:
Today I am 3 years old! #pespatron #patrondsns #slavaukrain
Open thread!