Recommended soundtrack (and special thanks to the HBO Max series "Hacks" for reminding me that this song exists):
There are more consequential takeaways from last night's January 6th committee hearing, but here's a meme that really needs to stick to the pencil-necked poser Josh Hawley: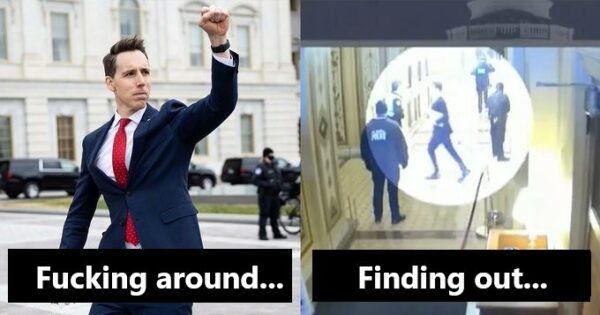 Former DC cop Michael Fanone had thoughts:
I talked to former D.C. police officer Michael Fanone outside the #Jan6thHearings.
Here is his response to seeing video of Sen. Josh Hawley running away from rioters after fist bumping them earlier in the day on Jan. 6 :

"Josh Hawley is a bitch", said Fanone. https://t.co/qgCPHcVh1r pic.twitter.com/rTJoJywgY3

— JC (@JCWhittington_) July 22, 2022
Neither Trump nor his loyalists have ever come out of a January 6th hearing looking good, but last night's edition seemed designed to skewer them harder than previous episodes — as if the Cheney propensity for shooting people in the face had been adopted as a theme. I was there for it.
Like the humiliating outtakes:
"I don't want to say the election is over," Trump says in outtakes from his speech on Jan. 7. "I just want to say Congress has certified the results." Ivanka Trump, who is not seen but heard in the background, helps him make revisions in real time. pic.twitter.com/cCfnyWKgLo

— Kaitlan Collins (@kaitlancollins) July 22, 2022
Big Bill-O "fuck it — I'll do it live!" energy at the end.
Open thread.