Since Rep. Jeffries is considered Not A Fan of Performative Outrage, I checked his twitter feed. He's also too busy doing his job to waste time on time-wasters, I guess…
Senate Republicans stole two Supreme Court seats from Democratic Presidents.

Then express fake outrage when the legitimacy of the Court's extreme majority is questioned.

Get lost.

— Hakeem Jeffries (@RepJeffries) July 25, 2022
I've got my hopes for the future, though! (I am as big a Pelosi fangrrl as any, but when she's ready to go, the lady deserves a long and happy retirement)
After Pelosi retires she's going to be replaced with Hakeem Jeffries, and once you're introduced to him you're really going to miss Pelosi's diplomacy and gentle touch when dealing with internal party divisions.

— Beast Physics Knower (@agraybee) July 2, 2022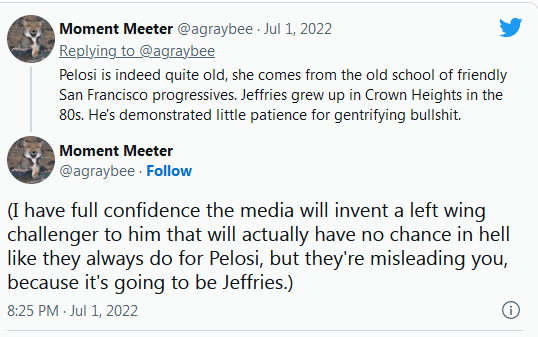 I truly believe that many don't understand just how often Speaker Pelosi has willingly, and even cheerfully, taken the hits from both the left *and* the right to protect her caucus. Not to mention that she fundraises for the DCCC at something like twice the level of any Dem.??

— Alexandra?? (@nycbubbles) July 2, 2022

'Brooklyn voter / podcaster' stereotype: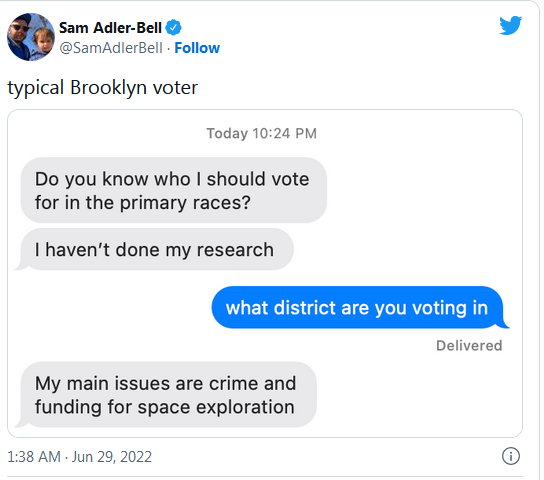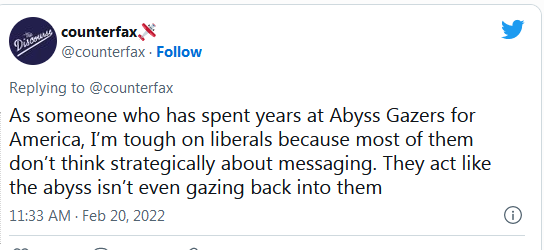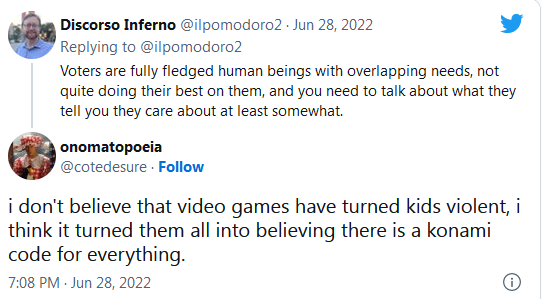 (Konami code: Up, Up, Down, Down, Left, Right, Left, Right, B, A. It's called the Konami Code, and it often meant the difference between life and death in a video game back in the 1980s. Perform those button presses in the right sequence, and you'll unlock cheats that help you win…. )
Sensible, upbeat closer:
Opinion by Paul Waldman: Don't get mad at 'weak' Democrats. Instead, get organized.https://t.co/FIBk1zy4j6

— The Washington Post (@washingtonpost) June 28, 2022
… But now liberals and progressives have to ask themselves: What are we going to do with our anger?

There's a lot they can do. But the worst response — one that is common in some quarters of the left — is to say that because congressional Democrats are feckless and weak, there's no point in voting for them.

This is a moment when the left has to look at the success the right just achieved, and learn some lessons from it.

Here's the first lesson: You know who never stopped voting? Those antiabortion activists who are now celebrating, and planning new legislation to make abortion illegal nationally, to ruthlessly punish any woman (or girl) who tries to get one, and anyone who helps her.

That's not because they had faith in Republican officeholders. They didn't. They knew they had to push them and prod them and threaten them. And a lot of the time, those politicians held their movement at arm's length. Until Donald Trump, a succession of Republican presidents refused to appear in person at the annual March for Life in Washington, because they worried about the optics of seeming too close to the antiabortion cause…

Yet the antiabortion base never stopped voting. These activists and voters knew it was the minimum they had to do — absolutely necessary, but not nearly sufficient…

It's because of all this that Republicans achieved this extraordinary victory even though they never succeeded in persuading the public to agree with them. While they would certainly like to have most Americans on their side, their strategy was constructed such that it isn't actually necessary.

Liberals have to learn from this history. When you lose, you have to ask why and how it happened. And if you're angry at weak Democrats, figure out how to make them stronger. If a Democrat says, "Give us two more Senate seats and we can pass a bill codifying abortion rights nationally," they're not wrong — so make them do it.

To repeat, voting is the absolute minimum liberals have to do, and they absolutely must. Not only that, a huge number of races up and down the ballot bear directly on abortion rights: governors, attorneys general, state representatives, prosecutors, judges, county councils, referendums — almost too many to mention.

So yes, you have to keep voting if you want to restore abortion rights. And if you don't think Democratic leaders are getting the job done? Just remember, it's not up to them alone. It's up to you, too.