On the Road is a weekday feature spotlighting reader photo submissions.
From the exotic to the familiar, whether you're traveling or in your own backyard, we would love to see the world through your eyes.
Albatrossity
On the Road Again!
We spent the third week of May this year at the Hutton Niobrara Ranch Wildlife Sanctuary, a former ranch now operated by Audubon of Kansas, dedicated to wildlife conservation, and about a 6-hour drive from home base in Manhattan KS. We had been there a couple of times previously, in July and again in October (previously chronicled here) during the pre-vaccine period of the pandemic in 2020. This was a chance to see the Nebraska Sandhills in springtime, as well as an opportunity for E to use her chainsaw and help clear invasive eastern red cedars from the prairies. This installment and the next one will showcase some pictures from that week.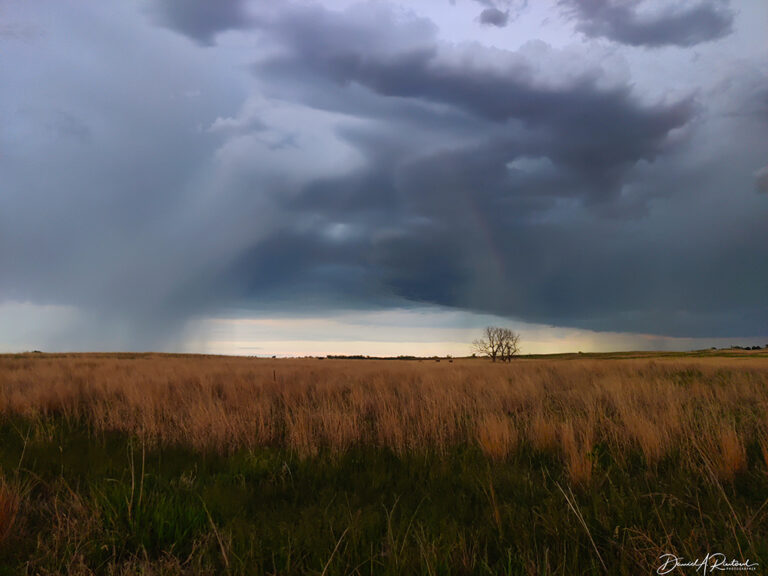 Nebraska Sandhills
May 27, 2022
First let's take a look at the landscape and the meteorology. On our previous July trip we were treated to a stunning lightning show from a supercell (aka mothership) cloud. This time was not as spectacular cloud-wise, but the lightning storm off to our southeast continued into the wee hours of the morning. A faint rainbow here, but mostly just clouds, sky, and a sea of grass.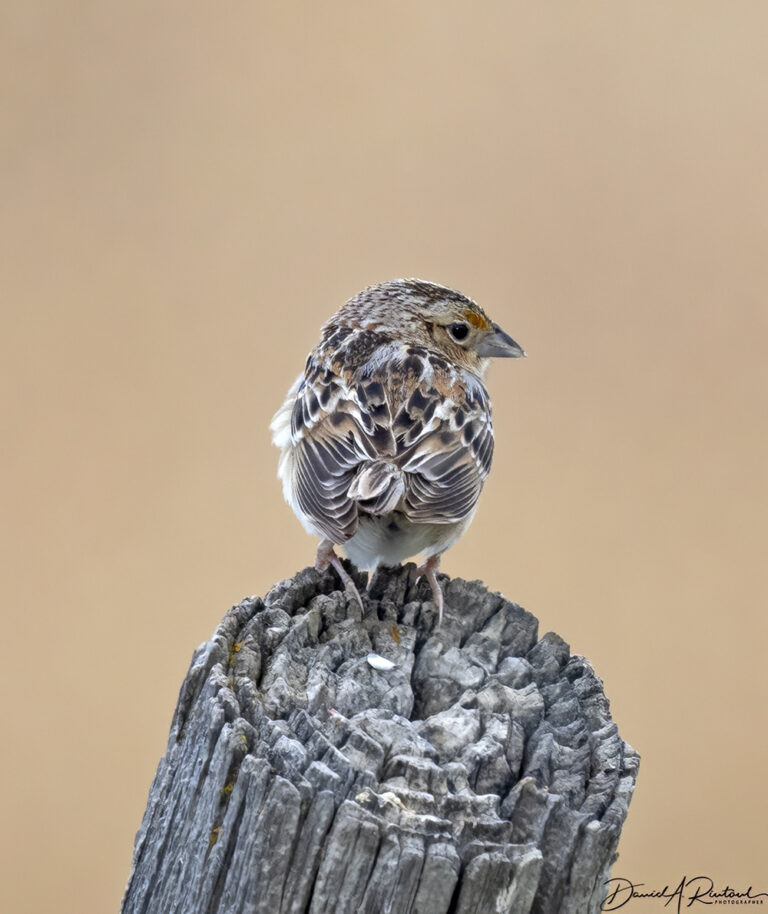 Nebraska Sandhills
May 24, 2022
One of the iconic denizens of these grassy seas is the Grasshopper Sparrow (Ammodramus savannarum), which sings its insect-mimicking song from fenceposts all summer long. I really liked how this rear view of the tail and wing pattern is reflected in the rings of that ancient fencepost.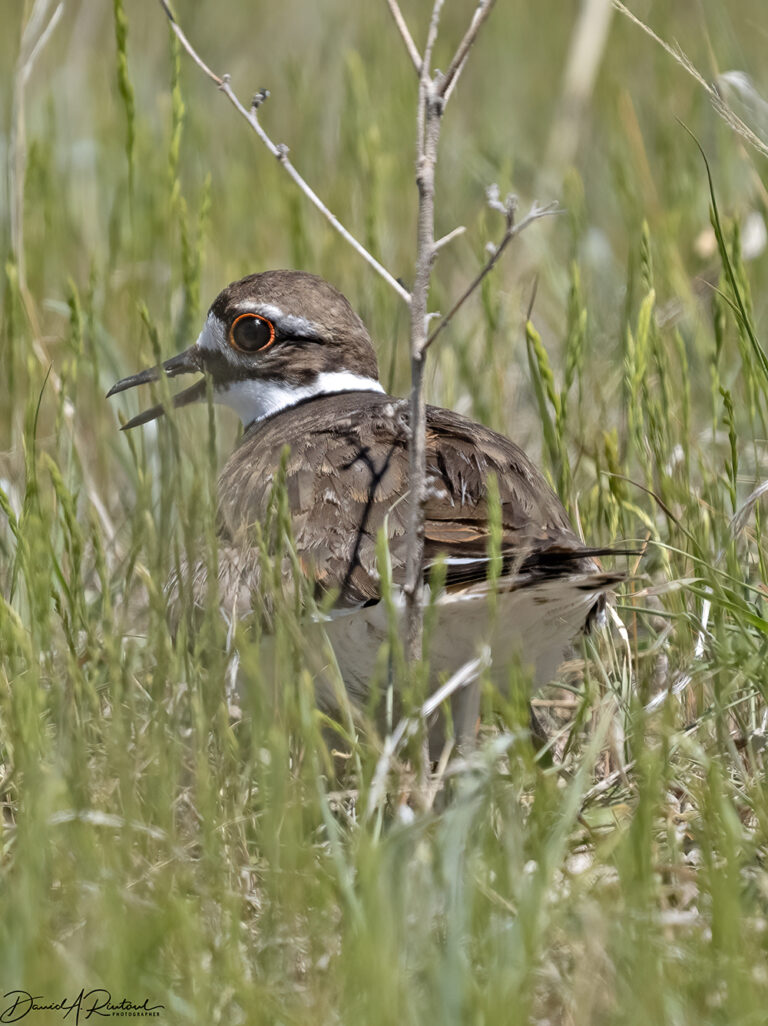 Nebraska Sandhills
May 27, 2022
Most of the birds had recently returned to this part of Northern Nebraska, and all of them were busy singing, displaying, and nesting. This Killdeer (Charadrius vociferus) was on eggs just a short distance from a dirt road, and did not want to move from there on a hot afternoon.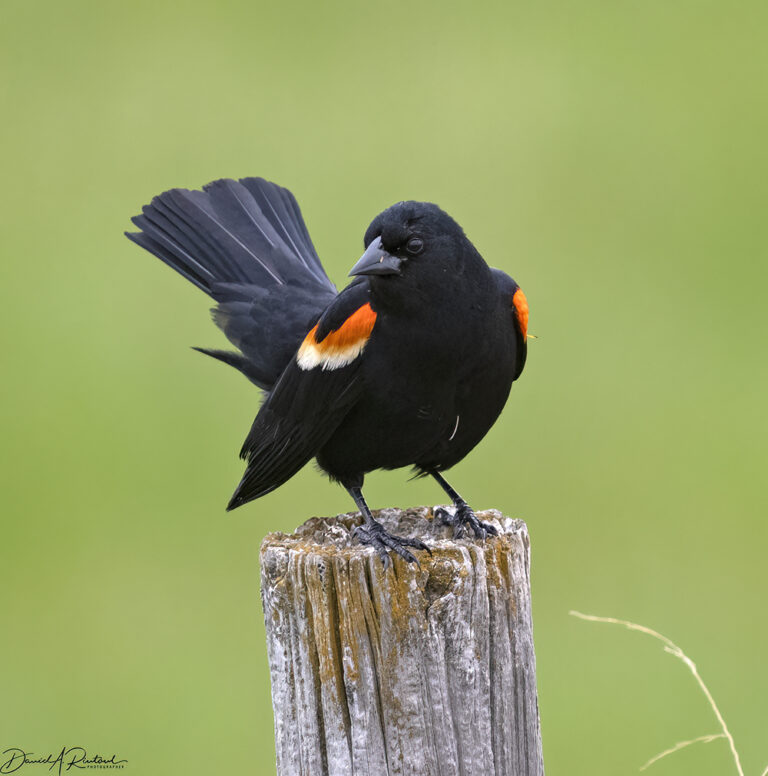 Nebraska Sandhills
May 24, 2022
This part of the Nebraska Sandhills, like most of the northern Great Plains, hosts an abundance of Red-winged Blackbirds (Agelaius phoeniceus) in the summer. There was one of these handsome male blackbirds on just about every second fencepost adjacent to some of the lusher prairies.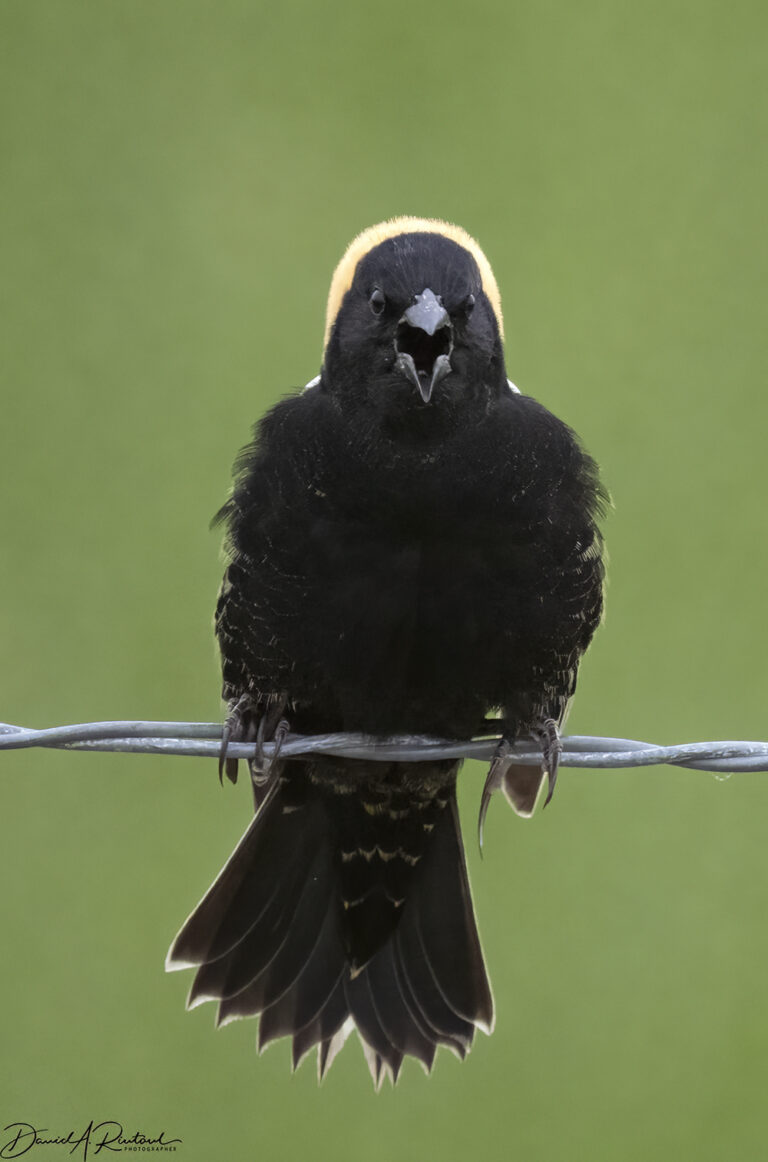 Nebraska Sandhills
May 24, 2022
Another spectacular icterid, and one that is not found in my part of Flyover Country, is the Bobolink (Dolichonyx oryzivorus). The translation of that tongue-twisting scientific name is "rice-eating longclaw"). No rice in this image, but the long claw is pretty obvious! Their unique song is one of the best bird sounds in North America, in my opinion.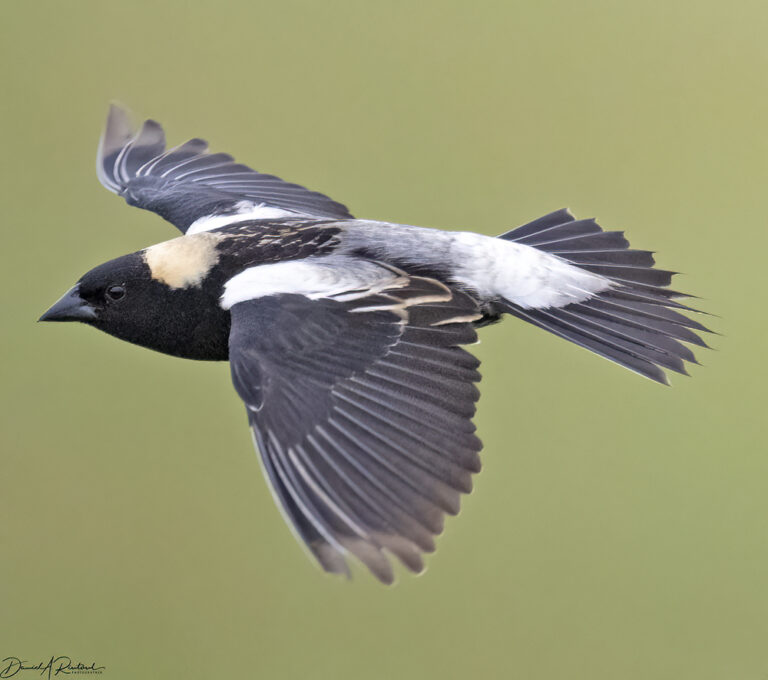 Nebraska Sandhills
May 24, 2022
One of my goals on this trip was to capture some images of male Bobolinks in flight. They are unique among North American birds in having a dark belly and lighter tones on the back and neck, and I wanted to see how that looks in a flight shot. Many animals (not just birds) have the opposite pattern (light belly and dark back), aka countershading. Here's an interesting paper that discusses the evolutionary aspects of countershading and reverse countershading.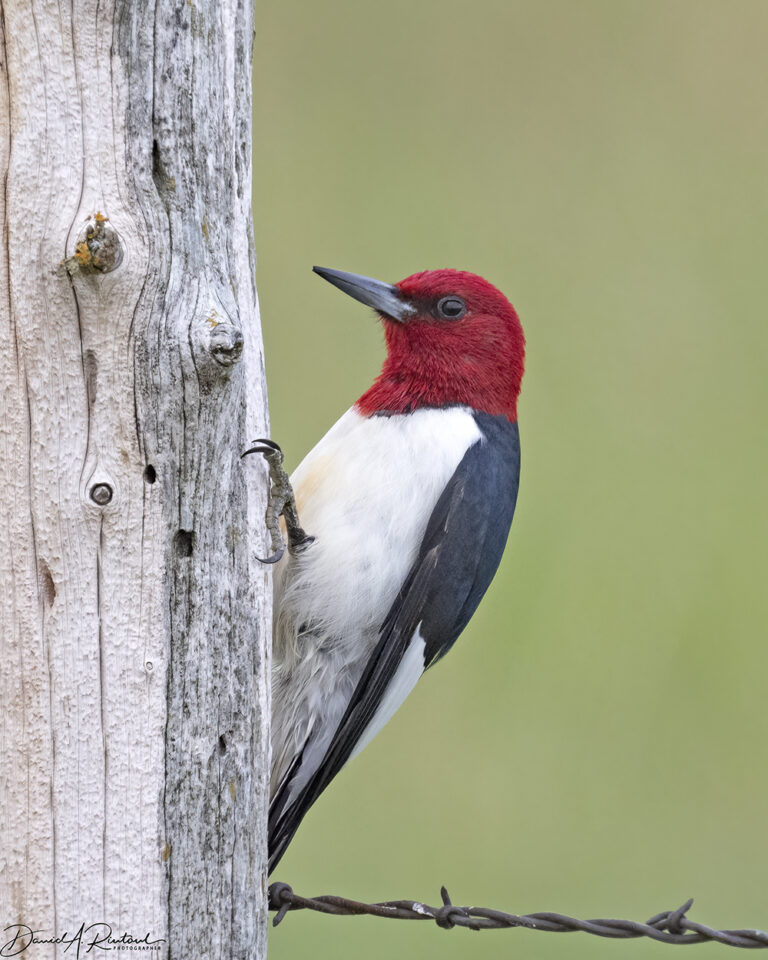 Nebraska Sandhills
May 24, 2022
An excellent example of standard countershading is this Red-headed Woodpecker (Melanerpes erythrocephalus), another abundant resident of this part of Flyover Country. Brilliant white ventrally and deep blue-black dorsally, this guy was busily extracting some sort of beetle larvae from the fencepost.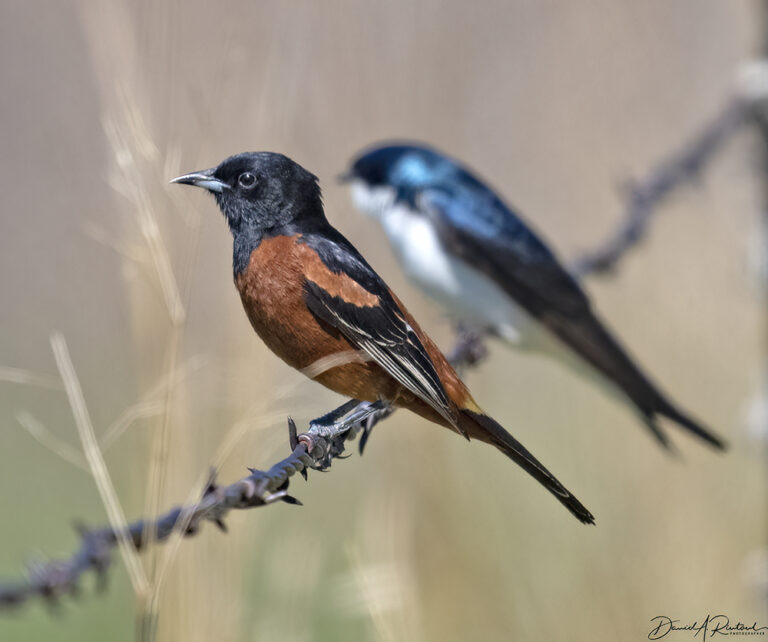 Nebraska Sandhills
May 26, 2022
The prairies here are interspersed with cottonwood groves, and cottonwood trees are common nest sites for the two species in this shot. One, the Tree Swallow (Tachycineta bicolor), nests in cavities that are often old nest sites excavated by Red-headed Woodpeckers, and the other, the Orchard Oriole (Icterus spurius) builds a hanging pouch-like nest suspended from a fork in the cottonwood twigs. It is not unusual to see these two species in the same area, but it is a bit unusual to see them perched together, so I was happy to get this shot.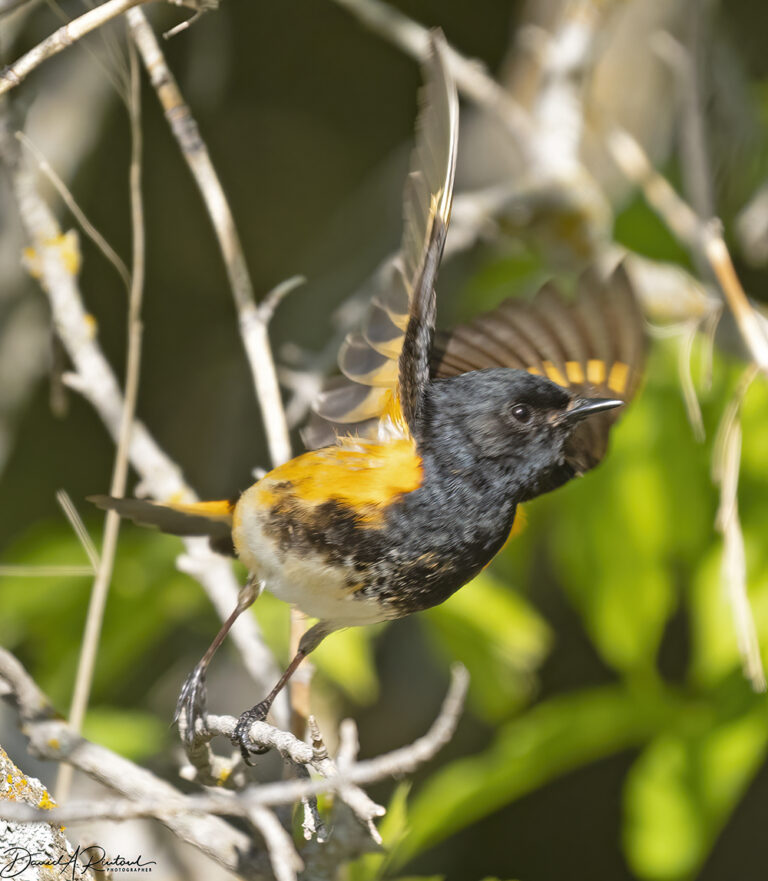 Nebraska Sandhills
May 26, 2022
There are also warblers in this part of Flyover Country, especially in the riparian stretches along the Niobrara River. One of the flashier warblers in North America, the American Redstart (Setophaga ruticilla) can be heard and seen all along the river in appropriate habitat.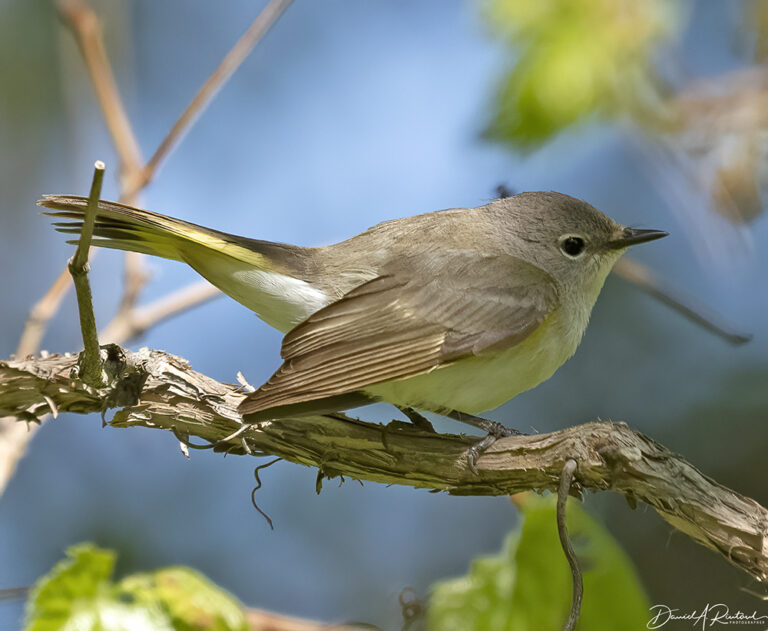 Nebraska Sandhills
May 26, 2022
And the final bird for today is the female American Redstart, a much subdued version of the male above. I have a soft spot in my heart for this delicate and elegant bird, since a female American Redstart was the first warbler that I ever banded, way back in the 1990's.