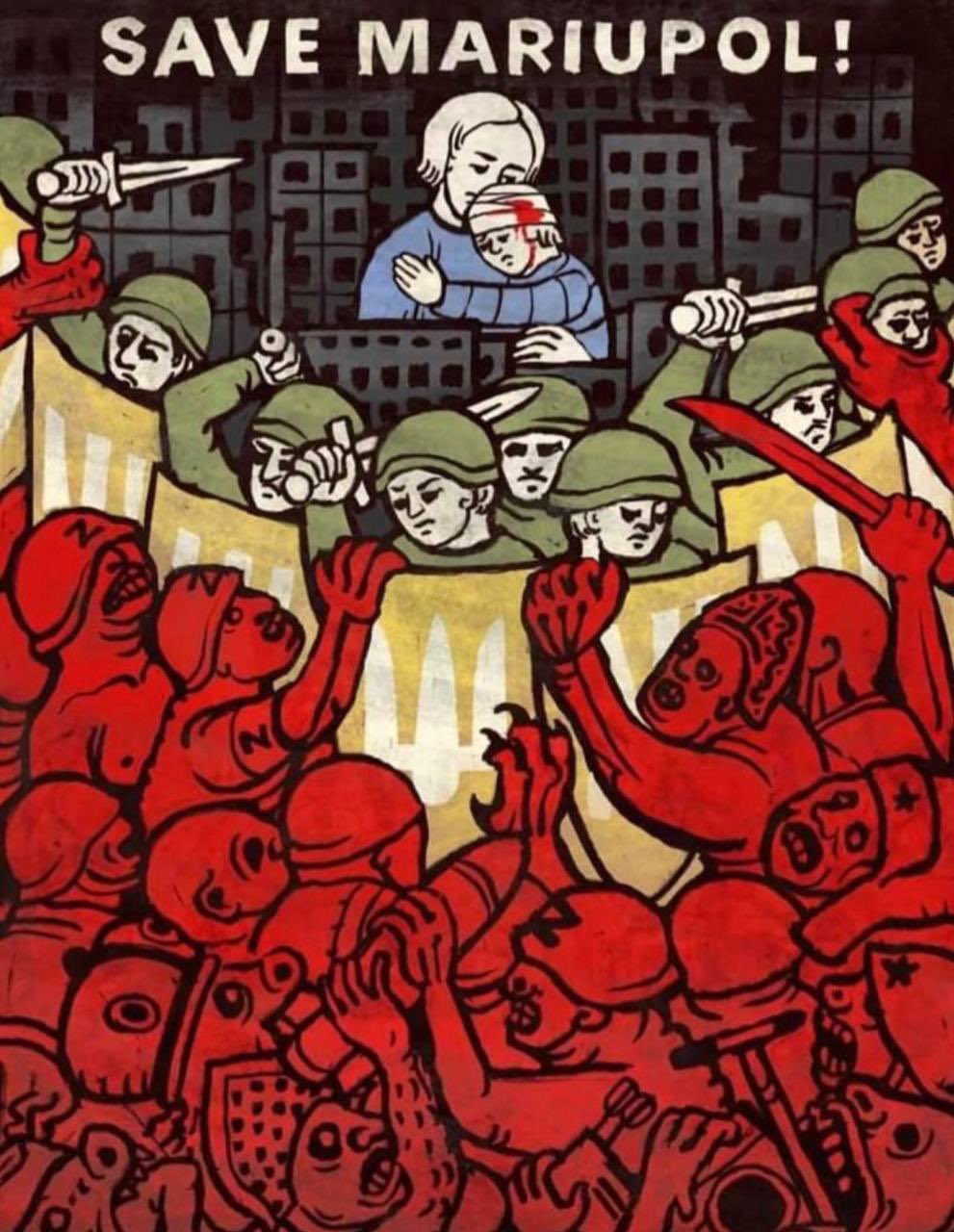 Before we start tonight I want to take a moment and deal with these questions about the geo-spatial analysis that is preoccupying some of you in the comments. As we've previously discussed, I'm very careful about whose maps I'm willing to post here. I largely rely on those posted on most days by Britain's MOD and by former NAVDEVGRU Squadron Leader Chuck Pfarrer. I avoid the ones being posted by pseudonymous accounts for the simple reason that I don't know who those people are so I cannot vet whether they have any credible experience in doing geo-spatial analysis. I also do not use any product from ISW. The simple explanation for that is I reported them to the counterintelligence authorities while deployed to Iraq in 2008 because someone at ISW had gotten their hands on classified information and then posted it on their website. I know it was classified because I had actually been asked to read the intelligence summary that the material they had posted was part of on the classified server about a week or so before the blog post. Which is how I knew they'd somehow gotten someone to leak what they posted to them. I cannot provide further details. As a result I don't trust them. Finally, while I do have experience with geo-spatial analysis, I do not have the time, nor the specialized software, to do my own maps right now.
I use the British MOD maps because they are ultimately the result of British military intelligence. Their geo-spatial analysts are most likely using a combination of classified and open source satellite imagery and intelligence on Russian and Ukrainian movements and positions to prepare their macro level maps. These are meant for public release in conjunction with the daily assessments the British MOD also publishes. It is not the granular geo-spatial product one would need to undertake targeting. That's not the point of releasing it. The point is to generally inform an audience largely not made up of military, national security, and/or intelligence professionals on what the battlespace looks like at the macro level.
I also use Chuck Pfarrer's maps because he's a known quantity. In my case he and my boss served together and the latter speaks exceedingly highly of the former. And that's good enough for me. Pfarrer's maps, however, are not intended to do the same thing as the ones released by the British MOD. He's getting very granular down to the tactical level of specific battles in specified areas like Sievierodonetsk or Kherson. He is also using open source information, both in terms of imagery and information. But he's producing a different type of geo-spatial product with a different purpose for those who follow him on Twitter than the public maps the British MOD is publishing on their Twitter feed several times a week.
I would make one final point. Intelligence analysis, including geo-spatial analysis, policy formation, strategic development, planning from the tactical to strategic levels of operation, etc are really a form of artisanry. For all that we teach and train people to do these things, those that are really the best at it are undertaking as much art as science. So keep all of this in mind. And, also, keep in mind that we're hardwired to look for and see patterns. Whether they're there or not. Do not let apophenia get the better of you or, like Angleton, you'll wind up mad as a march hare wandering lost, dazed, and confused in the wilderness of mirrors.
Here's President Zelenskyy's address from earlier this evening. Video below, English transcript after the jump (emphasis mine):
Ukrainians!

Unbreakable people of the strongest country!

Today, the occupiers hit the Odesa region again, firing missiles at ordinary houses again. Missiles designed to destroy warships and other significant targets. It is with such heavy weapons that the Russian army destroys the ordinary private sector near the sea. People lived and had a vacation there…

And we will certainly hit back for this, no matter what lies the Russian Ministry of Defense tells about such strikes. The constant Russian terror of Kharkiv and the region, Mykolaiv, towns and villages of the Zaporizhzhia region and Dnipropetrovsk region, Donbas, border areas of the Sumy region and Chernihiv region – for all this the occupiers will not go unpnished.

For four months, the Russian state has not provided to its citizens any information – even censored – about the losses of the occupation contingent. Total silence. Nothing was published or said in numerous interviews and speeches at the political and military levels. However, this number is already almost 40,000 – that is how many killed people the Russian army has lost since February 24. And tens of thousands more were wounded and maimed.

And if the Russian state does not say this officially, even in general terms, everyone who still has any contacts in Russia or informational influence on their society should convey this simple fact to whomever possible. Among the occupiers only those killed are 40 thousand.

Today it became known that Britain has expanded the list of sanctions against Russia. Dozens more people and organizations were added. This is the right trend, and I am grateful to Britain for its unwavering firmness in sanctions matters. This is an example that should be followed by everyone else in the Western world.

In particular, today's news about another provoked increase in gas prices on the European market above 2,000 dollars per 1,000 cubic meters is already a sufficient reason to expand sanctions against Russia. Because it is clear to everyone that this is a deliberate price terror by Russia against Europe. Using Gazprom, Moscow is doing everything to make this winter the toughest for European countries. It is necessary to respond to terror – respond with sanctions.

Today, for the first time in the history of interstate relations between Ukraine and Uruguay, I held negotiations with Mr. President of this Latin American country. I thanked for support in international organizations and called on Uruguay, like other states in the Latin American region, to impose sanctions on Russia. We will do everything so that there is not a single region left in the world where the truth about Russian aggression is not understood. We already have communication with Chile, Paraguay, Costa Rica. And now – Uruguay. We'll continue this work.

And a few more significant events that are worth mentioning. Today, the Winston Churchill Leadership Award ceremony was held in London with the participation of Prime Minister Boris Johnson. I believe that this is an award of all our heroes, all our people, all of us who are resisting tyranny each at their own level. And it was really an honor for me to receive this award.

Today, in the Netherlands – a country for the understanding of which we've been working for a long time – the Ukrainian people were honored with another award – a special Dutch Independence Award. Our ambassador received it on behalf of Ukrainians.

These iconic things also reflect the radical changes in the attitude towards Ukraine that have taken place in the world. Our bravery is truly an inspiration for all free nations and the community of democracies in general. And just imagine how inspiring the Ukrainian victory will be.

In the evening, I signed a decree awarding our warriors. 198 combatants were awarded state awards of Ukraine. Two of them – posthumously.

Eternal memory to all those who gave their lives for Ukraine!

Eternal glory to all those who fight for the independence of our country!

Glory to Ukraine!
This is video of this morning's Russian strike in Odesa:
President Volodymyr Zelensky shared a video shot in Zatoka, a resort in Odesa Oblast, following a Russian attack on July 26. The video shows buildings on fire and multiple destructions.

"They will be punished for everything. Each of them," Zelensky wrote. pic.twitter.com/Ms19OacgBo

— The Kyiv Independent (@KyivIndependent) July 26, 2022
The also hit Kharkiv again:
Two explosions got me out of bed at 4:40 am. Russia fired S-300 missiles at Kharkiv from Belgorod. One hit children's football field, the second near the entrance to the metro. Terrorist state is openly shelling civilian objects. pic.twitter.com/NcNln2D6xL

— Maria Avdeeva (@maria_avdv) July 26, 2022
There was no operational update from Ukraine's MOD today. Nor was their a DOD background briefing.
Here is the British MOD's assessment for today: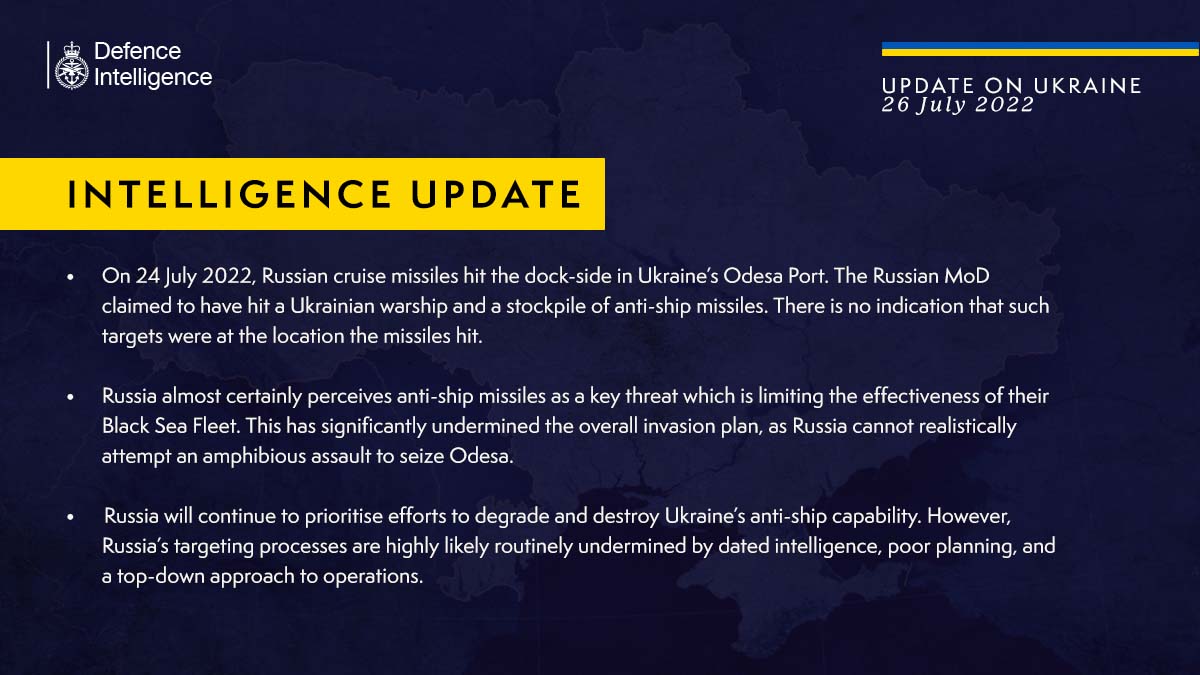 And here is their updated map for today: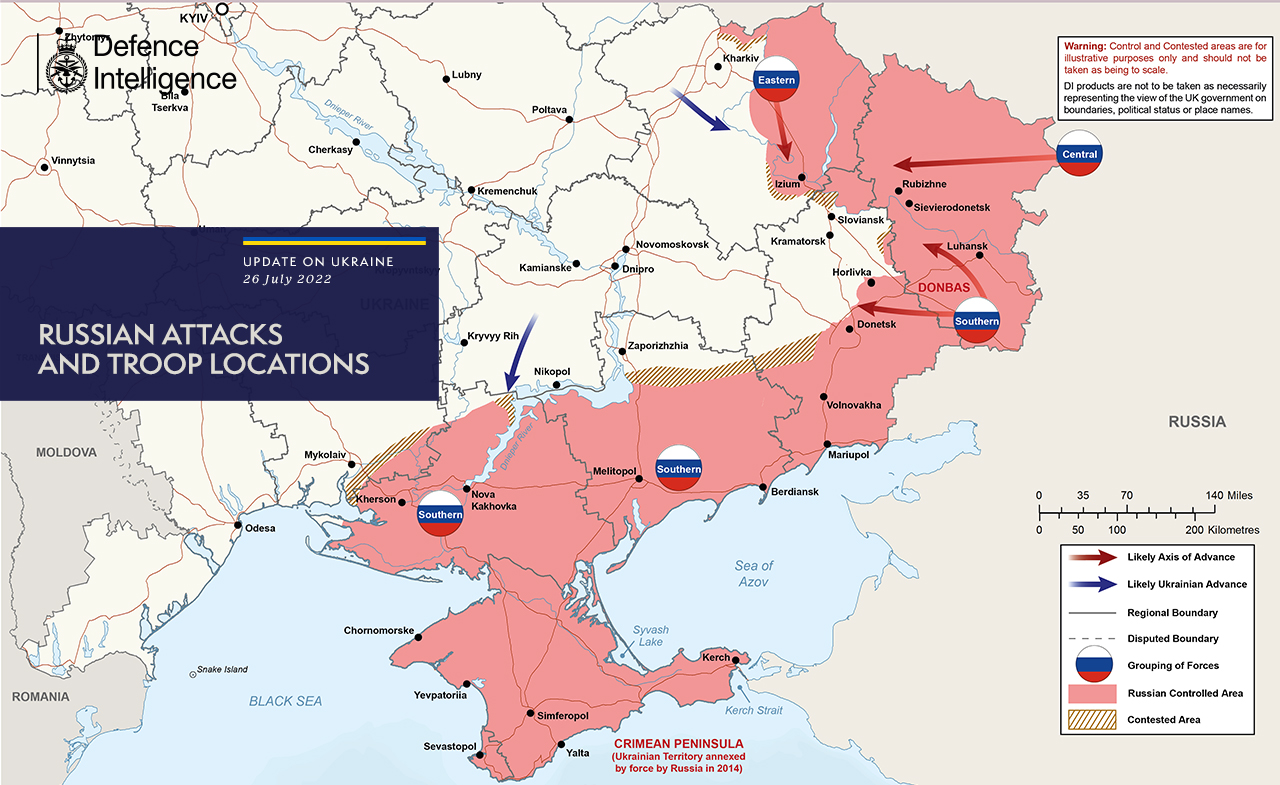 Here is former NAVDEVGRU Squadron Leader Chuck Pfarrer's latest assessment and updated map for the battle for Kherson:
KHERSON / 1630 UTC 26 JUL / Ukrainian precision strike artillery has targeted bridges in the vicinity of the urban area. The M-14 HWY bridge of the Dnieper and the P-47 road bridge at Daryivka have been damaged– impeding RU attempts to reinforce or evacuate Kherson. pic.twitter.com/77Xi5HbTsT

— Chuck Pfarrer (@ChuckPfarrer) July 26, 2022
The Kyiv Independent's Illia Ponomarenko has reported that Russian forces, specifically the private military contractors generally referred to as the Wagner Group, have finally been able to make a breakthrough in eastern Ukraine.
A tactical setback today – Ukrainian units had to retreat (2-3 km) from the town of Novoluhanske and the Vuhlehirska Power Plant, which is now defunct.
Russia's Wagner Group has finally taken the area after some 2 months of fighting for this patch of land. pic.twitter.com/KHFtTaA5z3

— Illia Ponomarenko🚀 (@IAPonomarenko) July 26, 2022
The Russians, in this case private mercenaries, spent two months using up their resources to gain two to three kilometers, which is not going to do much to improve Russia's tactical or theater strategic position in eastern Ukraine.
We also now have an update on the reporting that Russia had purchased drones from Iran:
The White House has "no indications of any delivery or purchase of Iranian drones by the Russian ministry of defense," says NSC spox John Kirby.

But adds that just the fact that Putin was pursuing a deal shows that "sanctions are having an effect"

— Lara Seligman (@laraseligman) July 26, 2022
And the Germans have finally shipped some weaponry to Ukraine!
+3 MARS II rocket systems and +3 PzH 2000 self-propelled howitzers coming from 🇩🇪Germany

— Illia Ponomarenko🚀 (@IAPonomarenko) July 26, 2022
The female relatives of the Azovstal defenders – wives, mothers, sisters, daughters – have made a video appeal for their release:
For more than two months #AzovstalDefenders are in russian captivity. There's no info about the conditions in which they are held. The Women of Steel – their wives, mothers, and sisters – beg the world to help return them home #SaveAzovstalDefenders pic.twitter.com/at08CdXqvC

— Olena Halushka (@OlenaHalushka) July 26, 2022
The Russians have scarfed up three of the members of the Organization for Security Co-operation in Europe's (OSCE) Special Monitoring Mission (SMM) for Ukraine and is accusing them of being CIA spies. Here is the OSCE's statement:
OSCE SMM Acting Head of Mission refutes claims and denounces persecution of national Mission members, demands immediate and unconditional release of those deprived of their liberty

25 July 2022

VIENNA, 25 July 2022 – OSCE Special Monitoring Mission (SMM) Acting Head of Mission Antje Grawe today denounced the persecution of SMM's national Mission members, including those deprived of their liberty in non-government controlled areas of Donetsk and Luhansk, refuted claims against them, and called for their immediate and unconditional release.

"I denounce in the strongest terms the unfounded claims and fabricated accusations brought against our national Mission members and demand the immediate release of our staff deprived of their liberty in non-government controlled areas of Donetsk and Luhansk. They have performed their duties with dedication and the highest level of professionalism and impartiality, providing objective information critical to the security and humanitarian situation in Ukraine," said Acting Head of Mission Grawe.

The OSCE has and will continue to take steps to pursue all available channels to secure the privileges and immunities of current and former OSCE officials.

All OSCE officials are bound by the OSCE Code of Conduct, which stipulates, inter alia, that they shall neither seek nor accept any instructions regarding the performance of their duties from any Government or from any authority external to the OSCE. 
Peter Pomerantsav, the author of Nothing Is True and Everything Is Possible: Adventures In Modern Russia, has written an op-ed for The NY Times:
Valentyna told me that not long after Russian troops arrived in Yahidne, her village in northern Ukraine, a tall, blond soldier came to use her bathroom. She asked him what the Russians were doing in Ukraine. "We want you to be with us," he told her, "for you to be with Russia."

In Yahidne, the reality of being "with us" meant the following: The Russian soldiers herded some 300 villagers into a cellar underneath a school next to their artillery, turning them into human shields. The oldest villager was 96. "We are here to protect you," the Russian soldiers told them. But they held the villagers in the cellar for about a month, and 10 died after Russians did not provide proper medical care. Others, including Valentyna, a pensioner who lives alone, stayed in their homes, which Russian soldiers ransacked, looking for money and loot.

I went to Yahidne in mid-April, not long after it had been liberated by Ukrainian troops. The village is not an unusual example of the brutality that Russia tries to sell as brotherhood in Ukraine. Throughout the war, being "with us" has been synonymous with atrocity: the mass bombings of schools, homes and hospitals, and the rape and execution of civilians.

It's also been synonymous with humiliation.

To humiliate people is to exploit your power over them, making them feel worthless and dependent on you. It is clear, then, that the Russian military seems intent on humiliating Ukrainians, taking away their right to independence and their right to make their own decisions. This war is an act of imperialism, a colonial war meant to destroy another nation's right to exist and to subjugate it. But it is not empire building in the sense of a coldly considered plan for territorial gain and economic resources; it is the next act of Vladimir Putin's empire of humiliation.

Russia's president would have the world believe that his country is guided by unifying ideas of cultural pride and conservative values, exceptionalism and splendid isolation. But in reality, Mr. Putin's Russia has no coherent ideology; it's just a mess of contradictions: It is Soviet nostalgia and a cultural arrogance that glorifies the Russian empire; it is a Russian ethnic and Christian Orthodox superiority that sits uncomfortably with what is supposed to be pride in being a patchwork of ethnicities and faiths.

Russia is a bastion of conservative values that has some of the world's highest rates of divorce, and its soundtrack is a Kremlin TV that amplifies any compliment or conciliatory gesture from the West — clips of Tucker Carlson, the Fox News host, appear frequently. Kremlin propaganda claims Russia revels in isolationism, but it is also addicted to seeking approval from abroad.

And Mr. Putin's success as president of Russia has rested for some time on his ability to mete out daily humiliations to Russians and then act as if he feels their rage as they do, as if he alone knows where to direct it — toward the West, toward Ukraine, anywhere except toward the Kremlin.

But when Mr. Putin himself tries to explain why Russia is in Ukraine, he swings between what seem like very different excuses. In a speech in June Mr. Putin compared himself to Peter the Great, on a mission to expand Russian lands. Another time he claimed "we had no choice" but to act in Ukraine, a message that was repeated endlessly on television.

So which is it? It is neither and both. Mr. Putin likes to perform both sides of the humiliation drama: from the seething resentment of the put-upon Russian everyman to cosplaying Peter the Great. This allows him to appeal to Russians' deep-seated sense of humiliation, which the Kremlin itself inflicts on people, and then compensate for it. It's a performance that taps into the cycle of humiliation and aggression that defines the experience of life in Russia, and now Ukraine is the stage.

In the "family," ethnic Russians are known as "the elder brother," but that doesn't mean they are spared humiliation. Whether it's the bureaucrats and cops who threaten and bribe citizens and businesses, the farce of participating in fixed elections or the cloying fear that you might be arrested if you dare to speak up against the Kremlin — or if some bureaucrat just wants your business — living in Mr. Putin's Russia means enduring the daily humiliation of being governed by an extractive class that takes money and lives from its own people.

In this system, even tycoons must live with the uncertainty that someone closer to Mr. Putin than them could take away all their wealth tomorrow. The culture of humiliation goes deep into society. Sexual harassment is routine. A 2017 law decriminalized some domestic abuse against children and women. Extreme hazing has been rife in the army.

The father figure in this family is, of course, authoritarian. Over three-quarters of Russians believe that they need a "strong hand" to rule the country, a common phrase that denotes a leader who will both protect and violently discipline its people, and which Kremlin propaganda often uses to describe Mr. Putin.

In describing Ukraine, Mr. Putin often uses the same discourse. He invokes Russian clichés that deify Kyiv, the capital of Ukraine, as the "mother of all Russian cities" and then turns on this idealized "mother" when "she" doesn't do what he wants. Just weeks before the invasion, during a news conference with President Emmanuel Macron of France, Mr. Putin said Ukraine should just do "her duty — my beauty" and "put up with it," a line that was widely viewed as a reference to lyrics about rape.

Maybe the description of the Russian Empire as a family is apt, actually. A family that is deeply unhappy and abusive, in which traumas are layered on top of traumas and some members are singled out for more suffering, some for less, but everyone suffers; those who feel unable to leave don't want anybody to escape.

After the 2014 Russian-backed uprising in eastern Ukraine, the Kremlin turned the separatist areas of Donetsk and Luhansk into a Soviet Dismaland, with Soviet-style youth groups, propaganda parades with Soviet flags and marches of captured Ukrainian troops through the streets. This time in Ukraine, Russia repeats Soviet mass deportations, detentions and enforced disappearances of intellectuals and activists who support Ukrainian sovereignty. Humiliated people can struggle to imagine a future as they play out old traumas over and over. We won't let you emerge into a future, the Kremlin seems to be saying to Ukrainians; we want you stuck in the past we can't overcome.

Kremlin propaganda successfully sublimates the sense of humiliation onto the West. According to Denis Volkov, the director of the polling firm Levada Center since 2014, Russians have claimed that if it wasn't for Ukraine, the West would have found another excuse to humiliate Russia through sanctions and other measures. Levada's most recent research suggests that 75 percent of Russians support the war. That support, though, is more of a case of a people so crushed by the state they follow along with anything it tells them to, argues the sociologist Lev Gudkov. More objective statistics are TV ratings for political talk shows. The highest ratings go to shows such as "Sunday Evening With Vladimir Solovyov" and "60 Minutes," where hosts and guests often call for the annihilation of Ukrainian independence.

Why is that?

In his exploration of humiliation, the contemporary English psychoanalyst Adam Phillips writes in the London Review of Books that, for the psychic survival of the humiliated, it's necessary for them to "humiliate others, to make others experience what they have suffered" and "to transform the trauma of vulnerability into the triumph of omnipotent control." The perpetrator enjoys his sadism; the victim, in order to deal with the humiliation, might learn to enjoy that too and become a masochist, before becoming sadistic to others.

Mr. Putin's manipulation of the cycle of humiliation and aggression is integral to his psychological grip over Russia. That manipulation can look like legislating to criminalize opposition to the war while also appealing for solidarity in the fight against the West. As the impact of economic sanctions rolls across Russia, Kremlin propaganda has called for Russians to show how tough they are: Haven't they survived great trials in the past? These calls for toughness can resonate — people can learn to define themselves through surviving pain to the point of getting a certain satisfaction from it.

The Kremlin, of course, avoids any suggestion that it is the source of any pain, now or in the past. There are no major public memorials in Russia, in the shape of museums or movies, statues or open archives, that stand as a record of how the Soviet Union sadistically slaughtered its citizens in the gulags and colonized and repressed other territories and peoples — some school textbooks in Russia celebrate Stalin as an "effective manager."

Certainly, Russia is not the only country with a history of colonialism and internal repression. But in other countries these histories are usually part of an active debate. In Russia there seems to be nothing in the mainstream discourse that tries to make sense of the past, take responsibility for it or imagine a different path forward.

For Russia to have a chance to come to terms with itself, it will be necessary to confront this history and bring it into the public consciousness — via TV shows or public memorials and educational projects. But admitting one's own role in this cycle of humiliation and aggression is stymied by the very culture of humiliation: The humiliated feel they have no agency, so why should they feel responsible?

Meanwhile, the threat Russia poses — to Ukraine and to the world — must be mitigated now.

Mr. Putin recently declared that there are only two types of countries: "Either a country is sovereign, or it is a colony," he said. This is the logic of internal humiliation projected onto geopolitics. For those who are chronically humiliated and humiliate others in turn, the idea that countries large and small alike could have rights is impossible: The world is split into those who dominate and those who are dominated.

Mr. Putin is not just trying to break Ukraine, he is using energy dependency to get Europeans to kneel to Russia's demands and up until recently was holding more than 22 million tons of grain that the world needs hostage in Ukrainian ports.

In the face of such threats, it can be tempting to try and placate Russia. The editorial board of The New York Times has said that Ukraine will likely have to accept territorial compromises. Mr. Macron has said that the West should avoid humiliating Russia. Such proposals are fundamentally misguided: Russia's sense of humiliation is internal, not imposed upon it. To coddle the Putin regime is merely to participate in the cycle. If you yearn for sustainable security and freedom, abusive partners and predators cannot be indulged. The only option is to limit the sources of dependency.

For Ukraine, that means defending its sovereignty on the battlefield and, when negotiations come, making sure it is in a position of strength. The United States and other allies must keep arming Ukraine to do this. To stop doing so or to let up the pace is just an invitation for more violence and abuse.

For Europe it means breaking free of energy dependence. Though this may be expensive in the short term, in the longer term it will mean true economic security
Much, much more at the link!
Finally, Politico reports House Armed Services Committee (HASC) Chair Adam Smith's takeaways from his visit to Ukraine over the weekend:
Ukrainian President VOLODYMYR ZELENSKYY had an urgent message for the American congressional delegation: We only have only a few weeks left to take back territory Russia seized before it gets much harder to do so.

Rep. ADAM SMITH (D-Wash.), chair of the House Armed Services Committee, led his colleagues into Kyiv to meet with the Ukrainian leader and get an update on the war. He relayed Zelenskyy's message and discussed other parts of his trip with NatSec Daily in a Monday afternoon interview.

Ukrainian officials said they want to reach a peace agreement with the Russians, but first they must recapture lands the Russians took, particularly in the South, Smith told us in his first print interview since the trip. "Help them now as much as possible. The next three to six weeks are crucial," he said, conveying the main message he heard from Zelenskyy and others.

While it's still summer, the winter months are fast approaching. The colder temperatures and brutal conditions will slow the fighting to a grinding war of attrition that mainly benefits Russia. More support now — before VLADIMIR PUTIN's forces lock in their gains — is far preferable to assistance later.

What to provide Ukraine remains a major point of contention. The Biden administration has already given $8.2 billion in aid since Russia launched its invasion in February, including a $270 million package announced last Friday featuring four additional High Mobility Artillery Rocket Systems, 36,000 rounds of ammunition, and 580 Phoenix Ghost tactical drones, among other capabilities.

But the Biden administration doesn't want to send long-range weapons to Ukraine — like the Army Tactical Missile System (ATACMS) that can hit targets 190 miles away or MQ-1C Gray Grey Eagle drones — for fear of escalating the conflict. A goal for the U.S. is to "ensure we do not end up in a circumstance where we're heading down the road towards a third World War," national security adviser JAKE SULLIVAN said last week during the Aspen Security Forum, repeating President JOE BIDEN's oft-stated position.

Smith said "there's pressure mounting from a lot of people to try to get them to change their mind on that." For example, the chair told us he supports "giving [Ukraine] the ATACMS and some of the longer-range missiles and the longer-range drones." Others in the CODEL, such as Rep. MIKE WALTZ (R-Fla.), have suggested the U.S. send military advisers to Ukraine to help with planning and logistics.

The administration isn't budging, at least for now. But Smith, who speaks often with Sullivan and other top officials, hinted there are conditions that could lead to a shift.

"If the Russians continue to push, to commit what amounts to genocide, forcibly removing children and killing people who don't agree to their rule, that ups the ante and creates a different situation," he said. "The administration is not prepared to do that at this point, but there are good arguments being made. That could change at some point."
Your daily Patron!
A couple of older tweets from back in May:
З Днем вишиванки!🇺🇦

Це не просто святкова сорочка. Кожна вишиванка має важливий меседж, який і не прочитаєш, але коли дивишся на нього – все чомусь зрозуміло.
Я не вмію читати по візерункам, та надіюсь, що моя вишинка про мир і мужність.
А ваші вишиванки про що, як ви гадаєте? pic.twitter.com/lhqmQSFbII

— Patron (@PatronDsns) May 19, 2022
The caption translates as:
Happy Vyshyvanka Day!🇺🇦 This is not just a festive shirt. Each embroidery has an important message that you can't read, but when you look at it, everything is somehow clear. I can't read patterns, but I hope that my vyshinka is about peace and courage. And what do you think your embroidery is about?
And here he is styling and profiling in his vyshyvanka:
— Patron (@PatronDsns) May 19, 2022
And here's a new video from Patron's official TikTok:
The caption translates as:
In fact, I have many more! 😎 #pespatron #patrondsns #slavaukraini
Open thread!