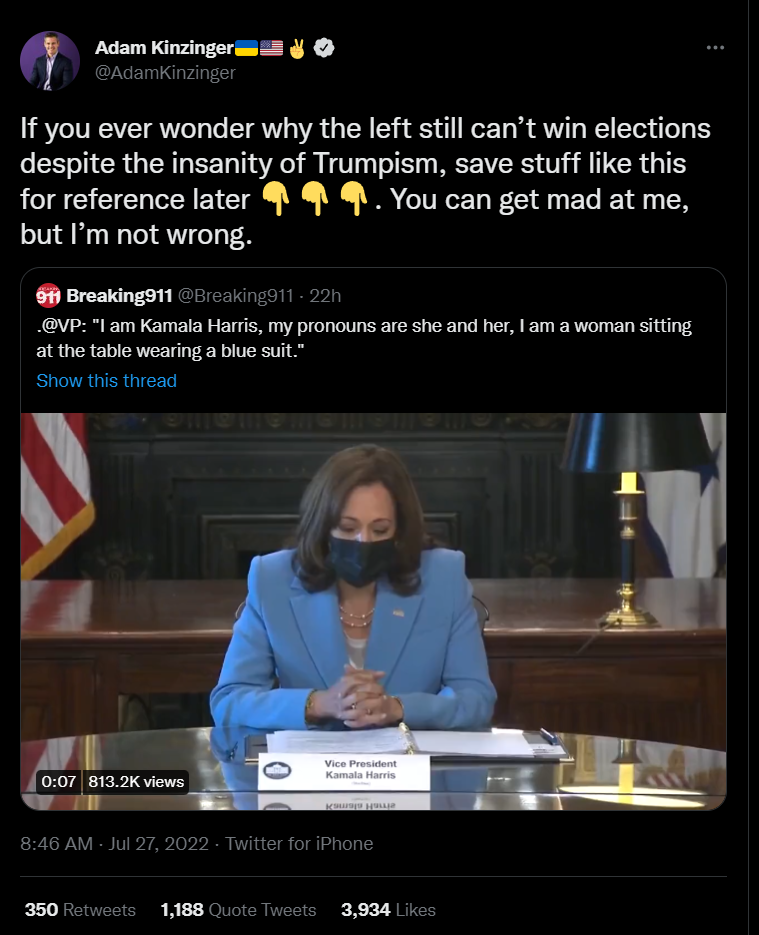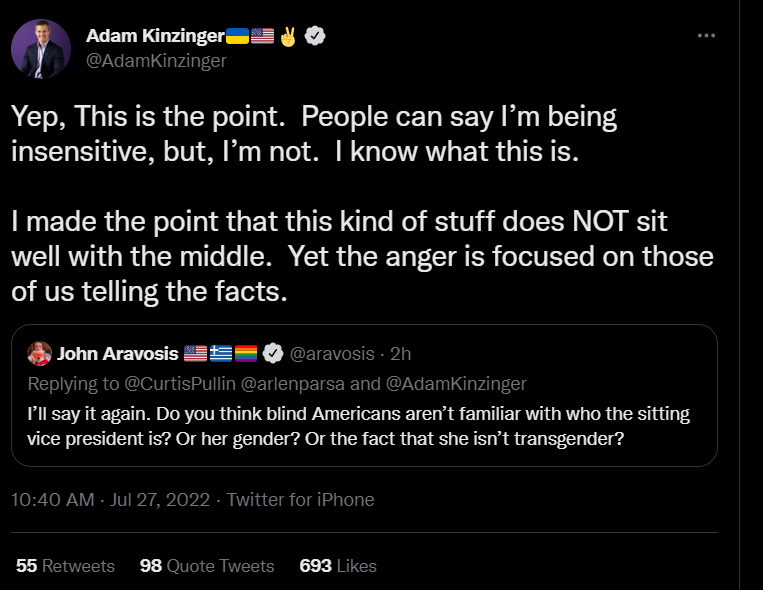 Aravosis – now there's a blast from the past, sort of like a constipated fart. He's billed as a "Democratic consultant" on his Wiki bio. I hope Democrats aren't listening to this out-of-touch old gay white guy. I guess I'll wait to see who screams louder when the Supremes reverse Obergefell: Aravosis or Andrew Sullivan. These guys are deluded enough to think that they've won their struggle and don't have any real skin in the game anymore, so they can erase trans folks. Good luck with that.
As for Kinzinger, the day I take political advice from him is the day I'll voluntarily commit myself to memory care, since I'll have definitely lost the plot. This guy didn't even have the grit to lose his re-election campaign fair and square, unlike Cheney. Stay in your lane, which is 1/6 until your replacement arrives, quitter.
Anyway, VP Harris was addressing a group of blind people and everyone introduced themselves the way she did. She was just being polite. Of course the right wants to scream and yell about this because they've decided that "pronouns" is what they're running on, instead of "dead women". I understand that when all have is chicken shit, you do have to try to make chicken salad, but I'll be god damned if I supply the mayo. Trans kids kill themselves at a frightening rate and the Democrats, as usual, are the party that cares. Republicans don't care if kids, women, the elderly, or, really, anyone else dies, as long as they have power. Simple but true.
If you want to read something interesting instead of dreck about "the middle", this thread from Oliver Willis about the butthurt that conservatives feel about Bork and Romney is worth your attention.