alright, I've been trying not to get my hopes up, but Vance might be Akin-tier bad and an Ohio midterm isn't so red that he can't blow it https://t.co/dWwnv8p5Le

— counterfax?? (@counterfax) July 25, 2022
When J.D. Vance first took vassalage under Peter Thiel, he was smart enough to know that Some day, and that day might never come, he would be called upon to perform a distasteful / possibly borderline criminal service for his Godfather. But perhaps he never fully realized just how very unpleasant running for statewide office would be… grip'n'grinning among all those slope-browed, slack-jawed, self-satisfied semi-literates… and that's just the other Repub politicians!
Given a choice between world travel and schmoozing Ohio voters, well…
"The Republican faithful are telling me they can't find J.D. Vance with a search warrant." Fantastic reporting from @sambrodey and @SollenbergerRC https://t.co/8YiRFMLyE9

— Tracy Connor (@TracyConnor) July 24, 2022
Just watching J.D. Vance make a fortune over a book he wrote that says like things like (left) vs. what he says when he's campaigning (right). I don't know what Vance really believes, but I think we can all conclude he's completely full of shit and shouldn't be in elected office. pic.twitter.com/NXoga97ciu

— Charlotte Clymer ?????????? (@cmclymer) July 25, 2022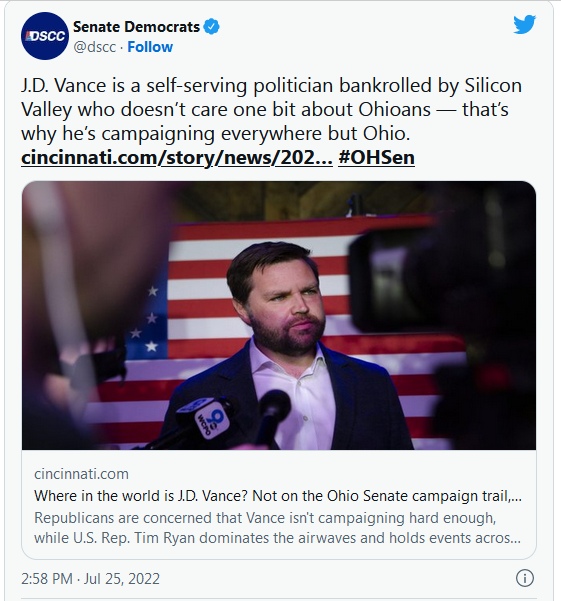 U.S. Senate candidate J.D. Vance didn't attend Gov. Mike DeWine's ice cream social in June.

A conservative radio host wanted to know why.

"I love ice cream, and I'm a supporter of Mike DeWine, so it was nothing against him," Vance told Cincinnati's Bill Cunningham. "Just had other things to do."

Vance walked in Fourth of July parades and met with Ohio law enforcement in recent months. But members of his own party have become increasingly concerned that he's not campaigning hard enough, while his opponent – U.S. Rep. Tim Ryan – dominates the airwaves and holds events across the state.

That, coupled with Ryan's fundraising advantage, has some Republicans worried the race could be closer than expected in a political climate that favors the GOP.

"As I've said before, with polling numbers indicating a historic GOP wave in 2022, if a statewide Republican candidate in Ohio loses the general election in this environment, it's their own damn fault," said Mike Hartley, a Republican strategist in Ohio.

The questions about Vance's campaign began weeks after the May primary…

"J.D. Vance is a fraud, and his refusal to talk to Ohioans – whether it's because he's too scared to answer for his record of investing in companies that profited from outsourcing and globalization, or because he's too lazy to do the hard work of campaigning – is an insult to the people of this state," Ryan spokeswoman Jordan Fuja said…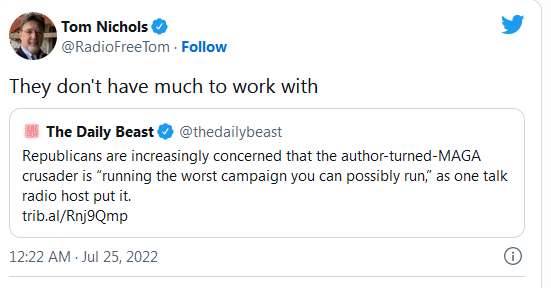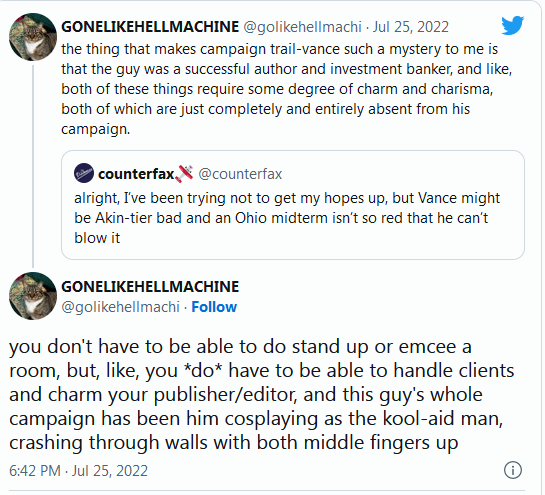 J.D. was perfectly fine as long as he was performing for an audience of one — or for those who knew the identity of his big-dollar backer. Outside that carefully curated bubble, though? It's a much bigger lift, and Vance has enough of his own money now that the effort has to feel less essential to his future happiness.