On the Road is a weekday feature spotlighting reader photo submissions.
From the exotic to the familiar, whether you're traveling or in your own backyard, we would love to see the world through your eyes.
Kabecoo
Before leaving for Botswana, we vaguely understood that going on a 17 day safari meant spending 16 nights on the ground. We also had a general understanding that we would move from a cold (freezing nights) dry area through an inland delta and into game reserves and park lands along the border with Namibia. For some reason we thought this was a good idea.
The camera I brought was a well-used Sony a6000 body that I use for hiking and kayaking. Before the trip I purchased a gently used 70-300 Sony lens that became my constant lens. I made a major mistake by not practicing much before the trip, so it took a few days to get used to the greater weight and overall bulk.
We started each day before dawn, getting up for coffee and a small breakfast, packing the tents if we were moving, then heading out to look for animals. Animals rested during the heart of the day; so did we. Another afternoon game drive lasted until sundown. Supper around the fire was followed by efforts to sleep despite the nightly presence of large beasts. Large noisy beasts.
Every day there were countless birds. Here are a few. Most of these photos have been cropped and enlarged but are otherwise unedited.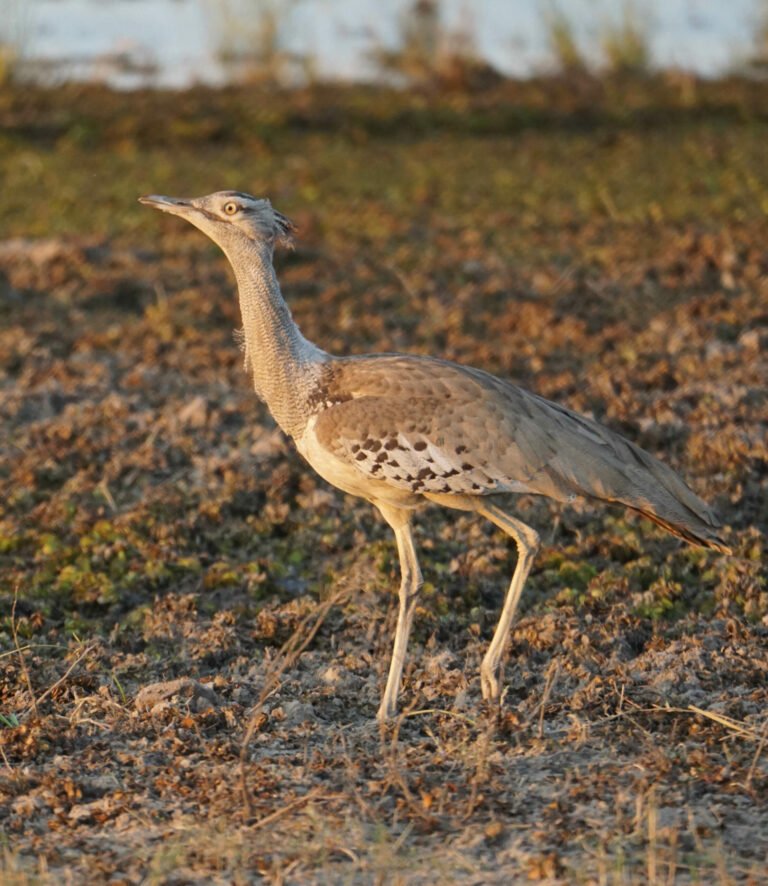 Central Kalahari, Botswana
May 25, 2022
Every morning began with a sighting of the Kori Bustard, the national bird of Botswana. It is known for its elaborate mating dance. Unfortunately, we visited in the early winter so did not witness it, but the non-mating strut is a sight.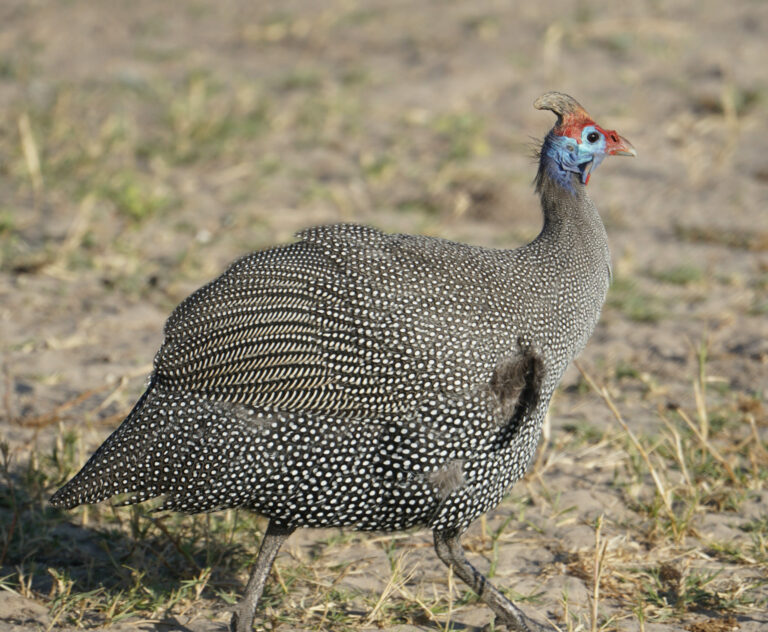 Botswana
May 23, 2022
Another constant companion was the Helmeted Guineafowl, numbering in the hundreds each day. Our guides consistently referred to them as chicken, modified to match our location: what was once "Kalahari Chicken" become "Chobe Chicken" by the end of the trip. They are delicious. I heard.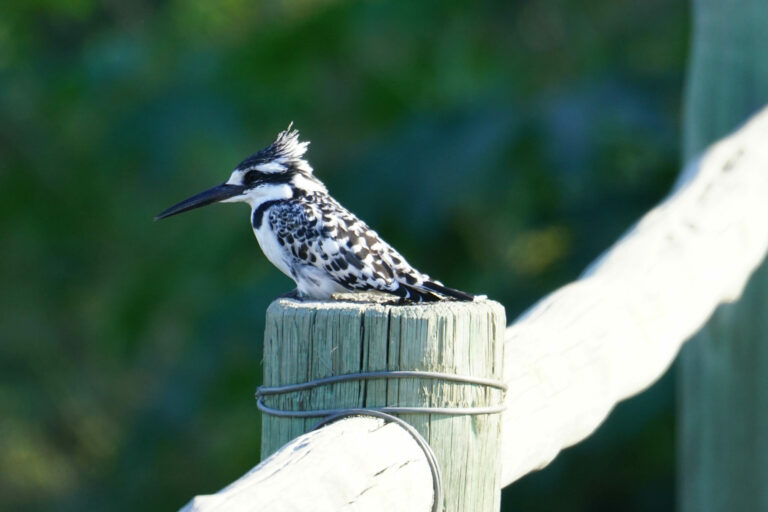 Okavango Delta, Botswana
May 27, 2022
One reminder of home was the Pied Kingfisher. Just as in the Pacific Northwest where we live, the kingfisher hovers above the water, diving when food is sighted.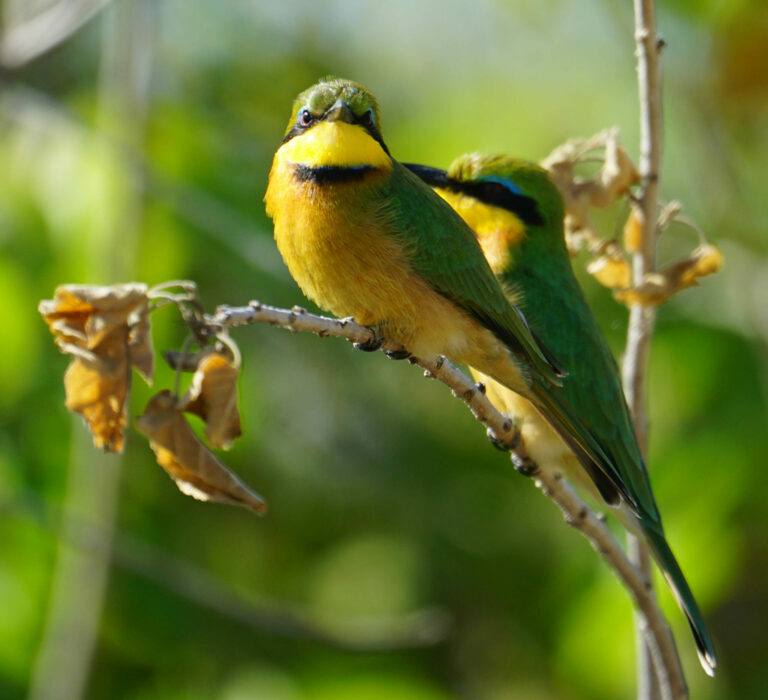 Moremi, Botswana
May 24, 2022
I have many photos of Bee-eaters, tiny bright figures that are too far away to be recognizable. But this pair of Little Bee-eaters sat still for 30 seconds or so, remaining motionless until the near one turned in our direction. Moments later both were gone.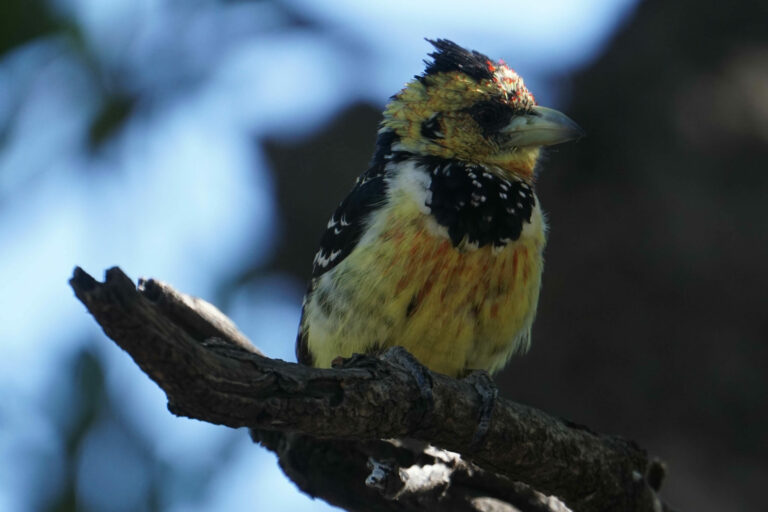 Moremi, Botswana
May 28, 2022
In northern Botswana we hosted several Crested Barbets, fearlessly hopping around our campsites in search of food. Only rarely did I see one in full sun, and my reactions are too slow. It also has a bright red patch at the base of its tail.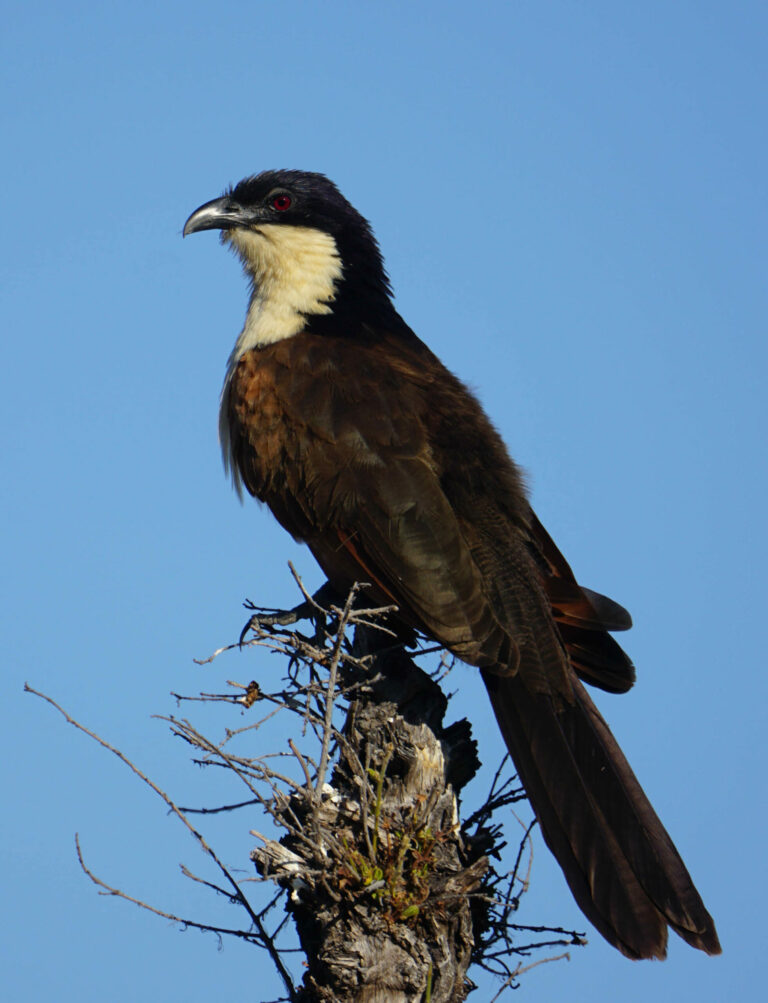 Okavango Delta, Botswana
May 21, 2022
This beautiful bird, a Coppery-tailed Coucal, perched atop one of Botswana's chewed trees and never left despite our close presence. It was the only one we saw. At first its head was turned; I only noticed its red eye when it decided to notice us.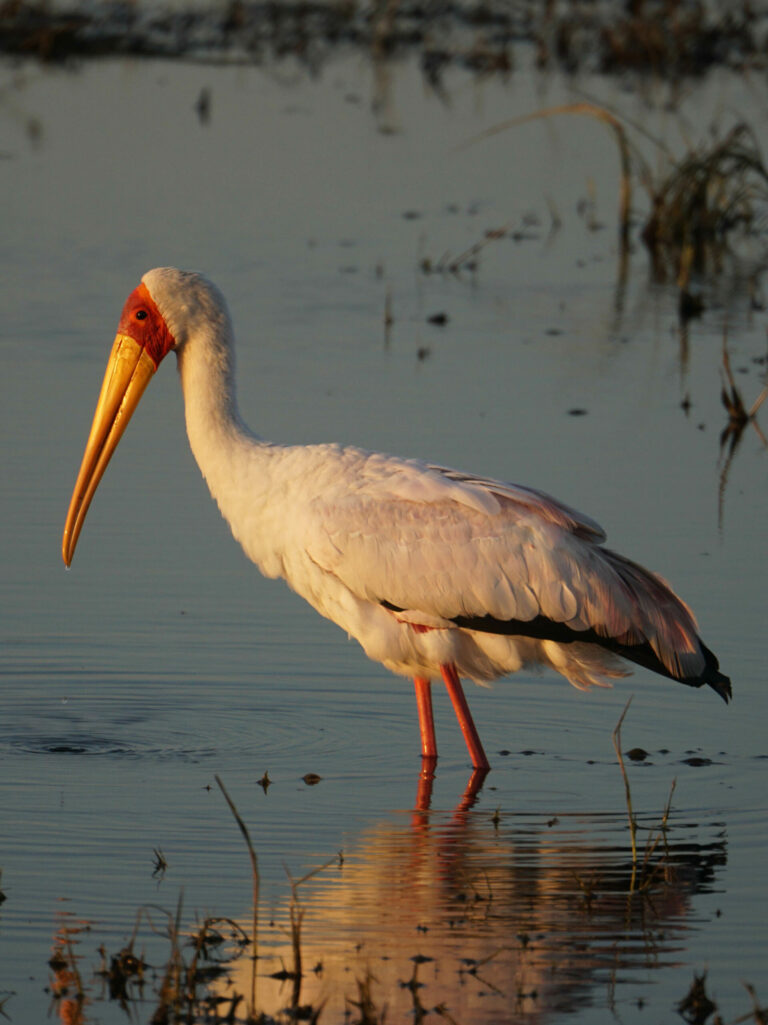 Chobe National Park, Botswana
June 1, 2022
Proximity to water brought herons, storks, ibises, spoonbills, egrets and more. This Yellow Billed Stork had just finished a small fish, resisting the efforts of a spoonbill and gray heron to steal it. Its pink coloration – which I had assumed to be based on its diet – waxes during breeding season and fades toward winter. Its primaries are black and almost hidden, making its launch into the air quite dramatic.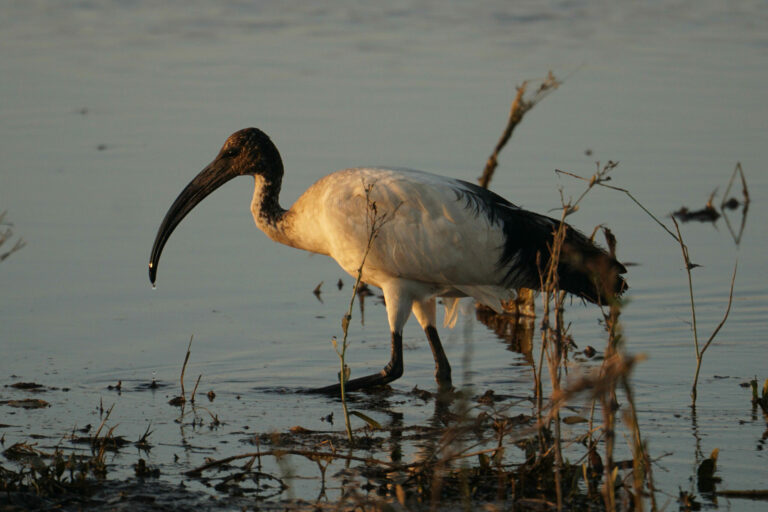 Chobe National Park, Botswana
June 1, 2022
Its fine tail feathers, poorly seen in the photo, are the most striking aspect of the African Sacred Ibis. Like the stork it gracefully parts shoreline vegetation searching for food.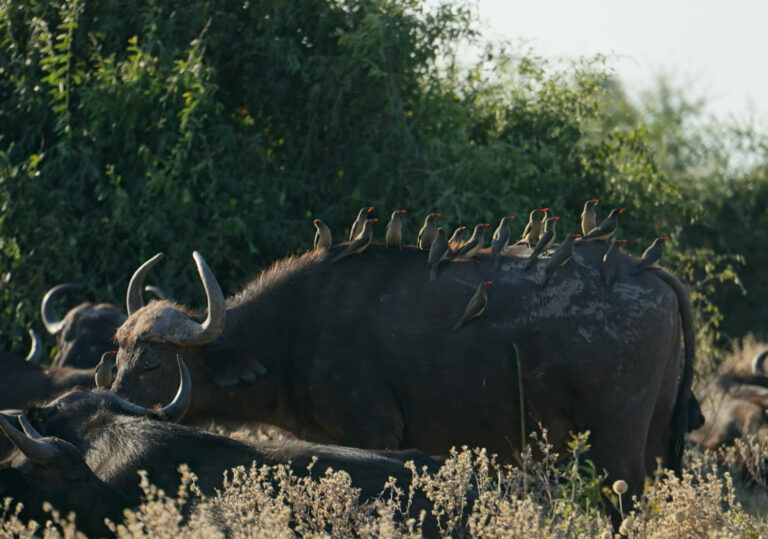 Chobe National Park, Botswana
June 2, 2022
If your name is Oxpecker, it makes sense to find an ox to peck. This tolerant buffalo was hosting 19 Red-billed Oxpeckers at once, assuming that one in front is perched on its nose. I suspect there were ample bugs to peck on the buffalo's back, but I did not check it out.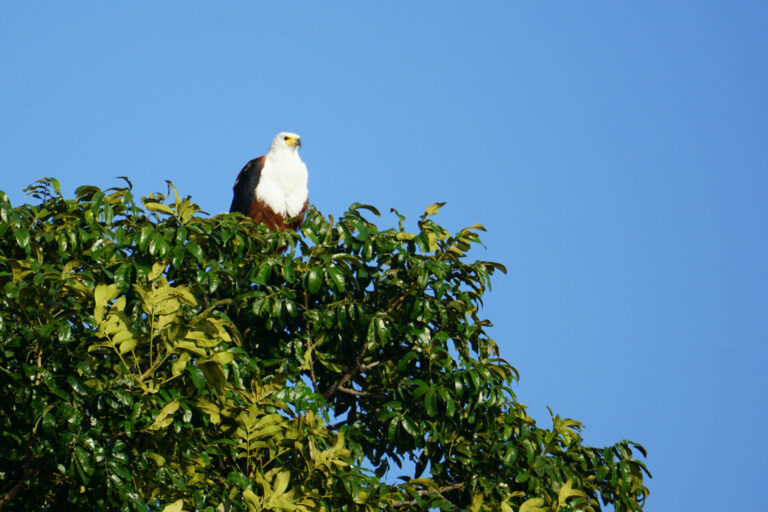 Chobe National Park, Botswana
June 3, 2022
Whenever we neared water a Fish Eagle was to be found. From the side it looked far too much like a bald eagle, but its chest sports an unmistakable field of bright white.