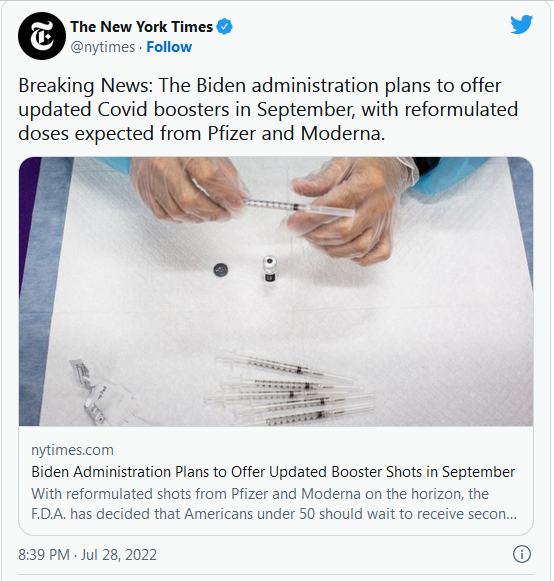 We live in hope:
The Biden administration now expects to begin a Covid-19 booster campaign with retooled vaccines in September because Pfizer and Moderna have promised that they can deliver doses by then, according to people familiar with the deliberations.

With updated formulations apparently close at hand, federal officials have decided against expanding eligibility for second boosters of the existing vaccines this summer. The new versions are expected to perform better against the now-dominant Omicron subvariant BA.5, although the data available so far is still preliminary…

In internal deliberations, some senior health officials argued that eligibility for a second booster should be broadened before the reformulated version is ready because coronavirus infections are on the rise again. Dr. Anthony S. Fauci, the president's chief medical adviser, and Dr. Ashish K. Jha, the White House pandemic response coordinator, both advocated that position.

"I think there should be flexibility and permissiveness in at least allowing" a second booster for younger Americans, Dr. Fauci said in an interview this month. One alternative discussed was offering the shots only to a subset of younger, at-risk individuals, such as pregnant women…

"You can't get a vaccine shot Aug. 1 and get another vaccine shot Sept. 15 and expect the second shot to do anything," said Shane Crotty, a virologist at the La Jolla Institute for Immunology. "You've got so much antibody around, if you get another dose, it won't do anything."

"The antibodies stop that next dose from working" if the next dose is given too early, he added — a pattern that applies to other vaccines, such as tetanus or flu shots, as well…

At a late June meeting of an F.D.A. advisory committee, independent vaccine experts overwhelmingly agreed with the need to update the coronavirus vaccines because the virus is now more deft at dodging their protection. But both Pfizer and Moderna were reluctant to commit to delivering doses with a revised formulation at the start of fall.

Kathrin Jansen, the head of vaccine research for Pfizer, said at the meeting that her company was prepared to deliver doses by early October. Dr. Stephen Hoge, the president of Moderna, said his company would be able to deliver reformulated shots only by late October or early November.

But more recently, both companies assured federal officials that they could speed up their timetables and be ready in early September, according to people familiar with the discussions.
A conversation with @EricTopol about the BA.5 subvariant, why he's so troubled by it, and America's maddening capitulation to the virus https://t.co/Wej2oBiPfX pic.twitter.com/10TnpLMOij

— New York Magazine (@NYMag) July 28, 2022
Keep in mind that Dr. Topol is definitely a glass-half-empty-(and-also-probably-crawling-with-germs) kinda guy — as is the NYMag interviewer. But even he can see some glints amid the clouds:
… By initiative, you mean money.
Money and an Operation Warp Speed 2, with collaborations and private-public industry partnerships. And not necessarily just the U.S., it should be global. But you don't see that, and it's so stupid because look how successful we were. Operation Warp Speed showed how good we could be at this. But we haven't done anything. We keep reacting and chasing instead of doing the things we know would get ahead of it.

I look at the data, and it says we can do better than this. I know we can; the science is there. It's just waiting in the hopper to be activated, but we're just not taking it seriously enough. And I want to get out of this thing. I thought we were out of it as we came down with Delta in June 2021. Who would've thought we would get to now, a year-plus later, and there's still no light ahead of us? That's why I want to take the aggressive get-ahead stance…

To be clear, you mean a pharmacological way to contain the virus. Because we're never going back to nonpharmaceutical interventions like we saw in the first few years of the pandemic, or at least unless there's an enormous rise in hospitalizations and deaths.
Yeah. In January 2021, my colleague Dennis Burton and I wrote in Nature that we need a variantproof vaccine. This virus is ideally suited, as compared to flu or HIV, for a variantproof vaccine. The initial success of Pfizer's vaccine was 95 percent against symptomatic COVID. There's never been a flu vaccine like that. Look at the success of Paxlovid: a 90 percent reduction in hospitalizations and deaths. This virus is vulnerable. We've proven that. We're just not building on our successes. It's incredible. This is a less challenging, less hypermutating virus than the flu. Our COVID vaccines make flu vaccines look like a joke, or at least they did.

So we already have COVID on the ropes and can finish it off — if we try.
That's why I'm so optimistic. We can do this. But we're not doing it.
======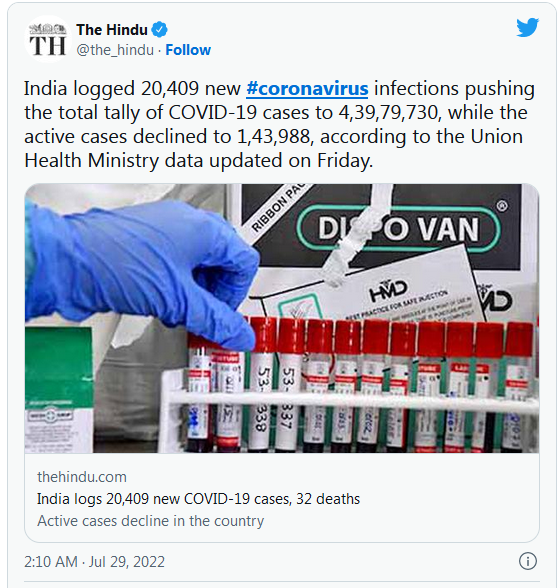 (link)
The test positivity rate has climbed above 5% yet again. The fatality count remains almost unchanged even as cases have risen. The pace of vaccination, however, has picked up in the last few days. #Coronavirus #COVID19 #DIU pic.twitter.com/ktMJWrTERS

— IndiaToday (@IndiaToday) July 29, 2022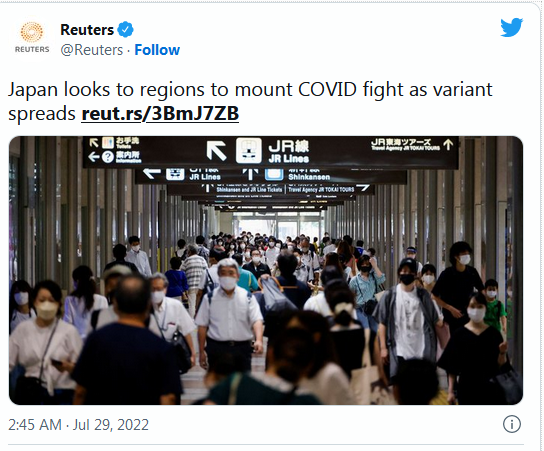 (link)
"#Russia reported 11,515 new daily #coronavirus cases on Thursday, authorities said, the #highest such figure since April 13." https://t.co/E1itZFGo6F

— Ahmed Saffar (@AhmedSaffar2) July 28, 2022
In a Portugal, a country with a highly vaccinated population (>98% of a nationwide study population ≥ 2 shots), prior infection with Omicron BA.1/BA.2 protected well vs BA.5 breakthrough infections https://t.co/tY1IHl3Pt9 pic.twitter.com/pREcZuxx7r

— Eric Topol (@EricTopol) July 28, 2022
Timeline of COVID hospitalizations in Canada v3.0. pic.twitter.com/XEiQzI3K2j

— T. Ryan Gregory (@TRyanGregory) July 27, 2022
======
How long is Covid infectious? Here's what scientists know so far: Those with SARSCoV2 are often advised to isolate for only a few days. But evidence is mounting that some people can continue to transmit the virus for much longer https://t.co/aU44MjQulV

— delthia ricks 🔬 (@DelthiaRicks) July 27, 2022
Terrific piece by @sciencecohen about where things stand with the efforts to come up with vaccines that protect more broadly against coronaviruses.
(tl;dr version: don't hold your breath.) https://t.co/qvy6v9PVM3

— Helen Branswell 🇺🇦 (@HelenBranswell) July 27, 2022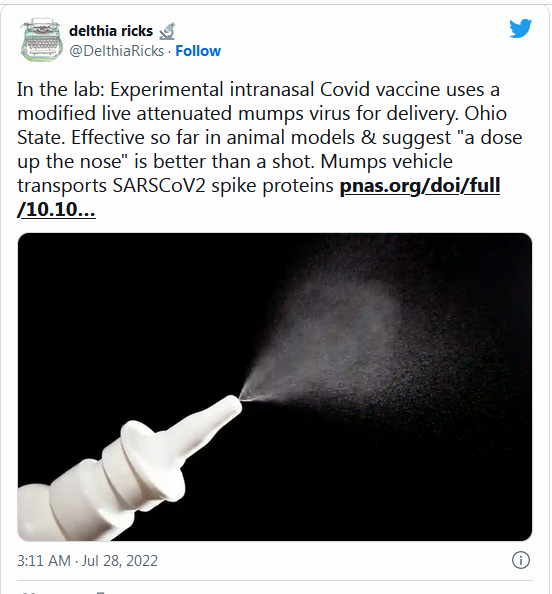 (link)
Hope for a pan-coronavirus vaccine has been found in targeting the spike protein's S2 subunit, a highly conserved region not subject to mutational changes. A pan-coronavirus vaccine provides protection against multiple coronaviruses & variants https://t.co/I2FrLpHEbU pic.twitter.com/VeQDo0153V

— delthia ricks 🔬 (@DelthiaRicks) July 28, 2022
How long does loss of smell and taste after Covid last?
A meta-analysis of 18 studies, ~3,700 patients suggests than <5% have persistence after 6 monthshttps://t.co/64gXKAAEcZ @bmj_latest pic.twitter.com/Bm6Qgy2EXS

— Eric Topol (@EricTopol) July 27, 2022
It's not enough to design a better Covid vaccine. A company trying to bring one forward has to be able to test it, & finance development. After yesterday's vaccine summit, @matthewherper has thoughts about the feasibility of better Covid vaccines. 🔒 https://t.co/elJooZLCYy

— Helen Branswell 🇺🇦 (@HelenBranswell) July 27, 2022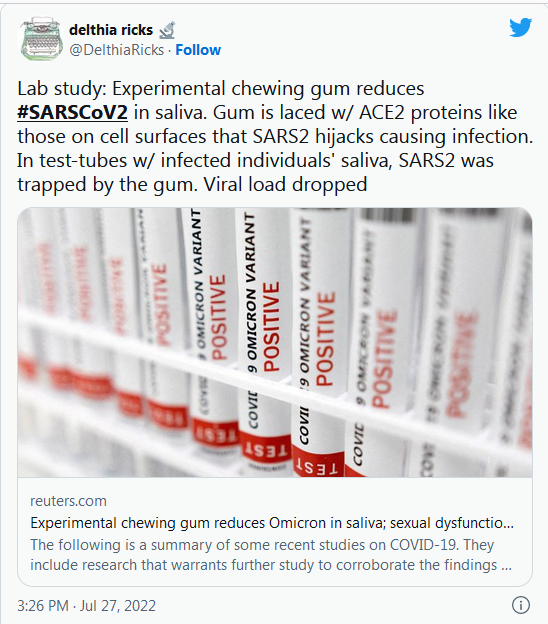 ======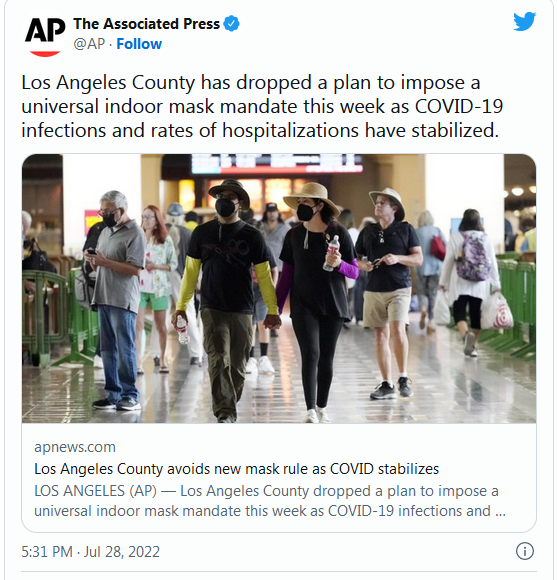 (link)
Reader Interactions