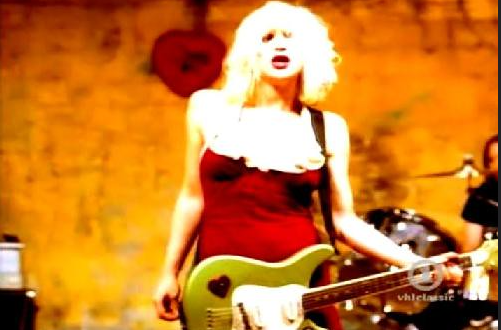 I have a simple question I use to judge if someone is a malignant narcissist: can I imagine this person really singing the hell out of Doll Parts by Hole? The song is ostensibly about Courtney Love's feelings towards Kurt Cobain, but it also frankly relates her narcissism — both the childish desire ("I want to be the girl with the most cake") and the pain that comes when that desire can't be satisfied ("Someday you will ache like I ache"). Love says she wrote the song in 20 minutes in a bathroom, in Sharpie, on her arm.
Modern Republicanism is all about malignant narcissism: lashing out and inflicting pain at any injury, real or imagined. More well-adjusted human beings at least try to keep their inner narcissist on a leash. These guys have learned that giving voice to their psychic wounds allows them to connect to their supporters, also narcissists.
Lest you think the Doll Parts test is only about women, let's start with Sam Alito, who I think would be a karaoke star with the song. Last week at a "religious liberty" conference, Alito had his 20 minutes in a bathroom moment:
[…] Alito for the first time publicly spoke about the decision he wrote in Dobbs v. Jackson Women's Health Organization, which he characterized during his remarks as the case "whose name may not be spoken."

"I had the honor this term of writing I think the only Supreme Court decision in the history of that institution that has been lambasted by a whole string of foreign leaders who felt perfectly fine commenting on American law," Alito said.

"One of these was former [United Kingdom] prime minister Boris Johnson. But he paid the price," Alito joked, to applause from the crowd. 
"He paid the price" — this guy thinks he's the king of all the world. With an ego like that, my guess is that Alito himself is the Supreme leaker. As the guy who wrote Dobbs, he's definitely the one who got the most cake, but he's not satisfied, and he has to parade his open wounds in public.
Similarly, fucking Susan Collins and her bullshit about the veterans and gay marriage bills that John wrote about yesterday. Susan his been in so many centrist "gangs" over the years, getting far more media attention than a mediocre Senator like her deserves. As Courtney Love wrote, "Yeah they really want you, they really do." That's the past. Even the normally clueless DC press corpse is now is clued in to her bullshit, and most of the attention she's getting is negative. So she's lashing out and hurting others.
Unfortunately for us, this new trend of narcissists lashing out publicly isn't just for Republicans. Consider so-called Democrat Kyrsten Sinema. I haven't posted anything about the Manchin-Schumer deal because I have a real "girl with the most cake" feeling about her. Her Instagram fuck you and her thumbs down vote on the minimum wage are two indicators of her inner child, who is probably feeling very injured at the moment, since she wasn't consulted on the Manchin/Schumer compromise. She skipped a caucus meeting on the bill and hasn't committed to vote for it publicly. I have a feeling we may all ache like she aches.