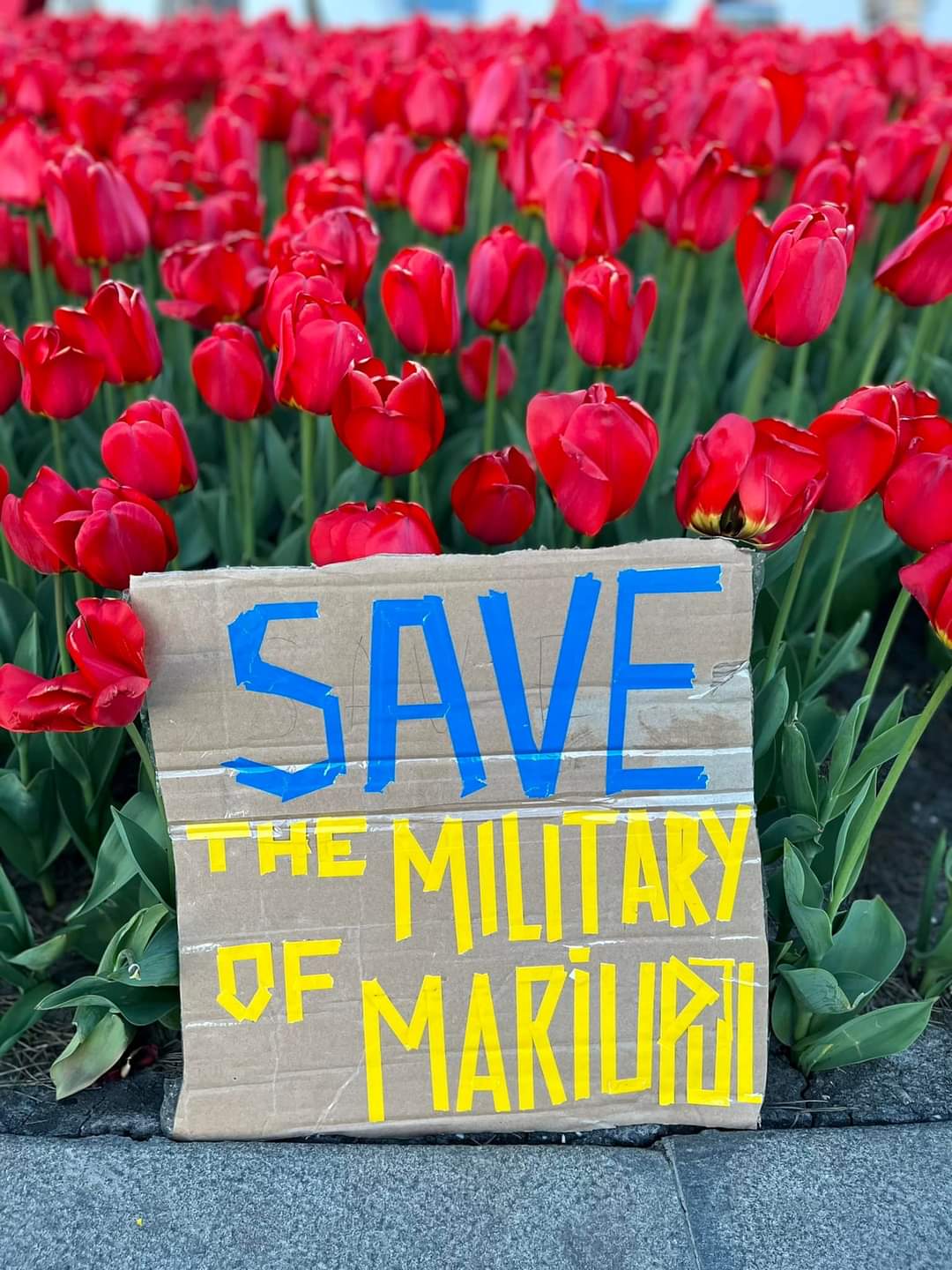 Dawn brought the wretched news that the Russians had blown up their own prisoner of war facility, Olenivka Prison, and then tried to blame it on the Ukrainians.
My latest.
All you need to know about the Olenivka prison massacre.https://t.co/UkE95c22ga

— Illia Ponomarenko 🇺🇦 (@IAPonomarenko) July 29, 2022
From Illia Ponomarenko at The Kyiv Independent:
More than 50 Ukrainian prisoners of war have reportedly been killed in what is believed to be a Russian attack on a prisoner camp in Russian-occupied Donbas on July 28. This is possibly the worst crime against captive combatants since Russia launched its full-scale war.

"It was a deliberate Russian war crime, a deliberate mass murder of Ukrainian prisoners of war," said President Volodymyr Zelensky.

The attacked prisoner camp was near the town of Olenivka, some 20 kilometers south of Donetsk, the main stronghold of Russian-controlled militants since 2014. Many prisoners at the site were soldiers who took part in the intense fighting at Azovstal, a large metal plant and the last Ukrainian-held area in Mariupol.

The fight ended in May with Ukrainian command ordering the garrison to surrender in order to save their lives.

"When the defenders of Azovstal left the plant, the United Nations and the International Committee of the Red Cross acted as guarantors of the life and health of our soldiers," Zelensky said. The president called on the UN and the International Committee of the Red Cross to visit the site and investigate the matter.

Ukraine repeatedly stated that it intended to get all the captured Azovstal defenders back home via prisoner swaps with Russia.

"Russia has proven with numerous terrorist attacks that it is the biggest source of terrorism in today's world," Zelensky said, adding that the international community must recognize Russia as a state sponsor of terrorism.

Russian state-controlled media published a video supposedly showing a heavily ruined and burnt prison barrack, with scores of charred bodies in and around it. Russia claimed the attack took the lives of 53 Ukrainian prisoners and injured 75.

Russian-controlled militants in control of the area immediately accused Ukraine of an attack against its own combatants in captivity, saying the site had been hit by an American-provided high-precision HIMARS rocket system. The Ukrainian military denied any role in the incident, saying Russia killed the Ukrainian prisoners in an "intentional artillery strike."

Ukraine's Defense Ministry's Intelligence Directorate also called the incident "an act of terrorism" committed by Russian forces.

According to the Intelligence Directorate, the attack was committed by the Wagner Group, the notorious Kremlin-linked mercenary army, under a direct order from Yevgeniy Prigozhyn, the group's alleged head and close ally of Russian President Vladimir Putin.

The attack was carried out without the consent of Russia's Defense Ministry leadership, the Intelligence Directorate said.

Ukraine's Security Service (SBU) said that the destruction of the prisoner camp was likely caused by an internal explosion, not an attack.

The SBU published an audio recording of an allegedly intercepted phone conversation between two people the Service alleged are Russian-backed militants discussing the incident.

The conversation suggests that militant forces had deployed BM-21 Grad rocket launchers close to the Olenivka jail and delivered a strike upon Ukrainian-controlled territory, apparently trying to provoke a response. The attack was not returned by the Ukrainian military, according to the SBU.

No one at the scene heard or saw any signs of an incoming rocket attack, according to the conversation.

"As judged from video footage available online, the glass in some of the facility's windows is intact," the SBU said. "This means that the explosion's epicenter was located inside the ruined building so that the walls absorbed the blast wave and protected the buildings nearby."

Podolyak added that the attack was a "cynical, thought-out false flag operation."

"We know that several days before the crime, inmates were deliberately relocated to the barrack that was later hit," Podolyak said.

Igal Levin, an Israeli-Ukrainian defense expert, believes the Russian goal behind the latest incidents could be fostering hatred and anger among the Ukrainian military against potential Russian prisoners of war.

"(Russians) are experiencing a complicated situation in Kherson," the expert said. "And their military grouping under blockade threat could potentially surrender. Russia is trying hard to anger (Ukrainian) soldiers and intimidate their own soldiers so that the former would not take prisoners and the latter would not even think of surrendering."

"Again, this is not something new," he added. "Russians have done it during their punitive operations in Ichkeriya (Chechnya)."
Much more at the link.
And the probability of a "mistake" is also very unlikely. The Olenivka jail stands alone in the steppe, and there are no potential military targets close to it.
It's a weird "coincidence" that a "Ukrainian HIMARS" hit just one building where Azovstal soldiers were held.

— Illia Ponomarenko 🇺🇦 (@IAPonomarenko) July 29, 2022
And the Security Service of Ukraine claims to have intercepted a call that proves Russian forces shelled the Olenivka detention facility. The SBU has been known to selectively edit recorded calls but it's also very good at getting these taps. https://t.co/8wHKS9ZMCZ

— Christopher Miller (@ChristopherJM) July 29, 2022
In my humble opinion, what happened in that Olenivka jail was a mass execution.
That new building was a death row, and Russians never intended to keep those Azovstal fighters alive in the first place.

— Illia Ponomarenko 🇺🇦 (@IAPonomarenko) July 29, 2022
I want to circle back to the statement provided by Igal Levin in Ponomarenko's reporting:
Igal Levin, an Israeli-Ukrainian defense expert, believes the Russian goal behind the latest incidents could be fostering hatred and anger among the Ukrainian military against potential Russian prisoners of war.

"(Russians) are experiencing a complicated situation in Kherson," the expert said. "And their military grouping under blockade threat could potentially surrender. Russia is trying hard to anger (Ukrainian) soldiers and intimidate their own soldiers so that the former would not take prisoners and the latter would not even think of surrendering."

"Again, this is not something new," he added. "Russians have done it during their punitive operations in Ichkeriya (Chechnya)."
This thread does a great job of unpacking what Levin is referring to even as it is in reference to the Russian war crime reported yesterday:
Beyond the obvious facts that this is a war crime & its unlikely the perpetrator will ever face any kind of objective justice, there is another issue at play here. Coupled with filtration camps, where US intelligence asserts executions have taken place 2/https://t.co/Tpze4EFhuf

— Patrick Fox (@RealCynicalFox) July 29, 2022
this conflict is taking on a level of barbarity that historically results in both retaliations & refusals to take prisoners. When it happens from the Ukrainian side, & I believe it will as this conflict continues & Russian brutality escalates, we should not be surprise. 3/

Ex: Some units within the US Army routinely refused to take Waffen-SS personnel prisoner. Most famously when elements of 45th ID executed SS guards at Dachau. All charges were later dismissed by General Patton. 4/

The Pacific Theatre was even more infamous for the brutality of the fighting in the island hoping campaign. In no small part b/c of the experience Allied personnel had with the conduct of the Japanese military. 5/

Should such acts continue, Ukrainain retaliation is inevitable. There are limits to what even the best trained, disciplined, & led soldiers will tolerate. When it happens, it will become a media circus. When it happens, we must remember it did not occur w/o provocation. 6/6

Addition: I appreciate those of you who've provided additional information on the primary assailant. The Russian unit involved has been tentatively ID'd as Chechen, which is the info I was working from.
And the video with of the war crime that was reported yesterday has been confirmed as legit by Bellingcat:
A horrifying video of this Russian soldier castrating a Ukrainian PoW is genuine, Bellingcat's @AricToler has said. The same soldier appeared on a Russian TV clip (with same hat and bracelet) and there was no evidence the video had been manipulated, he told me. #Ukraine #Russia pic.twitter.com/vWkIa6Vnru

— Maxim Tucker (@MaxRTucker) July 28, 2022
The Russian soldier has been identified.
A shocking video of a #Russian soldier brutally torturing and then castrating a #Ukrainian prisoner of war with a clerical knife has appeared online.

According to preliminary data, the torture was carried out by Vitaly #Aroshanov, a mercenary from the "Akhmat" unit. pic.twitter.com/rqnYcvr7Y8

— NEXTA (@nexta_tv) July 29, 2022
He's ethnically Kalmyk, which is one of the Mongolian ethnic groups in Russia. I also suspect that right now Ukrainian SOF is hunting him.
Here is President Zelenskyy's address from earlier this evening. Video and English transcript below (emphasis mine):
Dear Ukrainian men and women!

Dear all our defenders!

I am returning from Odesa region. In particular, today I met with our heroes – soldiers of the Special Operations Forces.

I thanked them for their service, awarded the best and emphasized that their main task is to ensure that the enemy did not have a single calm moment on this land. The land must burn under their feet.

Every occupier who abuses Ukrainians, who tortures and kills, should know that there will be punishment for this. If some of the Russian killers hope that they will not be brought to justice, that they will hide somewhere, let them know – they will answer in any case. Geography, time, borders, walls will not stop a just retribution.

I heard reports today about the attack of the occupiers on Olenivka, Donetsk region. It was a deliberate Russian war crime, a deliberate mass murder of Ukrainian prisoners of war. More than 50 dead…

When the defenders of Azovstal left the plant, the UN and the International Committee of the Red Cross acted as guarantors of the life and health of our soldiers. The Armed Forces of Ukraine, the Security Service, the Main Intelligence Directorate and the representative of the Verkhovna Rada of Ukraine issued a joint statement addressing to the UN and the Red Cross as guarantors of those agreements regarding the defenders of Azovstal. I support this statement. Now the guarantors must react. They must protect the lives of hundreds of Ukrainian prisoners of war.

And I add on my own: there should be a clear legal recognition of Russia as a state sponsor of terrorism. I am especially appealing to the United States of America – a solution is needed, needed now.

Russia has proven with numerous terrorist attacks that it is the biggest source of terrorism in the world today. It's a fact.

Ukrainian diplomats brought the information about the Russian attack on Olenivka to the highest international level. The UN Security Council has been informed. All participants in international relations will know what really happened. Russia won't be able to lie to anyone.

The international community is also informed about all the details of our resistance to Russian hunger terror.

Concrete work on the restoration of Ukrainian grain exports began today in Odesa. It's important. It's important not only from the point of view of the economic strength of our state, which is needed to withstand this war. It's important for the world to withstand the pressure of the food crisis. The more Ukrainian grain is on the global market, the more stable the situation with our partners will be, and therefore our joint countermeasures against the terrorist state will be more effective. I emphasize – a terrorist state.

I don't want to make any forecast now – let's see how the agreements on grain export will be implemented. The UN, Turkey and other international partners are responsible for the security side of this process.

The Armed Forces of Ukraine do everything necessary to protect our coast.

I want to say one more thing today. Russian terror is primarily aimed at breaking our inner strength. Russia cannot do anything to us on the battlefield. Our defenders are very strong. You and I should be just as strong.

Our emotions, our common will to fight must be strong until our very victory. No matter what the occupiers do, no matter how they try to break our spirit, we must hold on, be mobilized and fully focused on what is necessary for our victory.

If any of you feel that you cannot stand the evil that you see, think about how else you can personally help the defense of Ukraine.

Help the Armed Forces! Tell the world the facts about Russian terror! And convince everyone you know in partner countries to increase aid to Ukraine.

We will definitely win. But we have to come to that. We are all together.

Eternal memory to all victims of Russian terror!

Eternal glory to each and every one who destroys these occupiers!

Glory to Ukraine!
🇺🇦 During his visit to Odesa, President Zelensky stopped off at a hospital in the area. He spoke with servicemen and took selfies with the injuredhttps://t.co/kFtcKIwkZa pic.twitter.com/lRI0pLAtRf

— Telegraph World News (@TelegraphWorld) July 29, 2022
Here is today's operational update from Ukraine's MOD:
The operational update regarding the russian invasion on 06.00, on July 29, 2022

Glory to Ukraine! The one hundred fifty sixths (156) day of the heroic resistance of the Ukrainian people to a russian military invasion continues.

The combat, numerical composition and nature of the actions of the enemy group, as well as the situation in the Volyn, Polissya and Siversky directions, remained unchanged. On the Siversky direction, the enemy struck with barrel and rocket artillery in the areas of Pisky, Chernihiv oblast, and Zhuravka, Sumy oblast. Measures for the engineering equipment of the positions are ongoing.

In the Kharkiv direction, the enemy carried out artillery fire in the areas of Kharkiv, Ridne, Udy, Dementiiivka, Slatyne, Protopopivka, Nove, Zolochiv, Prudyanka, Ruska Lozova, Ruski Tyshky, Petrivka, Bezruky, Borshchova, Stary Saltiv and Korobochkine settlements. A pair of enemy Mi-8 helicopters struck near Stary Saltiv.

In the Slovyansk direction, shelling was recorded in the districts of Kurulka, Dibrivne, Nortsivka, Mazanivka, Lozova, Shnurky, Husarivka, Hrushuvaha, Virnopilla and Mospanove.

No active actions by the enemy were noted in the Kramatorsk direction. The enemy shelled the areas of Siversk, Ivano-Daryivka, Spirne, Kryva Luka, Serebryanka, Hryhorivka, Zvanivka, and Verkhnyokamianske settlements with barrel, rocket artillery, and tanks. There were the airstrikes near Serebryanka and Spirny.

In the direction of Bakhmut, it conducts shelling near Shumy, Bakhmutske, Berestove, Pokrovske, Soledar, Yakovlivka, Bakhmut, Vesela Dolyna, Travneve, Zaytseve, and Vershyna. The occupiers launched airstrikes near Soledar and Vesela Dolyna.

Our soldiers successfully repelled enemy assault and offensive actions in the direction of Vershyna and Semihirya. The enemy is trying to conduct offensive actions in the districts of Novoluhanske and Soledar, hostilities are ongoing.

In the Avdiyivka, Novopavlivka, and Zaporizhzhia directions, in addition to shelling along the contact line, the enemy launched an air strike near Novoandriivka.

Enemy reconnaissance by battle in the directions of Vodyane and Pisky ended in losses and retreat. The enemy tried to advance in the direction of Avdiivka, Krasnohorivka, and Velyka Novosilka. Suffered losses and withdrew.

In the South Buh direction, shelling from tanks, barrel and rocket artillery was recorded in the areas of the settlements of Ivanivka, Tokarevo, Kariyerne, Osokorivka, Blahodatne, Kobzartsi, Chervona Dolyna, Lepetiha, Andriivka, Velyke Artakove, Vesely Kut, Partyzanske, Shevchenko, Myrne, Shyroke , Prybuzke, Luch, Posad-Pokrovske, Lyubomyrivka, Stepova Dolyna, Tavriyske and Oleksandrivka. The enemy carried out airstrikes near Velike Artakove, Bilohirka and Potemkino.

In the waters of the Black Sea, there are three carriers of sea-based cruise missiles of the "Kalibr" type in readiness for the use of missile weapons.

Ukrainian aviation and missile and artillery units continue to attack strongholds and concentrations of enemy manpower and equipment.

We believe in the Armed Forces of Ukraine! Together to victory!

Glory to Ukraine!
Here is the British MOD's assessment for today: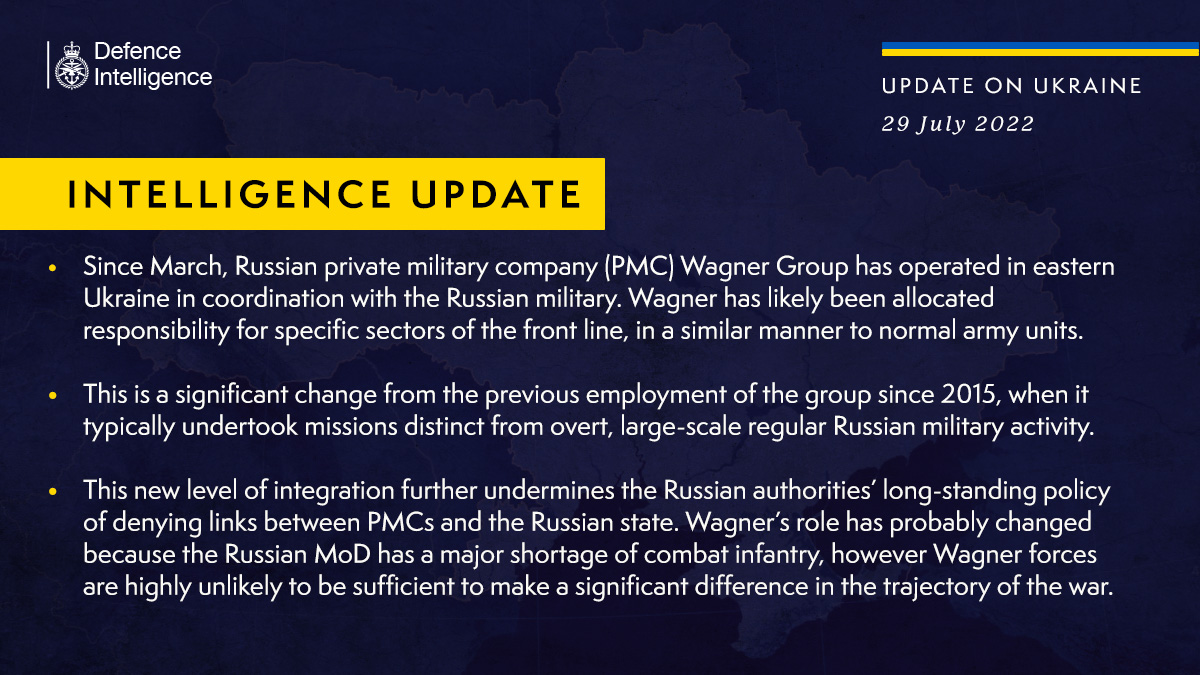 And here is their updated map for today: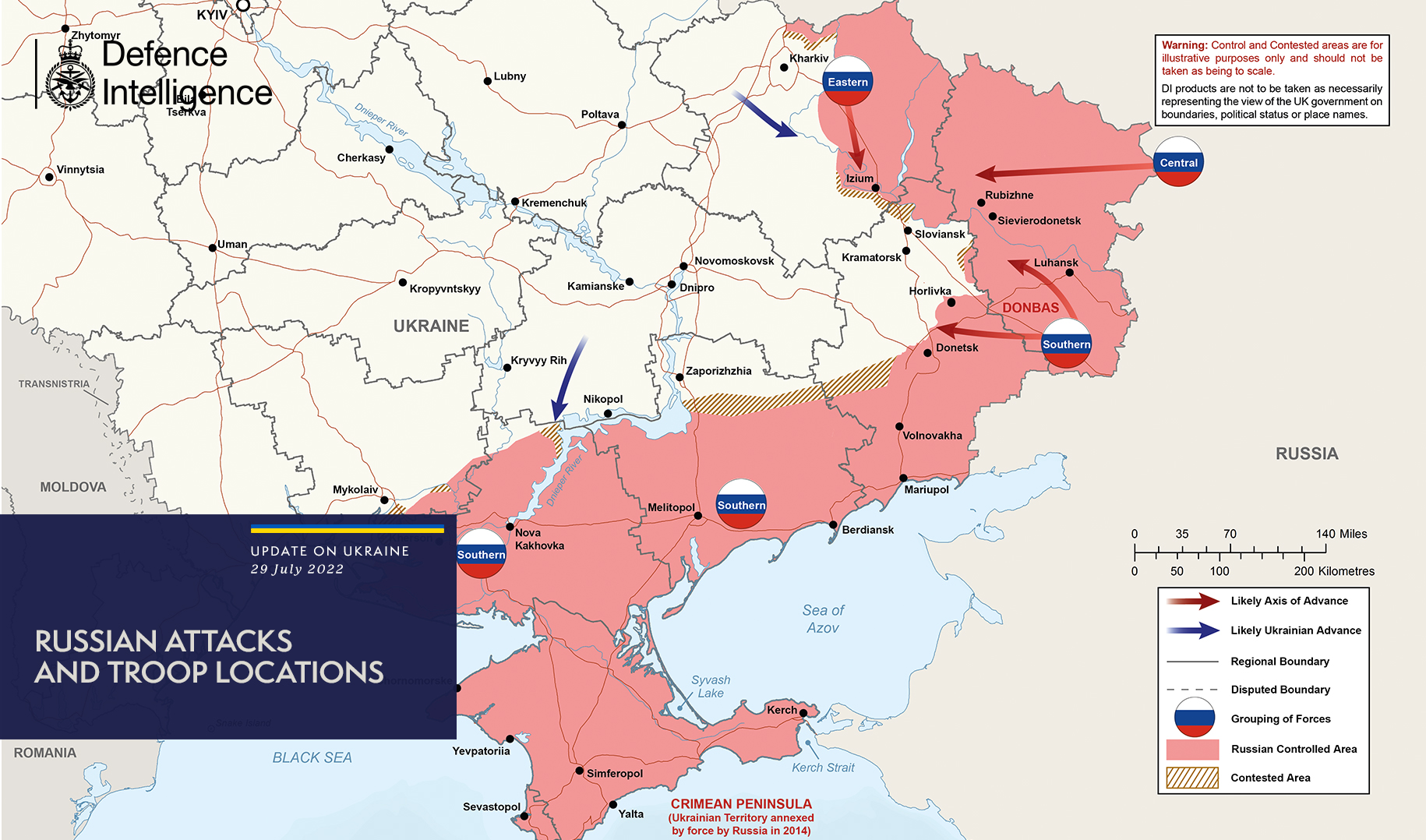 Here is former NAVDEVGRU Squadron Leader Chuck Pfarrer's updated map and analysis of the battle for Kherson:
KHERSON / 2200 UTC 29 JUL / RU forces have established a pontoon bridge in the shadow of the Kherson rail crossing. This slender and vulnerable connection is now the sole logistical link and maneuver option for the RU 49th Combined Arms Army. pic.twitter.com/C8Azp4Y1H6

— Chuck Pfarrer (@ChuckPfarrer) July 29, 2022
The Ukrainians are also reaching out and touching Russian military targets in Kherson Oblast:
📷Russian ammunition depot is on fire in Nova Kakhovka, #Kherson Oblast tonight.#UkraineRussiaWar pic.twitter.com/wdXJDtxj6W

— MilitaryLand.net (@Militarylandnet) July 29, 2022
Here's is today's DOD background briefing (emphasis mine):
SENIOR DEFENSE OFFICIAL: Thank you. Good to be with you again today. Today, I'll be very brief with my opening comments and then hand it off to [Senior Military Official].

First observation is that, although we continue to see Russia failing — failing on the battlefield, paying a high price for very little gain, and suffering domestic failures at home, I was really struck this week by how Russian rhetoric was trying to mask these losses, and what we saw was really very expansionist rhetoric coming out of Moscow.

A couple of examples of this — we heard Foreign Minister Lavrov reversing his government's earlier denials that they were seeking regime change in Kyiv, and — and he talked this week of getting rid of the regime in Kyiv. We also saw former Russian Prime Minister Dmitry Medvedev post a map on his Telegram channel depicting a Ukraine that has been swallowed up by Russia and its neighbors, leaving only a sliver of the country in Kyiv Oblast.

And even as we have heard this really imperialist rhetoric, we've learned more about how Russia is (inaudible) in the areas of Ukraine that it occupies. The National Intelligence Council released a chilling report that described at least 18 so-called filtration camps, where Ukrainians are subject to inhumane conditions, including abuse, and in some cases, executions.

So I'll conclude by, you know, highlighting that even as Russia is talking a big talk, even as Russia is menacing the Ukrainian population, the Ukrainians continue to bravely advance, they're making tremendous use of the $8.2 billion in equipment we've provided thus far.

Now, today, I don't have a security assistance announcement for you but I can say that we're working very hard and consulting closely with our Ukrainian Ministry of Defense counterparts and we will be preparing another assistance package soon to ensure that the Ukrainians have the munitions they need for their fight in the east and now also in the south.

And with that, I'll turn it over to [Senior Military Official].

SENIOR MILITARY OFFICIAL: Thanks, [SDO]. First of all, good afternoon, everyone. Happy to be back with you on day 156 of Russia's illegal and unprovoked large scale invasion of Ukraine.

Like [SDO], I don't have a significantly large kind of a set of initial comments. I would — you know, certainly, you all are tracking the missile strikes outside of Kyiv over the week and I know you're strike — you're tracking the missile strikes down in Odesa, even in the midst of the — you know, the attempt by the world to get grain moving.

I would highlight, and you all have been reporting on the advances that the Ukrainians are making around Kherson — and we have seen — and they're not large, giant advances but they are certainly advances against the Russians.

There was one other comment I was going to make, and of course, I've forgotten what it was, so I will — I will actually stop right there and I'm — I'm prepared with (inaudible) to answer any questions you might have.

STAFF: Thank you, sir. All right, up first, I have Dan De Luce from NBC.

Q: Could — yeah, thank you. I just wanted to ask, can you indicate or provide any description of Russian force strength in the south, around Kherson, and to what degree are they sending in additional troops or resources? And could you kind of convey what the scale of that reinforcement is?

SENIOR MILITARY OFFICIAL: Hey, Dan, I don't have — I don't have particulars on the size. We have — like you, heard of the Russians moving forces around. It would make sense, from a military perspective, as I had mentioned before, you know, the Ukrainians are giving it to them pretty good and I think they're looking for ways that they can reinforce, you know, their failures here.

STAFF: Thanks, Dan. Ellee Watson, CBS?

Q: Hi, thank you. Just to get it out of the way, can you update us on the claims from both Ukraine and Russia that the other side attacked this prison with prisoners of war — Ukrainian prisoners of war?

And then I also have a question on where right now are the Russians drawing replacements for their losses from? Do they have much capacity left in Russia available to draw from?

And last one, do you have any update on the NASAMS, when the NASAMS will be in Ukraine?

SENIOR MILITARY OFFICIAL: So Ellee, I will — let me get after your first two and then I'll pass it over to [SDO] on the last.

As to the prisoners of war, we — again, we're — we're hearing the same reports you are. I guess what I'd tell you is, I don't have any definitive information in terms of, you know, what happened in particular.

I would ask, you know, as you all look at this, that we apply some caution specifically to what the Russians are telling us, just because we know that they have made several claims in the past that have not been close to correct. So I'll leave it at that.

On the replacements, you all reported on this a couple weeks ago and the ways that the — I think somebody called it "the" — gosh, I don't know, "hidden mobilization," something like that. And I forget which periodical it was. I don't if we still — do people still say "periodical"? In any event, I forget which one it was, but you talked about the fact that Putin had found ways to get more soldiers in uniform.

We know that he is paying people. We know that he is contracting soldiers to stay who otherwise would not. You know, they are — they have laws just like we do on mobilization. And he has been very particular about, you know, what he has called this in terms of, you know, the — he has not termed it a full war. But we know he is finding ways to get people that will move in, to include former soldiers that they have called back on active duty, reservists they have called back on active duty. And as a result I think what we're seeing is their battlefield effectiveness in many cases is very poor. You're putting people inside, you know, tanks. I don't know where I saw the video, but there was a video of a Russian tank just driving around in a circle. And it turned out it's because the driver was not trained. He didn't know how to drive the tank. It wasn't because they were having fun in the tank.

So I think they are having problems in trying to figure this out. You know, here's the other thing I would tell you. You know, I certainly don't have their particular casualties. And I'll refer you to the Russians and to the Ukrainians for casualty figures. But whatever the casualty figures for the Russians are, you know, depending on the left and right that people are reporting on, they're very significant. And when you look at the numbers of people that they have lost, it's impossible to believe that they're not having to figure out ways to replace them if they want to continue to go toe-to-toe with Ukrainians.

SENIOR DEFENSE OFFICIAL: Thanks.

And Ellee, I do not have a delivery date for you on NASAMS.

STAFF: Thanks, Ellee.

Luis Martinez, ABC.

Hi, Luis, are you there?

Q: Yes, I'm here. Sorry, I could not find the right buttons.

Thanks, everybody, for doing this briefing. As we go into this now, this fifth month, how much longer can this last in the Donbas up in the north with such very small incremental gains? And just moving to the left there, in Kherson, are you really seeing signs that the Kherson counteroffensive that the Ukrainians have been talking about is actually happening? Are those attacks on the bridges shaping operations? Is Kherson really cut off from the rest of the Crimea? Thanks.

SENIOR MILITARY OFFICIAL: So, Luis, I would — and I think I've said this in the past, but I'd be — I'd really hesitate to give any thoughts on how long that can last. And I'd just go back to, you know, February when everybody was essentially reporting that — to include us in some cases, that this was not going to last very long. You know, we had the full might of the Russian army applied to just about every side of the Ukrainian — of Ukraine. And here we are five months into it and, you know, a gigantic strategic failure on the side of the Russians where they had to reposition their people out from the north around to the east to try and make some gains. And those gains, as you've seen, have been relatively small at a gigantic cost. So I'd really hesitate to give you an idea of how long this lasts. It certainly looks like it's going to last as, you know, the Ukrainians are able to go toe-to-toe.

So going back down to Kherson, I don't know if it's a part of a counteroffensive. I know they're making offensive gains. And they are doing so, you know, against a Russian force that, as we were talking earlier, looks like they are ill-prepared for it. So, anyways, I'll leave it at that, Luis.
More Q&A at the link!
The BBC took a deep dive into Ukraine's partisan underground fighting behind the lines in Russian occupied areas of Ukraine:
As Ukraine's military steps up its strikes on Kherson, hinting at a new offensive to recapture the region, there is another force working alongside. They are Ukraine's shadow army, a network of agents and informers who operate behind enemy lines.

Our journey to meet the resistance fighters takes us through a landscape of sunflower yellow and sky blue to Mykolaiv. The first major town on Ukrainian-controlled territory west of Kherson, it has become the partisans' headquarters on the southern front.

Driving through military checkpoints, we pass giant billboards showing a faceless, hooded figure alongside a warning: "Kherson: The partisans see everything." The image is designed to make the region's Russian occupiers nervous and boost the morale of those trapped under their rule.

"The resistance is not one group, it's total resistance," the man standing in front of me insists, his voice slightly muffled by a black mask he's pulled up from his neck so I can't see his face as we film him, in a room I can't describe so that neither can be found.

Shortly before this war, Ukraine bolstered its Special Forces in part to build and manage a resistance movement. It even published a PDF booklet on how to be a good partisan, with instructions on such subversive acts as slashing the tyres of the occupier, adding sugar to petrol tanks or refusing to follow orders at work. "Be grumpy," is one suggestion.

But Sasha's team of informers have a more active role: tracking Russian troop movements inside Kherson.

"Say yesterday we saw a new target, then we send that to the military and in a day or two it's gone," he says, as we scroll through some of the many videos he's sent from the neighbouring region each day. One is from a man who drove past a military base and filmed Russian vehicles, another is from CCTV footage as Russian trucks pass by, daubed with their giant Z war-marks.

Sasha describes his "agents" as Ukrainians "who have not lost hope in victory and want our country to be freed".

"Of course they're afraid," he says. "But serving their country is more important."

Working alongside Sasha are a team who fly drones into Kherson to spot targets for the military. Civilians, not soldiers, all are volunteers and they fundraise on social media to pay for their expensive kit.

The man in charge cultivated decorative plants before the war, but Serhii tells me he joined the fight to free the south after seeing the bodies of civilians executed in Bucha during the Russian occupation there. "I couldn't just stay at home after that," he says. "I didn't know what else I could do or think of, while this war is going on."

The task he chose instead is extremely dangerous. His team of four get shelled by the Russians every single time they go out, though no-one has been killed. "I know to some extent it's a matter of chance," Serhii shrugs, and breaks into a soft smile. "But at least if it happens to me, then I will know it was for a cause."

The partisans are fighting to prevent Russia's hold over Kherson becoming permanent: to block a referendum that Moscow appears to be planning to stage. Russia has already introduced the rouble and its own mobile phone networks to the region and is pumping its propaganda from state-run TV channels into Ukrainian homes. Local journalists have either fled, or gone to ground.

The acting head of the region, Dmytro Butrii, now exiled to Mykolaiv and a small back office protected by sandbags, insists that a vote on joining Russia would be a sham, a "total fake" and unrecognised by any "civilised" government.

These days, that wouldn't matter much to Moscow.

For Russia, the region is strategic: it's the source of water for Crimea, which it annexed illegally in 2014, and the last section of a much-discussed 'land bridge', or stretch of territory that links Russia-proper to the peninsula.

Some locals have switched sides to help the Russians. So Sasha's team are building a database of those "collaborators", using information from the inside. "It's so that no one can claim later that they were with the resistance," he explains.

But it's also for intimidation. Partisans are encouraged to stick threatening posters outside the collaborators' homes with designs that include the person's face and a coffin, or a "Wanted" poster offering big rewards for their death. The activists then photograph the results to send to Sasha.

"There's a lot of graffiti. People write things like 'stuff your referendum' as well as sticking up their posters," Sasha describes his latest reports from Kherson. "It shows how many people are not afraid: in a city with military patrols everywhere, they manage to print leaflets then walk round with glue when they could be stopped at any moment and things would end very badly."

There has been a spate of assassination attempts against those who've joined the Russians. A blogger was shot, an official in the Russian-installed administration was killed and others have been injured in car bombs. The most prominent figures to switch sides now wear body armour as a matter of course. The men I meet all say they have nothing to do with the attacks, but they have no sympathy either.

"Other than the word traitor and scum, I have no other words for them," Sasha shrugs. "They're our enemy."

Vladimir Putin still claims his invasion of Ukraine is a "liberation" operation but in Kherson, his troops rule through force and fear.

Since Russian forces occupied the region in March, hundreds of people have been detained, many of them tortured. Some have disappeared, unheard of for weeks. Others have been discovered dead or returned to their relatives from Russian custody in body bags.

Sources inside the city describe soldiers patrolling the streets and buses stopped at random for everyone inside to be checked. The slightest hint of support for Ukrainian rule, as little as a message or photo on your phone, can get you arrested.

Every time Oleh smiles in the mirror, the gaps in place of his teeth are a reminder of the beatings he endured by his Russian interrogators. He tells me they also broke seven ribs – three still haven't mended. His name is not really Oleh, but he's asked me not to reveal his identity.

A member of the resistance, he witnessed the torture of another prisoner, Denys Mironov, who then died in Russian custody.
Much, much more at the link!
Finally, CNN has a detailed report on Russia plundering Sudan's gold:
Khartoum, Sudan (CNN)Days after Moscow launched its bloody war on Ukraine, a Russian cargo plane stood on a Khartoum runway, a strip of tarmac surrounded by red-orange sand. The aircraft's manifest stated it was loaded with cookies. Sudan rarely, if ever, exports cookies.

A heated debate transpired between officials in a back office of Khartoum International Airport. They feared that inspecting the plane would vex the country's increasingly pro-Russian military leadership. Multiple previous attempts to intercept suspicious Russian carriers had been stopped. Ultimately, however, the officials decided to board the plane.

Inside the hold, colorful boxes of cookies stretched out before them. Hidden just beneath were wooden crates of Sudan's most precious resource. Gold. Roughly one ton of it.

This incident in February — recounted by multiple official Sudanese sources to CNN — is one of at least 16 known Russian gold smuggling flights out of Sudan, Africa's third largest producer of the precious metal, over the last year and a half.

Multiple interviews with high-level Sudanese and US officials and troves of documents reviewed by CNN paint a picture of an elaborate Russian scheme to plunder Sudan's riches in a bid to fortify Russia against increasingly robust Western sanctions and to buttress Moscow's war effort in Ukraine.

The evidence also suggests that Russia has colluded with Sudan's beleaguered military leadership, enabling billions of dollars in gold to bypass the Sudanese state and to deprive the poverty-stricken country of hundreds of millions in state revenue.

In exchange, Russia has lent powerful political and military backing to Sudan's increasingly unpopular military leadership as it violently quashes the country's pro-democracy movement.

Former and current US officials told CNN that Russia actively supported Sudan's 2021 military coup which overthrew a transitional civilian government, dealing a devastating blow to the Sudanese pro-democracy movement that had toppled President Omar al-Bashir two years earlier.

"We've long known Russia is exploiting Sudan's natural resources," one former US official familiar with the matter told CNN. "In order to maintain access to those resources Russia encouraged the military coup."

"As the rest of the world closed in on [Russia], they have a lot to gain from this relationship with Sudan's generals and from helping the generals remain in power," the former official added. "That 'help' runs the gamut from training and intelligence support to jointly benefiting from Sudan's stolen gold."

At the heart of this quid pro quo between Moscow and Sudan's military junta is Yevgeny Prigozhin, a Russian oligarch and key ally of President Vladimir Putin.

The heavily sanctioned 61-year-old controls a shadowy network of companies that includes Wagner, a paramilitary group linked to alleged torture, mass killings and looting in several war-torn countries including Syria and the Central African Republic (CAR). Prigozhin denies links to Wagner.

In Sudan, Prigozhin's main vehicle is a US-sanctioned company called Meroe Gold — a subsidiary of Prigozhin owned M-invest — which extracts gold while providing weapons and training to the country's army and paramilitaries, according to invoices seen by CNN.

"Through Meroe Gold, or other companies associated with Prigozhin employees, he has developed a strategy to loot the economic resources of the African countries where he intervenes, as a counterpart to his support to the governments in place," said Denis Korotkov, investigator at the London-based Dossier Center, which tracks the criminal activity of various people associated with the Kremlin. The center was started by Mikhail Khodorkovsky, once the richest man in Russia, now living in exile in London.

CNN, in collaboration with the Dossier Center, can also reveal that at least one high-level Wagner operative — Alexander Sergeyevich Kuznetsov — has overseen operations in Sudan's key gold mining, processing and transit sites in recent years.

Kuznetsov — also known by his call signs "Ratibor" and "Radimir" — is a convicted kidnapper who fought in neighboring Libya and commanded Wagner's first attack and reconnaissance company in 2014. He is a four-time recipient of Russia's Order of Courage award and was pictured alongside Putin and Dmitri Utkin — Wagner's founder — in 2017. The European Union sanctioned Kuznetsov in 2021.

The growing bond between Sudan's military rulers and Moscow has spawned an intricate gold smuggling network. According to Sudanese official sources as well as flight data reviewed by CNN in collaboration with flight tracker Twitter account Gerjon, at least 16 of the flights intercepted by Sudanese officials last year were operated by military plane that came to and from the Syrian port city of Latakia where Russia has a major airbase.

Gold shipments also follow a land route to the CAR, where Wagner has propped up a repressive regime and is reported to have meted out some of its cruelest tactics on the country's population, according to multiple Sudanese official sources and the Dossier Center.

Responding to the findings of CNN's investigation, a US State Department spokesperson said: "We are monitoring this issue closely, including the reported activities of Meroe Gold, the Kremlin-backed Wagner Group, and other sanctioned actors in Sudan, the region, and throughout the gold trade.

"We support the Sudanese people in their pursuit of a democratic and prosperous Sudan that respects human rights," the spokesperson added. "We will continue to make clear our concerns to Sudanese military officials about the malign impact of Wagner, Meroe Gold, and other actors."
Much more at the link!
I know there's a new report out on the Russian economy. Several of you were discussing it in the comments last night. I've still only had a chance to skim it. What I've seen looks solid, but I also think it is attempting to assess the wrong set of indicators. As long as Putin, his oligarchs, and his siloviki can pull in gold from across the Sahel – and Prigozhin's private military contractors are working from CAR and Sudan to Mali – and Russia can still bring in billions in energy sales, even at discounted rates to India and the PRC, then the economic and sanctions regime are not going to create enough pressure on Putin and the Russian leadership to actually change their behavior. If anything it will make them more vicious as the coffers remain full.
That's enough for tonight.
Your daily Patron!
Racial prejudice is « racism ».
Discrimination based on gender is « sexism ».
And if dogs are abased, is that … «dogism? » 😀 pic.twitter.com/kwjIgU3SnK

— Patron (@PatronDsns) July 29, 2022
And we conclude with a new video from Patron's official TikTok:
The caption translates as:
WARNING! Important message! #pespatron #patrondsns #slavaukraine
Now I just need G&T to swing by and translate the important message in the caption on the actual video!
Open thread!