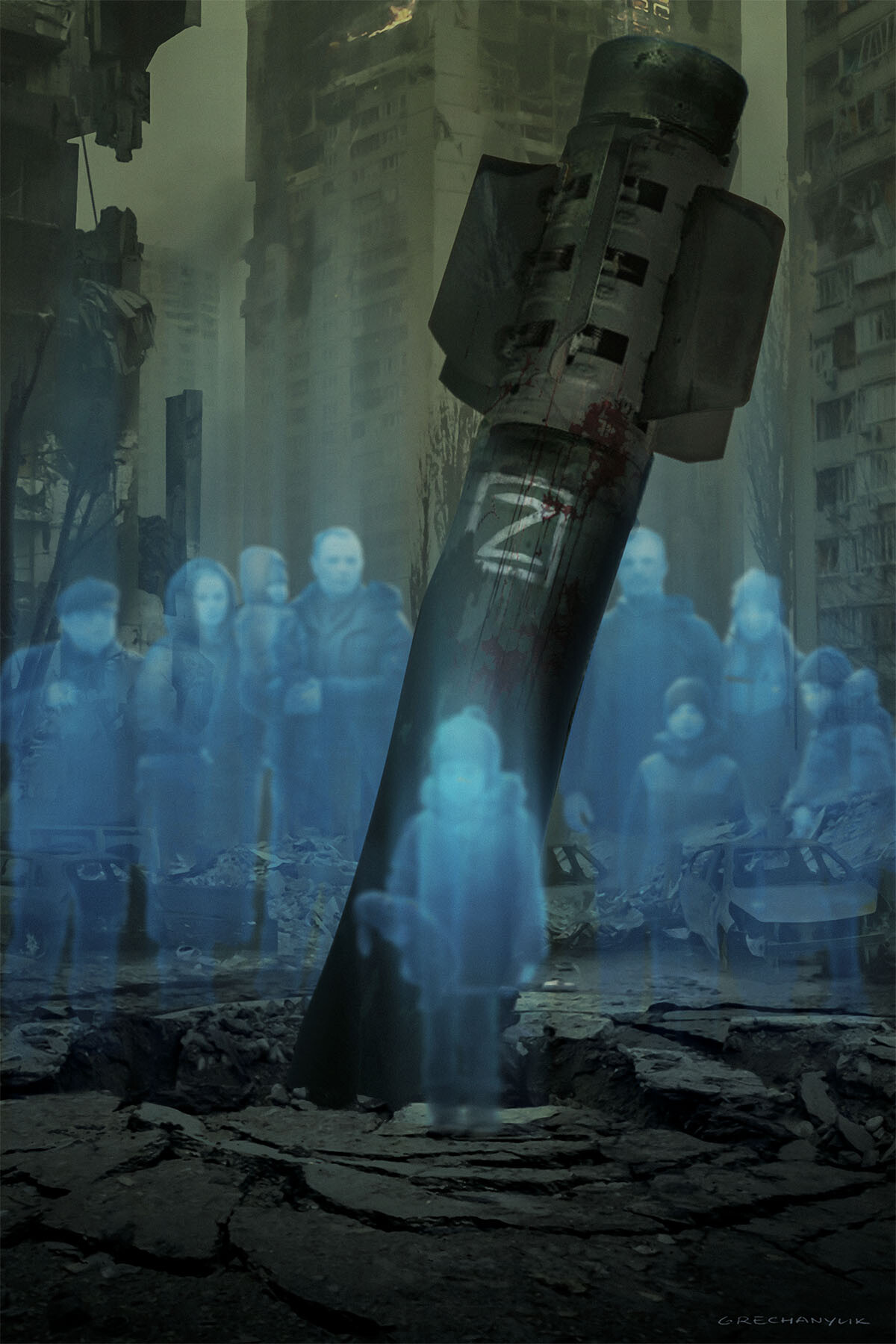 Saturday morning. Air defense systems warn us about a possible rocket strike at the whole territory of Ukraine.

There's no safe place in our country.

All people who stay in their homes or come back do that under constant danger of being killed by a Russian missile. pic.twitter.com/BrFnIdJASW

— Bohdana Neborak 🇺🇦 (@BohdanaNeborak) July 30, 2022
Here is President Zelenksyy's address from earlier this evening. Video below, English transcript after the jump (emphasis mine):
Dear Ukrainians!

During this day, our state received many signals from different countries condemning the Russian terrorist act in Olenivka. The world sees the truth. And I thank all our partners who are ready to join in establishing all the circumstances of this terrible execution of our prisoners.

All evidence of this crime committed by the occupiers will be collected. Everyone is guilty – who approved, who organized, who blasted these people, who knew about it – they all will be found. But still, this is not enough now.

There must be legal steps on the part of the world community against the terrorist state. Condemnation at the level of political rhetoric is not enough for this mass murder. What relationship can be with the terrorist after that? What kind of business can be done with such a country?

Ukrainian diplomats and all friends of Ukraine abroad will increase their activity even more to track and destroy all those connections of the terrorist state with the free world, which Russia still uses.

And formal legal recognition of Russia as a terrorist state, in particular, recognition by the United States Department of State, is needed not as a political gesture, but as an effective defense of the free world. This decision will automatically make it difficult for the terrorist state to exist, and will automatically cut various political and business ties that Russia would maintain otherwise.

And all this will happen one hundred percent. It will have to be done – it's only a matter of time and the format of making this decision. And the sooner it happens, the less evil Russia will have time to do.

It is important to hear exactly the same motivation now for all our people who still remain in Donbas, in the areas of the fiercest fighting. There are hundreds of thousands of people, tens of thousands of children… Many of people refuse to leave… But it really needs to be done. This decision will still have to be made. Anyway! Believe me.

And the sooner it is done, the more people leave Donetsk region now, the fewer people the Russian army will have time to kill.

Therefore, if you have the opportunity, please talk to those who still remain in the combat zones in Donbas. Please convince them that it is necessary to leave, especially if they are families with children. If you have the opportunity to help displaced people, do it.

There is a government decision on mandatory evacuation from Donetsk region, everything is being organized. Full support, full assistance – both logistical and payments. We only need a decision from the people themselves, who have not yet made it for themselves. Go, we will help.

We are not Russia. That is why every life is important for us. And we will use all available opportunities to save as many lives as possible and to limit Russian terror as much as possible.

At this stage of the war, terror is the main weapon for Russia. And that is why the main task of every Ukrainian, every defender of freedom and humanity in the world is to do everything to isolate the terrorist state and to protect as many people as possible from Russian attacks.

I am grateful to everyone who is fighting for Ukraine! To our heroes!

Grateful to everyone who saves our people from this Russian terror!

We will defeat everyone!

Glory to Ukraine!
Here is the Ukrainian MOD's operational update for today:
The operational update regarding the russian invasion on 06.00, on July 30, 2022

Glory to Ukraine! The one hundred fifty seventh (157) day of the heroic resistance of the Ukrainian people to a russian military invasion continues.

The combat, numerical composition and nature of actions of the enemy group remain without significant changes. The occupiers continue to carry out air and missile strikes on military and civilian objects on the territory of Ukraine.

The situation has not changed on the Volyn and Polissya directions. There are no signs of the formation of offensive groups of the armed forces of the republic of belarus and the armed forces of the russian federation in the indicated directions.

In the Siversky direction, the enemy continued to conduct aerial reconnaissance and strike infrastructure objects with barrel and rocket artillery in the areas of border settlements of Chernihiv and Sumy oblasts.

In the Kharkiv direction, the enemy carried out artillery fire damage in the districts of Kharkiv, Prudyanka, Cherkaski Tyshky, Borshchova, Lisne, Korobochkyne, Mospanove, and Stary Saltiv.

In the Slovyansk direction, the enemy fired from barrel, rocket artillery and tanks near Asiivka, Protopopivka, Husarivka, Hrushuvaha, Karnaukhivka, Dolyna and Adamivka. It led assault operations in the districts of Brazhivka and Dmytrivka, had no success, left.

In the Kramatorsk direction, shelling was recorded near Kramatorsk, Siversk, Spirne and other settlements. There were airstrikes near Serebryanka and Spirne. The enemy continued conducting aerial reconnaissance by UAVs.

In the Bakhmut direction, the enemy shelled military and civilian infrastructure in the areas of Yakovlivka, Soledar, Bakhmut, Vesela Dolyna, Kodema, Semyhirya, Travneve, Zaytseve, Kostyantynivka, and New York. Launched an airstrike near Soledar. It led assaults in the areas of Vershyna and Travneve, without success. Fighting continues near Semihirya, Zaytseve and Vershyna.

In the Avdiyivka direction, the occupiers shelled the districts of Novobakhmutivka, Avdiivka, Opytne, Vodyany, Pisky and Krasnohorivka with tanks, barrel and rocket artillery. Airstrikes were carried out near Selidove, Avdiivka and Pervomaiske. The enemy carried out assaults in the areas of Pisky and Avdiyivka, without success. Fighting continues near Krasnohorivka.

On the Novopavlivsky direction, the enemy carried out artillery shelling in the areas of Maryinka, Vuhledar, Mykilske, Pavlivka, Vremivka, Novosilka and Novopil settlements. He led assault operations in the Maryinka area, was unsuccessful, withdrew. Fighting continues near Pavlivka.

In the Zaporizhzhia direction, the enemy is shelling civilian and military infrastructure in the areas of Zaliznychne, Charivne, Bilohirya, Orihiv, Novoandriivka and Kamianske settlements. Conducted an airstrike near Novomykhailivka and Mali Shcherbaky.

In the South Buh direction, the enemy is concentrating its main efforts on holding the occupied positions and preventing the advance of our troops. Supports the high intensity of aerial reconnaissance by UAVs.

Conducted systematic shelling of civilian and military infrastructure in the areas of Trudolyubivka, Osokorivka, Tokarevo, Karierne, Ivanivka, Lozove, Velyke Artakove, Kobzartsi, Shevchenkove, Shyroke, Posad-Pokrovske, Ukrainka, Partyzanske, Mykolaiv and Dniprovske settlements. Airstrikes near Novohrihorivka and Andriivka.

Conducts active measures to restore the ways of logistical support.

In the waters of the Black Sea, the enemy ship group continues to conduct reconnaissance and isolate the area of hostilities. Carriers of sea-based cruise missiles of the "Caliber" type continue to rotate in the waters of the Black Sea with the aim of launching missile strikes on infrastructure facilities on the territory of Ukraine.

We believe in the Armed Forces of Ukraine! Together to victory!

Glory to Ukraine!
Here's the British MOD's assessment for today: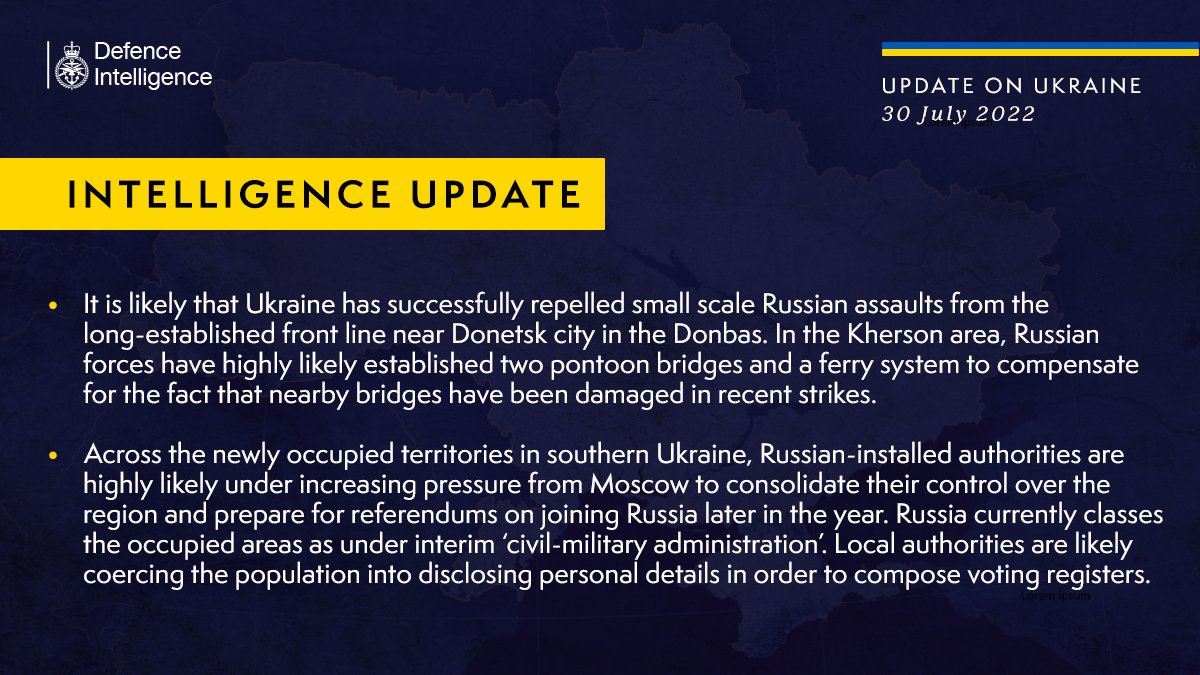 The British did not release an updated map for today.
Former NAVDEVGRU Squadron Leader Chucj Pfarrer did not do an updated map and analysis of the battle for Kherson. However, he did do a visual battle damage analysis of the strike on the POW prison facility on Olenivka:
RU WAR CRIME: @GlasnostGone has posted a series of overhead images of the Russian prison at Olenivka. The building holding POWs is marked in red. Damage to the building is not consistent to any likely UKR weapon. RU munitions, not Ukrainian, were used in this act of murder. https://t.co/xqIw9cbvQC pic.twitter.com/NkhCxPh7aA

— Chuck Pfarrer (@ChuckPfarrer) July 30, 2022
Olenivka:
This is Olha. Her husband defended Azovstal. Now he is in Olenivka prison. Olha does not know whether he is alive. She has only 2 questions: where are all ICRC and UN guarantees? And will they go to Olenivka or not? pic.twitter.com/fWnXD0Pr4B

— Daria Tarasova (@TarasovaMarkina) July 30, 2022
I am reading these messages from wives and mothers of the POWs who were held by russians in #Olenivka prison. My hearts breaks into small pieces. I cannot even imagine their pain. But I know that those russians who did it will pay. It's the mission of our generation. pic.twitter.com/s5zau3qB7E

— Inna Sovsun (@InnaSovsun) July 29, 2022
Kharkiv:
Russia showered Kharkiv with S-300 missiles tonight. No one in the city could sleep because of the constant explosions. Three missiles hit the technical school at 3 am. Two others landed in the central part of Kharkiv. While here the air sirens in the city continue. pic.twitter.com/kgkgebUTK5

— Maria Avdeeva (@maria_avdv) July 30, 2022
Huge fire after a massive missile strike on a technical college in Kharkiv. One building completely destroyed. Rescuers working on site since 3 am. Experts found parts of S-300 – three missiles hit the college. pic.twitter.com/8eVr3wIvKT

— Maria Avdeeva (@maria_avdv) July 30, 2022
I did not mean to ignore this yesterday, but the Russians targeted a bus stop in Mykolaiv with cluster munitions as part of their bombardment strategy:
WARNING: THE IMAGERY IS DISTURBING!!!!
New russian terrorist attack on Mykolaiv bus stop. 5 already dead, many wounded#RussiaIsATerrorristState pic.twitter.com/xmojF6ypqY

— Alex Dolgopolov (@TheDolgo) July 29, 2022
The New Voice of Ukraine has the details:
Two more civilians wounded in a Russian cluster bomb attack on the bus stop in Mykolaiv have died, the mayor of Mykolaiv, Oleksandr Senkevych, said in a post on Telegram on July 29.

In total, seven people have died as a result of the attack, which was carried out by Russian forces using rockets armed with cluster munitions.

"It was reported that two men born in 1977 and 1979 died in hospital," wrote Senkevych. "In total, 19 people need medical help yesterday."

Russian invasion forces fired on the city of Mykolaiv using cluster munitions on the morning of July 29.
Luhansk:
Ukrainian partisans in occupied Luhansk Oblast damaged railway to disrupt the supply of ammunition for Russian forces.

They destroyed the railway control box near Svatove, disrupting the electricity supply to the railway and its control, Oblast head said https://t.co/lKnKsmqfR0 pic.twitter.com/3m4Tjc1TOd

— Euromaidan Press (@EuromaidanPress) July 30, 2022
Radio Free Europe/Radio Liberty's (RFE/RL) Mark Krutov brings reporting of the Ukrainians successfully using their HIMARS to target a railroad junction well behind the lines:
Secondary explosions in Ilovaisk after yet another alleged HIMARS strike. _Very_ approximate location based on TG local comments and FIRMS is the railroad junction 47.92107 38.19455. Multiple comments about railroad in that area totally ceasing operations. pic.twitter.com/DvHm1sxeRl

— Mark Krutov (@kromark) July 29, 2022
The Yale School of Management has been keeping a running tally of non-Russian businesses that have pulled out of versus businesses still operating in Russia. While a over a thousand have ceased operations, there's still a lot that are continuing to operate there. The American companies still doing business in Russia include Carl's Jr, Aimbridge/Insterstate Hotels, Align Technology, Cadence, Cloudflare, the Hard Rock Cafe, the Huntsman Corporation, International Paper, Kemin, Koch Industries, Match Group, Medtronic, Patreon, Quicksilver, Riot Games, Sbarro Pizza, Signet Armorite, Stryker, Tenneco, Titan International, Tom Ford, Tupperware, Valve, and Zimmer Biomet. I may have missed a couple, so feel free to click across and check things out for yourselves. There's also a whole lot more that are scaling back, partially closing, not expanding, etc, but definitely still doing business in Russia.
The Economist has published a long essay regarding Putin and fascism. It does not have a byline.
What matters most in Moscow these days is what is missing. Nobody speaks openly of the war in Ukraine. The word is banned and talk is dangerous. The only trace of the fighting going on 1,000km to the south is advertising hoardings covered with portraits of heroic soldiers. And yet Russia is in the midst of a war.

In the same way, Moscow has no torch processions. Displays of the half-swastika "z" sign, representing support for the war, are rare. Stormtroopers do not stage pogroms. Vladimir Putin, Russia's ageing dictator, does not rally crowds of ecstatic youth or call for mass mobilisation. And yet Russia is in the grip of fascism.

Just as Moscow conceals its war behind a "special military operation", so it conceals its fascism behind a campaign to eradicate "Nazis" in Ukraine. Nevertheless Timothy Snyder, a professor at Yale University, detects the tell-tale symptoms: "People disagree, often vehemently, over what constitutes fascism," he wrote recently in the New York Times, "but today's Russia meets most of the criteria."

The Kremlin has built a cult of personality around Mr Putin and a cult of the dead around the Great Patriotic War of 1941-45. Mr Putin's regime yearns to restore a lost golden age and for Russia to be purged by healing violence. You could add to Mr Snyder's list a hatred of homosexuality, a fixation with the traditional family and a fanatical faith in the power of the state. None of these come naturally in a secular country with a strong anarchist streak and permissive views on sex.

Understanding where Russia is going under Mr Putin means understanding where it has come from. For much of his rule, the West saw Russia as a mafia state presiding over an atomised society. That was not wrong, but it was incomplete. A decade ago Mr Putin's popularity began to wane. He responded by drawing on the fascist thinking that had re-emerged after the collapse of the Soviet Union.

This may have begun as a political calculation, but Mr Putin got caught up in a cycle of grievance and resentment that has left reason far behind. It has culminated in a ruinous war that many thought would never happen precisely because it defied the weighing of risks and rewards.

Under Mr Putin's form of fascism, Russia is set on a course that knows no turning back. Without the rhetoric of victimhood and the use of violence, Mr Putin has nothing to offer his people. For Western democracies this onward march means that, while he is in power, dealings with Russia will be riven by hostility and contempt. Some in the West want a return to business as usual once the war is over, but there can be no true peace with a fascist Russia.

For Ukraine, this means a long war. Mr Putin's aim is not only to take territory, but to crush the democratic ideal that is flourishing among Russia's neighbours and their sense of separate national identity. He cannot afford to lose. Even if there is a ceasefire, he is intent on making Ukraine fail, with a fresh use of force if necessary. It means that he will use violence and totalitarianism to impose his will at home. He is not only out to crush a free Ukraine, but is also waging war against the best dreams of his own people. So far he is winning.

What is Russian fascism? The f word is often tossed around casually. It has no settled definition, but it feeds on exceptionalism and ressentiment, a mixture of jealousy and frustration born out of humiliation. In Russia's case, the source of this humiliation is not defeat by foreign powers, but abuse suffered by the people at the hands of their own rulers. Deprived of agency and fearful of the authorities, they seek compensation in an imaginary revenge against enemies appointed by the state.

Fascism involves performances—think of all those rallies and uniforms—laced with the thrill of real violence. In all its varieties, Mr Snyder says, it is characterised by the triumph of the will over reason. His essay was entitled "We should say it. Russia is fascist". In fact the first to talk about it were Russians themselves. One of them was Yegor Gaidar, the first post-Soviet prime minister. In 2007 he saw a spectre rising from Russia's post-imperial nostalgia. "Russia is going through a dangerous phase," he wrote. "We should not succumb to the magic of numbers but the fact that there was a 15-year gap between the collapse of the German Empire and Hitler's rise to power and 15 years between the collapse of the ussr and Russia in 2006-07 makes one think…"

Nobody has signalled the growing influence of fascism more loudly than Mr Putin and his acolytes. Far from Moscow's prosperous streets, the Kremlin has marked tanks, people and television channels with the letter z. The half-swastika has been painted on the doors of Russian film and theatre critics, promoters of "decadent and degenerate" Western art. Hospital patients and groups of children, some kneeling, have been arranged to form half-swastikas for posting online.

In the 1930s Walter Benjamin, an exiled German cultural critic, analysed fascism as a performance. "The logical result of fascism is the introduction of aesthetics into political life," he wrote. These aesthetics were designed to supplant reason and their ultimate expression was war.

Today the two faces of the war on television, Vladimir Solovyov and Olga Skabeeva, are caricatures of Nazi propagandists. Mr Solovyov is often dressed in a black double-breasted Bavarian-style jacket. Ms Skabeeva, severe and chiselled, has a hint of the dominatrix. They project hatred and aggression. They and their guests decry the West for having declared war on Russia and plead theatrically with Mr Putin to reduce it to ashes by unleashing the full might of Russia's nuclear arsenal.

This fantasy Armageddon is matched by real violence, the basis of the relationship between the Russian state and its people. A Levada poll commissioned by Committee Against Torture (now itself blacklisted) showed that 10% of the Russian population has experienced torture by law-enforcement agencies at some point. There is a culture of cruelty. Domestic abuse is no longer a crime in Russia. In the first week of the war young women protesters were humiliated and sexually abused in police cells. Nearly 30% of Russians say torture should be allowed.

Atrocities committed by the Russian army in Bucha and other occupied cities are not just excesses of war or a breakdown in discipline, but a feature of army life that is spread more widely by veterans. The 64th Motor Rifle Brigade, which allegedly carried out the atrocities, was honoured by Mr Putin with the title of "Guards" for defending the "motherland and state interests" and praised for its "mass heroism and valour, tenacity and courage". The brigade, based in the far east, is notorious in Russia for its bullying and abuse.

Like much else coming from the Kremlin, fascism is a top-down project, a move by the ruling elite rather than a grassroots movement. It requires passive acceptance rather than mobilisation of the masses. Its aim is to disengage people and prevent any form of self-organisation. The Kremlin and television bosses can turn it up and down. In the early years of his presidency Mr Putin used money to keep the people out of politics. After the economy stalled in 2011-12 and the urban middle class came out on the streets to demand more rights, he stoked nationalism and hatred. During the political calm after the annexation of Crimea in 2014 fascism was turned down as suddenly as it had come up.

Its resurgence in 2021-22 followed the decline in Mr Putin's legitimacy, protests against the poisoning and arrest of Alexei Navalny, an opposition leader, and the growing alienation of younger Russians who are less susceptible to television propaganda and more open to the West. To them Mr Putin was an ageing, vengeful and corrupt grandpa who had a secret palace exposed by Mr Navalny's much-watched YouTube film in 2021. Mr Putin needed to turn the volume back up again and Ukraine offered him the means.

Russian fascism has deep roots, going all the way back to the early 20th century. Fascist ideas flourished among White émigrés after the Bolshevik revolution and they were partly re-imported to the Soviet Union by Stalin after the war. He feared that a victory over fascism, won with America and Britain, would empower and liberate his own people. So he turned Soviet success into the triumph of totalitarianism and Russian imperial nationalism. He re-branded war allies as enemies and fascists hellbent on destroying the Soviet Union and depriving it of its glory.

In the decades that followed, fascism was constrained by official communist ideology and by Russians' personal experience of fighting the Nazis alongside the Western allies. After the Soviet collapse, however, both of these constraints disappeared and the dark matter was released. In addition, the liberal elite of the 1990s completely rejected the old Soviet values, sweeping away a strong tradition of anti-fascist literature and arts.

All the while fascism had festered undercover, within the kgb. In the late 1990s Alexander Yakovlev, the architect of democratic reforms under Mikhail Gorbachev, talked openly about the security services as a cradle of fascism. "The danger of fascism in Russia is real because since 1917 we have become used to living in a criminal world with a criminal state in charge. Banditry, sanctified by ideology—this wording suits both communists and fascists."

Such ambiguity was on full display in "Seventeen Moments of Spring", a hugely popular 12-part television series made on the kgb's orders in the 1970s. On the face of it, the series was nothing more than an attempt to rebrand the Stalinist secret police. Yuri Andropov, then kgb chief and later Soviet leader, wanted to glamorise Soviet spies and attract a new generation of young men into the service. As it turned out, the programmes helped introduce a Nazi aesthetic into Russia's popular culture—an aesthetic that would eventually be exploited by Mr Putin.

The hero is a fictional Soviet spy who infiltrates the Nazi high command under the name Max Otto von Stierlitz. He is a high-ranking Standartenführer in the ss, whose mission is to foil a secret plan forged between the cia and Germany near the end of the war. Played by the best-loved Soviet actors, the Nazis in the film are humane and attractive. Vyacheslav Tikhonov, who played the role of Stierlitz, was a model of male perfection. Tall and handsome, with perfect cheekbones, he shone in a sleek Nazi uniform that had been tailored in the Soviet defence ministry.

Ordinary Russians were mesmerised. Dmitry Prigov, a Russian artist and poet, wrote: "Our wonderful Stierlitz is the perfect fascist man and the perfect Soviet man at the same time, making transgressive transitions from one to the other with subduing and untraceable ease…He is the harbinger of a new age—a time of mobility and manipulativeness."

Mr Putin was the beneficiary. In 1999, just before he was named as Russia's president, voters told pollsters that Stierlitz would be one of their ideal choices for the office, behind Georgy Zhukov, the Red Army's commander in the second world war. Mr Putin, a former kgb man who had been stationed in East Germany, had cultivated the image of a latter-day Stierlitz.

When vtsiom, one of the pollsters, repeated the exercise in 2019, Stierlitz came in first place. "An inversion has occurred," the pollsters said. "In 1999 Putin seemed the preferred candidate because he looked like Stierlitz; in 2019 the image of Stierlitz remains relevant because it is being implemented by the country's most popular politician." On June 24th this year a statue to Stierlitz was unveiled in front of the Foreign Intelligence Service (svr) headquarters that was part of the Soviet kgb.

For Mr Putin, the fascist aesthetic is matched by a distinctively Russian fascist philosophy. He and most of his former kgb peers embraced capitalism and rallied against liberals and socialists. They also projected the humiliation they had suffered in the first post-Soviet decade onto the whole country, portraying the end of the cold war as a betrayal and defeat.

Their prophet is Ivan Ilyin, a thinker of the early 20th century who was sent into exile by the Bolsheviks in the 1920s and embraced fascism in Italy and Germany. Ilyin saw fascism as a "necessary and inevitable phenomenon…based on a healthy sense of national patriotism". He provided justification for their self-appointed role as the state's guardians. As such, they were entitled to control its resources.

After the second world war, Ilyin rejected what he saw as Hitler's errors, such as atheism, and his crimes, including the extermination of the Jews. But he retained his faith in the fascist idea of national resurgence. In 1948 he wrote that "fascism is a complex, multifaceted phenomenon and, historically speaking, far from being outlived." Accordingly, Mr Putin embraced religion, rejected anti-Semitism and eschewed collective leadership for his own direct rule, confirmed by plebiscites.

Ilyin's book, "Our Tasks", was recommended by the Kremlin as essential reading to state officials in 2013. It ends with a short essay to a future Russian leader. Western-style democracy and elections would bring ruin to Russia, Ilyin wrote. Only "united and strong state power, dictatorial in scope and state-national in essence" could save it from chaos.

The Ilyin work Mr Putin is said to have read and reread is "What Dismemberment of Russia Would Mean for the World", written in 1950. In it the author argues that Western powers will try "to carry out their hostile and ridiculous experiment even in the post-Bolshevik chaos, deceptively presenting it as the supreme triumph of 'freedom', 'democracy' and 'federalism'…German propaganda has invested too much money and effort in Ukrainian separatism (and maybe not only Ukrainian)".

In 2005, following the first popular uprising in Ukraine, known as the Orange revolution, Mr Putin called the collapse of the Soviet Union the greatest geopolitical catastrophe of the 20th century. Drawing on anti-Ukrainian feelings in Russia, he then set his country on a path of confrontation with the West. That same year Ilyin's body was brought back to Russia from Switzerland, where he had died in exile in 1954. Mr Putin reportedly paid for the gravestone from his own savings. In 2009 he laid flowers on Ilyin's grave.

The fact that Mr Putin has embraced fascist methods and fascist thinking holds an alarming message for the rest of the world. Fascism works by creating enemies. It makes Russia the brave victim of others' hatred even as it justifies feelings of hatred towards its real and imagined foes at home and abroad.

Dmitry Medvedev, a former president and "moderniser", recently posted on social media: "I hate them. They are bastards and degenerates. They want us, Russia, dead…I'll do all I can to make them disappear." He did not bother to say who he had in mind. But Russia's hostility has three targets: the liberal West, Ukraine and traitors at home. All of them need to take stock of what Russian fascism means.

Mr Putin has long sought to undermine Western democracies. He has supported far-right parties in Europe, such as National Rally in France, Fidesz in Hungary and the Northern League in Italy. He has interfered in American elections, hoping to help Donald Trump defeat the Democrats.

Even if fighting stops in Ukraine, the devotee of Ilyin in the Kremlin will not settle into an accommodation with Western democracies. Mr Putin and his men will do everything in their power to battle liberalism and sow discord.

For centuries Russia has been partly European, but Kirill Rogov, a political analyst, wrote recently that the war in Ukraine enabled Mr Putin to cut off that part of its identity. As long as Mr Putin is in power, Russia will build alliances with China, Iran and other anti-liberal countries. It will, as ever, be in the ideological vanguard.

The outlook for Ukraine is even more bleak. A few weeks after the start of the war Ria Novosti, a state news agency, published an article that called for the purging "of the ethnic component of self-identification among the people populating the territories of historical Malorossia and Novorossia [Ukraine and Belarus] initiated by the Soviet powers."

Ukraine, Mr Putin said, was the source of deadly viruses, home to American-funded biological labs experimenting with strains of coronavirus and cholera. "Biological weapons were being created in direct proximity to Russia," he warned.
Much, much more at the link!
Earlier today AL covered the news that a Russian national was indicted yesterday for attempting to subvert Americans into acting as agents of Russia. Here is the official DOJ announcement:
An indictment was unsealed today in Tampa, Florida, charging a Russian national, working on behalf of the Russian government and in conjunction with the Russian Federal Security Service (FSB), with allegedly orchestrating a years-long foreign malign influence campaign that used various U.S. political groups to sow discord, spread pro-Russian propaganda, and interfere in elections within the United States.

As alleged in the indictment, from at least December 2014 until March 2022, Aleksandr Viktorovich Ionov, a resident of Moscow, together with at least three Russian officials, engaged in a years-long foreign malign influence campaign targeting the United States. Ionov is the founder and president of the Anti-Globalization Movement of Russia (AGMR), an organization headquartered in Moscow and funded by the Russian government. Ionov utilized AGMR to carry out Russia's influence campaign.

"Ionov allegedly orchestrated a brazen influence campaign, turning U.S. political groups and U.S. citizens into instruments of the Russian government," said Assistant Attorney General Matthew G. Olsen of the Justice Department's National Security Division. "The Department of Justice will not allow Russia to unlawfully sow division and spread misinformation inside the United States."

According to the indictment, Ionov — working under the supervision of the FSB and with the Russian government's support — recruited political groups within the United States, including U.S. Political Group 1 in Florida, U.S. Political Group 2 in Georgia, and U.S. Political Group 3 in California, and exercised direction or control over them on behalf of the FSB. Specifically, Ionov provided financial support to these groups, directed them to publish pro-Russian propaganda, coordinated and funded direct action by these groups within the United States intended to further Russian interests, and coordinated coverage of this activity in Russian media outlets. Ionov also relayed detailed information about this influence campaign to three FSB officials.

"Secret foreign government efforts to influence American elections and political groups threaten our democracy by spreading misinformation, distrust and mayhem," said Assistant Attorney General Kenneth A. Polite, Jr. of the Justice Department's Criminal Division. "The department is committed to ensuring U.S. laws protecting transparency in the electoral process and the political system are not undermined through foreign malign influence."

According to the indictment, Ionov allegedly targeted U.S. Political Group 1 based in St. Petersburg, Florida. In May 2015, Ionov funded an all-expense paid trip to Russia for the leader of U.S. Political Group 1 (Unindicted Co-Conspirator-1, UIC-1) in order to "communicate on future cooperation" between U.S. Political Group 1 and AGMR. Following that trip, and for at least the next seven years, Ionov exercised direction and control over senior members of U.S. Political Group 1.

"The prosecution of this criminal conduct is essential to protecting the American public when foreign governments seek to inject themselves into the American political process," said U.S. Attorney Roger B. Handberg for the Middle District of Florida. "We will continue to work with our partners at the FBI to investigate these events, and we will continue to follow the evidence to ensure justice is done."

Early in the conspiracy, senior members of U.S. Political Group 1, UIC-1, UIC-2, and UIC-3 exchanged emails about the fact that Ionov was working on behalf of the Russian government. For example, in September 2015, Ionov paid for UIC-1 to attend an AGMR-sponsored "Dialogue of Nations" conference in Moscow. Upon his return to Florida, UIC-1 reported to the leadership of U.S. Political Group 1 that AGMR is "a solid institution of Russian politic," and that it was "clear" that AGMR was "an instrument of [the] Russian government," which, UIC-1 wrote, did not "disturb us." The following week, in an email discussion, U.S. Political Group 1 leaders observed that it was "more than likely" that the Russian government was using AGMR "to utilize forces inside of the U.S. to sew [sic] division inside the United States."

"The impact of Russian malign foreign influence cannot be overstated," said Assistant Director Luis Quesada of the FBI's Criminal Investigative Division. "The FBI will aggressively pursue any foreign government that attempts to divide American citizens and poison our democratic process."

Ionov used his control over U.S. Political Group 1 leaders to foster discord within the United States, to spread pro-Russian propaganda under the guise of a domestic political organization, and to interfere in local elections. For example, in January 2016, Ionov guaranteed financing for — and ultimately funded — a four-city protest tour undertaken by U.S. Political Group 1 in support of a "Petition on Crime of Genocide against African People in the United States," which it had previously submitted to the United Nations at Ionov's direction. Later, in 2017 and 2019, Ionov monitored and supported the St. Petersburg, Florida, political campaigns of UIC-3 and UIC-4. In 2019, before the primary election, Ionov wrote to a Russian official that he had been "consulting every week" on the campaign. After UIC-4 advanced to the general election, FSB Officer 1 wrote to Ionov that "our election campaign is kind of unique," and asked, "are we the first in history?" Ionov later sent FSB Officer 1 additional details about the election, referring to UIC-4 as the candidate "whom we supervise."

According to the indictment, Ionov's relationship with U.S. Political Group 1 continued until at least March 2022. Specifically, in the wake of Russia's invasion of Ukraine, U.S. Political Group 1 repeatedly hosted Ionov via video conference to discuss the war, during which Ionov falsely stated that anyone who supported Ukraine also supported Nazism and white supremacy. In a report to the FSB, Ionov explained that he had enlisted U.S. Political Group 1 to support Russia in the "information war unleashed" by the West.

Alongside his malign foreign influence efforts with U.S. Political Group 1, Ionov also exercised direction and control over U.S. Political Group 3, an organization based in California whose primary goal was to promote California's secession from the United States. In January and February of 2018, Ionov supported U.S. Political Group 3's efforts — led by the organization's founder (UIC-6)—to orchestrate a protest demonstration at the California Capitol building in Sacramento. Ionov partially funded the efforts and attempted to direct UIC-6 to physically enter the governor's office. Later, Ionov sent various media reports covering the demonstration and U.S. Political Group 3's broader efforts to FSB Officer 1, writing that FSB Officer 1 had asked for "turmoil" and stating, "there you go."

According to the indictment, Ionov also directed the efforts of U.S. Political Group 2, based in Atlanta. For example, as recently as March 2022, Ionov paid for members of U.S. Political Group 2 — including its founder (UIC-5) — to travel from Atlanta to San Francisco to protest at the headquarters of a social media company that had placed content restrictions on posts supporting Russia's invasion of Ukraine. Ionov sent UIC-5 designs for signs used at the protest and funded cross-country travel for UIC-5 and other members of U.S. Political Group 2. After the protest, Ionov sent UIC-5 a picture of a Russian news website's social media page, which displayed a Russian-language news story about the protest.

Ionov is charged with conspiring to have U.S. citizens act as illegal agents of the Russian government. If convicted, he faces a maximum penalty of five years in prison. A federal district court judge will determine any sentence after considering the U.S. Sentencing Guidelines and other statutory factors.

Assistant U.S. Attorneys Daniel J. Marcet and Risha Asokan, Trial Attorney Menno Goedman of the Justice Department's Counterintelligence and Export Control Section, and Trial Attorney Demetrius Sumner of the Justice Department's Public Integrity Section are prosecuting the case.

The FBI Tampa Field Office is investigating the case.

An indictment is merely an allegation. All defendants are presumed innocent until proven guilty beyond a reasonable doubt in a court of law.
I have written here many times going back to 2016 that one of the major objectives of Putin's war on the US, a war that began between 2011 and 2014, was to penetrate as much of American civil society as possible and at all levels. Penetrate here is the technical term for infiltrate to manipulate and/or influence. In the case of Ionov's alleged activities, which began in 2014, he was attempting to infiltrate state and municipal level actors on both the right and the left in order to influence and manipulate them into taking action that would benefit Russia. As such, Ionov targeted groups that were either fully fledged separatist movements (the California group) or included consideration of it as part of their overall ideological makeup (the Florida groups). In the case of the Florida portion of the operation, Ionov infiltrated the Uhuru Movement in St. Petersburg, which would go on to run a candidate for mayor. You may recall BettyC and I referring to that election as a Rickoff as both the major party candidates were named Rick. Specifically, Rick Kriesman was running against Rick Baker.
Not surprisingly, the St. Petersburg Uhuru Movement called a press conference after the indictment to defend Russia:
Eritha 'Akile' Cainion led a press conference in response to the FBI indictment of Ionov. Cainion defended and promoted Russia, saying the U.S. and other "world Colonial powers have been collaborating against Russia for well into the early 1900s."

"The history of the African People's Socialist Party is to unite with any forces that unite with the anti-colonial struggle. And we feel that is a just struggle. What this is a propaganda campaign against Russia. We can have relationships with whoever we want," Cainion said.

During the same time, law enforcement officials were at the Uhuru house in St. Pete.
You may all remember the RIA Novosti screengrab from below, which I've included in a number of different posts. It too is from 2014 and it is the beginning of the Black PSYOP aimed at President Biden.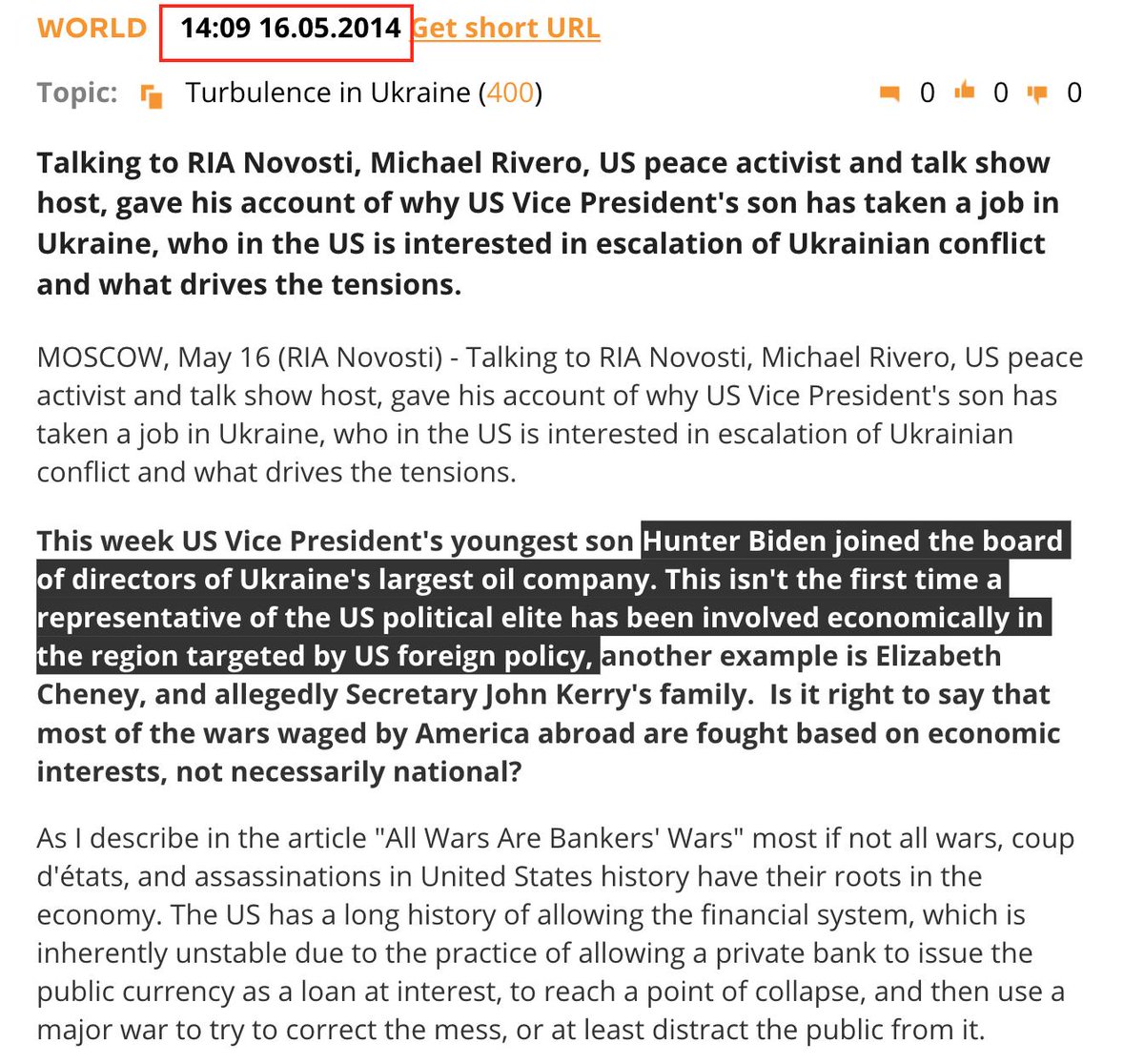 As I've also noted here many times, as recently as the other night, the US's counterintelligence capabilities were purposefully neglected and allowed to begin to atrophy in the early 1990s. Some attorney general named Bill Barr reassigned the bulk of the FBI's counterintelligence personnel to focus on gang violence in 1992.
The results became evident when Mr. Barr reassigned 300 F.B.I. agents from counterintelligence work to investigations of gang violence in the largest single manpower shift in the bureau's history.
"Investigations of gang violence" should be read as "investigations of Blacks and Latinos".
American counterintelligence was never re-prioritized or re-balanced. Even as new threats such as al Qaeda emerged and older threats (the Soviet Union) mutated into new ones (Russia, Russian and post-Soviet organized crime). At the same time, Senator McConnell began his long, slow successful effort to remove every last bit of campaign financing regulation from American law at the Federal and state level thereby turning American politics into one large money laundry. The effects of all of these actions on the US, as well as on our allies, which began to be glaringly obvious in late 2015/early 2016, are a major reason we are in the mess we're currently in. I guarantee you, for every Ionov that the DOJ indicts, there are dozens more doing the same thing; targeting political, social, and religious groups and movements throughout the US. Some of that is being done by laundering money into campaigns and SuperPACs and other 501c3s and churches by Russian and Putin aligned post-Soviet oligarchs that have gotten American citizenship. Or through their relatives who have. These guys aren't attending the National Prayer Breakfast and all the state and municipal equivalents because the pancakes are orgasmic. Nor are they doing it out of a sense of real religious duty. They're doing it because there is largely no difference between the Putin aligned oligarchs, Russia's security and intelligence services, and the senior military, security, and intelligence leadership: the Russian siloviki.
Some of this work is also being done by attempting to amplify voices on social media and, by doing so, increase the grievances between and among Americans. This type of war and warfare is a major return on a pennies on the dollar investment. Putin was reaping those benefits. He still is even as he is burning through resources in Ukraine.
I think that's enough for tonight.
Your daily Patron!
In Ukraine, only I have access to the hospitals. But I think it's wrong. Dogs can help a lot.

— Patron (@PatronDsns) July 30, 2022
And! I'm so glad I received an answer from the Minister of Health in Ukraine @liashko_viktor that he would fit this issue into his busy schedule🥰 pic.twitter.com/C048Xi0PVf

— Patron (@PatronDsns) July 30, 2022
And a new video from Patron's official TikTok:
Open thread!