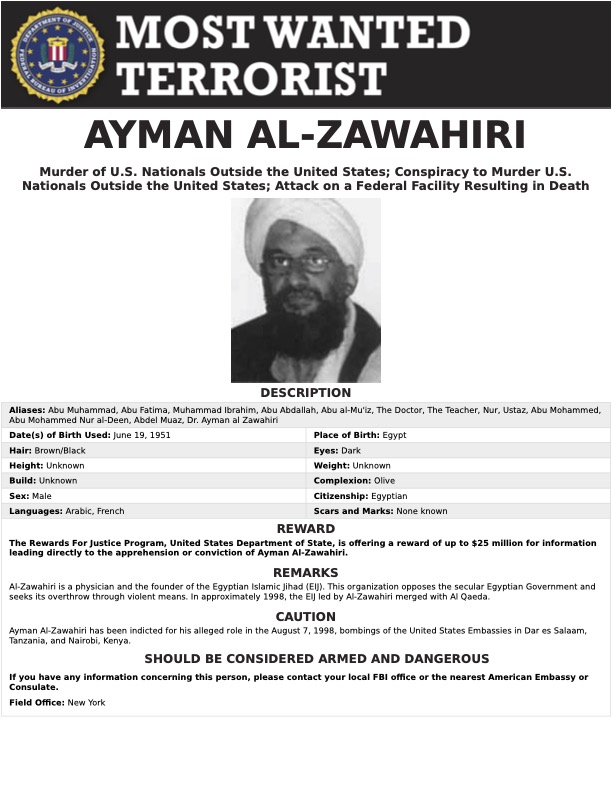 In the past half an hour the news has broken that the US was able to successfully target al Qaeda leader Ayman al Zawahiri in Afghanistan over the weekend and kill him with an air strike.
The only significant Al-Qaeda target in Afghanistan is Ayman Zawahiri https://t.co/mHKJ9J4OKY

— Barak Ravid (@BarakRavid) August 1, 2022
Ayman Zawahiri, one of the founders of Al-Qaeda, Bin Laden's deputy and the leader of the organization in recent years was the target of a U.S. airstrike in Afghanistan, per source briefed on the issue

— Barak Ravid (@BarakRavid) August 1, 2022
The Associated Press has the emerging details:
WASHINGTON (AP) — A CIA drone strike has killed al-Qaida leader Ayman al-Zawahri in Afghanistan, according to five people familiar with the matter.

Current and former officials began hearing Sunday afternoon that al-Zawahri had been killed in a drone strike, but the administration delayed releasing the information until his death could be confirmed, according to one person, who spoke on the condition of anonymity to discuss the matter.

White House officials declined to confirm al-Zawahri was killed but noted in a statement that the United States conducted a "successful" counterterrorism operation against a significant al-Qaida target, adding that "there were no civilian casualties."

President Joe Biden is expected to discuss further details of the operation in a 7:30 p.m. EDT address to the nation.

Biden planned to speak from the balcony off the White House Blue Room as he remains in isolation in the residence while he continues to test positive for COVID-19.
More at the link!
This is the most interesting take I've seen yet:
I am a long-standing critic of U.S. drone strikes.

Having said that, Ayman al Zawahiri is an anti-Christian, antisemitic, anti-Shia mass murderer. If he's been killed, I won't be shedding any tears for him & nor will most Muslims. So much blood on his hands, Muslim & non-Muslim.

— Mehdi Hasan (@mehdirhasan) August 1, 2022
A profile of Zawahiri and informed speculation on who might succeed him as al Qaeda's leader after the jump.
This is CNN's profile of Zawahiri:
CNN) — Ayman al-Zawahiri emerged from a privileged upbringing in Egypt to become one of the world's most wanted terrorists.

The bespectacled 52-year-old surgeon formally merged his group, Egyptian Islamic Jihad, with al Qaeda in 1998, becoming leader Osama bin Laden's personal physician and closest confidant.

Their group has been blamed for numerous terrorist attacks worldwide, mainly on Western targets, including the attacks of September 11, 2001, on New York and Washington that killed nearly 3,000 people.

After the attacks, the U.S. State Department offered a $25 million award for information leading to al-Zawahiri's apprehension.

An Islamic fundamentalist, al-Zawahiri joined the outlawed Egyptian Islamic Jihad group as a teenager, being jailed twice for helping plot assassinations of two Egyptian leaders.

He eventually became the group's leader, which was dedicated to the creation of an Islamic state in Egypt, and in the 1980s he joined Mujahedeen fighting Soviet forces in Afghanistan.

There he befriended and joined forces with bin Laden. Before and after September 11, al-Zawahiri appeared on numerous video and audiotapes calling for attacks against Western targets and urging Muslims to support his cause.

"Ayman al-Zawahiri is effectively Osama bin Laden's No. 2," said CNN terrorism analyst Peter Bergen. "He is his closest adviser."

As a 16-year-old medical student in the 1960s, al-Zawahiri became involved in the Islamic fundamentalist movement rolling through Egypt.

Authorities arrested and charged him with being part of a Muslim Brotherhood plot to overthrow President Gamal Abdel Nasser.

Due to his charisma and fluent English, al-Zawahiri emerged as a sort of international spokesman for the imprisoned Islamic activists.

"We want to speak to the whole world," he said in 1983. "We are Muslims who believe in our religion. … We are here, the real Islamic front and the real Islamic opposition."

By the time al-Zawahiri got out of prison, he had moved into the top ranks of the militants.

He left Egypt in 1985 and made his way to Peshawar, Pakistan, where he worked as a surgeon treating the fighters who were waging holy war against Soviet troops in Afghanistan.

That is where Zawahiri met bin Laden, a prominent Mujahedeen leader and who also had left behind a privileged upbringing to join the fight in Afghanistan. The two became close, linked by their common bond as "Afghan Arabs."

After the war against the Soviets ended, Zawahiri was unable to return to Egypt.

Instead, he joined bin Laden in Sudan, where he planned terror activities, including an attack on the Egyptian Embassy in Pakistan. He was also linked to assassination attempts on several Egyptian politicians.

Ali Mohammed, a fellow Egyptian and Islamic Jihad member living in the United States, testified al-Zawahiri actually visited the United States twice on fund-raising trips in the early 1990s, including to a mosque in Santa Clara, California.

The group, meanwhile, stepped up its violent campaign against the Egyptian government, blowing up its embassy in Pakistan in 1995 and trying to assassinate several top Egyptian politicians.

After reuniting in Afghanistan, bin Laden and al-Zawahiri appeared together in early 1998 announcing the formation of the World Islamic Front for the Jihad Against the Jews and the Crusaders — formally merging the Egyptian Islamic Jihad and al Qaeda, bin Laden's group.

The two issued a fatwa, or decree, that said, "The judgment to kill and fight Americans and their allies, whether civilians or military, is an obligation for every Muslim."

"Al-Zawahiri's influence on bin Laden has been profound," Bergen said. "According to a number of people who know both men, [al-Zawahiri] helped [bin Laden] become more radical, more anti-American and more violent."

Some Egyptians traced al-Zawahiri's anger toward the United States to what many Afghan Arabs felt was the CIA's betrayal to support their cause after the Soviets left Afghanistan and the country slipped into tribal anarchy.

Others date al-Zawahiri's wrath to 1998, when U.S. officials pushed for the extradition of a number of Egyptian Islamic Jihad members from Albania to stand trial in Egypt for terrorism.

In early August of that year, the al Hayat newspaper office in Cairo received a fax from Egyptian Islamic Jihad stating: "We should like to inform the Americans that, in short, their message has been received and that they should read carefully the reply that will, with God's help, be written in the language that they understand."

On August 7, suicide bombers destroyed the U.S. embassies in Kenya and Tanzania, killing 224 people. U.S. authorities later indicted both al-Zawahiri and bin Laden on charges they masterminded the terror bombings.

An hour later, U.S. forces launched cruise missiles in retaliation for the embassy bombings, but al-Zawahiri and bin Laden escaped.

A few days later, al-Zawahiri defiantly called a reporter and warned there would be more attacks. There were, including the attack on the USS Cole in October 2000 and a year later the attacks on New York and Washington.
Much more at the link.
Here is a recent piece by Dr. Tricia Bacon, PhD and Dr. Elizabeth Grimm, PhD published at the International Centre for Counter-terrorism on who might succeed Zawahiri:
Questions of succession loom large for al-Qaeda. By most accounts, al-Qaeda leader Dr. Ayman al-Zawahiri is alive, but in poor health, and thus questions of succession loom large for the group. This succession—when it occurs—would mark only the second leadership transition for al-Qaeda in its more than 30-year existence. During his time as al-Qaeda's leader, al-Zawahiri persisted in following the blueprint developed by Usama bin Laden. In so doing, he provided a degree of consistency for the group, which has faced unprecedented counter-terrorism (CT) pressure since 2001. At the same time, his approach to leadership and the CT environment the group faced made it difficult, perhaps impossible, for al-Zawahiri to rejuvenate the beleaguered organisation. Such are the trade-offs of what we call a 'caretaker leader'. While many have criticised al-Zawahiri's characteristics as a leader, we argue that rather than focusing on al-Zawahiri or his potential successor's personality traits, the more critical question to examine is what type of leader al-Zawahiri has been and what type his eventual successor could be.

Usama bin Laden's leadership is well-documented, as the group's founder, but the leadership role of his successor has been less explored. Why does this matter? Succession is a critical juncture that all terrorist groups must reckon with if they survive long enough. These transitions can potentially threaten the very survival of the group, or at least force a reckoning of how to function in the founder's wake. Based on our forthcoming book, Terror in Transition, we put forward an analysis of where the group stands right now, what role al-Zawahiri played in al-Qaeda, and what possible roles the next successor might fill. We conclude with counter-terrorism implications for each possible type of successor to help guide action against the group following this transition.

Snapshot of al-Qaeda today

Despite extensive criticism of al-Zawahiri as uncharismatic, fractious [p.256], and overall incompetent [p.47], al-Zawahiri has been a steadfast steward of bin Laden's legacy for al-Qaeda—leading some to comment that, "if Osama bin Laden were alive today, he'd likely be a happy man." The al-Qaeda of today has, primarily through its affiliates, expanded geographically, increased its strength in places like Yemen, Syria, and sub-Saharan Africa, and remained a leader within the jihadist community. But al-Qaeda core has experienced significant losses. Though it now enjoys safe haven in Afghanistan under the Taliban regime, the US Intelligence Community assesses it lacks the capability to conduct major transnational attacks, a hallmark of al-Qaeda's approach.

Al-Zawahiri: Leader of al-Qaeda

Past experience offers less insight than one would expect into what kind of leader al-Zawahiri has been for al-Qaeda. Al-Zawahiri has functioned very differently at the head of al-Qaeda than when leading his previous group, the Egyptian Islamic Jihad (EIJ). During his tenure as emir of EIJ, he engaged in a series of terrorist attacks in Egypt that alienated its constituency, exacerbated internal divisions, and provoked intense CT pressure—all of which forced EIJ to abandon its founding mission [p.10-11] in Egypt and eventually merge with al-Qaeda.

Unlike the disruptive changes he made in EIJ's tactics and mission, al-Zawahiri did not opt to fundamentally change al-Qaeda. Instead, he reinforced bin Laden's vision by "set[ting] in motion… a widespread awakening in different parts of the Muslim world" and embracing a global mission prioritising the US rather than returning to a narrow focus on Egypt. He continued bin Laden's invocation that jihad was an individual duty incumbent on all Muslims. Overall, al-Zawahiri's difficult personality and lack of charisma did not necessarily change, but the type of leader he was did change several times during his tenure as the leader of EIJ and then al-Qaeda, which points to a need for a way to assess successors that moves beyond personality characteristics.

While al-Zawahiri was the clear successor to bin Laden, there is debate about who will succeed al-Zawahiri. For example, there has long been speculation about the eventual leadership of Saif al-Adel, a veteran Egyptian commando and long-time member of al-Qaeda who was once tasked to work with the equally abrasive Abu Musab al-Zarqawi. Given his extensive experience as a military operative and his role in operational planning, which reportedly included opposition to the 9/11 attacks, it is possible he could serve as a fixer for the group, a leader who changes the how. However, al-Adel has historically preferred to keep a low profile in his military and intelligence roles, pointing to a possible, though less likely, future as a figurehead if he becomes emir. Little is known about his current activities, but recent UN reports assess that if he tries to openly relocate to Afghanistan, he may face resistance from the Taliban government, given the international pressure his move would cause.

Others have speculated that Abd al-Rahman al-Maghribi, head of al-Qaeda's Media Committee, may take the reins instead. For his part, al-Maghribi is al-Zawahiri's son-in-law, reflecting a familial relationship similar to the one which once made Hamza bin Laden, Usama's son, previously the most eligible heir to al-Qaeda's leadership before his death. Such authority and prestige can be passed down [p.173], and caretakers can emerge in a group where the potential successor possesses familial bonds with the founder or when the successor has faithfully served under the previous leader. These familial bonds—as well as his experience in running al-Qaeda's global media—may give him the "bona fides" to assume this leadership role.

Finally, precedent also exists for groups to choose a dark horse successor, as al-Shabaab did with the successor to its founder, Abu Ubaydah. Some such successors in al-Qaeda are known already to law enforcement and intelligence agencies—such as Abu Ikhlas al-Masri, an Egyptian leader operations commander, or Amin Muhammad ul Haq Saam Khan, the former security coordinator for Usama bin Laden—while others remain unknowable. While it is uncertain who will rise to the top spot, our analysis of al-Zawahiri and his variation as a leader demonstrates that even knowing the individual provides only so much information about the type of leader he will be. Therefore, we argue that it is less important to ask who al-Zawahiri's successor will be, and rather to ask what type of leader he will be.

Potential Future Leadership Directions for al-Qaeda

Given the uncertainty around the next leader and the possibility that even a known leader may adopt a very different leadership role once in charge—as al-Zawahiri did—we present the possible leadership directions for al-Qaeda, as well as the CT options based on each role.
Much more at the link.
Open thread!