Guy next to me on plane: "Why are you wearing a mask? You don't need to anymore."

Me: "It helps me mind my own business."

— John V (@RedactedJohn) July 28, 2022
People at high risk of severe disease who have yet to get a second COVID-19 booster should not wait for next-generation, Omicron-targeted vaccines expected in the fall, five vaccine experts told Reuters. https://t.co/RULbZC6JxM

— Reuters Health (@Reuters_Health) July 29, 2022
The U.S. government said on Friday it agreed to a $1.74 billion deal for 66 million doses of a Moderna Inc COVID vaccine updated for the Omicron subvariant for use in a fall and winter booster campaign, sending Moderna shares up 3%. https://t.co/ZgSg3HhlMd

— Reuters Health (@Reuters_Health) July 29, 2022
======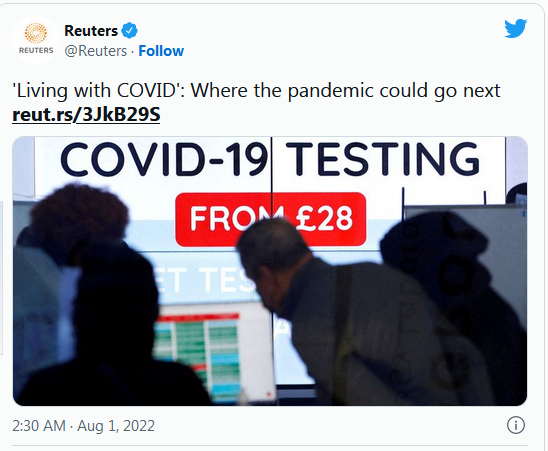 LONDON/CHICAGO, Aug 1 (Reuters) – As the third winter of the coronavirus pandemic looms in the northern hemisphere, scientists are warning weary governments and populations alike to brace for more waves of COVID-19.

In the United States alone, there could be up to a million infections a day this winter, Chris Murray, head of the Institute of Health Metrics and Evaluation (IHME), an independent modeling group at the University of Washington that has been tracking the pandemic, told Reuters. That would be around double the current daily tally.

Across the United Kingdom and Europe, scientists predict a series of COVID waves, as people spend more time indoors during the colder months, this time with nearly no masking or social distancing restrictions in place.

However, while cases may surge again in the coming months, deaths and hospitalizations are unlikely to rise with the same intensity, the experts said, helped by vaccination and booster drives, previous infection, milder variants and the availability of highly effective COVID treatments.

"The people who are at greatest risk are those who have never seen the virus, and there's almost nobody left," said Murray…

The potential wild card remains whether a new variant will emerge that out-competes currently dominant Omicron subvariants.

If that variant also causes more severe disease and is better able to evade prior immunity, that would be the "worst-case scenario," according to a recent World Health Organization (WHO) Europe report.

"All scenarios (with new variants) indicate the potential for a large future wave at a level that is as bad or worse than the 2020/2021 epidemic waves," said the report, based on a model from Imperial College of London…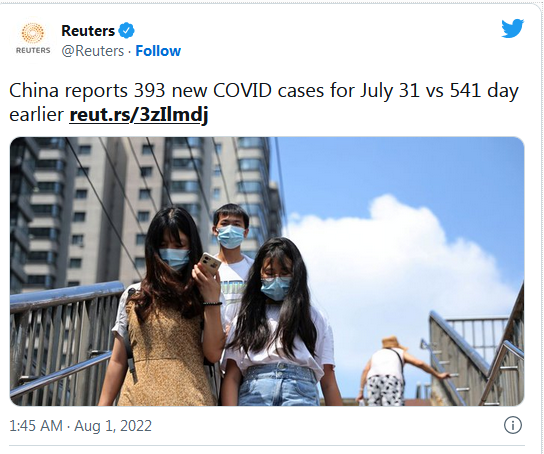 (link)
🎶Another wave bites the dust🎶 https://t.co/9B0mWqNwoM

— Naomi Wu 机械妖姬 (@RealSexyCyborg) July 31, 2022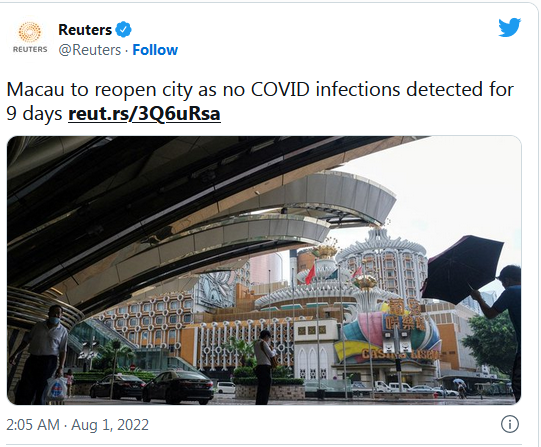 (link)
Hong Kong reported 4,254 new Covid-19 infections on Monday, of which 235 cases were imported. The city also recorded 6 new deaths.

Full, trusted coverage on HKFP: https://t.co/w8LTgNxKZy pic.twitter.com/we1cu1NHv7

— Hong Kong Free Press HKFP (@hkfp) August 1, 2022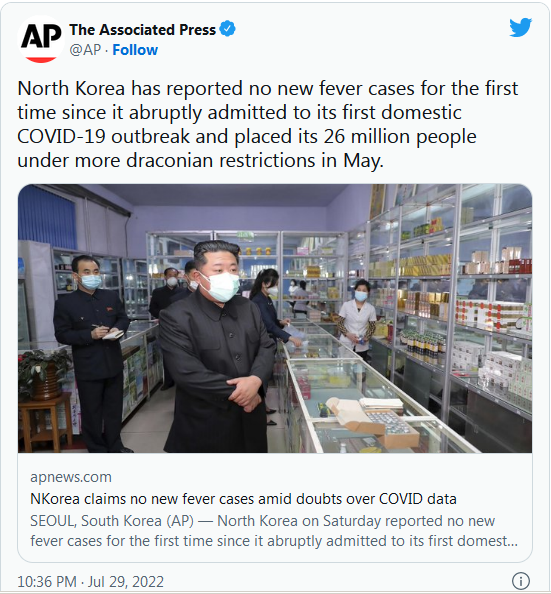 (link)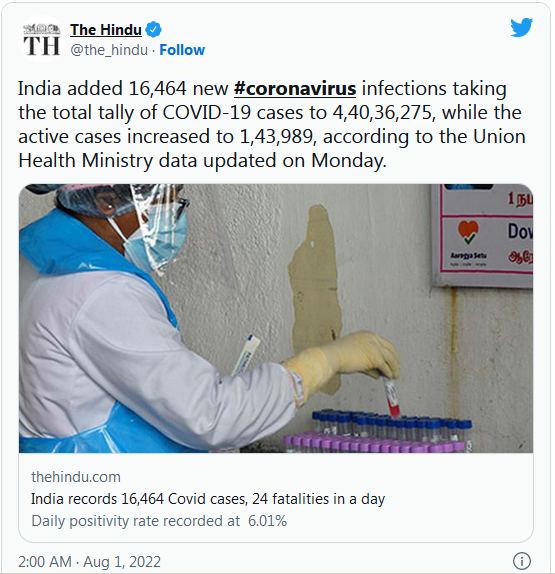 (link)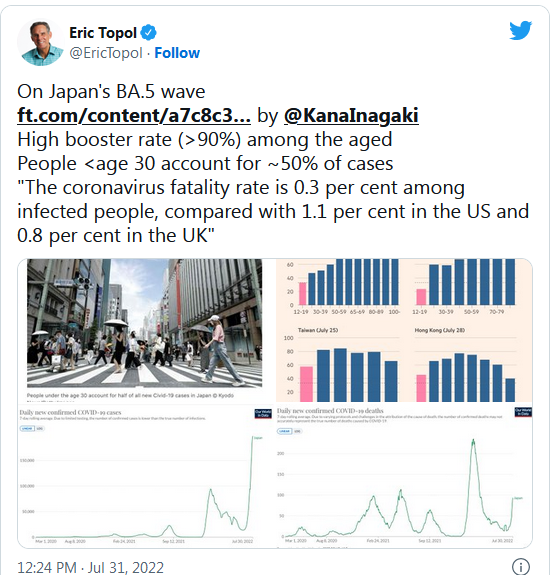 Japan is struggling to contain its biggest coronavirus outbreak since the start of the pandemic, which is being driven by soaring infection rates among children and adolescents who have not been fully vaccinated.

The spread of the highly transmissible BA.5 Omicron subvariant has led to a record number of daily cases of Covid in Tokyo and cities across Japan, surpassing 230,000 for the first time last week.

Those younger than 20 made up about 30 per cent of new infections in July, compared with 19 per cent in August of last year. People below the age of 30 together accounted for about half of all new cases.

According to the World Health Organization, Japan reported the highest number of new cases in the Asia-Pacific region between the week of July 18 to 24, followed by South Korea and Australia.

Japan's low vaccination rate among the young is in contrast to much of east Asia, where the elderly lag behind the rest of the population.

The Japanese government has been largely successful in vaccinating most of its citizens over the age of 65, which make up close to a third of the country's total population…

Apart from the late implementation of an inoculation programme for the young, Nishi said the sharp increase in Covid cases was also due to the relatively few Japanese who were infected during the first waves of the pandemic. In Japan, less than 10 per cent of the population have been infected with Covid, compared with about 30 per cent in the US and 34 per cent in the UK…

Despite the surge in cases, the government has not imposed the kind of restrictions on social and economic activities as during previous waves. This is mainly because the number of deaths and severe cases from Covid has been low, even though cases among the elderly have also increased significantly.

In Japan, the coronavirus fatality rate is 0.3 per cent among infected people, compared with 1.1 per cent in the US and 0.8 per cent in the UK, according to data from Johns Hopkins University.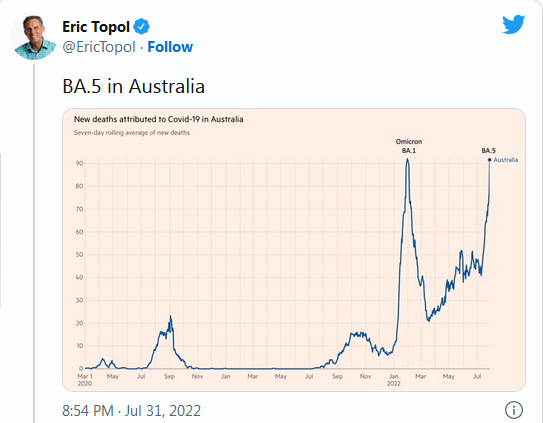 (link)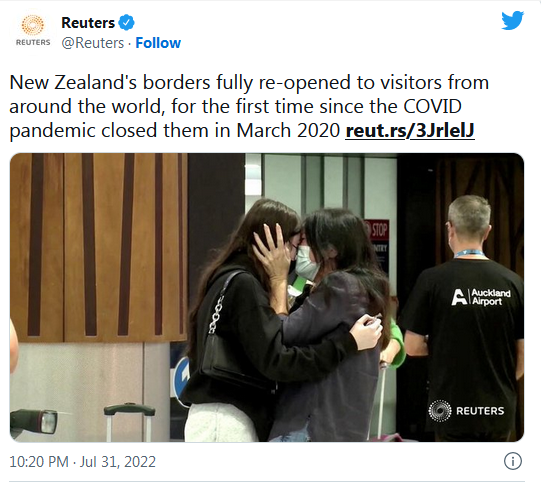 (link)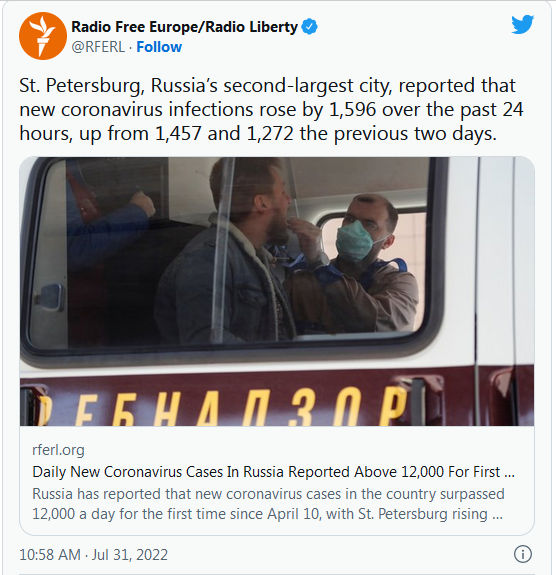 (link)
Very important results showing deaths In South Africa back at pre-pandemic level, even with he BA.4 & 5 recent wave. https://t.co/WKWC3vKyHB

— Tulio de Oliveira (@Tuliodna) July 30, 2022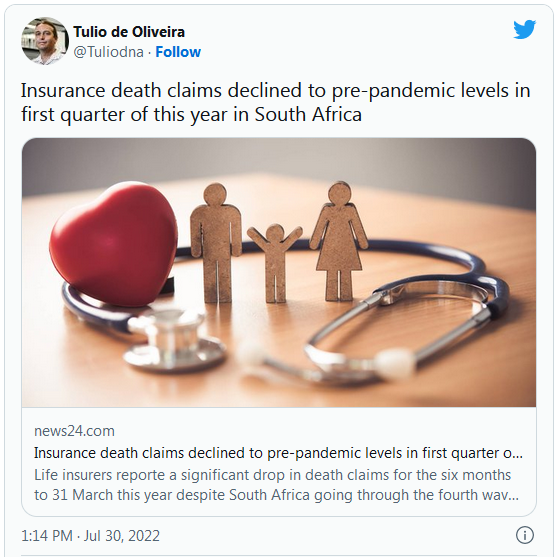 (link)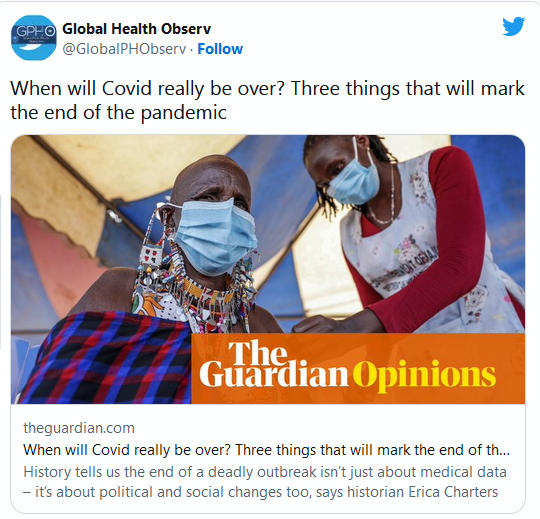 … Analysing past epidemics shows us that actual endings are long, drawn-out and contested. Societies must grapple not just with the medical realities of the disease, harms and treatments, but the political and economic fallout from emergency measures, and disputes over who has the authority to declare an end and what should be measured to guide this process. This is why there is so much uncertainty about the current state of Covid-19: different groups have vastly different experiences of the medical, political and social aspects of the epidemic, and different ideas of what an ending may look like.

Research demonstrates that the end of an epidemic involves more than disease rates (the medical end). Instead, the end also encompasses the end of the crisis and regulations (the political end), and the return to normalcy (the social end). These endings are related, but they are different – and they can be at odds with one another. Analysing a variety of past epidemics reveals that it is more accurate to identify multiple endings to an epidemic, taking these different sorts of endpoints into account.

The history of recent epidemics such as H1N1 (swine flu) or HIV/Aids bears this out. Most epidemics end not with the disappearance of disease, but when case rates no longer result in a medical crisis – a point in which rates reach what is defined as normal, expected, or locally acceptable levels. In August 2010, for example, the WHO declared that the 2009 H1N1 pandemic was in its "post-pandemic period". This did not mark the end of H1N1 cases; instead, the WHO explained that cases and outbreaks were still expected to occur, but following normal seasonal patterns of influenza. This raises the question of what is a normal, acceptable or manageable level in a given place – particularly for a new disease. Differences of opinion over responses to Covid-19 disease rates – whether to maintain or reinstate public health measures, and when to relax them – demonstrate debates as to what is an acceptable level of infection, as well as who should decide this.

As a result, the end process is when different forms of authority negotiate and compete with one another, often debating fundamental social, economic and political priorities as much as medical data. Even in the face of persistent circulation of a disease (whether H1N1 or Covid-19), events such as war and political instability can redirect public alarm and political resources to other crises, changing what local authorities and local communities deem "normal, expected, or locally acceptable" levels of disease. Concerns about the war in Ukraine or soaring energy prices pushed Covid-19 reporting to the background, regardless of case rates…
======
How to live with #Covid when you're tired of living with Covid. The BA.5 surge is a reminder that we need to take precautions to avoid illness, slow the relentless cycle of new variants & minimize the disruption to our daily lives https://t.co/XPuTs46qKC

— delthia ricks ?? (@DelthiaRicks) July 26, 2022
Scientists are developing vaccines to target the virus family that spawned Covid-19. Here's a look at some of the candidates that are being developed. https://t.co/BTk2vJl1du

— WIRED (@WIRED) July 26, 2022
Amid another Covid surge, tell your network of a recent diagnosis. https://t.co/mzakAGIkHd

— Vox (@voxdotcom) July 31, 2022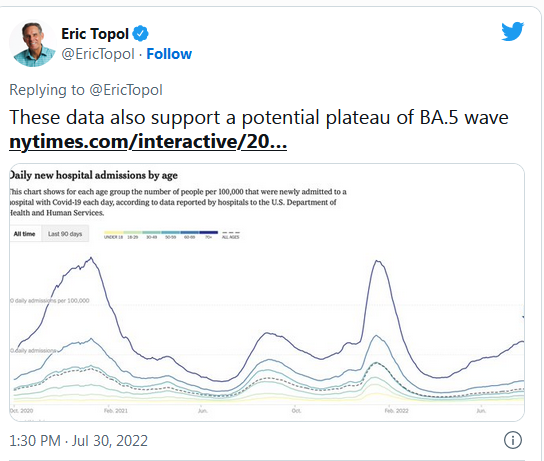 (link)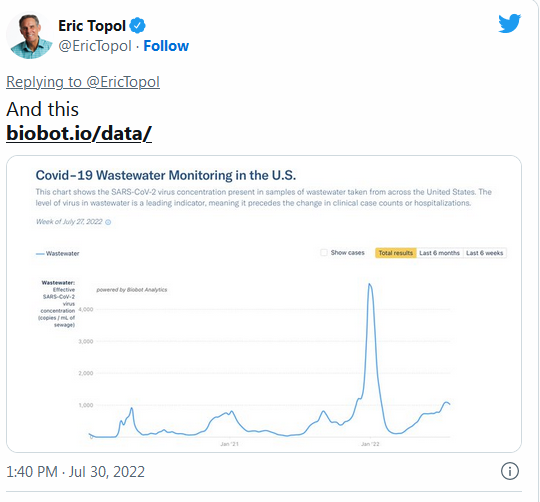 (link)
======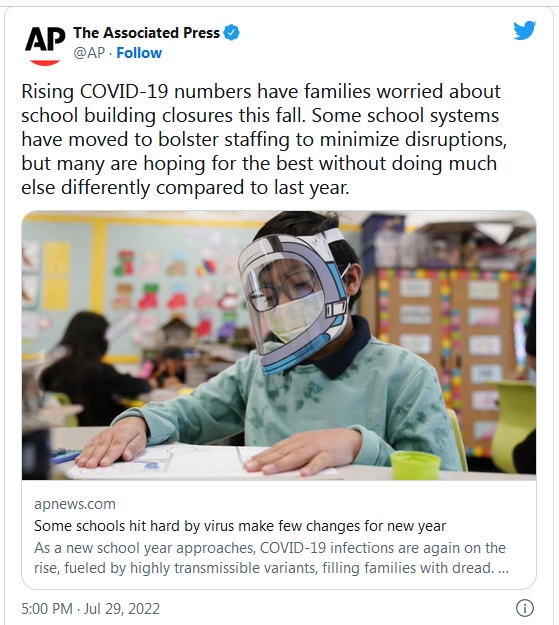 (link)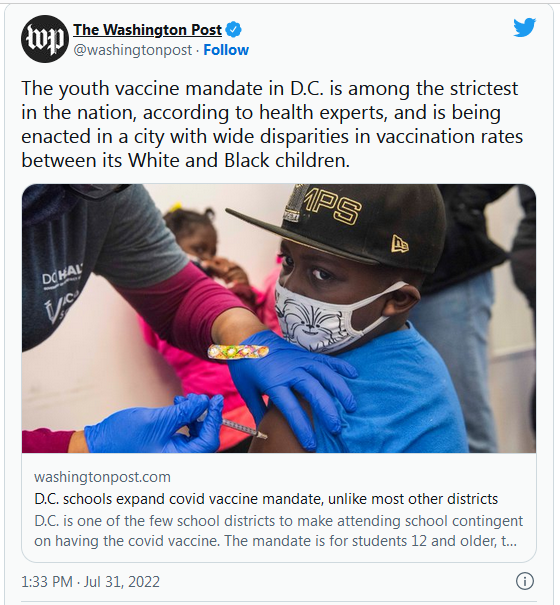 (link)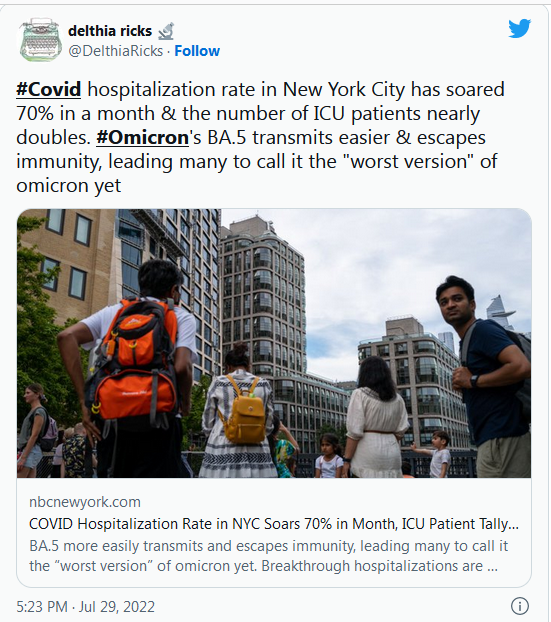 (link)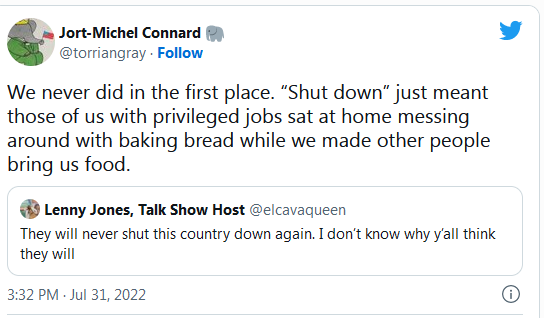 Conservative, former Republican: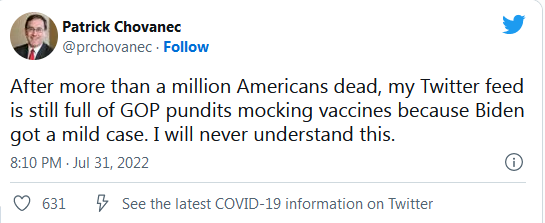 MLB general managers are considering more than talent and payrolls ahead of Tuesday's trade deadline.

One key factor in the wheeling-and-dealing calculus — COVID-19 vaccination status.

by @davidbrandtap https://t.co/JXJzCMsnsC

— AP Sports (@AP_Sports) August 1, 2022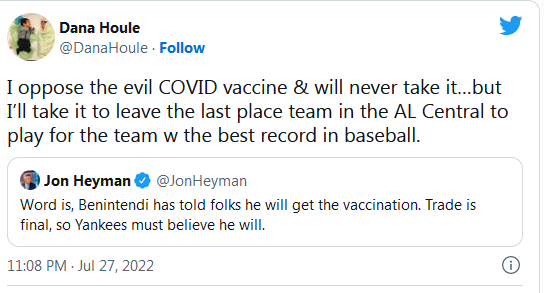 A hall of mirrors masquerading as 'logic'…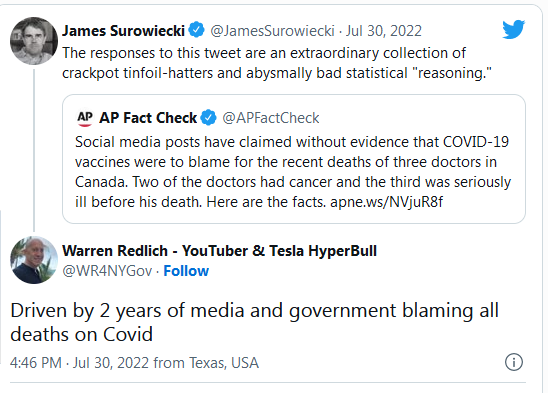 Reader Interactions