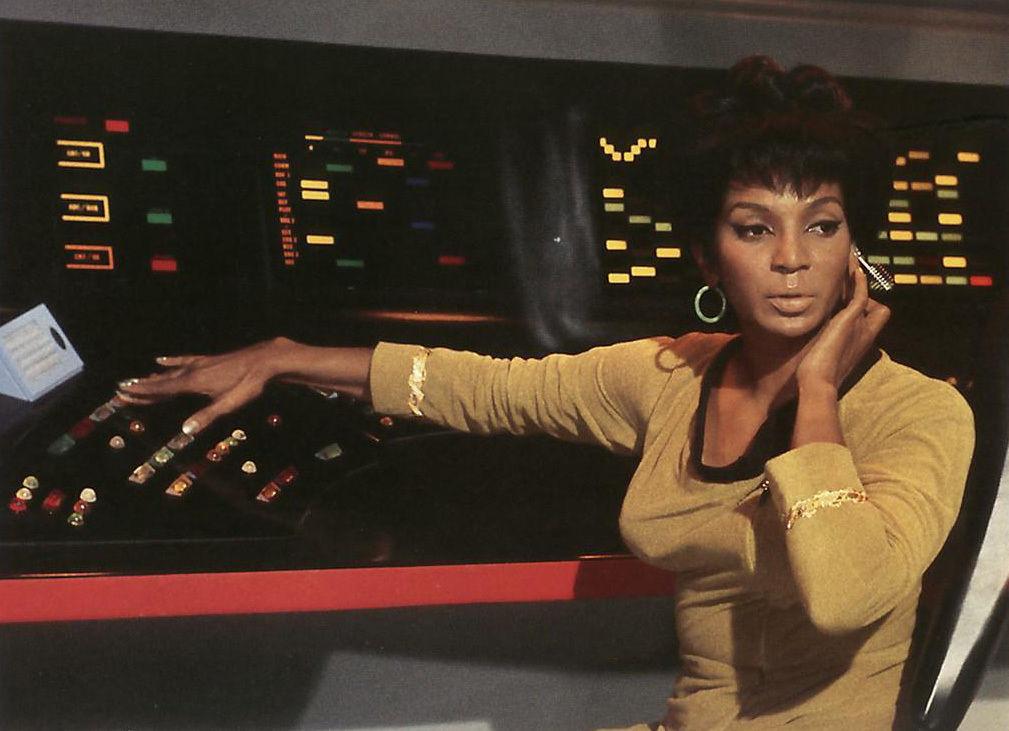 At 89, Nichelle Nichols had a good run, but is gone too soon, nonetheless.
There's a great article from 2016 when the show turned 50.  I don't normally copy an entire article, but this is such a great story and there's no better time to share it.
It was the mid-1960s, the height of the civil rights movement. Police had beaten voting-rights demonstrators on the Edmund Pettus Bridge in Selma. A bomb had exploded in a Birmingham church, killing four little black girls. Malcolm X had been assassinated.

And every week, Americans watched a black woman on television. She was not a servant, but a lieutenant, fourth in command of a starship.

Singer and actress Nichelle Nichols played the role of Lt. Nyota Uhura on "Star Trek: The Original Series," which turned 50 on Thursday.

After the first season aired in 1966, Nichols had plans to quit the show to join a Broadway-bound production.

But Martin Luther King Jr. convinced her otherwise, and in the process, underscored the role pop culture had in the fight for equality.

Nichols had just received the Broadway offer and told show creator Gene Roddenberry about her intentions to leave, she explained later in a TV Academy Foundation interview.

"He said, don't you understand what I'm trying to achieve here?'" and encouraged her to take a weekend to think it over, Nichols recalled.

During that weekend, Nichols attended a Beverly Hills fundraiser where she was told about a "Star Trek" fan who was desperate to meet her. "I'm looking for a young man who's a 'Star Trek' fan. So I turn and instead of a fan there's this face the world knows, with this beautiful smile on it."

It was King.

Nichols continued: "This man says, 'Yes, Ms. Nichols, I am that fan. I am your best, greatest fan, and my family are your greatest fans. As a matter of fact, this is the only show that my wife Corretta and I will allow our little children to watch, to stay up late to watch because it's past their bedtime.'"

King said he admired Nichols's work and the role Roddenberry had created for her, one with dignity.

The actress thanked him, she later recalled on NPR's "Tell Me More," telling him she wished she could be out there, marching alongside him.

"He said, 'No, no, no. No, you don't understand. We don't need you to march. You are marching. You are reflecting what we are fighting for.'"

Then, she broke the news to him that she was quitting the show.

His smile faded, Nichols recalled later, as he firmly told the actress that she couldn't leave "Star Trek."

"He said, 'Don't you understand what this man [Roddenberry] has achieved? For the first time on television, we will be seen as we should be seen every day, as intelligent, quality, beautiful people who can sing and dance, yes, but who can go into space, who can be lawyers and teachers, who can be professors — who are in this day, yet you don't see it on television until now,'" Nichols recalled in a later interview.

He went on: "Gene Roddenberry has opened a door for the world to see us. If you leave, that door can be closed. Because, you see, your role is not a black role, it's not a female role. He can fill it with anything, including an alien."

Nichols was left speechless. "I just stood there, realizing every word he was saying was the truth," she recalled. "And at that moment, the world tilted for me."

A few days after that encounter, Nichols told Roddenberry what King had said. The "Star Trek" creator looked at Nichols, she recollected, and said "God bless Dr. Martin Luther King. Somebody knows where I'm coming from."

Nichols stayed on the show, and said she never regretted that life-altering decision. She went on to help NASA recruit new astronaut candidates, many of whom were women and people of color.
Open thread.