On the Road is a weekday feature spotlighting reader photo submissions.
From the exotic to the familiar, whether you're traveling or in your own backyard, we would love to see the world through your eyes.
ema
In the comments to my last submission, WaterGirl mentioned that water makes her happy. Well then, let's take a walk on Rockaway Beach for WaterGirl. Walk with me …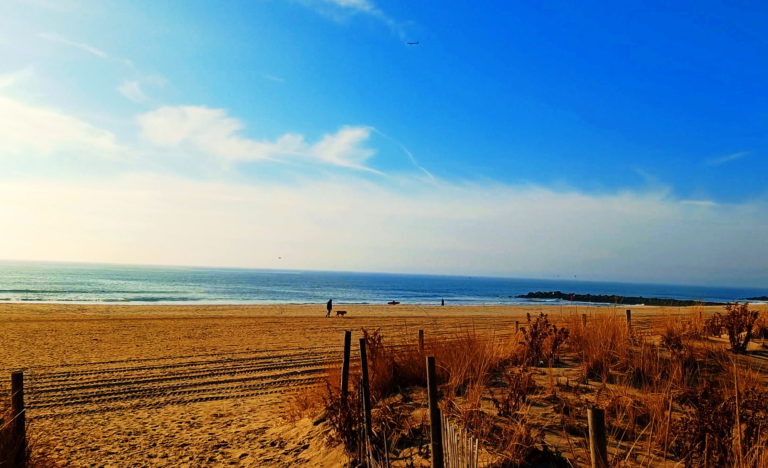 I took the A train to Boardwalk and B59th St. Now, you might think that passing a major airport as you are nearing your destination where you plan to shoot ASMR-y video of gentle waves might raise some alarm bells. I, on the other hand, managed to arrive at the beach blissfully unaware of what awaited me.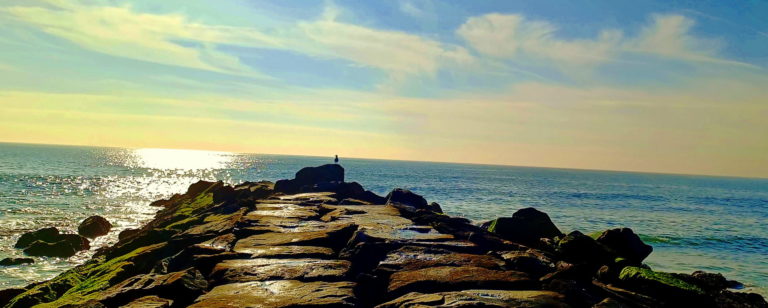 The area I scouted on Google Maps looked perfect – sand, stones, waves, sunshine and birds. Needless to say, it took about one minute to realize that I was under the flight path of JFK jets. (Why the airspace over my filming area wasn't automatically closed once I arrived remains a mystery.)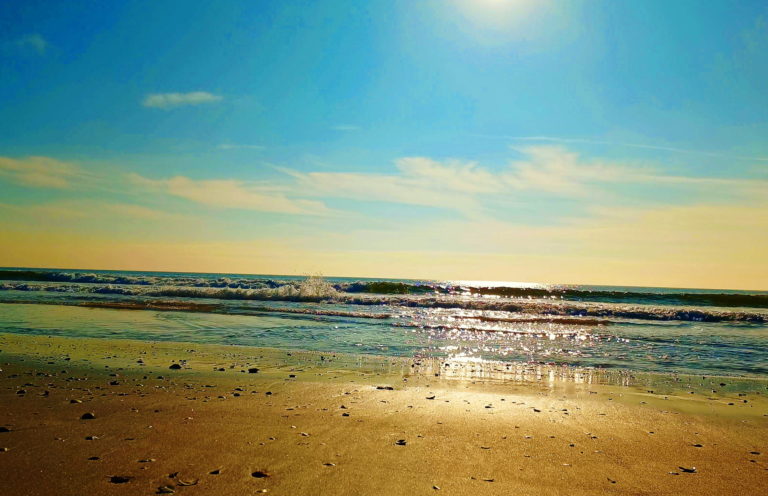 Luckily, there was an easy solution to my problem. Turn left or right and walk away from the jet noise. So, I turned left, walked for about 20 minutes and ended up, you guessed it, under the flight path of JFK jets. Maybe I'm biased since I didn't turn right, but it looked like every single plane taking off was veering left. Live and learn. (While the cellphone audio wasn't usable, the Tascam DR 10 audio was quite good.)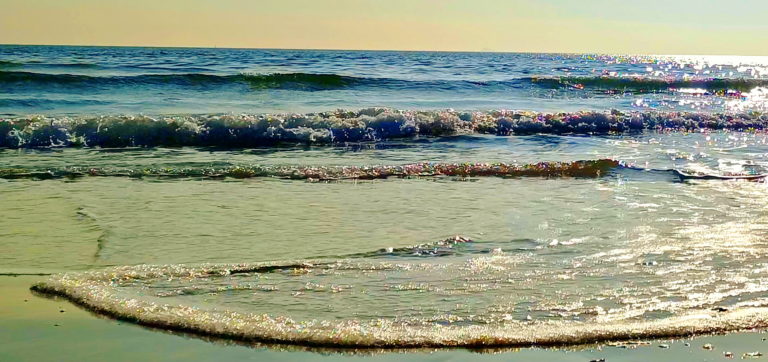 Once I found a nice spot, I set my gimbal down on the sand, near the water, and walked around collecting seashells. All of a sudden, a woman walking on the beach headed straight towards me, inquired if the setup was mine and told me, in a firm and conspiratorial voice, that it's noon and the end of low tide; she then sprinted away.
Not being a seafaring person myself (tides, how do they work?), I surmised her warning had something to do with being too close to the water's edge. I moved everything on a little step stool I had brought along and managed not to have my equipment swept away at sea.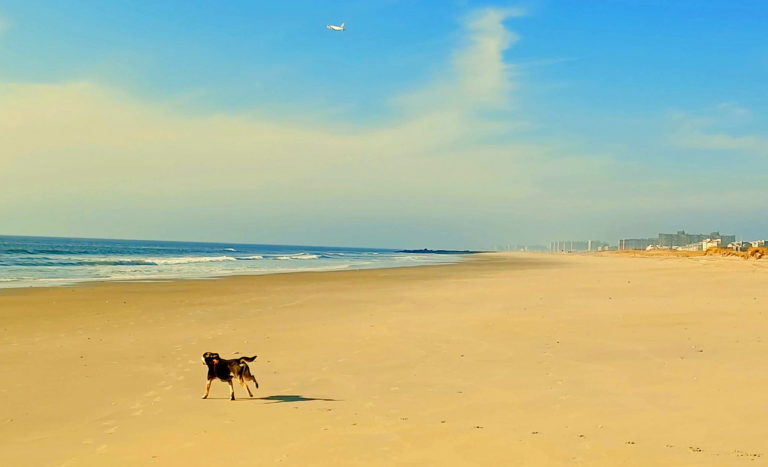 I spent about one hour filming the ocean, complete with 20 minutes of video with an odd green dot on it (a reflection from the sun?) and decided to call it a day. The return walk looked nothing like this picture. The clouds had moved in and it was a completely different atmosphere.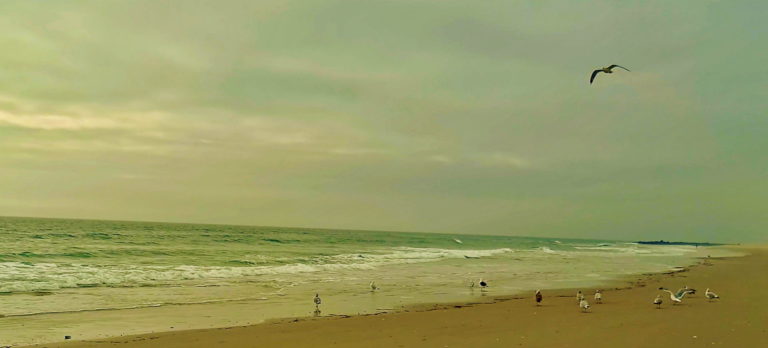 It was very gray and broody, and even the birds were acting differently, all huddled up. While the sunny ocean was nice, the cloudy one was much more interesting and enjoyable.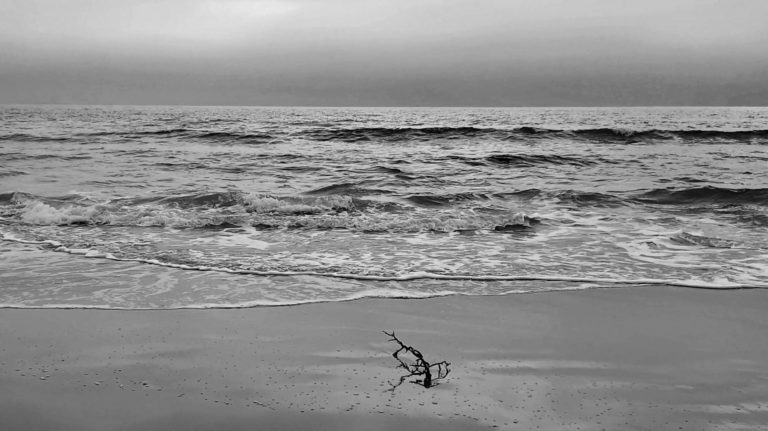 Not trying to go all artsy on you with a Black & White composition. I just couldn't color balance not matter what I tried. I really need to learn how to use something like Lightroom.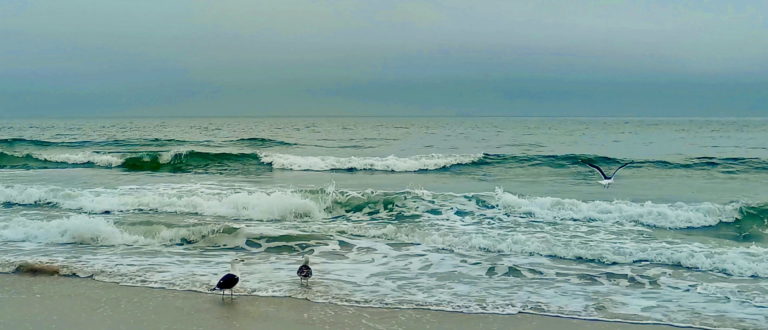 Last, but not least, we have three lovely seagulls to end our walk.
(12/2021|cellphone pics)