Exit light. Enter HIMARS. Exit russians.
Every russian occupier in Ukraine lyrics of this song…🔥
And already sleeps with one eye open…

Music by @Metallica pic.twitter.com/KCDmumqPpW

— Defence of Ukraine (@DefenceU) August 2, 2022
Here is President Zelenskyy's address from earlier this evening. Video below, English transcript after the jump (emphasis mine):
Good health to you, fellow Ukrainians!

Today, the first vessel with Ukrainian grain arrived at the Bosphorus, passing through a special corridor in the Black Sea, which was agreed upon to unblock our ports.

Our goal now is to have regularity: so that when one ship leaves the port, there are other ships as well – both those loading and those approaching the port. Continuity and regularity is the necessary principle. All consumers of our agricultural products need it.

Much has already been said about why it is important to restore Ukrainian agricultural exports. I will add just one detail now. Export this year is needed so that our farmers and agricultural companies have sufficient resources for next year's sowing.

This is a matter of food security for our country as well – we are now ensuring next year.

Russia provoked the food crisis in order to use the supply of wheat, corn, oil as a weapon… Just as it is already doing with gas and crude oil. Russia creates a deficit, instigates the increase in prices, and when this provokes social unrest, it demands political concessions. It should not work with food.

Of course, we understand who we are dealing with. And in Russia, they understand that they are losing one of the opportunities to terrorize the world.

But when the world is united, when partners fulfill their commitments, the necessary result can be achieved. Let's see how the grain initiative will work in the coming days.

And I want everyone in Ukraine to realize this despite the disinformation campaign about the grain initiative, which is being spread by the enemies of our state… Every hryvnia earned by our agricultural workers and all the restored international ties of Ukraine will contribute to the strengthening of our state.

I spoke today with NATO Secretary General Jens Stoltenberg. Of course, the key theme is the defense support of our struggle for freedom, this is an interaction that we must strengthen constantly for our common interests.

OSCE Chairman-in-Office, Minister of Foreign Affairs of Poland Zbigniew Rau was in Kyiv today – I thanked him for the support.

In negotiations with both Mr. Stoltenberg and Mr. Rau, I paid special attention to the issue of our prisoners of war kept by Russia. In particular, this also applies to the Russian terrorist attack in Olenivka, which must become an ultimate argument for all civilized countries of the world to officially recognize Russia as a terrorist state.

What else is needed for this? Isn't this a sufficiently brutal and obvious act of terrorism for the relevant decisions to recognize Russia as a terrorist state to be made in the major capitals of the world?

Of course, the occupiers receive a fundamental response to all their crimes on the battlefield. In this context, today I want to thank President of the United States Biden and the entire American people for the new package of defense support for Ukraine.

The word "HIMARS" has become almost synonymous with the word "justice" for our country, and the Ukrainian defense forces will do everything to ensure that the occupiers experience more and more painful losses every week thanks to these very effective systems.

Yes, indeed, we still cannot completely break the advantage of the Russian army in artillery and in manpower, and this is very tangible in the battles, especially in Donbas – Pisky, Avdiivka, other directions. It's just hell there. It can't even be described in words…

And every Ukrainian must always be grateful to our warriors who defend Ukrainian positions there despite the terrorists' significant fire superiority.

But every day our diplomats and all other representatives of our state do everything possible and everything impossible to get the weapons that will ultimately help Ukraine stop this horde and to convince everyone who still has doubts about the supplies.

Today I also thank these people – each and every one who ensures the supply of weapons, who promotes the necessary decisions in partner states, who literally lives in these arms negotiations.

We also have new decisions to strengthen sanctions against Russia for the war – the United States and Canada have expanded the list of individuals and legal entities against whom restrictions have been applied.

This is the right way, and it is necessary for the European Union to fill in the sanctions pause as soon as possible by adopting a new package of sanctions against the terrorist state. We will work on this in the coming weeks.

In the evening, I signed decrees awarding our defenders. 167 warriors of the Armed Forces of Ukraine were awarded state awards, 32 of them posthumously. Another decree awarded 16 intelligence officers, 1 of them posthumously. Also – 122 employees of the Security Service of Ukraine, 2 – posthumously.

Eternal memory to all who gave lives for Ukraine!

Eternal glory to all who fight for independence!

Glory to Ukraine!
Here is today's operational update from Ukraine's MOD:
The operational update regarding the russian invasion on 06.00, on August 2, 2022

Glory to Ukraine! The one hundred sixtieth (160) day of the heroic resistance of the Ukrainian people to a russian military invasion continues.

The position and composition of the units of the armed forces of the republic of belarus in the Volyn and Polissya directions remain without significant changes. The threat of missile and air strikes from the territory of this country remains.

In the Siversky direction, the enemy shelled the area of ​​the village of Mykhalchyna Sloboda in Chernihiv oblast. The enemy periodically carries out aerial reconnaissance of the positions of the defense forces in the border areas of Chernihiv and Sumy oblasts.

In the Kharkiv direction, the enemy shelled the districts of Kharkiv, Chuhuyev, Protopopivka, Husarivka, Cherkaski Tyshky, Petrivka and Rtyshchyvka with barrel and jet artillery. Made an airstrike near Verkhniy Saltiv. It deployed separate units in the areas of Bayrak and Dementiyivka settlements, and withdrew after being hit by fire.

In the Slovyansk direction, shelling was recorded near Kurulka, Hrushuvaha, Chepil, Karnaukhivka, Dolyna, and Barvinkovo, and an airstrike near Dibrivne.

In the Donetsk direction, the enemy's efforts are focused on conducting an offensive in the Bakhmut and Avdiivka directions.

In the Kramatorsk direction, the enemy shelled the Serebryanka, Siversk, Zvanivka, and Donetsk areas from tanks and artillery. Airstrikes near Serebryanka. He led an assault near Ivano-Daryivka, had no success, withdrew.

In the Bakhmut direction, the enemy shelled military and civilian infrastructure in the areas of Yakovlivka, Soledar, Bakhmut, Kodema, Semihirya, Travneve and Zaitseve settlements. It carried out airstrikes near Soledar, Yakovlivka, Semihirya, Pokrovske, and Bilohorivka.

Ukrainian soldiers repelled assaults in the areas of Yakovlivka, Vershyn, Kodema, and Travnevo. Fighting continues in the areas of Bakhmut and Zaitseve settlements.

In the Avdiivka direction, shelling was recorded near Avdiivka, Netaylove and New York. The enemy used aviation near Novobakhmutivka, Avdiivka and Krasnohorivka. It led assaults in the Avdiyivka area, was unsuccessful, withdrew. Fighting continues near Pisky.

In the Novopavlovsk and Zaporizhzhia directions, the enemy shelled the areas of Maryinka, Kostyantynivka, Novosilka, Pavlivka, Charivne and Mala Tokmachka settlements.

Tried to put forward a reconnaissance group near Novopilla. It was discovered, caused fire damage and neutralized.

In the South Buh direction, the enemy is concentrating its main efforts on preventing the advance of our troops.

It carried out systematic shelling in the areas of Mykolaiv, Trudolyubivka, Tokarevo, Topolyne, Knyazivka, Osokorivka, Apostolove, Ivanivka, Posad-Pokrovske, Novohrihorivka, Kobzartsi, Shyroke and Andriivka.

It led assaults in the area of ​​Trudolyubivka, had no success, left.

The enemy naval group in the waters of the Black and Azov seas focuses its main efforts on conducting reconnaissance, blocking civilian shipping in the northwestern part of the Black Sea, and attacking objects deep inside the territory of Ukraine.

We believe in the Armed Forces of Ukraine! Together to victory!

Glory to Ukraine!
Here's the British MOD's assessment for today: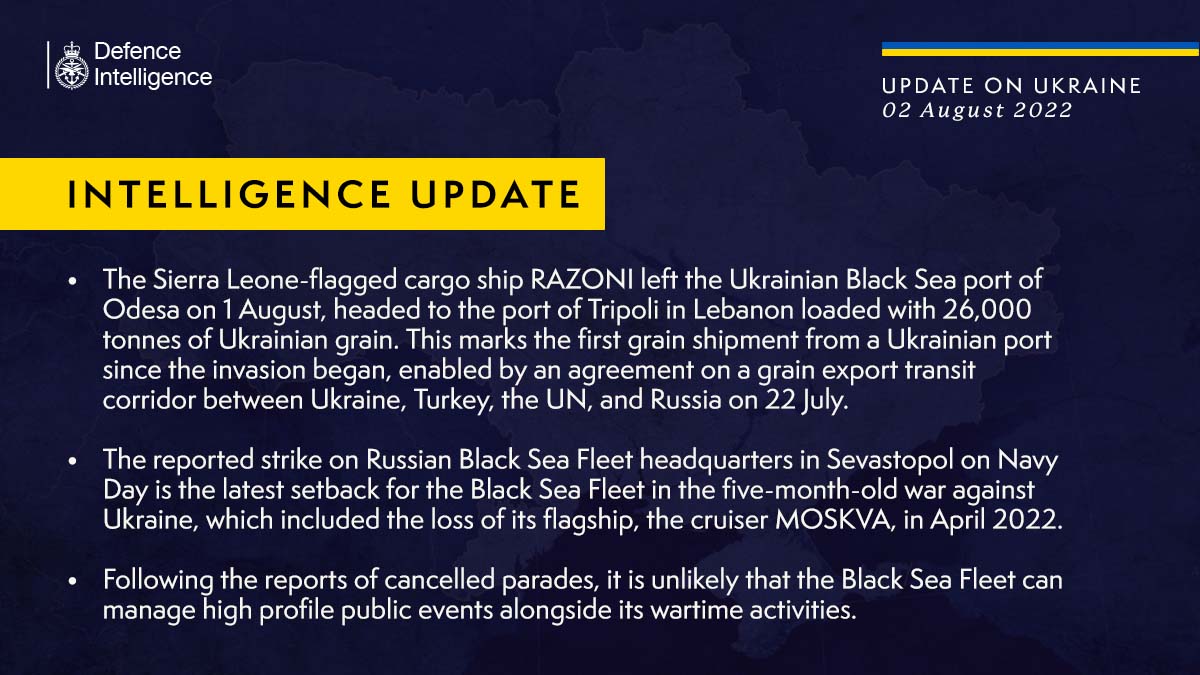 And here is their updated map for today: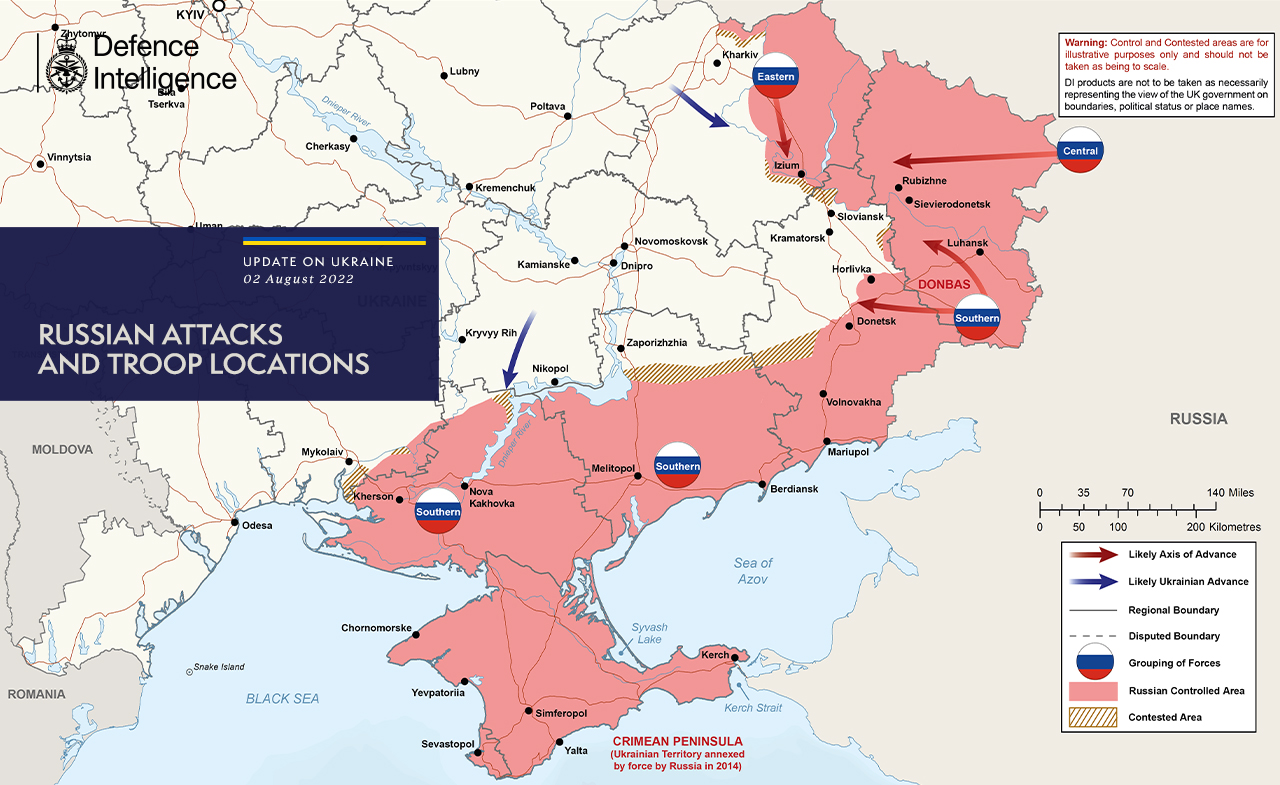 There was no DOD backgrounder today. However, Politico has reported that DOD officials have indicated that the US has confirmed that American made rockets WERE NOT USED to target the prisoner of war facility at Olenivka. And that Ukraine WAS NOT RESPONSIBLE for the attack.
The U.S. has assessed that Ukraine did not attack a prison in a Russian-occupied eastern region of Donetsk with American-made rocket launchers last week, directly contradicting Russian claims, according to two U.S. officials.

Kyiv and Moscow have traded blame over Thursday's attack, which reportedly killed 53 Ukrainian prisoners of war and wounded 75 more. The POWs include soldiers captured after the fall of Mariupol, the city where troops famously held out for months against a fierce Russian offensive.

The Ukrainian military accused Russia of destroying the prison in Russian-controlled Olenivka to cover up alleged torture and execution of the prisoners there. But Russia claims Ukraine's military used the High Mobility Artillery Rocket System and precision-guided rockets to strike the site themselves to deter defectors.

However, no traces of the U.S.-provided weapons were found at the site, according to two U.S. officials with knowledge of the assessment, who spoke on condition of anonymity to discuss a sensitive topic.

"We know Ukraine didn't attack the site with HIMARS because the site doesn't have the indications it would have if it was hit with HIMARS," one of the officials said.

While one of the officials stopped short of saying Ukraine was not responsible for the strike, the other official said the evidence showed the attack was not conducted by Kyiv. Satellite photos of the site released by Maxar Technologies on July 30 appear to show damage only to the section of the detention center housing Ukrainian prisoners, with no collateral damage to surrounding buildings.

Over the weekend, Ukrainian authorities called for an international investigation into the attack. They rejected Moscow's claims, saying they are gathering evidence that will prove Russia was responsible for the deaths of the prisoners in what they described as a "terrorist attack."

Mykhailo Podolyak, an adviser to President Volodymyr Zelenskyy, said on Twitter that the photos of the site after the attack suggested "a thermobaric explosion from the inside" of the facility.

He also said Russia had transferred some Ukrainian prisoners to the building that was destroyed in the attack just a few days prior, suggesting it was premeditated.

"It was a deliberate Russian war crime, a deliberate mass murder of Ukrainian prisoners of war," Zelenskyy said in a speech on Friday.
Much more at the link!
Here's some excellent news from Ukraine!
That's not a clear-cut yes, but last time he similarly ordered the Cabinet to "work on the issue" raised in a petition, they implemented visas with Russia

Honestly I am superstitiously afraid to be happy or I jinx it, but this is worlds apart from Russia's state queerphobia https://t.co/QNIeMhkfWe

— THEY/THEMARS 🇺🇦 #NotOurTsar (@Mortis_Banned) August 2, 2022
However, as it turns out, the Cabinet has already been working on draft legislation to legalize same-sex civil unions, which they will "work through" and potentially introduce

That still has to pass the parliament, but it has recently ratified Istanbul convention
2/2

— THEY/THEMARS 🇺🇦 #NotOurTsar (@Mortis_Banned) August 2, 2022
The Washington Post has posted a video report regarding Ukrainian youth who are organizing hybrid raves-clean up-rebuilding parties:
For those of you who are concerned about the personnel differentials between Ukraine and Russia, CNN took a very deep dive into Russian military recruiting:
Across Russia, volunteer battalions are being formed to deploy to the war in Ukraine, joining the so-called "special military operation" declared by President Vladimir Putin in February.

From Murmansk in the Arctic Circle to Perm in the Urals and Primorsky Krai in the Russian Far East, the call has gone out, appealing to both the patriotism and the wallets of Russians.

Relevant military experience is not always required.

In all, analysts assess that more than 30,000 volunteers might be mobilized to supplement Russian ranks depleted by five months of combat – between one-quarter and one-third of the force deployed to win the eastern Donbas region, where the majority of volunteers would likely be sent.

Last week, Richard Moore, chief of MI6, UK's secret intelligence service, told CNN's Jim Sciutto the "Russians will increasingly find it difficult to supply manpower, material over the next few weeks."

Putin has long resisted the idea of a general mobilization in Russia, and this spring's call-up was similar to that in 2021. These battalions are one way to augment Russia's military manpower without such a drastic step. They also appear to be focused on poorer and more isolated regions, using the lure of quick cash.

What impact these battalions may have is an open question. Chechen volunteer units have played an outsized role in the Donbas campaign, especially in Mariupol. But they are relatively well-equipped and have extensive military experience. The battalions being assembled elsewhere clearly do not.

Kateryna Stepanenko, Russia researcher at the Institute for the Study of War in Washington, says: "Some battalions will partake exclusively in combat support and combat support operations (such as logistics or signal battalions), while others will reinforce pre-existing military units or form combat battalions."

But she adds: "The short-term training is unlikely to turn volunteers with no prior experience into effective soldiers in any unit."

CNN has sought comment from the Russian Defense Ministry on the volunteer battalion program.

Stepanenko says the process is being driven from Moscow. "The Kremlin reportedly ordered all 85 Russian federal subjects (regions of the Russian Federation plus occupied Crimea and Sevastopol) to recruit volunteer battalions to avoid declaring partial or full mobilization in Russia."

But the regions are expected to help fund the recruitment, which she says "places a heavy strain on regional budgets." Krasnoyarsk in Siberia, for example, had to set aside about $2 million for the project, Stepanenko said.

The qualifications required for joining up vary from place to place. One online flier in Kazan in Tatarstan said: "We invite men under the age of 49 years who have previously served in the military and offer a contract for 4 months in your military specialization."

Elsewhere, men up to the age of 60 with no criminal record are eligible. There is often no requirement of previous military experience listed in online notices.

The Perm posting – under the headline "A Job For Real Men" – seeks "courageous, daring, brave, self-confident, extraordinary, well-rounded patriots of our nation."

According to the postings, about one month is allotted for training – not much for a situation in which recruits have little or no military experience. According to the Russian Defense Ministry's standard policy, all recruits signing a contract must have four weeks of combined arms training. Whether that same regime is being extended to all volunteers is unclear.

Some of the volunteer battalions have already been through the Mulino training ground near Nizhny Novgorod, according to social media posts.

The volunteers' contracts tend to be from four months to a year. They promise much higher wages than the average in the Russian regions. For example, the battalions being formed in Perm and the Western Russian region of Kirov offer an income starting from 300,000 rubles monthly (about $5,000), while in Bashkortostan, near the border with Kazakhstan, the minimum is 280,000 rubles. Bashkir Volunteers from Bashkortostan are promised an additional 8,000 rubles a day for combat operations.

An announcement circulating on social media channels in Bashkortostan said: "Over the summer you can easily earn about a million rubles!"

The average monthly wage in these areas is between 30,000 and 45,000 rubles, roughly one-tenth of what a volunteer may get if deployed to the front lines.

There are other perks, too. In Perm and Kirov, the children of volunteers are promised preferential admission to universities. Volunteers will be given the status of "combat veteran," granting them a monthly stipend for life and discounts on housing and transport.

And there is a scale of compensation for battlefield casualties, in some instances more than 3 million rubles for serious injury. If a volunteer is killed, their family would receive 12.4 million rubles from the federal budget and 2 million from the region.

Some volunteers told the online publication Verstka that they are motivated by the wages, so that, for example, they can build a house. Others seem inspired by patriotism; some appear simply to want an adventure.

One, named Vitaly, told Verstka: "I respect the achievements of our ancestors, and it's hard for me to watch them get spat on. And, of course, there is the pleasant bonus in the form of payments the government offers."

Others told Verstka that they were inspired to rid Ukraine of Nazism, an indication of the power of Russian state media, which has relentlessly plugged the notion that Russia's action is to de-Nazify Ukraine.

If all the Russian regions each generated a battalion, the cost would be considerable. Kateryna Stepanenko estimates a 400-man unit would cost $1.2 million per month in wages, which she says is expensive given that the program will not produce elite units.
Much, much more at the link!
Marine veteran and FPRI Senior Fellow Rob Lee does some calculations on what the most recently announced US military supply package to Ukraine means in operational terms:
A US official said that Ukraine was firing 3k rounds of artillery a day a couple of weeks ago (might be less now). 75k would be 25 days worth at that rate of expenditure. https://t.co/vGCTtTyYaL

— Rob Lee (@RALee85) August 1, 2022
Two weeks ago, the UK announced it was sending an additional 50k artillery rounds for Soviet-era artillery (presumably 122mm and/or 152mm), and the US was sending 36k 105mm artillery rounds. https://t.co/kvuGbcOFLPhttps://t.co/fDjr03ttn0 pic.twitter.com/rSmCYzCM6Z

— Rob Lee (@RALee85) August 1, 2022
I think that's enough for tonight.
Your daily Patron!
Here's a reup of Patron doing therapy dog service:
In Ukraine, only I have access to the hospitals. But I think it's wrong. Dogs can help a lot.

— Patron (@PatronDsns) July 30, 2022
And a new video from Patron's official TikTok:
The caption translates as:
Life with children is always a challenge… #pespatron #patrondsns
Sweet puppy dreams Patron!
Open thread!