President Joe Biden's "loose cough" has returned as he faces a rebound case of COVID-19, his doctor said, though he "continues to feel well." Biden will remain in isolation through at least Thursday under CDC guidelines. https://t.co/XBL6QEEsh0

— The Associated Press (@AP) August 2, 2022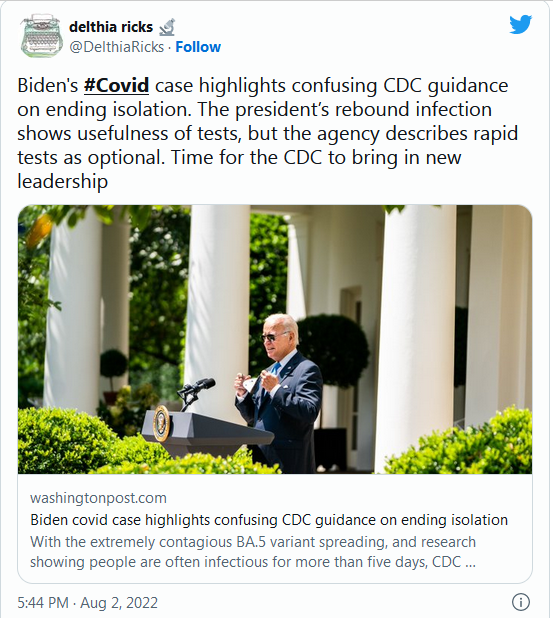 … More than 2½ years into the pandemic, and with a highly contagious version of the virus circulating, the CDC guidelines for what to do when falling ill — and when to return to public life — continue to stoke as much confusion as clarity. That's a reflection of the changing nature of the virus, the inherent unpredictability of an infection, and the demands and expectations of work and home life.

With new research showing that people are often infectious for more than five days, the CDC guidance has drawn criticism from some infectious-disease experts. The Biden protocol strikes many of them as the right way to go — because it's empirical evidence that a person isn't shedding virus…

The CDC's guidance has been under internal review in recent months. A revamped set of recommendations is expected to be rolled out in coming weeks, according to three administration officials and advisers who spoke on the condition of anonymity to describe sensitive internal discussions. A draft of the updated guidance at the moment does not include a requirement to test negative before exiting isolation, they said.

The existing CDC guidance says patients can end isolation five days after their first day of symptoms, so long as their symptoms have improved and they have been fever-free for at least 24 hours without fever-reducing medication. The CDC encourages people who become very sick or have weakened immune systems to isolate for 10 days…

A recent study in the New England Journal of Medicine looked at how long people could shed virus that could be cultured in a laboratory — the best test of infectiousness. The result: People shed such virus for eight days, on average, before testing negative…

CDC has more than 600 websites related to its covid response, each with different messages on testing, ventilation and masking in different settings, the adviser said. The agency wants to share "important messages that everyone needs to hear in all settings across the country … and then make sure that all of the other guidance underneath it reflects those key messages."…

How quickly a rapid test turns positive can help guide behavior, Mina said.

"If you have a really dark line that shows up in five seconds before the control line even shows up … you probably really want to stay in isolation," Mina said. "If you start to see the line in 10 seconds, and it gets really, really dark, you are teeming with virus."

If there is a weaker or fainter line, "it's likely that you have less virus there, but you still do have virus. And there's no way to define the cutoff at which you're likely to transmit to other people," Barczak said.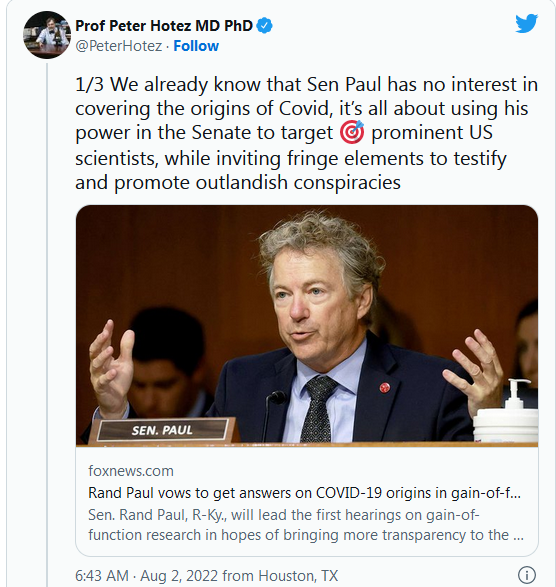 (link)
Young Prince Rand would have been a no vote on the PACT Act regardless, because that's his trademark. But clearly he also used his media time to advertise the
CHINESE LAB LEAK!!!
clown show he's got lined up for later this week. Just a sterling exemplar of the True Libertarian Spirit, our Rand.
Here's a good refresher, if you need something to forward…
Just out from me and @MichaelWorobey in today's @globeandmail: our perspective on our recent results showing that the SARS-CoV-2 pandemic likely emerged via zoonotic spillover at the Huanan market, not a lab leak. 👇🏼👇🏼👇🏼https://t.co/t5VD6PAZr7

— Dr. Angela Rasmussen (@angie_rasmussen) July 28, 2022
======
Hong Kong reported 4,547 new Covid-19 infections on Wednesday, of which 226 cases were imported. The city also added 4 new deaths.

Full, trusted coverage on HKFP: https://t.co/w8LTgNgHXy pic.twitter.com/YB5oIf9Kzh

— Hong Kong Free Press HKFP (@hkfp) August 3, 2022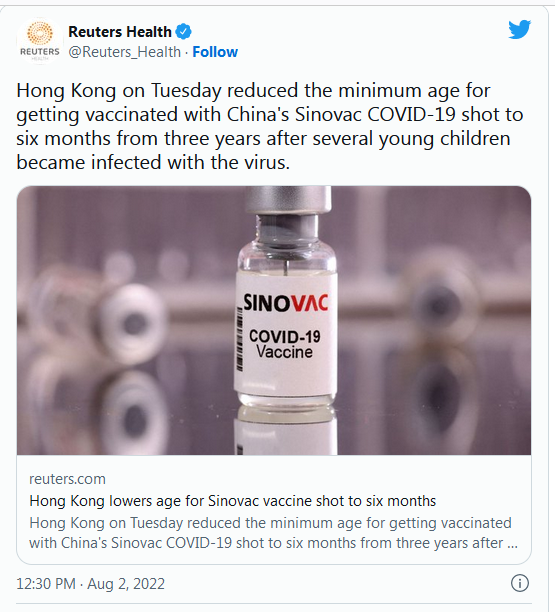 (link)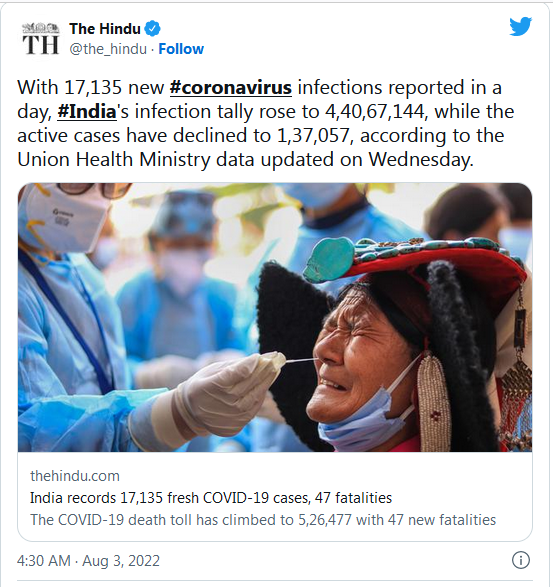 (link)
======
What's really driving 'Covid rebound' after Paxlovid? There's only one way to find out: rigorous scientific study. Continuing down the current path of uncertainty has consequences for how and by whom this antiviral should be used https://t.co/aMAHK0y77J

— delthia ricks 🔬 (@DelthiaRicks) August 2, 2022
New trial shows nasal spray reduces infection w/ SARSCoV2 by 62%. British-led research found w/in 45 days, 13.1% in treatment group had antibodies against SARS2. Spray is called pHOXWELL & offers 6-8 hours of protection. It's to be used w/ vaccines/masks https://t.co/L9pXS2Vd5O pic.twitter.com/9y0VARk6GA

— delthia ricks 🔬 (@DelthiaRicks) August 1, 2022
With more than 11 million #SARSCoV2 viruses fully genetically sequenced & posted @GISAID here's the rundown on #Omicron variants around the world. It's getting more complicated every day.#COVID19 #pandemic pic.twitter.com/agIO4ZEPfN

— Laurie Garrett (@Laurie_Garrett) August 2, 2022
This is 1 of 4 late stage (Phase 3) nasal spray vaccine trials, and 1 of 12 in clinical development. I discussed why these are important w/ @ASlavitt https://t.co/MzeGRDCfvX

— Eric Topol (@EricTopol) August 3, 2022
Cardiovascular disease after Covid, a new @Nature feature https://t.co/tOqyCGz6kr by @saimamaysidik pic.twitter.com/zHUAN20oB0

— Eric Topol (@EricTopol) August 2, 2022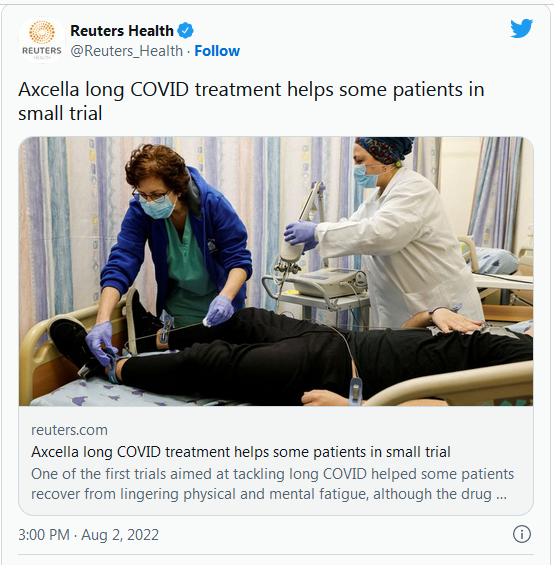 (link)
Rebound viral load and/or symptom relapse *without Paxlovid treatment* is not uncommon. 12% had viral rebound in this new report https://t.co/tXWRvHQal7 pic.twitter.com/5UpYtnJhIN

— Eric Topol (@EricTopol) August 2, 2022
======
Again, your prevaxxed guy had to be ferried out of the White House on a fuckin helicopter. He was on oxygen and probably only escaped intubation or worse thanks to a then experimental treatment that none of the hundreds of thousands dying from the disease had access to.

— zeddy (@Zeddary) July 30, 2022
Reader Interactions