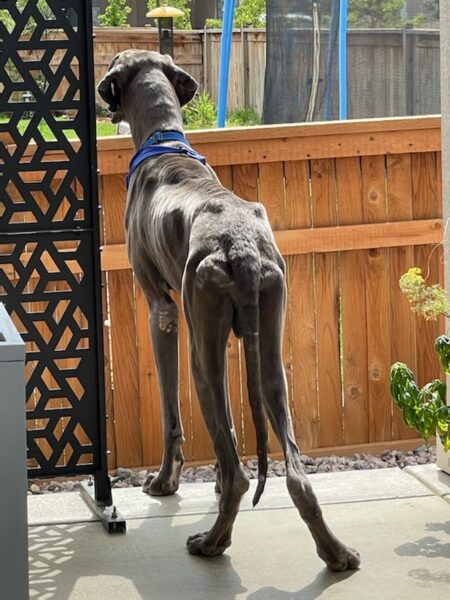 Meet this beautiful boy. He's 6. and he's extremely underweight, even after three weeks of being in good hands.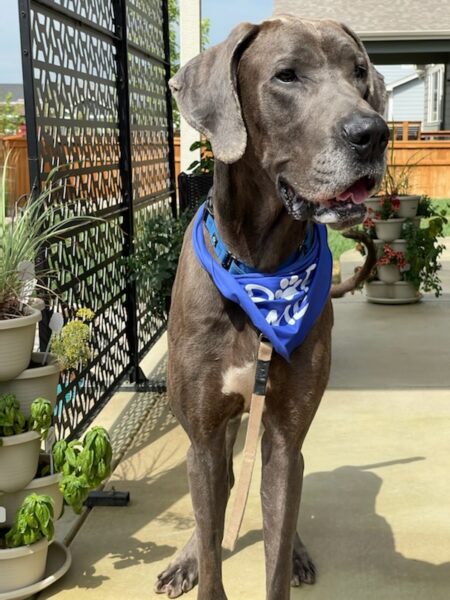 But look at that happy face. Despite all he's been through, he's happy, engaging and sweet.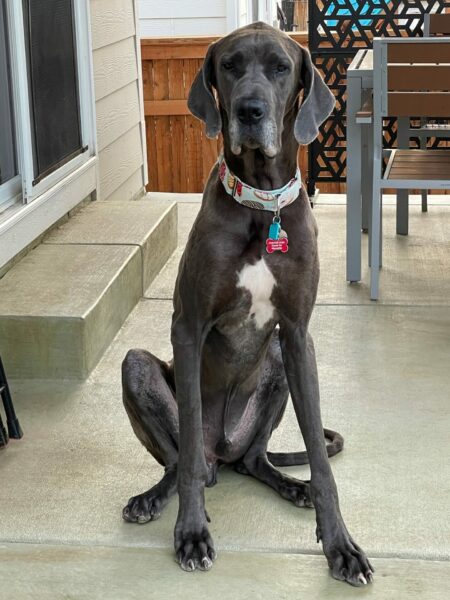 Such a handsome boy. He's in a great foster home right now, and I finally got to meet him today. He is soooo TALL.  And so thin. He weighs only as much as Trixie does at 9 months – 106 lbs. He should easily be around 150 – 160.
And here's what I need to talk through – the pros and cons of adopting him. I mean, if I let my heart lead, he would have come home with me today. But my brain kicked in and I do know I need to really think this through. There are serious things to consider.
The pros (I mean, besides the fact he's a sweet, handsome boy)
He's extremely good-natured and despite being neglected, he was never abused
He and Scout did well together (he hasn't met Trixie, but she loves everyone)
He's very laid back and happy to just have couch time
According to his vet visit, his teeth are perfect (which is amazing for his overall condition)
My two pups are so easy going, a third easy-going Dane is doable (I've had three before and as long as they are laid back, it's not as hard as it sounds, LOL).
The serious considerations that are giving me pause:
The cats – he's good with cats, but do my cats really want another beast stealing their attention
He's going to have food issues the rest of his life, which means making some serious changes here if he lives with us
Future health issues. We won't know until he puts some muscle back on, if his hips/knees are bad or just weak.
Financial considerations if he does have serious issues going forward,  because I do have to make sure I can give all the critters good care, too.
And finally, the general disruption of a house that all works together pretty seamlessly with everyone knowing their place in the pack and everyone getting along.
======
I worry that at 6 and with a questionable history, he will have a difficult time getting adopted. Especially when the rescue is full of puppies right now (no exaggeration, they are having a discount on puppies this weekend, they have so many).
I know that here, if he has just a year or another six in him, he'll be healthy, happy and loved and I have experience dealing with Danes with stability issues (two of my rescues had Wobblers, a degenerative nerve issue, usually genetic).  And I'm equipped to handle the inevitable to-soon loss.
I'm a little stumped at my inability to make a decision here – usually I just know – but with him, I've been vacillating between, "of course he'll live here, and it will be fine" and "what the fuck are you thinking"
Talk this out with me! Tell me I'm nuts or that I should go get him on Sunday. Or just ooo and aaaah at his handsomeness.