Have you noticed less alcohol in the world? I haven't, I don't think, but then again as a non-drinker maybe I wouldn't. The main thing limiting my friends' drinking seems to be that a well cocktail in a Hell's Kitchen gay bar is like $15. If anything I remember reading that problem drinking had reached new heights in 2020 during the widespread pandemic closures. So last weekend's WaPo Magazine article claiming that drinking is on the decline caught my eye: From Dry January to Fake Cocktails, Inside the New Temperance Movement.
It's interesting, but I'm not sure it's convincing, and I'm curious what you all may have observed. It paints a picture of a culture where alcohol is on the outs: major brands are making more alcohol-free drinks; lots of bars serve premium alcohol-free cocktails; being "Cali sober," where one consumes cannabis instead of alcohol, is on the rise; trade groups are freaking out. But I looked into some of the actual figures quoted and they're pretty misleading. It cites things as trends that pretty clearly aren't, like the percent of Americans in this survey who drink. Is 60% "tied for the lowest level in two decades"? Sure. But, I mean, look at it: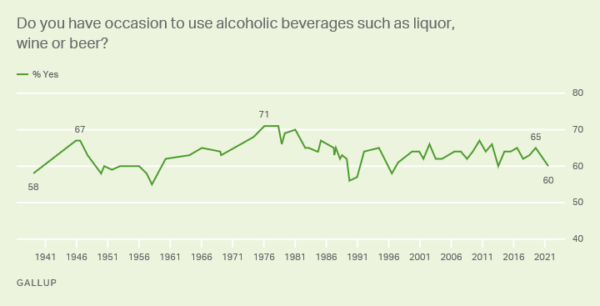 On the other hand, the trade groups freaking out are freaked out:
In February, Silicon Valley Bank released its State of the Wine Industry Report, as it has for the past 21 years. Usually, this is a rather businesslike document[…] This year, however, the report struck a tone of great alarm. The era of "neo-prohibition," it warned, is upon us: "The anti-alcohol lobby continues to push an agenda … that starts by concluding that all alcohol consumption is bad and then backs into the research. The cumulative negative health message is eroding public faith in the science that proved moderate wine consumption was healthy[…] When will the wine industry show up to help promote well-researched, positive science on moderate consumption?"
Wow, dramatic! But… this seems to be more wine-specific?
I'd love to see drinking be less romanticized. It's not great for you. It's fairly addictive–not for most people, but for enough. But this article is pretty flimsy, even for a trend piece. What do you all think? And of course this is an open thread.
(As an aside, this detail had me cackling. I have my differences with AA but for crying out loud!)
Holly Whitaker published a more pointedly anti-alcohol book, "Quit Like a Woman," in which drinking is portrayed as useless, toxic and anti-feminist. Whitaker went on to publish an opinion piece in the New York Times with a headline that dismissed Alcoholics Anonymous as "The Patriarchy" and then raised millions to create Tempest, an online alcohol-counseling service geared toward women that costs $59 per month.