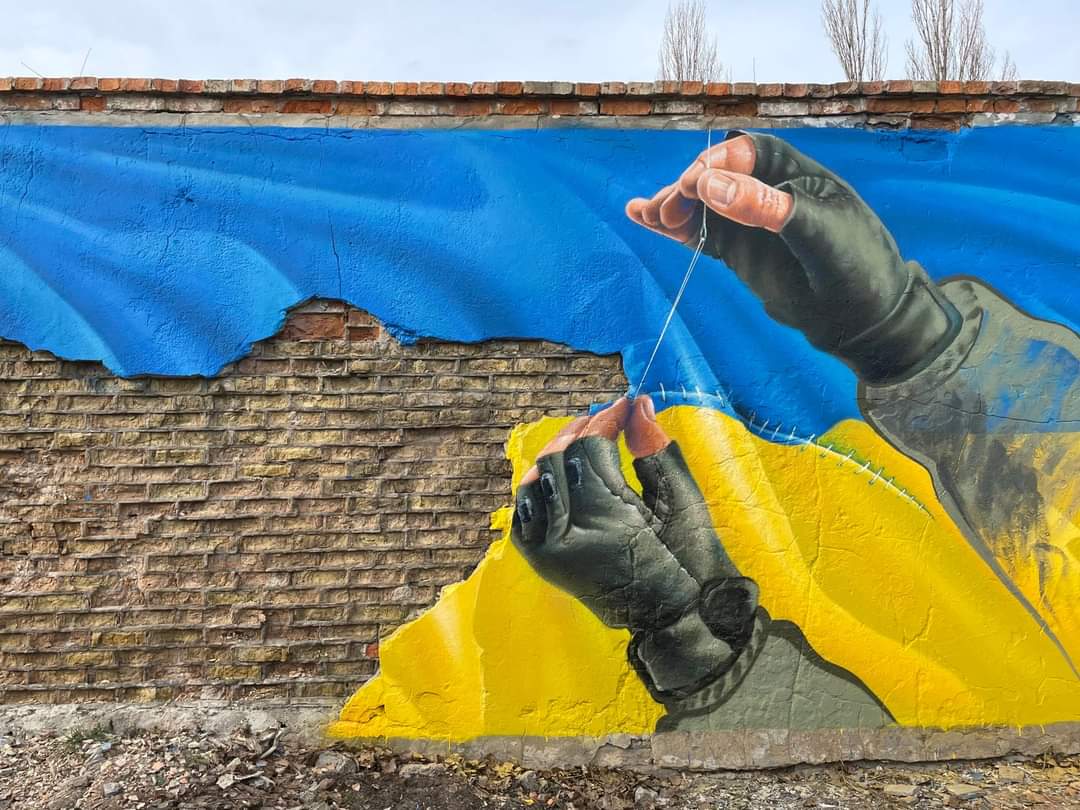 Earlier today Amnesty International decided to issue a report on Ukraine's defense of Russia's re-invasion. The bottom line is that Amnesty International slammed Ukraine for actually fighting the war that has been forced upon them where the war actually is. This, according to Amnesty International means that Ukraine is responsible for putting civilians at risk. Given that Russia has re-invaded Ukraine while still occupying those portions of Ukraine from its 2014 invasion, I'm not really sure where Amnesty International thinks Ukraine should go to defend itself, but, apparently, it is not where the Russian invaders actually are. As you might imagine, Amnesty International's report did not go over well in Ukraine. Especially with its Ukrainian staff!
That's what is happening in Donbas now. The Ukrainian government asked civilians to leave, then it ordered them to. Those who refuse will now have to sign a document taking responsibility upon themselves. It's a full-scale war, unseen from WWII, with a clear genocidal intent

— Olga Tokariuk (@olgatokariuk) August 4, 2022
Ukrainians are defending themselves, Russia is deliberately attacking Ukrainian civilians and leveling cities. The scale of alleged

violations is just incomparable. Equating two sides at the time when interest and support to Ukraine is fading is morally questionable at minimum

P.S. It's not the first blunder by

@amnesty

re Ukraine. I remember them welcoming the sentencing of a Ukrainian soldier in Italy to 24 yrs in a trial where Ukrainians were accused of attacking civilians. The verdict was overthrown and the page deleted from Amnesty website

One more thing: often civilians feel better protected when Ukrainian armed forces are nearby. That's what my relative who refused to leave Donbas tells us. People saw well what Russian did to civilian population if

forces left and they got to occupy land: see Bucha, Kherson

Head of Amnesty Ukraine

@OPokalchuk

in a Facebook post says Ukrainian office did not participate in drafting this report and their objections to its contents were ignored. She denounces 'bureaucracy, misunderstanding of local context, inflexibility, disregard of

team opinion
A cherry on top: not only @amnesty staff who worked on the report deliberately ignored the opinion of their Ukrainian colleagues, the head of organisation is now calling all those Ukrainians who voice criticism 'trolls'. Pure colonialismhttps://t.co/uYnJcwKWU3

— Olga Tokariuk (@olgatokariuk) August 4, 2022
Here is the English translation of the Ukrainian lead for Amnesty International (h/t: Alison Rose in comments):
The Russian embassy in London wasted no time in latching on to the Amnesty International report, repurposing it for Russian information warfare purposes, and blasting it out.
Here is tonight's address from President Zelenskyy. Video below, English transcript after the jump (emphasis mine):
Ukrainians!

Today, Russian terrorists once again fired at Toretsk, Donetsk region, hitting public transport stop. Eight people died, three children are among those injured. Residential buildings were damaged by projectile fragments and the blast wave – those are ordinary high-rise buildings. St. Panteleimon Church was also damaged, the priest was wounded.

It was a deliberate strike by the occupiers, another act of terror – cynical and calculated. They knew where they were hitting, and they obviously wanted people to get hurt.

However, we do not see clear and timely reports from some international organizations  regarding this and thousands of other crimes committed by Russian terrorists. We saw today a completely different report from Amnesty International, which unfortunately tries to amnesty the terrorist state and shift the responsibility from the aggressor to the victim.

There cannot be – even hypothetically – any condition under which any Russian attack on Ukraine becomes justified. Aggression against our state is unprovoked, invasive and openly terroristic. And if someone makes a report in which the victim and the aggressor are allegedly the same in something, if some data about the victim is analyzed and what the aggressor was doing at that time is ignored, this cannot be tolerated.

Almost 200 religious buildings alone – temples and prayer houses of various denominations – were damaged or destroyed by Russian strikes. Almost 900 medical facilities. Over 2,200 educational institutions. Dozens of universities, hundreds of schools and kindergartens. The occupiers repeatedly deliberately fired artillery and mortars at people queuing for water, at evacuation buses, and repeatedly at public transport stops. The Russian army did not even refrain from striking at the memorials to the victims of the Holocaust, at the cemeteries… At the camp with prisoners of war in Olenivka. And there are no reports about it for some reason. This is immoral selectivity.

Anyone who amnesties Russia and who artificially creates such an informational context that some attacks by terrorists are supposedly justified or supposedly understandable, cannot but realize that it helps the terrorists. And if you provide manipulative reports, then you share the responsibility for the death of people with them.

Every day we expand the possibilities of our foreign policy – formal and informal. I spoke today with representatives of the African media – from Nigeria, South Africa, Kenya and Ghana. African countries can be affected very seriously by the destabilization of world markets and global relations provoked by Russia, in particular due to the food crisis. At the same time, in Africa there is a shortage of true information about the Russian war against our country and a surplus of Russian propaganda. We'll do everything to change this balance.

Negotiations with the President of Guinea-Bissau took place for the first time in the history of our bilateral relations. I noted that Ukraine is ready to be a guarantor of food security for African countries. We discussed the support for our state in international organizations.

Tomorrow there will be new negotiations with a leader of an African country, and in general, only recently we started proper communication with eight leaders of African states.

Every day and in various ways, I remind some leaders of the European Union that Ukrainian pensioners, our displaced persons, our teachers and other people who depend on budget payments cannot be held hostage to their indecision or bureaucracy. 8 billion euros for Ukraine are currently suspended. And such an artificial delay of macro-financial assistance to our state is either a crime or a mistake, and it is difficult to say which is worse in such conditions of a full-scale war.

I don't want to name the European country that is slowing it down now. Let's believe that this is still a mistake and that it will be corrected.

I held a meeting of the Staff of the Supreme Commander-in-Chief today. Minister of Defense of Ukraine Oleksiy Reznikov reported on the current provision of troops with equipment and ammunition. Commander-in-Chief Zaluzhny, Head of the Security Service Malyuk, Minister of Internal Affairs Monastyrskyi also delivered reports. We analyzed the situation in the most acute areas of the frontline, in particular in the Donetsk region. Particular attention was paid to the state of implementation of the previous decisions of the Staff, all of them must be implemented by 100%.

I signed another decree on awarding our warriors. 192 combatants were awarded state awards, six of them posthumously. In total, more than 25,500 of our defenders have already been awarded for bravery and effectiveness in battles since February 24. More than 4 thousand – posthumously.

Eternal memory to all who died for Ukraine!

Eternal gratitude to everyone who fights against Russian terrorists!

Glory to Ukraine!
Here is tonight's operational update from Ukraine's MOD:
The operational update regarding the russian invasion on 18.00, on August 4, 2022

Glory to Ukraine! The one hundred sixty second (162) day of the heroic resistance of the Ukrainian people to a russian military invasion continues.

The enemy is concentrating its main efforts in the East of Ukraine in order to establish full control over the Donetsk and Luhansk oblasts within their administrative borders. Continues hostilities to hold the temporarily captured districts of Kherson and part of Kharkiv, Zaporizhzhia, and Mykolaiv oblasts. There remains a further threat of air and missile strikes on military and critical infrastructure facilities throughout Ukraine.

The situation has not undergone any significant changes in the Volyn, Polissya, and Siversky directions. No signs of the creation of offensive groups of the armed forces of the russian federation and the republic of belarus were found.

In order to demonstrate the presence and restraint of the Defense Forces, the enemy used barrel and rocket artillery to shell civilian and military infrastructure in the areas of Medvedivka, Mykolaivka, Chernihiv oblast and Krasnopilla, Myropilla, Mykhailivka, Velyka Rybytsia, Sumy oblast. Conducted aerial reconnaissance.

In the Kharkiv direction, the enemy carried out fire damage from barrel and jet artillery in the areas of the settlements of Kharkiv, Lebyazhe, Borshcheva, Dementiyivka, Korobochkyne, Velyki Prohody, Ruski Tyshky, Stary Saltiv, Pryshyb, Tsirkuny, Mospanove, Bezruki, Karasivka. Attempts are being made to break through the defenses of our troops near Husarivka, hostilities continue.

In the Slovyansk direction, the enemy is using tanks, barrel and jet artillery to shell the areas of the settlements of Bohorodychnye, Mazanivka, Husarivka, Adamivka, Kurulka, Khrestyshche, Sulyhivka, Dovhenke, and Velyka Komyshuvaha.

Attempts by the enemy to attack in the Dolyna and Bohorodychne areas, thanks to the skilful actions of our troops, ended in failure and escape.

In the Donetsk direction, the enemy is trying to dislodge units of the Defense Forces from occupied positions using tanks, barrel and rocket artillery. For the purpose of reconnaissance of logistics support routes and critical infrastructure facilities, the UAV conducted aerial reconnaissance.

In the Kramatorsk direction, shelling was recorded near Siversk, Mykolaivka, Starodubivka, Spirne, Kryva Luka, Verkhnokamyanske, Hryhorivka, Serebryanka, Raihorodok, and Kalenyky.

In the direction of Bakhmut, the enemy shelled military and civilian infrastructure near Pokrovske, Rozdolivka, Vershina, Yakovlivka, Bakhmut, Kodema and Soledar. Aviation was used for strikes near the last four settlements.

The occupiers tried to improve the tactical position in the areas of Bakhmut, Soledar, Yakovlivka and Vershyna by assaulting them, but were unsuccessful and withdrew. Fighting continues near Travneve and Kodema.

In the Avdiivka direction, the enemy fired from tanks and various types of artillery in the areas of Pisky, Prechystivka, Shevchenko, Volodymyrivka, Novobakhmutivka, Nevelske, Netaylove and Krasnohorivka settlements.

The enemy made another attempt of offensive actions in the area of ​​the settlement of Pisky, without success, hostilities continue.

In the Novopavlivsk and Zaporizhzhia directions, the enemy did not conduct active offensive actions, but carried out shelling from tanks, barrel and rocket artillery along the entire line of contact. Carried out airstrikes near Novopola. It unsuccessfully tried to break through the defenses near Maryinka, suffered losses and withdrew.

In the South Buh direction, the enemy is concentrating its efforts on preventing the advancement of units of the Defense Forces of Ukraine deep into the temporarily occupied territory.

There remains a high intensity of shelling from the weapons of tanks and artillery at the positions of our troops along the contact line. Aerial reconnaissance by UAVs does not stop.

The enemy carried out airstrikes in the areas of Mykolaiv, Luch, Lymany, Nova Zorya, Novomykolaivka, Kobzartsi, Lyubomirivka, Kiselivka, Andriivka, Lozove, Bilohirka, Osokorivka, Potemkine, Zeleny Hai, Bila Krynytsia, Balka Khutirska and Ivanivka.

Our soldiers stopped the enemy's offensive in the areas of Bilohirka and Lozove and drove the invaders back.

We believe in the Armed Forces of Ukraine! Together to victory!

Glory to Ukraine!
There was no DOD backgrounder today.
Here is today's assessment from Britain's MOD: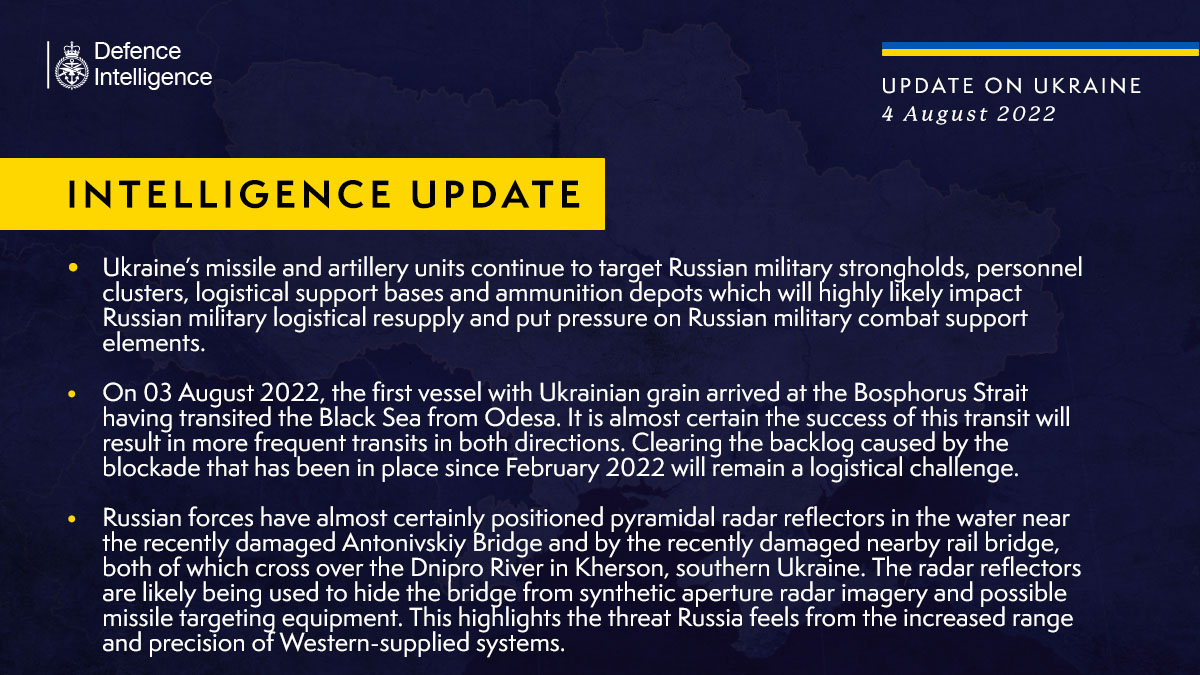 And here is their updated map for today: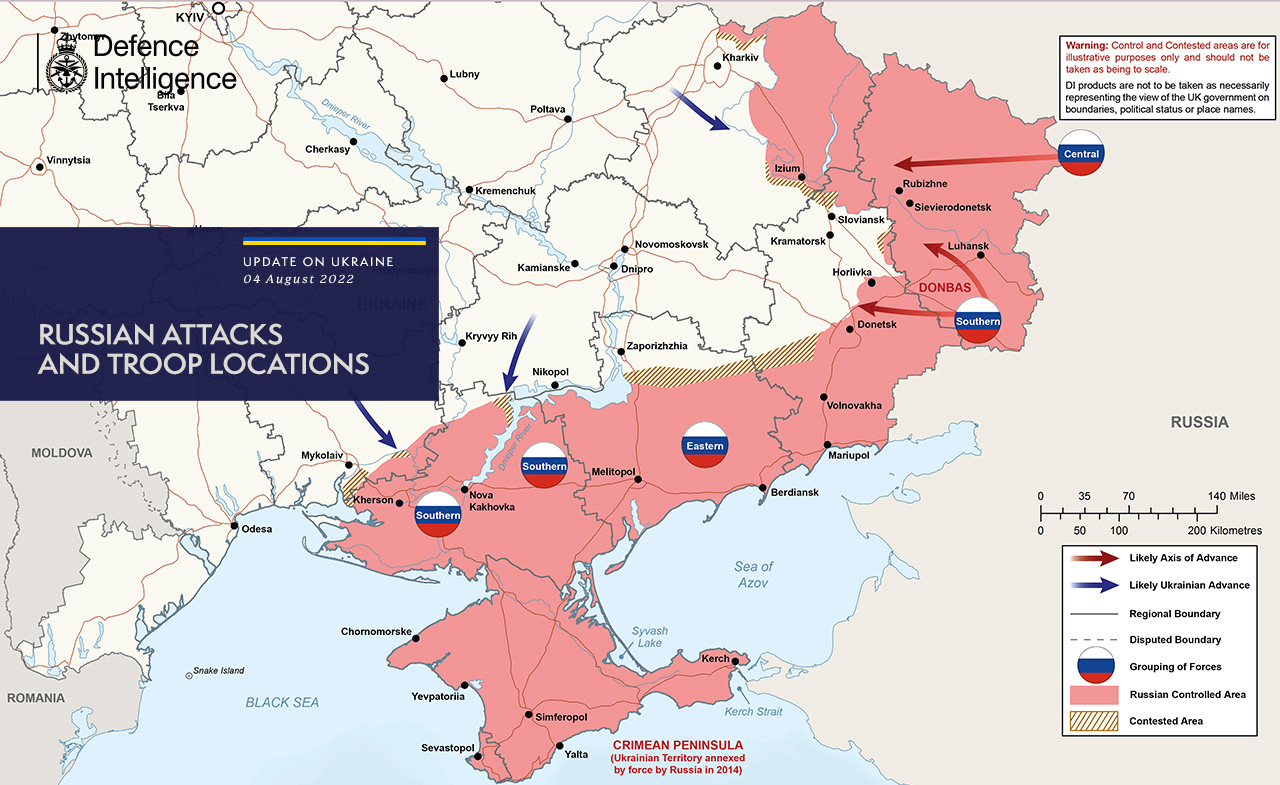 Here is former NAVDEVGRU Squadron Leader Chuck Pfarrer's updated map and analysis for the battle in Kherson:
KHERSON/ 2350 UTC 4 AUG/ Lucrative RU targets continue to be identified by UKR SOF and Partisans, with several depots near Nova Maiachka taken under fire. UKR intel reports that RU troops are distributing ammunition and munitions to various points in the city. pic.twitter.com/nHuSSmn8NT

— Chuck Pfarrer (@ChuckPfarrer) August 4, 2022
Notice the reference to Ukrainian Special Operations Forces and partisans acting as forward observer controllers regarding targeting.
We also now know, because it has been reported, that the US and Britain have been helping the Ukrainians in terms of intelligence. The Telegraph has the details:
Britain is helping Ukraine hunt Russian spies targeting Western-supplied weapons, the acting deputy head of Kyiv's military intelligence has said.

Finding and destroying military aid flowing into Ukraine from Western countries is "goal number one for Russian agents", according to Major General Vadym Skibitsky.

Long-range artillery pieces, such as the US-supplied Himars system, have brought Moscow's advance almost to a halt and in recent days have rendered bridges in the Kherson region impassable to Russian vehicles, cutting off troops as Ukraine prepares a counter offensive.

Western officials believe Moscow has instructed intelligence agents, possibly including spies from the GRU's Unit 29155 – deemed responsible for the 2018 Salisbury nerve agent attack and other attempted assassinations – to find the weapons donated by Western partners.

Speaking exclusively to The Telegraph from Kyiv's heavily fortified government security district, Gen Skibitsky said tracking down the Russian spies searching for the supply lines was "impossible" without help from Britain and other international partners.

"As far as military intelligence is concerned [Britain and the US have provided] almost everything from information to equipment."

Gen Skibitsky gave no specific details of the support Britain is providing, but said the assistance was "minute-to-minute, real-time information [of] all kinds".

A significant portion of the lethal aid flowing into Ukraine is originally flown into the Rzeszów-Jasionka airfield in Poland, close to the border.

Russian agents thought to be operating near the airfield are suspected of tracking military flights, passing information to colleagues in Ukraine. It is thought these operators then follow the weapon transfers to find the storage sites.

These locations are then targeted for destruction by Russian long-range weapons such as Kalibr cruise missiles fired from submarines in the Black Sea.

Some Russian spies have been found as far west as Chernivtsi, near the border with Romania.

Russia claims to have destroyed several Himars rocket launchers in recent weeks, including two on Monday. However, Ukraine and Western sources say none have been damaged by Russia.
The Ukrainians, as we're well aware, have been busy!
RUSSIAN SEAL CAPTURED: Viktor Kovalenko @MrKovalenko reports that UKR SOF have captured Russian Lt. Stanislav Trutnev, the commander of a special detachment of the 140th SpecOp Underwater Diversion unit of the RU North Fleet- a unit similar to the Navy SEALs. https://t.co/bs6flBhvAH

— Chuck Pfarrer (@ChuckPfarrer) August 4, 2022
6 Russian commanders and 5 regular soldiers were on their way back from a meeting at a command and control center.

The Ukrainians had prepared an ambush.

All 11 are reported to be dead.

— Visegrád 24 (@visegrad24) August 4, 2022
#Ukraine RT @ukraine_world: At least 12 big explosions were reported in Nova Kakhovka, Kherson region.

Video taken from the Telegram channel of Andriy Tsaplienko, Ukrainian military journalist pic.twitter.com/AMOGubaT8U

— Johnny Six (@Johnyrocket69) August 4, 2022
Not that we needed further evidence that the Amnesty International folks, safe in their homes in London, really do not understand what is going on in Ukraine, nor the stakes of the war the Ukrainians are waging to defend Ukraine…
Toretsk:
The russians shelled #Toretsk of the Donetsk region, killing 8 people and injuring 4, incl 3 kids. They struck public transport stop.
russia is a terrorist state
russia is a terrorist state
russia is a terrorist state
russia is a terrorist state#ArmUkraineNow pic.twitter.com/peVyp7dpoe

— Olena Halushka (@OlenaHalushka) August 4, 2022
Kharkiv:
Russia is now launching a massive missile attack on Kharkiv. pic.twitter.com/7BajTqereo

— Maria Avdeeva (@maria_avdv) August 4, 2022
Melitopol:
A 13 – year – old girl was found murdered in the temporarily occupied Melitopol. A terrible find was discovered by local residents in the park. The dog dug a child's hand out of the ground. As close families of the deceased girl said, she was raped and beaten before her death. pic.twitter.com/F9ktMH4CQm

— Oriannalyla 🇺🇦 (@Lyla_lilas) August 3, 2022
WNBA professional basketball player Brittney Griner was sentenced to 9 and 1/2 years in prison today in Russia. Now that her sentence has been handed down, whatever prisoner swap that the US can get Russia to agree to for her and Paul Whelan can now move forward. I still think the most likely trade will be for Viktor Bout.
Russian prosecutors asking for 9.5 years in prison for US basketball star Brittney Griner in case clearly being used as bargaining chip for a US prisoner swap. Here she is coming into courtroom today. Verdict expected this evening. pic.twitter.com/LZ9BTba6hE

— Andrew Roth (@Andrew__Roth) August 4, 2022
Watch the video of them bringing her into court. I counted seven armed guards in various types of uniforms. Eight if you count the actual canine in the K9 duo. I realize she's bigger than all of them and stronger than all of them, but even if she was interested in making a break where exactly did they think she would go where they couldn't find her. She's a 6'9 non-Russian speaking Black woman with full sleeve tattoos on both arms. She's not exactly going to blend in. Which is one of the reasons why the Biden administration has to work out a deal to get her back. If she actually gets sent to prison in Russia it will not be pleasant.
Americans don't fully understand of what Brittney Griner's reality in a Russian penal colony will look like: She is very tall, Black and American. She really sticks out. And she doesn't speak Russian, making it that much harder to navigate the complex rules and hierarchies.

— Julia Ioffe (@juliaioffe) August 4, 2022
Guess which side Trump picked in regard to Griner's arrest, trial, and sentencing? I bet you can't guess:
Trump adores athletes when they want to be his friends. This is a weird way he self-validates: by being chummy with Walkers, Favres, Riveras.
But when an athlete, especially a minority and especially a woman, isn't on "his team" – there isn't a kind garbage he won't throw at them https://t.co/zpWo8Ak5ch

— Slava Malamud 🇺🇦 (@SlavaMalamud) August 5, 2022
There is more to Brittney Griner's decision (not a sound one, tbs) to play in Yekaterinburg. I've spoken to Sue Bird and Diana Taurasi, who've played there, and the one thing that draws them to "E-kat" is that folks there, plain and simple, love women's hoops.
Unlike in America.

— Slava Malamud 🇺🇦 (@SlavaMalamud) August 5, 2022
Meanwhile, though, please, Western athletes, stay away from Russia at all costs.
Even if you don't end up in the slammer or have a banana thrown at you (if you are black), is it really worth it to validate such an inhuman, murderous regime?
I hope you know the answer.

— Slava Malamud 🇺🇦 (@SlavaMalamud) August 5, 2022
Last night Alison Rose asked the following question in comments:
I read things like this through exceedingly non-military eyes, but

While Winter will slow operations in Ukraine, it is clear that Ukraine's leadership is worried what the effects of the EU being cut off from most of Russian energy supplies will mean for its continued support.

…I mean…shouldn't those worries make EU countries more willing and ready to support Ukraine rather than less? It's obviously not quite this simple, but it seems to me in a broad sense that the more support Ukraine gets from other countries–be it money, weapons, training, etc–the more powerful a response it can give to russia, and (me being a Pollyanna) the sooner the war would end, or least wind back down to a pre-February-2022 type deal. But if support of any type is greatly decreased or pulled altogether, as much as I admire and am in awe of the Ukrainian people, obviously their victory gets harder to envision. No?

I am just a dumdum civilian so I could be off-base. (I didn't mean that as a pun, but I'm leaving it there.)
What Russia is hoping to accomplish, with its economic warfare providing the means for its information warfare against the Europeans, is to create overlapping crises that it can then exploit to the detriment of Ukraine, NATO, the EU, and the US. By establishing the conditions to first overwhelm Europe with Ukrainian refugees and then second with African, Middle Eastern, and southeast Asian refugees as a result of creating a food crisis, Putin hopes to inflame nativist and nationalistic public sentiment in the EU states that his proxies in those states and societies can exploit. By creating an energy crisis going into winter, Putin hopes to further exacerbate the refugee and food crises he's created through both direct Russian information warfare and indirect information warfare via Russian proxies that blames the Ukrainians for overlapping problems hitting European states and societies all at once. If he can bring down a few governments, great. If he can just ramp up extremists targeting anyone identified as a refugee, Ukrainian or otherwise, also great. If he can create enough chaos and problems to force some of these states to back off the economics and sanctions regime, as well as their support for Ukraine and to the Ukrainians, even better.
I think that's enough for tonight.
Your daily Patron!
There are no new tweets on Patron's official account, but I did find this:
OMG it's even more cute than I thought! Ordered two handmade crocheted little Patron dogs for my nieces as gifts from Ukraine. Love it love it love it!! pic.twitter.com/NlEsylAdPG

— Spandex Fella (@sami_viitanen) July 29, 2022
The cuteness, it burns!!!!
Here's the link for you Patron junkies out there:
— Spandex Fella (@sami_viitanen) July 29, 2022
Here's a new video from Patron's official TikTok:
He's clearly checking that carpet for unexploded ordnance hidden between the warp and the weft!
The caption translates as:
Have you had this?😁 #pespatron #patrondsns
Open thread!