On the Road is a weekday feature spotlighting reader photo submissions.
From the exotic to the familiar, whether you're traveling or in your own backyard, we would love to see the world through your eyes.
Surprise!

How timely that BigJimSlade added the "missing day" post today, just when I need an OTR post that is not part of the current OTR post clusterfuck.  The site devs are trying to figure out if there is a way to fix the OTR posts that got mangled in the merge, including all the previously submitted as yet unpublished posts.
BigJimSlade
Hi everybody! About six months ago, I posted a (5-day) week's worth of pictures from our previous summer's trip to Ortisei in Val Gardena. Seeing as how we just got back from France and Switzerland a couple weeks ago, I better get this posted so I can catch up to this year's trip! (And yes, we got Covid on the way back – for us it's been like a head cold, some tiredness lingers…)
On this day we took the bus that runs up and down the valley (you get a free pass from your hotel/guest house) up to Passo Sella, then started the trail that goes around Sassolungo and Sassopiatto.  Besides where we got off, a gondola unloads a throng pretty regularly.  We weren't looking for a big hike that day, so we just went 2-3 miles, then turned around, against the tide.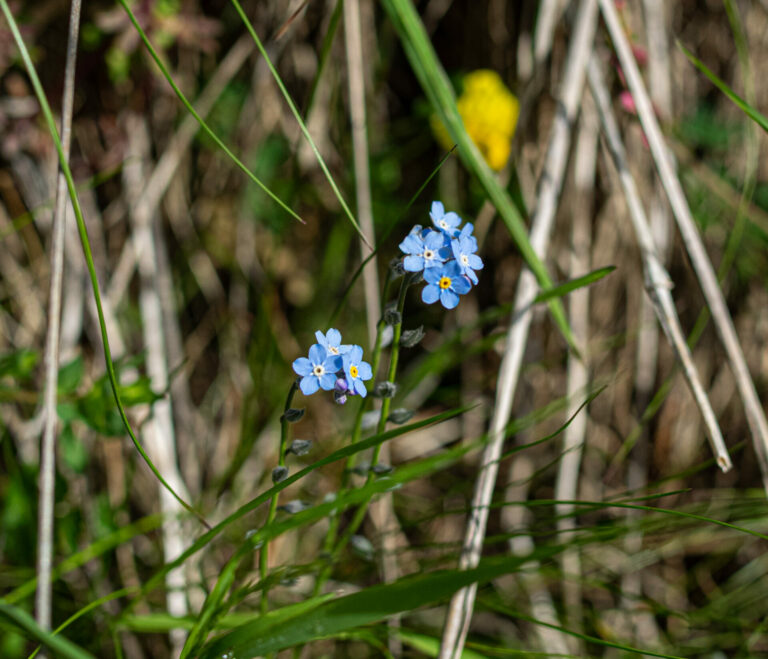 Some little forget-me-nots. They are tiny and I love them.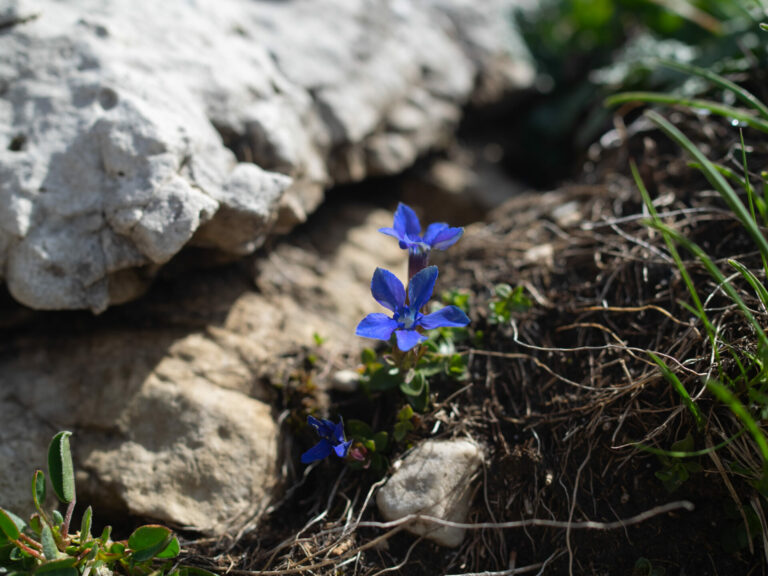 Gentians are my other favorite, and I like the little scenes in the rocks.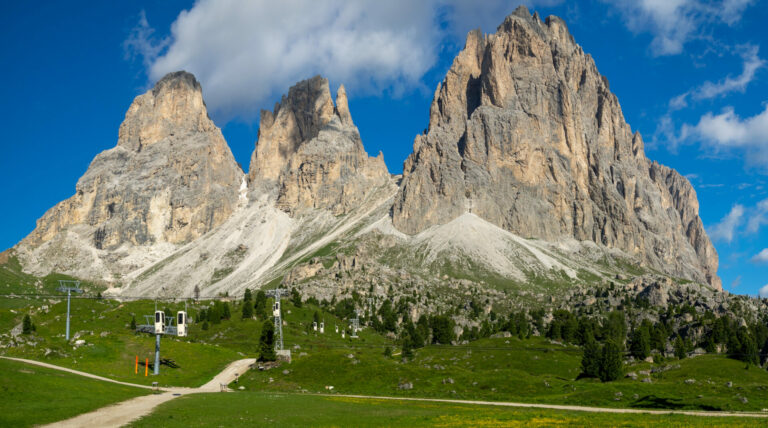 Sassolungo (left) and Sassopiatto (right), with these little telephone booth, or vertical coffins, for gondolas going up the hut at the pass. That was one option for hiking – you could hike around to the far side, up to the hut, then take this back down.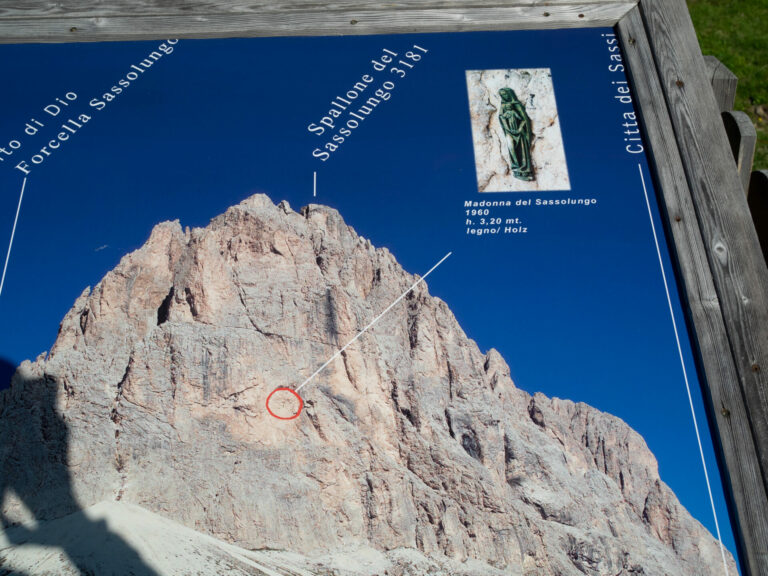 All over these mountains, there are crosses at the top. Often related to WWI. But some crazy climbers put one memorial niche right in the middle of the rock face. These are the people who made these trails, climbed these mountains, made insane via ferrata…

This is nice wide panorama from where the big gondola (not that little phone booth thing) disgorges the hordes. I don't know how it was decided, but we were all going clockwise around the mountain.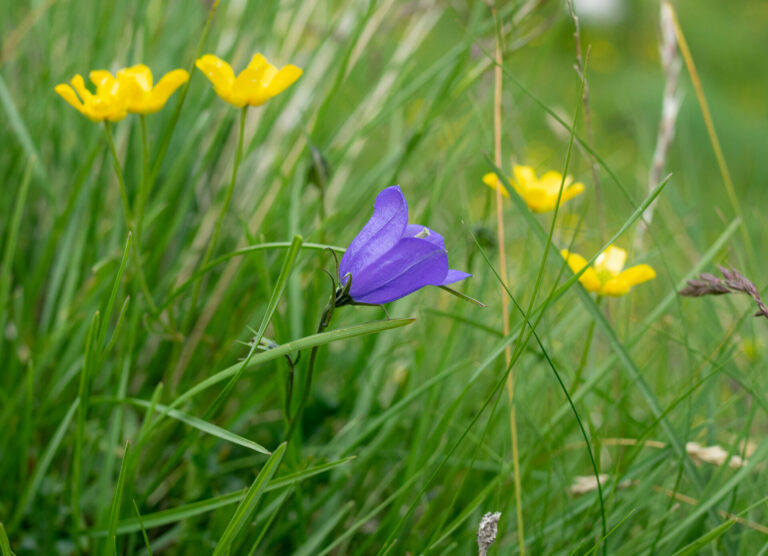 A pretty common, and photogenic, bluebell.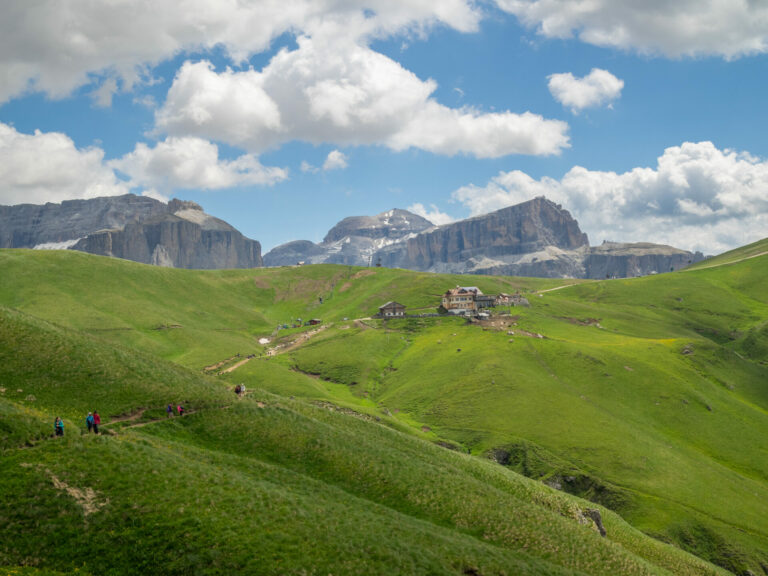 Looking back the way we came, and Piz Boè and the Sella group.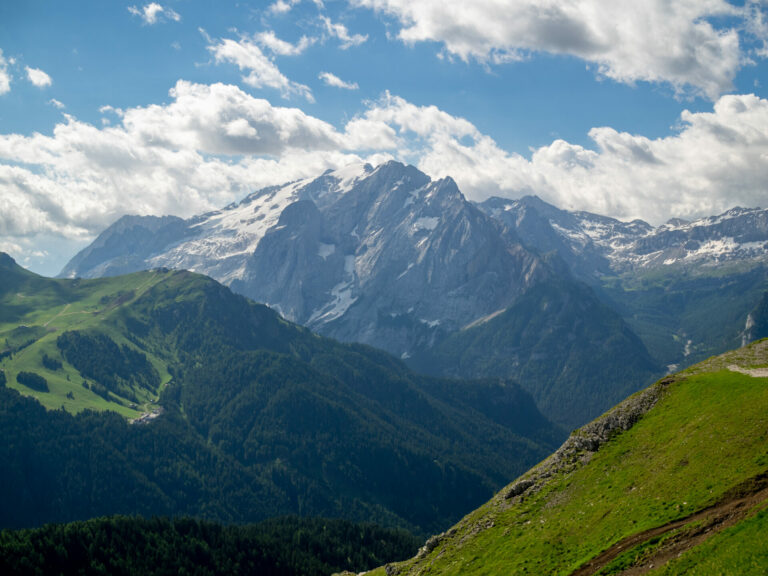 A look at Marmolada, the biggest mountain in the Dolomites. (While we were in Switzerland a couple weeks ago, it had an avalanche that killed almost a dozen people!)