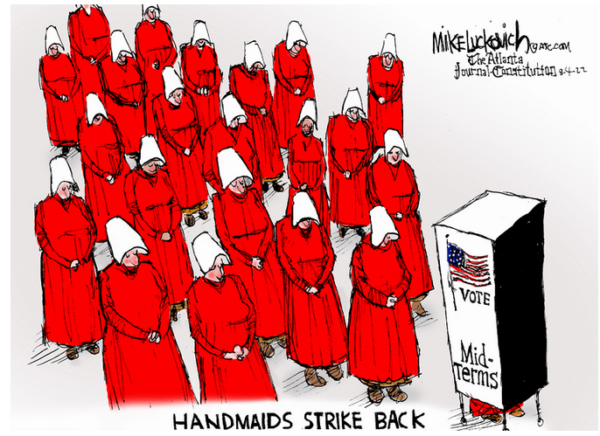 We thought everybody had already been divided into voters and vessels. The voters got to pass restrictions, and the vessels got to sit there and smile! It's an easy mistake to make when you are running around the country wildly stripping people's rights https://t.co/Dd9W7TIJZR

— Alexandra Petri (@petridishes) August 3, 2022
Alexandra Petri, national treasure:
So this is a little embarrassing, but we may have gotten so carried away trying to pass abortion restrictions that we sort of forgot women could still vote! A mind-fart, for sure! When you are sitting there legislating about someone as though they are not there at all — a someone with no rights the state is bound to respect, neither to control what occurs within the bounds of their own body nor, necessarily, to life, even — you can be forgiven for thinking, "Well, this cannot possibly apply to a large swath of the voting population! This isn't the kind of law you pass about fellow voters! They would say something, probably!"…

It really gives you pause: Can you actually force significant life choices down fellow voters' throats, as though they are not your peers under law? And have it be a successful strategy?

Apparently not like this!
But don't worry. We are chastened, and we won't repeat this error: We are working very hard on tightening the voting process. Soon, only the ballots we believe in are going to count.

Yes, we did our best to make the messaging as confusing as we could, and, sure, we've been working to make it harder to register to vote, but we can always do better. No, not at realizing that this isn't a winning approach and we should stop trying to take our fellow citizens' rights away. Certainly not at treating those affected by abortion restrictions as people whose rights deserve respect. But just at fixing this voting oversight.

It seems too clear. People with the ability to choose won't choose us, so there's only one solution to securing less choice: less choice.
Meanwhile, at the FTFNYTimes…
if i were a state or federal republican, i could not have asked for a more complimentary, sympathetic article through which to launder and obfuscate my well-documented and on-the-record views about the subject of abortion. https://t.co/amF2Fcjjs4

— GONELIKEHELLMACHINE (@golikehellmachi) August 5, 2022
Just hours apart. Getting played is a choice. pic.twitter.com/glKJ71I4ED

— Susan J. Demas ?? (@sjdemas) August 6, 2022
It looks like a library book drop, but it's really a place for parents to surrender newborns. These safe havens began as a way to prevent the most extreme cases of child abuse, but after Roe, conservative groups are looking to expand them. https://t.co/tpaUMKX4hr pic.twitter.com/KdnxhOIYb2

— The New York Times (@nytimes) August 6, 2022
… But the safe haven movement has become much more prominent, in part because of a boost from a charismatic activist with roots in anti-abortion activism, Monica Kelsey, founder of Safe Haven Baby Boxes.

With Ms. Kelsey and allies lobbying across the country, states like Indiana, Iowa and Virginia have sought to make safe haven surrenders easier, faster and more anonymous — allowing older babies to be dropped off, or allowing relinquishing parents to leave the scene without speaking to another adult or sharing any medical history…

She first encountered a baby "safe" — a concept dating back to medieval Europe — on a 2013 trip to a church in Cape Town, South Africa, where she was on a pro-abstinence speaking tour.

She returned home to Indiana to found a nonprofit, Safe Haven Baby Boxes, and installed her first baby box in 2016.

To use one of Ms. Kelsey's boxes, a parent pulls open a metal drawer to reveal a temperature-controlled hospital bassinet. Once the baby is inside and the drawer is closed, it locks automatically; the parent cannot reopen it. An alarm is triggered and the facility's staff members can access the bassinet. The box also sends out a 911 call. Twenty-one babies have been left in the boxes since 2017, and the average amount of time a child is inside the box is less than two minutes, Ms. Kelsey said…

On Friday, the Indiana governor signed legislation banning most abortions, with slim exceptions.

And the safe haven movement continues apace…