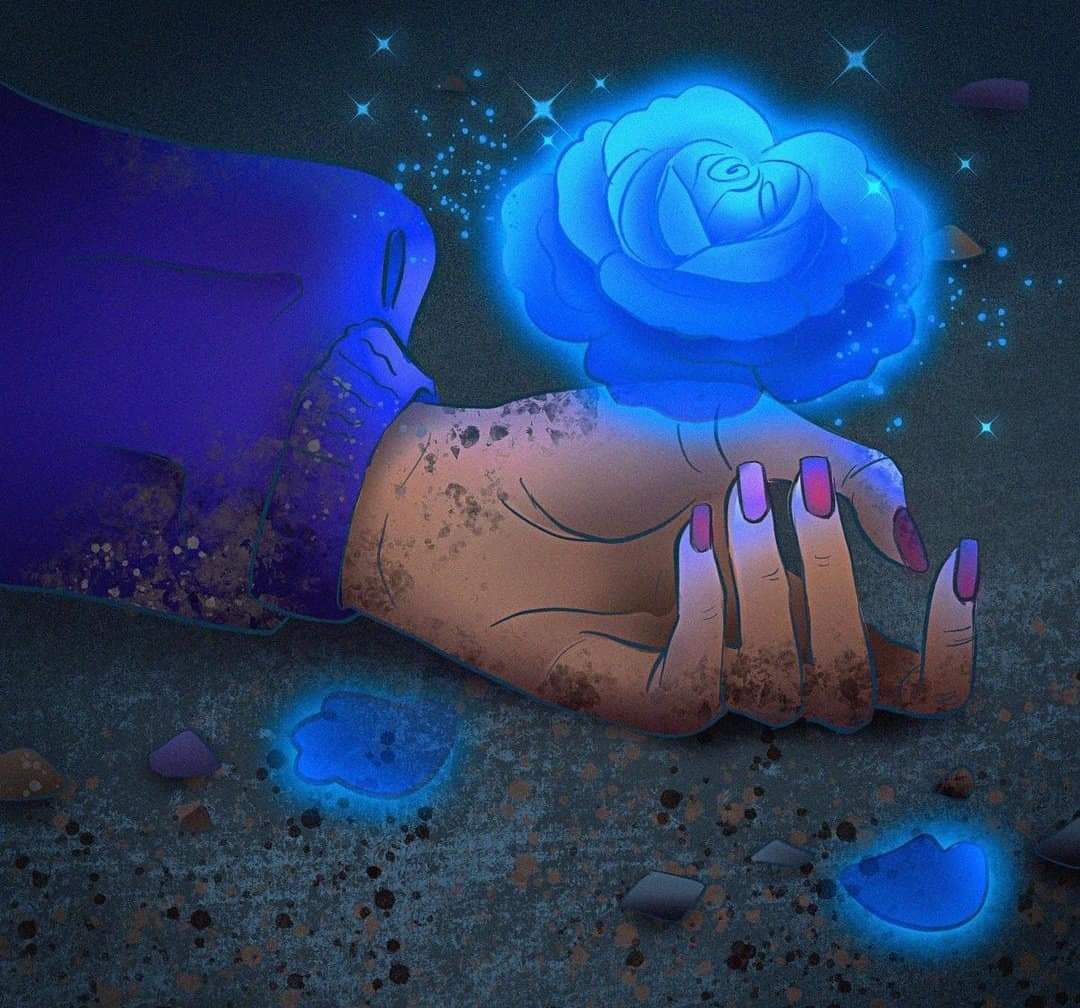 Early today Oksana Pokalchuk, the Director of Amnesty International for Ukraine, resigned in protest. Her resignation letter in English is below: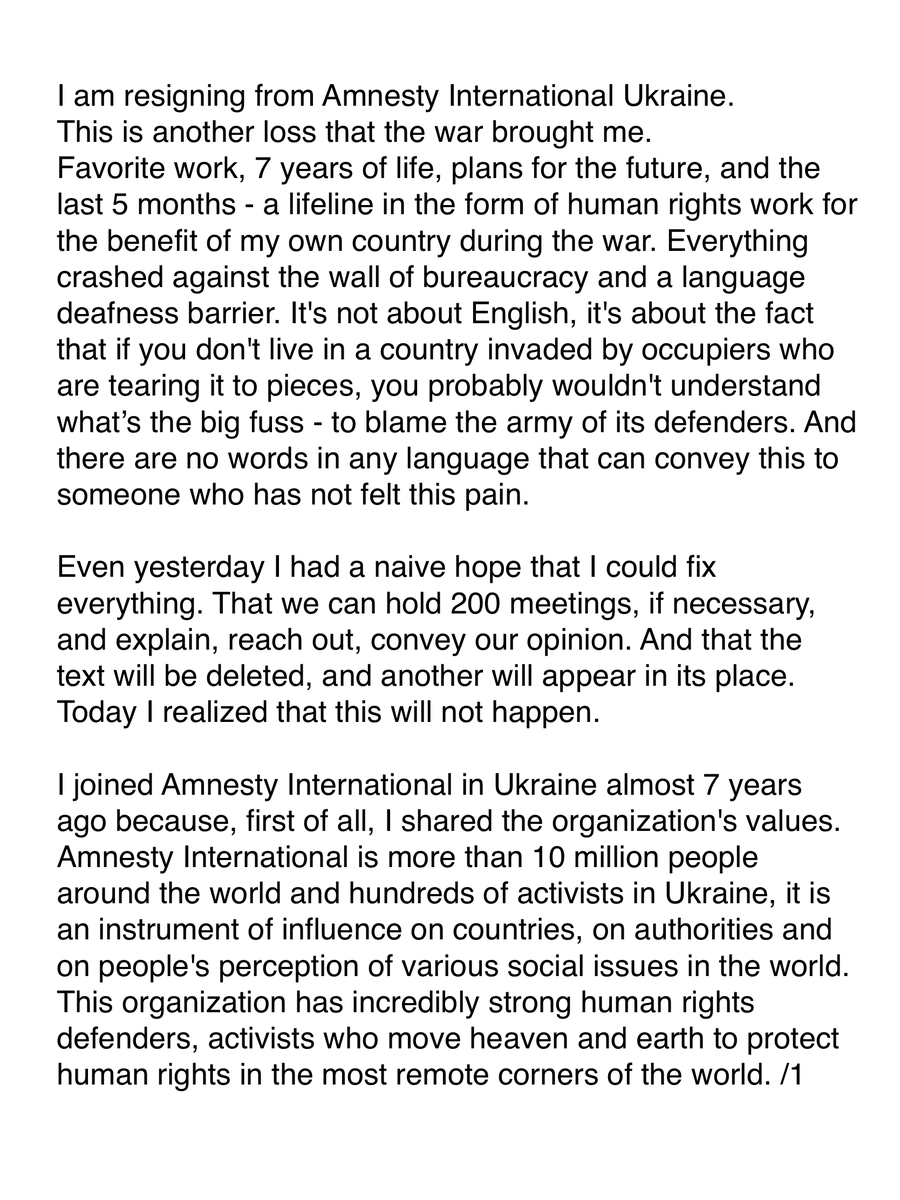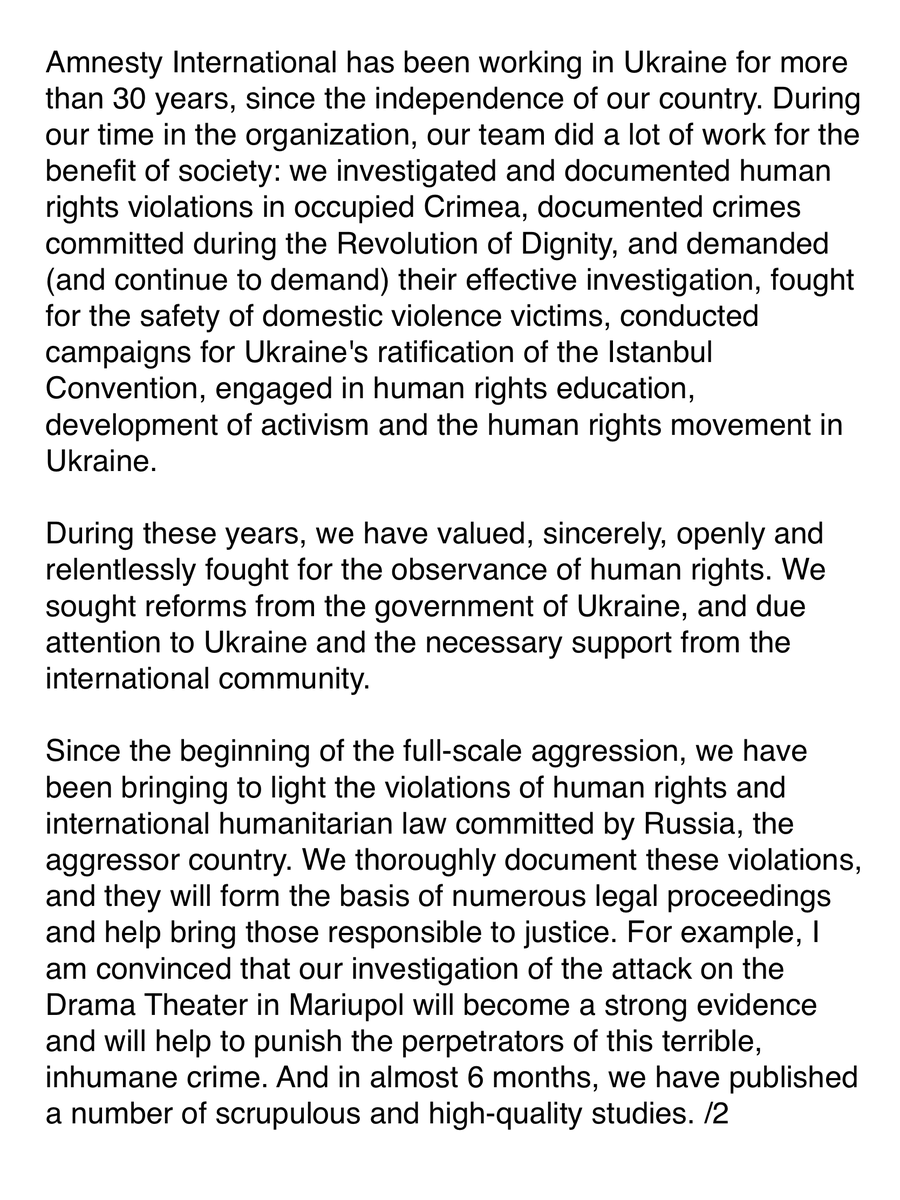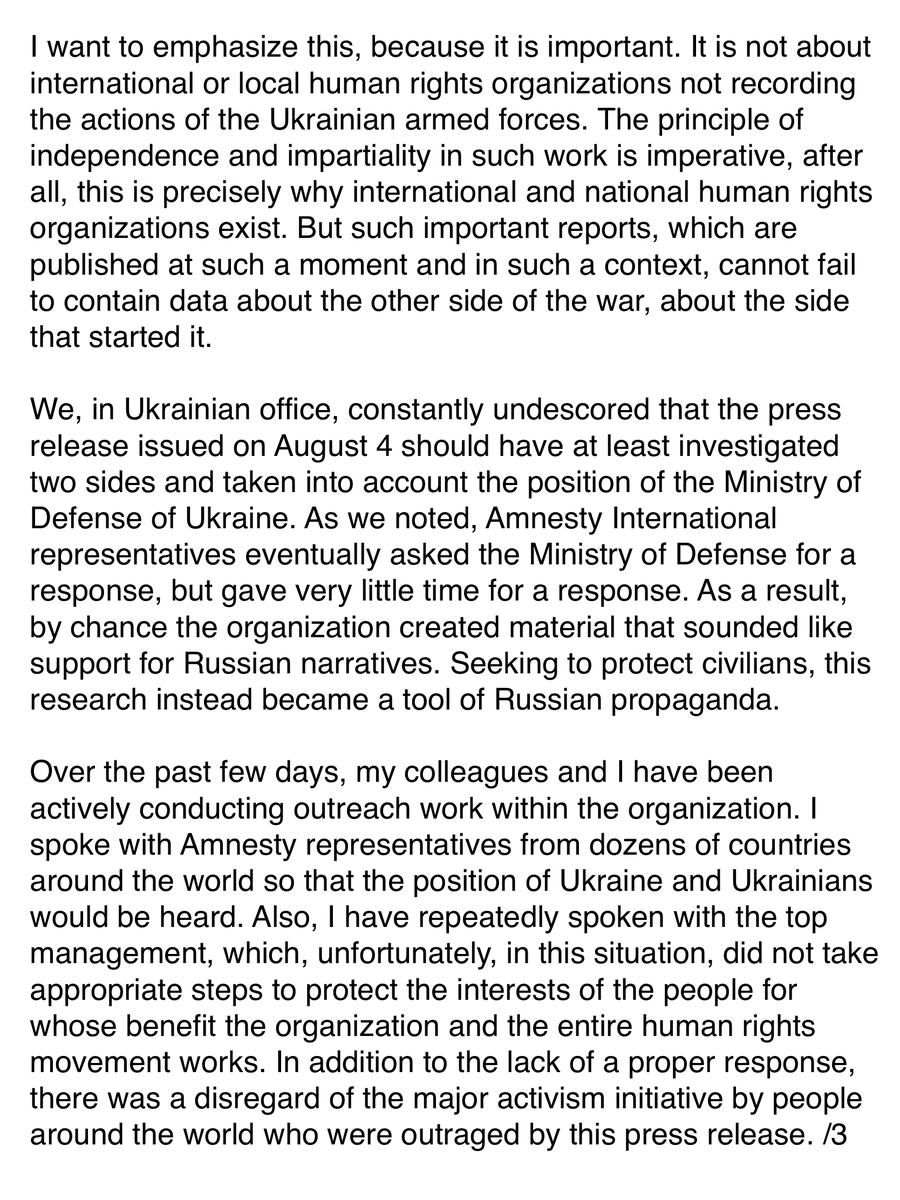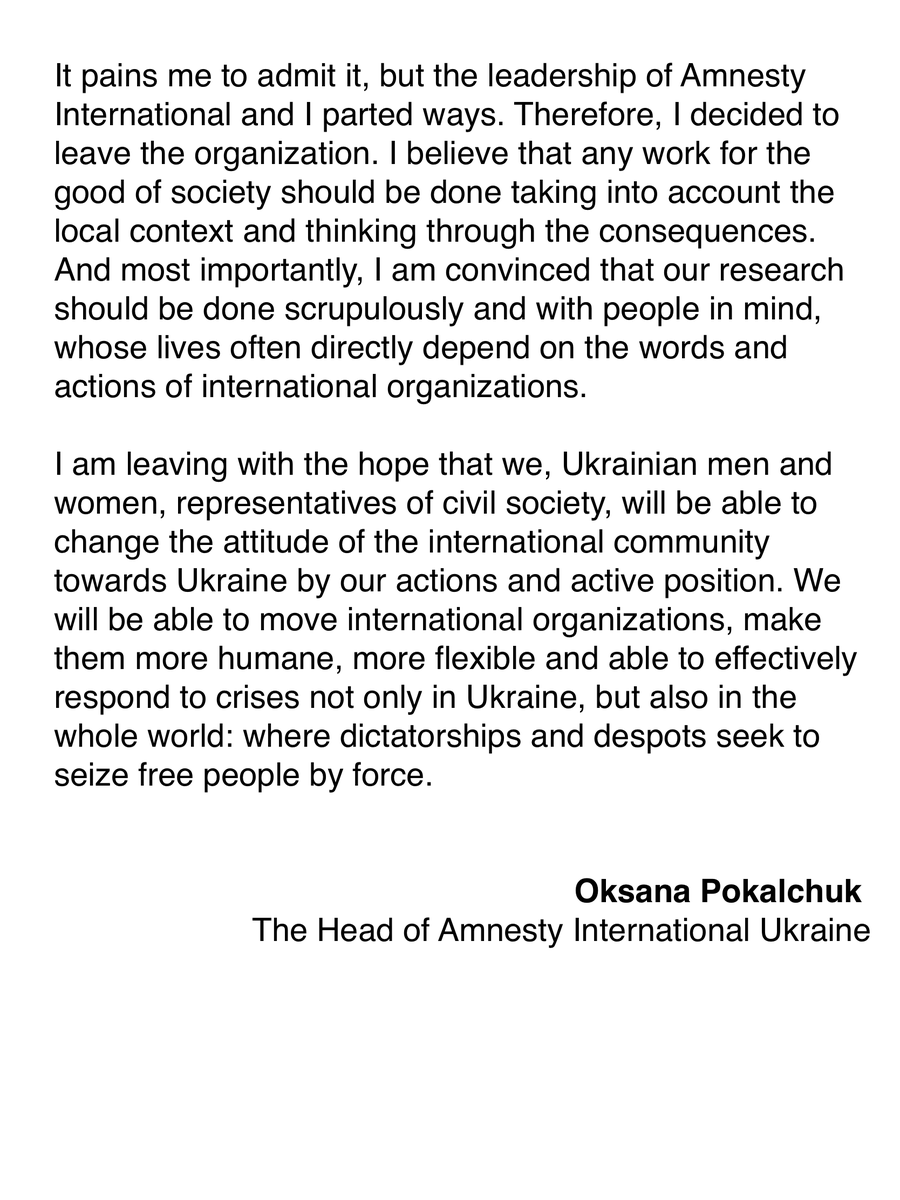 I'll have more on this below.
Here is President Zelenskyy's address from earlier this evening. Video below, English transcript after the jump (emphasis mine):
Dear Ukrainians!

Three vessels with grain for export left our ports today – from Odesa and Chornomorsk. Almost 60,000 tonnes of corn are on board, which are expected by consumers in Turkey, the UK, and Ireland.

The first new vessel since February 24 is heading to the port of Chornomorsk for loading.

The main thing now is the constant increase in exports. Every adequate world player is interested in this. The more our grain will be on the global market, the smaller will be the harvest of political chaos in countries, primarily in Africa and Asia, but not only there. We must remember that this year the demand for imported food in Europe is much higher than expected. European harvests are smaller because of the heat. But the Ukrainian harvest of grain and oilseeds will most likely meet the forecasts – more than 65 million tonnes are expected. Therefore, if the partners do their part of the obligations under the Grain Initiative, the security part, and do not allow new Russian provocations in relation to our exports, then the food crisis, which has been so threatening to the world, can be overcome.

But the situation on the energy market, and especially for European consumers, continues to be very dangerous due to Russia's cynical and worked out well gas blackmail. Instead of supplying gas to the territory of Europe in accordance with the contracts, Russia even simply burns it – and this is happening more than one week. Why does it do this? So that prices in Europe rise even more, so that ordinary Europeans suffer even more and so that it will be even more difficult for everyone on the continent to prepare for winter. This is a manifestation of Russia's deliberate anti-European policy, anti-human policy and the effect of the old mistakes of Europeans who did not want to see that Gazprom, Russian gas pipelines bypassing Ukraine are the same weapons for Russia as tanks and artillery, and each of us, each in Europe is a target for them.

And we all have to defend ourselves now. Together to prepare for the new heating season. Together to respond to any provocations of Russia in the energy sector. Together to develop sanctions in response to Russian blackmail and terror.

Today, the occupiers created another extremely risky situation for everyone in Europe – they fired at the Zaporizhzhia NPP, twice in one day. This is the largest nuclear power plant on our continent. And any shelling of this facility is an open, brazen crime, an act of terror. Russia should bear responsibility for the very fact of creating a threat to the nuclear power plant. And this is not only another argument in favor of recognizing Russia as a state sponsor of terrorism. This is an argument in favor of applying tough sanctions against the entire Russian nuclear industry – from Rosatom to all related companies and individuals. This is purely a matter of safety. The one who creates nuclear threats to other nations is definitely not capable of using nuclear technologies safely.

Today I held a meeting devoted to the sanctions policy, confiscation of Russian assets. As government officials reported, assets worth UAH 28 billion have already been forcibly seized in Ukraine. This work continues. More than 900 facilities belonging to the Russian state are proposed to be confiscated. And if we evaluate the property package not only of the terrorist state, but also of its residents, then this are 36,000 items for seizure. All this will be sent to compensate for the damages that Russia causes through war and terror.

I also heard the results of the work of the group on the development and implementation of the international compensation mechanism and confiscation of Russian assets abroad. All our partners are actively working on this – in Europe, in the United States. Work on bills that will expand the possibilities for the confiscation of Russian assets for Ukraine is underway.

And Donbas burned out by Russian strikes, the abuse of the occupiers over Kharkiv, Mykolaiv, the shelling of Zaporizhzhia, Dnipropetrovsk region, Sumy region, Chernihiv region, Kyiv region, Zhytomyr region, Odesa region and other regions of Ukraine are what Russia will surely pay for: both politically and financially, and with its own future, which Russia is losing with every strike on our territory.

I spoke today with the President of Malawi. It is another African state, the ninth country, which Ukraine is in contact with for the first time at the highest level in the entire history of our independence. I assured Mr. President that Ukraine will make every effort so that every country interested in our agricultural products can meet its consumption needs. We also discussed other issues of stability and our cooperation in international organizations.

I also signed a decree awarding our soldiers. A total of 192 combatants were given state awards, 18 of them, unfortunately, posthumously.

Eternal gratitude to all who is fighting for our great state!

Thank you, great people of Ukraine!

Glory to Ukraine!
Yes, you read and/or heard that right, the Russians targeted the Zaporizhzhia Nuclear Plant today.
📽️Ukrainian Enerhoatom says Russian troops staged a provocation and fired in the direction of Zaporizhzhia Nuclear Power Plant. Vegetation nearby is on fire. #UkraineRussiaWar pic.twitter.com/EQdY5kyr7g

— MilitaryLand.net (@Militarylandnet) August 5, 2022
I'm sure it's perfectly fine for the Russians to be targeting the Zaporizhzhia Nuclear Plant.
What could go wrong?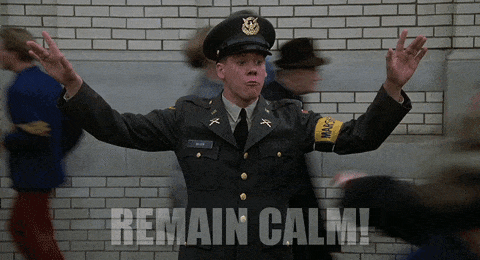 Here is today's operational update from Ukraine's MOD:
The operational update regarding the russian invasion on 18.00, on August 5, 2022

Glory to Ukraine! The one hundred sixty third (163) day of the heroic resistance of the Ukrainian people to a russian military invasion continues.

There are no changes on the Volyn and Polissya directions.

In the Siversky direction, the enemy is holding separate units of the troops of the Western Military District in the border areas of the Bryansk and Kursk regions. Conducts engineering equipment of positions and installation of video surveillance systems.

The artillery shelled civilian infrastructure in the areas of Zalizniy Mist and Hremyach settlements in Chernihiv oblast and Starikovo, Sumy oblast.

In the Slobozhansky direction, the enemy continues to focus its efforts on preventing the Defense Forces from creating favorable conditions for resuming the offensive.

In the Kharkiv direction, the enemy used barrel and jet artillery to shell the areas of the settlements of Kharkiv, Ruska Lozova, Korobochkyne, Cherkaski Tyshky, Stary Saltiv, and Verkhniy Saltiv. Unmanned aerial vehicles conducted aerial reconnaissance near Ruska Lozova, Mali Prokhody, Husarivka and Chepil.

In the Slovyansk direction, the enemy did not conduct active offensive actions, but carried out fire damage from artillery of various types near Bohorodychne, Dolyna, Dibrivne, Velika Komyshuvakha, and Ridne.

In the Donetsk direction, the enemy is concentrating its efforts in the areas of Bakhmut and Avdiivka. It is trying to create favorable conditions for establishing control over the cities of Soledar and Bakhmut and pushing our troops away from the western outskirts of the city of Donetsk.

On the Kramatorsk and Bakhmut directions, the enemy used tanks, barrel and rocket artillery for shelling near Siversk, Hryhorivka, Verkhnyokamyanske, Bakhmut, Zaytseve, Soledar, Yakovlivka, and Kodema. Made an air strike near Vershyna.

With offensive actions, the occupiers tried to capture advantageous lines and improve the tactical position in the areas of Bakhmut, Zaytseve, and Vershyn, they did not succeed, they retreated.

In the Avdiivka direction, artillery shelling was recorded near Avdiivka, Novobakhmutivka, Nevelske, Netailove and Krasnohorivka. The enemy unsuccessfully tried to advance in the direction of the settlements of Krasnohorivka, Avdiivka and Pisky.

In the Novopavlivskyi and Zaporizhia directions, the enemy shelled the areas of Maryinka, Volodymyrivka, Novomykhailivka, Velyka Novosilka, Novoandriivka, Kamianske, Novosilka, Charivne, Novopil, Hulyaipole and Neskuchne from tanks, barrel and rocket artillery.

Ukrainian soldiers successfully repelled another enemy assault in the direction of Maryinka and forced the enemy to flee.

The occupiers carried out reconnaissance with unmanned aerial vehicles in the districts of Zaporizhzhia and Novoselivka Druha.

In the South Buh direction, the enemy is trying to hold the occupied positions and prevent our units from creating favorable conditions for a counteroffensive using available means of fire damage.

The enemy shelled the areas of the settlements of Posad-Pokrovske, Stepova Dolyna, Lupareve, Novomykolaivka, Novohrihorivka, Chervona Dolyna, Zeleny Hai, Andriivka, Trudolyubivka, Novovorontsovka, Topolyne, Potiomkine, Olhyne, Nikopol. Used aviation for strikes near Lozove, Veliky Artakov, and Andriivka.

The enemy made an offensive attempt in the direction of Lozova. It was decisively repulsed by Ukrainian soldiers and left.

Unmanned aerial vehicles are actively used to identify the positions of our units and adjust artillery fire.

In the waters of the Black and Azov Seas, the enemy naval group focuses its main efforts on supporting the land group, blocking civilian shipping in the northwestern part of the Black Sea, and damaging military facilities and infrastructure elements deep within the territory of Ukraine.

Four sea-based cruise missile carriers are ready to use high-precision weapons.

Our units continue to successfully carry out missile and artillery fire missions in the designated directions. The adversary experiences an acute shortage of trained and at least somehow motivated replenishment for units suffering losses as a result of the war in Ukraine.

We believe in the Armed Forces of Ukraine! Together to victory!

Glory to Ukraine!
There was no DOD backgrounder today. However, there is reporting from Reuters that the US is preparing another $1 billion military aid package for Ukraine:
WASHINGTON, Aug 5 (Reuters) – The Biden administration's next security assistance package for Ukraine is expected to be $1 billion, one of the largest so far, and include munitions for long-range weapons and armored medical transport vehicles, three sources briefed on the matter told Reuters on Friday.

The package is expected to be announced as early as Monday and would add to about $8.8 billion in aid the United States has given Ukraine since Russia's invasion on Feb. 24.

The officials, speaking on the condition of anonymity, said that President Joe Biden had not yet signed the next weapons package. They cautioned that weapons packages can change in value and content before they are signed.

However, if signed in its current form, it would be valued at $1 billion and include munitions for HIMARS, NASAMS surface-to-air missile system ammunition and as many as 50 M113 armored medical transports.

The new package follows a recent Pentagon decision to allow Ukrainians to receive medical treatment at a U.S. military hospital in Germany near Ramstein air base. read more

Last Monday, the Pentagon announced a separate security assistance package for Ukraine valued at up to $550 million, including additional ammunition for High Mobility Artillery Rocket Systems (HIMARS).

The White House declined to comment on the package.

The new package would be funded under the Presidential Drawdown Authority (PDA), in which the president can authorize the transfer of articles and services from U.S. stocks without congressional approval in response to an emergency.
Much more at the link.
Here is the British MOD's assessment for today: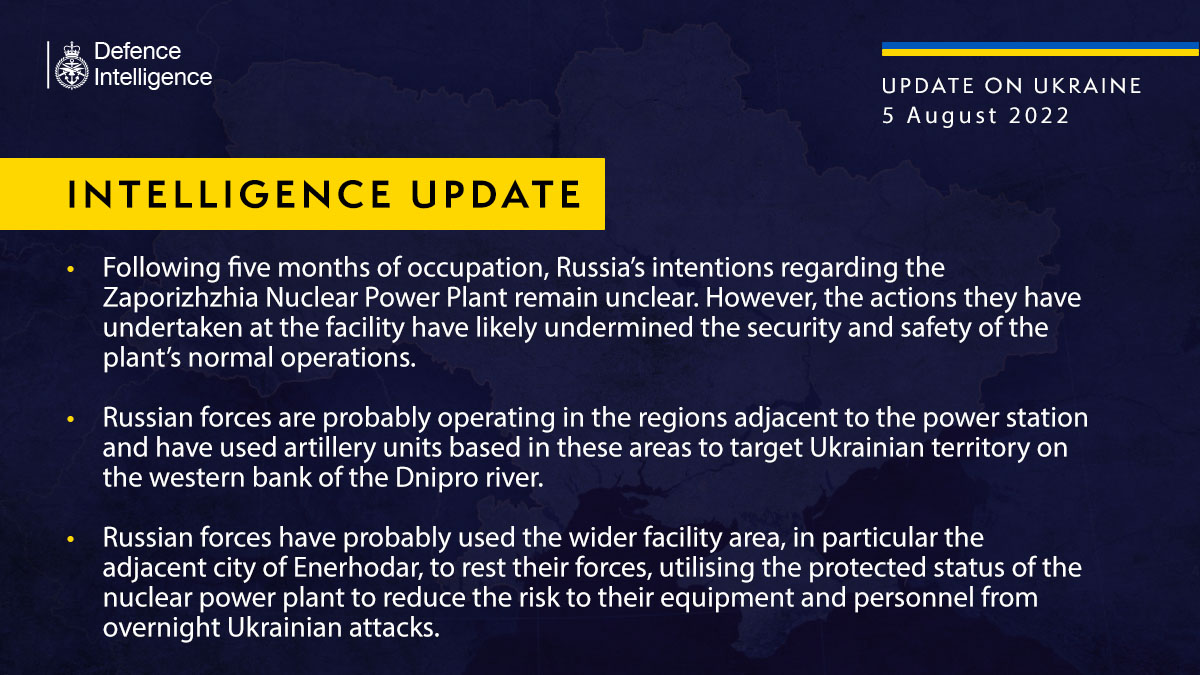 And here is their updated map for today: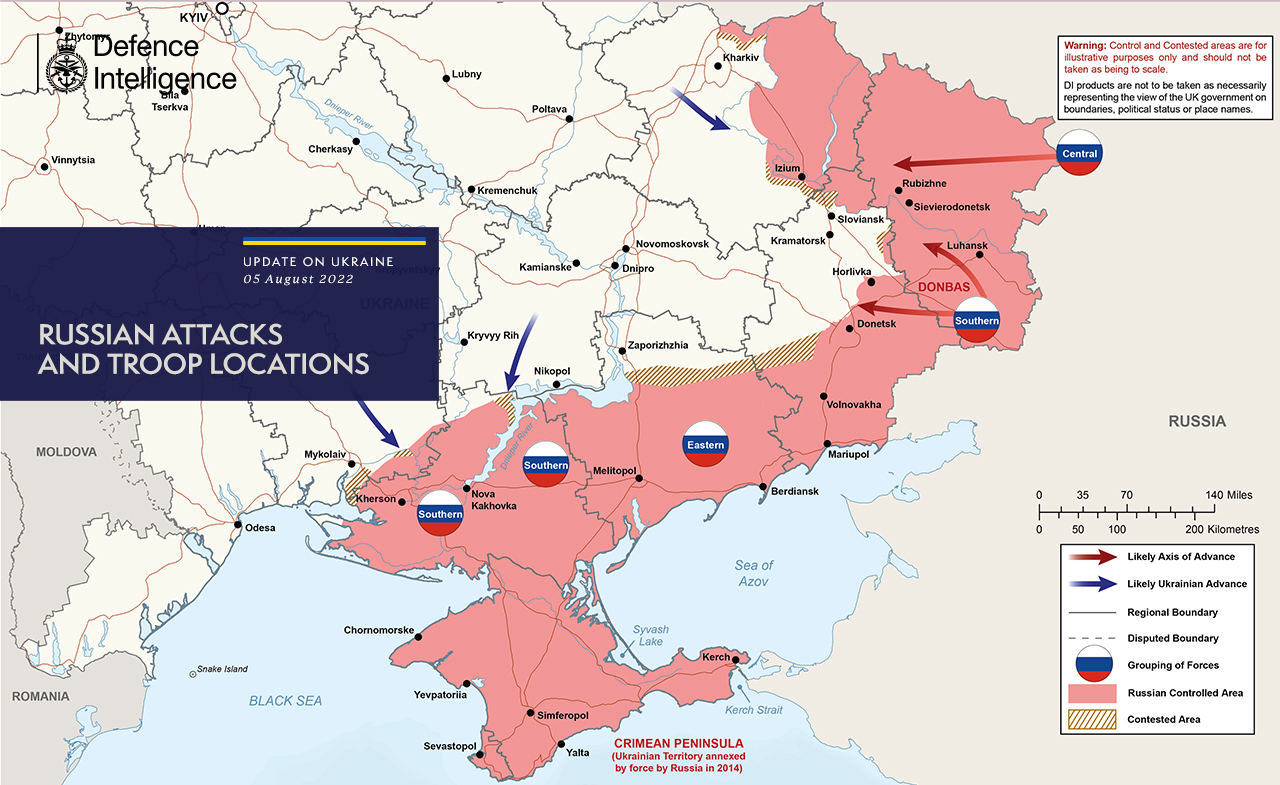 Here is former NAVDEVGRU Squadron Leader Chuck Pfarrer's updated map and analysis for the battle in Kherson:
KHERSON / 2015 5 AUG / UKR sources report that Volodymyr Saldo, head of the RU puppet Kherson civic military administration, has been hospitalized and is in a medical coma. Fire and explosions near Oleshky: likely the result of an ammunition depot being struck by UKR artillery. pic.twitter.com/YvDH5p1dPh

— Chuck Pfarrer (@ChuckPfarrer) August 5, 2022
We're going to sort of pause here and circle back to the Amnesty International brouhaha from last night. As you all recall I started last night with a brief synopsis of Amnesty International's recently released report about Ukraine with a focus on the response from their Ukrainian director. I didn't link to or post to the report for several reasons. The first, to be quite honest, is a personal one. I had had a very long day with some less than pleasant news and I was just trying to plow through the post so I could rack out. The second, which is more of a professional judgement sort of thing, is that I didn't think it was worth posting or excerpting. I don't find Amnesty International's arguments persuasive, I don't find the evidence they're referring to as being actually relevant to the war that is actually being fought versus the war Amnesty International's non-Ukrainian analysts living and writing in safe spaces far from the war think Ukraine should be fighting, nor do I find that evidence convincing. In fact their evidence seems quite flimsy. Finally, a lot of the arguments that Amnesty International made, as well as the overall framing of the report, mirror if not actually reproduce Russian agitprop justifications and rationalizations for their re-invasion of Ukraine.
However, to be thorough, here is the link to the report.
While I don't want to make this about me, if you have a problem with how I do any particular post, calling me a liar is not going to make me respond to you and your concerns in a pleasant manner.
Now I'd like to get back to a couple of informed responses to the report.
The first is from the Ukrainian government:
The Ministry of Defense commented on the statement of the international human rights organization Amnesty International that Ukraine allegedly deploys military bases in hospitals and schools, violating the laws of war and endangering people's lives. As an UNIAN correspondent reports, Deputy Defense Minister of Ukraine Anna Malyar said this during a briefing.

According to Malyar, Ukraine continues the policy of openness and an objective approach to the actions of both the aggressor and our military, which are taking defensive measures. In 2014, Ukraine itself applied to the International Criminal Court and allowed to investigate crimes against humanity and war crimes, unlike Russia.

I want to remind you that the Ukrainian law enforcement system and the courts investigated and sentenced those military men who committed crimes in the combat zone. We have many such examples. If there are facts, we are ready for an investigation, but only within the framework of the context, and not on bare accusations. But while we wait for the Russian enemy in the field, as some advise us, the Russians will occupy all our houses," she stressed.

She stressed that our military is strengthening and defending cities and villages from invaders. Air defense is being deployed to cover the sky over populated areas. The authorities regularly carry out evacuations, but not all residents agree to this.

As UNIAN reported earlier, according to adviser to the head of the Office of the President Mikhail Podoliak, any statements about violations by the Ukrainian army are in the nature of an information operation to discredit the Armed Forces of Ukraine and undermine the supply of weapons from Western partners.
The next is from Edward Hunter Christie who previously served in a senior civilian position at NATO (IHL is International Humanitarian Law):
2-8
RUS knows where the military bases are, where the frontline is. Nearby woods or isolated structures would leave a tell-tale logistics trail RUS would rapidly identify. So, AI's point is wrong from an IHL perspective, because necessity isn't correctly assessed.

— Edward Hunter Christie (@EHunterChristie) August 5, 2022
3-8 Necessity has many practical components for a defending nation, which furthermore has an inherent legal right to commandeer its civilian resources and facilities to aid the war effort and increase the survivability of its forces so that they live to fight another day.

4-8 The Russian forces, by contrast, are there illegally to begin with. Does Russia benefit from the principle of military necessity too? * I would argue it should not * Because it is waging an illegal war of aggression. As such, not a single Russian shell is fired legally.

5-8 Ukraine, by contrast, should be given significant leeway through the principle of necessity, because it starts from a position of lawful self-defence, entirely on its own territory, and bearing in mind unfavourable military odds and very narrow sets of options.

6-8 Considering the empirical cases observed by AI, I propose that the correct legal commentary should be this: Russian forces need to stop firing. Completely. And leave. Ukrainians have the right to use any and all buildings and facilities on their territory. Full stop.

7-8 I propose that legal scholars adopt my proposal, based on a reasonable attitude regarding the following issues: A. The pattern of *fully* separating jus in bello from jus ad bellum considerations is absurd and unjust. When there's a clear aggressor, adjustments must be made.

8-8 B. When acting in self-defence on its own territory, a defending state benefits from a margin of appreciation in line with the IHL principle of necessity, whereas the foreign aggressor state does not benefit from that principle at all.
The second is from Andreas Umland:
The human rights NGO has neither the professional competence nor the public authority to assess the military necessity of, or putative alternatives to, an occasional stationing of Ukrainian troops in residential areas or near other civilian facilities. /2

— Andreas Umland (@UmlandAndreas) August 5, 2022
Even more worrisome about the foray of the reputed NGO into military affairs is an absence of consideration of possible human rights repercussions of the publicly suggested more cautious tactical behavior of the Ukrainian armed forces. /3

Is the suggested larger distance of Ukrainian armed forces from Ukrainian civilians indeed always and clearly in the interests of these civilians? What can be various possible net results of such more cautious military behavior in terms of protecting human rights in Ukraine? /4

The remarks of

@amnesty

can (b) imply a more fundamental critique of the Ukrainian state's behavior that is about not only tactical but also ethical issues. It could mean that the Ukrainian army does not care about Ukrainian civilians, or even uses them as human shields. /5

One simply wonders why an international human rights organization would publicly criticize a certain country's army's way of desperate resistance against a massive armed attack on this country – especially so as the attacker's human rights reputation is not entirely spotless. /7

Shouldn't one assume that a defending army will by itself try to minimize the effects of its armed resistance against aggression, on civilian citizens and infrastructure? Do Ukraine's generals and officers need a foreign NGO to alert them to possible risks of their decisions? /8

As

@Amnesty

has decided to go public with its fundamental critique of Ukraine's army, it appears that the Ukrainian military leadership cannot be trusted to actually defend the life and interests of Ukraine's citizens. Doesn't such an assumption about Ukraine sound familiar? /9

The claim that the Ukrainian state does not care about the fundamental needs of its citizens is well-known, in Russia and Ukraine. It is at the core of Moscow's apology for the entire war and has been a constant theme in the Kremlin's propaganda for more than eight years. /10

The

@amnesty

report has immediately become recognized, by both Russians and Ukrainians, as feeding into Moscow's official justification for its armed invasion of Ukraine since 2014. Didn't Russia always say that it has a "responsibility to protect" Russian speakers from Kyiv? /11

The explicit contents of, and implied conclusions from,

@amnesty

's public critique of Ukraine's armed forces will not lead to better protection of human rights in Ukraine. They will instead support the Kremlin's narrative of the sources and nature of the entire conflict. /12

The military incompetence of

@amnesty

's official comment on Ukraine's conduct of its defensive war against Russia's annihilation war is excusable. However, the political insensitivity of such an inapt coming out of the reputed human rights organization is rather regrettable. /END
Finally, here is Boyd van Dijk's analysis. Van Dijk is the McKenzie Fellow at the Melbourne School at Law in Australia:
The @amnesty report notes that Ukrainian forces are putting civilians in harm's way by operating in populated residential areas, including hospitals. But it is getting, understandably a lot of flag and pushback from critics – and even from mainstream IHL lawyers.

— Boyd van Dijk (@boyd_vandijk) August 5, 2022
Critics are rightly wondering why Amnesty hasn't provided satellite imagery or other concrete evidence supporting its (thin) claims.

The Ukrainians are fighting an asymmetrical war against Russian aggression and acts of genocide, so it should not be surprising that their forces are operating in cities where they can fight the invader – like so many other victims of aggression/genocide have done before.

But the most important critique thrown at

@amnesty

is that the Ukrainians are fighting a just war against illegal aggression and alien occupation, and that it would be unfair to call out their relatively marginal IHL violations compared to grave breaches by Russian aggressor.

This point seems crucial, and it connects with a much longer and broader debate within IHL – and (revisionist) just war theory – about the distinction between jus ad bellum (the rules for going to war) and jus in bello (rules governing warfare).

The question whether victims of aggression and/or genocide (often fighting an asymmetrical war) should have to follow strictly IHL is a contested one, also during the making of the 1949 Geneva Conventions, the most important rules for warfare ever formulated.

In the late 1940s, especially Jewish survivors and socialist drafters of the GCs fought against belligerent equality, the idea that IHL applies to all parties equally even if they're fighting against aggression/genocide (the same principle that dictates

@amnesty

thinking).

Breaching this principle would allow civilians/soldiers acting against aggression and/or genocide to lawfully take up arms in occupied territory, and to violate IHL if necessary to defend their right to life – see the Ukrainians today.

This is what the Israeli delegation said during the negotiations in Geneva in the summer of 1949.

Most interestingly, the proposal was supported by the Soviet Union as well as a French-Jewish drafter, even though France was simultaneously fighting against Ho Chi Minh's guerrillas in Southeast Asia.

Indeed, the Soviet Union (i.e. the Rus Fed's predecessor) remained an active proponent of the idea of giving more extensive protections to irregulars who were fighting for a so-called 'just cause' – both in the late 1940s and in the 1970s, when the Conventions were last updated.

The Soviets worked actively together with Third World delegations using the language of just war to elevate the status of national liberation movements and denounce wars of imperialist aggression – whether being in Southern Africa, Vietnam, or Ukraine today.

But, as I'm researching in my new project, those same proposals created sign debates within socialist states and national liberation movements about the ethics of guerrilla warfare, just as Ukrainians are discussing the ethics of using heavy artillery in their own neighborhoods.

The ANC in S-Africa demanded privileged belligerent status, but it also had extensive internal debates on the ethics of violence, in the 1960s and after 1976, when it opted for more indiscriminate violence while adhering to IHL atst (see Tambo in Geneva).

The point being here is that it would be better both analytically as well as normatively to embrace the richness of IHL history, rather than framing it as a strict codebook with severe limitations for those fighting against aggression and/or genocide, as the

@amnesty

report does.
That's enough for tonight.
Your daily Patron!
Here's some more pictures of Patron visiting the children's hospital back in July:
Patron the dog visited the children who are being treated at the children's hospital Ohmatdyt.

Small patients were also preparing for the meeting and happily greeted the rescuers and Patron with bright drawings. 🇺🇦 pic.twitter.com/25iX8W1uyK

— Anton Gerashchenko (@Gerashchenko_en) July 9, 2022
And here's a new video from Patron's official TikTok account:
The caption translates as:
Have you already rated the new song about me? I liked it so much! #pespatron #patrondsns #slavaukraine
Open thread!