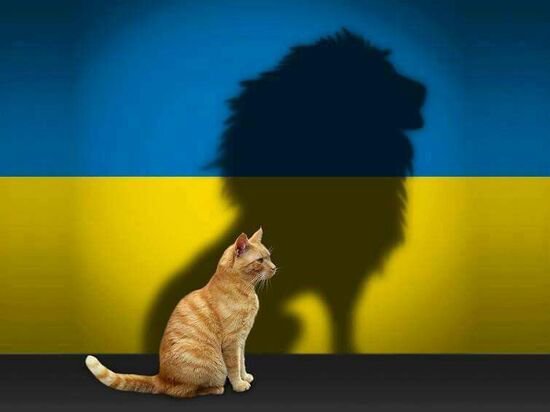 Earlier today almost all of Ukraine was under air raid warning:
Update: Military depots were hit by Russian missile strikes in Vinnytsia region, local authorities confirmed. There are casualties. They are looking into why an air raid alert was missing. Still no official info about explosions in other regions

— Olga Tokariuk (@olgatokariuk) August 7, 2022
Here is President Zelenskyy's address from earlier this evening. Video below, English transcript after the jump (emphasis mine):
Good health to you, fellow Ukrainians!

Today is the Day of the Air Force of the Armed Forces of Ukraine, and now I want to once again congratulate all military pilots and also all defenders of our skies on a professional holiday.

We are all proud of you and wish you so many victories that the Russian soldiers are simply afraid of even the very thought of our Ukrainian sky.

This morning, I congratulated the fighters and commanders of the Air Force, handed out state awards to the best warriors.

I handed over the "Golden Star" orders to the wives of the fallen Heroes of Ukraine – Lieutenant colonel Eduard Vahorovsky and Major Dmytro Kolomiyets. They gave their lives saving their brothers and protecting our state. Eternal memory and gratitude to the Heroes!

I spoke today with President of the European Council Charles Michel. I informed him about the situation on the battlefield, about the threat that Russia created by striking at the Zaporizhzhia nuclear power plant. There is no such nation in the world that can feel safe when a terrorist state fires at a nuclear plant. God forbid, if something irreparable happens, no one will stop the wind that will spread the radioactive contamination. Therefore, a principled response of the international community to these Russian attacks on the Zaporizhzhia NPP – the largest in Europe – is needed right now.

The situation in Donbas remains very difficult. Our army is doing everything possible to stop the Russian terror and inflict the greatest possible losses on the occupiers. Avdiivka, Pisky, Maryinka, Bakhmut and other hot areas in the Donetsk region take the main efforts and, unfortunately, many lives.

It is also difficult in the Kharkiv region, in the south of our country, where the occupiers are trying to concentrate their forces.

The key thing now, just as before, is weapons for our defense, weapons from partners. Every day without any pauses, we work to increase the supply of weapons, to send more powerful and long-range systems to the front.

And next week we expect news from partners regarding support packages. Good news.

In this summer time, every week there are more and more reports that the occupiers are preparing for pseudo-referendums in the occupied areas of the south of our country. I want to say a very simple thing: everyone who helps the occupiers in any way realize their intention will be held accountable. They will bear responsibility to Ukraine.

The position of our state remains the same: we will not give up anything of ours, and if the occupiers follow the path of these pseudo-referendums, they will close for themselves any possibility of negotiations with Ukraine and the free world, which the Russian side will definitely need in a certain moment.

Next week, I will continue the practice of political appeals to representatives of partner states and nations who defend freedom together with us. A number of important negotiations are also planned – and not only with current politicians.

As before, Ukraine will do everything to make our struggle and Ukrainian needs known in all countries of the world and in all audiences – even those who usually do not follow political life.

In particular, American actress Jessica Chastain arrived in Kyiv today. She visited "Okhmatdyt" and saw with her own eyes the consequences of the Russian occupation in Irpin, Kyiv region.

Her story about our war will definitely be heard. We are preparing an important humanitarian event.

And I am grateful to all friends of Ukraine abroad and to everyone who helps expand our ties in the world.

We are doing everything to win, everything to protect our country.

I wish all of us Ukrainians a fruitful new week!

Glory to our warriors!

Glory to Ukraine!
There was no operational update today from Ukraine's MOD.
Here is the British MOD's assessment for today: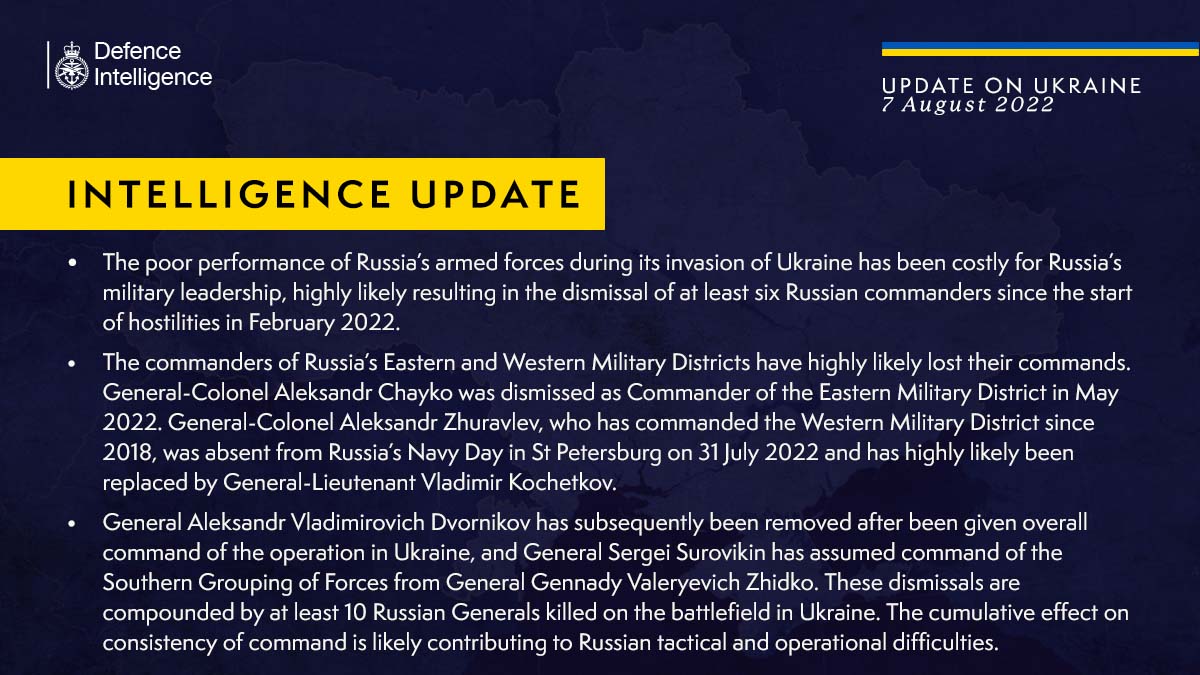 They did not issue an updated map for today.
Here is former NAVDEVGRU Squadron Leader Chuck Pfarrer's update map and analysis of the battle of Kherson:
KHERSON / 2130 UTC 7 AUG / Ukrainian Partisans and and Special Operations Forces continue to identify lucrative targets for HIMARS and precision artillery. Reports indicate a strikes in the vicinity of the Kherson airfield and the M-14 HWY bridge. pic.twitter.com/9J0bRlgD8L

— Chuck Pfarrer (@ChuckPfarrer) August 7, 2022
Speaking of the south of Ukraine, the Ukrainian Air Force went on the attack on Friday!
Alexey #Arestovych, adviser to the head of the Office of the President. On August 5, the Ukrainian Air Force launched a massive attack on the Russians in the #Kherson region. "There were 8-10 planes in one sortie at a time, and there was more than one sortie" #War_in_Ukraine pic.twitter.com/rAiRC7EuwZ

— Харьков_Живет Kharkiv_Lives (@HarZizn) August 6, 2022
Most likely included these airedales:
A pair of Ukrainian Su-25s, each carrying four empty O-25 rocket pods and a pair of drop tanks, head back from the front pic.twitter.com/CLLGLy0Gap

— OSINTtechnical (@Osinttechnical) August 6, 2022
Tallyho!!!!!
Earlier today the Ukrainian Army once again targeted the Antonovsky Bridge with their HIMARS!
PRECISION STRIKE: This evening HIMARS again engaged the M-14 HWY Antonovsky bridge in Kherson. The north and south parts of the span were targeted. Sources provided this photo of a secondary fire on the span. The RU 42nd Army remains dependent on a pontoon ferry for supplies. pic.twitter.com/w9wtnnOYai

— Chuck Pfarrer (@ChuckPfarrer) August 7, 2022
Apparently the commander of Russian forces in Zaporizhzhia is not particularly tightly tethered:
"This will be Russian land or scorched earth!" The commander of Russian forces in Zaporizhzhya, who's also the head of Russia's defense "against" radioactive, chemical and biological threats reportedly threatens "various scenarios" at Enerhodar plant. pic.twitter.com/LZ5MfAADjL

— Charles McPhedran (@charliekreuz) August 7, 2022
"And we are not hiding it from our enemy. We are alerting them. They know that it'll be Russian, or nobody's. We are prepared for the consequences of [taking] this step." @iaeaorg @antonioguterres

— Charles McPhedran (@charliekreuz) August 7, 2022
Again: what could possibly go wrong?
Yesterday, The Guardian did a deep dive into the Olenivka Detention Center:
Screams from soldiers being tortured, overflowing cells, inhuman conditions, a regime of intimidation and murder. Inedible gruel, no communication with the outside world, and days marked off with a home-made calendar written on a box of tea.

This, according to a prisoner who was there, is what conditions are like inside Olenivka, the notorious detention centre outside Donetsk where dozens of Ukrainian soldiers burned to death in a horrific episode late last month while in Russian captivity.

Anna Vorosheva – a 45-year-old Ukrainian entrepreneur – gave a harrowing account to the Observer of her time inside the jail. She spent 100 days in Olenivka after being detained in mid-March at a checkpoint run by the pro-Russian Donetsk People's Republic (DNR) in eastern Ukraine.

She had been trying to deliver humanitarian supplies to Mariupol, her home city, which the Russian army had besieged. The separatists arrested her and drove her in a packed police van to the prison, where she was held until early July on charges of "terrorism".

Now recovering in France, Vorosheva said she had no doubt Russia "cynically and deliberately" murdered Ukrainian prisoners of war. "We are talking about absolute evil," she said.

The fighters were blown up on 29 July in a mysterious and devastating explosion. Moscow claims Ukraine killed them with a US-made precision-guided Himars rocket. Satellite images and independent analysis, however, suggest they were obliterated by a powerful bomb detonated from inside the building.

Russia says 53 prisoners were killed and 75 injured. Ukraine has been unable to confirm these figures and has called for an investigation. The victims were members of the Azov battalion. Until their surrender in May, they had defended Mariupol's Azovstal steel plant, holding out underground.

A day before the blast, they were transferred to a separate area in the camp's industrial zone, some distance from the grimy two-storey concrete block where Vorosheva shared a cell with other women prisoners. Video shown on Russian state TV revealed charred bodies and twisted metal bunk beds.

"Russia didn't want them to stay alive. I'm sure some of those 'killed' in the explosion were already corpses. It was a convenient way of accounting for the fact they had been tortured to death," she said.

Male prisoners were regularly removed from their cells, beaten, then locked up again. "We heard their cries," she said. "They played loud music to cover the screams. Torture happened all the time. Investigators would joke about it and ask inmates, 'What happened to your face?' The soldier would reply, 'I fell over', and they would laugh.

"It was a demonstration of power. The prisoners understood that anything could happen to them, that they might easily be killed. A small number of the Azov guys were captured before the mass surrender in May."

Vorosheva said there was constant traffic around Olenivka, known as correctional colony No 120. A former Soviet technical school, it was converted in the 1980s into a prison, and later abandoned. The DNR began using it earlier this year to house enemy civilians.

Captives arrived and departed every day at the camp, 20km south-west of occupied Donetsk, Vorosheva told the Observer. Around 2,500 people were held there, with the figure sometimes rising to 3,500-4,000, she estimated. There was no running water or electricity.

The atmosphere changed when around 2,000 Azov fighters were bussed in on the morning of 17 May, she said. Russian flags were raised and the DNR colours taken down. Guards were initially wary of the new prisoners. Later they talked openly about how they were going to brutalise and humiliate them, she said.

"We were frequently called Nazis and terrorists. One of the women in my cell was an Azovstal medic. She was pregnant. I asked if I could give her my food ration. I was told, 'No, she's a killer'. The only question they ever asked me was, 'Do you know any Azov soldiers?'"

Conditions for the female inmates were grim. She said they were not tortured but received barely any food – 50g of bread for dinner and sometimes porridge. "It was fit for pigs," she said. She suspected the prison governor siphoned off money allocated for meals. The toilets overflowed and the women were given no sanitary products. The cells were so overcrowded they slept in shifts. "It was tough. People were crying, worried about their kids and families." Asked if the guards ever showed sympathy, she said an anonymous person once left them a bottle of shampoo.

According to Vorosheva, the camp's staff were brainwashed by Russian propaganda and considered Ukrainians to be Nazis. Some were local villagers. "They blamed us for the fact that their lives were terrible. It was like an alcoholic who says he drinks vodka because his wife is no good.

"The philosophy is: 'Everything is horrible for us, so everything should be horrible for you'. It's all very communist."

Ukraine's president, Volodymyr Zelenskiy, has called the explosion "a deliberate Russian war crime and a deliberate mass murder of Ukrainian prisoners of war". Last week, his office and Ukraine's defence ministry gave details of clues which they say point to the Kremlin's guilt.

Citing satellite images and phone intercepts and intelligence, they said Russian mercenaries from the Wagner group carried out the killings in collaboration with Vladimir Putin's FSB spy agency. They point to the fact a row of graves was dug in the colony a few days before the blast.

The operation was approved at the "highest level" in Moscow, they allege. "Russia is not a democracy. The dictator is personally responsible for everything, whether it's MH17, Bucha or Olenivka," one intelligence source said. "The question is: when will Putin acknowledge his atrocities."

One version of events being examined by Kyiv is that the blast may have been the result of intra-service rivalries between Russia's FSB and GRU military intelligence wings. The GRU negotiated Azovstal's surrender with its Ukrainian army counterpart, sources suggest – a deal the FSB may have been keen to wreck.

The soldiers should have been protected by guarantees given by Russia to the UN and the International Committee of the Red Cross that the Azov detainees would be properly treated. Since the blast, the Russians have refused to give international representatives any access to the site.

Vorosheva said the Red Cross were allowed into the camp in May. She said the Russians took the visitors to a specially renovated room and did not allow them to talk independently to the prisoners. "It was a show," she said. "We were asked to give our clothes' size and told the Red Cross would hand out something. Nothing reached us."

Other detainees confirmed Vorosheva's version of events and said the Azov soldiers were treated worse than civilians. Dmitry Bodrov, a 32-year-old volunteer worker, told the Wall Street Journal the guards took anyone they suspected of misbehaviour to a special disciplinary section of the camp for beatings.
More at the link!
I've seen the reporting regarding Russia asking the DPRK for personnel to assist in the re-invasion of Ukraine. The original source for this was Russian state backed television. Until or unless there's confirmation from a more reliable source its RUMINT at best.
That's enough for tonight.
Your daily Patron!
When I heard about 100,000 soldiers from DPRK who "will help russia fight nazism in Ukraine." But for the first two weeks, they'll be amazed by smartphones, solar batteries, and Teslas in UA villages. And then they will want to accept Ukrainian citizenship (who'll survive) 😛 pic.twitter.com/GlFY8PXchl

— Patron (@PatronDsns) August 7, 2022
And we finish with a new video from Patron's official TikTok:
The caption translates as:
They didn't notice such a talent… @Zlata Ognevich #pespatron #patrondsns
Open thread!