On the Road is a weekday feature spotlighting reader photo submissions.
From the exotic to the familiar, whether you're traveling or in your own backyard, we would love to see the world through your eyes.
Every day in Botswana we saw hundreds of horned animals, most of which were within the antelope family. We saw them as we drove around, hiked, or sat in camp. Mostly they seemed a bit shy, turning away from us as we'd approach. But we were certain that they heard us long before we saw them, by focusing their enormous ears in our direction.
They were rarely alone. We would see a pair, maybe a small family group, everything up to hundreds of springbok. On occasion we would notice that despite our presence they would be looking elsewhere. That was our clue that something more troublesome than us was near.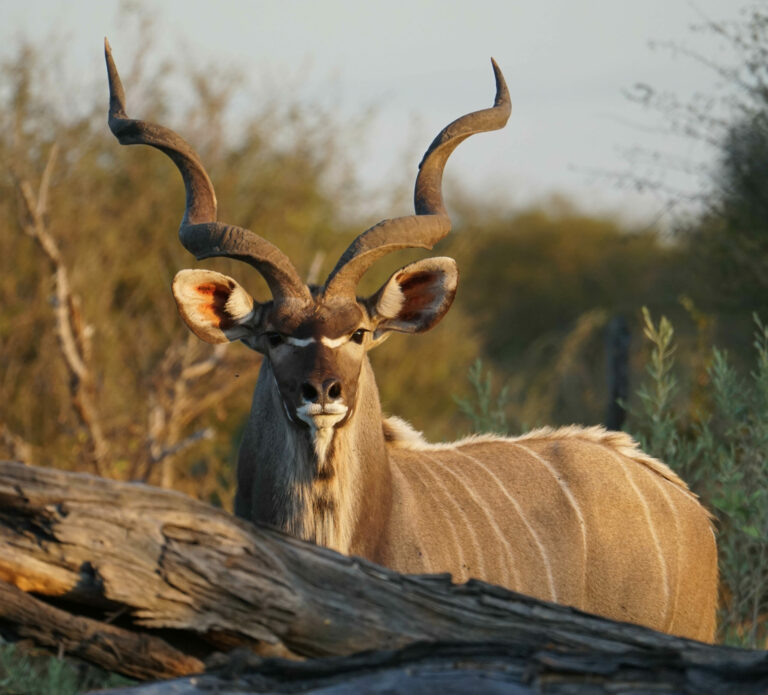 Makgadikgadi National Park, Botswana
May 17, 2022
On our first game drive we saw several kudus. Males could be identified by the spiral horns. Females lacked the horns but shared the vertical white side stripes and small hump. It also seemed that the kudus would mix with large numbers of its relatives: in the middle of a group of impalas there would often be a female kudu or two, finding safety in the group.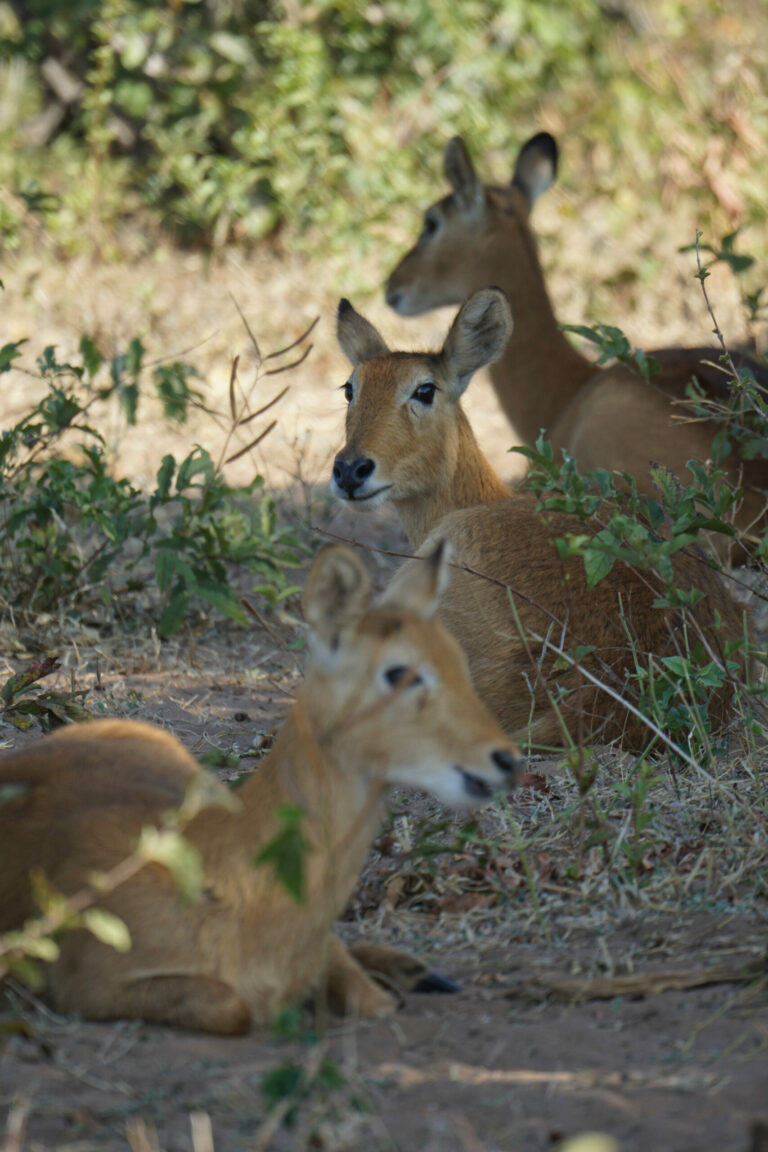 Chobe National Park
June 1, 2022
We only saw puku once, this group of females waiting in the shade. Our guide was delighted as he had not seen any for almost two years.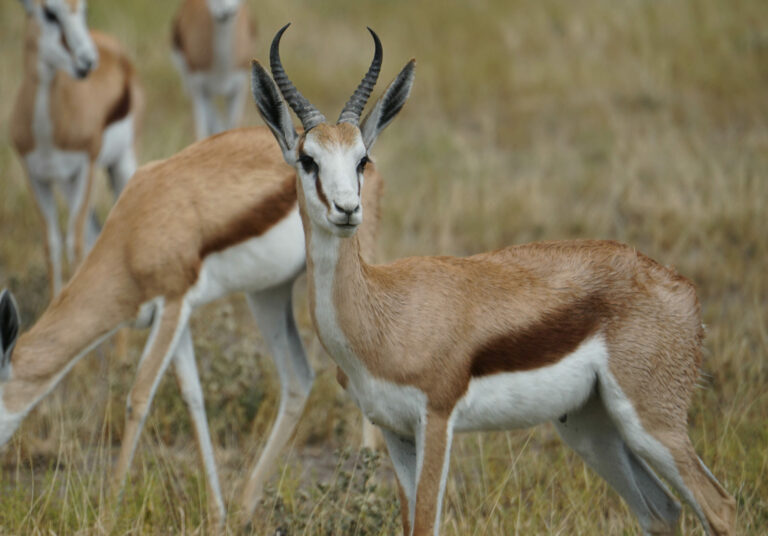 Central Kalahari, Botswana
May 19, 2022
In the Central Kalahari the springbok were everywhere. In the mornings they would be leaping around in play (pronking) before spending the day grazing and keeping watch.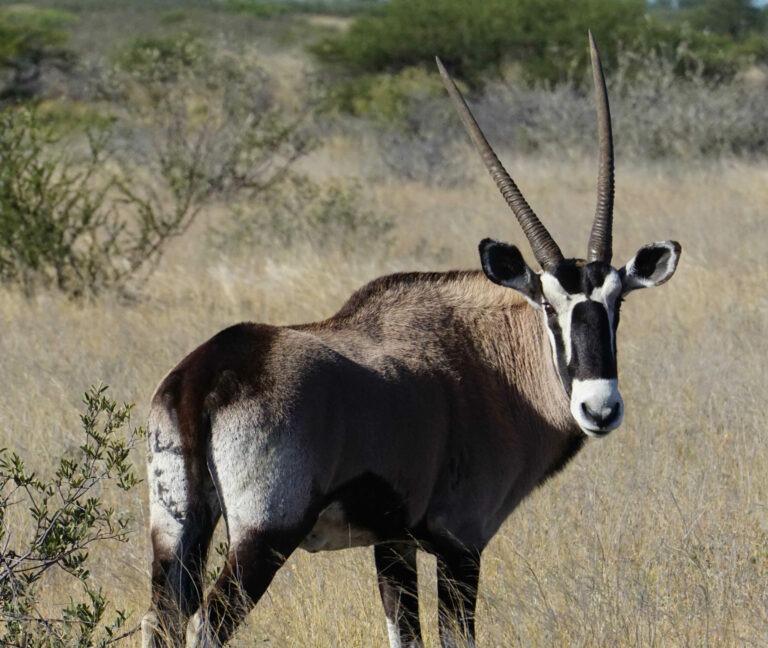 Central Kalahari, Botswana
May 19, 2022
The gemsbok dominate the grasslands of the Central Kalahari. From the distinct facial markings to their white stockinged feet, they make a dramatic sight. It seemed that they were somewhat shy as they would usually turn away when we neared. This one was not.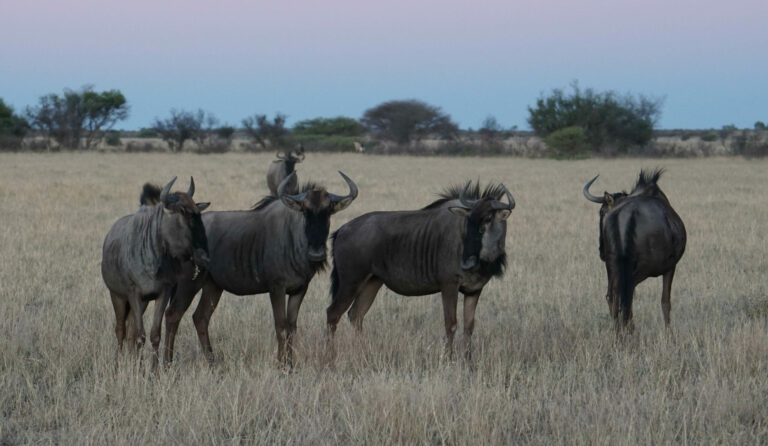 Central Kalahari, Botswana
May 20, 2022
These are blue wildebeests at dusk. The coats almost shine. They are unnaturally graceful.
The wildebeests of Botswana are far fewer than they once were, a result of wildlife mismanagement. Efforts to stem the spread of hoof and mouth disease into cattle areas resulted in the construction of a fence north of the Central Kalahari. When the wild wildebeests migrated north during the dry season, the fence trapped tens of thousands without water. The disaster caused the government to change course but immense damage was already done.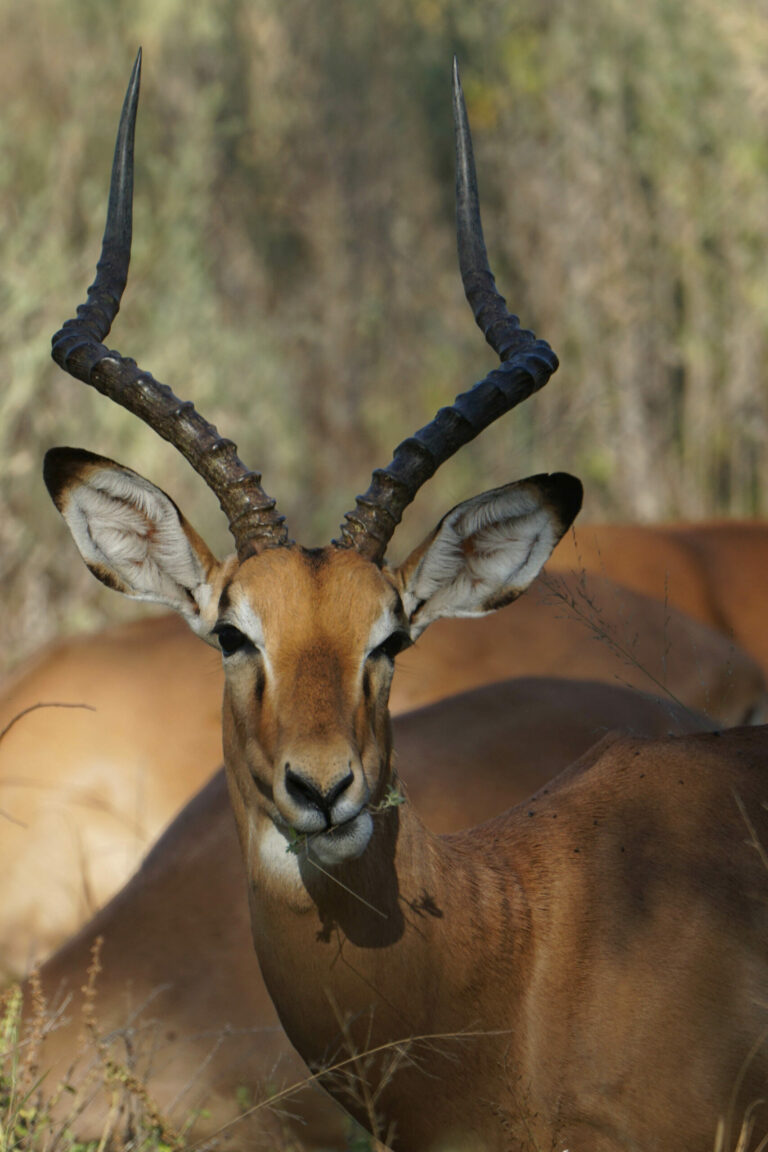 Moremi, Botswana
May 27, 2022
Enormous numbers of impala are found throughout northern Botswana. Herds of varying size were around, sometimes moving past our camp at night.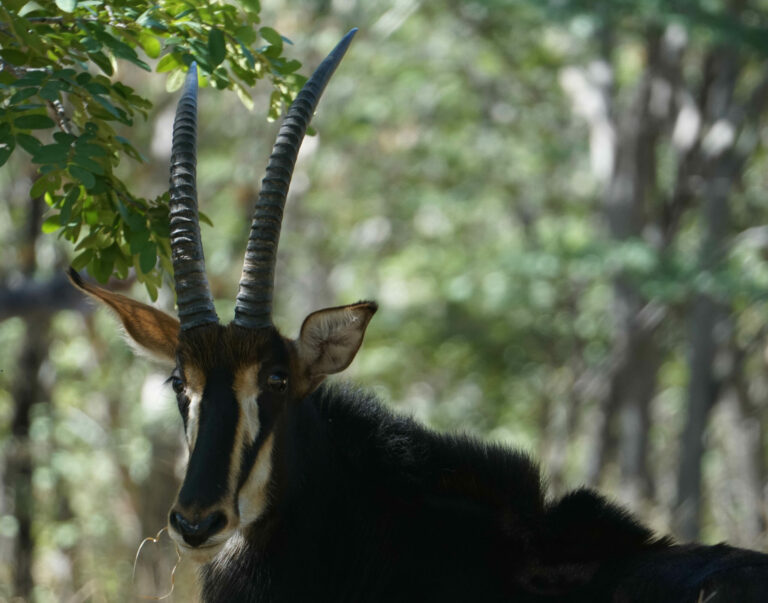 Chobe, Botswana
June 1, 2022
The sable was the last large antelope we would see. This male was grazing near the roadside, remaining only long enough for me to take one shot. We later saw a small herd, the male standing between us and the rest of the group as they swiftly disappeared into the brush.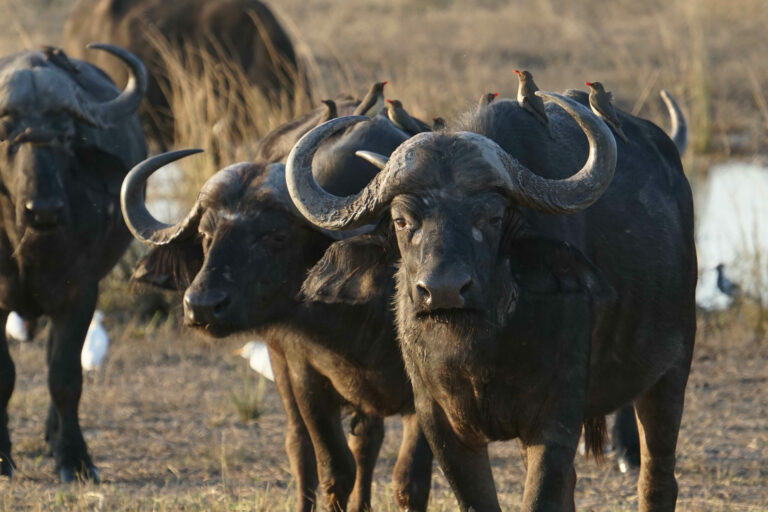 Chobe National Park, Botswana
June 1, 2022
Sightings of cape buffalo were infrequent until we reached the Chobe (River) National Park along the river that forms the boundary with Namibia.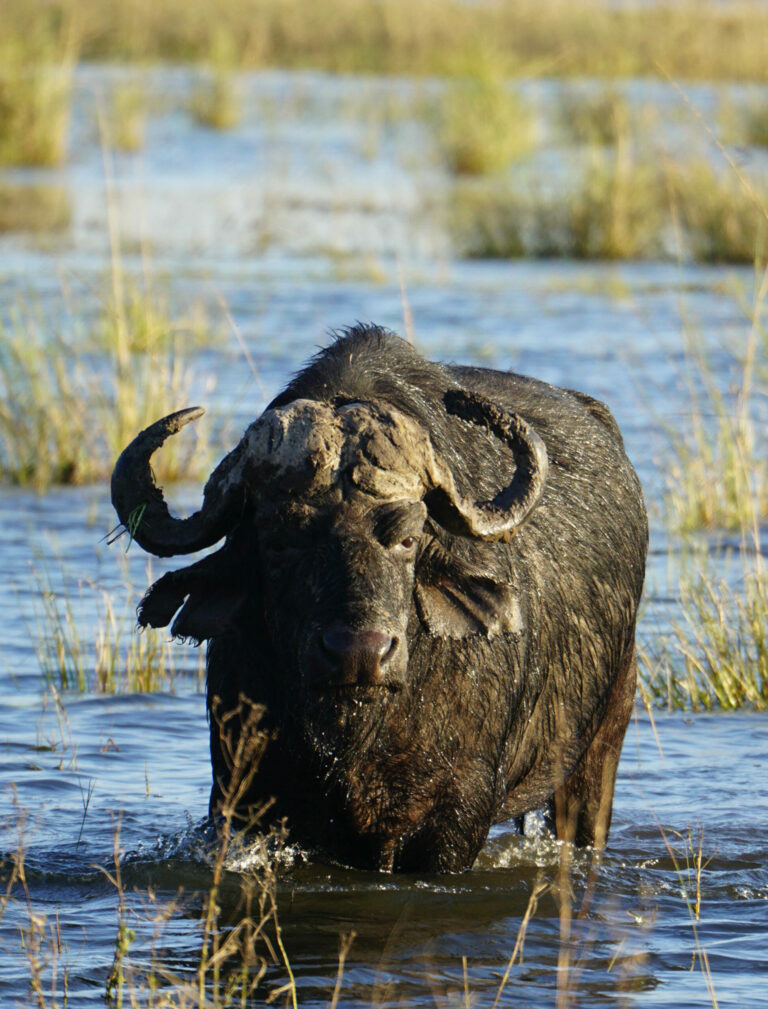 Chobe National Park, Botswana
June 1, 2022
Many crossed between small marshy islands and the bank…..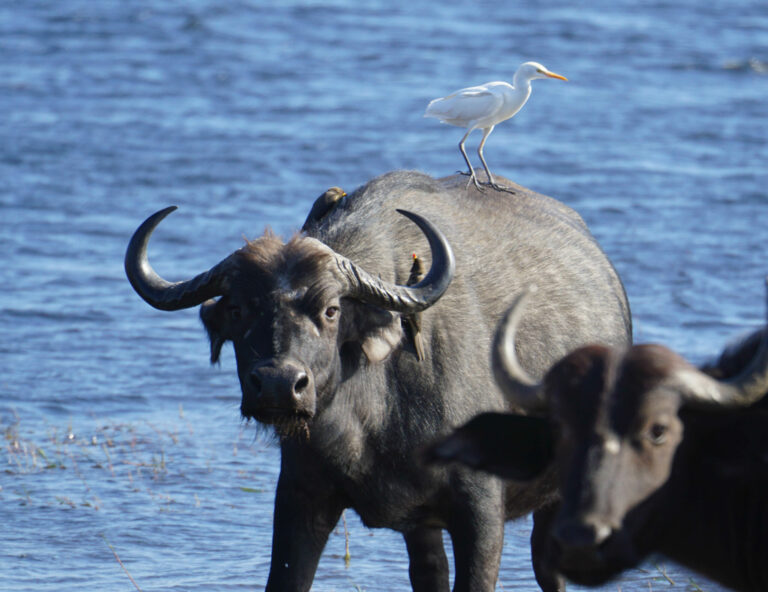 Chobe National Park, Botswana
June 1, 2022
And carried a deli along with them. Those are red-billed oxpeckers and a cattle egret.