New CDC guidelines not only ditched quarantines, they put less emphasis on social distancing, routine testing & contact tracing. You no longer have to stay 6-feet away. But CDC leadership is in disarray so it's best to act the best interest of your health https://t.co/cPSwTwwCpP

— delthia ricks 🔬 (@DelthiaRicks) August 12, 2022
The CDC effectively throws up its hands: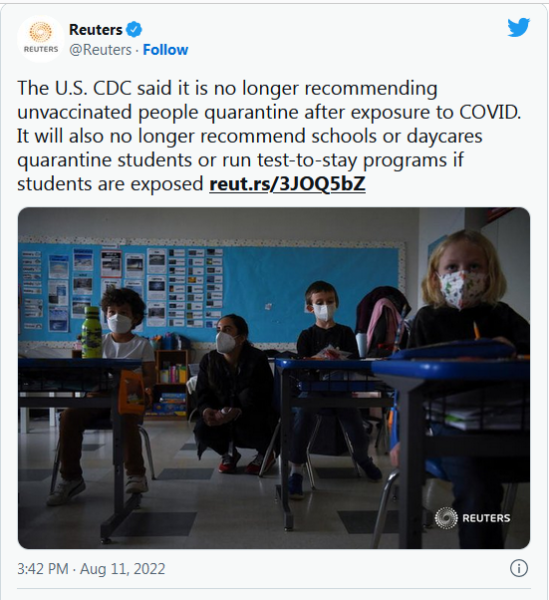 (link)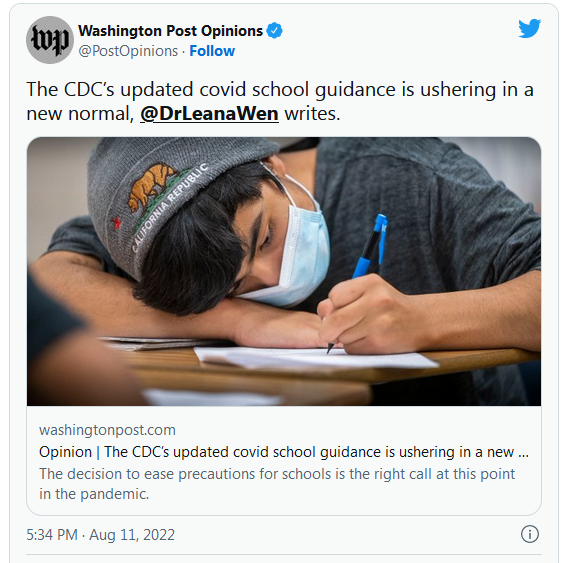 Glass practically half full — and, let's be realistic, who needs that much liquid anyways?
… At this point in the pandemic, the emphasis must shift from universal mandates to individual decisions to minimize the disruption of in-person learning.

Previous guidance from the Centers for Disease Control and Prevention was appropriate for the last school year, but it is out of step with the situation today. It referenced social distancing and separating kids into cohorts, which posed practical difficulties for many schools. It urged masking at schools in communities with high levels of covid transmission, which is the case for more than 40 percent of the United States.

Masks and distancing are mitigation measures that were needed before vaccines became widely available for school-age children. That's no longer the case. Everyone 6 months and older can be vaccinated, and those 5 years old and above can be boosted. Moreover, the vast majority of children have been exposed to covid. A CDC study found that as of February 3 out of 4 kids have had the coronavirus. That was before the BA.2 and BA.5 omicron subvariants became the dominant strains. By now, most children, and most of the general population, are well-protected from severe illness as a result of vaccination, prior infection or both…

The CDC's new guidance removes blanket distancing and cohorting requirements. Importantly, it also allows children exposed to covid to stay in class. This should prevent entire classrooms from being forced to stay home because one child tested positive and will come as a huge relief to parents who have seen how the unpredictability of covid restrictions negatively affects their work and their children's education.

Masking in areas of high transmission remains part of the guidance, which schools will not follow anyway; a survey of 500 of the largest K-12 school districts found that 98 percent no longer plan to mandate masks…

Those opposed to the CDC easing restrictions warn that the new policies will lead to super-spreader events at schools. They are right. Schools will have more outbreaks as layers of protection are removed. But daily outbreaks already occur at conferences, weddings, restaurants, gyms and workplaces. Most are probably not reported or even detected, as there is increased recognition that the United States cannot contain covid-19 through contact tracing.

Rather, everyone engaging in public life should be aware that those around them could be infected with the coronavirus. They should protect themselves with vaccines, know which treatments they are eligible for and take precautions such as masking according to their level of risk tolerance. Students, teachers and school staff are no different…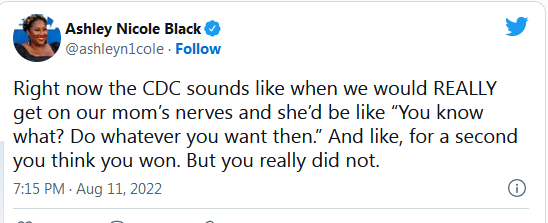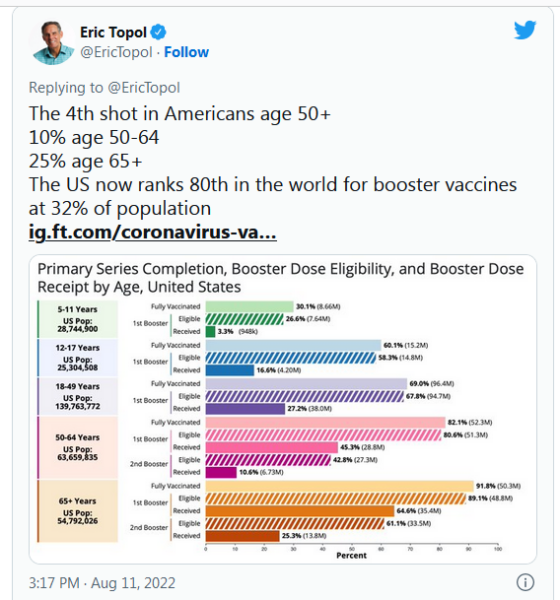 (link)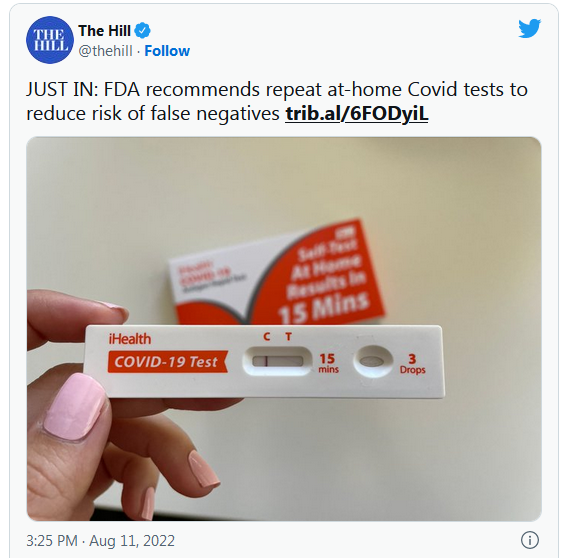 ======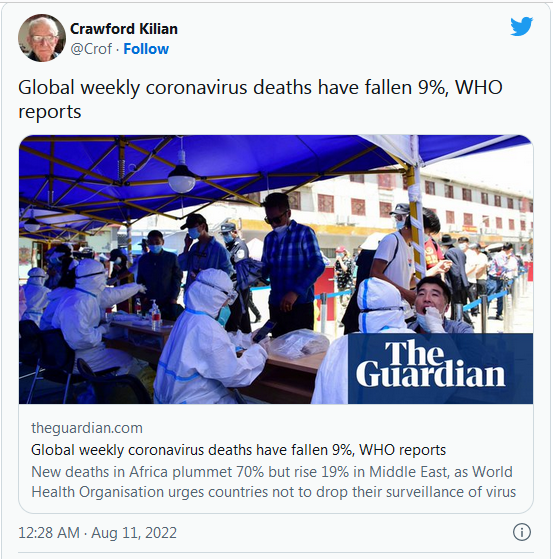 (link)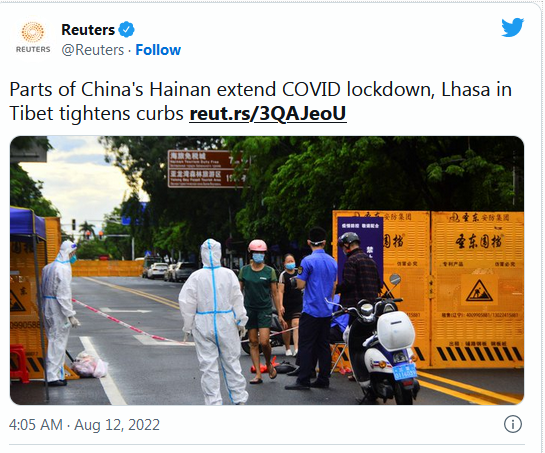 (link)
Anger and anxiety are mounting among tens of thousands of tourists stranded in Sanya, a beach resort destination in China that has become the country's latest site of a sudden lockdown following a Covid-19 outbreak.@_KarenHao @qianweizhang @ZhaoReddyhttps://t.co/hw8gavi7CC

— Jonathan Cheng (@JChengWSJ) August 9, 2022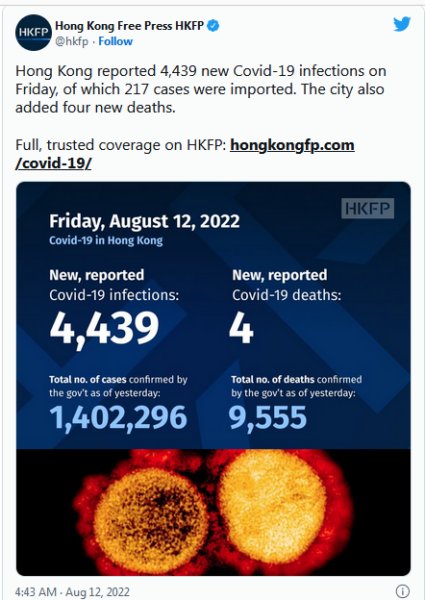 (link)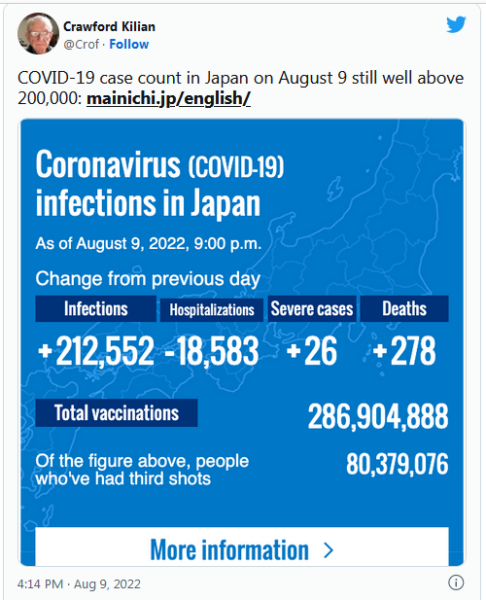 (link)
The 75th Indian Independence Day is August 15th, next Monday:
As the country continues to record an average of over 15,000 #coronavirus cases daily, the Centre has asked States to ensure there are no large gatherings for Independence Day celebrations and that everyone follows Covid protocols. https://t.co/lHOa6U4J4s

— National Herald (@NH_India) August 12, 2022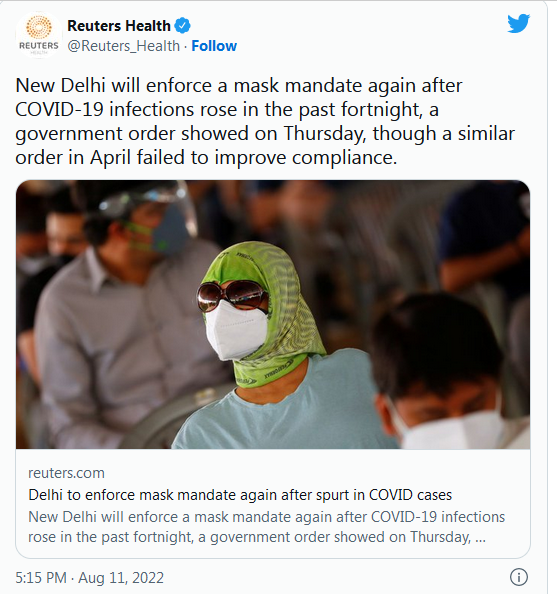 (link)
Correction, typo: its striking BA.2 wave

— Eric Topol (@EricTopol) August 10, 2022
Kim Jong Un suffered a "fever" during the Covid outbreak in North Korea, his sister reveals, blaming Seoul.

Pyongyang refers to "fever patients" rather than "Covid patients".

Kim has declared a "shining victory" over Covid in North Koreahttps://t.co/DJCYgoGu8P pic.twitter.com/I8NpR5Xkam

— AFP News Agency (@AFP) August 11, 2022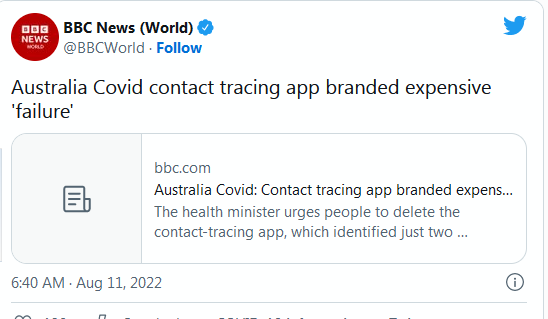 (link)
Africa Centers for Disease Control and Prevention said last month it was hopeful South African pharmaceutical firm Aspen Pharmacare would get orders for its own brand COVID vaccine. However, it has not received any orders to date https://t.co/VXjmrJ4XOD pic.twitter.com/rnLOMaaooM

— Reuters (@Reuters) August 11, 2022
======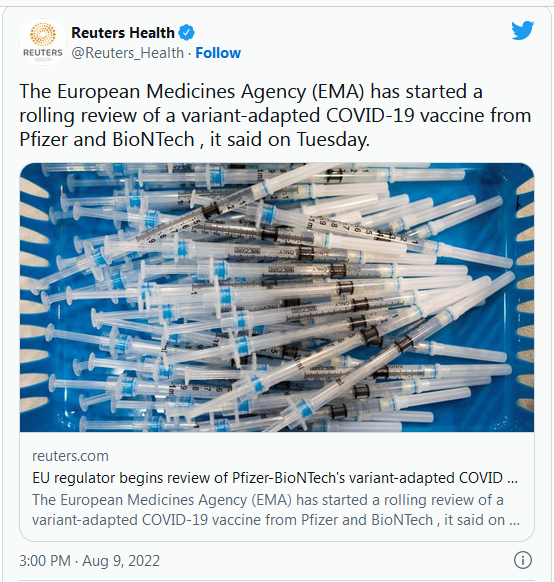 (link)
In the past week, there's been a flurry of new, informative reports on #LongCovid. I've tried to summarize them here along with the implicationshttps://t.co/IEMD9R3LtU
(PS you can subscribe, it's free)

— Eric Topol (@EricTopol) August 12, 2022
Scientists in Germany have identified an effective combination of therapies for #Covid that may reduce the formation of novel variants https://t.co/DbkqUtd72e pic.twitter.com/sX6Lyhz9ia

— delthia ricks ?? (@DelthiaRicks) August 8, 2022
—I'd like a little postcard-sized system that would rapidly and accurately detect a Covid infection, which strain of virus, and my level of immunity, all from my saliva
—No problem, we've got onehttps://t.co/KmVrlJoFab @natBME @wyssinstitute @DonIngber @MIT pic.twitter.com/wgywLhWQcR

— Eric Topol (@EricTopol) August 8, 2022
Consumer news for technophiles (with a spare $188 or so):
Very professional review of the LG Puricare from @ashri_k. The Puricare is honestly marketed- no N95 claims. I own one and in my opinion it's a viable option for people who truly have problems tolerating disposable or elastomeric N95 masks to the point where they cannot wear one. https://t.co/g6acAkn6iY

— Naomi Wu 机械妖姬 (@RealSexyCyborg) August 11, 2022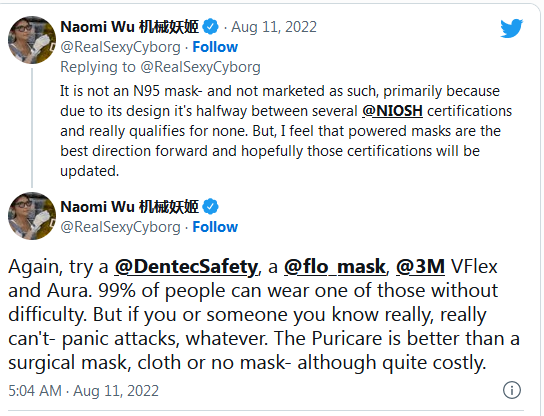 ======
From a long thread, on a *recent* (Feb. 22) observational study here in Massachusetts: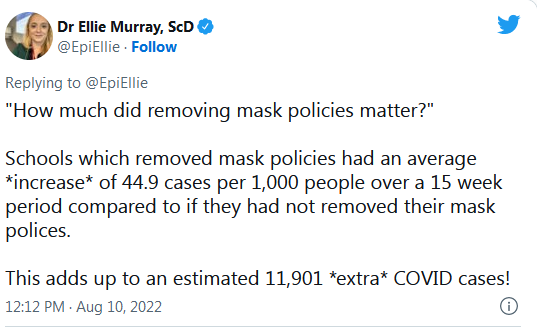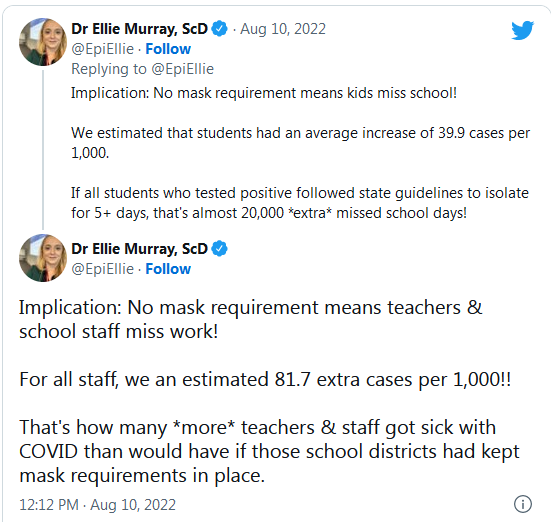 (link)
Reader Interactions