On the Road is a weekday feature spotlighting reader photo submissions.
From the exotic to the familiar, whether you're traveling or in your own backyard, we would love to see the world through your eyes.
Kabecoo
Our Botswana travels began in the Central Kalahari, a "semi-arid desert" according to our guide. We saw almost no surface water there; as a result, we saw no large animals that depended heavily on daily water, such as elephants, hippos and buffalo. But as soon as we entered the Okavango Delta, streams and water holes were stunningly popular places to witness the routines of these wonderful creatures. We continued north through the Moremi reserve and Chobe National Park. Water was available everywhere.

Okavango Delta, Botswana
May 23, 2022
In the delta we took game walks rather than game drives. In single file we quietly followed local guides who were vigilant about keeping us safe. Each of us had to agree in advance to follow the local guide's instructions. When he moved us into hiding, we hid. When he stopped us in order to "ask" snakes to move, we stopped. (One lesson, "What to do if a Black Mamba appears," kept everyone in line.)
On our first walk, we took a short break along a marshy area. Our local guide disappeared for a few minutes; upon returning he said, "We will wait." Two elephants slowly ambled into view across the marsh, then a third, then the rest of a herd.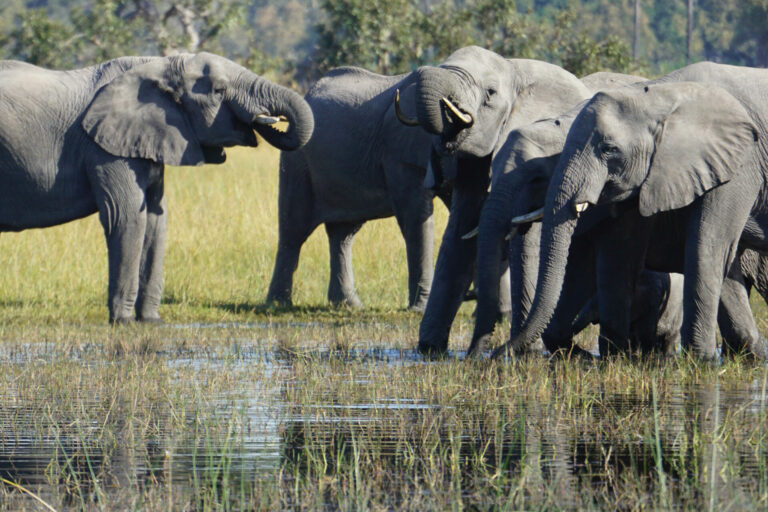 Okavango Delta, Botswana
May 23, 2022
For each elephant the process was the same: sucking a few liters of water into its trunk, then messily pouring it into it mouth. For the most part, larger adults and juveniles surrounded the youngest elephants. It always surprised me to see a "tiny" elephant emerge from between the legs around it.
I could have stayed all day, but after half an hour the elephants drank and moved on.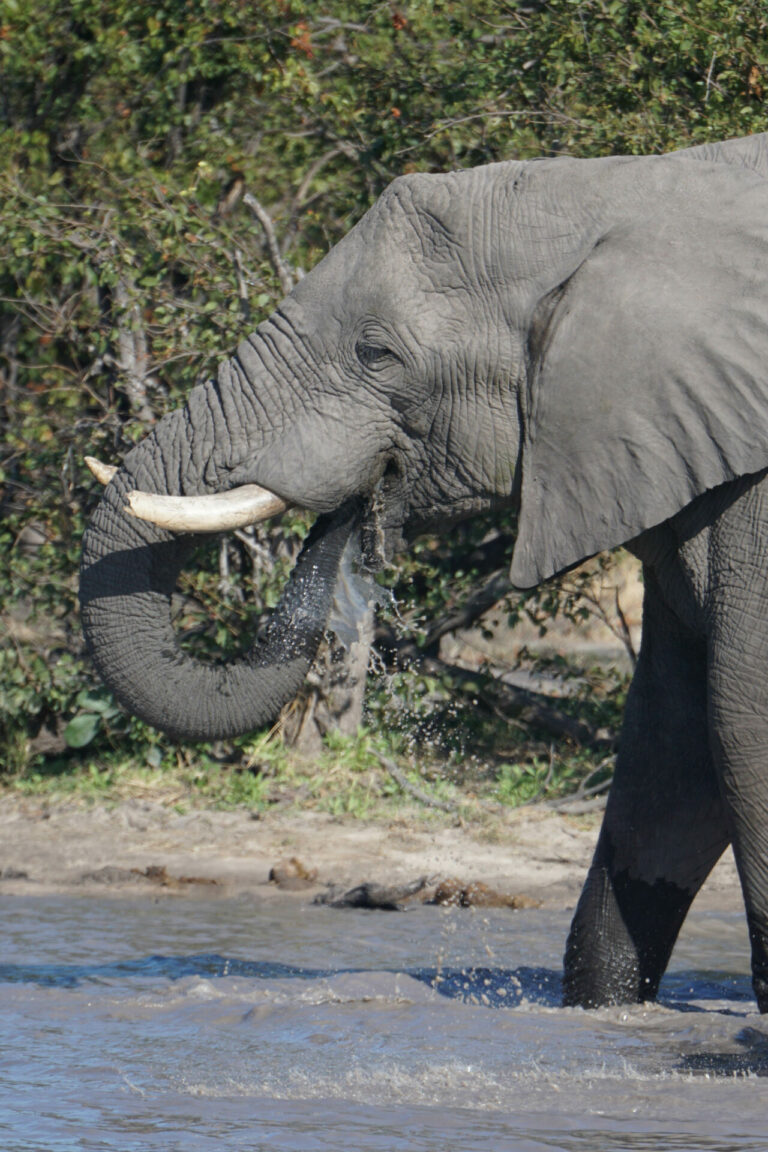 Moremi Reserve, Botswana
May 27, 2022
But that didn't matter much because we would see the same thing almost every day from then on. This shot is from a permanent water source maintained by Botswana's government to help ensure available water year round. With each adult elephant consuming over 100 liters per day, access to reliable water every day is crucial to Botswana's growing elephant herds.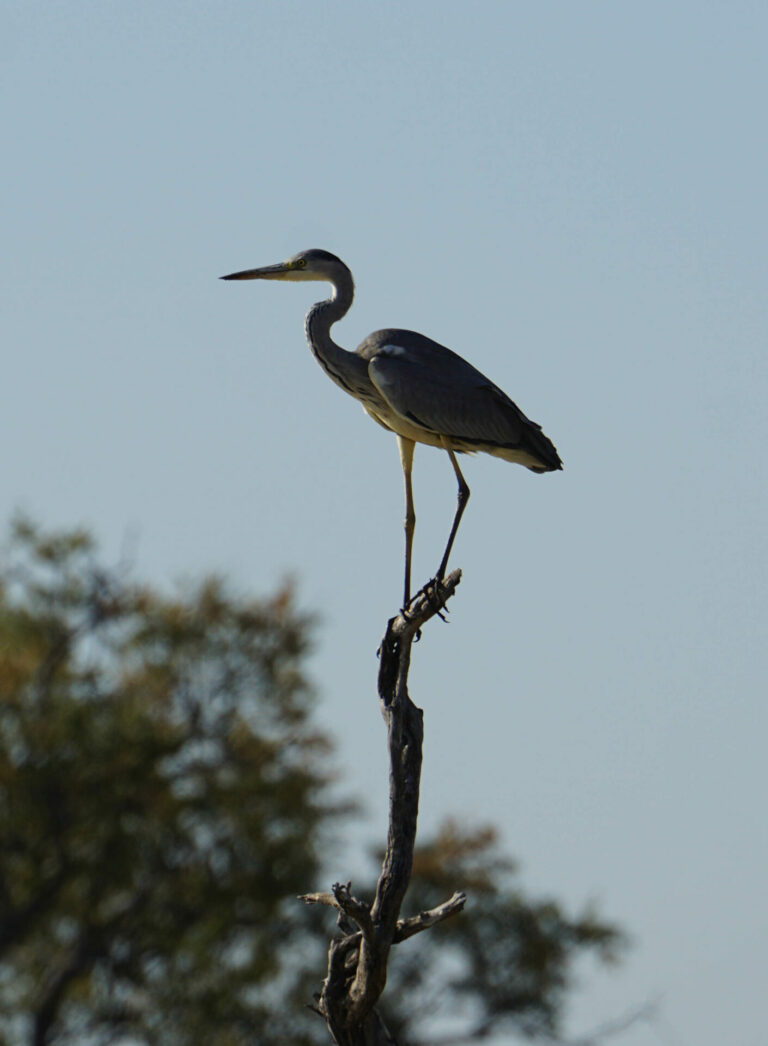 Moremi Reserve, Botswana
May 26, 2022
Of course the most common water animals were birds, in endless sizes and varieties. This Gray Heron stood high above a smallish pond only to swoop down in an unsuccessful effort to seize a fish. I've watched Great Blue Herons hunt many times before but I can't recall seeing one acting more like a kingfisher.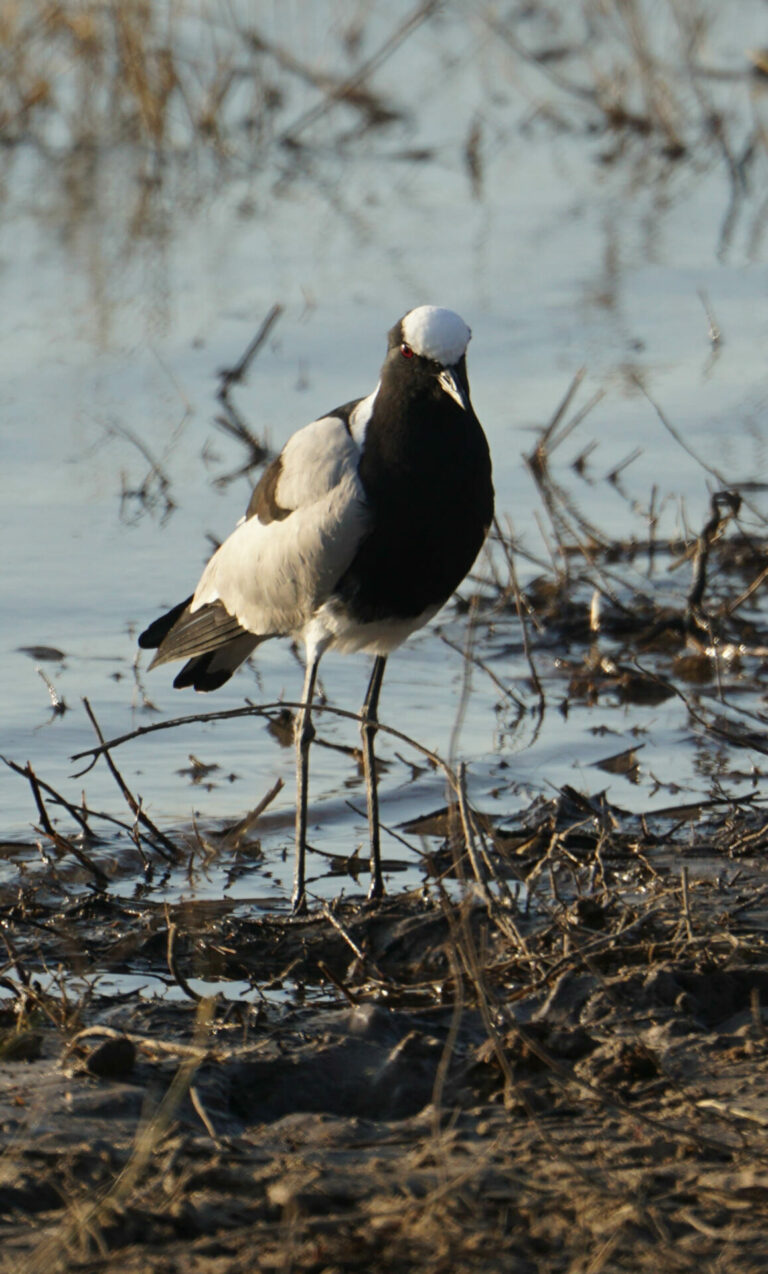 Chobe National Park, Botswana
May 29, 2022
Another near constant sight – near water or otherwise – was the lovely Blacksmith Lapwing. And when we couldn't see it, we could hear its distinctive repetitive call, said to sound like a hammer striking metal. Honestly I couldn't hear the similarity but I put that off to my declining hearing rather than question its delightful name.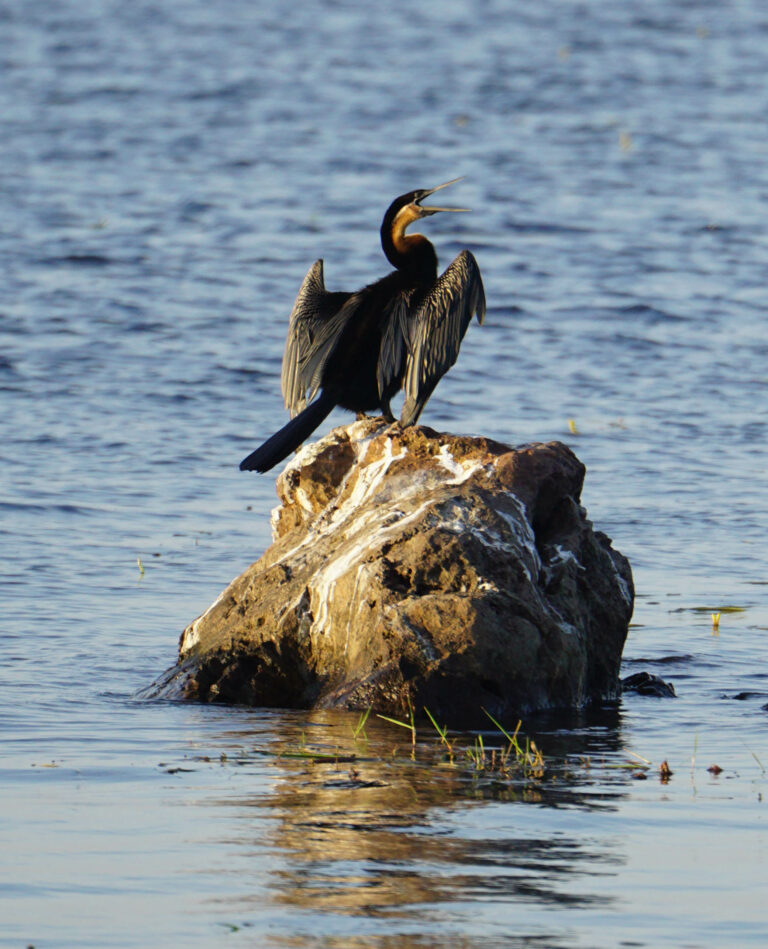 Chobe National Park, Botswana
May 31, 2022
Just like its distant relative the cormorant, the African Darter lacks oil to keep its wings from getting wet. This allows the bird to dive for fish more efficiently, but requires frequent air-drying. But unlike the cormorants I'm used to seeing, the darter has beautiful patterned wings shown nicely here.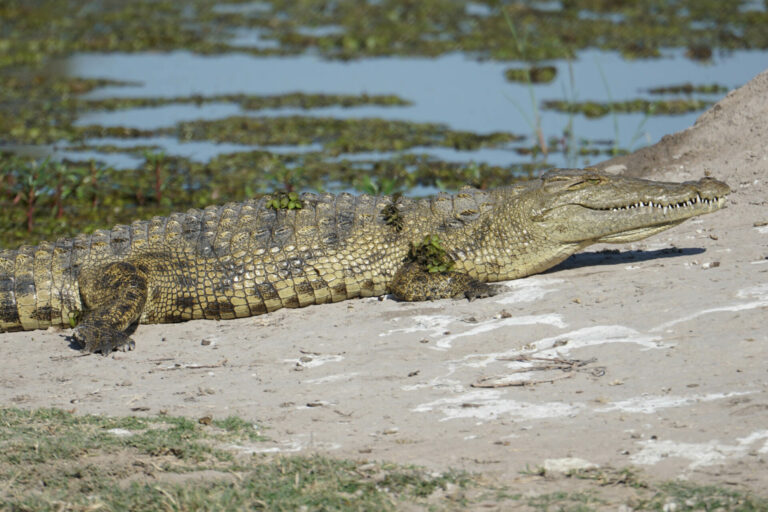 Moremi Reserve, Botswana
May 27, 2022
Having grown up in south Louisiana I was once comfortable with seeing large reptiles. But I also knew about the power and stealth of Africa's crocodiles from a young age (see Kipling, R., Just So Stories, "The Elephant's Child," Macmillan and Co., 1902). We kept our distance even though the coolish weather meant that they were not moving much. At one point our guide stopped the vehicle so I took a few photos of the shoreline, a bird or two, and then put my camera down. He asked why I didn't photograph the crocodile about ten feet away. The croc blended in so well I hadn't noticed her.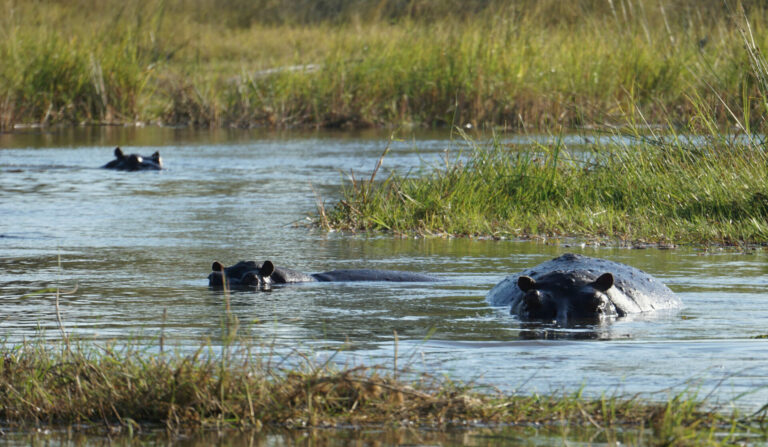 Moremi Reserve, Botswana
May 26, 2022
After the mosquito, the hippopotamus kills more people in Africa than any other animal. We were warned several times to avoid them at all costs, and our most frightening encounter was getting caught between several hippos while taking an afternoon canoe trip in the delta. They vigorously defend their territory against interlopers – humans, lions, and others – while peacefully coexisting with crocodiles. At night they would come surprisingly close to our tents, making sweet huffing sounds similar those made by black bear in the Pacific NW. We stayed inside.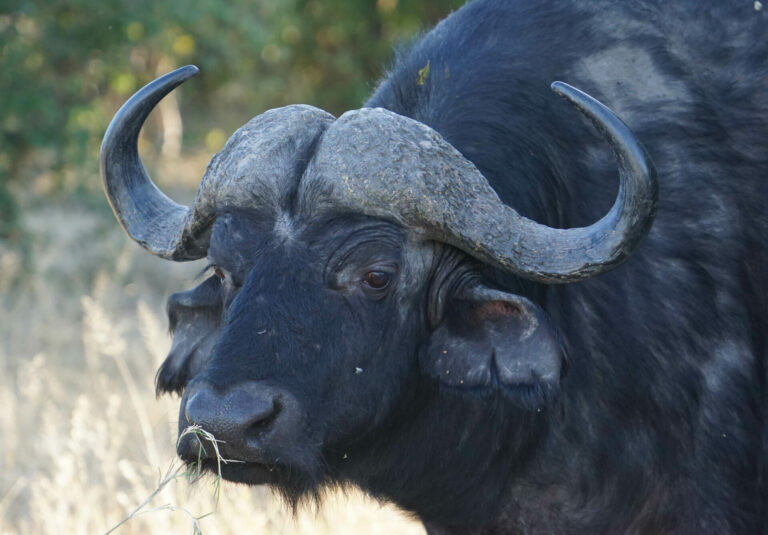 Chobe National Park, Botswana
May 31, 2022
I know few people agree with me on this (OK, maybe just the spousal unit), but Cape Buffalos are beautiful. They're not very graceful, they tolerate carrying around pounds of mud, but I could admire their headgear all day.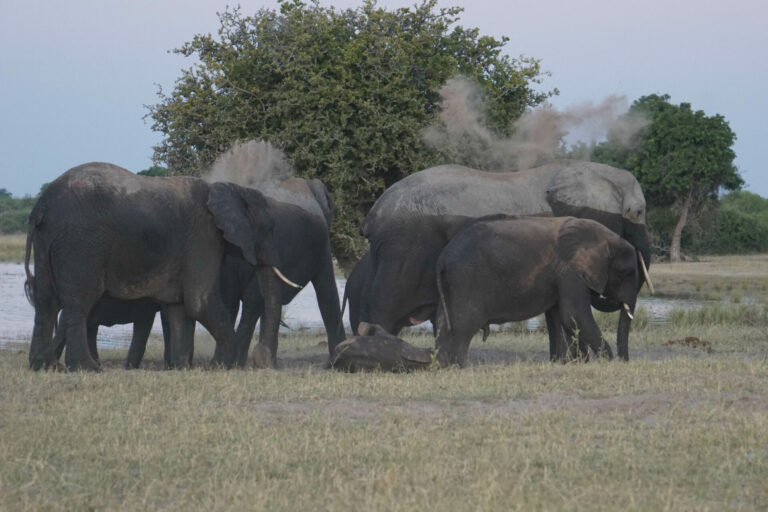 Chobe National Park, Botswana
May 31, 2022
One of our favorite experiences was watching a small elephant herd cross one of the braids of the Chobe River. We first noticed two elephants thrashing in the water, in a way that resembled fighting. Then they stood up. It was two juveniles playing and pushing each other around. The rest of the group crossed together, with a baby holding an adult's tail. Once on the dry bank the dust began to fly as it helps keep the elephant cool. The baby – as toddlers will do – lay down and rolled in it. And how about that water line??