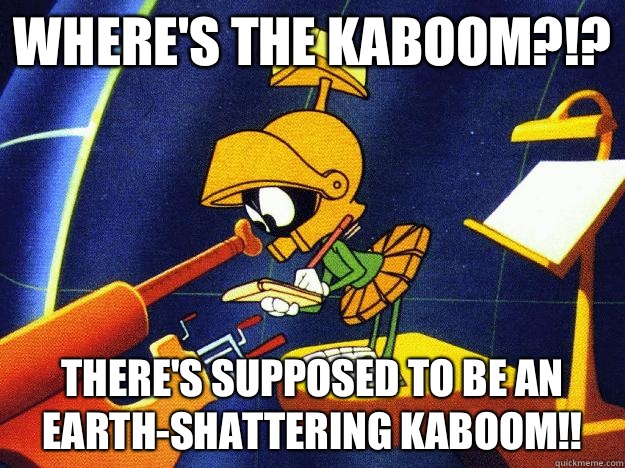 Just a quick housekeeping note to start. First, I'd like to thank everyone for their patience this week. Basically my work schedule for the foreseeable future has changed as I moved from the project I just finished to the next one. Last week was me beginning to adapt to it. I think, for a while, I'll be doing the full updates you're used to Fridays, Saturdays, and Sundays with slightly shorter ones Monday through Thursday. Occasionally, depending on my schedule, they may just be one really important item and your daily Patron. And they should be up no later than/around 10 PM eastern.
I'm not sick, I was just a bit tired and time compressed. So I appreciate the concern and well wishes, but all is good. Maybe send coffee!
And, as always, you are all most welcome for these update posts. I look forward to not having to do them anymore because Ukraine has defeated the Russian invaders. I'm sure you do too!
Also, I'm numbering tonight's update 170 because for some reason the Ukrainian MOD is stating today is day 170 in their operational update even though yesterday should have been day 170. Their country, their defense of their country, they get to decide what day it is!
Let's begin with President Zelenskyy's address from earlier this evening. Video below with the English transcript after the jump (emphasis mine).
Dear Ukrainians!

And today I would like to address the residents of Nikopol, Marhanets, Enerhodar, Kryvy Rih, Zaporizhzhia and all our other cities and communities of Dnipropetrovsk and Zaporizhzhia regions.

The occupiers are trying to intimidate people in an extremely cynical way, using the Zaporizhzhia nuclear power plant. They actually hide behind the plant to fire at Nikopol and Marhanets. They arrange constant provocations with shelling of the territory of the nuclear power plant and try to bring their additional forces in this direction to blackmail our state and the entire free world even more.

If someone over there in Russia thinks that it can give them something, then they are wrong. Russian blackmail only mobilizes even more global efforts to confront terror. Every day of the stay of the Russian contingent on the territory of the Zaporizhzhia NPP and in the neighboring regions of our country increases the radiation threat to Europe so much that even at the peak moments of the confrontation during the Cold War, this did not happen.

Of course, there should be a robust response to this. Ukrainian diplomats and representatives of partner states will do everything to ensure that the new sanctions against Russia necessarily block the Russian nuclear industry.

And absolutely all officials of the terrorist state, as well as those who help them in this blackmail operation with the nuclear power plant, must be tried by an international court. It will definitely be. And every Russian soldier who either shoots at the plant, or shoots under the cover of the plant, must understand that he is becoming a special target for our intelligence, for our secret service, for our army.

I am especially grateful to everyone who defends this direction, who withstands the pressure of Russian terrorists and protects Ukraine and the world from the nuclear threat created by the occupiers. I am grateful to all our energy workers who support the stable operation of the energy system of Ukraine and the Zaporizhzhia plant itself.

And we are doing everything possible to restore peace and security to this part of our state, and to all other cities and other regions of our beautiful Ukraine.

Fierce fighting continues in Donbas. The hottest points of the front in this direction remain unchanged – Avdiyivka, Maryinka, Pisky, Bakhmut and the entire relevant area. Russia sent there a simply colossal amount of its military resources – artillery, equipment, people. All our defenders there are simply heroes.

Ukrainian defense is strong in Kharkiv region, and the invaders' attempts to attack all the time fail.

The struggle in the south of the country gives good news about the destruction of the forces and means of the Russian army. We do not lose a single day – we reduce the potential of the occupiers.

It is very important that the export grain initiative gives results. Since the start of its implementation, a total of 16 vessels with grain for seven countries on three continents have left Ukrainian ports. These are Europe, Asia, Africa. Almost half a million tonnes of agricultural products were on board: corn, wheat, sunflower oil, soybeans and other goods absolutely necessary for the global market.

This has already made it possible to reduce the severity of the food crisis, and has given some hope of peace to the countries that consume our agricultural products. And in the long run, it can help to completely remove the food crisis from the global agenda. Of course, if the partners ensure the implementation of the security part of the initiative and prevent Russian provocations and terror at sea or against our ports.

The first vessel to be loaded within the framework of the UN World Food Program has already arrived. It is the supply of grain, in particular for Ethiopia, where the situation with hunger is particularly severe. Now the vessel is being prepared for departure from the Pivdenny port.

For Ukraine, this has significant benefits. In less than two weeks, three of our ports – Odesa, Chornomorsk and Pivdenny – managed to export such a volume, which is equal to the entire agricultural export by road for July and more than two-thirds of the export by rail for the past month.

I want to emphasize once again: these are jobs for our people, these are the funds needed for our sowing season next year, and these are the revenues of our state budget.

Increasing economic activity is a necessary element of the path to victory.

I am grateful to everyone who defends our country!

Grateful to everyone in the partner countries who help fight against terror!

Glory to Ukraine!
Here is today's, whichever day that actually is, operational update from Ukraine's MOD:
The operational update regarding the russian invasion on 06.00, on August 13, 2022

Glory to Ukraine! The one hundred seventy first (170) day of the heroic resistance of the Ukrainian people to a russian military invasion continues.

The enemy is concentrating its efforts on establishing full control over the territories of the Luhansk and Donetsk oblasts, maintaining the temporarily captured areas of the Kherson oblast and parts of the Kharkiv, Zaporizhzhya, and Mykolaiv oblasts, creating favorable conditions for resuming the offensive in certain directions, as well as blocking Ukraine's maritime communications in the Black Sea.

There are no major changes on the Volyn, Polissya, and Siversky directions. The enemy shelled the territory near Senkivka and Hremyach of the Chernihiv oblast and Basivka and Kindrativka of the Sumy oblast with barrel artillery.

In the Kharkiv direction, the enemy continued to attack targets in the areas of Kharkiv, Udy, Dementiivka, Ruski Tyshki, Cherkaski Tyshky, Velyki Prohody, Prudyanka, Protopopivka, Petrivka, Stary Saltiv, Verkhniy Saltiv, Mospanove and Korobochkyne settlements in the Kharkiv direction. It carried out airstrikes near Stary Saltiv and Mospanove.

In the Slovyansk direction, shelling was recorded near Dolyna, Brazhkivka, Nortsivka, Dibrivne, Mazanivka, and Bohorodychne. Enemy aircraft again operated near Zalyman.

In the Kramatorsk direction, the enemy shelled the districts of Kramatorsk, Verkhnyokamyansk and Hryhorivka with barrel and jet artillery.

With offensive and assault actions, the enemy units tried to advance in the directions of the Lysychansky Refinery – Ivano-Daryivka and Mykolaivka – Vyimka. Fighting continues in the direction of Spirne – Ivano-Daryivka.

In the Bakhmut direction, enemy artillery and tanks hit the Chasiv Yar, Berestove, Bakhmut, Bakhmutske, Pereizne, Soledar, Spirne, Rozdolivka, Yakovlivka, Vershyna and Zaytseve areas. Airstrikes were recorded near Yakovlivka, Vesela Dolyna, Zaitseve, Bakhmut and Soledar. The enemy carried out assaults in the directions of Pokrovske – Bakhmut, Vidrodzhenya– Vershyna, Vuglehirska TPP – Zaitseve, had no success, withdrew.

In the Avdiyivka direction, the occupiers fired from barrel and rocket artillery in the areas of Kurakhove, New York, Nevelske, Pervomaiske, Opytne, Maryinka, Vodyane, Krasnohorivka and Novobakhmutivka settlements. Assault aircraft hit near Maryinka.

The invaders waged offensive battles in the direction of Novoselivka Druha – Krasnohorivka and Spartak – Avdiivka, they were unsuccessful and were pushed back. Fighting continues on the Donetsk-Pisky and Novoselyvka-Olexandropil directions.

On the Novopavlivske and Zaporizhzhia directions, the enemy shelled positions from barrel, jet artillery and tanks in the areas of Volodymyrivka, Pavlivka, Prechistivka, Vuhledar, Bohoyavlenka, Novopilla, Zaliznychne, Hulyaipilske, Olhivske, Shevchenko, Burlatske, Novosilka, Drozhnyanka, and Novodanilivka settlements. It carried out an airstrike in the Novosilka region.

In the direction of Storozhove – Novosilka, our soldiers successfully stopped the enemy offensive and pushed the invaders back.

In the South Buh direction, the enemy fired tanks and artillery in the areas of Posad-Pokrovske, Stepova Dolyna and another 27 settlements.

The enemy tried to conduct an offensive battle in the direction of Sukhy Stavok – Lozove, but was unsuccessful and retreated.

Carried out airstrikes near Osokorivka and Andriivka.

It continued conducting aerial reconnaissance of the UAVs.

Two sea-based cruise missile carriers are ready for use in the waters of the Black and Azov Seas.

The threat of missile strikes on military facilities and critical infrastructure facilities on the territory of Ukraine remains. Do not ignore the signals of air alarms and trust only verified sources of information.

We believe in the Armed Forces of Ukraine! Together we will win!

Glory to Ukraine!
Here is today's updated assessment from the British MOD: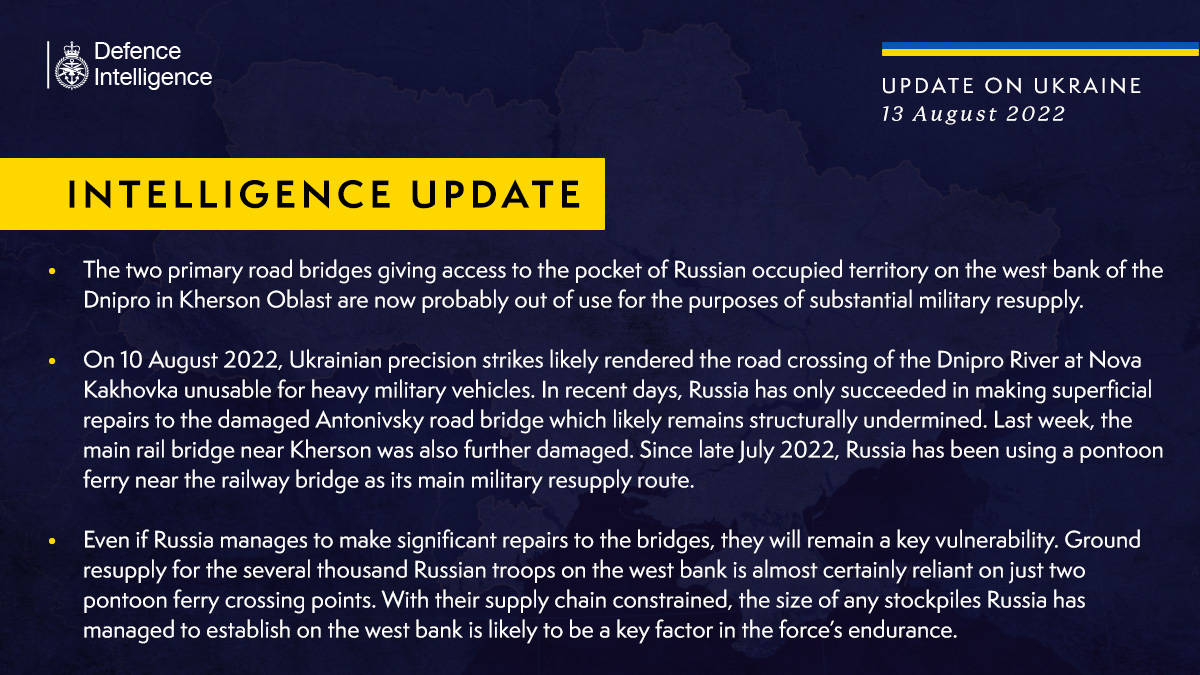 They did not post an updated macro level map today.
Here is former NAVDEVGRU Squadron Leader Chuck Pfarrer's updated map and analysis for the battle going on in Kherson:
THINGS TO COME: UKR Partisans continue to supply accurate targeting data for RU HQs and ammo dumps. This stresses both RU command and control and, more critically, logistics and supply. This combination degrades RU combat effectiveness. pic.twitter.com/MnhiVLYaMY

— Chuck Pfarrer (@ChuckPfarrer) August 13, 2022
Yesterday a Senior Defense Official did a press backgrounder. The transcript is below (emphasis mine):
STAFF: Hey, good afternoon, everybody. This is [omitted] at the Pentagon. Thanks for joining us.

We're here today for a background briefing with our Senior Military Official. For your identification purposes, our — our Senior Military Official again today is [omitted], who is the [omitted]. We are — so this — all of the information from this call should be attributed to a Senior Military Official.

[Senior Military Official] will have some brief opening comments and then we'll open up to your questions. We've got about 30 minutes, so we'll get to it. [SMO], over to you.

SENIOR MILITARY OFFICIAL: Thanks, [Staff]. Hi, everybody, good afternoon. So 170th day of Russia's illegal and unprovoked large scale invasion of Ukraine. Let me just give you a quick rundown of what we're seeing from north to south on the battlefield in particular.

So, you know, across the — across the area of operations, Russia is continuing to employ artillery and indirect fires indiscriminately. I'll talk on that here in a minute. In the north, in Kharkiv, we're actually seeing some Ukrainian gains. Again, these aren't — these aren't large gains but they're — they're certainly gaining, and in — in many cases, have the Russians on their — on their heels.

As you travel a little further south, Siversk, Bakhmut, the Russians continue to throw a bunch of things against the Ukrainians in an attempt to continue to gain ground in Bakhmut, and although they have made some gains, they're very small and — and those gains have come at a pretty decent cost for the Russians. Very similar to what we saw in terms of those impacts on the Russians up in Severodonetsk and Lysychansk, I think, six weeks ago or so, in terms of the impact that those very small gains are having on the Russians.

I would point out, as I was kind of alluding to earlier, since the last time I talked to you, the UN — the UN Office of the High Commissioner for Human Rights estimates 600 civilians that have been killed over the course of that time period. And again, that's largely due to the indiscriminate bombing or bombardment that — that the Russians conduct, and that — there's — that number is probably higher, quite honestly.

In Zaporizhzhia, no particular updates on the nuclear power plant. It is under Russian control and I'd just point you to the IAEA's comments in terms of, you know, there's — there's no immediate threat to nuclear safety, but that could change at any moment.

In vicinity of Kherson, we have seen Ukrainian offensive efforts. We assess that they're continuing to — to press hard on the Russians in — in Kherson. We know recently, as an example, that they continue to inflict damage on — on bridging of the Russians. And — and, you know, again, I'd — I'd comment very similar to how they're working in the north, have the Russians on the defensive.

And then in Crimea, other than, you know — and I — and I know you'll likely want to talk about the — about what happened in Saky. I, quite honestly, like you, don't have any answers for that, any — any particular answers. I — I can tell you that it was not an ATACMS, because we have not given them ATACMS. But — but as you do know, they — it was a pretty significant impact to — to Russian air and — and air personnel.

In the maritime environment, about a half dozen ships underway right now in the Black Sea, including some (inaudible)-capable ships, and — and, you know, we, like the rest of the world, have been pleased to see that the grain shipments are — continue to flow out of Odesa and then south to — to a good portion of the world that needs that grain.

So I will — I'll hold there and I'm happy to answer any questions.

STAFF: Sir, thanks very much. And we'll start with Lita Baldor from the Associated Press. Lita?

Q: Hi, thank you for doing this. I realize you probably don't — aren't able to take too much on the airbase, but is the U.S. able to assess or confirm that indeed this was a Ukrainian strike of some kind? And is there any way for you to tell if it came from the air or if it was some sort of ground attack?

And then secondly, you talked about Ukrainian gains around Kharkiv. Can you just give us a little bit more on that? What — you said they're — they have Russians on their heels, they're gaining. Are they — give us a little bit bigger picture on what exactly is happening there.

Thank you.

SENIOR MILITARY OFFICIAL: Yeah, sure, Lita. On the first one, you all are looking at the same picture as we are and — and we haven't been able to make any determination as to was it some — something that was fired or something that was detonated on the ground.

What we can tell you is exactly what you all are — are reporting, as well, is that, again, there were a number of — of Russian aircraft, fighters, fighter bombers, I think a surveillance aircraft, that were destroyed, in addition to a pretty significant cache of munitions for — or ammunition dump, which my guess is led to, you know, the — the worst part of that, and then some structures.

I think the — the airfield was damaged, as well, certainly an impact to the Russians' ability to prosecute any kind of air activity out of that portion of the airfield, but again, those were all the things that — you know, I'm seeing the same things you are in that regard and, you know, I — so I don't have anything more on that.

And then on your second one, I'd just — I'd give you an anecdote — and I — so I got this — this is open source that I got, as well, and I was — I was reading about the Ukrainian gains up to the east of Izyum, in a town — and I'll — I'm going to — I'll butcher this — but a town of Velyka — and I think that's spelled V-E-L-Y-K-A — Komyshuvakha — and that's K-O-M-Y-S-H-U-V-A-K-H-A. So if — if — if you're of Ukrainian descent, I'm sorry if I just butchered that.

Anyways, what — the open source I saw was that the Ukrainians had attacked Russian positions at that location — it was an outpost located at the intersection of two — two main roads — and that the Ukrainians had isolated and surrounded the Russian position and that the Russians were unable to get any kind of artillery support.

I think what you're finding is you — you've got Ukrainians who — they are — they are, you know, across the — the area of operations, working to take it to the Russians. And as we've talked about in the past, you know, you — the things that are going against the Russians, which is, as, you know, we all know, a pretty large force, the things going against the Russians are the continued impacts on their morale, their ability to sustain themselves, all of which have been impacted by the Ukrainians' ability to — to get after command and control, ammunition locations, sustainment or logistics locations, all — all really significant and I think that's having a large effect on the Russians on the front lines.

And I'll stop there.

STAFF: Thank you, sir. Next, we'll go to Idrees Ali of Reuters. Idrees?

Q: Thank you. Two quick questions. Just to make sure that I understand correctly, it's not that you can't tell us who carried out the attack on the airbase, you just don't know?

And secondly, just on the Zaporizhzhia Nuclear Power Plant, can you say definitively — or — or maybe differently — can you say that you — you are not aware of any Ukrainian strikes in or near the nuclear power plant in recent days?

SENIOR MILITARY OFFICIAL: So on the first one, I don't know. I just flat out don't know. But if — if you all find out and report it, I'll be happy to hear it.

The — on the Ukrainian piece down in — in — at the nuclear power plant, I think there are — I mean, there were certainly reports of — of indirect fire around to the –sort of landed in the vicinity, the — the power plant. We — we know that the Russians have been there for some time. We also know that the Russians have fired artillery, I think specifically, rockets from around the power plant.

I don't have any belief that the Ukrainians, who know very well what the impacts of hitting that power plant would be, have an interest in hitting the power plant. It just doesn't make any sense. They — you know, they, as — as you know, if you go back, you know, I — I — back to the only major nuclear power plant issue in that part of the world, they're the ones that paid a huge price for that before. They certainly know the impacts of a nuclear disaster. So I've got to believe that the Ukrainians have no interest in doing anything that would cause any kind of disaster around the Zaporizhzhia nuclear power plant.

STAFF: Thanks. Next, we'll go to AFP. Sylvie, over to you.

Q: Hello, thank you. The — so I would like to go back to the — the — the Russian base in Crimea. You said that it was not an ATACMS missile. Would it be a problem if this base in Crimea had been struck by an American weapon? Would it be a problem for U.S.?

SENIOR MILITARY OFFICIAL: Well, we haven't — we haven't provided anything that allows — or that would — would enable them to strike into Crimea. You know, as I mentioned, I — I say ATACMS very particularly because there've been a lot of questions about ATACMS, and — and again, I'd just tell you, we've — you know, we haven't given them to them so…

I — I think, you know, what we want the Ukrainians to do is fight the — the — the fight against the Russians the way that they would fight it. And you know, we don't have — we're not telling them how to — how to do business. They're making it a choice as to how they want to fight. We — we have told them in the past that we have given them munitions that allow them to fight Russians in Ukraine, and — and you know, other than that, this is a Ukrainian war, so they're the ones that select the targets.

STAFF: OK, thanks, next we'll go to Jeff Seldin of VOA. Jeff?

Q: Thanks very much for — for doing this. It seems, like, from a — the last couple of briefings that we've done that, you know, the situation in some ways is kind of steady. Would it be fair to characterize the war as a stalemate? And if so, what more does Ukraine need from the U.S. and other allies to start tipping this more in its favor? Also curious if you have any updated assessments of Russia's use of cyber operations to support its efforts in Ukraine, or any new information on Russia's use of filtration camps. Thank you.

SENIOR MILITARY OFFICIAL: On the last, I — I'd tell you, no. I — I don't have any information on the filtration camps or the — or Russian use of cyber. And — and I — you know, I — I mean, I hate to say I'll direct you to the Ukrainians, but I think the Ukrainians would probably be able to answer that better.

In terms of what they need, I — I think, you know, the Ukrainians – and, you know, they — I — I saw that it was reporting today on the — on the session that was — that's ongoing in Europe right now in Copenhagen. As is the case when — in our work with the Ukrainians and our allies work with the Ukrainians, they're — they're telling us what they need based on how they want to prosecute the war. And — and we're hopeful that we can meet those needs to help them in that regard. So other than what we have been — we've been asked for up to now, I — I don't know of — of other things that they currently need.
Much more Q&A at the link! Also, I'll just note that the Senior Defense Official indicated that yesterday was the 170th day of the war…
This thread has great open source satellite imagery analysis of the strikes on the Russian air base in Crimea:
Comparison of August 9th and August 10th imagery show very large craters, many destroyed aircraft, and destroyed buildings. It looks like a direct hit on the building on the left, so whatever it was seems accurate. pic.twitter.com/QyLn86PUjw

— Eliot Higgins (@EliotHiggins) August 10, 2022
One way to interpret those craters is precise strikes from a long range munition, which suggests it's a pretty good time for Russian holiday-makers in Crimea to make use of the Kerch Strait Bridge while they still can.

— Eliot Higgins (@EliotHiggins) August 10, 2022
Just measured the craters best I could, they seem about 20-25m wide, which would mean a pretty big munition.

— Eliot Higgins (@EliotHiggins) August 10, 2022
I'm not an impact analysis subject matter expert, hopefully one of our veterans who have some experience with this sort of thing will provide further explanations in the comments.
Here's a bit more of this imagery from Politico's Christopher Miller:
New sat images conitnued, via 📸: @Maxar. Pic 1, infrared view of damaged Russian aircraft; 2, close-up of aircraft before (May 16); 3, natural color close-up of destroyed aircraft yday; 4, infrared close-up of damaged aircraft. pic.twitter.com/AfIppTQKgS

— Christopher Miller (@ChristopherJM) August 11, 2022
As part of the fallout from the attack, Putin has fired and replaced the admiral in charge:
[2] The Osipov's replacement is a Vice Admiral Viktor Sokolov, 59. Former chief of Rus. Naval Academy in St. Pete. Remember how everyone laughed at the heavy smoking Russian air carrier / cruiser Admiral Kuznetsov in the Mideterranean? He led that group of ships to Syria. pic.twitter.com/eXM2ddwxqT

— Viktor Kovalenko (@MrKovalenko) August 13, 2022
Ukraine's attack on the Russian air base in Crimea was as much a psychological operation as an actual artillery or sabotage by Ukrainian forces and/or partisans within Russian occupied Crimea. And it has had the intended effect. The Russians are much, much, much jumpier than they were a week ago. If they know what was used to blow up the base, they're not saying. And the Ukrainians, as we've discussed, are being strategically ambiguous. Lieutenant Commander Ivanova sums up the current mental status of the Russians in the Ukrainian territory they're occupying:
Radio Free Europe/Radio Free Liberty is reporting that the Ukrainians were able to destroy an advancing column of Russian infantry. Who were actually some of Prigozhin's private military contractors commonly called the Wagner Group:
In other news from Crimea, Igor Gurkin, aka Igor Strelkin, who kicked off the Russian invasion and occupation of Ukraine in 2014, has been arrested in Crimea:
He was reportedly arrested in Crimea — let's see if we have any reliable details behind these claims among Russian collaborationists in Ukraine.

— Illia Ponomarenko 🇺🇦 (@IAPonomarenko) August 13, 2022
Girkin was arrested today in the occupied Crimea after criticism on Putin who, in his opinion, wasn't tough enough on Ukraine.

— olexander scherba🇺🇦 (@olex_scherba) August 13, 2022
And a bit of feel good as we finish for tonight:
Proud to share that with our partners, 2 more Fury's, 5 Ares, 1 Bug and 8 Proteus training drones have been delivered! We're working towards sending more, visit https://t.co/hFg9PUMlGa to help make this possible. Together l we can help out friends at the front! #SlavaUkraini pic.twitter.com/ggUIMgys8s

— Mriya Aid (@MriyaAid) August 13, 2022
Your daily Patron!
Wanna see me preparing for a space expedition? Join my Patreon 😋https://t.co/U5SKtrKTfK pic.twitter.com/KYhOJV7XiP

— Patron (@PatronDsns) August 7, 2022
And a new video from Patron's official TikTok:
The caption translates as:
Link to my official merch in the profile header🙈 #patrondsns #песпатрон #славаукраїни
Gotta move that Patron merch! Always be selling! Here's the link to Patron's official shop!
Finally, finally: Leto sent me this image puzzle video for tonight's post:
Open thread!