On the Road is a weekday feature spotlighting reader photo submissions.
From the exotic to the familiar, whether you're traveling or in your own backyard, we would love to see the world through your eyes.
CaseyL
Washington Road Trip Part 1: La Conner
Note:  I don't have nearly as many photos as I wish, especially of the quilts.  My photography skills are declining with age, as my hands like to shake just as I tap the shutter.
Intro: Faithful BJ readers may recall I was originally going to go to Hawaii, but for various reasons we cancelled that trip.  I had 2 weeks of vacation already granted, and decided to spend some of it on a road trip: 3 days in La Conner, Washington, and 3 days on Lopez Island, one of the San Juan islands at the northern end of Puget Sound, where the Sound joins the Strait of Juan De Fuca.
To tell the truth, I was more excited to take the road trip than I was to go to Hawaii.  Nothing at all against Hawaii, but I'm not real fond of hot weather.  The cool damp of the PNW is much more my style, make of that what you will.  Also, I wanted to see places that are a little out of the way of the more famous vacation spots.
First Stop: La Conner
La Conner is about an hour north and a little bit west of Seattle.  It is a delightful small town whose main claim to brief fame is that Tom Robbins' cult favorite novel, "Another Roadside Attraction," is set there.  It's small enough that you can pretty well walk its perimeter; certainly small enough to stroll the commercial areas in one morning.  I stayed at the Hotel Planter, and recommend it highly.  The hotel is right on First Street (the main drag through Old Town, running along the waterfront) and most rooms have views of Swinomish Channel, a river running through the town.
La Conner's Old Town is maybe half a mile long, but makes up for lack of size with abundance of things to see, places to eat, museums to visit, and shops to browse.  Among La Conner's notable attractions are Nasty Jack's, an emporium of vintage-and-antiques offerings; the Pacific Northwest Quilt and Fiber Arts Museum; the Museum of NW Art (sadly closed while I was there as they were switching out exhibits) and a scattering of very old buildings from the mid-to-late 19th Century when the town was founded. On First Street is a small museum commemorating the Volunteer Fire Fighters.  It's a look-in-from-the-windows-only museum; happily, the contents are arranged so you can see everything.  (I was very taken with a mid-19th Century firewagon that was the leading edge of its time.)
I did get to the quilt museum, which absolutely blew my mind.  I know quilting is an art form, but have never seen so many themes, techniques, and motifs all in one place before.  The museum was hosting three exhibits, all very different from one another: "Deeds Not Words," celebrating 100 years of  Women's Suffrage, "The Quilt Road," showcasing contemporary Korean quilts, and "The Land of Happy," with local artists strutting their stuff, often incorporating different media into their quilting and felting. The museum is in a converted old house, the kind with a tower room.  The room has windows on all sides, and the ceiling is painted as an open sky.  When the weather is good (as it was the day I was there) and the windows are open, the combination of view outside and cloud ceiling inside is just lovely.  The docent told me everyone likes to go up there for their break.
Of course I stopped at Nasty Jack's.  You've seen vintage/antique malls, right?  So this is a huge 2-story vintage/antique mall.  They had a Hoosier Kitchen Cabinet in fine condition – one of the larger models, with an extra side cabinet, and the signature pull-out enameled metal shelf-table.  If only I had room for it!… and, um, the money.  I'm also a sucker for thrift and consignment stores, and La Conner has a very good one right where Old Town and the "local" commercial area intersect.
Once you leave the commercial area, you can cross the Rainbow Bridge.  No, not that one: the one spanning the Channel between La Conner and the Swinomish Nation's tribal lands.  It's called the Rainbow Bridge for its shape, not color, which is your basic-bridge-orange.  Across the channel, on the Swinomish side, is a sweet little park with adorable picnic shelters built in the shape of grass hats.
Food!  There was no lack of terrific places to eat in La Conner.  On First Street, it seems every storefront that isn't an art gallery or gift shop is an eatery.  For dinner, I had wonderful fried fresh local oysters at the Seafood and Prime Rib House.  Lunch was at the La Conner Pub & Eatery: a local favorite, with an outside area right on the Channel.  Breakfast at Calico Cupboard Café in Old Town.  Food is great and portions are large.  I particularly want to give a shout-out to their Cherry Strudel which is, no lie, better than what I had in Prague.
Two nights in La Conner was fantastic; I could have stayed longer.  But Lopez Island beckoned, and in Part 2 I'll tell you about that part of my road trip.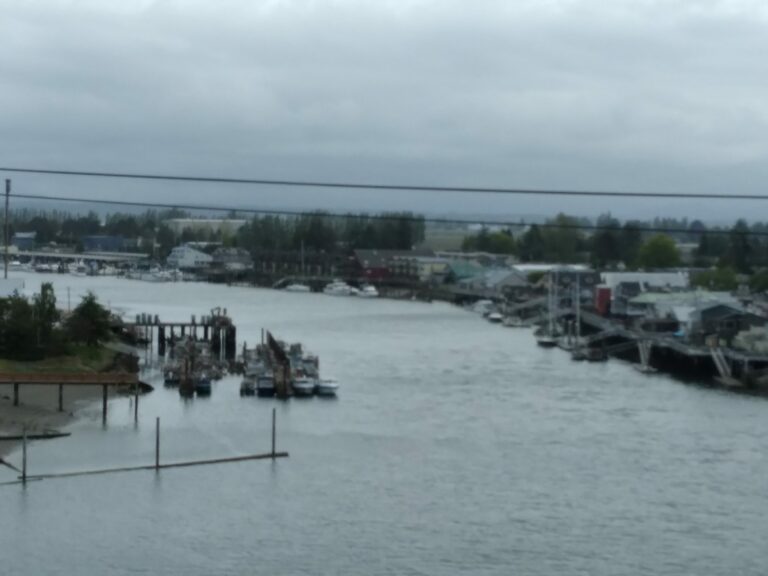 Swinomish Channel waterfront
May 29, 2022
View of Swinomish Channel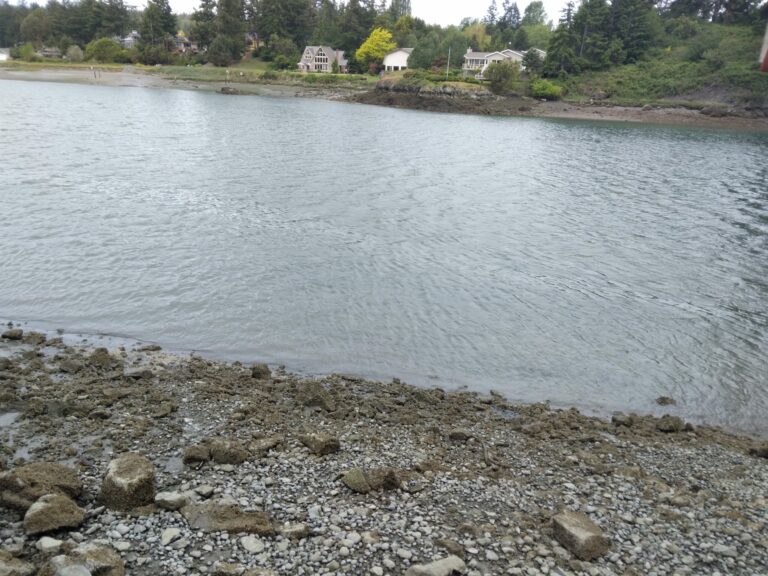 Swinomish Channel
May 30, 2022
Another view of the Channel, on a sunnier day and from Louisa Conner Park.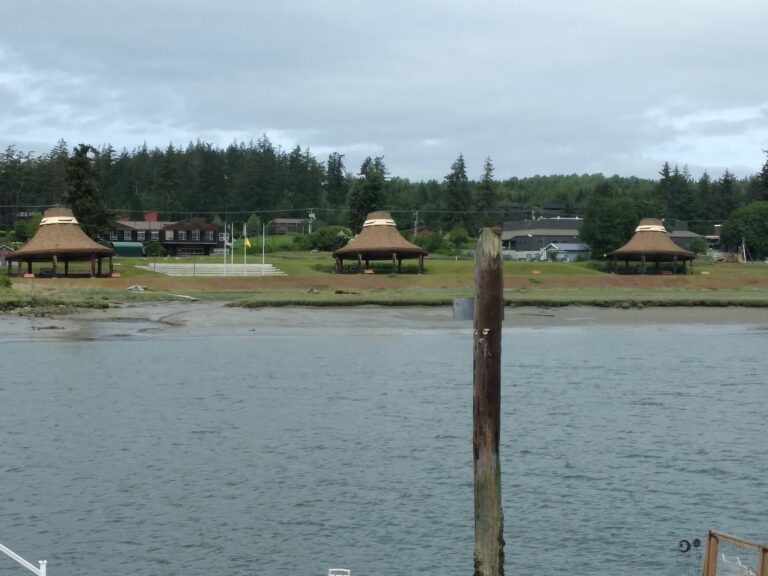 La Conner, WA
May 29, 2022
Across the Channel are the Swinomish tribal lands.  Here is the park with the grass-hat park shelters.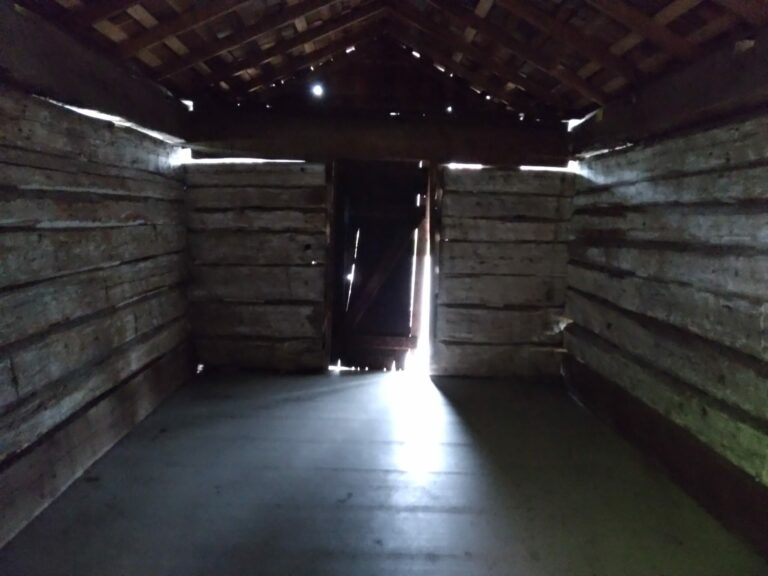 La Conner, WA
May 28, 2022
Inside of Magnus Anderson's cabin, from the window end looking toward the door end.  It was moved from its original position; I think the original floor was probably woodplank.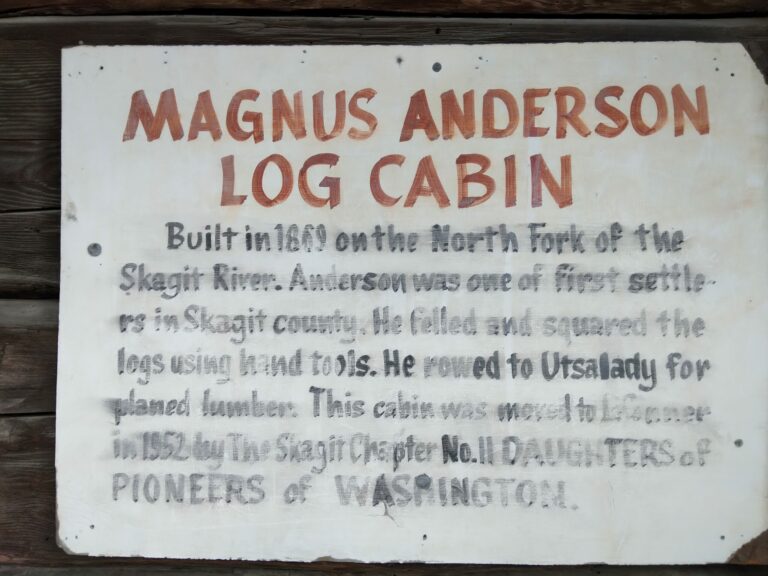 La Conner, WA
May 28, 2022
Information plaque about the cabin.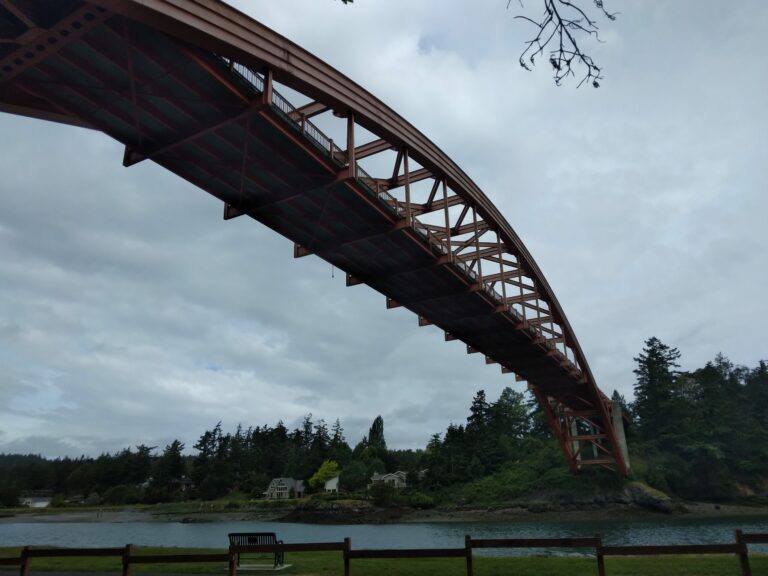 Rainbow Bridge
May 29, 2022
A view of the Bridge from the shore of the Channel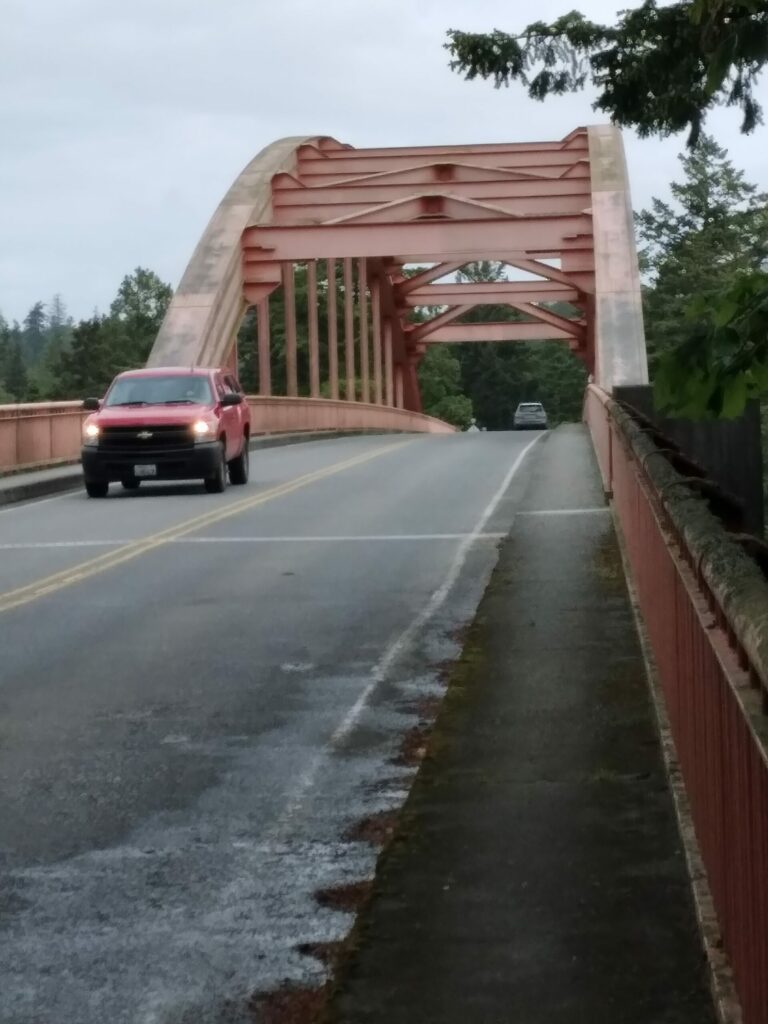 Rainbow Bridge
May 29, 2022
Another view of the bridge, walking across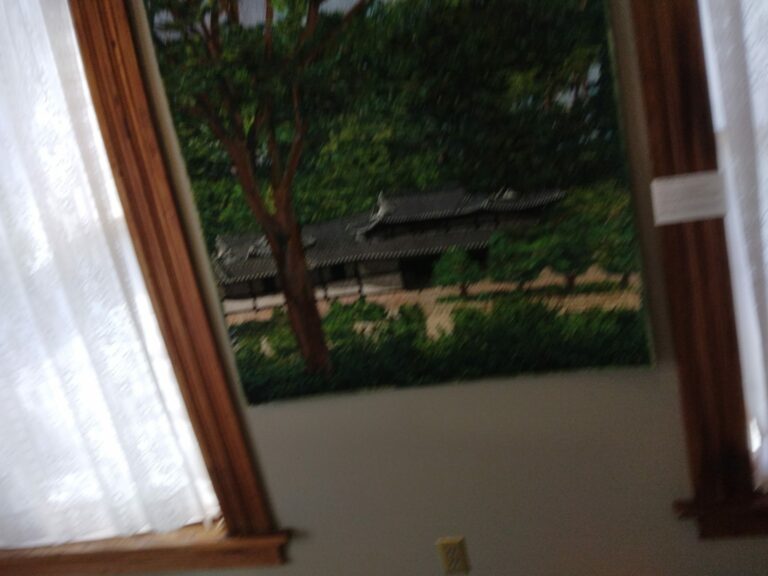 Quilting & Textile Museum
May 29, 2022
Sorry about the tilt – this is a quilt of a summer house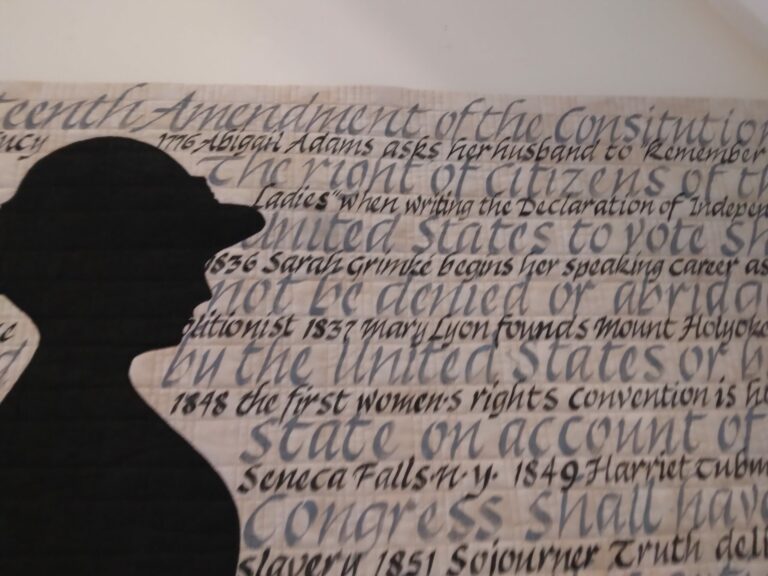 Quilting & Textile Museum
May 29, 2022
Just a small portion of the quilt: the silhouette of a Suffragette brackets a line for every advance in women's rights in the US, up to passage of the 19th Amendment.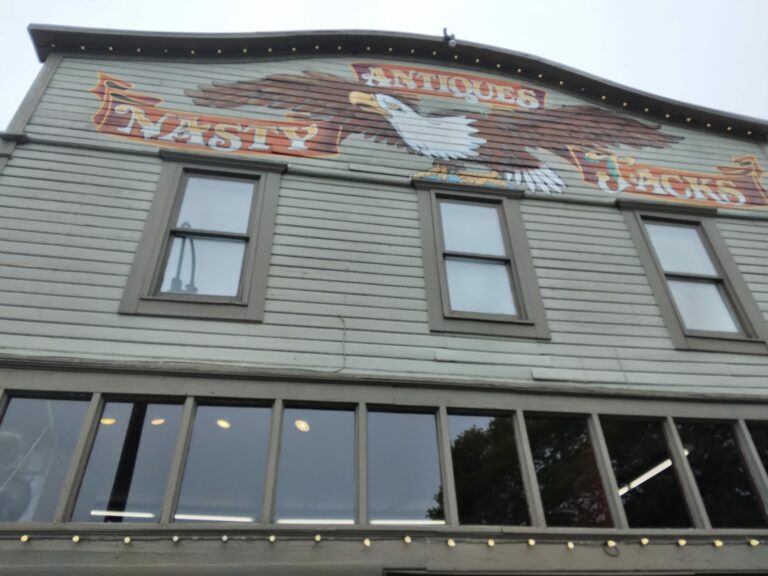 Nasty Jack's Emporium
May 28, 2022
The outside of Nasty Jack's.  It's visible from First Street.