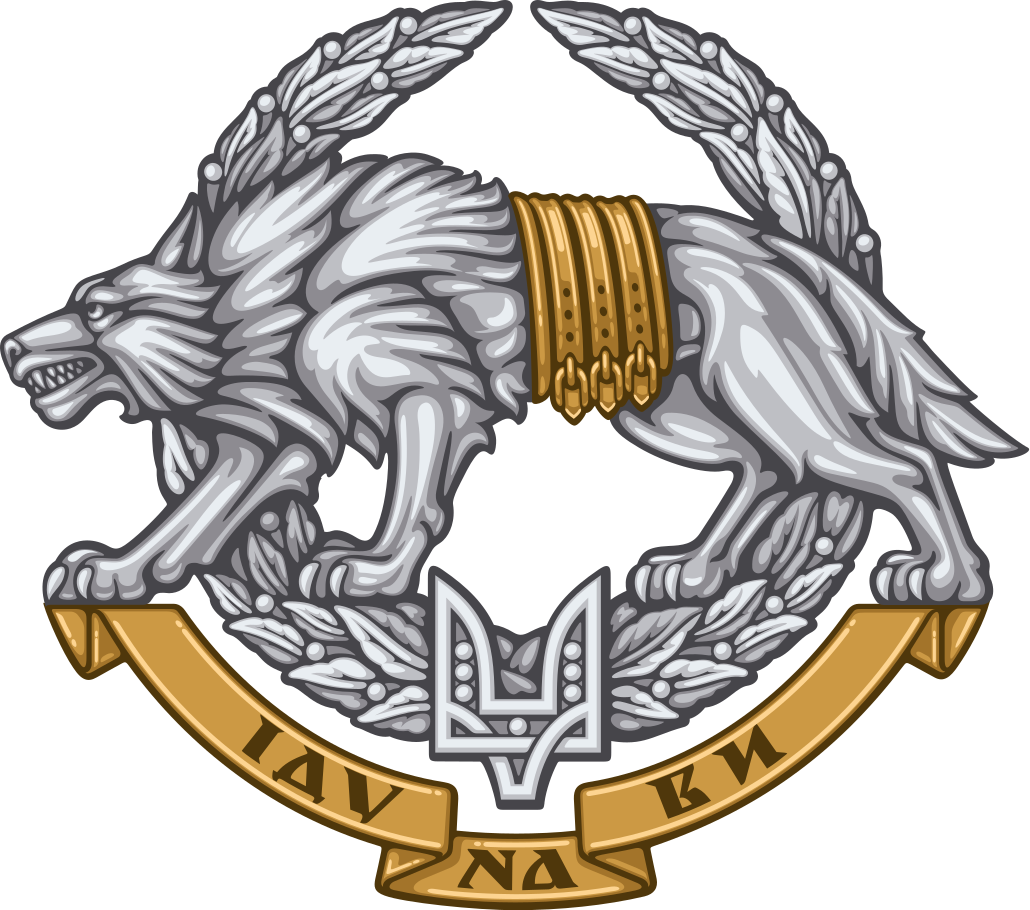 Here is President Zelenskyy's address from earlier this evening. Video below, English transcript after the jump:
Dear Ukrainians!

Diplomacy in the interests of our country is very active these days. First of all, today a ceremony of presenting credentials to the new ambassadors of foreign countries who arrived to work in our capital was held in the Sophia of Kyiv. The work of embassies in full capacity, the presence of ambassadors in Kyiv is one of the important indicators of the strength of our state, the Ukrainian ability to fight and win. Already 55 diplomatic missions have resumed their work. And today, the new ambassadors of Belgium, Spain, Kyrgyzstan and Romania presented their credentials.

Secondly, UN Secretary General António Guterres has already arrived in Ukraine. We will work to get the necessary results for Ukraine.

Thirdly, Ukrainian diplomats, our nuclear scientists and the IAEA are in constant touch, now they are working on sending the IAEA mission to the Zaporizhzhia nuclear power plant. Only absolute transparency and controlled situation at and around the ZNPP can guarantee a gradual return to normal nuclear safety for the Ukrainian state, for the international community, and for the IAEA.

The Russian army must withdraw from the territory of the nuclear power plant and all neighboring areas, and take away its military equipment from the plant. This must happen without any conditions and as soon as possible. Ukraine is ready to ensure proper control of the IAEA, and the relevant mission can be sent to the Zaporizhzhia plant in a legal way, very fast and as efficiently as possible.

Today, I made a very important address to the university communities, journalists and political circles of Chile and Latin America in general. This is not an easy direction of foreign policy – we are doing many things there now practically from scratch. We are working not only at the political level, but also establishing relations directly with the societies of the countries of this region. I called on Chileans and all freedom-loving people in Latin America to spread the truth about Russia's war against our country and to support the sanctions policy aimed at making the terrorist state pay the highest possible price for terror.

In the evening, I signed new decrees on awarding our soldiers. 230 servicemen of the Armed Forces of Ukraine were given state awards, 43 of them posthumously. Also, 24 employees of the Main Intelligence Directorate of the Ministry of Defense of Ukraine were awarded state awards.

All our soldiers – our army, our intelligence, border guards, the National Guard, the SBU and everyone involved in defending our state and people are doing everything possible to fight Russian terrorists and push them out of Ukrainian land.

The Avdiyivka area, Bakhmut area, Kharkiv region, and some other regions are the regions where the most difficult fighting is going on right now. I am grateful to everyone who withstands this pressure, who defends positions and helps our soldiers. In Zaporizhzhia region, in some areas of the south of the country, the occupiers are trying to improve their situation, but strategically it is hopeless for them. Ukrainian soldiers will destroy the potential of the occupiers step by step, and the day will come when the enemy will die in Zaporizhzhia, in the south, in the east of the country, and in Crimea. The invaders will die like dew on the sun, and our defense is and will be this sun.

Eternal glory to all who defend Ukraine!

Eternal gratitude to all those who focused on helping our people in a true Ukrainian unity!

Glory to Ukraine!
Here is today's operational update from Ukraine's MOD:
The operational update regarding the russian invasion on 18.00, on August 17, 2022

Glory to Ukraine! The one hundred seventy fifth (175) day of the heroic resistance of the Ukrainian people to a russian military invasion continues.

The situation remained unchanged in the Volyn, Polissya, and Siversky directions. On the Siversky, the enemy is improving the fortification equipment of the positions. Conducted artillery shelling near Chernihivske, Pavlivka, and Hudove, of the Sumy oblast.

In the Kharkiv direction, the enemy, from tanks, barrel and jet artillery, shelled the areas of the settlements of Kharkiv, Nova Mykolaivka, Dementiivka, Korobochkyne, Pechenihy, Ruski Tyshky, Odnorobivka, Lebyazhe, Nove, Svitlychne, Sosnivka, and Rubizhne.

The enemy tried to break through the defense of our troops in the direction of the settlements of Lebyazhe and Bazaliivka, but was unsuccessful and retreated.

In the Slovyansk direction, enemy units tried to damage our units and destroy civil infrastructure facilities in the areas of Brazhkivka, Dibrivny, Mazanivka, Dolyna and Dovgenky with the fire of barrel artillery and MLRS.

The enemy tried to advance in the direction of Novodmytrivka and Mazanivka, but had no success and retreated.

In the Kramatorsk direction, in order to dislodge our units from the occupied lines, the enemy fired from tanks and artillery near Mykolaivka, Kramatorsk, Verkhnyokamyanske, Tetyanivka, Serebryanka, Hryhorivka, and Raihorodok. Made an air strike near Ivano-Daryivka and Vesele.

It unsuccessfully tried to improve the tactical position in the direction of the settlement of Vesele with assault actions.

In the direction of Bakhmut, shelling was recorded near Bakhmut, Zaytseve, Yakovlivka, Bilohorivka and Mayorsk. The occupiers used aviation to strike near Soledar.

Ukrainian soldiers suppressed all attempts by the enemy to improve the tactical position of units in the areas of the settlements of Bilohorivka, Soledar, Bakhmutske, Kodema, Zaitseve and Mayorsk.

In the Avdiivka direction, the enemy continued to fire near Avdiivka, New York, Pisky, Vodyane, Opytne, and Nevelske. Conducted an airstrike near Maryinka. The enemy has partial success in the direction of Opytne.

In the Novopavlivske and Zaporizhzhia directions, the occupiers used tanks and artillery of various calibers to fire damage to the areas of the settlements of Velyka Novosilka, Kostyantynivka, Pavlivka, Sontsivka, Olhivske, Vuhledar, Charivne, Hulyaipole, Novodanylivka, Mala Tokmachka, Orihiv, Vremivka, Novopil and Novoandriivka. Airstrikes were recorded near Shcherbaky, Mali Shcherbaky and Zaliznychne.

In order to clarify the positions of the fire means and adjust the fire, the occupiers used the UAV.

The invaders made an unsuccessful attempt to advance in the direction of Shevchenko and have partial success in the direction of Novomykhailivka.

In the South Buh direction, the enemy continues to focus its efforts on holding occupied positions and preventing the Defense Forces from creating favorable conditions for a counteroffensive. With the use of available fire means, he is trying to cause maximum losses to our units along the contact line. It does not stop conducting aerial reconnaissance by unmanned aerial vehicles.

Carried out airstrikes near Bilohirka, Lozove, Bila Krynytsia, and Posad-Pokrovske.

The enemy tried to improve the tactical position in the direction of Bilohirka. Our soldiers completely broke the plans of the occupiers and pushed them back to their previous positions.

In the water areas of the Black and Azov seas, the enemy's naval group continues to perform tasks to support the actions of the ground group of troops. Two sea-based cruise missile carriers are ready to use high-precision weapons.

russian occupiers suffer losses, are demoralized and look for any opportunity to avoid hostilities – they try to fake a light wound, resort to self-mutilation and various simulations. There is an increase in cases of sabotage of officers' orders, especially when it concerns offensive actions.

We believe in the Armed Forces of Ukraine! Together we will win!

Glory to Ukraine!
Here is the British MOD's assessment for today: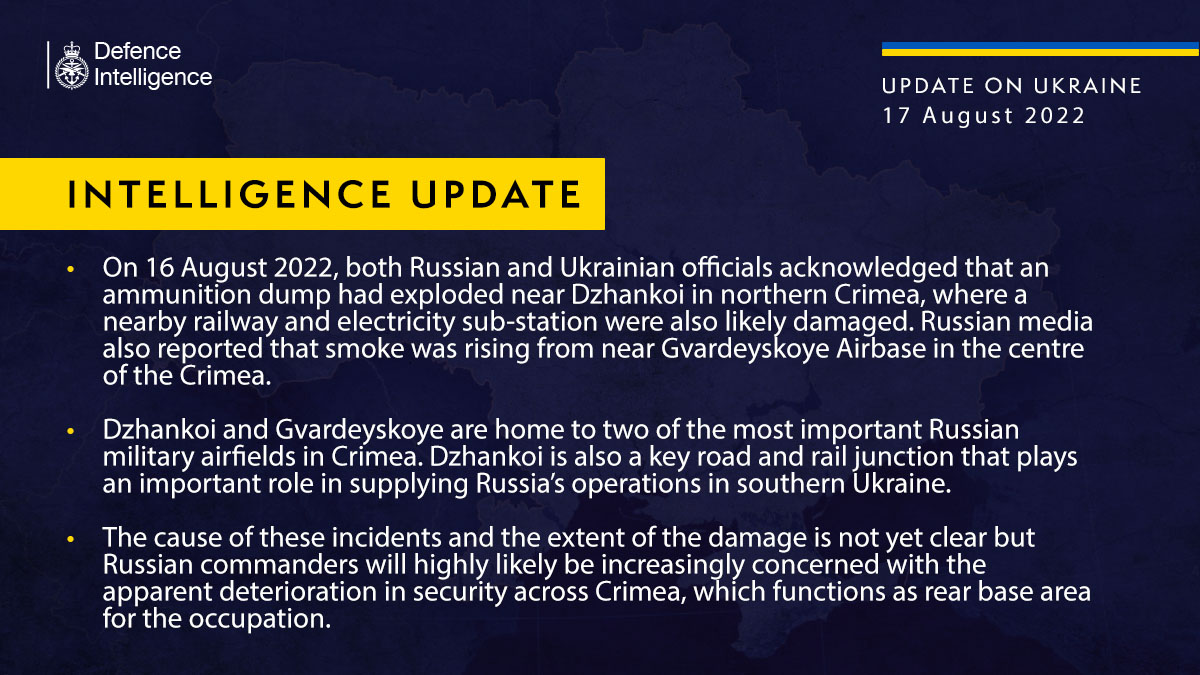 And here is their updated map: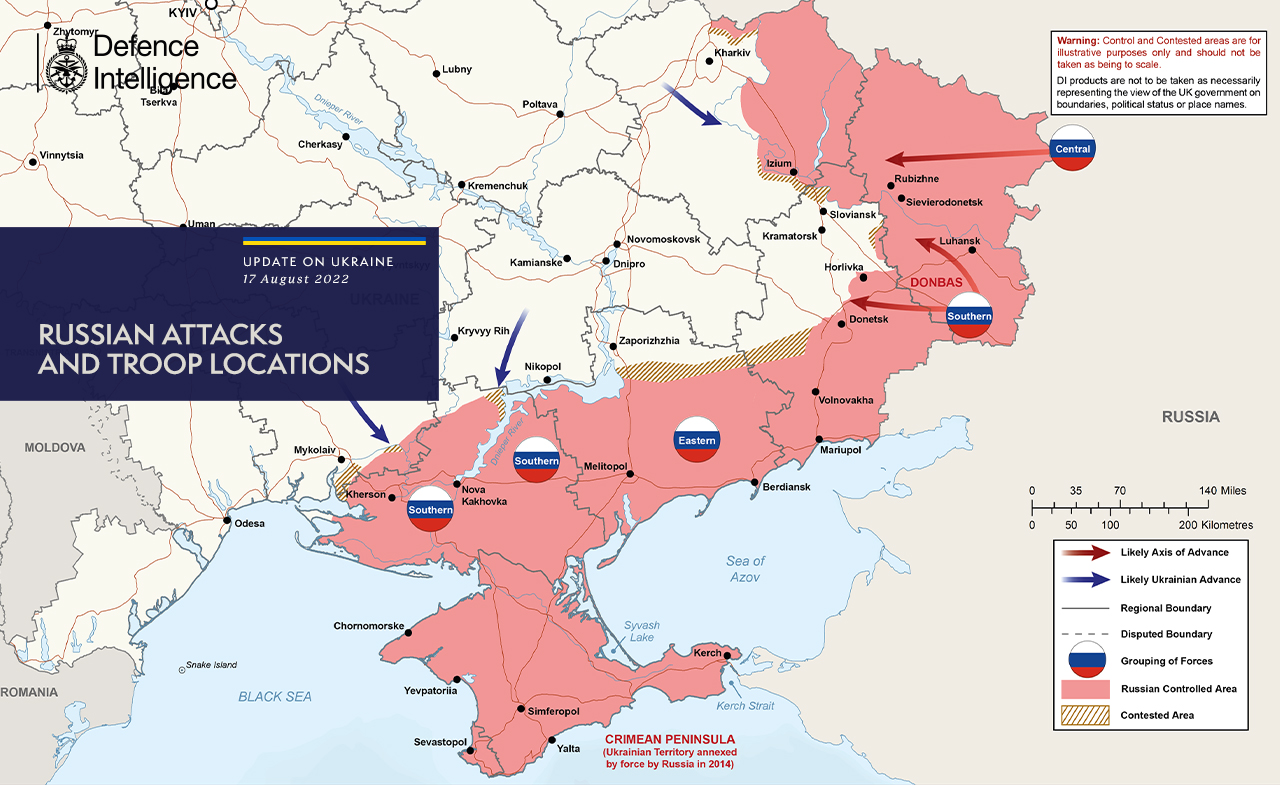 Here is former NAVDEVGRU Squadron Leader Chuck Pfarrer's updated map and analysis for the battle in Kherson:
KHERSON /1130 UTC 17 AUG/ Yesterday, UKR forces the repulsed a RU company-sized advance on the M-14 HWY axis NW of Kherson. UKR Gen'l Staff described RU losses as significant. RU forces used tubed and rocket artillery to deliberately target University buildings in Mykolaiv. pic.twitter.com/5WYUDWoFkq

— Chuck Pfarrer (@ChuckPfarrer) August 17, 2022
Kharkiv:
Northern part of Kharkiv, right now.

6 people killed, 16 injured after a missile strike on dormitory building, now completely ruined, – head of Regional Military Administration. Numbers might get higher.

This district is shelled by 🇷🇺 every day.

Every day.

🎥: @ZelenskyyUa pic.twitter.com/ycJO1SlYmE

— Anton Gerashchenko (@Gerashchenko_en) August 17, 2022
Zatoka:
A Russian strike in Zatoka, the Odesa region pic.twitter.com/86M2aRwebx

— Illia Ponomarenko 🇺🇦 (@IAPonomarenko) August 17, 2022
Melitopol:
The occupiers have blocked the exit from #Melitopol and are carrying out total filtration

This was announced by the mayor of the city Ivan Fedorov.

After a series of explosions on the positions of the occupiers, the #Russian invaders are trying to find the #Ukrainian partisans. pic.twitter.com/vCFmoiDhck

— NEXTA (@nexta_tv) August 17, 2022
I've now read The Washington Post's reporting on how the Biden administration approached Russia's plans to re-invade Ukraine. It's interesting, but I don't think there's anything in there we didn't either know or have a really good reason to suspect. Apparently this is the first part in a multi-part series, so we'll have to wait and see if there's any surprises in the subsequent reporting.
Finally for tonight I want to bring everyone's attention to this very interesting reporting at The Guardian about a wounded Russian paratrooper who began to write an expose of the re-invasion of Ukraine.
Pavel Filatyev knew the consequences of what he was saying. The ex-paratrooper understood he was risking prison, that he would be called a traitor and would be shunned by his former comrades-in-arms. His own mother had urged him to flee Russia while he still could. He said it anyway.

"I don't see justice in this war. I don't see truth here," he said over a tucked-away cafe table in the Moscow financial district. It was his first time sitting down in person with a journalist since returning from the war in Ukraine.

"I am not afraid to fight in war. But I need to feel justice, to understand that what I'm doing is right. And I believe that this is all failing not only because the government has stolen everything, but because we, Russians, don't feel that what we are doing is right."

Two weeks ago, Filatyev went on to his VKontakte social media page and published a 141-page bombshell: a day-by-day description of how his paratrooper unit was sent to mainland Ukraine from Crimea, entered Kherson and captured the seaport, and dug in under heavy artillery fire for more than a month near Mykolaiv – and then how he eventually was wounded and evacuated from the conflict with an eye infection.

By then, he was convinced he had to expose the rot at the core of the Russian invasion of Ukraine. "We were sitting under artillery fire by Mykolaiv," he said. "At that point I already thought that we're just out here doing bullshit, what the fuck do we need this war for? And I really had this thought: 'God, if I survive, then I'll do everything that I can to stop this.'"

He spent 45 days writing his memoirs from the conflict, breaking an omerta under which even the word war has been banished in public. "I simply can't stay quiet any longer, even though I know that I probably won't change anything, and maybe I've acted foolishly to get myself in so much trouble," says Filatyev, his fingers shaking from stress as he lit another cigarette.

His memoir, ZOV, is named for the tactical markings painted on Russian army vehicles that have been adopted as a pro-war symbol in Russia. Until now, there has been no more detailed, voluntary account from a Russian soldier participating in the invasion of Ukraine. Extracts were published in Russia's independent press, while Filatyev appeared via video for a televised interview on TV Rain.

"It's very important that someone became the first to speak out," said Vladimir Osechkin, the head of the human rights network Gulagu.net, who helped Filatyev leave Russia earlier this week. That also made Filatyev the first soldier known to have fled Russia due to opposition to the war. "And it's opening a Pandora's box."

This week the Russian investigative site iStories, which Russia has banned from the country, has published a confession from another Russian soldier admitting on camera to shooting and killing a civilian resident in the Ukrainian city of Andriivka.

Filatyev, who served in the 56th Guards air assault regiment based in Crimea, described how his exhausted and poorly equipped unit stormed into mainland Ukraine behind a hail of rocket fire in late February, with little in terms of concrete logistics or objectives, and no idea why the war was taking place at all. "It took me weeks to understand there was no war on Russian territory at all, and that we had just attacked Ukraine," he said.

At one point, Filatyev describes how the ravenous paratroopers, the elite of the Russian army, captured the Kherson seaport and immediately began grabbing "computers and whatever valuable goods we could find". Then they ransacked the kitchens for food.

"Like savages, we ate everything there: oats, porridge, jam, honey, coffee … We didn't give a damn about anything, we'd already been pushed to the limit. Most had spent a month in the fields with no hint of comfort, a shower or normal food.

"What a wild state you can drive people to by not giving any thought to the fact that they need to sleep, eat and wash," he wrote. "Everything around gave us a vile feeling; like wretches we were just trying to survive."

Filatyev took a deep drag from a cigarette as he recounted the story, nervously looking around for anyone watching him at close to midnight in a Moscow park, then tries to explain.

"I know it will sound savage to a foreign reader," he said, describing a fellow soldier stealing a computer. "But [the soldier] knows that this is worth more than one of his salaries. And who knows if he'll be alive tomorrow anyway. So he takes it. I'm not trying to justify what he's done. But I think it's important to say why people act like this, to understand how to stop them … What a person will do in these kinds of extreme situations."

He railed at length against what he called the "degradation" of the army, including the use of dated kit and vehicles that left Russian soldiers exposed to Ukrainian counterattacks. The rifle he was given before the war was rusted and had a broken strap, he said.

"We were just an ideal target," he wrote, describing travelling to Kherson on obsolete and unarmoured UAZ trucks that sometimes stood in place for 20 minutes. "It was unclear what the plan was – as always no one knew anything."
Much, much more at the link!
Filyatev is now in exile.
Your daily Patron!
The French government said that they are ready to help in demining and reconstruction of the Chernihiv region. Meanwhile, I: Bon, no, boooon jour. Rrrr (trying to fix my French pronouncing). pic.twitter.com/3wbRJjRH14

— Patron (@PatronDsns) August 16, 2022
And a new video from Patron's official TikTok:
https://www.tiktok.com/@patron__dsns/video/7132786581886274821?is_from_webapp=1&sender_device=pc&web_id=7131899111289407018
The caption translates as:
Have a nice day everyone! Do good deeds and don't be sad❤️👅 #pespatron #SlavaUkraine #patrondsns
Open thread!