South Carolina legislator discovers the "fetal heartbeat" abortion ban bill he voted for "is affecting PEOPLE!" (Actual quote!)
Save your tears @NealCollins2010

Maybe you should have listened to women before you voted. Her blood and trauma is on your hands. pic.twitter.com/Pxqp0PGwF2

— DutchessPrim (@dutchessprim) August 17, 2022
Maybe on some level this guy deserves credit for acknowledging that the decision he made had a terrible outcome for a constituent. If so, it won't be me who extends it to him; I'm all out of fucking grace.
If Collins and the rest of the forced-pregnancy caucus had listened to the women and medical professionals who told them this is exactly what would happen if they passed the abortion ban, his 19-year-old constituent wouldn't have endured needless trauma and risk to her life.
So, fuck that guy. Reproductive healthcare is healthcare.
Also, I officially stopped believing in the sisterhood on November 8, 2016, but this chart on the gender gap in new voter registration is interesting: (source on Twitter)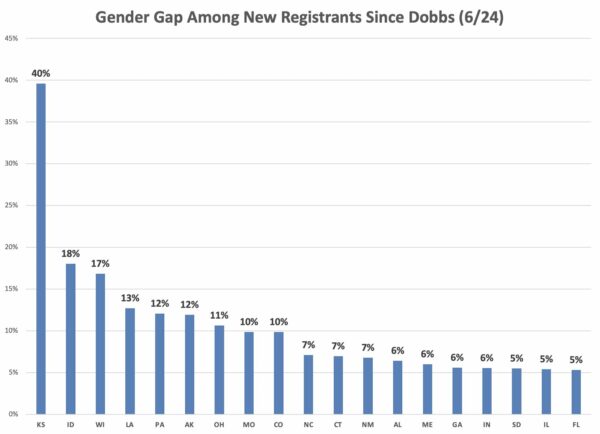 May the Collinses of America reap the fucking whirlwind.
Open thread.