On the Road is a weekday feature spotlighting reader photo submissions.
From the exotic to the familiar, whether you're traveling or in your own backyard, we would love to see the world through your eyes.
CaseyL
Washington State Road Trip Part 2: Lopez Island
When we last left off, I was stuffing myself with cherry strudel in La Conner.  Then it was time to leave La Conner for Lopez Island.
I took Hwy 20 north to Anacortes – another place well worth visiting, but not on this particular itinerary: I was there to catch the Washington State ferry to the islands.  Anacortes is maybe 20 minutes north of La Conner. You only pay to go westbound on the ferry, and reservations are recommended for people who will take their cars aboard.  The San Juans have been seeing a surge of Covid, so I stayed in my car for the crossing, as did most everyone else.  I lucked out, being the first car onto the main car desk, meaning I was right at the front of the ferry for the best view.
Arriving at Lopez Island, you know right away it's one of the less busy ones:  the ferry terminal is the dock and a small terminal building, and that's it.  No fuss, we're off the boat in record time.
Let me say right off: I loved Lopez Island, and would move there in a hot second, if the place was in any way affordable.  And part of what I love about it is the fact that Lopez Island does NOT go out of its way to attract hordes of tourists.
One of my friends, when I told her where I was going, said "But there's nothing there!" (compared to places like Orcas Island or San Juan Island, where there is shopping and dining galore).  She's right, if you're referring to "shopping and dining galore."  Nuh-uh. There is one and only one "town" on Lopez Island, a sprawling collection of small businesses, a brewery, a couple coffee shops and bakeries, a New Age store of woo, two grocery stores, one medical clinic, and a few other necessities.  There are eateries and galleries – but 95% of those are only open Thursdays through Sundays.  I arrived on a Monday and stayed through Thursday morning, so just about everything was closed during my stay.
I stayed at The Edenwild, a boutique hotel right next to "town."  Another recommendation!  The proprietors and staff are friendly, the rooms are large, clean and well appointed; and mine offered a view of Fisherman's Bay. The breakfasts, delivered to each room in the morning, were small (one mini-quiche and one pastry, all home-made) but delicious.  And one could easily get provisions at the two within-walking-distance grocery stores, one of which is all-organic.  I made a grocery run and was quite happily provisioned for the days I was there.  The hotel has a small fridge and a microwave downstairs for guests to use.
What there is an absolute abundance of on Lopez Island is peacefulness.
Whether walking a trail, hanging out at a wetland observer platform, strolling a beach, or just hanging out in my room, there were no crowds, hardly any traffic, and the only ambient sound is natural: birds chirping, frogs ribbitting, unseen other critters calling one another, water rushing to shore, leaves rustling in the breeze.  I soaked it up like a sponge, not even realizing how much I had needed this tranquility.
Another thing Lopez Island has in abundance is: rabbits.  Back in the 1930s, someone brought over a bunch o' bunnies to open a breeding operation, possibly for food.  The enterprise failed and the bunnies escaped/were released, and promptly did what rabbits are famous for doing.  They are an invasive species, and did no small amount of damage.  The Island has periodically tried to reduce their numbers, and disease has also hit them, but the bunnies persist.  They are also adorable and now one of the Island's signature sights.  What deer are to Port Townsend, bunnies are to Lopez Island: everywhere, in groups, flashing up their tails and dashing away if you get too close.
Lopez Island also has, for its size, an astonishing number of parks, hikes, and beaches.  So much outdoor stuff to do!  And the trails are, by and large, gentle enough for anyone to hike – while still offering amazing vistas.  I managed to get to four of these:  Agate Beach, Shark Reef (which has neither sharks nor reefs, go figure), Otis Perkins beach, and Peninsula Spit park.
Agate Beach, jutting into Puget South at the southwestern end of the island, is a "beach" of rocks, then sand, and giant boulders with colonies of anemonies, sea stars, and snails.  Plus, of course, barnacles on everything.  The rocks are easy to climb. The view out to the water is fine.  There are no agates; maybe there were, once, or I just didn't look hard enough.  (Beach "agates" are tiny translucent stones in pastel colors, probably quartz, often found on PNW beaches.). I made sure to get there during low tide, when more rocks are exposed and there are tide pools to explore.  I climbed rocks, took photos of gorgeous deep purple sea stars and some odd long-necked anemones, and had a great time.
The next day, I had an ambitious agenda: check out three parks.  First was Shark Reef Sanctuary.  (And almost the last stop: One thing the map I had doesn't mention is how many of the parks are only accessible via what seems to be a private road.  Having gotten lost the previous day and driven down a private road until I hit a No Trespassing sign, I wondered how one actually gets to the trails.  Fortunately, I was able to ask the hotel owner about that.  According to him, you simply keep going on the private road until you reach the trailhead. Well.  Alrighty, then.)
Shark Reef Sanctuary is on the west side of the island.  The trail starts inland, then comes out along the shore, then rises until you're on a headland overlooking the water from a fair ways up.  I once again clambered over the rocks on the lower end of the trail, admired the view, and wondered why the place was called Shark Reef when there seemed to be neither of those things anyway nearby. (I still don't know; should've asked the hotel owner.). The trail goes up and up, as noted, until you come to one of the ubiquitous No Trespassing signs signaling that you've come to the end of the park trail and what goes on from there is private property.  Happily, there are enough glorious things to see that the private property people can have their part of the promontory; the public area is pretty darned cool.
A rock-hewn edge overlooks long skinny islets and, off in the distance across the water, the southeastern shore of San Juan Island (the largest of the San Juans) and, even farther off, the Olympic Mountains.  The islets are home to colonies of seals, sea lions, and shore birds.  I couldn't see the seals, but could definitely hear them.  Far below my vantage point, the water swirls and eddies around rocks, is pushed by currents, and is not something you want to fall into at all.  Around the rocks are kelp forests – the water is clear enough to make out the "trunks" underwater.  I hoped to see some sea otters, which live in the area, in the kelp forests, but did not.  Worth going back and trying again, though!  I could have stayed there quite a long time, but had two more stops on the day's itinerary.
Next: Otis Perkins Day Beach.
Otis Perkins Day Beach isn't very large, but is a delight nonetheless.  It's on the island's western edge, about midpoint.  Once again, you cross some rocks and driftwood to get to the sand.  But the sand!  Oh, the sand!  So soft it almost feels like mud.  Of course I kicked off my river sandals and squinched my feet and toes in the soft soft sand.  Where water meets sand are large patches of seagrass.  I didn't walk across those, since there are crabs and shrimp and, possibly, small fish hiding out in there: critters I want to see and admire, not step on.  Seagulls don't see it the same way: the rafts of grass are kind of an all-day buffet for them.  There were many, many seagulls; and they didn't appreciate my traipsing by when they're looking for lunch.  Noisy buggers! A highlight of the day was when a sea lion swam by less than 15 years from shore, wondering what I was up to.  He (or she; I think it was a lady seal) barked at me; I barked back; we kept this up for a few minutes before she got bored and swam away.  (I'm sorry I didn't get a picture; I was too busy having a conversation.)
My last stop, Peninsula Spit, was just up the road a bit from Otis Perkins – though, again, somewhat confusing to find, going down a very back road and becoming convinced you've missed the turn.  But no: found the trailhead, parked, and set off.  Peninsula Spit is peaceful more than delightful.  The path starts in a meadow, curves out to another headland overlooking a small bay where many boats sit at anchor.  Then the path curves out and around and goes up the eponymous spit of land, beaches along its sides and scrubby vegetation in the middle.  There's some ecological reclamation work being done, so one is supposed to stay on what they call a "marked path" – marked by what appear to be randomly assorted lengths of driftwood.  A nice, if not spectacular, place to end the day's adventures.
That's all for this trip.  I have every intention of heading back to Lopez Island.  There are still a few trails and parks I haven't been to yet, plus some farms that are open to the public, not to mention the eateries and galleries I wasn't able to check out this time.
Thanks for letting me share this adventure with you!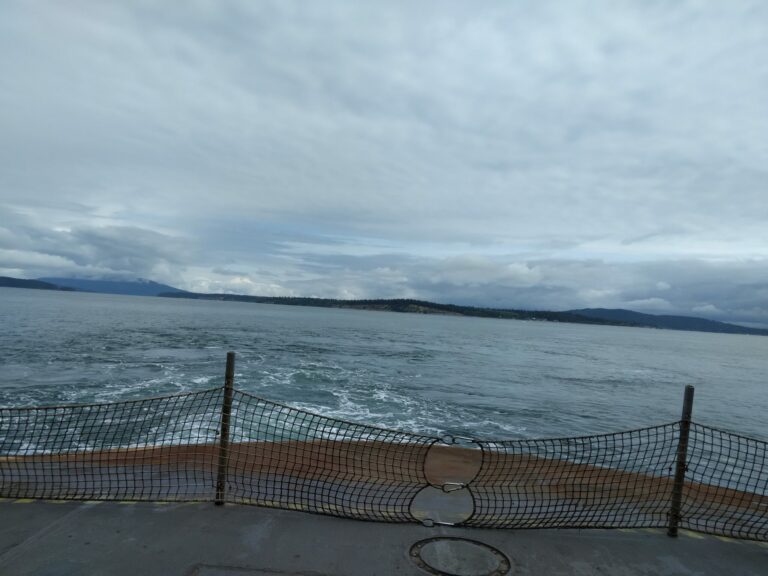 Anacortes-Lopez Island Ferry
May 30, 2022
A view of Puget Sound from the prow of the ship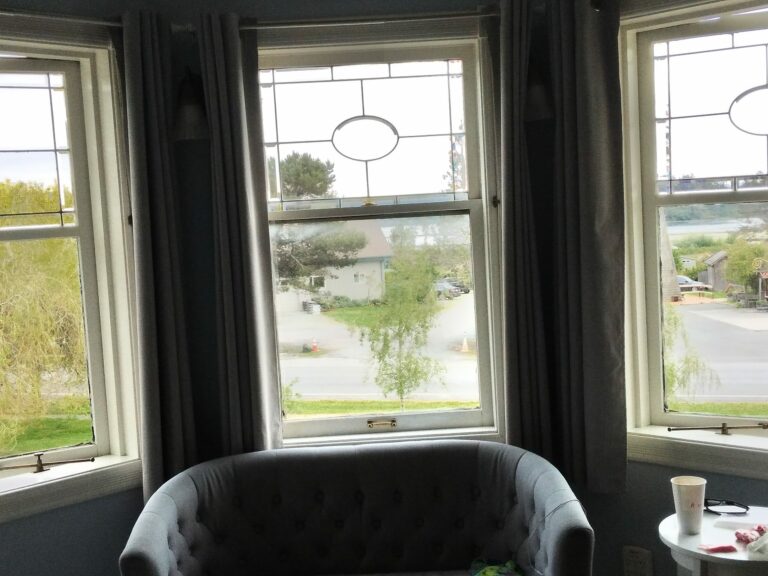 Edenwild Hotel, Lopez Island
May 30, 2022
My room faces front, overlooking "Lopez Village"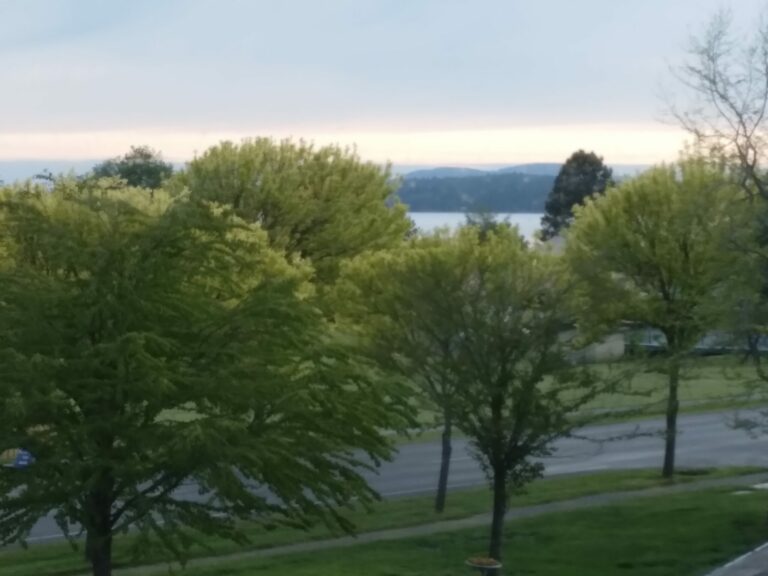 Edenwild Hotel, Lopez Island
May 30, 2022
Another view from my room, westerly, with view of Fishermans Bay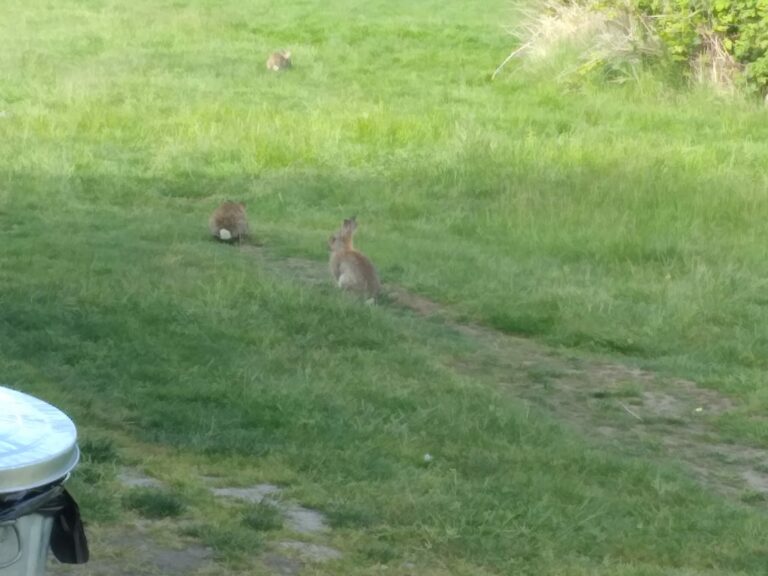 Lopez Village, Lopez Island
May 30, 2022
A couple of Lopez Island's ubiquitous bunnies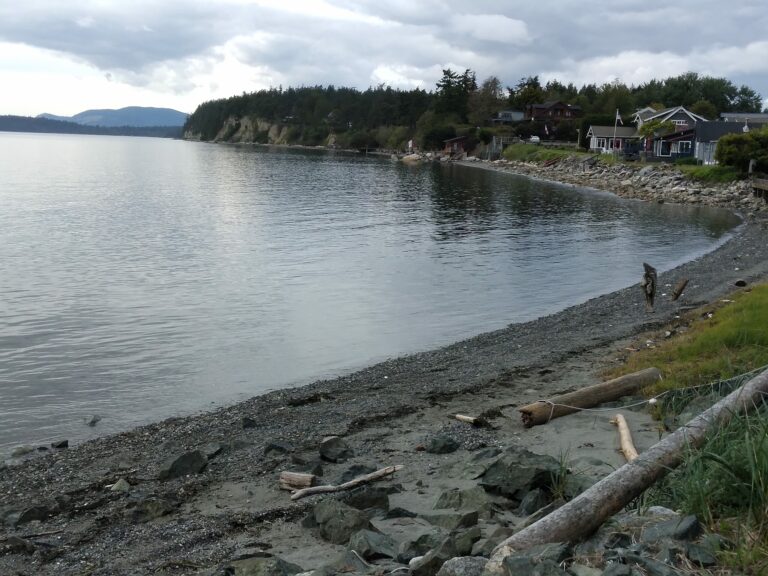 Agate Beach, Lopez Island
May 31, 2022
A look at Agate Beach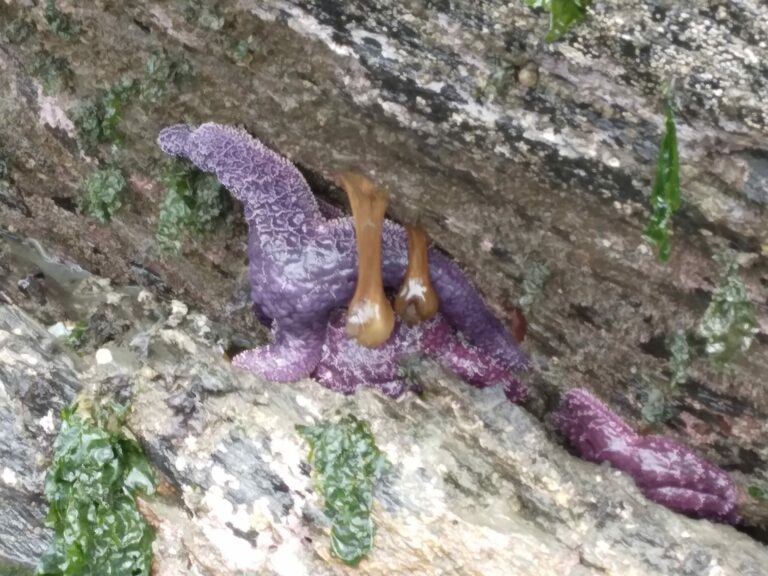 Agate Beach - Stars & Anemone
May 31, 2022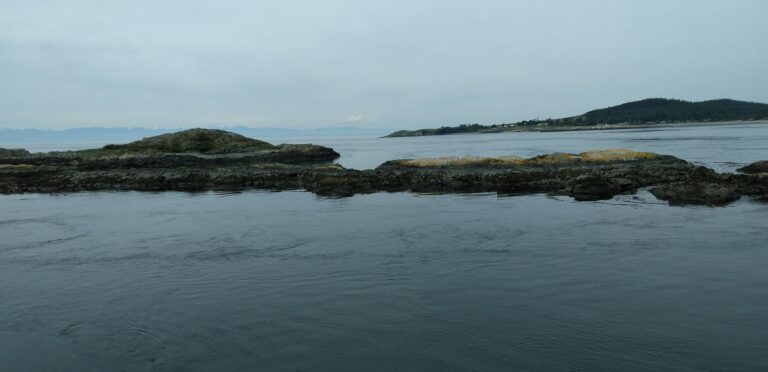 Shark Reef, Lopez Island
June 1, 2022
Shark Reef vista view, of one of the islets out in the Sound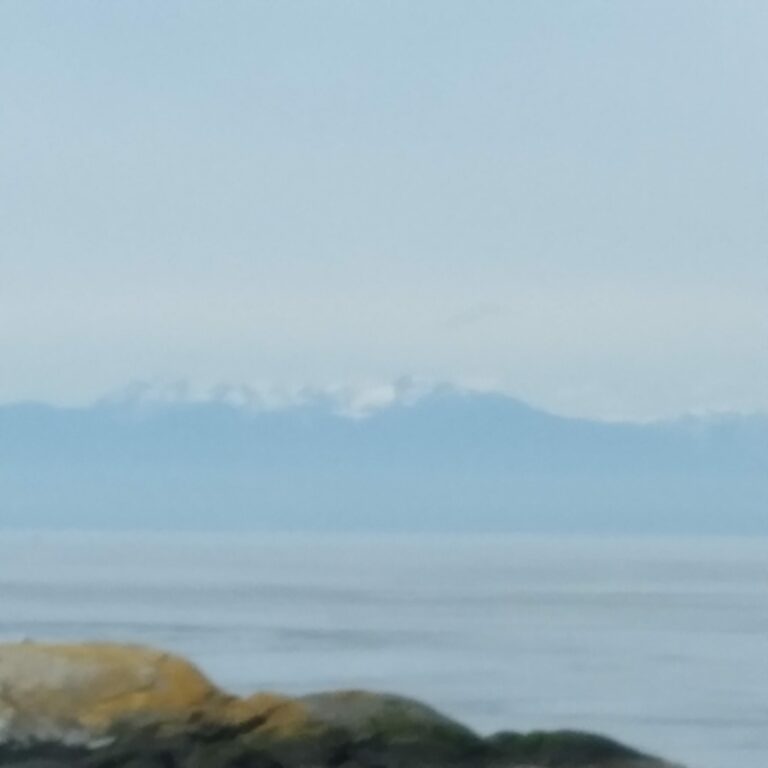 Shark Reef, Lopez Island
June 1, 2022
A faint view of the Olympic Mountains, and San Juan Island's coast near Lopez Island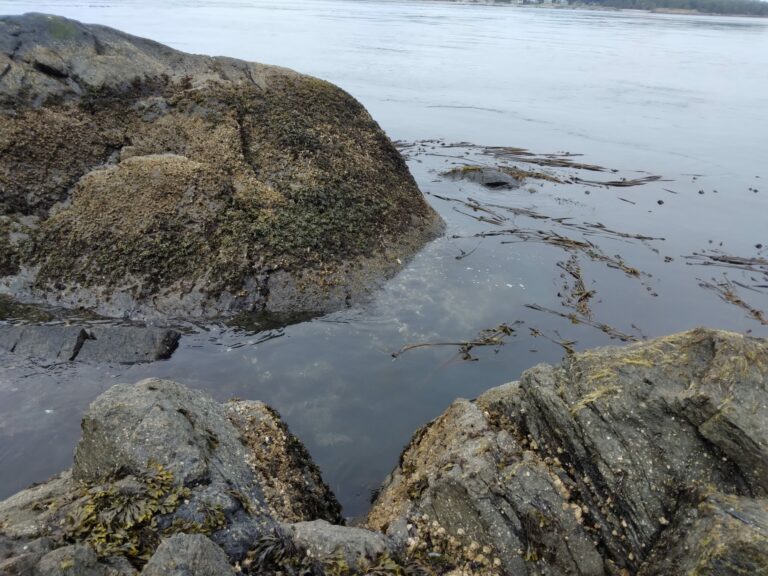 Shark Reef, Lopez Island
June 1, 2022
Looking down from the rock ledge, at the rocks and kelp forests below