Today, the Washington Post was kind enough to devote an entire article to one of the principles I laid out in a short-lived post with "Coming Attractions" about our political fundraising plans.
I say "short-lived" because it was clearly the wrong post for that day/hour/minute/whatever, so I pulled it to post at another time when more than 2 people might actually read it!
An excerpt from my post yesterday:
Once we raise the remaining $10,000 $8,000 for Four Directions Nevada, we're still going to (mostly) resist the temptation to put up links to candidates we love – like Beto and Fetterman and Stacey Abrams and Mark Kelly and more – and try to maintain our strategic approach to fundraising for this cycle.

We are still looking at key states:  AZ, NV, MI, GA, WI, PA, TX.

We're plan to put together several  "Key State" thermometers for all of the executive positions in each particular key state:  Governor, Secretary of State, Attorney General, etc.  That will pay dividends in 2022 and can help put some firewalls in place for those states in 2024.
I'll let the Washington Post make the rest of the case for me, with specifics.
Election deniers march toward power in key 2024 battlegrounds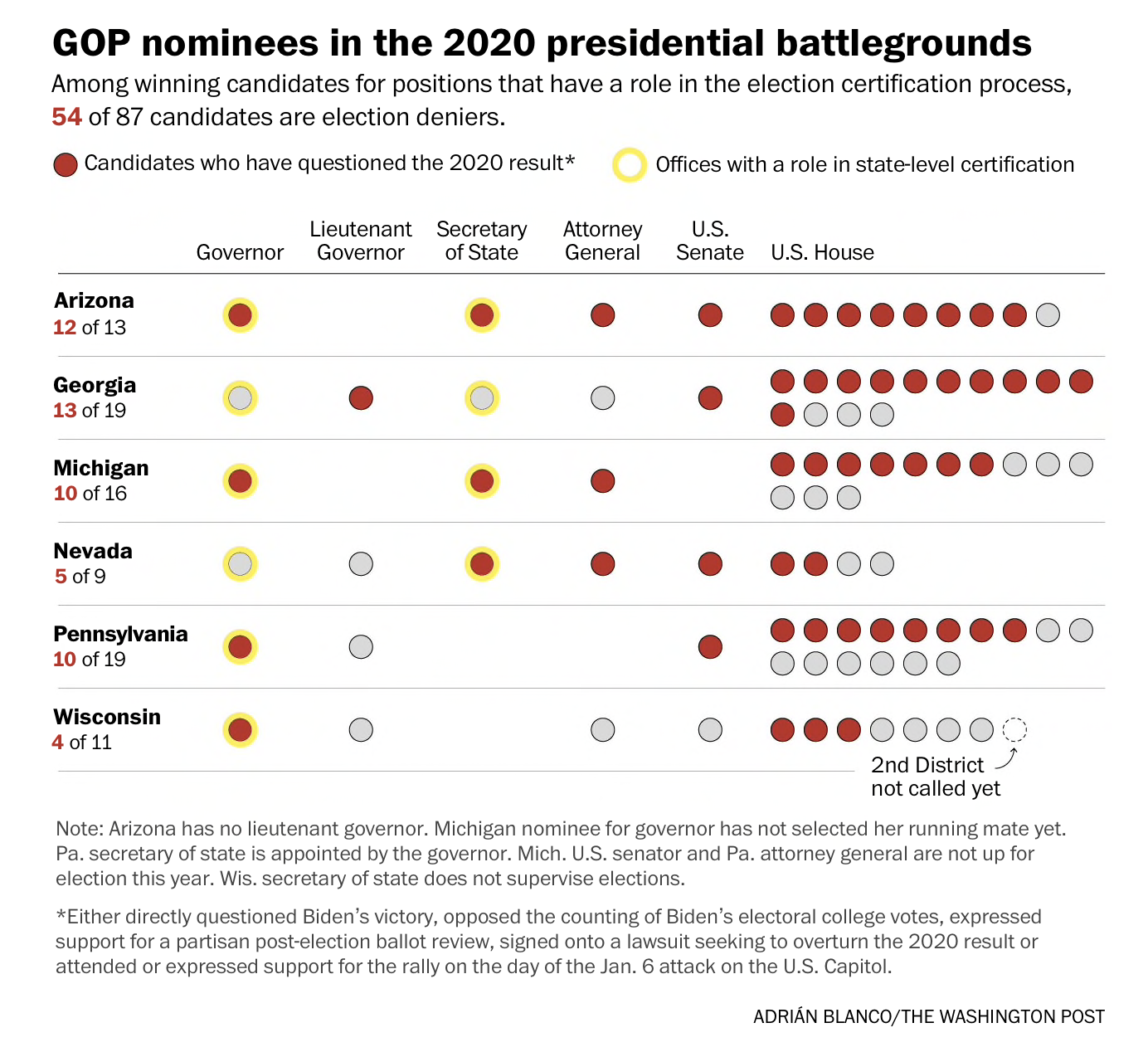 From the Washington Post article:
The winners [of the Republican primaries] fit a pattern: Across the battleground states that decided the 2020 vote, candidates who deny the legitimacy of that election have claimed nearly two-thirds of GOP nominations for state and federal offices with authority over elections, according to a Washington Post analysis.

Had those candidates held power in 2020, they would have had the electoral clout to try something that the current officeholders refused: overturning the vote and denying Biden the presidency.

But the experts agree on one thing: A close presidential contest that comes down to the outcome in states where officials are willing to try to thwart the popular will could throw the country into chaos. It would potentially delay the result, undermine confidence in the democratic system and sow the seeds of civil strife on a scale even greater than what the nation saw on Jan. 6, 2021.

The predilection among Republican primary voters toward candidates who deny the result of the last election extends well beyond Michigan, Pennsylvania and Arizona — three states that together accounted for 47 electoral votes in 2020, more than enough to flip the last election to Donald Trump.
Open thread.