I think this was the first drawing I ever posted here. It illustrated a post that attempted to explain the Florida electorate in the context of the 2012 GOP primary. Not much has changed except The Villages is bigger and now merits its own regional designation that is distinct from Orlando, which could be labeled something like "MIGHT AS WELL BE INDIANA."
But 10 years and change later, it's primary election day in Florida again.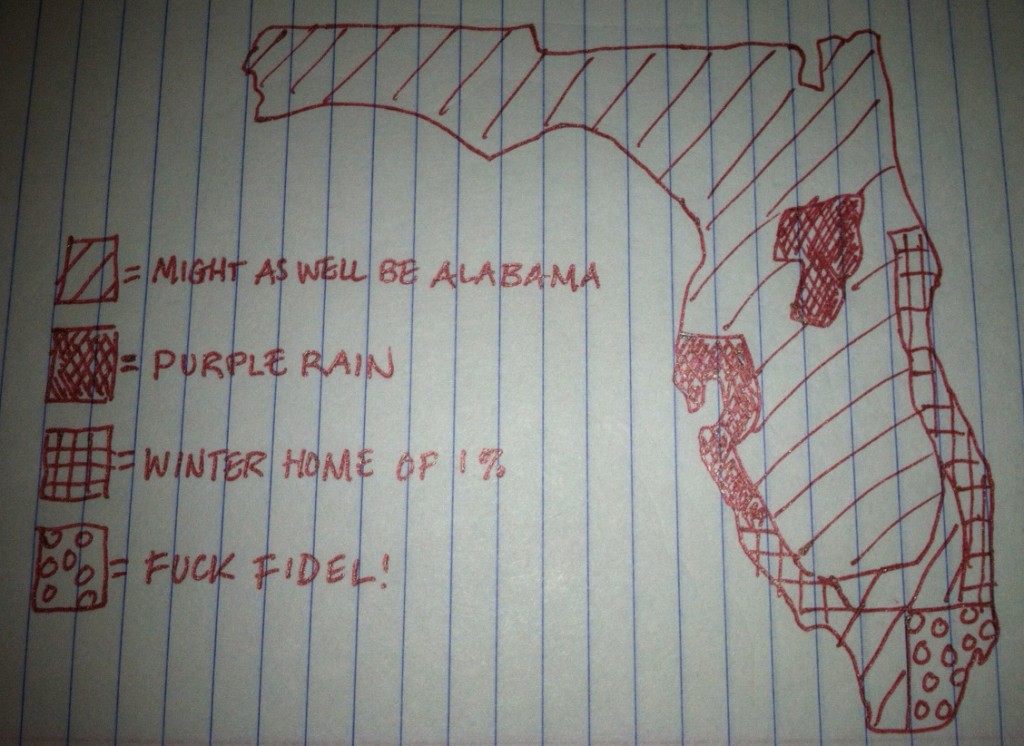 Things I'll be watching for tonight:
Val Demings' acceptance speech
How off that poll showing Fried beating Crist was (I voted for Fried, but I'll believe it when I see it)
Whether MAGA cult weirdo Laura Loomer knocks off garden-variety corrupt Repub. Daniel Webster in the FL 11th.
On the latter point, if Loomer wins the GOP primary, she wins the general election. Period. Doesn't matter how fucking nuts she is or how strong her resemblance to the love child of Elvira and Max Headroom. That's the way the 11th rolls. Recent reports show her out-raising Webster and winning The Villages Trump-Hump Hookup Hoedown straw poll (not the real name of that organization, but I'm too lazy to look it up).
That said, when DeSantis tore up the map approved by his Republican sycophants in the Florida statehouse and redrew it himself to disenfranchise black people even more, he nudged the Florida 11th to the east a bit and dragged the coastal border of the 12th north, meaning we won't be represented by either Loomer or Webster because now we're in the 12th. Our rep will be a different garden-variety corrupt Republican.
Open thread.