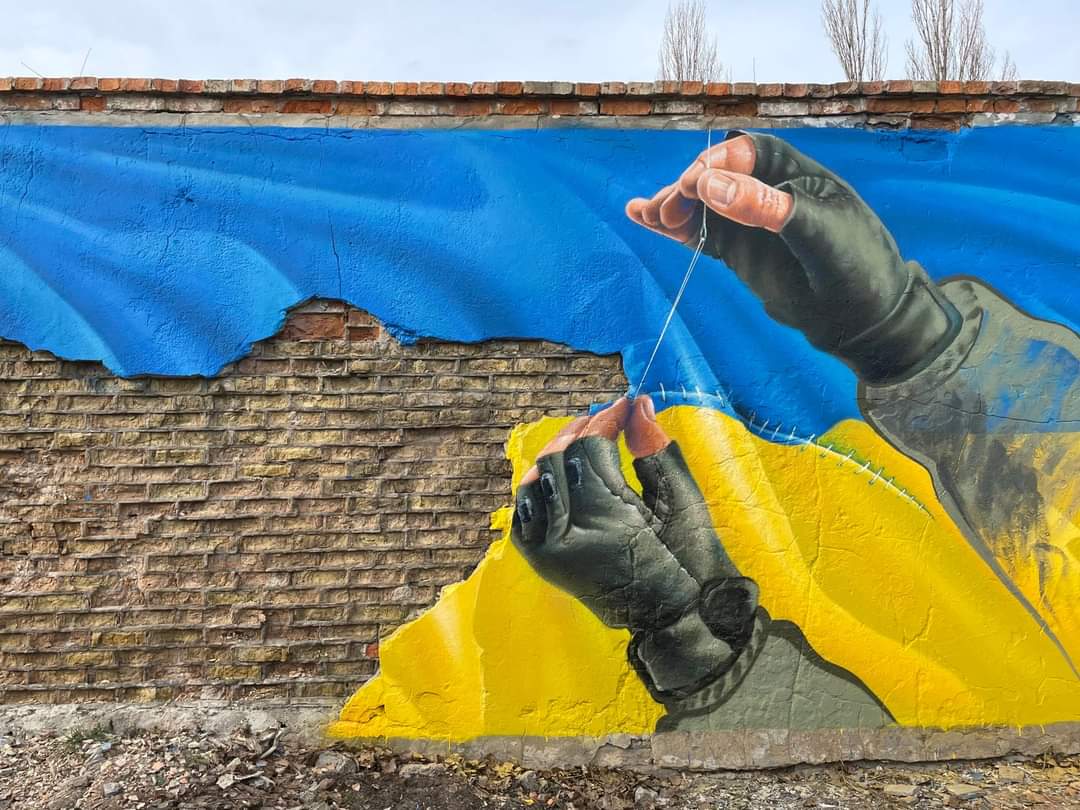 Today is Ukraine's flag day.
Today is Ukraine's Flag Day. This is the first photo I think of. A military cemetery in Chernihiv, bombarded by Russia. April 6. Our flag still stands!

📸: Stas Yurchenko (@YurchenkoSt) pic.twitter.com/IEGoOPQDK0

— Oleksiy Sorokin (@mrsorokaa) August 23, 2022
Here is President Zelenskyy's address from earlier this evening. Video below, English transcript after the jump (emphasis mine):
Ukrainians!

All our defenders!

Today was a useful day for Ukraine, very meaningful. A day that showed how strong our state has become, and this is not the limit yet. We are doing everything so that the strength of Ukraine, the opportunities of Ukraine, the freedom of Ukraine only increase.

Today we celebrate the day of our flag, and it happens at a time when we are fighting against the most dreadful threat to our statehood and at the same time when we have achieved the greatest national unity. That is why we endured. Because we united and united the world around true values.

Our national flag has become a global symbol of courage. A symbol of all who value a free life. Where there is blue and yellow, there is no and will be no tyranny. Where there is blue and yellow, there are no and will not be savages.

Our flag is everywhere – from the frontline, where our warriors beat the enemy, to capitals on all continents, and it means one thing everywhere – humanity.

I am grateful to everyone who defends true values. I am grateful to everyone who helps Ukraine. I am grateful to everyone who, since February 24, has chosen the path of struggle for what makes life real: for freedom, for independence.

Very soon we will celebrate our main national holiday – our independence. Already tomorrow. We have planned many activities – something that will emphasize the path we have covered. Covered together – Ukrainians in Ukraine, throughout our territory – free and temporarily occupied, because our people are fighting everywhere. Ukrainians abroad – all those who helped, all those who spread the truth about Ukraine, all those who urged to fight for Ukraine.

No occupier feels safe on our land. All collaborators know that they have no future. And we all do not just believe – we see that our state has a perspective.

And for tomorrow, I have planned to award people who have contributed to our strength. These are people from different areas of life. Our warriors, all those who help warriors. Communication officers, railwaymen, rescuers, media workers, those who inform our people, who work in the national marathon "United News". These are utility workers, electricians, drivers, volunteers, officials, athletes, artists – those artists who are known on the frontline, whom the army is grateful to, those who preserve and restore the positive emotions of our warriors.

I asked various ministries, regional administrations, the Armed Forces of Ukraine, media representatives to submit their proposals on who deserves awards on Independence Day. It is up to you to decide. And tomorrow the awards will be given to those who really deserve them.

Now I am near the office of the Crimea Platform, near the building that symbolizes that we care about every part of Ukraine, about every part of our people – the great Ukrainian people. Crimea is an integral part of our state, Crimea is Ukraine. Crimea is an integral part of our people. And we will certainly come to our cities in Crimea, to our people in Crimea and return to them the freedom that belongs to them by right, as well as to all our other people.

That is why we have organized a special format – the Crimean format, the Crimea Platform. We held the inaugural summit last summer and today we have already held the second one. I am grateful to all participants of the summit – 40 leaders, almost 60 states and international organizations. European leaders, leaders of the G7, leaders of the countries of Africa, Asia, Latin America. This is not just a meeting, not just a discussion. The Crimea Platform became a global forum that united the leaders of the free world. This is a community of people who help restore peace and legality for Crimea, for the Black Sea region, for all of Europe.

And the fact that we are holding the summit for the second time right now, with the expansion of the representation, is a clear response of the world to Russian aggression. Clear support for our sovereignty and territorial integrity within internationally recognized borders. Russian aggression began in Crimea, and its finale will be in Crimea as well.

In Kyiv, on Constitution Square, the Walk of the Brave was opened today – a place to honor the personal strength of those people who did not fail after February 24, who were not afraid, who did not retreat under the pressure of tyranny. Who helped us fight against Russian aggression and is still helping us. And the first name that we presented on the Walk of the Brave is the name of Andrzej Duda, the President of Poland. He was in Kyiv today, participating in the Crimea Platform. And for not a single day during these six months has he lost strength in supporting Ukraine. I am grateful to him!

I definitely want to address our Kharkiv and all Kharkiv residents separately today. You are heroic people, a heroic city. A proud city. A city with a sense of self-respect. A city that knows how to defend itself. A city whose people know how to unite. A neat city. A city that always impresses everyone who comes and sees how Kharkiv residents take care of their streets and yards even when they are under the brutal pressure of Russian terrorists.

Today is Kharkiv Day. Now our Kharkiv is not willing to celebrate. Yes, Kharkiv experienced a lot of injustice and cruelty. But Kharkiv will never be a city of black scorched windows and ruined districts. Kharkiv will never submit to this evil, which has nothing but artillery and missiles.

We will definitely liberate the entire Kharkiv region. We will find a way to guarantee security to our Kharkiv. And we will do everything to restore the city. I promise!

Fellow Ukrainians!

Tomorrow is an important day for all of us. And that is why this day, unfortunately, is also important for our enemy. We must be aware that tomorrow hideous Russian provocations and brutal strikes are possible.

The Armed Forces of Ukraine, our intelligence, special services will do everything to protect people – as much as possible. And we will certainly respond to any manifestation of Russian terror.

But please follow the safety rules strictly tomorrow. Please observe the curfew. Pay attention to the air sirens. Pay attention to official announcements. And remember: we must all achieve victory together.

Eternal glory to all who fight for Ukraine!

Glory to Ukraine!
As we've covered extensively, Kharkiv has taken an extraordinary bombardment by Russia. Largely because of its proximity to the border making it easy to target.
#Kharkiv through my eyes. I hope now you understand why I love it so much. pic.twitter.com/ufeBBBcrNP

— Iryna Voichuk🇺🇦 (@irmachep) August 23, 2022
Such an emotional and beautiful video about #Kharkiv. This city is a hero, which means that the people who live in it are also heroes! #Kharkiv is Ukraine and Ukraine will win! #ThisIsFreeUkraine pic.twitter.com/cbaUt5LMNB

— Iryna Voichuk🇺🇦 (@irmachep) August 23, 2022
Here is today's operational update from Ukraine's MOD:
The operational update regarding the russian invasion on 18.00, on August 23, 2022

Glory to Ukraine! The one hundred eighty first (181) day of the heroic resistance of the Ukrainian people to a russian military invasion continues.

The enemy continues to focus its efforts on establishing full control over the territory of Donetsk region, maintaining the captured districts of Kherson, part of Kharkiv, Zaporizhzhia, and Mykolaiv regions, restoring the combat capability of units that have suffered losses.

In the Volyn, Polissya and Siversky directions, the situation remains unchanged. The occupiers used barrel artillery for shelling near Mykolaivka and Zalizny Bridge in the Chernihiv oblast.

In the Kharkiv direction, the enemy shelled the areas of the settlements of Uda, Sosnivka, Protopopivka, Slatyne, Tsyrkuny, Kharkiv, Petrivka, Velyki Prohody, Ruski Tyshki, Pytomnyk, and Korobochkyne with barrel and jet artillery. It carried out airstrikes near Pytomnyk, Kostyantynivka and Verkhniy Saltiv. In order to perform reconnaissance tasks and adjust the artillery fire, the UAV was deployed.

In the Slovyansk direction, shelling was recorded near Nortsivka, Dolyna and Dibrivne. It carried out airstrikes near Bohorodychne. In the area of ​​Nova Dmytrivka, the UAV conducted aerial reconnaissance.

In the Kramatorsk direction, the districts of Siversk, Hryhorivka, and Bilenke were hit by artillery fire of various types. The enemy used aviation for strikes near Tetyanivka and Pryshyb. Conducted reconnaissance of the positions of our UAV troops.

In the Bakhmut direction, fire damage was recorded in the areas of Bakhmut, Bakhmutske and Kodema. Conducted airstrikes near Soledar and Bakhmut.

The occupiers made an unsuccessful reconnaissance attempt by fighting in the direction of the village of Zaitseve, and withdrew.

With offensive and assault actions, the enemy tried to advance in the direction of the settlements of Soledar, Kodema, Bakhmut, Zaitseve and Kurdyumivka, but was unsuccessful and retreated.

In the Avdiyivka direction, the enemy continued shelling from the entire range of artillery near Avdiyivka, Opytne, Vodyane, Novobakhmutivka, and Nevelske. Airstrikes near Maryinka and Krasnohorivka.

With offensive actions, it tried to break through the defenses of our troops and advance in the direction of the settlements of Krasnohorivka, Pervomaiske and Nevelske, it was unsuccessful and retreated chaotically.

In the direction of Novopavlivsk, the enemy fired from barrel and jet artillery near Pavlivka and Velika Novosilka. He unsuccessfully tried to improve the tactical position in the directions of Novomykhailivka and Zolotaya Niva.

In the Zaporizhzhia direction, enemy fire was recorded in the areas of Shcherbaky, Novodanylivka, Hulyaipilske, Charivne, Novosilka, Zelene Pole, Novopil and Vyshneve settlements. The enemy carried out airstrikes near Malynivka, Zaliznychne and Vremivka.

In the South Buh direction, the enemy used tanks, barrel artillery and MLRS to shell the areas of Posad-Pokrovske, Oleksandrivka, Prybuzke, Lupareve, Myrne, Novohryhorivka, Chervona Dolyna, Pervomaiske, Kiselivka, Lyubomyrivka, Andriivka, Novooleksandrivka, Mykolaivka, Knyazivka and Ivanivka settlements.

Airstrikes near Trudolyubivka, Andriivka, and Novohryhorivka. The enemy actively used UAVs to scout the positions of our troops and adjust artillery fire.

The naval group of the occupiers in the water areas of the Black and Azov Seas continues to perform the task of blocking civilian shipping in the northwestern part of the Black Sea and damaging military facilities and infrastructure elements deep in the territory of Ukraine.

We believe in the Armed Forces of Ukraine! Together we will win!

Glory to Ukraine!
Here is the British MOD's assessment for today: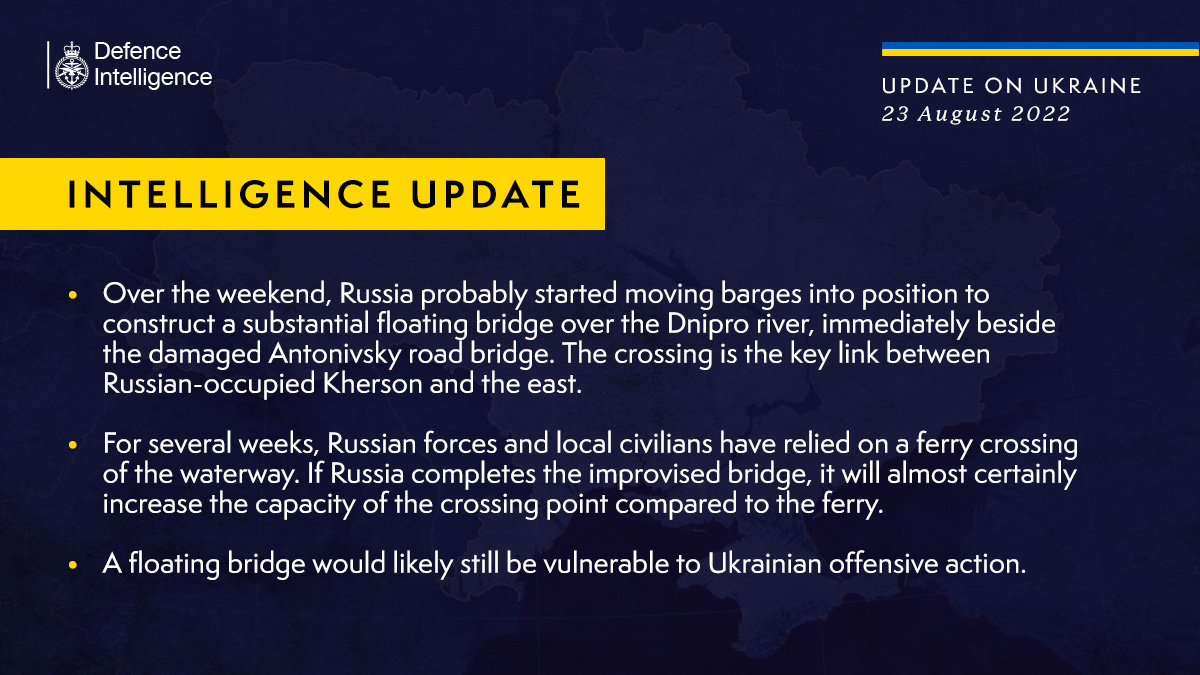 And here is their updated map for today: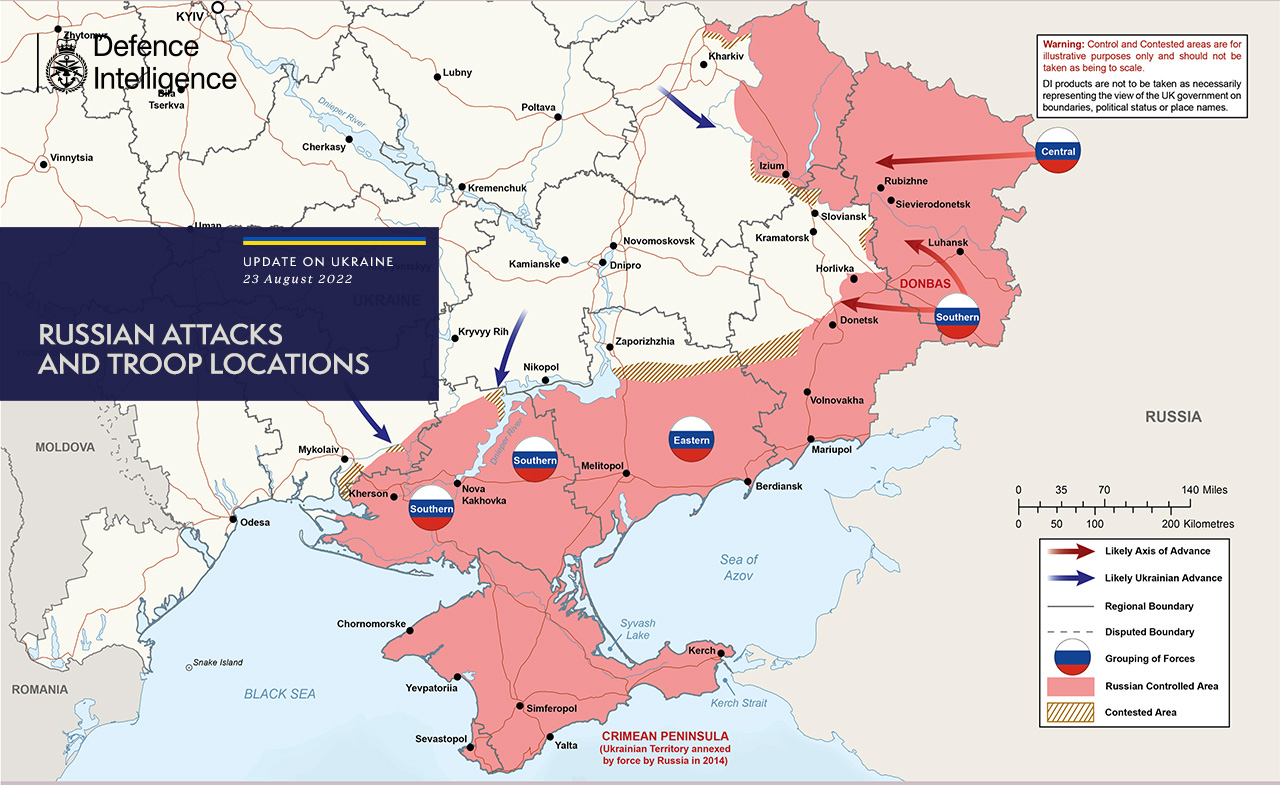 The US Embassy in Kyiv has issued a security alert for tomorrow, which is Ukrainian Independence Day:
Location: Ukraine

Event:The Department of State has information that Russia is stepping up efforts to launch strikes against Ukraine's civilian infrastructure and government facilities in the coming days. Russian strikes in Ukraine pose a continued threat to civilians and civilian infrastructure. The U.S. Embassy urges U.S. citizens to depart Ukraine now using privately available ground transportation options if it is safe to do so.

See additional safety information from a previous Security Alert below:

If you hear a loud explosion or if sirens are activated, immediately seek cover.
If in a home or a building, go to the lowest level of the structure with the fewest exterior walls, windows, and openings; close any doors and sit near an interior wall, away from any windows or openings.
If you are outdoors, immediately seek cover in a hardened structure; if that is not possible, lie down and cover your head with your hands.
Be aware that even if the incoming missile or drone is intercepted, falling debris represents a significant risk.
After the attack, stay away from any debris, and monitor major news outlets for official guidance.

The security situation throughout Ukraine is highly volatile and conditions may deteriorate without warning. U.S. citizens should remain vigilant and take appropriate steps to increase their security awareness.

Actions to Take:

Know the location of your closest shelter or protected space.
Follow the instructions from local authorities and seek shelter immediately in the event of mortar and/or rocket fire.
Regularly monitor local and international news and social media news channels.
Ensure travel documents are valid and easily accessible.
Visit the U.S. Embassy in Kyiv's webpage to view safety and security alerts for U.S. citizens.
Review your personal security plans and always have a contingency plan in place that does not rely on U.S. government assistance.
Get a COVID vaccine to facilitate your travel.
Enroll in the Department of State's Smart Traveler Enrollment Program (STEP). STEP enrollment gives you the latest security updates and makes it easier for the U.S. Embassy to contact you in an emergency.
Regularly monitor the State Department's website for current Travel Advisories. Read the Country Specific Information for Ukraine. For additional information, refer to the "Traveler's Checklist" on the State Department's website.
Mariupol:
russians are proud that they have kidnapped 1,300 children from Mariupol, 1,000 of which are already placed in families across the terrorist state. Entire 2nd paragraph of the news is dedicated to $ bonuses for families who "adopt" kids.
Screenshots by Mariupol mayor advisor pic.twitter.com/rBeyIawe6r

— Olena Halushka (@OlenaHalushka) August 23, 2022
Kramatorsk:
Little Ukrainian Yana has more inner strength than the occupiers who tried to kill her by shelling the station in Kramatorsk. With each day she steps more and more confidently towards a new, happy life. I am glad for Yana and hope that soon we will meet in peaceful Ukraine. pic.twitter.com/uCmyBCMkbO

— Олена Зеленська (@ZelenskaUA) August 22, 2022
🇺🇦 flies all over the world.
Where people live for #Freedom. And where they die for it.#StandWithUkraine 💙💛 We chose Freedom and we fight for it! pic.twitter.com/s2h2mdFdt6

— MFA of Ukraine 🇺🇦 (@MFA_Ukraine) August 23, 2022
Radio Free Europe/Radio Liberty (RFE/RL) has in depth reporting on Russia's claims to have solved the assassination of Daria Dugina (emphasis mine):
The FSB, however, does not have a reputation for solving political killings quickly or telling the truth.

The murders and attempted murders of prominent Kremlin opponents have remained unsolved or only partially resolved even after decades. No investigation was even opened into the near-fatal poisoning of opposition politician Aleksei Navalny in August 2020.

But Dugina's case was supposedly cracked in less than 36 hours.

The FSB claims Natalya Vovk, a 42-year-old Ukrainian, entered Russia by car with her 12-year-old daughter; rented an apartment in the same Moscow building where Dugina lived; tracked Dugina for weeks; planted the bomb during the festival; and later that night fled to Estonia in the same car she brought to Russia, changing the license plates along the way.

Moscow further alleges that Vovk is a member of the Azov Battalion, a right-wing group the Russian authorities claim is neo-Nazi and banned as "extremist."

The FSB's version raises some potentially embarrassing questions. How could a Ukrainian agent successfully get into and out of Russia when border guards are supposedly closely screening every Ukrainian, including searching their phones?

Why would Ukraine target the Dugins, whose influence many have seen as both exaggerated and waning, when there are higher-profile proponents of the war in Russia?

These and other questions — as well as the dearth of hard evidence and the bewildering speed of the purported investigation — are leading some observers to speculate that the attack may be a sign of infighting within the Russian elite, as Moscow's invasion of Ukraine, now beginning its seventh month, grinds on with unexpectedly high losses and few tangible victories.

"Most likely, the struggle between the 'peacemakers' who insist on ending the war and…the 'hawks,' to which Dugin belongs, has escalated in Putin's entourage," Viktor Nebozhenko, a Kyiv-based political analyst, told RFE/RL.

Putin's decision to invade Ukraine, evidently made with the participation of just a handful of insiders, shocked many within the Russian elite. Putin, it is believed, expected to take Ukraine within days and install a pro-Moscow government in Kyiv.

As the invasion stalls and Russia suffers some high-profile setbacks, including the loss of the flagship of its Black Sea Fleet and of at least nine military aircraft at a base in the occupied Ukrainian region of Crimea, nationalist groups — which view Dugin as one of their leading ideologues — are openly complaining that Russia has made too little effort to subdue Ukraine and are pushing for more aggressive tactics.

Nebozhenko said those seeking a negotiated settlement with the West may have sought to "remove Dugin…to strengthen their position."

Anton Shekhovtsov, an expert on Russian and Ukrainian right-wing movements, countered that, if Dugina's death is the result of Kremlin infighting, then it would only play into the hands of those who want to escalate the war.

Tatiana Stanovaya, a Russian political analyst, agreed. She said Dugina's death will provoke the "radicalization of the conservative camp."

Some analysts interpret the August 20 car bombing that killed Dugina as a government message to those right-wing elements that could potentially stir up trouble.

Andrei Piontkovsky, a political analyst and Kremlin critic, called the murder of Dugina a "warning" by the Russian security services to her father for his criticism of Putin.

Piontkovsky described the FSB claim that Vovk killed Dugina as "monstrous in its self-revealing stupidity."

Still, Stanovaya said Dugina's murder will only serve to deepen the dissatisfaction of right-wing elements who are exasperated with the war effort and build support for a more radicalized Russian leadership.

She warned that the frequency and brutality of ideological conflicts in Russia will only rise.

In his first public statement after his daughter's killing, Dugin seemed to justify such concerns.

"Our hearts are not simply thirsting for revenge or retribution," he wrote on August 23. "We only need victory [over Ukraine]. My daughter sacrificed her maiden life on the altar of victory. So, please win!"
Much more at the link!
That's enough for tonight.
Your daily Patron!
National Flag Day of Ukraine. If you have something in blue and yellow colours — it is the best day to wear it or to take a photo with 🇺🇦 #Ukraine️ pic.twitter.com/qRCjpqwxCa

— Patron (@PatronDsns) August 23, 2022
Breaking news! I've got my second job ☺️ Cheers https://t.co/u67hayP84T

— Patron (@PatronDsns) August 23, 2022
And here's a new video of Patron from his official TikTok:
The caption translates as:
Happy National Flag Day, Ukraine! 🇺🇦 #glory to Ukraine #glory to the Armed Forces #dog patron #patrondsns
Open thread!