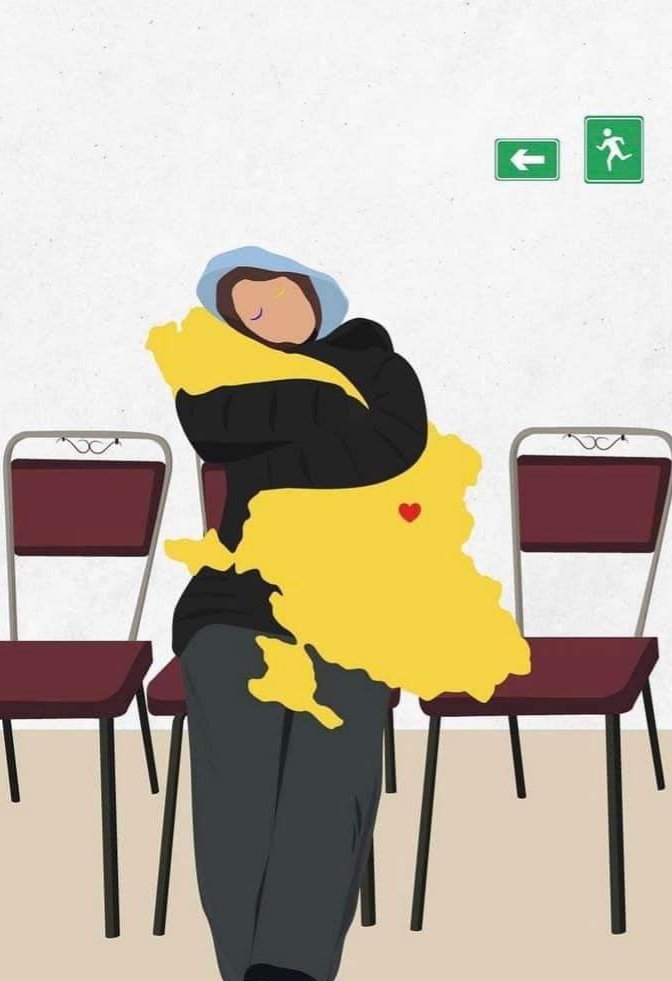 Today is Ukrainian Independence Day. And given what Ukraine has endured and done over the past six months it is an extra special one. I'm going to keep tonight's post fairly brief. I'm going to start with President Zelenskyy's Independence Day address, follow it with President Biden's statement, and then finish with the third part of The Washington Post's long form reporting on the war for Ukraine. It is from there that the title for tonight's post comes from. They are the orders of LTG Yevhen Mosiuk when asked what instructions should be given to Ukrainians defending their towns.
Here is President Zelenskyy's address. Video below, English transcript after the jump:
Speech by President Volodymyr Zelenskyy on Independence Day of Ukraine

The free people of independent Ukraine!

And that says it all. Just four words, but how much is behind them today. On the 182nd day of the full-scale war. How many symbols and meanings, feats and losses, joy and pain are in these words. And mainly how much truth is in them. Our truth. Truth about our present, with which it is impossible to argue, as it is impossible not to see and not to admit. We are the free people of independent Ukraine. After six months of the attempts to destroy us, we are the free people of independent Ukraine. And this is the truth about our future. The free people of independent Ukraine.

Six months ago, Russia declared war against us. On February 24, the entire Ukraine heard explosions and gunshots. And on August 24, it wasn't supposed to hear the words "Happy Independence Day". On February 24, we were told: you have no chance. On August 24, we say: Happy Independence Day, Ukraine!

During these six months, we changed history, changed the world and changed ourselves. Now we know for sure who is really our brother and friend, and who is not even a casual acquaintance. Who did not lose his name and reputation, and who worried for the terrorists to save face. Who doesn't really need us, and where the door is really open for us. We understood who is who. And the whole world learned who Ukrainians are. What Ukraine is. No one will say about it anymore: it is somewhere over there, near Russia.

We started to respect ourselves. We understood that despite any help and support, no one but us will fight for our independence. And we united.

We didn't have HIMARS yet, but we had people willing to stop tanks with their bare hands. They were not ready to close the sky for us, but we had people willing to cover their native land with themselves.

The Ukrainian people and their courage inspired the whole world. They gave humanity a new hope that justice has not completely left our cynical world. And it is still not force that wins in it, but truth. Not money, but values. Not oil, but people.

Yesterday the world was not united. COVID-19 clearly showed: it's every man for himself. Ukraine has changed this in six months. All world history textbooks will have a section "Times when Ukraine united the world". When democracy grew teeth again. When tyranny receives an answer in the language it understands.

Someone said: Europe is no longer a player. Weak, disunited, passive, sleepy. Ukraine invigorated the whole continent. Europe takes to the squares. Europe introduces tough sanctions. Europe unanimously recognizes that Ukraine is a future member of the European Union.

Big business realized that money still smells. With blood, cinder, death. Corporations and brands are leaving the Russian market, and people have become more important than potential losses.

Never before in the world has public opinion had such an influence on politicians. Today, people dictate trends and rules of behavior to the authorities. Being indifferent, inactive and slow is a shame. Being indecisive and too cautious is a shame. Speaking sluggishly, vaguely and too diplomatically is a shame. Not supporting Ukraine is a shame. And saying about fatigue from Ukraine is a shame. This is a very comfortable position: fatigue is a cover to close your eyes. And today we hear from world leaders and ordinary citizens: we will be with you until the end, until your victory.

Dear people!

We always paid tribute to all the fighters for independence, called this day the main holiday, and the blue-yellow flag – a shrine, put our hands to our hearts while singing the national anthem, and proudly said "Glory to Ukraine!" and "Glory to Heroes!". On February 24, we had to prove our words with deeds.

On this day, the second all-Ukrainian referendum actually took place. Again – the main question. Again – a decisive choice. But this time it was necessary to say "yes" to independence not in the ballot, but in the soul and conscience. Go not to the precinct, but to the military commissariat departments, the territorial defense units, the volunteer movement, the information troops or simply work steadily and conscientiously in your place, at full strength, for a common goal.

We all changed. Someone was born again. As a person, individual, citizen, patriot, simply as a Ukrainian. And this, of course, is good news. Someone disappeared. Did not perish, did not die, but dissolved. As a person, individual, citizen, as a Ukrainian. And this is actually not bad news either. We will not hinder each other anymore.

We made a choice. For some, it is Mariupol. For some – Monaco. But we know who the majority is. And we finally became truly one. A new nation that emerged on February 24 at 4 am. Not born, but reborn. A nation that didn't cry, didn't scream, didn't get scared. Didn't run away. Didn't give up. Didn't forget.

This flag will be everywhere it should be by right. Both in Donbas and in Crimea. The enemy thought we would greet him with flowers and champagne. Instead, he received wreaths and Molotov cocktails. He was waiting for an ovation, but hears "claps".

The occupier believed that in a few days he would be on parade in our capital's downtown. Today, you can see this "parade" on Khreshchatyk. The proof that enemy equipment can appear in the center of Kyiv only in such form. Burnt, wrecked and destroyed.

It doesn't matter to us what kind of army you have, what matters to us is our land. We will fight for it until the end.

We are holding on for six months. It is difficult for us, but we clenched our fists fighting for our fate. Every new day is a new reason not to give up. Because, having gone through so much, we have no right not to reach the end. What is the end of the war for us? We used to say: peace. Now we say: victory.

We will not seek an understanding with the terrorists. Although we understand the Russian language that you came to defend. And killed thousands of people you came to liberate.

And Johnson, who speaks English, is much more understandable and close to us than murderers, rapists and looters who did it in Russian.

And we don't sit down at the negotiating table because of fear, with a gun pointed at our head. For us, the most terrible iron is not missiles, aircraft and tanks, but shackles. Not trenches, but fetters.

And we will put our hands up only once – when we will celebrate our victory. The whole of Ukraine. Because we do not trade our lands and our people. For us, Ukraine is all of Ukraine. All 25 regions, without any concessions or compromises. We do not know these words, they were destroyed by missiles on February 24.

Donbas is Ukraine. And we will return it, whatever the path may be. Crimea is Ukraine. And we will return it. Whatever the path may be. You don't want your soldiers to die? Free our lands. You don't want your mothers to cry? Free our lands. These are our simple and clear terms.

The free people of independent Ukraine!

We are facing this day in different places. Someone is in trenches and dugouts, in tanks and IFVs, at sea and in the air. Fighting for independence on the frontline. Someone is on the road, in cars, trucks and trains. Fighting for independence by delivering what is necessary to those on the frontline. And someone is on a smartphone or on a computer. Also fighting for independence by raising funds so that those on the road have something to bring to those on the frontline.

We are facing this day in different circumstances, conditions and even in different time zones, but with one goal – preservation of independence and victory of Ukraine!

We united.

Happy Independence Day of Ukraine!

Glory to Ukraine!
Here is President Biden's statement:
Statement from PresidentBiden on Ukraine IndependenceDay

On behalf of all Americans, I congratulate the people of Ukraine on their Independence Day. Over the past six months, Ukrainians have inspired the world with their extraordinary courage and dedication to freedom.  They have stood resolute and strong in the face of Russia's full scale invasion of Ukraine. And today is not only a celebration of the past, but a resounding affirmation that Ukraine proudly remains – and will remain – a sovereign and independent nation.

The United States of America is committed to supporting the people of Ukraine as they continue the fight to defend their sovereignty. As part of that commitment, I am proud to announce our biggest tranche of security assistance to date: approximately $2.98 billion of weapons and equipment to be provided through the Ukraine Security Assistance Initiative.  This will allow Ukraine to acquire air defense systems, artillery systems and munitions, counter-unmanned aerial systems, and radars to ensure it can continue to defend itself over the long term.

I know this independence day is bittersweet for many Ukrainians as thousands have been killed or wounded, millions have been displaced from their homes, and so many others have fallen victim to Russian atrocities and attacks. But six months of relentless attacks have only strengthened Ukrainians' pride in themselves, in their country, and in their thirty-one years of independence. Today and every day, we stand with the Ukrainian people to proclaim that the darkness that drives autocracy is no match for the flame of liberty that lights the souls of free people everywhere. The United States, including proud Ukrainian-Americans, looks forward to continuing to celebrate Ukraine as a democratic, independent, sovereign and prosperous state for decades to come.
Here are the details regarding the new military aid package the Biden administration announced today:
‼️ Details of the new $3 billion US military aid pkg to #Ukraine:

▪️ +6 NASAMS and ammo
▪️ 245,000 rounds for 155mm howitzers
▪️ 65,000 rounds for 120mm mortars
▪️ 24 counter-artillery radars
▪️ PUMA drones
▪️ VAMPIRE counter-UAS
▪️ Laser-guided rocket systems
▪️ Other funding. pic.twitter.com/PnQ40egcPA

— Ostap Yarysh (@OstapYarysh) August 24, 2022
And, as expected, the Russians did not take the day off to celebrate:
Earlier appearance of these photos on the Dnepr Operativ Telegram channel: https://t.co/vJ05D24Jf4

— Aric Toler (@AricToler) August 24, 2022
We knew that Russia will commit brutal and devastating attack on Independence Day of Ukraine. At least 15 killed, 50 injured after missile strike on railway station in Chaplyne, Dnipro. Another strike on railway hub in Shepetivka, Khmelnytskyi. Air raid alerts continue in Kyiv. pic.twitter.com/meq1oTUGTx

— Maria Avdeeva (@maria_avdv) August 24, 2022
As I teased above, The Washington Post has published the third part in their long form reporting on the war for Ukraine. Today's dealt with the responses and decisions made by the Ukrainian civilian and military leadership. It is worth taking the time to read the whole thing!
Vitaly Rudenko, a commander at the national guard base just outside the airport gates, looked up in disbelief. "Until the final moment, I didn't believe it. Maybe I didn't want to believe it," he said.

In Kyiv, Ukraine's military leadership had descended into a fortified shelter. Defense communications aides hurried down the hallway in pursuit of Lt. Gen. Yevhen Moisiuk, the No. 2 officer in Ukraine's armed forces, to ask him what message they should deliver to Ukrainians as Russian forces entered their towns.

Moisiuk stopped walking and spun around.

"Tell everyone: 'Kill the occupiers,' " Moisiuk said. "Kill the occupiers!"

Bookish and pensive, Gen. Col. Oleksandr Syrsky is the kind of seasoned military officer who plans for all contingencies — even the scenarios he deems highly unlikely.

The notion that Kyiv — where urban warfare would vex even the most sophisticated military — could be Putin's primary initial target defied belief for most of the Ukrainian elite, even within the armed forces.

"To think the leadership of Russia would unleash such brazen, large-scale aggression, honestly speaking, I could not even imagine it," recalled Syrsky, who had fought Russia and its separatist proxies in eastern Ukraine and was tapped to lead Kyiv's defense just before the invasion. "It seemed to me that if active hostilities were to start, they would most likely start in the east, around or within the borders of the Donetsk and Luhansk regions.

"But we're the military," said Syrsky, one of several top Ukrainian military and political officials who spoke at length about the battle for Kyiv, some of them, like Syrsky, in their first extensive interviews. "Therefore, regardless of what I believed or didn't believe, how it all seemed, I still carried out the activities required."

Given the array of Putin's forces along Ukraine's borders, Syrsky had determined that if the Russians did attack Kyiv, their columns would advance along two or three major highways on what they foresaw as a fast, decapitating drive to the government quarter in Kyiv. The Kremlin battle plan assumed the city would be left defended by only weak Ukrainian forces, disoriented by the political chaos as Zelensky and his ministers fled.

To protect the city, Syrsky had organized two rings of forces, one in the outer suburbs and one within the capital. He wanted the outer ring to be as far from the inner ring as possible to protect the downtown area from shelling and keep the Russians fighting on the approaches to Kyiv.

Syrsky divided the city and the surrounding region into sectors and assigned generals from the military education centers to lead each area, creating a clear chain of command to which all Ukrainian military units and security services would answer. Tactical decisions would be made immediately by officers on the ground without having to consult headquarters.

About a week before the invasion, the Ukrainian military had moved all command posts into the field toward the probable axes of a Russian advance. Syrsky had also issued an order to move the army's aviation assets, including helicopters and jets, off major bases, putting them well away from obvious airstrike targets.

When it came to tank power, however, only one mechanized brigade, the 72nd, was available to defend the capital — clearly insufficient for such a large city. As a fix, Syrsky said, he ordered all the military education centers to create special makeshift battalions and had the artillery systems normally used for training brought to the capital area.

Some of those systems came from the Divychki training center southeast of Kyiv, where Ukraine years earlier had brought back into service heavy Soviet-era tanks known as 2S7 Pions, or Peonies. Juggernauts of artillery warfare, each weighing 46 tons and carrying 203mm howitzers, they can fire shells of over 240 pounds more than 20 miles.

Syrsky ordered his artillerymen to take up defensive positions outside the city, to the northeast and northwest, the areas likely to face a Russian onslaught.

That single move turned out to be critical, according to Kyiv's mayor, former boxing champion Vitali Klitschko, because Russia targeted the bases where those systems were normally housed in the very first hours of the war.

"The leadership of the country said there wouldn't be a war, but the military knew," Klitschko said.

The Ukrainians largely kept their preparations to themselves. A senior U.S. defense official said Washington knew more about Russia's plan to invade than about Ukraine's plan for defense, fueling doubts about how Kyiv would fare. U.S. officials suspected that the Ukrainian military was wary of sharing war plans while its political leadership was downplaying the likelihood of war, the official said, speaking on the condition of anonymity to discuss a sensitive matter.

Ukrainian Defense Minister Oleksii Reznikov said he was one of the leaders who didn't believe an all-out assault was coming.

European officials had been assuring him they didn't see the same threat the United States and Britain did. According to Ukraine's own intelligence assessments, Russia also didn't have enough forces amassed over the border to capture or occupy a city the size of Kyiv.

On Feb. 22, Reznikov had spoken over the phone with his counterpart in Belarus, Viktor Khrenin, who promised that Russian forces on Belarusian territory would not invade — offering his word as an officer, the Ukrainian defense minister said.

"And he was a liar," Reznikov said.

Two days later, after the invasion had begun, the two men spoke again. Reznikov heard a nervous and uncomfortable voice on the other end of the line. The Belarusian minister said he was conveying a message from his Russian counterpart, Sergei Shoigu, Reznikov recalled: If Ukraine would sign an act of capitulation, the invasion would stop.

Reznikov said he replied, "I am ready to accept the capitulation from the Russian side."

Several hours into the invasion, deep beneath Kyiv's government quarter, Zelensky was breathing the stale air of a bunker that had been built in the Soviet era and hardly touched since.

The head of the National Security and Defense Council, Oleksiy Danilov, had laid out the situation for the president. "The simple issue is that all of our partners are telling us it will be very hard for us, that we have almost zero chances to succeed," Danilov told him.

"We will not receive much support in the first days, because they will look at how we are able to defend the country," he continued. "Maybe they don't want a large amount of weapons to get in the hands of the Russians."

Danilov also issued Zelensky a personal warning. There was credible information that the Russians had set in motion a plan to kill or capture him. At a minimum, Zelensky must ensure that anyone around him with a weapon was a known, loyal person. Whether he should evacuate, Danilov added, was up to him.

To make that decision, "you have to look deep inside," Danilov told the president, without making a recommendation one way or the other. "The stakes are too high."

Others were urging Zelensky to leave. His presidential guard advised him to relocate to a secure location outside the capital and possibly later to western Ukraine, according to Oleksiy Arestovych, a military adviser to the Ukrainian leader.

"Your office is a target," the presidential guard warned, according to Arestovych, who added his own recommendation that Zelensky should leave Kyiv. "There are going to be rockets hitting it and saboteurs will attack."

Even the bunker wasn't safe. "There was talk of them barricading the exits and releasing gas," said Arestovych.

Dark warnings had been emanating from Moscow for years, but this possibility seemed especially twisted. Russian units were approaching Kyiv to "liberate" Ukraine from alleged "Nazis" by threatening the life of its first Jewish president — possibly, his advisers feared, with deadly gas.

The Kremlin had reason to expect Zelensky might leave. Eight years earlier, Viktor Yanukovych, the Ukrainian president backed by Moscow, had escaped to Russia after a pro-Europe uprising in Kyiv. The U.S.-supported president of Afghanistan, Ashraf Ghani, had fled the country in 2021 as the Taliban surrounded Kabul. Russian leaders saw Zelensky, a 44-year-old former comedic actor, as a lightweight who would crumble in the face of tanks.

As the day went on, Arestovych became convinced the Ukrainian military would not be able to defend the capital and told the president as much. "People who understood military things went up to him and said, 'We're not going to hold,' " Arestovych said.

Zelensky eventually erupted. He was staying.

"This is the last time I am going to hear this," Arestovych recalled him saying. "I don't want to hear it again."

Zelensky told Danilov to stop annoying him with constant warnings about threats to his life, asking the National Security and Defense Council chief whether he had anything else to say — anything more important.

"Listen, I am a living person. I don't want to die, like any other person," Zelensky said. "But I definitely know that if I think about that, then I'm already dead."

In the first hours and days, he lived with a constant sense of acute tension, his palms sweating like they would when he was a kid taking exams, he said. Reznikov, the defense minister, would eventually need to see a therapist, he said, because he was so emotionally and physically exhausted.

Zelensky also received appeals about the need to maintain continuity of government from U.S. and European officials, in some cases with offers to help him leave the capital. By ensuring his own security, the officials reasoned, he could prevent a power vacuum.

He saw the situation in exactly opposite terms — if he fled, he would be ceding Ukraine's power center to the Russians without a fight, and it would result in the immediate collapse of the government. How would members of the Ukrainian military feel on the front lines if the president was gone? Zelensky said this wasn't about him clinging to the presidency.

"I'm not trying to hold on to power," Zelensky said he explained to the Western officials. "If the question is that I leave, and that will stop the bloodshed, then I am all for it. I will go right now. I didn't get into politics for that — and I will go whenever you say, if it will stop the war."

Zelensky suspected that some of his foreign interlocutors simply wanted the conflict to end as quickly as possible, with his administration effectively surrendering to Russia.

"Of all those who called me, there was no one who believed we would survive. Not because they didn't believe in Ukraine, but because of this demonization of the leader of the Russian Federation — his power, his philosophy, the way he advertised the might of the Russian army. And so [they thought], with all due respect to the Ukrainians: They won't bring it, they'll be finished off in two or three days, maybe five, and then it will all end."

From the first hours, his chief focus became marshaling the support Ukraine would need to survive — from Ukrainians, who needed to resist, but also from foreign leaders, who needed to send Kyiv weapons and raise the costs for Russia.

In one video call with European leaders, he said, "This may be the last time you see me alive." Ukrainian mothers are watching their children die in pursuit of European values, he told them. It left some of the European officials in tears.

Zelensky's outreach proved to be equal parts inspiration and shaming. As much as he spoke to a given country's leaders, he also appealed to its people, sometimes by serving up blunt truths to their governments in public. He urged German Chancellor Olaf Scholz to "tear down this wall" — a reference to President Ronald Reagan's call to remove the Berlin Wall — arguing that Russia once again was trying to divide Europe. He told German politicians they must do what they could, "so that you will not be ashamed of yourselves after this war."

Yermak, the head of the presidential administration, said that over the subsequent weeks, he regularly texted photos of slain Ukrainian children and ruined Ukrainian homes to the cellphones of officials around the world, including Jake Sullivan, the White House national security adviser; Karen Donfried, the assistant secretary of state for European and Eurasian affairs; and members of Congress.

"I confess these were ghastly photos that were keeping me up at night," Yermak said. "Ninety percent of the people who received them, they reacted, they called back and they started doing even more."
Much, much, much more at the link!
Your daily Patron!
Well, it's such a great day – maybe you'd be interested in joining the anonymous club of Patron lovers, which collects funds for sappers 🤭https://t.co/U5SKts2u7i

— Patron (@PatronDsns) August 24, 2022
Still can't stop watching this amazing video about Ukraine 🇺🇦 https://t.co/6Mf0rZ9HYU

— Patron (@PatronDsns) August 24, 2022
And a new video from Patron's official TikTok:
The caption translates as:
Happy Independence Day, native Ukraine! 🇺🇦 #Glory to Ukraine #Happy Independence Day to Ukraine #dogPatron
Open thread!