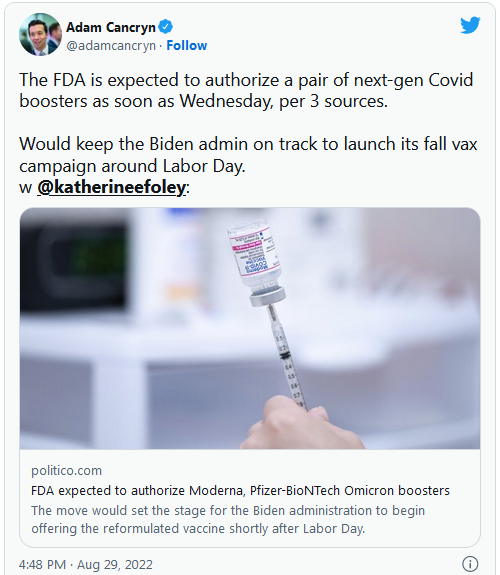 Excellent, if true:
… The government plans to roll out a combined 175 million doses of the new boosters developed by Moderna and Pfizer-BioNTech, with Moderna's shot available to all adults and Pfizer's offered to those 12 and older, according to a federal planning guide published earlier this month.

The boosters, which officials hope will offer greater protection against the BA.4 and BA.5 Omicron sub variants in addition to guarding against the coronavirus' original strain, come as the administration tries to get ahead of a fast-changing virus that continues to infect tens of thousands of Americans a day. The actual number is unknown since so many people self-test at home and don't report their cases to the government.

An FDA spokesperson declined to comment, and people with knowledge of the matter, who were granted anonymity to speak about matters they are not authorized to speak about publicly, cautioned the exact timing could change as the agency races to finalize its work…

Though regulators won't have human data on these bivalent boosters available to consider, Califf noted that they will be evaluating real-world evidence from similar mRNA shots, human data from other bivalent shots and data from studies on mice. The flu vaccine, which is also updated annually, is also only tested in animals before distribution due to the short turnaround time for manufacturers. However, it is not based on the comparatively new mRNA technology.

Pfizer anticipates that it will begin a human trial on the safety and effectiveness of its booster later this month; Moderna already has one such study underway.

The CDC also said that it expects Omicron-specific boosters for children younger than 12 will be ready shortly after boosters for adults become available.
Who's dying in the US?
All ages, last 3 months, weekly, per 100,000 people https://t.co/kQ5k33u3Kx pic.twitter.com/k4y8bLtBpP

— Eric Topol (@EricTopol) August 29, 2022
======
A Chinese think tank issued a rare public disagreement Monday with the ruling Communist Party's severe "zero COVID" policy, saying curbs that shut down cities and disrupt trade, travel and industry must change to prevent an "economic stall." https://t.co/A6nnoz9NH2

— The Associated Press (@AP) August 29, 2022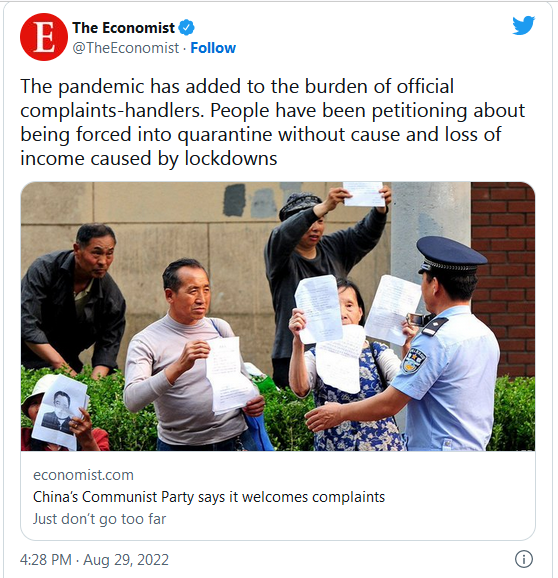 (link)
Hong Kong's iconic Tai Hang fire dragon dance performance, featuring a 67-metre long dragon adorned with burning incense, has been cancelled for a third consecutive year because of the Covid-19 pandemic.

Organisers of the three-night annual event said on Commercial Radio on Tuesday that the government refused to grant them an exemption to hold the performance amid rising Covid-19 infections in the city. The century-old custom traditionally involves around 300 current or former residents of Tai Hang, a neighbourhood near Hong Kong's commercial district of Causeway Bay.

It marked the third time that the event was called off owing to the pandemic. Chan Tak-fai, the commander of the fire dragon dance, said the event was originally scheduled from September 9 to 11 over the Mid-Autumn Festival. Organisers had proposed dividing Tai Hang into seven zones, with Wun Sha Street as the centre, and capping the total number of participants and spectators at 3,000.

All participants would have had to scan the Covid-19 contact-tracing LeaveHomeSafe app, Chan said, and they would need to have received at least three doses of Covid-19 vaccines to take part in or watch the tradition, which villagers believed helped dispel a plague that hit Tai Hang in the 19th century…

"A lot of people called us and asked how come the fire dragon dance – supposedly for warding off an epidemic and killing the germs – did not get approved. We don't know either, it is out of our control," Chan said on the radio programme.

On Monday, Hong Kong logged 8,488 new Covid-19 cases and added four new related deaths. The city saw its highest number of daily infections in five months last Sunday, when health authorities reported 9,708 cases…
Hong Kong reported 8,848 new Covid-19 infections on Tuesday, of which 237 cases were imported. The city also added 13 new deaths.

Full, trusted Covid-19 coverage on HKFP: https://t.co/w8LTgNxKZy#hongkong #COVID19 pic.twitter.com/AD1VhxBbON

— Hong Kong Free Press HKFP (@hkfp) August 30, 2022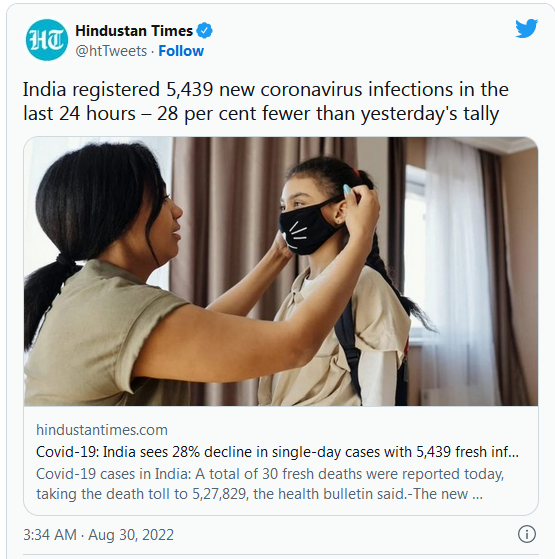 #India added 5,439 new coronavirus infections taking the total tally of #COVID19 cases to 4,44,21,162, while the active cases declined to 65,732, according to the updated Union Health Ministry data.https://t.co/MvbX3X7uma

— The Hindu (@the_hindu) August 30, 2022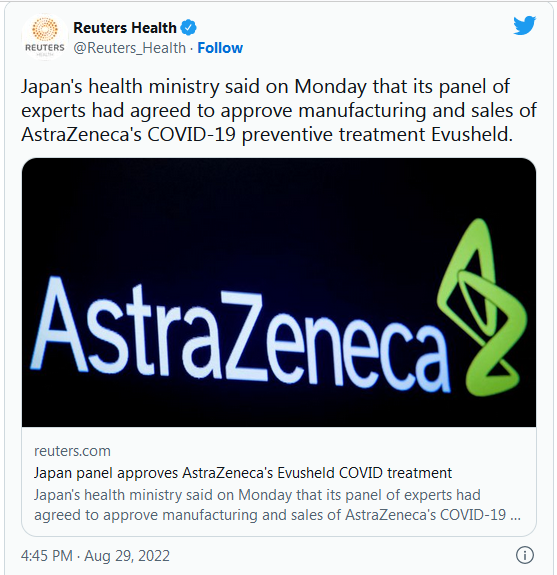 (link)
The total number of infected has reached 19,311,973. As many as 3912 people were hospitalized just in the past 24 hours with 81 fatalities. These data was revealed by the Anti-coronavirus Crisis center.

— BNN Russia (@BNNRussia) August 26, 2022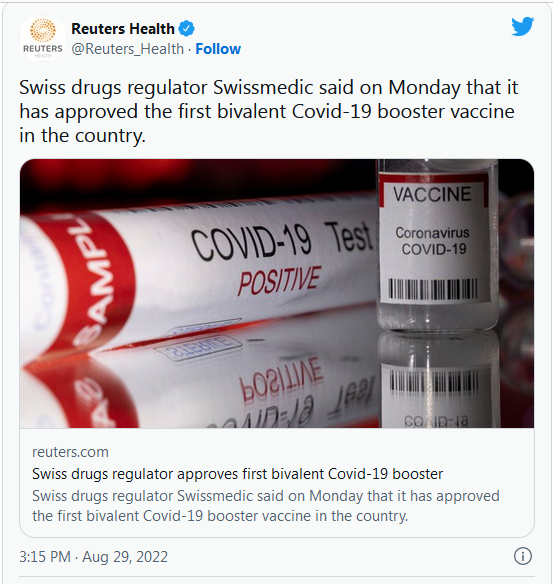 (link)
======
New generation of #Covid vaccine shows promising results https://t.co/MZ0TnoSA2M

— delthia ricks ?? (@DelthiaRicks) August 25, 2022
"The virus is not getting more benign," said @angie_rasmussen. "If the whole population were as immunologically naïve as we were in early 2020, we'd be seeing absolutely staggering deaths tolls from BA.5." https://t.co/TS2P5elGMu via @khnews

— Liz Szabo (@LizSzabo) August 29, 2022
This is your brain on #COVID19 —
"Its 1,000 trillion synapses are constantly being modified every second of every day. It is too early to know if this neuroplasticity can be harnessed for long-covid patients."https://t.co/ZU3pt9Zk0z

— Laurie Garrett (@Laurie_Garrett) August 29, 2022
Scientists uncover how SARSCoV2 blocks antiviral defenses. Team at Francis Crick Institute says the virus manipulates the environment w/in human cells to prevent them from mounting a full-scale assault. Crick team reports the virus has a wily bag of tricks https://t.co/v7HMpqDcxe

— delthia ricks 🔬 (@DelthiaRicks) August 26, 2022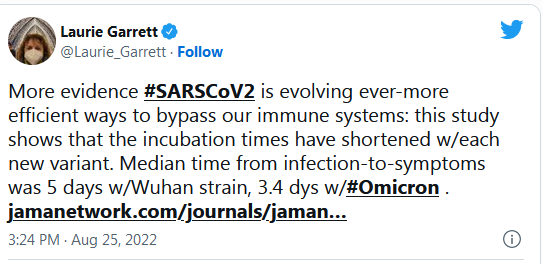 ======
While the #GOP continues to block full funding of federal #COVID19 programs, the #Biden Admin effort to brace America for the Fall is unraveling, for lack of $$ — especially for low income folks. The last batch of free home test kits shipped, & now this: https://t.co/3xQRd3Syo2

— Laurie Garrett (@Laurie_Garrett) August 29, 2022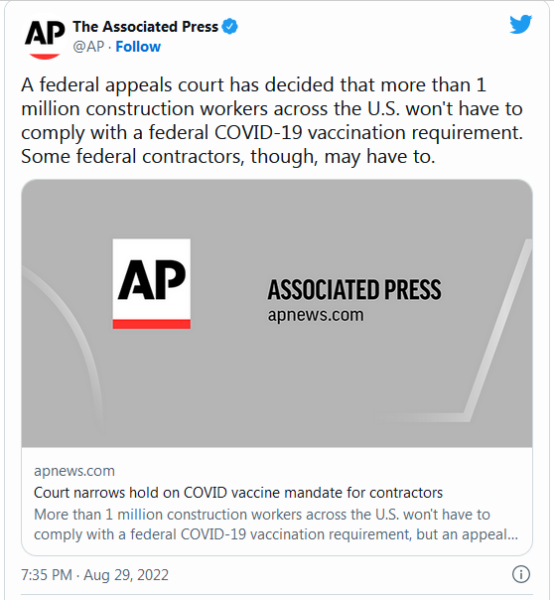 (link)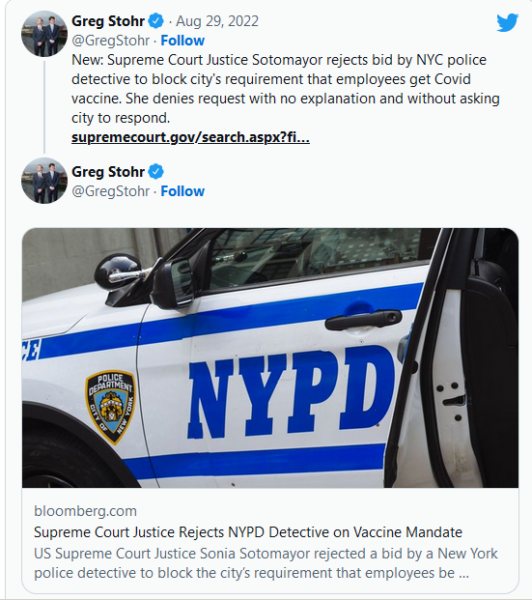 (link)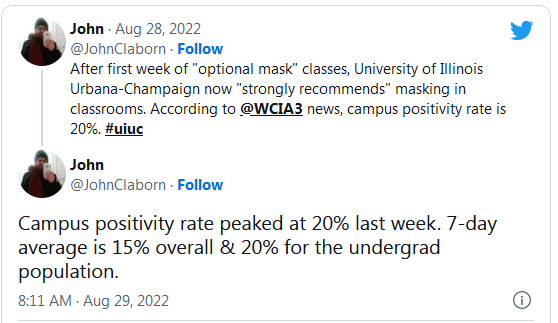 (link)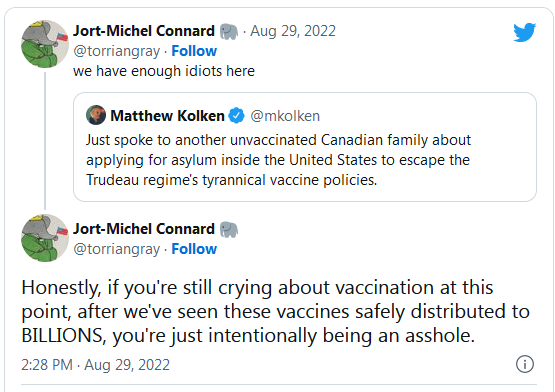 (link)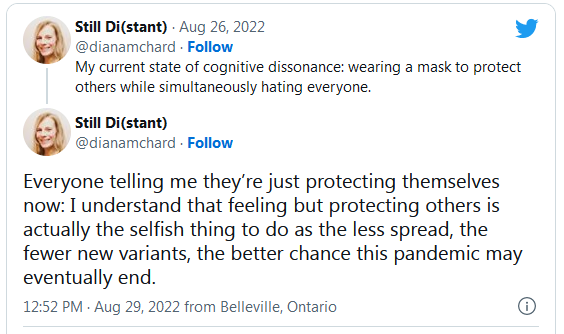 (link)
Reader Interactions