On the Road is a weekday feature spotlighting reader photo submissions.
From the exotic to the familiar, whether you're traveling or in your own backyard, we would love to see the world through your eyes.
Elizabird
My partner, Albatrossity, mentioned in a recent On the Road column that we traveled to Montana in a teardrop trailer to visit his daughter Ellen, and a little spatter of interest in the trailer arose in the comments. As the owner of the trailer, I asked WaterGirl if I might-should write a little guest column and she said, Sure! So please let me tell you how delightful it is to travel this way, after decades of tent camping (and especially backpacking with decreasingly gung-ho knees). The teardrop in question was fabricated in the town of my own birth, Boulder, Colorado, by Colorado Teardrops. (Note: This column includes brand names but is in no way, really and truly, any kind of paid endorsement.)
I wanted a teardrop light enough to pull with my Subaru Crosstrek; large enough to sleep both the 6'4" Albatrossity (so named in part because of his 6' un-feathered wingspan) and me; made in the US (because we need to have some manufacturing jobs in the country); and generally simple in design and features. I chose the Canyonlands model with big, rough-roadable tires (which won't come much in handy when towed by my car, but could with Albatrossity's Rav4 Prime); a queen-sized 4" foam mattress; a battery that can handle lights and a small fan, rechargeable with solar panels or cigarette lighter in the car; a moon roof through which to watch meteors (though it was mostly cloudy at night during my August trip); and other details I'll mention along the way. The towing weight is 1180 pounds, nicely below the 1500-pound capacity of my car. I placed my order in September, 2021 and delivery was scheduled for January, 2022 (one of the shorter turn-around times I came across for such orders). "Delivery" meant Albatrossity and I drove from Manhattan, KS to Boulder, CO to pick it up and then scurried back home quickly with a snowstorm about 6 hours behind us. That was a little anxiety-producing… I'm good at anxiety production, so that wasn't the last time, but the trips since have been great.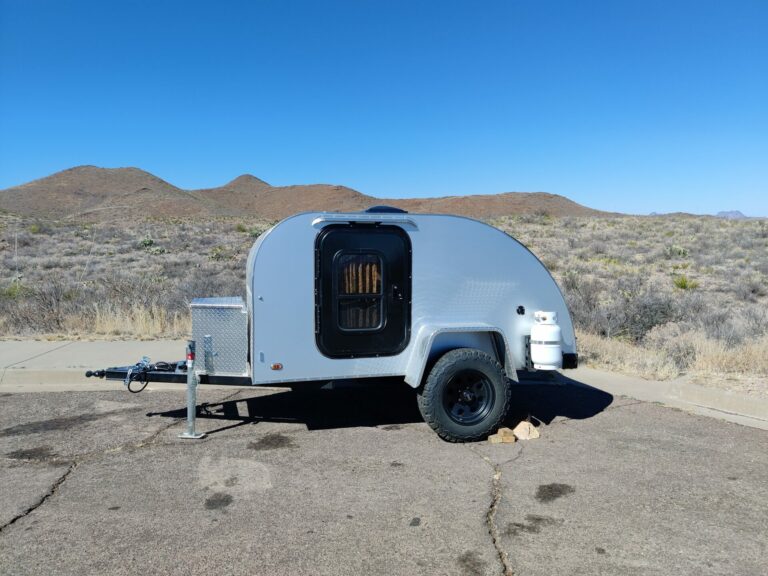 Big Bend National Park, TX
February 14, 2022
The first camping trip was to Big Bend National Park in Texas. My usual backpacking friend, Gina, was very enthusiastic about my new purchase and we scheduled a trip for the second week of February. This could have resulted in weather disasters (once the two of us took shelter in an old church that opened the sanctuary to stranded travelers when a March snowstorm closed the highway in New Mexico), but did we think seriously about that when preparing to have a shakedown trip with a brand-new camper? No, we did not.
For years we've referred to one another with a hyphenated middle name of "Louise," like Thelma and Louise, but neither of us wanted to be Thelma. So: Elizabeth-Louise, Gina-Louise. Quickly I recognized that the trailer really was a kind of girls' clubhouse (It has maple paneling! Cute shelving! A stainless steel "kitchen" counter!) and pretty quickly the vessel was christened the Louisa May. Here Louisa May rests in an overflow lot below the Chisos Mountains, as we wanted to drive up for a mountain hike while moving from one to the other of two reserved  campground stays. You can see the curtains I made through the window. The bubble on top is the vent and fan. The tongue box up front holds tools, jacks like the one visible (two others can be attached to the rear for extra stability and leveling on rough ground), wheel chocks, and occasionally rocks that look like they should be taken home. You may notice it doesn't have a standard hitch connection. This one is designed for travel on rough terrain and also, I think, makes it less likely some jerk will back up to your trailer and try to haul it away while you're off hiking.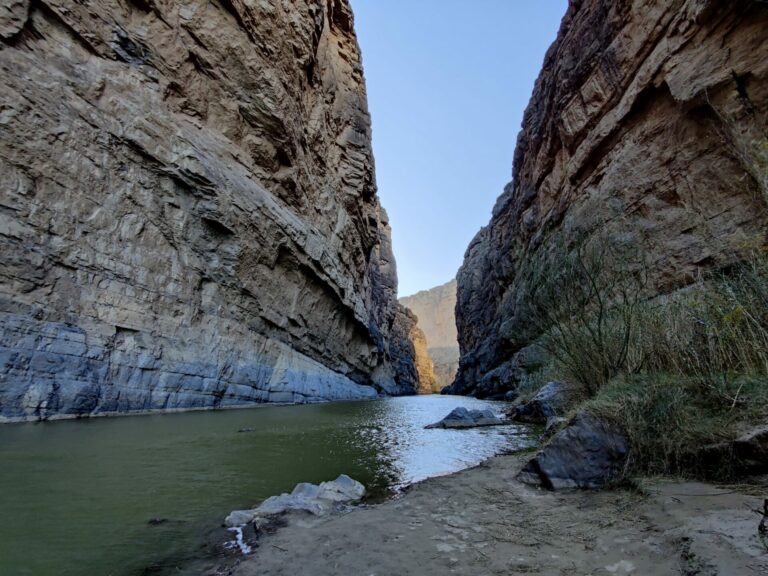 Big Bend National Park, TX
February 13, 2022
First we camped in tiny, primitive Cottonwood Campground on the west side of the park. A fire had swept through a couple of years before and much of the brushy woods along the Rio Grande had burned, but the namesake cottonwoods were intact and the foliage along Santa Elena Canyon, pictured here, had been spared. Lows at night shivered down to about 30 degrees F. I'm told with a stronger battery you can power an electric blanket, but we were fine with down sleeping bags. The Louisa May is well insulated.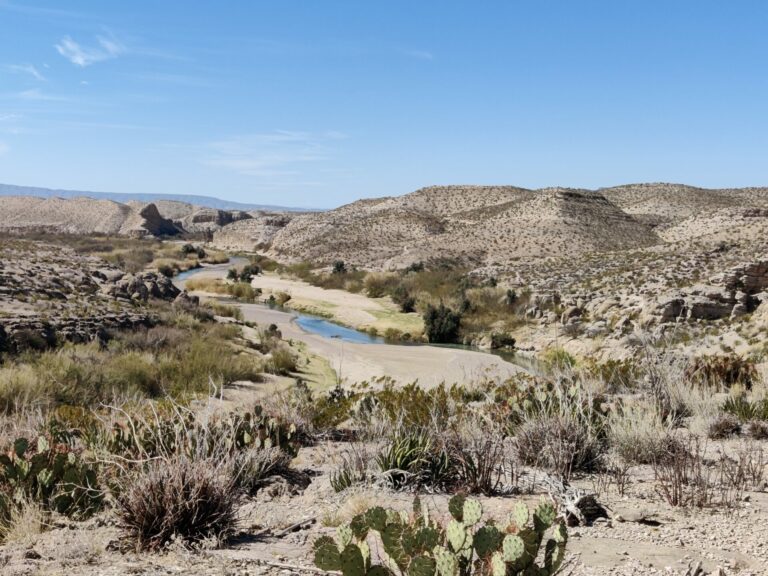 Big Bend National Park, TX
February 17, 2022
Next we moved to the east side of the park, to the sprawling RV village of Rio Grande Campground. One of the day hikes was overland to a natural hot springs beside the river. Mid-day temperatures rose into the 90s, so even though it was February, the hot springs lost their appeal and I simply soaked in the river, fully clothed, before the hot slog back.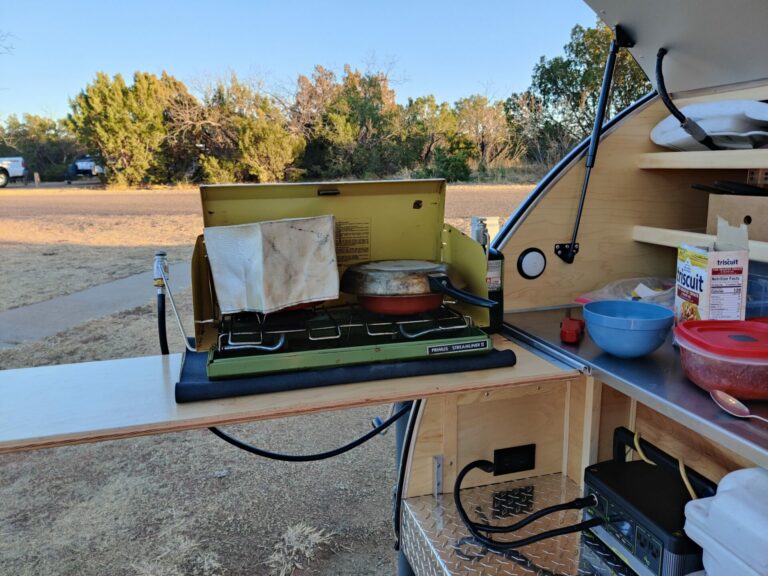 Caprock Canyons State Park, TX
February 19, 2022
On the way back to Kansas we stopped in Caprock Canyons State Park. Located in the hills southeast of Amarillo, this park is home to a herd of bison who roamed freely; I encountered one on my way to the well-appointed restroom building (not pictured). Here you see dinner shaping up in the campground. The dirty-lampshade-looking-thing on the left is a spin-off from the NASA space program, I think: it's my backpacker oven, a flame-proof cover that fits over your pot; the pot rests on a heat diffuser. My model is from about 1998 and is no longer made. The stove I bought used at a garage sale 30 years ago—still works fine, though I've since upgraded to one better suited for cooking for a group. This night's meal was cornbread and bison chili. The chili had been prepared back home, frozen and treated as ice in the cooler for several days, and by now was thoroughly thawed. Also visible here are the steel countertop, the battery, one of the lights that illuminate the galley for after-sunset cooking, and the small white tip of the cooler that fits in a pull-out tray for easy access. Again, with a much heftier battery you can power a small fridge but I opted against that.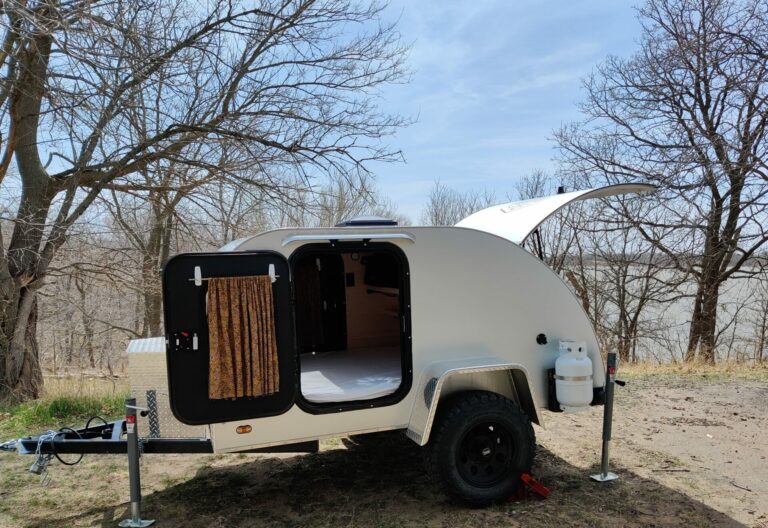 Kanopolis State Park, KS
April 9, 2022
It was April in a cool, late spring when Albatrossity and I went to Kanopolis State Park in Kansas. I often bemoan the lack of public land in Kansas, but this little gem is lovely country. The impounded Smoky Hill River forms the reservoir, but the real attraction for me are the trails through hoodoos, past caves and outcroppings, and along tributary streams.
Here you see one of the rear stabilizers in use since we were camped on some uneven ground. The little black plastic cap just to the left of the propane tank is where you can attach a hose for an 11-gallon water tank. Frankly, I haven't used this feature yet, though if I ever install the heated shower option it'll be necessary. (The Louisa May has neither toilet nor shower inside—just the sleeping area.) For now, it's been easiest to just haul water in my big 5-gallon cube which sits helpfully on any picnic table.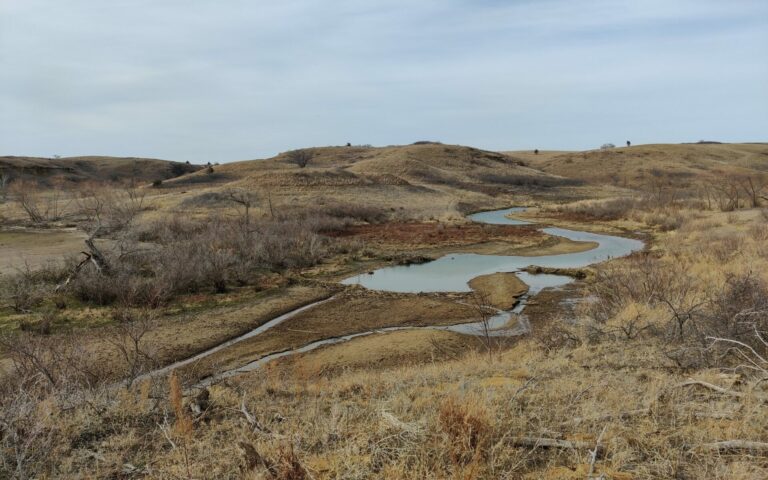 Kanopolis State Park, KS
April 9, 2022
There are many ways to manage water use. Construction on the Smoky Hill River dam began in 1938 and was suspended during WWII, to be completed a decade later. I'm not certain what the primary impetus was: jobs through the New Deal, flood control for cities downstream, another demonstration project for the Army Corps of Engineers, or what. Most rivers in the state are privately owned and there is no right of access, even for canoeing. None are designated Wild and Scenic under the provisions of the 1968 act establishing their protection. Here you see the microhabitats of beaver dams, wild and scenic for sure.
If you prefer the high, dry bluffs and cliffs, you might choose to watch a video of a  Western Diamondback rattlesnake that had emerged on a sunny afternoon and warned me to stay back, which I did. Their presence is a sign of human meddling; evidently someone dumped a few in the 1990s, establishing  breeding population. They're otherwise not found in the state.  Click here to see and hear the snake, or skip ahead if you'd prefer.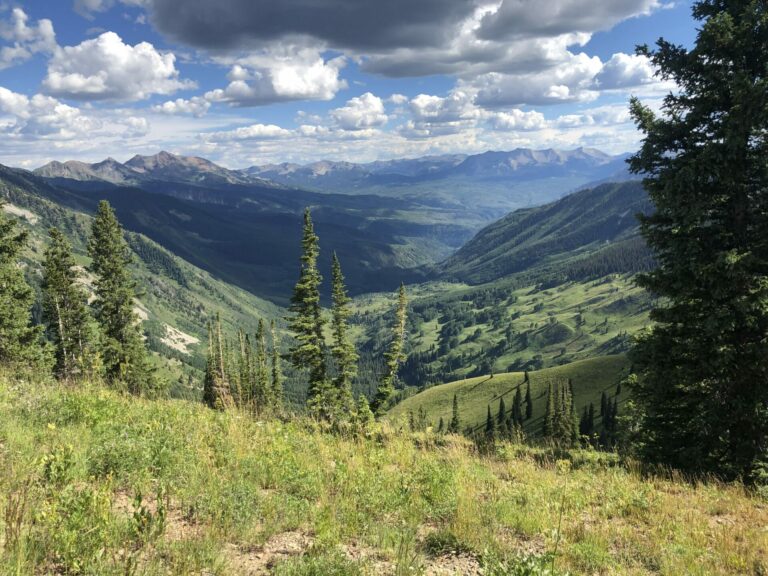 Raspberry Creek Trail, CO
August 8, 2022
For 10 days in August the Louisa May was base camp for a camping trip involving six women. Gina-Louise and I instigated the X-Chromosome Excursions a couple of years ago and this year we camped in the White River National Forest in Colorado. The teardrop was especially welcome after what became an Extreme Challenge on the Raspberry Creek Trail above Marble, CO. I'd hiked this semi-obscure trail maybe five years before, but this year found it quite poorly maintained. Examining the current description on the website, I now see that it warns "Because of the faded and missing sections of this loop this hike can be confusing to follow." Exactly. The trail disappeared in the final ascent from the creek to the high pass, requiring some bouldery bush whacking through a steep meadow; then on the descent loop we encountered three fresh scars where flash floods had cut the trail with stony, muddy gulches, requiring tricky crossings and re-discovery of the trail. A pleasant full-day hike turned pretty much into a forced march, and four of us descended in the dusk to rejoin the remaining members of the party who had declined that particular excursion and were beside themselves with worry about us. Here is a view looking north, snapped from Avalanche Pass (that's its real name) once we had rediscovered the trail from the first snafu, three more to go.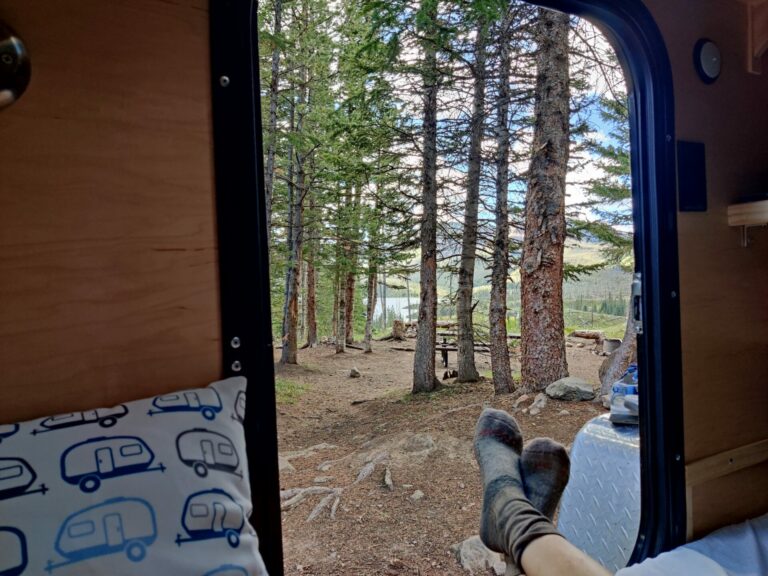 Trappers Lake, CO
August 11, 2022
Following the forced march above Marble, the party separated. Four backpacked into the excruciating heights. The other two took the Louisa May to the northern portion of the White River National Forest. Here's a shot from inside the trailer looking south over Trappers Lake. Note how handy the fenders are for holding shoes. They're not weight-bearing so you can't stand on them, but they do provide a very nice open-air shelf.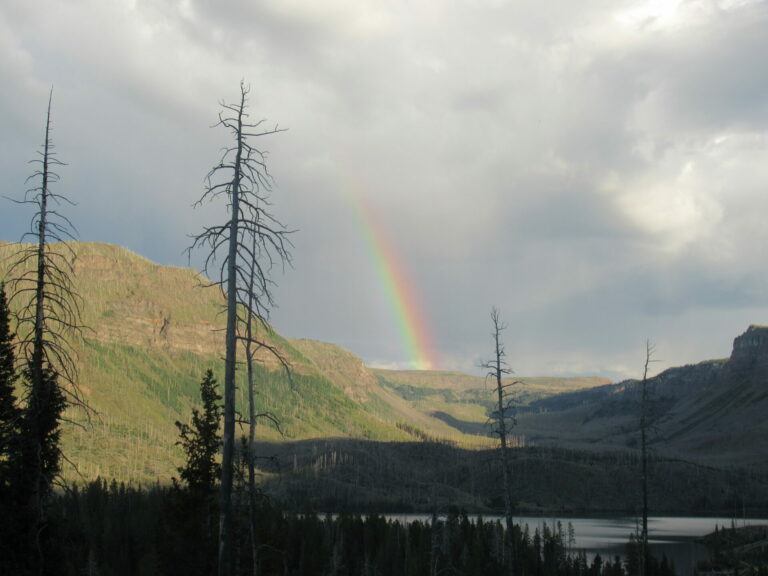 Trappers Lake, CO
August 19, 2022
In 2002 a lightning strike ignited the Big Fish Fire, burning 17,000 acres of the Flat Tops Wilderness around Trappers Lake. In the twenty years since, the char on the felled and standing trees has faded, but little new forest regeneration has taken place–it's mile after mile of wide-open meadow. A few wooded pockets remain untouched by the fire, and a few trees are regenerating, but overall the texture is stubble, bristle, and spine. Still, it was a wonderful place—a few Barrow's Goldeneyes in a high mountain lake, an Evening Grosbeak in one of the pines above the campsite, bear tracks in the mud in a high meadow. Plus this rainbow, the final night of the trip before we retreated to the trailer to listen to the rain.