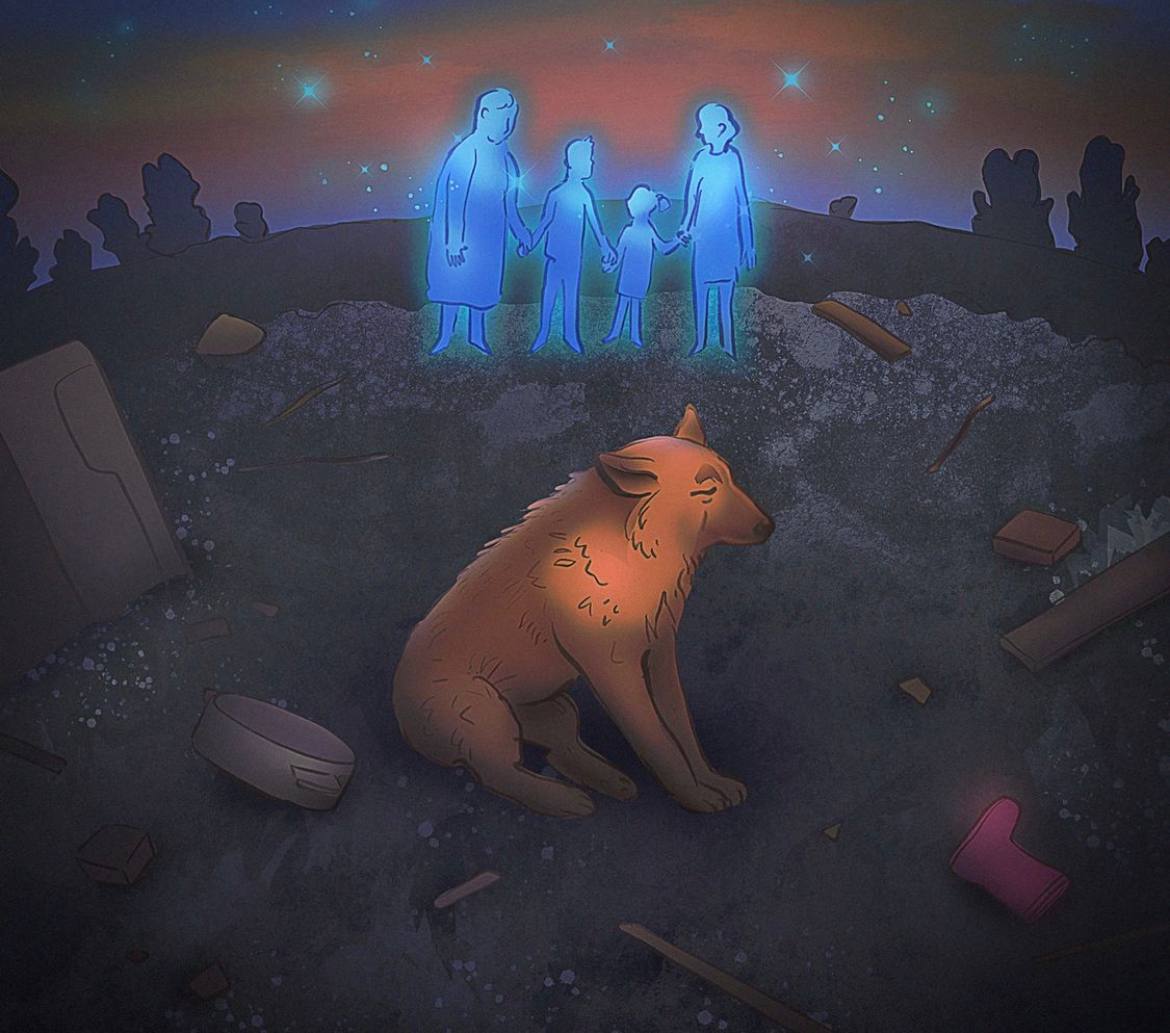 Here is Olga Wilson's description of her piece:
A photo of a dog named Crimea. It's sitting on ruins where his house just recently was located.
On September 29 occupiers attacked private sector of Dnipro. As a result, the whole family died: grandmother, mother and two children – boy and girl.
I've seen it reported that the father is a Ukrainian soldier deployed forward, which is why he is not among the dead… Just let that sink in for a minute. The reason the father was not killed in the bombardment of his family's home in Dnipro is because he's safer deployed forward fighting the Russian invaders of Ukraine.
A bit more on the dog named Krym/Crimea:
The dog Krym became blind and deaf after the explosion. He is currently being examined by a veterinarian.

— Ukrainian Sunflower 🌻 Слава Україні🇺🇦 (@UASunflower) September 29, 2022
This dog, Krym, still waits for granny Alla, mom Natasha, kids Vasylisa & Ivan. For a day now, he has been sitting, crying, on the edge of a 20-m crater, in the place where his house used to be. The dog is crying while russians launch missiles at Dnipro again. pic.twitter.com/7zBjcHCrZg

— Defense of Ukraine (@DefenceU) September 30, 2022
It's been quite the day, so let's run through the basics and get to what is going on in Lyman and Putin's decision to once again declare war on everyone he considers to be the West, especially the US.
Here is President Zelenskyy's address from earlier today. Video below, English transcript after the jump:
War for Ukraine Day 218: Quite the Day, Huh?Post + Comments (98)