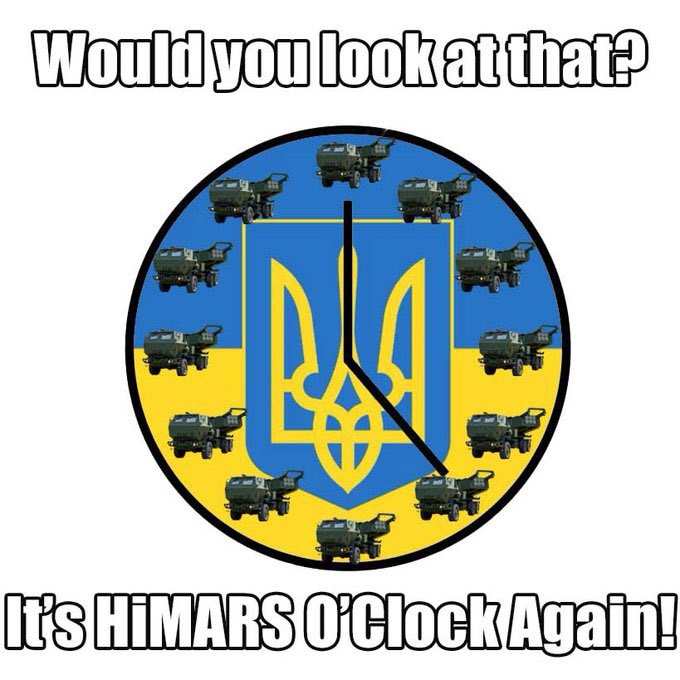 I got my bivalent booster last night and I've started feeling a bit flushed, so let's get right to it.
Here's President Zelenskyy's address from earlier this evening. Video below, English transcript after the jump:
Ukrainians!

It is with deep sadness that I learned of the death of Her Majesty Queen Elizabeth II. A great loss for all of Europe, for the world. On behalf of the people of Ukraine, I extend condolences to the Royal Family, the entire United Kingdom and the Commonwealth. Our thoughts and prayers are with you.

US Secretary of State Antony Blinken paid a visit to Kyiv today. We held negotiations very useful for both our countries, as we are making a common cause, defending freedom. I thanked the Secretary of State for his personal role in helping us; President Biden – for the decisive and effective leadership; the US Congress – for the unwavering bipartisan and bicameral support, and every American – for their sincere understanding of our struggle.

We have President Biden's decision on a new $675 million defense aid package. It was also announced that Ukraine will receive more than a billion dollars from the general package of support for European democracies. Each of these steps of our partners has a real impact on the strength of our state and the whole of Europe in defense against Russian terror.

As always, the range of topics at the negotiations with Mr. Secretary of State was wide. We discussed political cooperation, our interaction in the financial sphere – macroeconomic support is now as important as support with weapons and ammunition. Of course, attention was paid to the Fast Recovery Plan and, in general, to the reconstruction of Ukraine after the Russian strikes.

I've raised the issue of officially designating Russia a terrorist state. The legal reality must always correspond to the actual reality. And it is a fact that Russia has become the biggest source of terrorism in the world. You can choose one or another format of procedures, one or another formula of legal pressure against Russia for terror, but the world must receive an unequivocal signal that Russian terror will not be forgiven.

I continue to establish new ties for Ukraine – I had a conversation with the President-elect of Kenya, the first conversation in the history of relations between our states. I congratulated him on winning the elections, and we agreed to enhance cooperation. We also talked about overcoming the food crisis – we are doing everything for this.

Just today, four ships with agricultural products for Asian countries left our ports. At these hours, more than 65 thousand tons of wheat enter the port of Sudan for unloading. Yesterday, a bulker with wheat departed for Kenya – more than 50 thousand tons. Vessels for Lebanon and Libya are now being loaded in Odesa. In the Pivdennyi Port, a ship bound for India is waiting to be loaded… That is, the geography of Ukrainian agricultural exports by sea is very broad.

Literally every working day of the grain export initiative refutes Russian lies about it. Ukraine supplies agricultural products to consumers from different continents. And it is our supply that guarantees food security at the global level.

I held a new meeting of the Staff of the Supreme Commander-in-Chief today. First of all, regarding our active actions on the frontline. Within the ongoing defense operations, our heroes have already liberated dozens of settlements. And today this movement continued, there are new results.

In total, more than a thousand square kilometers of our territory have been liberated since September 1. I am grateful to everyone who made it happen! I am grateful to the army, intelligence officers, and special services for every Ukrainian flag that has been hoisted these days.

We listened to the reports of the commanders of operational areas at the meeting today, there are certain decisions. The Staff will continue its work in the format of such fairly frequent meetings, so that our commanders on the ground have full support at all levels and so that the Armed Forces of our country, intelligence and the entire defense and security sector receive all the necessary resources, all the necessary material, political, information, diplomatic and any other means for the effective defense of Ukraine and the expulsion of the occupiers.

All state activity is focused on the needs of the front and protection of our people.

I am grateful to all Ukrainian warriors, to all those who fight for freedom for our people – both in the south and in the east, those participating in the battles at the front and those who contribute to our victory with respective operations in the rear of the enemy. The liberation of our land is the merit of everyone who clearly and timely fulfills the general defense plan.

And I especially want to thank today the fighters of the 115th separate territorial defense brigade of the Operational Command "North", who distinguished themselves with bravery and the necessary results for Ukraine in the battles in February-March, when they stopped the advance of the enemy, and who continue to defend our state in the north direction. I am also grateful to the fighters of the 117th separate territorial defense brigade operating in the direction of Sudzha – Sumy, and the 1st tank brigade, which is firmly holding its position in the direction of Gomel – Horodnya.

We remember all the threats, we thank all our heroes. I want to once again call on those who inform the society, who comment on the military situation: please analyze the whole picture, express gratitude and support to all our defenders, do not forget about any of them.

Eternal glory to all those who stood up for the defense of Ukraine!

Eternal glory to our indomitable people!

Ukraine is and will be free!

Glory to Ukraine!
The Ukrainian MOD did not post an operational update today.
Secretary Austin and GEN Milley gave a joint press conference after the Ukraine Defense Contact Group meeting ended at Ramstein Air Force Base (emphasis mine):
STAFF: Good afternoon, everyone. Thank you for being here today.

It is my pleasure to introduce Secretary of Defense Lloyd Austin III, and chairman of the Joint Chiefs of Staff, General Mark Milley. The secretary and the chairman will deliver some opening remarks, and then we'll have time to take a few questions. I will moderate those questions and call on journalists, and would ask that we limit follow-up questions due to our schedule today.

Secretary Austin?

SECRETARY OF DEFENSE LLOYD J. AUSTIN III: Well, thanks, Pat. Good afternoon, everyone.

We came into our fifth meeting of the Ukraine Defense Contact Group with lots of momentum, and we're leaving today with even more. I'm pleased to report that this contact group is now even more united and resolved to keep up our shared support for Ukraine's right to defend itself. That means meeting Ukraine's needs for today's battlefield, and I'm especially pleased by the emphasis today on positioning this contact group to support Ukraine's self-defense over the long haul. It means finding new and innovative ways to support the Ukrainian military and the Ukrainian people as they defend their country, their lives and their freedom.

Now, it's especially meaningful to be back here at Ramstein Air Base today. Ramstein is where we first launched this important contact group back in April, and since that first meeting, the United States has increased our military assistance to Ukraine by nearly four-fold. And yesterday, President Biden approved the latest tranche of U.S. assistance to Ukraine. It's valued at up to $675 million dollars, and it's the Biden administration's 20th drawdown of equipment from U.S. stocks for Ukraine since last August. The new package includes more HIMARS, ammunition, 105 mm howitzers, artillery ammunition and HARM missiles, Humvees and armored ambulances, anti-tank systems, small arms and more.

And nations of goodwill from around the world have stepped up, as well. Every time that we come together to meet Ukraine's urgent self-defense needs and every time that a contact group member announces another new security assistance package, it's yet another sign of the free world's enduring support for Ukraine's — for — for Ukraine and its refusal to accept Russia's imperial aggression.

I'm especially grateful that we got to hear again today from my good friends, Oleksii Reznikov, Ukraine's minister of defense, and Lieutenant General Moisyuk, Ukraine's deputy chief of defense. It's deeply meaningful to have them here with us in person as Ukraine begins its counteroffensive in the south, and I want to thank my brave Ukrainian colleagues for sharing their insights from the battlefield.

Now, Ukraine — Ukraine's defenders have been putting the military aid that we've all been sending them to immediate and effective use, and just look at how the Ukrainian forces have been using high-end capabilities like HIMARS and M270 rocket systems in their broader push to reclaim Ukraine's sovereignty — or Ukraine's sovereign territory.

Russia is responding with a campaign of cruelty. Putting — Putin's forces are shelling and — shelling civilians and — and cities, and I'm especially concerned that Russia is creating combat conditions around the Ukrainian nuclear plant of Zaporizhzhia. That's deeply reckless, and it could have great consequences.

So we won't let up in our support for Ukraine's self-defense, not today, not tomorrow. The countries represented here today have shown their resolve to support Ukraine's bedrock sovereign right to defend itself, and they've shown leadership in pushing to innovate, to integrate, to train and to produce to meet Ukraine's security needs for the long haul.

We had some good conversations today about Ukraine's self-defense priorities. Right now, Ukraine urgently needs more artillery systems and ammunition. It also needs air defense and coastal defense and other critical capabilities. The United States has stepped up to meet those needs, and I'm very glad that so many of our allies and partners have, as well.

Beyond that, this contact group will keep coming up with new ways to support Ukraine for the road ahead, and many countries continue to dig deep and provide equipment out of their own military stocks, and that can mean purchasing new equipment from their own defense industries, or even purchasing new equipment from other countries that they can send to Ukraine.

Countries in our contact group are also leading efforts on training, maintenance and sustainment, and that will help ensure that Ukraine has the capabilities that it needs to succeed on the battlefield, now and in the weeks and months ahead. I want to especially thank the U.K. for establishing a basic — basic training program for new Ukrainian recruits. And getting more trained professional soldiers into the fight is especially key as Russia sends more and more untrained soldiers into battle.

I also want to thank our eastern flank allies, namely, Poland, the Czech Republic and Slovakia, for reinvigorating their industrial bases to meet Ukraine's self-defense needs. Their round-the-clock efforts to manufacture new armaments are key to Ukraine's success. And we're going to move even faster and push even harder.

So I'm proud to announce that, in the next few weeks, in coordination with NATO, the United States will host a special session under the auspices of this contact group to bring together our senior national armaments directors. And they will discuss how our defense industrial bases can best equip Ukraine's future forces with the capabilities that they need. We also — we'll have much more on this topic, and the details of the session very soon.

And it's a reflection of something that's central to this contact group. We're working together to arm and to train Ukraine on the current fight, yet we're also working together to help Ukraine defend capable — or develop capable sustainable forces to defend itself and deter aggression over the long term.

Ukraine is fighting for its life. It's fighting for its sovereign territory and its democracy and its freedom. But the stakes reach far beyond the front lines. They reach us all. But members of this contact group aren't just helping defend Ukraine; they're helping to defend the rules-based international order that emerged after the horrors of the Second World War.

And for the past 70 years that rules-based order has made the world more secure, more stable, more free and more prosperous. So the United States will continue to stand with Ukraine today and tomorrow. And along with our allies and partners, we will increase the momentum. And we'll work together to help Ukraine build up its enduring strength and its lasting ability to defend itself.

So thank you, and now let me turn it over to General Milley.

GENERAL MARK A. MILLEY: Thanks, Secretary Austin. And good afternoon, everyone.

And on behalf of all the CHODs and — and the — and the ministers of defense that were here today, I want to publicly thank Secretary Austin for his leadership. This contact group would not exist without his energy and initiative. This is our fifth meeting, and it's been very consequential to the results that Ukraine has achieved. And we have had today, I think it's around 50 countries who are represented here in this particular contact group. So thank you, Secretary, for that.

And I also want to thank — publicly thank Ukraine's minister of defense and the chief of defense, General Zaluzhnyi, my counterpart, whom I talk to very frequently, several times a week, in close coordination, on their needs and requirements as we go forward.

More than six months have passed since Russia launched an illegal invasion of a free and independent country named Ukraine, that has been free and independent since 1991. In this time, in the last six months, the Ukrainians have withstood brutal assaults on their capital and other major urban areas throughout their country. They have sustained countless missile strikes and artillery barrages. They've borne the brutal costs of thousands, tens of thousands of casualties killed and wounded.

Many civilians have perished due to indiscriminate Russian attacks. There's almost 15 million refugees and internally displaced persons. Significant infrastructure in Ukraine has been damaged. The Ukrainian people have suffered tremendously, and yet they remain a free, independent, and sovereign country. You came — Ukraine remains strong and free because of the bravery of their people, the competence of their military, and the support of the International Community.

The group of countries that gather here today remain committed to Ukraine and to the people of Ukraine, for their desire to live freely, live free of Russian occupation and live free of Russian violence. The vital work of this contact group is truly extraordinary.

The Russian invasion shatters the international norms that the Secretary talked about — the international norm of the rules-based international order, the rule of law, the understanding that the — the powerful cannot attack the weak.

The International Community, and not just the countries of Europe but really around the globe, understand that. And Russia's unprovoked invasion upended that rules-based order, and so the world responded. And Ukrainians continue to employ the security assistance that they've been provided incredibly effectively.

The Russians have achieved minor tactical success in various parts of eastern Ukraine, but so far, Russian strategic objectives have been defeated. The war is not over, but so far, the Russian strategic objectives have been defeated. That's due to their failures and also due to the bravery of the Russian — or the Ukrainian military, the bravery of the Ukrainian people, and the support of the countries that were at the contact group today.

They've adjusted their strategy, the Russians have, and their tactics but so haven't (sic) the Ukrainians. It's a war and there is give and take, there's action, reaction and counter-action. But despite being outgunned and outmanned, the Ukrainians have demonstrated superior tactical proficiency and they've demonstrated a superior will to fight, fight for their own country, fight for their freedom.

As assistance flows into the country, we have observed the Ukrainians effectively couple the weapons systems that we have provided them with combined arms maneuver, excellent command and control, to achieve desired effects, and we see this playing out today with the Ukrainian recent operations in the south.

Let me give you a very brief battlefield update. As you know, the Russians attacked beginning 24 February — so think in terms of 24 February to about the middle of April. The Russians continue the strategic attack to try to capture Kyiv, get to the Dnipro River, assault through the south out of Crimea, into the Donbas, and then also potentially conduct an attack against Odessa. Those attacks failed. They didn't seize the capital, they didn't topple the government, they didn't get to the Dnipro River, and they didn't seize Odessa.

So in the beginning of April, the Russians adjusted their war aim and they consolidated their forces in the east, in order to attack and seize all of the Donbas and hold Odessa at risk. They launched that offensive on or about the 15th or 16th of April and they have been defeated in that.

Their operational objectives in that offensive have not been successful. They have not achieved (all of the Donbas)(sic), and they have only crossed the Dnipro River in the south, in the vicinity of Kherson. So their operational aims, in addition to their strategic aims, have been defeated by a very successful defense conducted by Ukraine.

At the beginning of this month, on or about the 1st of September, Ukraine launched an offensive in order to seize the operational and strategic initiative. That offensive is ongoing. That offensive is in its early stages and it's too early to give a full assessment, but to date, Ukraine is effectively using their fires to shape the ground maneuver as they continue their offensive in the south. And what we're talking about is the area just north of the Dnipro River, in the vicinity of Kherson. And I'll be happy to answer any specific questions anybody may have on that when we get to the Q&A.

The discussions from today's meetings were not just about support to the current fight but equally important is the longer term. As of today, as you know, we, the United States, have transferred 16 HIMARS to Ukraine with thousands of GMLR rounds, hundreds of thousands of artillery 155 ammunition, along with 126 M777 artillery tubes, thousands of anti-tank weapons, thousands of anti-aircraft weapons.

HARM missiles have been transferred to the Ukrainians to help them out — in addition to that, small arms and a lot of non-lethal equipment. The United States has provided almost half a million rounds of 155 artillery, as an example.

The United States made a significant commitment but so have the other countries. All of the countries are providing and according to their need and Ukraine is being well supplied with all of the systems needed to defend themselves.

We are seeing real and measurable gains from Ukraine in the use of these systems. For example, the Ukrainians have struck over 400 targets with the HIMARS and they've had devastating effect.

Russian lines of communication and supply channels are severely strained. It is having a direct impact on the Russian ability to project and sustain combat power. Russian command and control in the headquarters have been disrupted and they're having — they're having great difficulty resupplying their forces and replacing their combat losses.

The war is not over. Russia's a big country. They have very serious ambitions with respect to Ukraine. So sustainment of Ukraine to continue their fight for their survival will be necessary. And moving forward, I know that the Secretary and all of the members of the contact group are going to work together in the future with our counterparts to continue to provide Ukraine with what they need to continue their quest for their freedom.

The nature of war is often unpredictable but we are committed, shoulder to shoulder with Ukraine, to ensure they remain a free, independent, and sovereign country.

Thank you, Secretary, and I look forward to all of your questions.

STAFF: Thank you, Mr. Secretary. Thank you, Chairman.

Our first question will go to Idrees Ali from Reuters.

Q: Mr. Secretary, your administration has indicated that they will go back to Congress for additional funding for Ukraine's war needs, and some lawmakers have already expressed skepticism about their willingness to — to pass additional funding.

Can you explain to the American taxpayers why did — why Congress should approve additional funding for military aid to Ukraine, given that the domestic economy is still in a precarious situation?

And — and for the chairman, you mentioned the counteroffensive. Would you describe the progress the Ukrainians have made in the south as — as being modest, as being sort of slower-than-expected? How would you describe it? And are you concerned that now that they have started a counteroffensive partially in the east as well, that they might be sort of overstretched in their capabilities?

SEC. AUSTIN: Well, thanks, Idrees. As you know, what we've seen in terms of support from Congress to this point has been broad bipartisan support, and based upon the interest and the — and the — and the support that we've seen, I fully expect that we'll continue to receive broad bipartisan support because, you know, our leaders recognize how important this is, how important it is that — that we continue to help Ukraine have the ability to protect its sovereign territory. So clearly, you know, as we — as we ask for resources, there's always an expectation that we are able to lay out the — the rationale for those — for those requests, and we'll — we'll certainly do that.

But I — what I would say is that what we've seen from the Ukrainians thus far — and the chairman highlighted this in — in a very straightforward way — the Ukrainians have put to use, good use, the equipment that we've provided them, and we see those effects on the battlefield as we speak. HIMARS are — are one example, but there are other examples, as well. The Ukrainians have inflicted significant damage to the Russians' supplies lines and — and ammunition supply points and command-and-control nodes as they as they continue to shape the battlefield to be able to maneuver to retake some of their sovereign territory. So I expect that we'll continue to see support, but I fully appreciate the fact that there will be an expectation that we lay out the rationale for that.

GEN. MILLEY: So it is the question of progress in the south. Again, as I said in my opening remarks, I think it's a bit early to make a full and wholesome assessment. What the Ukrainians are doing is a very deliberate offensive attack. They are setting conditions with fires in order to set conditions for ground maneuver to accomplish the objectives that they set out.

I don't want to go over specific axises of advance or specific objectives at this point. I think that's too early. But I would say that — I would characterize it as a very deliberate offensive operation that is calibrated to set conditions, and then seize their objectives, and — and we think at this point that their progress — you — you mentioned the word "modest" or "moderate". Their — their progress is steady, and it's deliberate.

Secondly is overstretch. No, I don't. There are — this battlefield, you know, from — from Kharkiv all the way down to Kherson is a significant front-line trace, if you will. It's about 2,500 kilometers of — of border that Ukraine has to protect, and about 1,300 are — are engaged in act — 1,300 kilometers are engaged in, you know, active combat one way or another, and that's a little bit less than that as you go from Kharkiv down to Kherson.

So there's fighting all along that front, and one of the areas you mentioned, the counteroffensive up in Kharkiv that — that is being launched also by Ukraine, there's been fighting back and forth in and around Kharkiv for the entire time, but I don't think they are particularly overstretched, per se. But there is fighting both offense and defense from — all the way from Kharkiv all the way down to Kherson. Right now, the intensity of the fighting is occurring up in Kharkiv. There's significant fighting down around Bakhmut, and then, of course, the offensive down in Kherson. So they're continuing the fight. They've got the forces to do it, and we'll see how this plays out.

STAFF: Okay, for our second question we'll go to Ute Spangenberger from A — ARD.

Q: My question: Is there a shift in the aim of the Ukraine Contact Group from initially enabling Ukraine to defend itself, to now supporting Ukraine's efforts in regaining conquered territories like the (Crim?)?

SEC. AUSTIN: Is that question for me, Ute?

Q: Yeah.

SEC. AUSTIN: Okay, great. So as we — as the chairman described earlier, we've seen a shift in the dynamics on the battlefield over time; started out in the east, you — the Russians attacking on multiple axes, a serious battle unfolded around Kyiv. The Ukrainians won that battle. A fight then again shifted down to the Donbas, and it turned into a struggle, an artillery struggle, and — and it was really defined and shaped by long-range artillery systems.

As the Ukrainians have acquired additional capabilities in terms of HIMARS and — and HARM missiles and those types of things not only from us, but from our allies as well, they began to change the dynamics on the battlefield again and — and are exercising some initiative.

And — and so we have remained focused throughout on helping Ukraine defend its sovereign territory. We remain focused on that, and — and as they prosecute this fight, certainly, they're — they intend to take back some of that territory that Russia has occupied in — in — in the south, in — in — in the east. And so that's their focus, and we will continue to support their efforts to — to defend their sovereign territory and — and — and protect their sovereignty, so –

So in — in — in essence, our goals and aims have not changed, but we remain focused on the dynamics of the fight and what's needed to be successful in that fight, and we — we endeavor to stay one or two steps ahead there, Ute, so —

STAFF: Thank you, sir.

For our next question, we'll go to Jonathan Ismay, New York Times.

Q: Thank you.

Mr. Secretary, in your remarks today, you've mentioned that you'd like to bring together the national armaments directors of Contact Group member nations. Can you explain what that would entail, and whether this coordination plus your comments about the need for increased munitions production constitutes a mobilization of the domestic defense industries of the roughly-50 Contact Group member nations?

SEC. AUSTIN: Well, I think all of our partners and allies that are — are part of the Contact Group remain focused on making sure that they have what's required in their stocks to defend their interests, but at the same time, continue to contribute in a meaningful way to Ukraine not just now, but going into — into the future, as well.

And so I — we all believe that working together, we can better streamline things. We can shorten times for — shorten acquisition times, perhaps work on — on supply chain issues, learn from each other. We can increase interoperability by making sure that, you know, if I have a 155 howitzer and I'm from one country, the rounds from another 155 howitzer — type of howitzer can — can be used in that particular weapon as well.

So this interoperability is important, not only to the — in terms of the Ukraine effort, it's important for NATO writ large. So I think there are a number of things that — that we can — we can do. We can work together, again, share lessons, streamline processes, and — and shorten acquisition times where possible.

So I think there's broad agreement that this is an area that we can work on together and — and — and improve our ability to provide capability to Ukraine, not just for now but for the — for the foreseeable future as well.

STAFF: We have time for one more question. We'll go to (Krystal Haas), ZDF.

Q: My question is for the Secretary of Defense. The — Ukraine recently asked for heavily-armed battle tanks to — like the German Leopard tank. What is the — what are the reasons that — on this meeting there was no — no topic? And why don't you come — or answer positively to that request of the Ukraine?

SEC. AUSTIN: I — I — I'm sorry, (Krysten) (sic), I — I — I didn't hear the first part of your question there.

Q: The — Ukraine was asking for battle tanks — special, heavily-armed battle tanks to be delivered, especially from Germany, but today, it was no topic. So what are the reasons?

SEC. AUSTIN: So we see Ukraine rightfully request help with armored vehicles throughout this conflict, and — and a lot of help has been provided. We've seen countries from — you know, throughout the entire region, move forward and — and provide tanks and armored personnel carriers to — to Ukraine.

The United States has provided a number of armored personnel carriers, up-armored Humvees, armored ambulances, MRAPs — as you know, those are the — the heavier wheel vehicles — and — and other countries have stepped up as well. And you'll recall — I know you — you're very familiar with this — Germany just recently provided some armored air defense capabilities to — to Ukraine.

So the entire community — continues to work together to provide as much as we can, as fast as we can, and focus on those things that are — that are relevant to the — to the current fight but also provide some capability going forward there.

So again, it — it's a — it continues to be a work-in-progress but I can assure you that — that the team or — the entire team remains focused on this and Germany stepped up to do its part along the way as well.

STAFF: Thank you very much, everybody. Appreciate it.

SEC. AUSTIN: You guys sure you don't have more questions for the Chairman?

(Laughter.)
Here's the summary of what the US is sending:
Coming from 🇺🇸America pic.twitter.com/U3qNGkQgkp

— Illia Ponomarenko 🇺🇦 (@IAPonomarenko) September 8, 2022
And from Norway:
Norway will donate Hellfire missiles to Ukraine. The donation includes approximately 160 missiles, launching pads and guidance units. Ukraine will also receive night-vision equipment drawn from Armed Forces inventories.https://t.co/kybMl1Uvna pic.twitter.com/wo2Q74LM7i

— Forsvarsdepartement (@Forsvarsdep) September 8, 2022
Early this morning, GEN Zaluzhnyi, the Commander in Chief of the Ukrainian Armed Forces (AFU), and LTG Mykhailo Zabrodskyi, the First Deputy Chairman of the National Security, Defense, and Intelligence Council of the Verkhovna Rada, published an essay at Ukrinform entitled "Prospects for Running a Military Campaign 2023: Ukraine's Perspective":
How long the war could last and how can Ukraine win it

As understood by the absolute majority of military experts and analysts today, the large-scale war unleashed by the Russian Federation against Ukraine on February 24, 2022, has long been beyond the concept of a local conflict of medium intensity. This applies to the spatial indicators, the number of forces involved, and the convincing list of weaponry and other high-tech equipment inherent in this military confrontation.

HOW LONG WILL THE WAR LAST?

A major question that is being raised is how long the said conflict will continue. After all, in no way does it fit into the timeframe of the announced Russian "blitzkrieg" or that of active hostility phases in any of the wars waged in the early 21st century. In any case, the war has been lasting for months already. And there is every reason to believe that it is not going to end anywhere within 2022.

In this regard, it is natural to look into the prospects for the next year and go beyond just predictions and assumptions. Such outlook should be totally practical. Namely, how far should Ukraine's military ambitions extend? Also, as a logical derivative of this question, what help exactly does the Armed Forces of Ukraine need from partners for the coming year 2023?

It is quite logical that the very search for answers to the questions posed, besides a fascinating theoretical discussion, also has a completely utilitarian side to it. For a limited number of military and civilian officials, such research comprises a major part of their professional duties. It is worth adding that for most of them, such issues are essentially about a clear responsibility for defending their country, and ultimately for defining its fate.

It can be assumed that these studies have already been reflected in several state-level guidelines and doctrines. For obvious reasons, dissecting them is beyond this article's scope. It is suggested only to consider the main evaluations in relation to the questions mentioned and put forward a version of the relevant answers.

Given that the aggressor holds a strategic initiative, it is quite logical to start off with a description of the situation in which the Russian side is likely to find itself. The tentative lines of contact are already allowing us to predict the limits of Russia's ambitions regarding further advances into Ukraine.

WHAT ARE THE LIKELY GOALS RUSSIA IS SET TO PURSUE?

Certain operational prospects are visible in the Izyum and Bakhmut areas. Reaching the administrative border of Donetsk region can be seen as a probable end goal of Russia's efforts. The prospect of advances in the Zaporizhia direction looks even more attractive to the enemy. It would ensure further northward action, allowing to pose a direct threat of capturing the cities of Zaporizhia and Dnipro, which will in turn lead to the Ukrainian side losing control over a large part of the country's Left Bank (of the Dnipro River – ed.). Revisited plans to gain control of Kyiv and the threat of renewed invasion from the territory of the Republic of Belarus cannot be ruled out either.

But further advances in the South Buh direction from the operational bridgehead on the right bank of the Dnipro River open up the most opportunities. Success in the southern part of Ukraine, provided it is utilized quickly and correctly, could yield a double effect. On the one hand, this would open quite realistic prospects of taking over Mykolaiv and Odesa, and on the other hand – create a threat toward Kryvyi Rih before posing threats to the central and western regions of Ukraine.

We deliberately chose not to address in this article the conditions under which Russia would be forced to go along with this alleged plot. At the same time, we should not dismiss the entire spectrum of related strategic and even global problems this would create for the Russian Federation. Among them is international isolation, as well as partial economic pressure through international sanctions, issues with general mobilization, and the lack of modern weapons and equipment, which over time will become more acute.

In addition to the purely military advantages, this kind of strategic action in the East and South of Ukraine will bring Russia additional political and economic dividends. Among them are ensuring the security of the self-proclaimed 'republics' and the logical, albeit delayed, conclusion of the so-called "special operation", severing Ukraine's access to the Black Sea, gaining control over the key element of the country's power system, the South Ukrainian NPP, etc.

WHY CRIMEA IS A KEY FACTOR, BUT NOT THE ONLY ONE

It is easy to conclude that such promising success in the South and, to some extent, in the East of Ukraine, in the territorial sense, must be based on reliable defenses and preservation of control over the temporarily occupied Autonomous Republic of Crimea. Indeed, Crimea was and remains the basis for supply routes on the southern strategic flank of Russian aggression. The territory of the peninsula allows deploying significant numbers of troops and supplies. Finally, Crimea hosts the main naval base of Russia's Black Sea Fleet, as well as a network of airfields, for launching airstrikes almost across the entire territory of mainland Ukraine. Some analysts are inclined to suggest that it is control over the territory of the Crimean Peninsula that the Russian forces see as a Center of Gravity in the ongoing war.

However, looking into the situation that the Ukrainian Armed Forces are likely face in 2023, these things don't look so clear. In fact, for the Armed Forces of Ukraine, the situation will be a complex mix of the actual location of the line of contact, the available resources, the pool of combat-ready forces, and, obviously, the strategic initiative that will remain in the enemy's hands.

Along with this, pursuing the said logic, it is necessary to note reservations about the tentative line of contact from the Ukrainian perspective. Its outlines have an extremely disadvantageous configuration in the already mentioned Izyum and Bakhmut directions. Substantial efforts on the part of the Russians to wedge into Ukraine's defenses constrain any operational maneuver and require essentially doubling the number of forces in the area to contain the enemy. The situation becomes especially acute amid the lack of firepower assets and insufficient air defenses.

The situation in the South and East looks no better. The threat of enemy advance toward Zaporizhia has already been mentioned. In addition, there is a persistent threat enemy gaining partial success from the direction of Hulyai Pole, which under certain conditions could create a threat of an entire grouping of Ukrainian troops in the east of Ukraine being encircled.

The fact that the enemy has an operational bridgehead on the right bank of the Dnipro River requires additional efforts to prevent its expansion.

UKRAINIAN COUNTERSTRIKES: WHAT NEEDS TO BE DONE TO MAKE THEM HAPPEN

The only way to radically change the strategic situation is undoubtedly for the Ukrainian Army to launch several consecutive, and ideally, simultaneous counterstrikes throughout 2023. It would be hard to overestimate their military, as well as political and informational, significance. At the same time, the issue of their planning and execution requires more attention.

The subject can be narrowed down to the following concept: what forces and means are needed to this end? If we consider the 2023 campaign as a turning point, we need to return to the definition of the Center of Gravity for Russia in this conflict. After all, only an effective influence on the enemy's center of gravity could change the course of the war.

Provided that such a center of gravity is control over Crimea, it is logical to assume planning for 2023 an operation or a series of operations to regain the peninsula. Such planning must first of all assume that the necessary pool of troops is available. And we are definitely not talking about Ukraine Army units already operating on the 2,500 km-long front line from Kherson to Kovel.

Preparation of an offensive campaign demands that Ukraine sets up one or more operational (operational-strategic) groupings of forces consisting of 10 to 20 combined arms brigades, depending on the intent and ambitions of the Ukrainian Command. In the current situation, the above could be done exclusively by replacing the main types of armament available to the already existing brigades with modern ones, provided by Ukraine's partners. Separately, a need should be highlighted to obtain more missiles and ammunition, artillery systems, missile launchers, EW assets, etc. All of this will require consolidated efforts of all partner countries, while taking up a significant amount of time and financial resources.

Strictly speaking, all of this is directly and exclusively dependent on the resources available to Ukraine. While the situation with the number of forces is likely to look quite promising for the Armed Forces of Ukraine, the same cannot be applied to heavy weaponry and ammunition. But, in any case, provided there is political will, timely and deliberate planning, with the use of the industrial base and reserves of the world's leading powers, the task of setting up and properly equipping such groupings is seen as absolutely realistic.

However, the outlined approach to defining the tasks of the 2023 military campaign for Ukraine's Armed Forces seems too one-sided.

IF THE INVADERS EVEN LOSE CRIMEA

So we are once again forced to revisit the need for Ukraine to precisely define the enemy's Center of Gravity. With this in mind, we should leave aside the issue of whether it is appropriate to link the "Center of Gravity" concept to a certain area or region at the strategic level. We only note that it is the source of mental and physical power, strength, and resistance – something that Clausewitz called "the concentration of all power and movement on which everything depends… the point to which all our energy should be directed"[1]

Let's assume that the Armed Forces of Ukraine achieve total success in the 2023 campaign, regaining control of the Crimean Peninsula.

Again, it is difficult to overestimate the extremely positive political and informational significance of such a strategic success. At the same time, the military significance of such a victory can be assessed differently. Russia would lose its Black Sea Fleet's naval base, an airfield network, major stockpiles of material resources and, most likely, suffer massive manpower and equipment losses. At the same time, nothing can prevent the painful, albeit quite realistic, transfer of the Black Sea Fleet to the Novorossiysk naval base on the Black Sea's eastern coast, so Russia's military presence in the region will remain in place, along with the threat of missile strikes. The same can be assumed for the use by the Russian warplanes of Primorsko-Akhtarsk and Yeisk airfields. The loss of significant stocks of material resources will affect the Russian army only temporarily.

Manpower losses and destroyed equipment, at least in terms of their numbers, could also eventually be replenished.

Summarizing the above, in discussing prospects beyond 2023, we can only talk about a new stage of confrontation. Of course, initial data and perspectives will vary, but again, this will be a long conflict, bringing human losses and massive expenses, with no certain final outcome in view.

So a slightly different approach to determining the Center of Gravity for the Russian forces and the very essence of the ongoing war is now being proposed.

DISPROPORTIONATE CAPABILITIES: HOW CAN UKRAINE CATCH UP?

The main feature of fighting off the Russian army is not about Russia massively overpowering Ukraine in terms of manpower and weapons and not even about a significant scope of the strategic operation targeting Ukraine. The decisive factor is significantly disproportionate capabilities.

This is most noticeable in terms of the maximum operating range of the assets of destruction. For the Russian armed forces, it's up to 2,000 km, taking into account the range of air-based cruise missiles[2], while for Ukraine's forces it is actually a mere 100 km, which is limited to the range of missiles and the deployment depth for the outdated short-range ballistic missile systems[3]. Thus, from the onset of the large-scale aggression, Russian weapons could hit targets 20 times farther than the Ukrainians. Translated into the language of military practice, it means that the Armed Forces of Ukraine, in the best-case scenario, are able to employ outdated launchers and strike no farther than the depth of the enemy's operational rear. At the same time, the enemy is able to inflict point strikes on targets across the entire depth of the country's territory, doing it with impunity.

It's precisely this capability that should be considered as the Russian army's Center of Gravity from a military standpoint. As long as the current situation persists, this war can last for years.

How can this issue be addressed?

Of course, it is impossible to immediately strip the enemy of such a significant advantage. Considering the volume of resources available to the Russian army, the very possibility of eliminating it completely is too doubtful. At the same time, it is quite possible to counter the enemy with its own capability to act in a similar way, operating at a similar range.

We are talking, of course, about Ukraine's partners supplying the relevant weapon systems or certain types of ammunition with the appropriate range. And it's so much about some certain models, such as, for example, the MGM-140B ATACMS Block 1A missile for the M142 HIMARS. A comprehensive approach must be applied to re-equipping artillery and missile forces, tactical aviation, Navy, and other components of Ukraine's military might. The discussion should address creating or developing capabilities, not just the amount of weapons and equipment to be supplied to brigades slated for re-equipment.

Only in this case would it be possible to discuss the influence on Russia's actual Center of Gravity in this war. It lies in the war's "remote" nature for most average Russians. Thanks to this lack of proximity, they perceive not so painfully all the losses, failures, and most importantly, costs of this war in all its senses. A convincing example proving that this is a correct approach to be applied this year is the successful efforts of the Armed Forces of Ukraine to physically transfer the zone of hostilities to the temporarily occupied territory of the Autonomous Republic of Crimea. This was done by a series of successful missile strikes on the enemy's Crimea-based air bases, first of all, the Saki airfield[4]. The task of the Armed Forces of Ukraine for 2023 is to make these experiences even sharper and more tangible for the Russians and for other occupied regions, despite the massive distance to the targets.
Amazingly there is a lot more at the link, so click on across.
Here is the British MOD's assessment for today: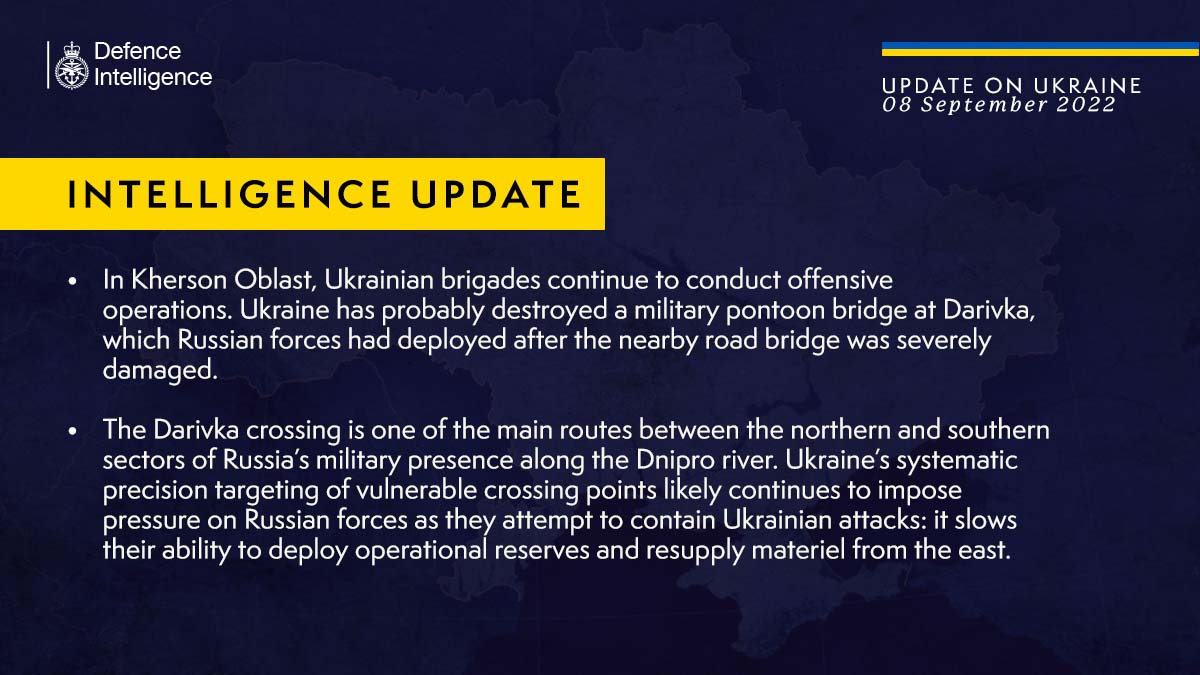 And here is their map for today: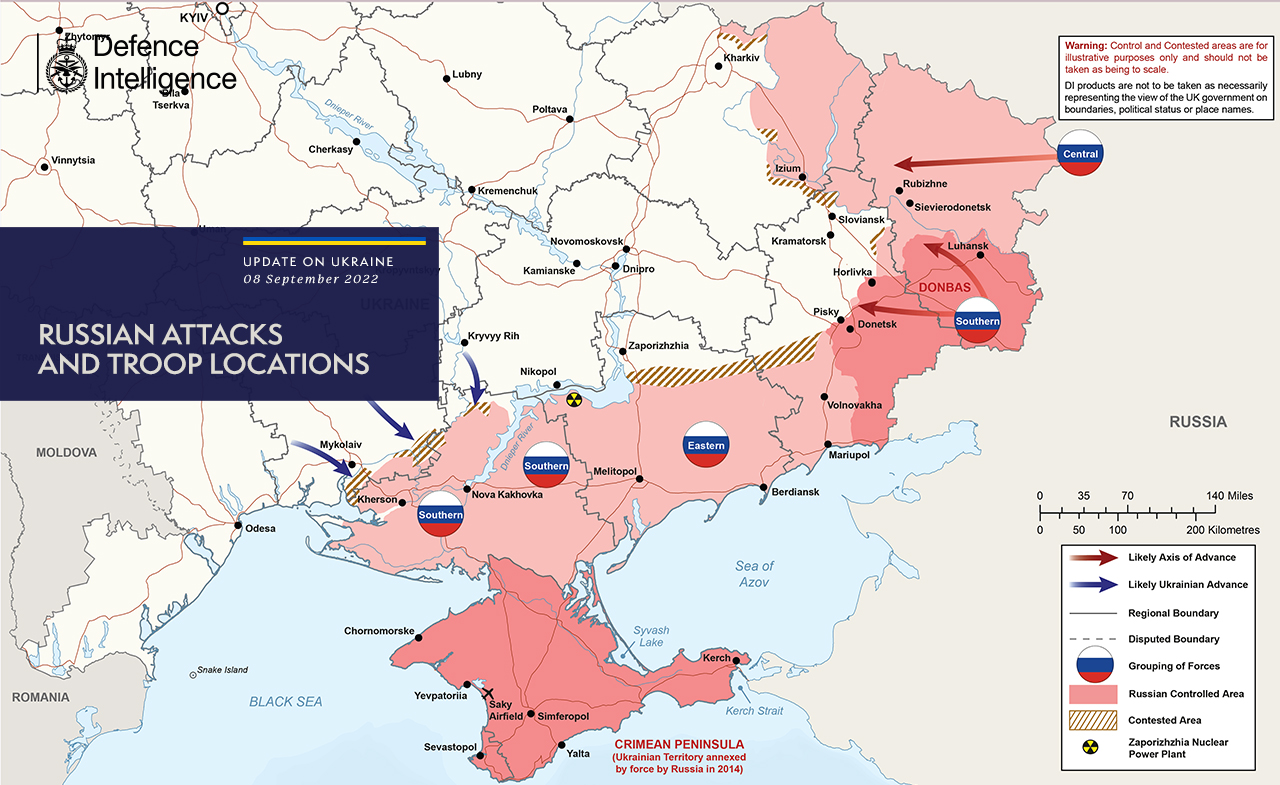 Here is former NAVDEVGRU Squadron Leader Chuck Pfarrer's most recent assessment of the battle for Kharkiv:
KHARKIV AXIS/ 0130 UTC 8 SEP/ UKR General Staff has reported that the offensive to the S & E of Kharkiv has developed into a MASSIVE breakthrough. Forward Edge of the Battle Area (FEBA) is moving rapidly, in some places, gains of 30-50 Km (18-30 MILESS) have been reported. pic.twitter.com/OefiPzhl5F

— Chuck Pfarrer | Indications & Warnings | (@ChuckPfarrer) September 8, 2022
And Kherson:
KHERSON/ 1245 UTC 8 SEP/ The destruction of two RU S-400 air defense complexes has expanded Ukrainian close air support (CAS) sorties to support ground operations in the Kherson AO. The RU 49th Combined Arms Army is under increasing logistical stress. pic.twitter.com/UNci2dWT3i

— Chuck Pfarrer | Indications & Warnings | (@ChuckPfarrer) September 8, 2022
The Ukrainians scarfed up another Russian general in Kherson yesterday:
Seems the orc that was shown in the video on his knees is Lieutenant General Andrei Sychevoi (Андрей Сычевой) commander of the "West" group. He changed into lieutenant uniform and attempted to escape unrecognized (that's why he looks away from the camera)#kherson #lviv #Крим pic.twitter.com/z7Ksxesbqi

— TheLvivJournal (@LvivJournal) September 8, 2022
Belgorod:
Explosions over Belgorod and region, reportedly one of the missiles launched towards Kharkiv exploded https://t.co/BStiZeBgg8 pic.twitter.com/31ggc1Eglv

— Liveuamap (@Liveuamap) September 8, 2022
Balakliya:
Balakliya has been liberated pic.twitter.com/I5A4ExOA9Z

— Illia Ponomarenko 🇺🇦 (@IAPonomarenko) September 8, 2022
Balakliya.
Today. pic.twitter.com/cx70aIfPW3

— Illia Ponomarenko 🇺🇦 (@IAPonomarenko) September 8, 2022
This is incredible, folks.
Balakliya has been retaken.
I think the next main goal is Kupyansk — the key railroad and automobile transportation center between Russia and northern and central Donbas.
Sever this GLOC and Russians are in the world of shit. pic.twitter.com/Z0V51Fo4en

— Illia Ponomarenko 🇺🇦 (@IAPonomarenko) September 8, 2022
Death certificates for Balakleya started pouring in from the Russians. https://t.co/SHuqYEm99r pic.twitter.com/ZcNSuJlwvb

— Dmitri (@wartranslated) September 8, 2022
Yes, I know there is a Balakliya and a Balakleya, but from what I can tell from looking at these translated Telegram posts over the last two days the Russians spell the former the same as the latter.
Kupyansk:
The Facebook page of Kupyansk City Council posted the first time in five months.
"The Armed Forces of Ukraine is near. Kupyansk has always been and remains a Ukrainian city."
👀👀

— WarMonitor🇺🇦 (@WarMonitor3) September 6, 2022
Hope is not a strategy, but it is essential for those under Russian occupation!
Tallyho!
📽️A pair of Ukrainian Su-25 casually flying at low altitude above a highway #UkraineRussiaWar pic.twitter.com/9YyVGjiB79

— MilitaryLand.net (@Militarylandnet) September 8, 2022
.@ZelenskyyUa: "#Ukraine does not for a single moment doubt itself, its future, its victory. We still have a long way to go to liberate our entire territory. But there is no doubt that it will happen."https://t.co/KsPDXsb4iX#StandWithUkraine️ pic.twitter.com/2RMiSNaDrg

— MFA of Ukraine 🇺🇦 (@MFA_Ukraine) September 8, 2022
That's enough for tonight.
Your daily Patron!
Just kidding. I was shocked to meet @SecBlinken. I was visiting kids in Ohmatdyt hospital, and nobody told me he'd be there too. Also, I met @USAmbKyiv And…I forgot to ask them about Gregory 😔But after I heard about 2 billion $ of help to Ukraine, that's enough for one day🤭

— Patron (@PatronDsns) September 8, 2022
And a new video from Patron's official TikTok:
The caption translates as:
Who knows? 😅 #dogPatron #PatronDSNS #SlavaUkraini
Open thread!