The latest booster shots — reformulated to better protect against omicron — began rolling out in the US over the weekend.

People 12+ who haven't had a shot in 2 months are eligible. Those eligibility guidelines are here:https://t.co/wsZC5Cufn1

— Josh Wingrove (@josh_wingrove) September 6, 2022
Is this fall the first fall of the rest of your life, Covid-booster shot wise? The folks running the WH pandemic response think so. @DrewQJoseph explains. https://t.co/UCGXXFSKIu

— Helen Branswell 🇺🇦 (@HelenBranswell) September 6, 2022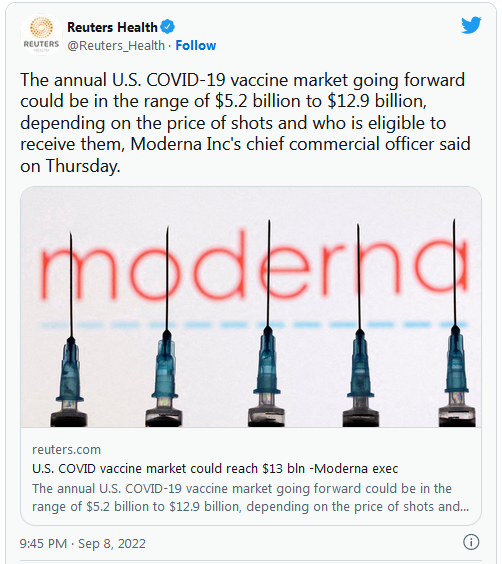 (link)
======
China's Chengdu, a city of 21 million, extends its coronavirus lockdownhttps://t.co/88yMh8pA6B

— The Washington Post (@washingtonpost) September 8, 2022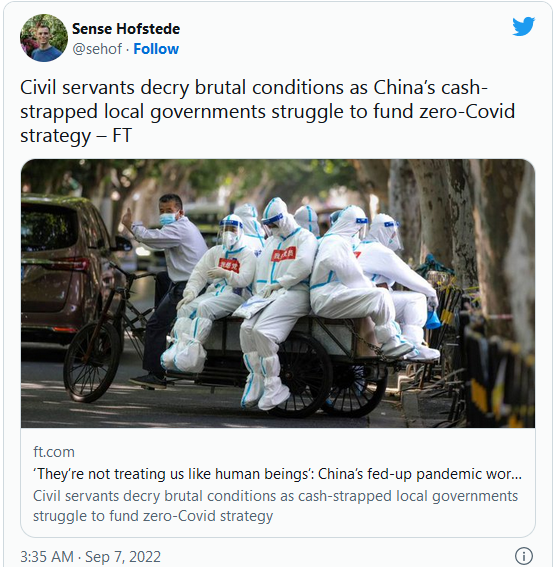 … The Dabai, or frontline workers called "Big White" after their PPE, have played a pivotal role in quashing previous Covid outbreaks in China, from Wuhan in 2020 to Xi'an in early 2022, and have been hailed as national heroes.

But many complain of pay cuts and longer working hours with no overtime as the pandemic drags into a third year, with little sign President Xi Jinping will abandon his zero-Covid policy despite the economic consequences.

Hong Kong-based China Labour Bulletin, which tracks workers' movements in China, recorded an employee strike at a testing facility in Shenyang, the capital of north-eastern Liaoning province, in July…

"Fighting Covid is expensive and local governments, especially in lower-tier cities, have run out of money," said Bo Zhuang, a Singapore-based analyst at Loomis Sayles.

Some local governments have slashed essential services as money has been redirected to fighting Covid. Authorities in the north-eastern city of Jilin were forced to divert funds from Xi's signature poverty alleviation campaign to finance mass testing.

"There is nothing left to cut," said Bo…

The fiscal shortfall has left local authorities unable to meet Beijing's demands to expand the infrastructure that enables zero-Covid.

In May, Beijing told authorities to ensure that residents were always within a 15-minute walking distance of a Covid-testing booth, but dropped the mandate after local governments could not meet the costs…

A civil servant from Jiangsu, a province north of Shanghai, said she was working under "unbearable conditions".

"We are so understaffed," she said. "I work 12 hours shifts checking people's health codes before taking a test. We have to pay for our expenses, including transport and PPE."

The impact has been particularly pronounced in smaller cities. Public workers in the city of Gaomi, in the eastern Shandong province, are owed two months' wages, according to people familiar with the matter…

For the civil servant from Jiangsu, returning to her normal job cannot come soon enough. "None of my bosses have ever bothered to check in on us," she said. "They're not treating us like human beings."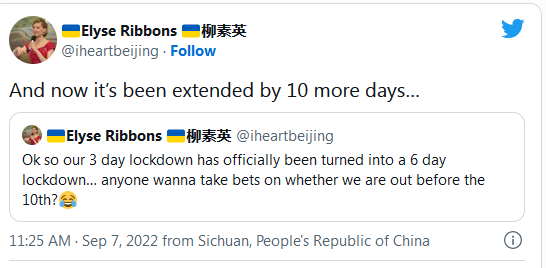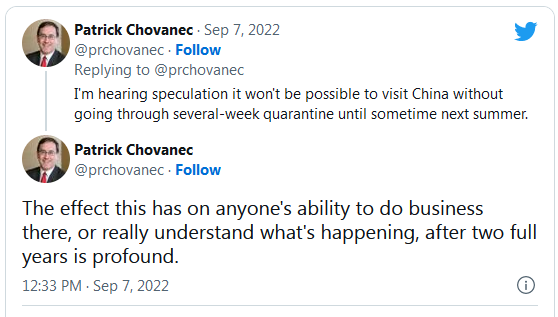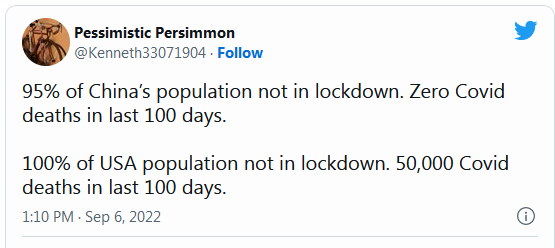 (link)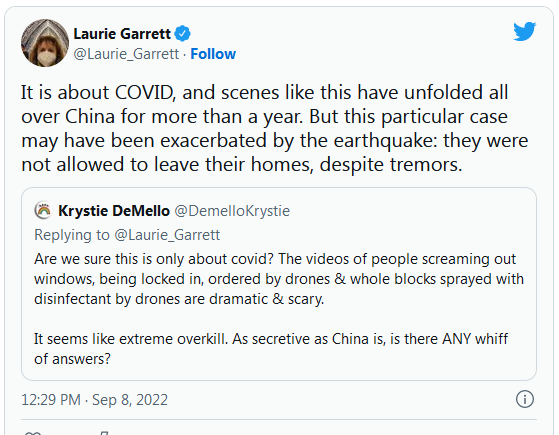 (link)
Hong Kong logged 10,106 new Covid-19 infections on Friday, of which 154 cases were imported. The city also added 11 new deaths.

Full, trusted Covid-19 coverage on HKFP: https://t.co/w8LTgNgHXy#hongkong #COVID19 pic.twitter.com/kNkC3K0vd7

— Hong Kong Free Press HKFP (@hkfp) September 9, 2022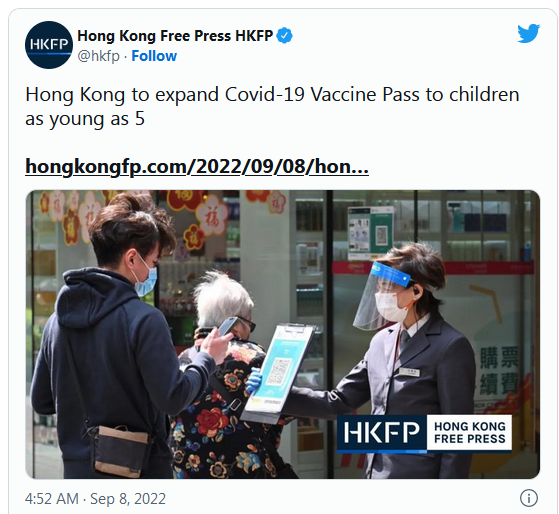 (link)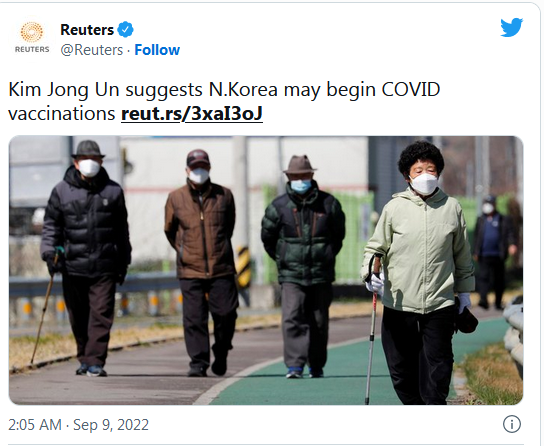 North Korean leader Kim Jong Un has suggested that the isolated country could begin COVID-19 vaccinations in November, state media reported on Friday…

Last month Kim declared victory over COVID-19 and ordered the lifting of maximum anti-epidemic measures imposed in May though adding that North Korea must maintain a "steel-strong anti-epidemic barrier."

North Korea has never confirmed how many people caught COVID, apparently because it lacks the means to conduct widespread testing.

Instead, it has reported daily numbers of patients with fever, a tally that rose to some 4.77 million, out of an estimated population of about 25 million. But it has registered no new such cases since July 29, and says its death toll stands at 74.

Experts, including the WHO, have cast doubt on those numbers, citing an apparent lack of testing capacity in North Korea.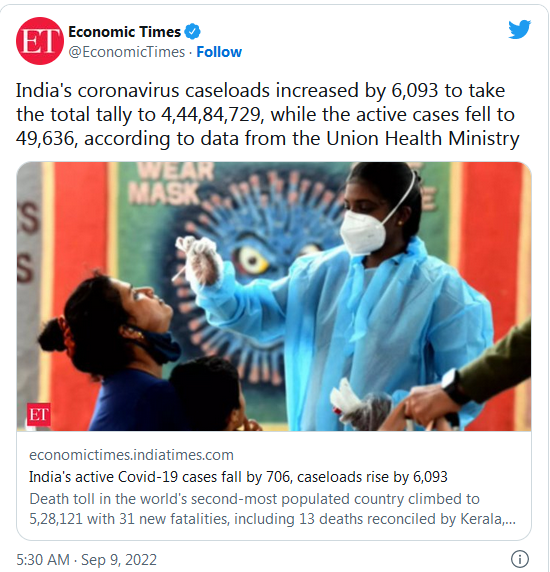 (link)
We should all go read about Queen Elizabeth II, but I'll just leave this here for those who care about keeping their parents, or nonagenarian queens, as healthy as possiblehttps://t.co/9Y5vVEzjOA

— Michael Lin, MD PhD 🧬 (@michaelzlin) September 9, 2022
======
Top scientists from leading academic centers are banding together to answer a key question about the root cause of long COVID – whether fragments of the coronavirus persist in the tissues of some individuals. https://t.co/1msWzaeRNz

— Reuters Health (@Reuters_Health) September 8, 2022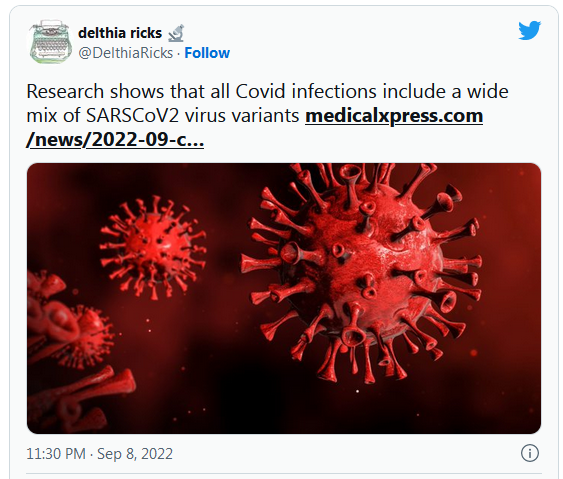 (link)
Nasal-spray vaccines could change the pandemic.
Prevailing theory holds that vaccines inhaled through the mouth or nose might stop the coronavirus in its tracks, although there's little evidence from human trials so far https://t.co/3tQwRuaC4d

— delthia ricks 🔬 (@DelthiaRicks) September 9, 2022
The US owns millions of monovalent Covid boosters that now can only be used in kids under the age of 12. With more supply than need, what is the country planning on doing with all the excess doses? @owermohle explores. https://t.co/WvTvkeuj9P

— Helen Branswell 🇺🇦 (@HelenBranswell) September 6, 2022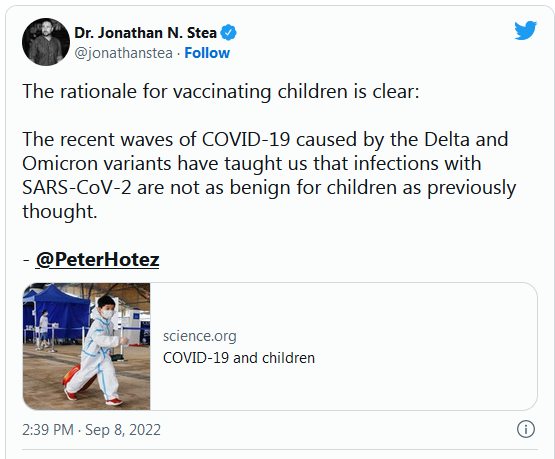 (link)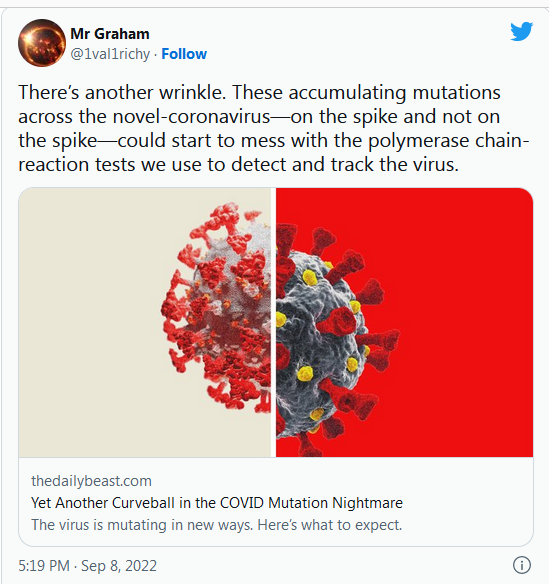 (link)
Several scientists are beginning to study a potential link following evidence of increased cases of depression and suicidal thoughts among people with long COVID. https://t.co/LVF9riVrJz

— Reuters Health (@Reuters_Health) September 8, 2022
======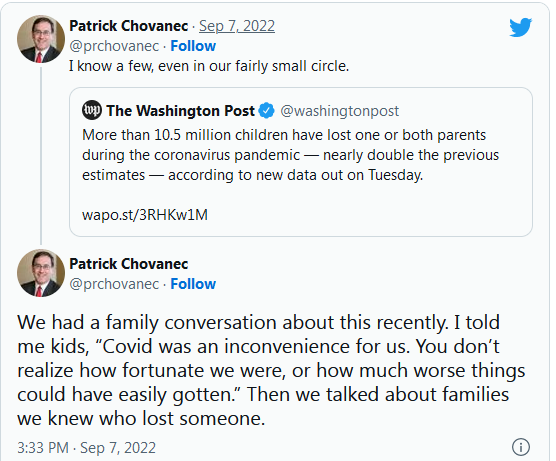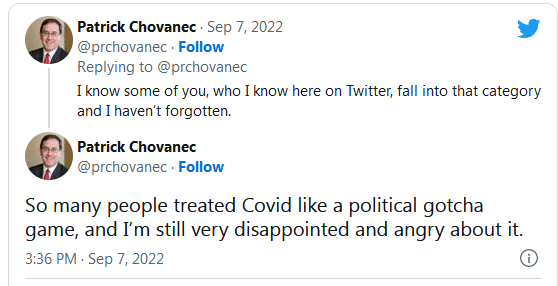 (link)
How it's going#funnynotfunny #celebratingfailurehttps://t.co/dlqR9rBYVP pic.twitter.com/7vgWPy3obN

— Michael Lin, MD PhD 🧬 (@michaelzlin) September 8, 2022
Reader Interactions