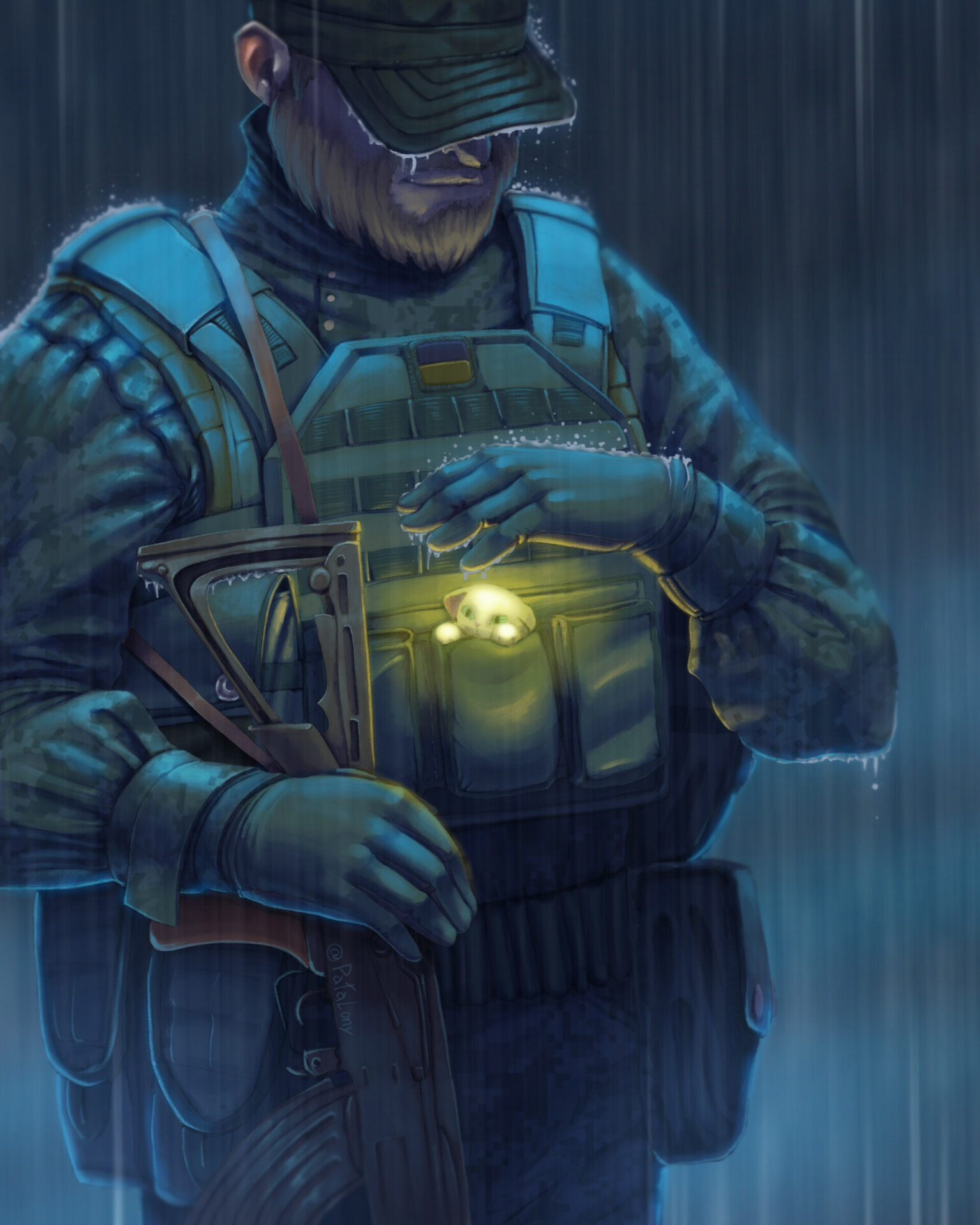 (Ukrainian Warrior by Patalony)
I'm going to keep tonight's post shorter than the last two. Largely because the news has slowed a bit as everyone races to catch up with the reality on the ground.
Here is President Zelenskyy's address from earlier today. Video below, English transcript after the jump.
Fellow Ukrainians!

Today is 200 days of our resistance. Our struggle. Our people's war. For freedom, for independence, for the right to be. In these 200 days, we have achieved a lot, but the most important, and therefore the most difficult, is ahead. And I want to dedicate this address to those who are ahead. Who are having the hardest time now, as they are doing the most important thing.

These are all defenders of Ukraine. All those who have been courageously standing for 200 days, being the exact reason why Ukraine stands. Strong, and that is why we are free. Unbreakable, and that is why we are independent. Our fighters, who heroically restrained the enemy, and now they do not restrain themselves. And they drive the occupiers out in the north, south and east. In all directions, but moving in only one direction – forward and towards victory.

200 days of Ukrainian resistance. Almost 5 thousand hours. Almost 300 thousand minutes. Almost 20 million seconds. And just as many reasons to say "thank you" today to everyone who made this possible. Millions of times. Without any "almost". To say that we believe in them, believe in their victory. Without any "almost".

These are all our warriors of the Armed Forces of Ukraine.

Ground troops, our infantry. You know better than anyone else: there is little romance in war and a lot of hard work. These days, it is courageously and selflessly performed by our separate mechanized brigades. The 92nd – named after Kish otaman Ivan Sirko. The 54th – named after Hetman Ivan Mazepa. The 14th – named after Prince Roman the Great. The 60th Inhulets separate infantry brigade. Step by step in the Kharkiv region, Kherson region, Donbas, with weapons, shovels, hands, teeth – you are "gnawing away" every meter, every frontier, every city and village of ours.

These are our tank troops. Those who forge the future victory in iron gloves. And today, on the day of the professional holiday, as well. These are the 3rd, 4th, 5th separate tank brigades, tank regiments and battalions, tank companies within the airborne assault troops, the 17th separate Kryvyi Rih tank brigade named after Kostiantyn Pestushko. And especially – the 1st separate tank Siversk brigade. I sincerely congratulate all of you and everyone involved on Tanker's Day.

These are our missile troops and artillery. You are rightfully called the "gods of war". You send the occupiers to the divine trial. You send the demons back to hell. Today, the 406th separate artillery brigade named after brigadier-general Oleksiy Almazov is doing this with special fervor and spark in their eyes. We are grateful to its fighters and in general to everyone whom we warmly call "our arta".

How would one describe your jewelry work in two words? Accurate and loud. We thank you for every "accurate" and every "loud". For all destroyed enemy convoys, warehouses, bases and headquarters. Important crossings and bridges. Where your efforts cause fire and where the enemy violated the rules of fire safety. People online wish you accurate calculations and new hits, and they address the occupiers in a language they understand: "Stop smoking everywhere. Smoke where there hasn't been a hit yet".

These are our Air Forces. Bombing, assault, fighter, reconnaissance, military transport aviation. Defending Ukraine you are always on top.

These are our Airborne Assault Troops. You are always the first! Because it is no one but you! These slogans are not just words. The enemy has been aware of this for eight years and 200 days. And today, the occupiers especially feel the strength and power of the 79th airborne assault brigade, the 25th and 80th airborne brigades. In particular, in the Kharkiv region, which you are successfully liberating from the enemies. And in the Donetsk region, where you are successfully repelling the enemy.

We are sure: in both areas there will be one finale – your victory. For this, one doesn't need to read forecasts, it is enough to read your oath. You are the paratroopers of the Armed Forces of Ukraine. You will never accept defeat. You will never retreat in the face of difficulties. You will never leave your brothers-in-arms in danger. You are always ready to destroy the enemies of Ukraine in battle. You are the paratroopers of the Armed Forces of Ukraine!

These are our Naval Forces. You proved that it doesn't matter what fleet the enemy has, what flagship he has, when Neptune is on your side. Guards of native shores. Missile boats, artillery, minesweeping and landing craft, naval aviation, naval artillery and, of course, marines. And I especially want to note the 503rd separate battalion of the marines. On your chevrons there is an inscription: "If this is an offensive, this is us." In our hearts there are words: if this is you, this is success and victory.

These are the air defense troops of Ukraine. Anti-aircraft missile troops, radio engineering troops, air defense of the Ground and Naval Forces. You hear an air raid alert differently than most. Most descend into shelter. You direct your gaze upwards to destroy enemy missiles, aircraft, helicopters and drones.

This is our intelligence. For obvious reasons, very few people know your names, your faces. Your operations are not usually written about in the news, but they will definitely be written about in military science textbooks. Your successes are often quiet and imperceptible to our people, but always painful and tangible to our enemy.

These days, intelligence officers are especially showing themselves. The 131st separate reconnaissance battalion of military intelligence of Ukraine. Those who are always ahead. I thank you, I thank all the units of the Main Intelligence Directorate and all our intelligence officers, thanks to whom we always see, always hear, always know, always act. And we will definitely win.

These are our special forces, Special Operations Forces. Those who attack. Those who prevail not in quantity, but in quality. Those who have a special power to fight on the edge of possible and impossible.

These are the territorial defense forces. And we especially note the fighters of the separate 115th and 117th territorial defense brigades.

These are medical troops that save the lives of our warriors. These are military clergy, chaplains who pray for the lives of our warriors. These are our engineers, communications officers, cyber army.

These are those who have been defending and serving the state side by side with the Armed Forces of Ukraine for eight years, for 200 days and right now. I thank all the warriors of the National Guard, its special forces, in particular the 15th Sloviansk regiment. I am thankful to all our border guards. To the officers and employees of the Security Service of Ukraine, the National Police, the State Emergency Service, our firefighters, rescuers, sappers. And altogether – to all our warriors, defenders, the best sons and daughters of Ukraine who are liberating its north, south and east today.

To everyone who in 200 days destroyed more than 2,000 enemy tanks, 4,500 armored combat vehicles, more than 1,000 enemy artillery systems, 250 aircraft and 200 helicopters, almost 1,000 drones, 15 ships and boats, thousands of other enemy equipment units.

Liberated hundreds of our towns and villages. Who broke the plans of the enemy, because they did not break themselves. All those who held the defense and defended Kyiv. Saved our capital, and thus preserved our faith in our victory.

All those who strengthened and multiplied it by protecting Kharkiv, Mykolaiv, Chernihiv, Odesa, Zaporizhzhia, Dnipro. Everyone who defended Mariupol and Azovstal. Liberated the Kyiv region, Zhytomyr region, Chernihiv region, Sumy region. Bucha, Irpin, Borodyanka, Vorzel, Hostomel, Makariv. Okhtyrka, Sumy. And now – Balakliya, Izyum, Kupyansk.

All those who liberated, liberate and will liberate all temporarily occupied territories of Ukraine. Bring back the Ukrainian flag to Kherson, Berdyansk, Melitopol, Luhansk, Horlivka, Yenakijeve, Mariupol and Donetsk, Yalta, Dzhankoy, Kerch, Yevpatoriya, Simferopol. Who have been working 200% all these 200 days.

The enemies said that they got lost, that they were going to an exercise. You taught them a lot. The ability to quickly get dressed and get out of our land, and the understanding that, by abandoning equipment and weapons, it can be done much faster and easier.

Many of them have forever learned that it is correct to say not "on Ukraine" but "in Ukraine". I am talking about all those who set foot on our land and stayed in it. Many will forever remember what awaits all uninvited guests in Ukraine. Our warriors.

Today, everyone sees and notes your actions in the north, south and east of Ukraine. The world is impressed. The enemy is panicking. Ukraine is proud of you, believes in you, prays for you, and is waiting for you.

The path to victory is a difficult one. But we are sure: you are capable of it. You will reach our border, all its sections. You will see our frontiers and the enemies' backs. You will see the shining of the eyes of our people and of the occupiers' heels. They will call it "goodwill gestures". We'll call it a victory.

We believe in you, in those who have been doing their job, risking their lives, defending their country for all these 200 days at -15°C or +35°C, at 2 am or 6 am, on an ordinary Monday or on Independence Day, despite fatigue, tension and danger.

All who were definitely ready. Who do not pay attention to rumors and gossip. Who do not read fakes on the Internet, but write the history in real life. The history of independence. The history of victory. The history of Ukraine. Our warriors, our fighters, our defenders. For us, you are definitely the first army of the world.

Glory to you!

Glory to Ukraine!
Here is the British MOD's assessment for today. They seem to be giving their mappers the weekends off. Lazy gits…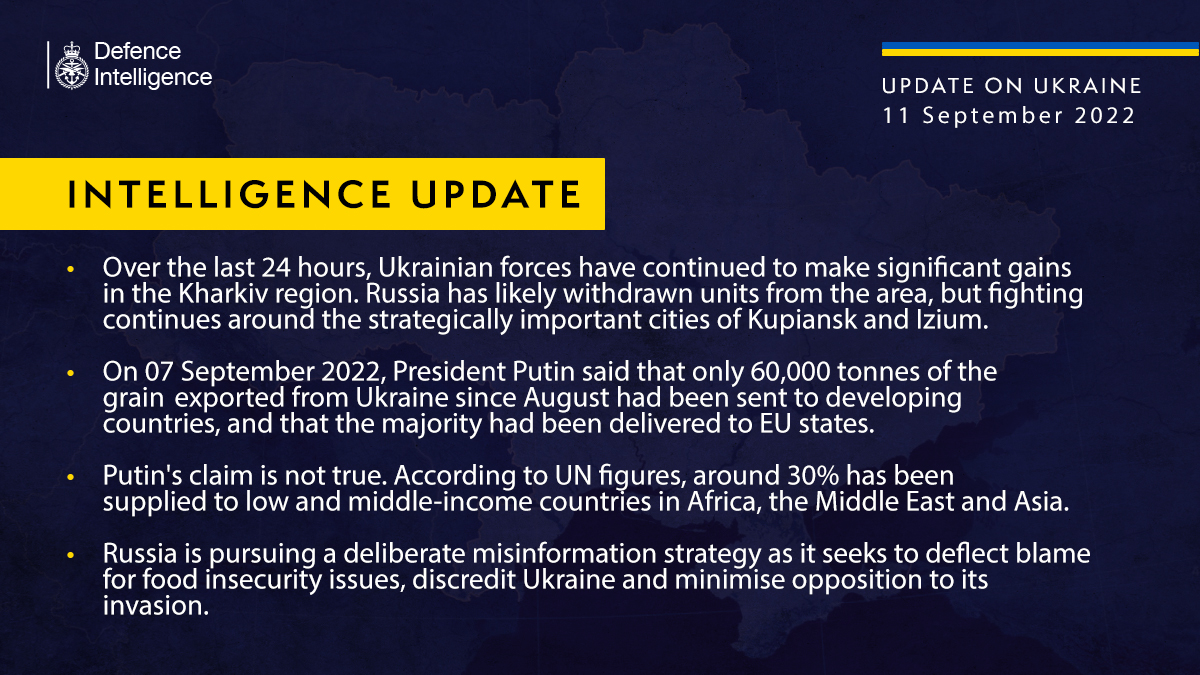 Here are former NAVDEVGRU Squadron Leader Chuck Pfarrer's two latest assessments regarding the battle for Kharkiv. Most recent first:
NOTE: The rapid collapse of the RU front east of Kharkiv is making plotting UKR progress difficult. Several optimistic projections have been promulgated, and press releases from RU and UKR are contradictory. The 2100 UTC post is regarded as conservative. Updates to follow.

— Chuck Pfarrer | Indications & Warnings | (@ChuckPfarrer) September 11, 2022
MANY THANKS: To friend and colleague @COMMCEN76 who mapped and analyzed the rail networks supplying RU occupation forces.

— Chuck Pfarrer | Indications & Warnings | (@ChuckPfarrer) September 11, 2022
Russian border officials are refusing to admit the Russia aligned residents of Donetsk and Luhansk that Russian insisted get new Russian passports over the past 200 days:
FRIENDS LIKE THESE: "Citizens" of Putin's puppet states in Luhansk and Donetsk are evacuating and crowding roads to the frontier– only to discover that they're being refused entry into Russia. Odd, because many of them are carrying freshly issued Russian passports. https://t.co/Qe1bKL3Igr

— Chuck Pfarrer | Indications & Warnings | (@ChuckPfarrer) September 11, 2022
These people are now internally displaced. They have also given their allegiance to Putin and Russia. And are now trapped between the advancing Ukrainian Army and the Russian border.
And the Ukrainian Army has made it to the border!
Ukrainian forces on the Russian border – the town of Hoptivka.
The battle of Kharkiv Oblast is an absolute Ukrainian victory. pic.twitter.com/SpidoQoHFW

— Illia Ponomarenko 🇺🇦 (@IAPonomarenko) September 11, 2022
The Russians, of course, have been screwing around with the Zaporizhzhia Nuclear Power Plant and bombarding other parts of the Ukrainian power grid:
⚡️ Intelligence: Russia plans to again shell Zaporizhzhia nuclear plant.

Russian forces are allegedly planning another attack on the Zaporizhzhia Nuclear Power Plant and the neighboring city of Enerhodar, says Ukraine's Defense Ministry's Intelligence Directorate.

— The Kyiv Independent (@KyivIndependent) September 11, 2022
The sixth reactor was operating on "island mode" for the past three days, maintaining only its own needs, after Russian shelling damaged power lines. Now, "preparations are underway for its cooling and transfer to a cold state," reportedly the "safest state."

— The Kyiv Independent (@KyivIndependent) September 11, 2022
BREAKING: Electricity blackout in Kharkiv, as well reports of outages in Dnipro, Poltava, and Sumy. Kharkiv regional police chief confirms Russia targeted the power grid. With @v_solohub

— Nick Schifrin (@nickschifrin) September 11, 2022
Russian news media is finally beginning to realize that things are not going well in Ukraine:
First, and most obvious, there's not even a hint of the Ukrainians' advance from Kharkov deep into Russian-held territory. Quite the opposite, instead there are tallies, drawn directly from MOD briefings, of alleged enemy losses (4000 KIA since 6 Sept) 2/https://t.co/TJfOQurDJu

— Mark Galeotti (@MarkGaleotti) September 11, 2022
But even so, the propagandists can't help but trip themselves up. The account of how a Mi-35 gunship crew allegedly thwarted a Ukrainian river crossing might be comforting to the paper's readers…assuming they don't look at a map, because… 4/https://t.co/G0nekyMkWt

— Mark Galeotti (@MarkGaleotti) September 11, 2022
By placing the action at Sen'kove, on the Oskil River (which seems to have been taken already), it is admitting just how deeply the Ukrainians have already gone. Presumably, they are relying on readers imbibing the triumphalist tone and not digging into the detail. 5/

But this illustrates some wider issues. 1) The Kremlin seems stunned, and has not yet come up with a plan as to how to try and spin this, so to a large extent the media are ignoring the bad news until they get a directive. No one wants to show initiative lest they get it wrong 6/

(Which is, incidentally, the same Soviet-style defensive thinking that is bedevilling the military, especially disastrous in a time of rapid and unpredictable change) 7/

2) The Kremlin is happy to lie, but can't just ignore realities, and so is really struggling to create any positive narratives on issues where some basic fact-checking is possible. This is the kind of dilemma we saw in Chechnya (x2) and the Sov war in Afghanistan, and… 8/

…Tends to be a sign that the state's control over the narrative is cracking. It is not so much IMO that Russians up to now have necessarily *believed* the official line so much as that they have had no reason to both *disbelieving* it as that is dangerous… /9

…both politically and also morally. I remember one parent of a vet from Afghanistan I interviewed for my PhD. She said "I didn't want to believe what people were saying about the war, because if I did, then I would either have to act or be a part of it." /10

This desire to avoid the truth as long as possible is a very human one, alas, but especially prevalent in authoritarian regimes. But in due course – and esp as the official narrative becomes less and less credible – it does break over time. 11/

The evening TV 'shock jocks' will still rant, but they matter less than many believe. When even core state propagandists like RG are at a loss, despite their closeness to the administration, then this is a sign of political pressure, maybe even crisis. 12/end
ICYMI, watch this too: https://t.co/szdEK3RXVt

— Julia Davis (@JuliaDavisNews) September 11, 2022
Ukrainian soldiers make an unexpected find:
A soldier reads it "And glory to you, dark-blue mountains,
Frost and snow protect you;
And to you, great-hearted heroes,
God does not forget you.
Struggle on—and be triumphant!
God Himself will aid you;
At your side fight truth and glory,
Right and holy freedom."

— Daria Kaleniuk (@dkaleniuk) September 10, 2022
Kyivan/Ukrainian Valkyries!!!!
There is 22% of women in the #Ukrainian army – one of the highest rates in Europe. Now women can hold any position in the army in any branch of the military, including combat specialties. 5K 🇺🇦women are fighting on a frontline.

🎥 by @United24media 👇:https://t.co/6sgLZoclZ3 pic.twitter.com/o5JJtoW2Zf

— MFA of Ukraine 🇺🇦 (@MFA_Ukraine) September 9, 2022
I've been meaning to post this for almost two months and keep forgetting, so you're getting it tonight:
The song "Vrazhe" (Enemy) by Ukrainian singer Angy Kreyda is the latest musical weapon Ukraine has unleashed in response to Russia's full-scale invasion of the country.

Poetess Liudmyla Horova's poem "Vrazhe", written in the form of a witch spell against enemies, was published on the Internet on April 22.

The words went viral very quickly. It has been read aloud, set to music and translated into other languages, including Polish, English, German, Belarusian, and Georgian.

Now Angy Kreyda, a singer from the city of Rivne, has also recorded her version. And a little more than a month after its premiere, the music video has reached one million views on YouTube and has gone viral.

"This is a real ancient spell from enemies, and one tarot reader said that it must be listened to by everyone and spoken several times a day to bring our victory closer," according to the words in the music video.

Other lyrics are:

"For Kremenchuk, for Bucha, for Irpin, for Mykolayiv, for Kharkiv, for Mariupol… For Ukraine.

"This is not a song, but a spell and a curse for the 'orcs' (sic, referring to Russian soldiers), let all this come true a thousand times, these are the words of every woman of Ukraine. Slava Ukraini (Glory to Ukraine), death to the enemy.

"This is women's revenge against all marauders, rapists, murderers of people, children, parents, women and animals."
Your daily Patron!
Today, the world reads the news with a blissful smile. I'm so proud of our soldiers!!! Glory to Ukraine. Glory to the Armed Forces of Ukraine🦾🔥Thank you, people, for your support❤️ @DefenceU pic.twitter.com/ZQyigLWkVR

— Patron (@PatronDsns) September 11, 2022
And a new video from Patron's official TikTok:
The caption translates as:
The secret of my courage ❤️ #dogPatron #PatronDSNS #Slava Ukraini #They are Celebreating
Open thread!