On the Road is a weekday feature spotlighting reader photo submissions.
From the exotic to the familiar, whether you're traveling or in your own backyard, we would love to see the world through your eyes.
Albatrossity starts us off with baby birds, and then we head to Kenya with way2blue for the rest of the week!
Albatrossity
Summertime is the season for seeing baby birds, whether as begging fledglings or as fully-flighted awkward adolescents. So I'm gonna devote the next couple of posts to these newbies, with pics of younger birds (technically called hatch-year birds) juxtaposed with adults of the same species. There are lots of ways to tell them apart, even for species that are not very colorful. But you need to pay attention to subtle colors and patterns on the feathers, as well as bill (and sometimes iris) colors and patterns. I understand that this level of detail might not be for everybody, but at least you get to see twice as many birds this week!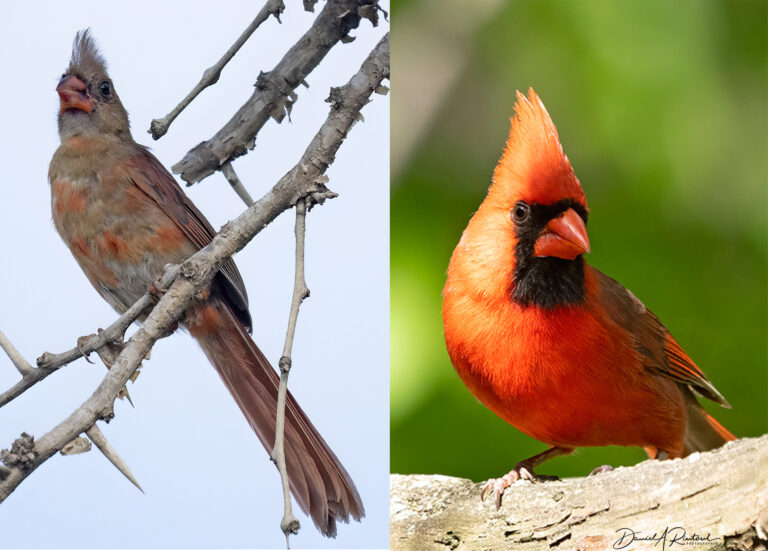 Near Manhattan KS
August 26, 2022
First up is one of the most familiar birds in North America, the Northern Cardinal (Cardinalis cardinalis). Young cardinals are abundant in my neighborhood in the late summer, and perhaps in yours as well. In this image (and all the others in this post) the hatch-year bird will be on the left, and the adult on the right. This young cardinal is a male, based on the hints of red plumage coming in on the juvenile brown body plumage. The other clue that this is a youngster is the bill. Baby cardinals have "dusky" bills that slowly turn red; you can still see dusky patches on this bird's bill.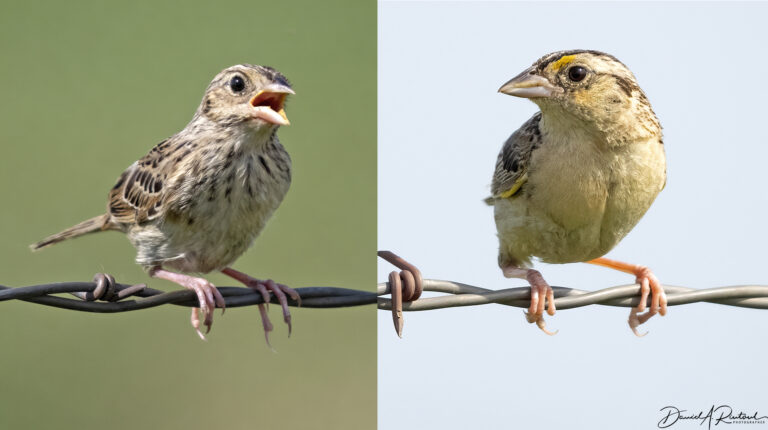 Near Manhattan KS
July 11, 2022
Next is a very familiar bird to us here in Flyover Country, the Grasshopper Sparrow (Ammodramus savannarum). Hatch-year sparrows of species whose adults have a clear un-streaked breast are often streaked, and vice versa. So this streak-breasted youngster will turn into the clear-breasted adult type in a few months. The other clue that this is a hatch-year bird is the yellow color of the gape (the hinge at the base of the open mouth on this bird). These so-called "baby lips" are common in lots of species, and will slowly lose that yellow color as the bird matures.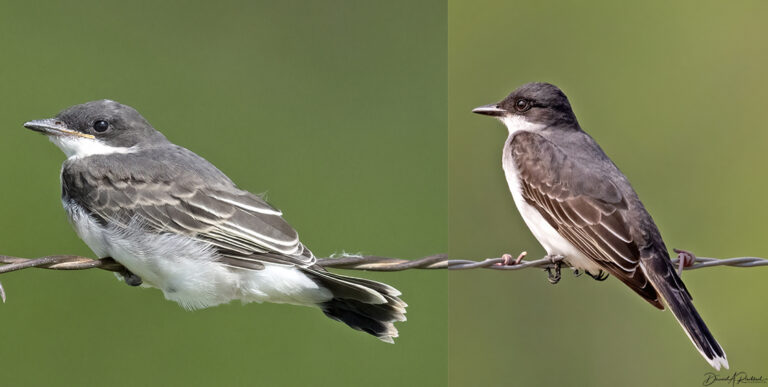 Near Manhattan KS
July 10, 2022
Eastern Kingbirds (Tyrannus tyrannus) are also very familiar to lots of birders in North America. This youngster not only has the standard baby lips, it has a short tail, which is also a trait commonly seen in many other species. That tail will grow out quickly, but birds fresh out of the nest will often have shorter tails than adults. Another more subtle feature seen in this comparison shot is the relative uniformity of the youngster's plumage, and lack of feather wear. The latter is most easily seen when you compare those broad white fringes on the youngster's wing feathers with the thin and worn white fringes of the adult.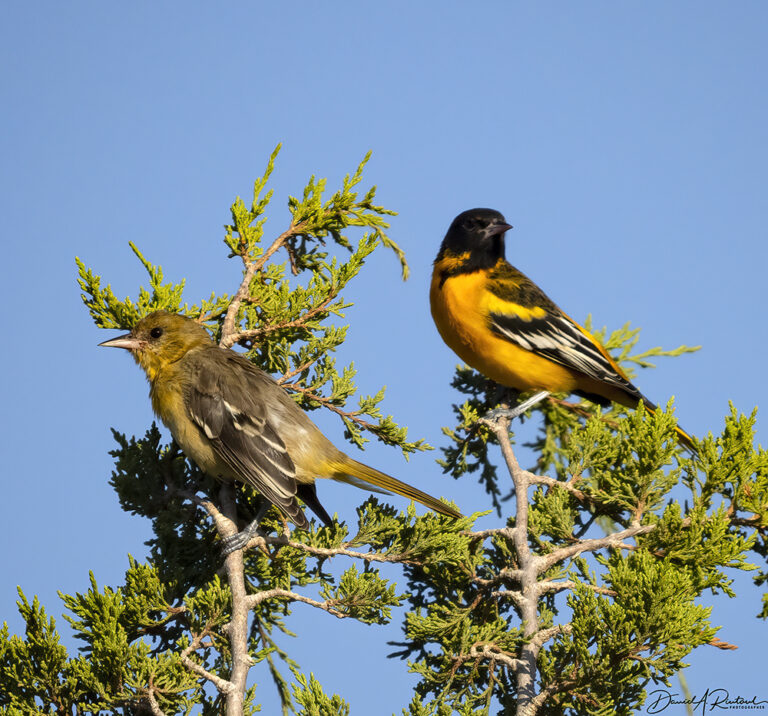 Quivira NWR
August 14, 2022
Many very colorful birds are sexually dimorphic, and in most cases the adult males are much flashier than the adult females. In many of those species the hatch-year birds most closely resemble the adult females, and one of those species is the Baltimore Oriole (Icterus galbula). It can be pretty difficult to distinguish one of these hatch-year birds from an adult female bird, but fortunately this one still has the baby lips.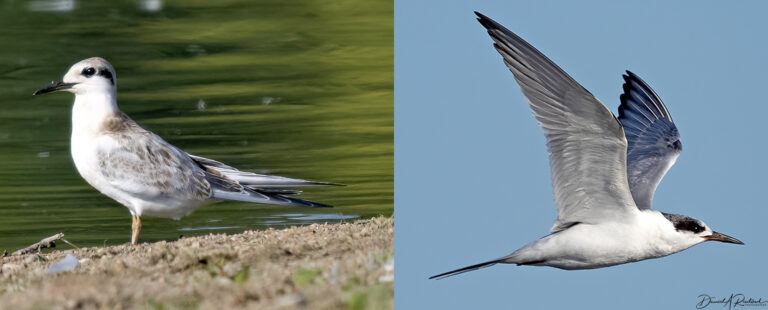 Near Manhattan KS
August 23, 2022
Non-passerine birds such as this Forster's Tern (Sterna forsteri) often have distinctive juvenile plumages. Juveniles of this species have ginger-brown coloration on the back and wings, which quickly disappears as the feathers wear. You can still see some of that on the wings of this hatch-year bird, and a big patch of brown color on the lower neck.

Near Manhattan KS
August 25, 2022
Black-capped Chickadees (Poecile atricapillus) are also found across North America, and many of us have lots of these little sprites at our feeders year-round. This is a species where it can be pretty difficult to distinguish young birds from adults if they are not begging from a parent; plumages differences are subtle but they are there if you know what to look for. On a hatch-year bird, the black cap is browner, the lower border on the black bib is more raggedy, and the plumage is looser and fluffier, particularly the undertail coverts. All of those marks can be seen in this comparison shot. Many field guides do not mention these, so you are learning something here that you may not have ever read in a book!

Near Manhattan KS
August 21, 2022
The same loose fluffy juvenile plumage, as well as the aforementioned baby lips, can be seen in this young Blue-gray Gnatcatcher (Polioptila caerulea). You can also see that it has a somewhat brownish tone compared to the eponymous blue-gray of the adult.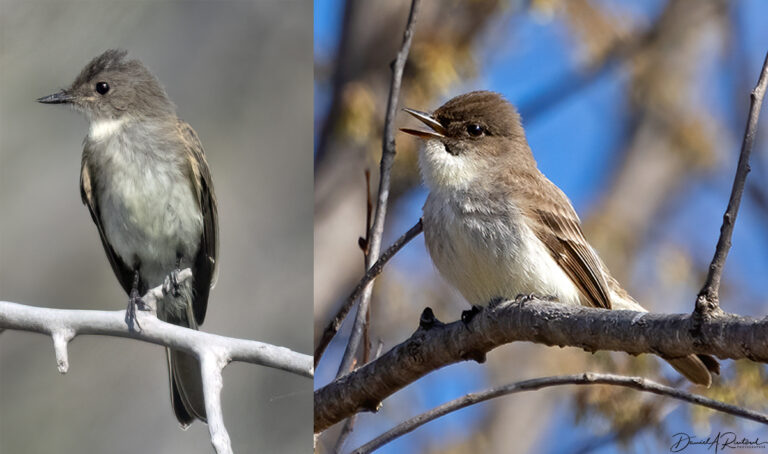 Near Manhattan KS
August 10, 2022
This one is a little trickier. Hatch-year Eastern Phoebes (Sayornis phoebe) have a smudgy bib that extends across the chest, and often a light lemony tinge on the belly, which you can perhaps convince yourself you see on this one. Thankfully it has those baby lips.

Near Manhattan KS
July 10, 2022
By now you should be good at this. Baby lips and short tails. Scissor-tailed Flycatcher (Tyrannus forficatus).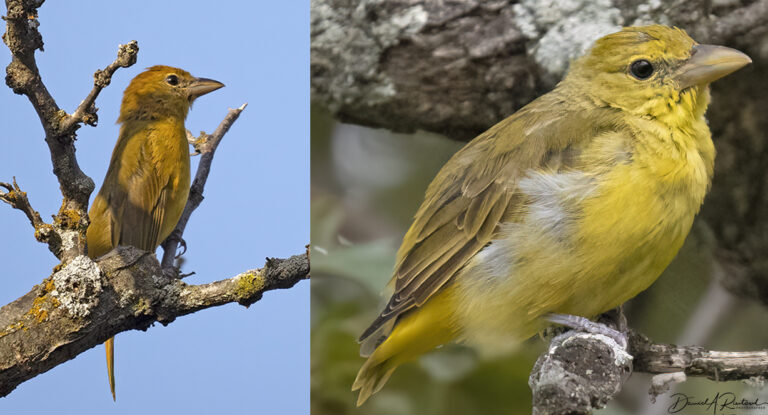 Near Manhattan KS
September 7, 2022
The final bird for today is kinda tricksy; I was fooled in the field and only realized what I was looking at when I get the images onto a large computer monitor. Like the oriole above, Summer Tanagers (Piranga rubra) are sexually dimorphic; males are bright red and the females a duller yellow-green. And, as mentioned above, the hatch-year birds resemble adult females.
So why is that nearly tailless bird on the right not identified as a hatch-year bird? First, it is molting season for adult tanagers here, and loss of tail feathers can certainly happen in a molt. Second, it doesn't have baby lips like the bird in the left of the image. Finally, one plumage character that is very helpful can be seen in both of these birds.
The primary coverts (the wing feathers visible underneath the fluffy white flank feathers in the bird on the right) are dark with extensive yellow edging in the adult, and brown with brownish edging in the hatch-year bird. The adult also seems to be overall brighter yellow in that fresh plumage, but this might be a trick of the lighting.