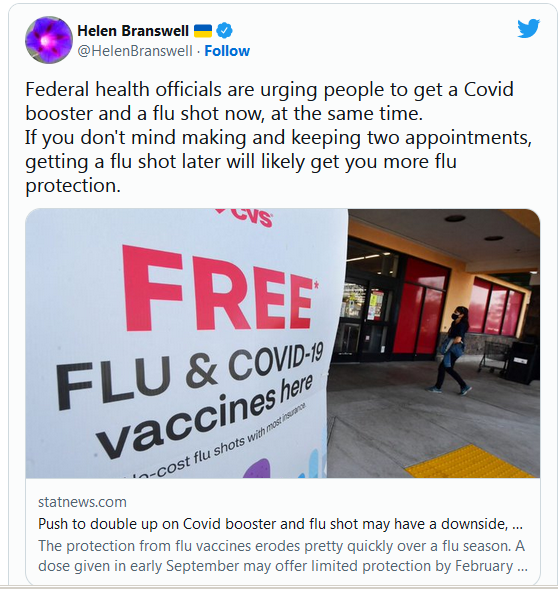 … The protection generated by influenza vaccines erodes pretty quickly over the course of a flu season. A vaccine dose given in early September may offer limited protection if the flu season doesn't peak until February or even March, as it did during the unusually late 2021-2022 season.

"If you start now, I am not a big fan of it," Florian Krammer, an influenza expert at Mount Sinai School of Medicine in New York, told STAT. "I understand why this is promoted, but from an immunological point of view it doesn't make much sense."

A number of studies have shown that the benefit of a flu shot wanes substantially over the course of a flu season — exacerbating effectiveness problems that are frequently seen when some of the strains in the vaccine aren't well matched to the strains making people sick.

Work done by researchers from the Kaiser Permanente Vaccine Study Center and the Harvard School of Public Health estimated vaccine effectiveness declined by about 18% for every 28-day period after vaccination. A study done by scientists at the Centers for Disease Control and Prevention and elsewhere showed that the vaccine's protection against flu that is severe enough to trigger hospitalization decreases by between 8% and 9% per month after vaccination. In older adults, who are more likely to get seriously ill from flu, the decline happened at a rate of about 10% to 11% per month.

"You've got about four months of pretty solid protection," said Emily Martin, an associate professor of epidemiology who specializes in flu at the University of Michigan School of Public Health. Martin was an author on the latter study.

If you ask someone who researches flu and flu vaccines, they will likely quietly — or in some cases, not so quietly — advise you to wait at least until the end of October to get a flu shot, though they'll attach the caveat that if you start to hear about flu activity picking up where you live, you should fast-forward your plans…

Noel Brewer, a professor of health behavior at the University of North Carolina, said he thinks moving to this joint-administration approach is the right idea. Covid vaccine delivery has been overly complicated, he said, requiring people to keep track of too many things. How many shots they've had. When they last had a shot. When they are next eligible for a shot.

People have been tuning out, he said — an assertion bolstered by the booster uptake rate. The percentage of eligible people who got a second Covid booster is lower than the percentage of people who got a first booster, which is lower than the percentage of people who got a primary series of two shots.

Making things simple and pairing Covid shots with another health intervention makes it easier for people, Brewer said — even if the combination benefits one of the interventions more than the other…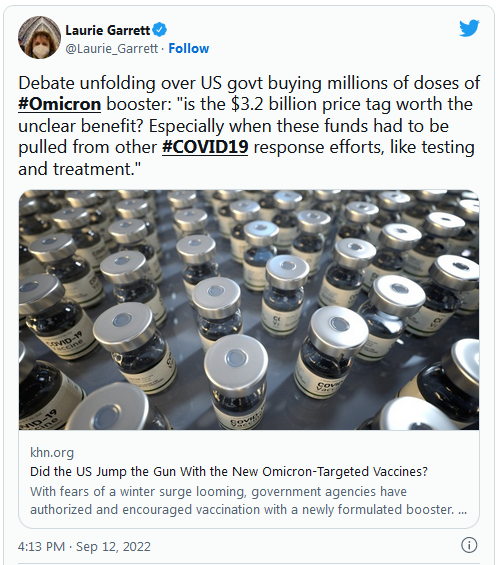 (link)
"Vaccines don't save lives, vaccination saves lives," stresses IDSA member, Walter Orenstein, MD, FIDSA (@worenst)

Watch last week's press briefing on bivalent COVID-19 vaccine boosters: https://t.co/ZvdXLnHuo2 pic.twitter.com/uCUtm5wnO3

— IDSA (@IDSAInfo) September 12, 2022
======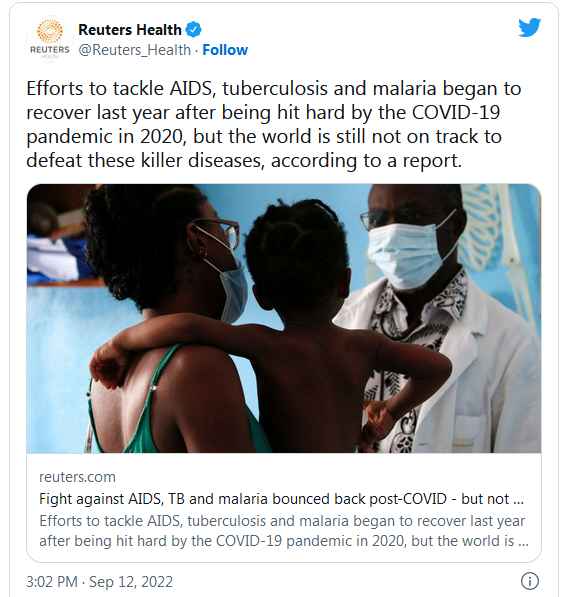 (link)
Which forms of lockdowns and #COVID19 control worked in 2020/1? Analysis of 41 countries asks which measures lowered Ro — the transmission rate — of #SARSCoV2 (and which did not). In 1st place — cancelling mass gatherings.https://t.co/HkSqJmKX5a pic.twitter.com/FaLpL5n0sC

— Laurie Garrett (@Laurie_Garrett) September 12, 2022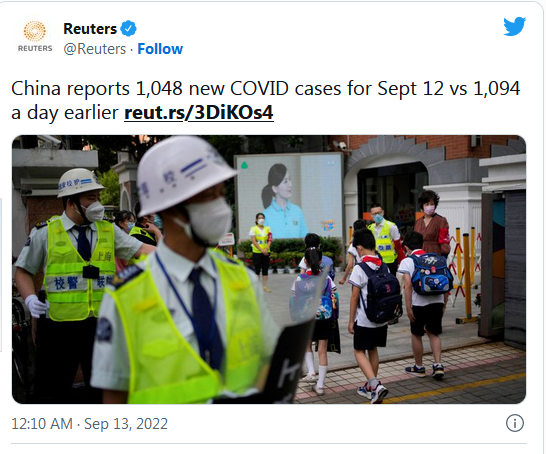 (link)
China has always manufactured consent and made public health a collective effort first at education, then mitigation. We've had a dozen incredibly effective public health education campaigns- these posters? They don't exist for COVID-19. The only reason is "because we say so". pic.twitter.com/BesjpHHPmW

— Naomi Wu 机械妖姬 (@RealSexyCyborg) September 12, 2022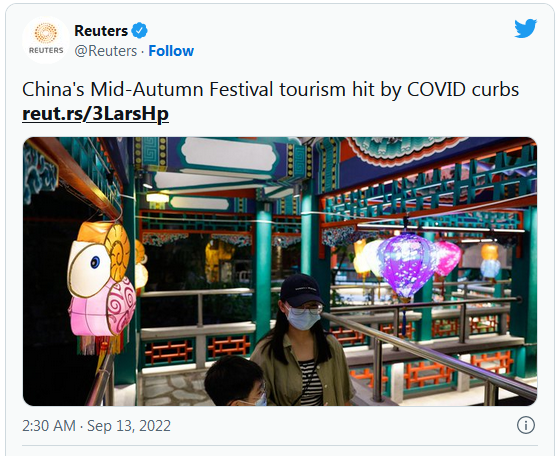 (link)
Hong Kong logged 7,218 new Covid-19 infections on Tuesday, of which 151 cases were imported. The city also added 10 new deaths.

Full, trusted Covid-19 coverage on HKFP: https://t.co/w8LTgNgHXy#hongkong #covid19 pic.twitter.com/d0dzU51VXR

— Hong Kong Free Press HKFP (@hkfp) September 13, 2022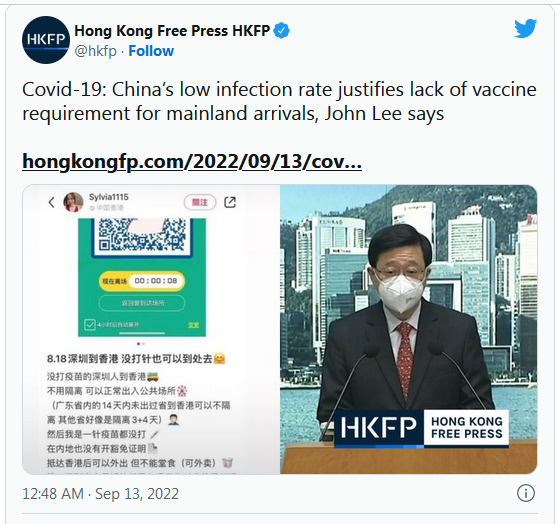 (link)
Hong Kong visitors from places other than China, on the other hand…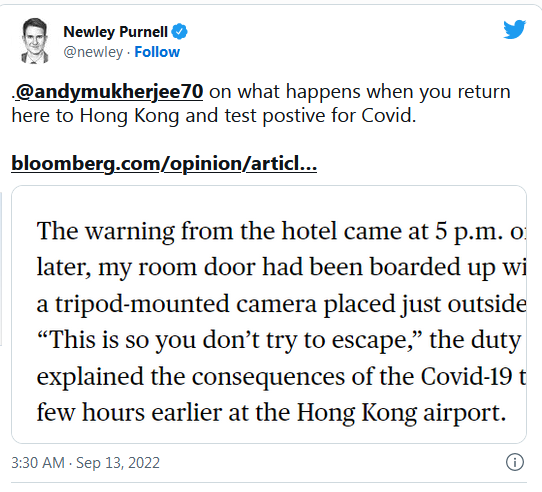 (link)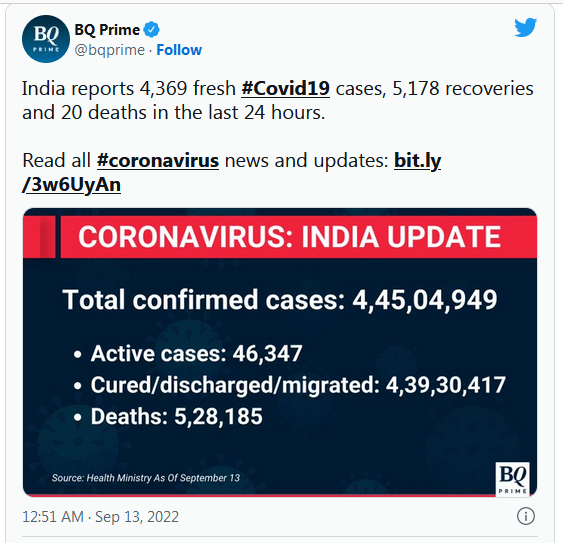 (link)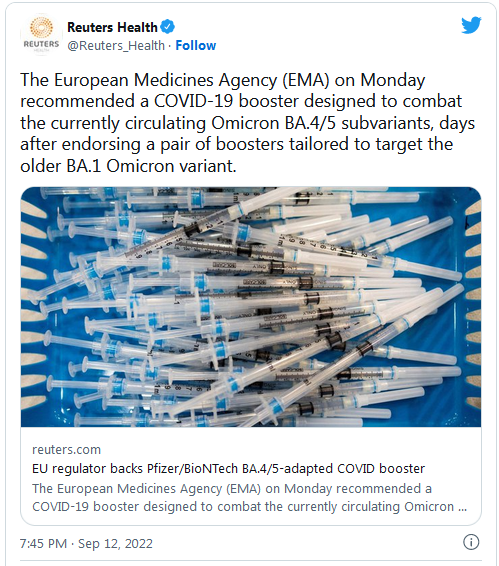 (link)
we are *still* seeing excess deaths in England and Wales.@ActuaryByDay wrote a brilliant blog about what lies beneath this a couple of weeks ago:https://t.co/UJMhqGIpeL https://t.co/0uEe3fPjTx

— Prof. Christina Pagel 🇺🇦 (@chrischirp) September 13, 2022
======
Flushing the nasal cavity w/ a mild saline solution soon after testing positive for #Covid sharply reduces hospitalization & death says a study in the journal Ear, Nose & Throat. Best results were documented w/ a twice-daily rinse https://t.co/B6bO8fy0dG pic.twitter.com/6b9K3rAgGH

— delthia ricks 🔬 (@DelthiaRicks) September 13, 2022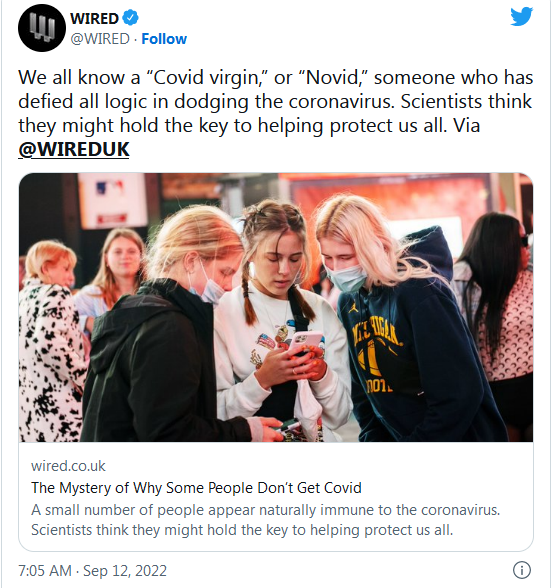 … In the early days of the pandemic, a small, tight-knit community of scientists from around the world set up an international consortium, called the COVID Human Genetic Effort, whose goal was to search for a genetic explanation as to why some people were becoming severely sick with Covid while others got off with a mild case of the sniffles.

After a while, the group noticed that some people weren't getting infected at all—despite repeated and intense exposures. The most intriguing cases were the partners of people who became really ill and ended up in intensive care. "We learned about a few spouses of those people that—despite taking care of their husband or wife, without having access to face masks—apparently did not contract infection," says András Spaan, a clinical microbiologist at Rockefeller University in New York…

The theory that these people might have preexisting immunity is supported by historical examples. There are genetic mutations that confer natural immunity to HIV, norovirus, and a parasite that causes recurring malaria. Why would Covid be any different, the team rationalized? Yet in the long history of immunology, the concept of inborn resistance against infection is a fairly new and esoteric one. Only a few scientists even take an interest. "It's such a niche field, that even within the medical and research fields, it's a bit pooh-poohed on," says Donald Vinh, an associate professor in the Department of Medicine at McGill University in Canada. Geneticists don't recognize it as proper genetics, nor immunologists as proper immunology, he says. This is despite there being a clear therapeutic goal. "If you can figure out why somebody cannot get infected, well, then you can figure out how to prevent people from getting infected," says Vinh…

By the time the team started looking for suitable people, they were working against mass vaccination programs too. "On the one hand, a lot of people were getting vaccinated, which is great, don't get me wrong," says Vinh. "But those are not the people we want." On the other hand, seeking out the unvaccinated "does invite a bit of a fringe population." Of the thousands that flooded in after the call, about 800 to 1,000 recruits fit that tight bill.

Then the highly infectious Omicron variant arrived. "Omicron has really ruined this project, I have to be honest with you," says Vinh. It dramatically reduced their pool of candidates. But Spaan views Omicron's desecration in a more positive light: that some recruits survived the Omicron waves really lends support to the existence of innate resistance…

Now that they have a substantial cohort, the group will take a twofold approach to hunting for a genetic explanation for resistance. First, they'll blindly run every person's genome through a computer to see if any gene variation starts to come up frequently. At the same time, they'll look specifically at an existing list of genes they suspect might be the culprits—genes that if different from usual would just make sense to infer resistance. An example is the gene that codes for the ACE2 receptor, a protein on the surface of cells that the virus uses to slip inside.

The consortium has about 50 sequencing hubs around the world, from Poland to Brazil to Italy, where the data will be crunched. While enrollment is still ongoing, at a certain point, they will have to decide they have enough data to move deeper into their research. "That's going to be the moment we have people with clear-cut mutations in the genes that make sense biologically," says Spaan…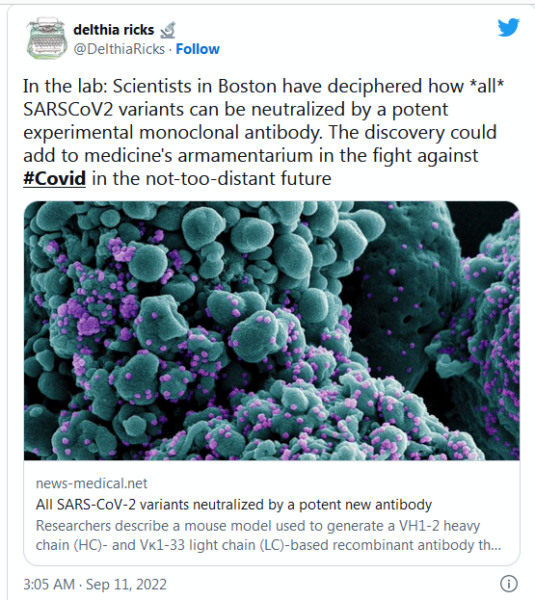 (link)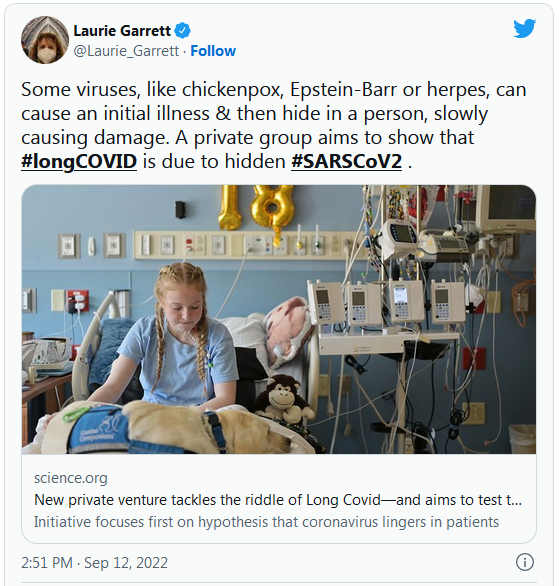 @ScienceMagazine have published a series of short vignettes around children and Covid today (inc one by me & @dgurdasani1 ) – here is a quick thread of the range of knowledge covered from sickness to immunity, to long covid to schools to vaccines.
https://t.co/rKgp0kHNs3

1/8

— Prof. Christina Pagel 🇺🇦 (@chrischirp) September 9, 2022
Is this the one? https://t.co/ugh8Z3RwCi

— Dr. Kiki Sanford (@drkiki) September 11, 2022
======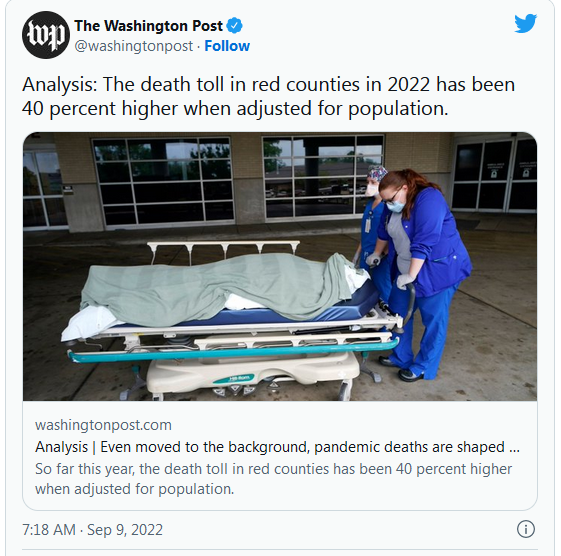 … A lengthy new report at ProPublica elevates a specific example of how politics affected the response to the virus. It explores the situation at a hospital in Montana, where Republican leadership blocked vaccine mandates, even for health-care workers. Gov. Greg Gianforte (R), elected in November 2020, quickly enacted policies aimed at minimizing the perception of the danger posed by the virus upon taking office. The article is a grim portrait of how the hospital was forced to scramble to care for sick and dying patients, even as political leaders scored points with ostentatious opposition to efforts to treat the pandemic seriously.

It's a snapshot of a divergence along political lines that is pervasive nationally even today.

Over the course of the pandemic, more people have contracted the virus and died of it in counties that voted for Joe Biden in 2020 than in ones that voted for Donald Trump. But late last year, the toll in counties that backed Trump by more than 20 points passed the toll in counties that supported Biden by that margin…

That's despite those strongly pro-Biden counties being home to more than 30 percent more people. If we control for population, we see that while infection rates are fairly similar regardless of party, the death toll has been far worse in counties that backed Trump. The counties in which Trump won by the widest margin have seen a cumulative population-adjusted death toll that's 42 percent higher than counties that backed Biden by the widest margin…

In 2020, Biden-voting counties (overall) had 8 percent more deaths than Trump-voting ones, once you adjust for population. In 2021, Trump-voting counties had more than 50 percent more population-adjusted deaths. In 2022, the toll has been about 40 percent higher per resident in Trump counties.

It's often the case that Biden-voting counties see more population-adjusted infections in a month (though this is, of course, affected by the regularity with which people seek out and report tests). But the last time there were more population-adjusted deaths in blue counties than in red ones was in early 2021…

Of course, it isn't only vaccines. The ProPublica story also explores the importance of the right's embrace of unproven treatments for covid-19, such as the drug ivermectin. When a prominent Republican figure in the state fell ill, her family pushed for the patient to receive that drug and hydroxychloroquine, in keeping with arguments from the political right about the efficacy of those medications as treatments. Elected officials joined the fight. The patient died.

The idea that there exist medications that can broadly protect the unvaccinated has been compelling for a few reasons. For one, it allows those on the right to continue to position themselves against the establishment and "elites" like government medical officials. For another, it suggests that the pandemic was never as big a deal as it was made out to be, a common argument as the currently most-prevalent variant appears to less frequently result in death…

In August, 16 out of every 10 million residents of Trump-voting counties died of covid-19 every day. That's not very many, thankfully. But it's still nearly a third higher than the rate of deaths in Biden-voting ones.
📈This delta is even starker with elders.
The CDC estimates unvaccinated people aged 50+ had a 14X risk of dying from #COVID19 in June 2022 compared to people with primary series + 2 boosters https://t.co/q8MZx2MB4k

💉💪🇺🇸Please help seniors get boosted: https://t.co/EVpxFG9dzC pic.twitter.com/L1vSyimpsy

— Alex Howard (@digiphile) September 12, 2022
it's so nuts that there were only like 40 years between the eradication of polio in the US and the rise of a huge reactionary movement against vaccines. we're going to put kids back in iron lungs because mom watched the wrong tiktoks

— lauren (@NotABigJerk) September 12, 2022
Reader Interactions