On the Road is a weekday feature spotlighting reader photo submissions.
From the exotic to the familiar, whether you're traveling or in your own backyard, we would love to see the world through your eyes.
way2blue
I'd long wanted to hike in the Tsavo National Parks of Kenya and finally booked a two-week trek for August 2020.  Which was postponed till 2021. >  After our side trip to Maasi Mara (described in a previous OTR series), we flew back to Nairobi and met the guide and fellow trekkers.  I've organized a series of eight OTR submissions more or less chronologically rather than by theme, so they may seem to jump around a bit.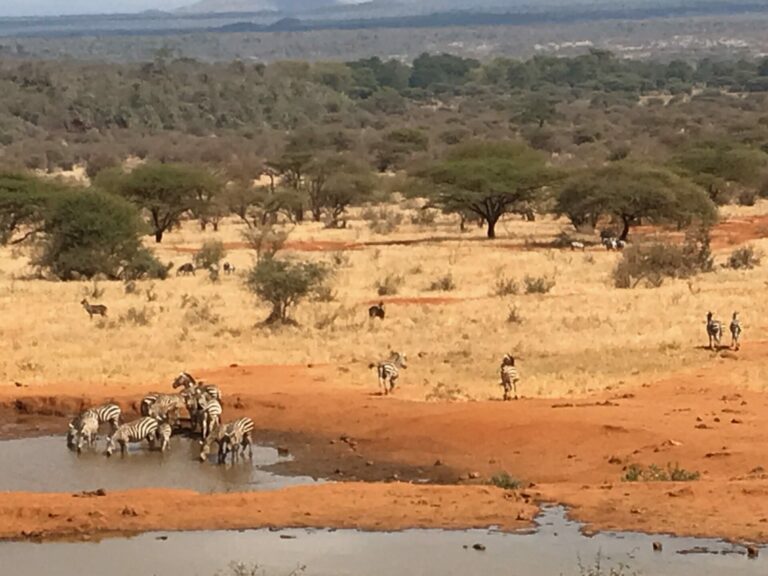 KILAGUNI LODGE.
We caught an early flight from Nairobi south to Finch Hatton's airstrip after a brief stop at the Amboseli airstrip.  We were met by a safari vehicle and driven to a lodge for breakfast…  The dining area looked out on a spring-fed watering hole that attracted an amazing variety of animals.  Quite stunning.  After breakfast, we drove a couple hours to Mzima Camp at the west end of Tsavo West Park, just east of Mt Kilimanjaro.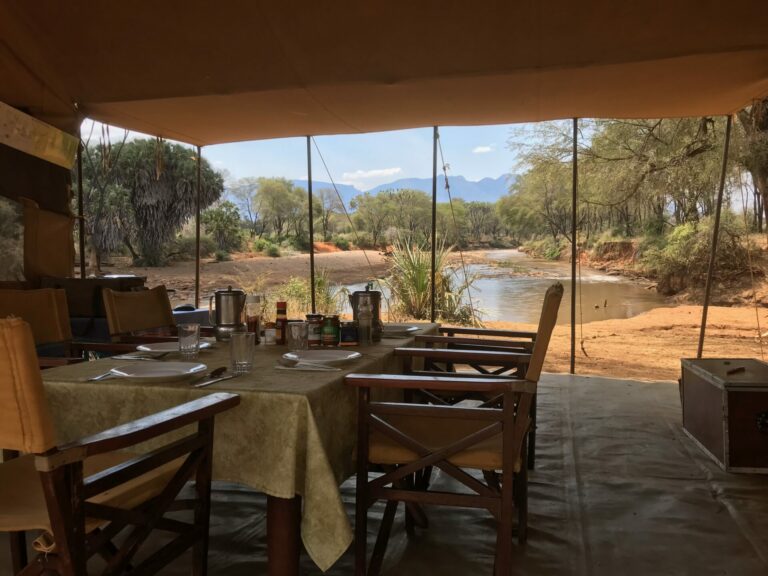 HIKE 2 KUDU CAMP.
The next morning we were awakened to 'Jambo' at 0600, had breakfast & headed out at 0700 sharp.  We hiked 10.6 miles past Rhodesia Hill to our second camp, Kudu, stopping every hour or so to rest.  We scrambled through a narrow canyon, fortunately no hippos in sight, and tracked along with a herd of buffalo which were thankfully spooked by our scent.  Photo of the lunchtime dining tent overlooking the Tsavo River.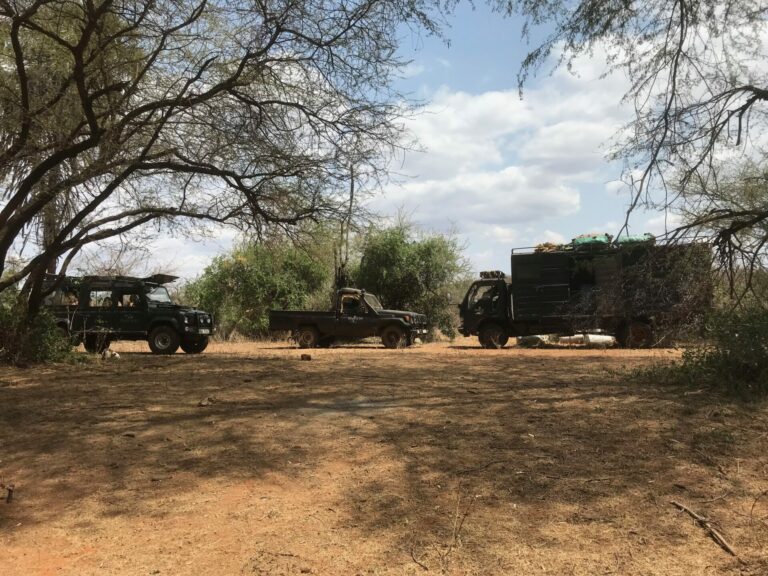 KUDU CAMP.
Photo of some of the support vehicles.  The one on the left is our field vehicle—with hatches that allowed us to sit on top as we rode along.  Better for spotting animals.  On days when we moved camp, the crew had to dismantle the tents, box up the kitchen, and sometimes drive a long way round to the next camp.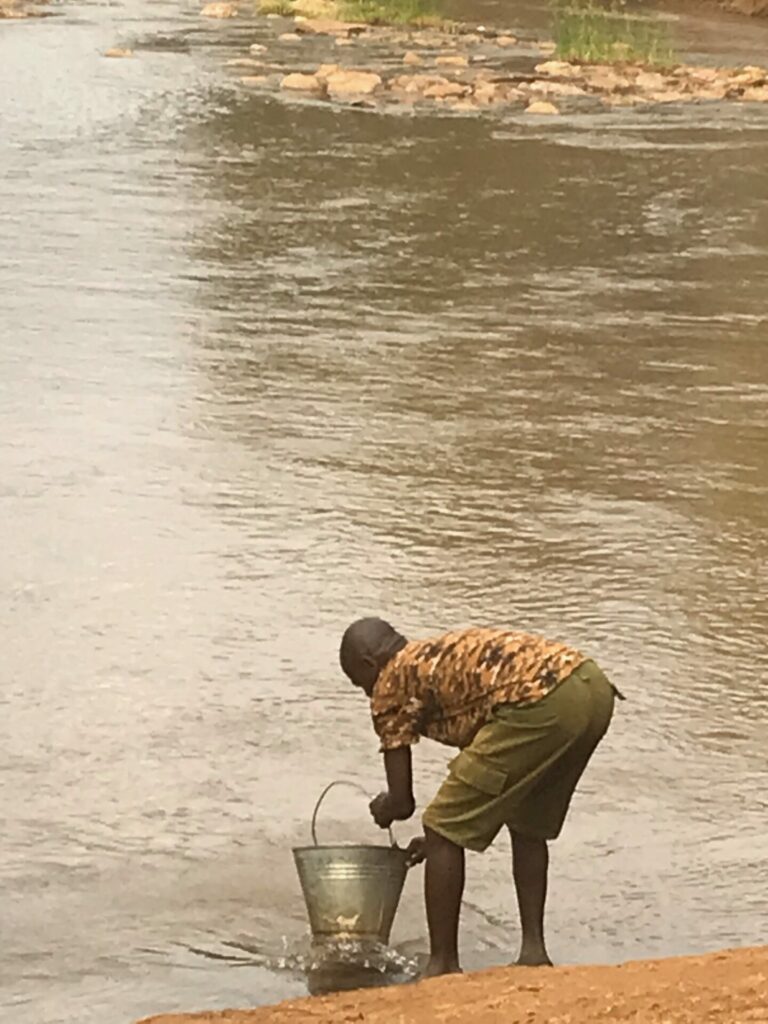 TSAVO RIVER / KUDU CAMP.
Collecting water for showers…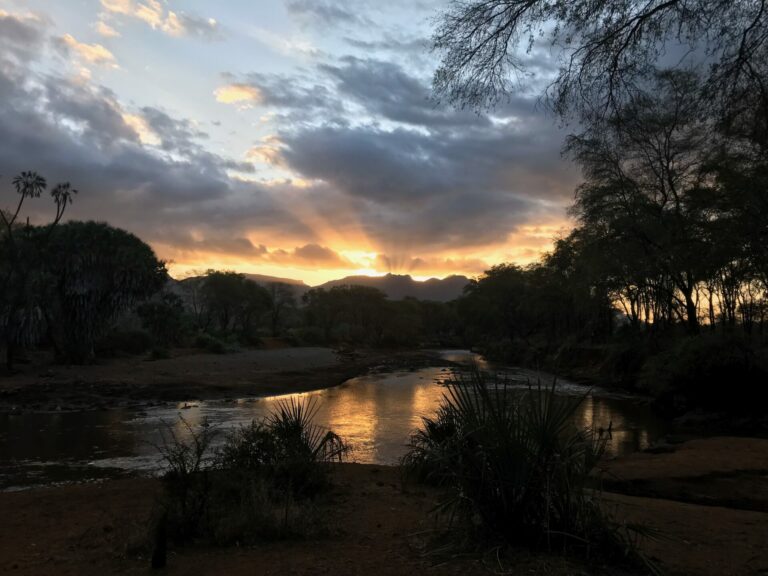 DAWN IN KUDU CAMP.
Another long hike (10.7 miles) following elephant trails through brush & acacia bushes (which have long thorns by the way) with Kichwa Tembo peak in the distance.  We walked in silence to better listen for nearby animals and stayed single-file, close together to provide less vulnerable targets for predators.  Passed WWI fortifications as the Tsavo River was a battle front between German and British troops.  Albeit many troop deaths were from hippo attacks.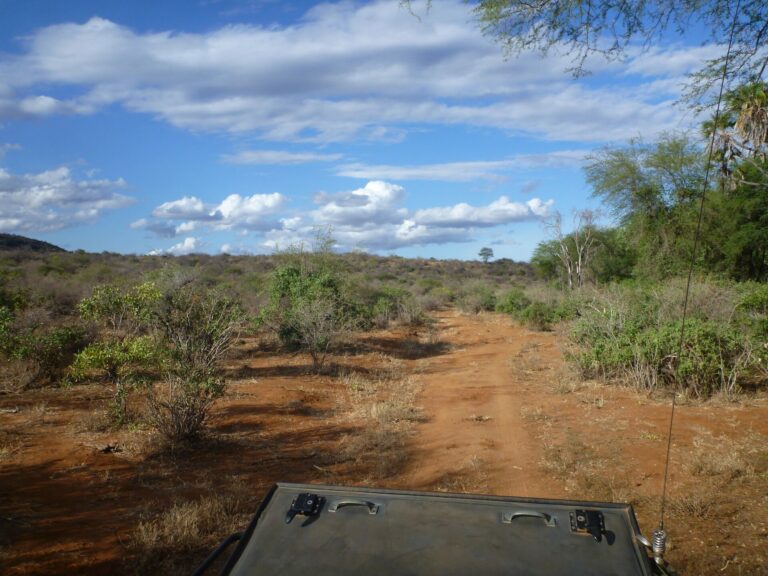 AFTERNOON DRIVE / MAJI YA CHUMVI CAMP.
Most days, we'd finish hiking by lunchtime, cross back over the river to be met by the field vehicle or arrive directly in camp—which had leapfrogged ahead of us.  After lunch, a siesta till 1600, then a 'game' drive on the look out for animals feeding in the late afternoon.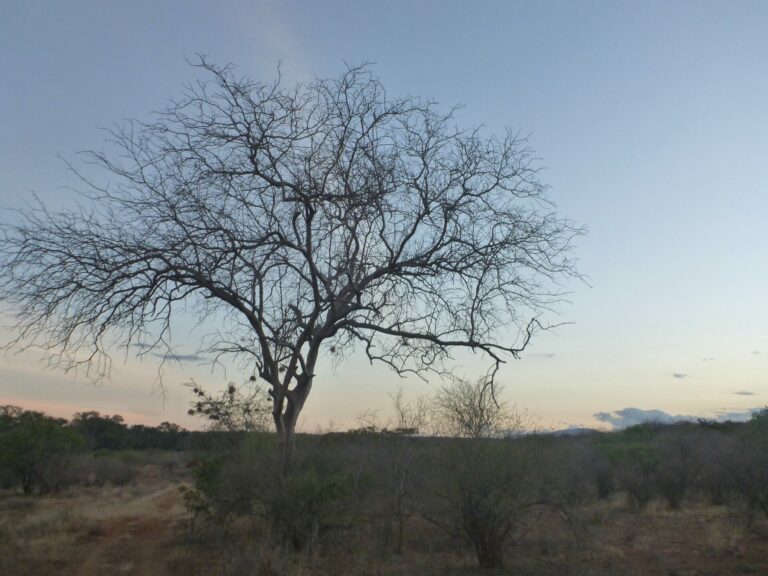 AFTERNOON DRIVE / MAJI YA CHUMVI CAMP.
My ecologist son had asked for photos on unusual trees…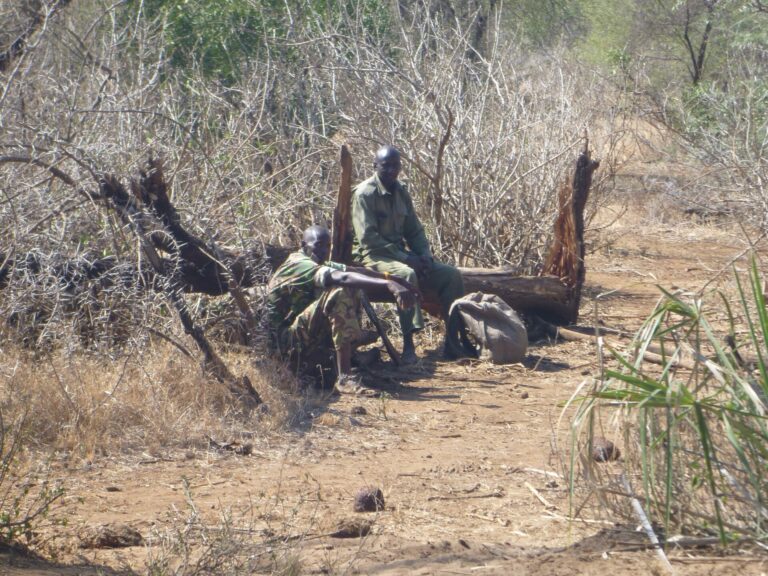 SPOTTER & RIFLEMAN.
Our hiking party, besides the other trekkers, consisted of the guide, a riflemen in front, two more riflemen in back, and two spotters or trackers who happened to be brothers.  All bushmen from the Samburu tribe.  The riflemen & guide carried elephant rifles, the spotters carried machete & spears.  I became very tuned to how the riflemen carried their guns as we waded through dense brush.  At ease:  down at their side; alert: across their chest; ready: across their chest with a finger on the trigger.  The second two options had me swiveling my head, thinking an extra pair of eyes can't hurt…