On the Road is a weekday feature spotlighting reader photo submissions.
From the exotic to the familiar, whether you're traveling or in your own backyard, we would love to see the world through your eyes.
After our side trip to Maasi Mara (described in a previous OTR), we flew back to Nairobi where we met the guide and the fellow trekkers.  This series of eight OTR submissions is organized more or less chronologically rather than by theme.
The photos are mainly of landscapes and the bushmen rather than wildlife. In part, because we rarely stopped to photograph animals. And in part, because the landscapes were so vast, with volcanic cones in the distance that we'd approach over the following days. Even so, the spotters were amazing. Apparently they don't find animals by looking for movement—rather by looking for something unexpected, out of place… Also Washii always knew which of the anastomosing elephant tracks to follow through the bush.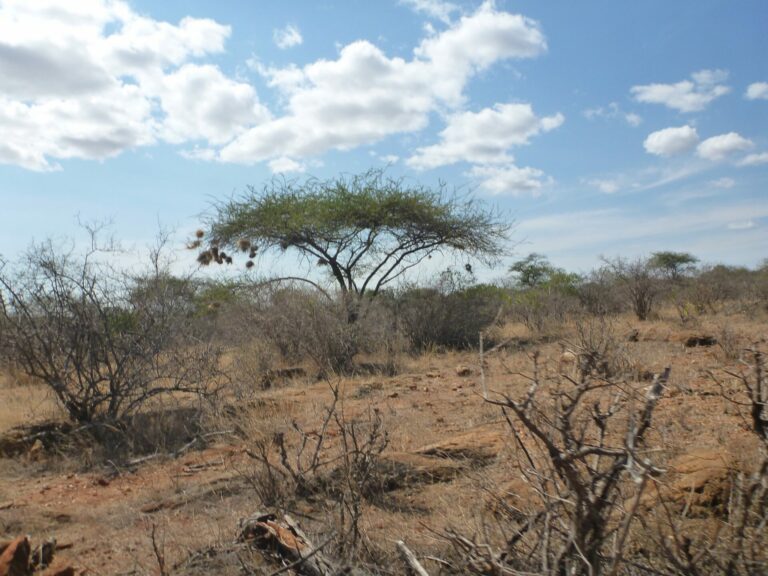 MAJI YA CHUMVI 2 MAN-EATERS CAMP.
Another unusual tree, this one—if I remember correctly—with puffy bird nests hanging from the branches.  (We saw prints of African Hunting Dogs on our morning hike.)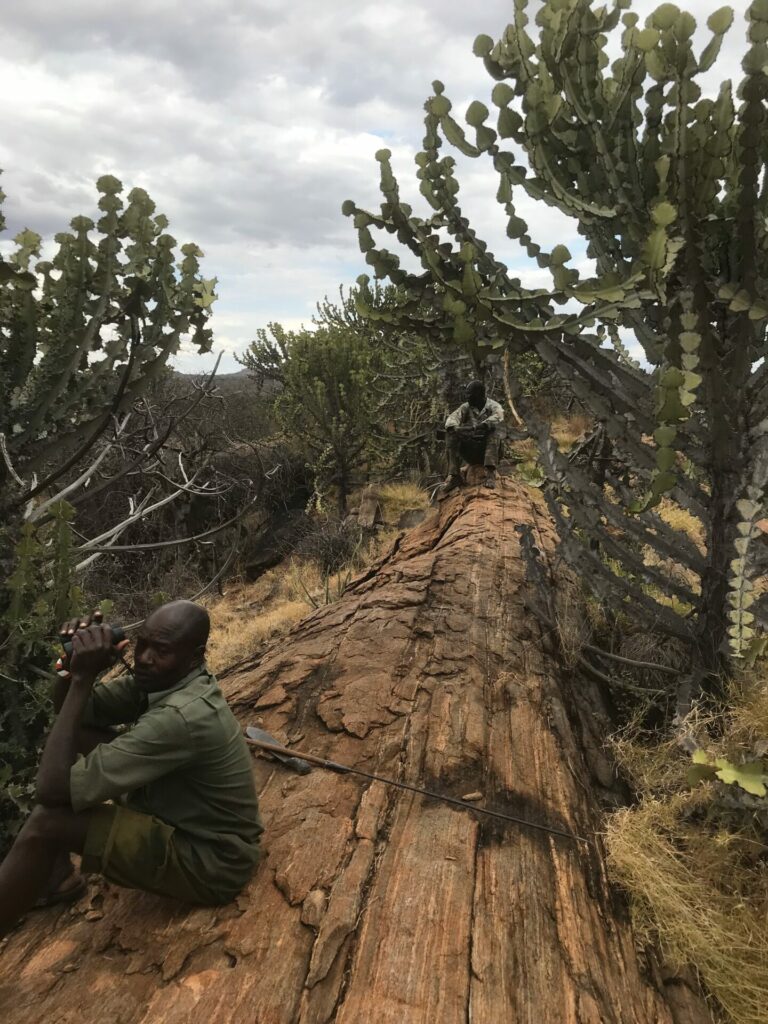 RIDGE.
Long day as we hiked most of the day (15.2 miles).  Every so often we'd climb up a ridge for a panoramic view…  Here we're on a narrow linear ridge.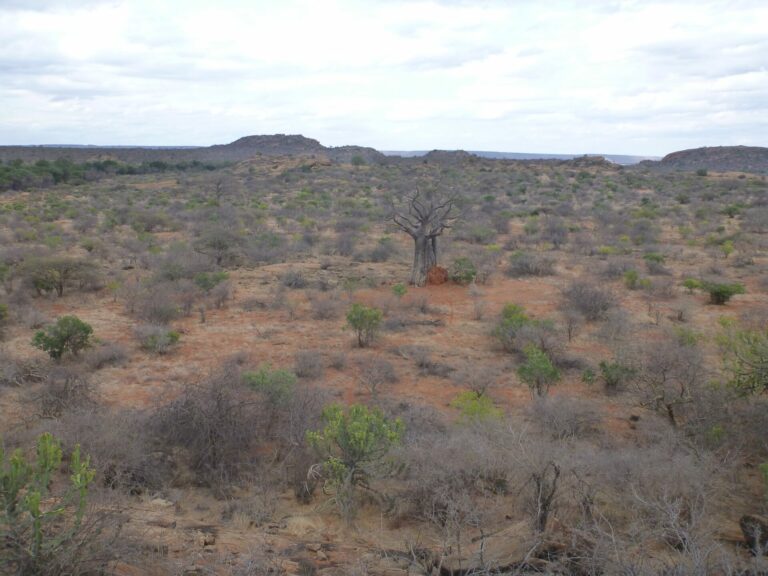 VISTA.
Another 'interesting' tree, this one with a termite mound at its base.
HIKE.
Same type of very cool tree…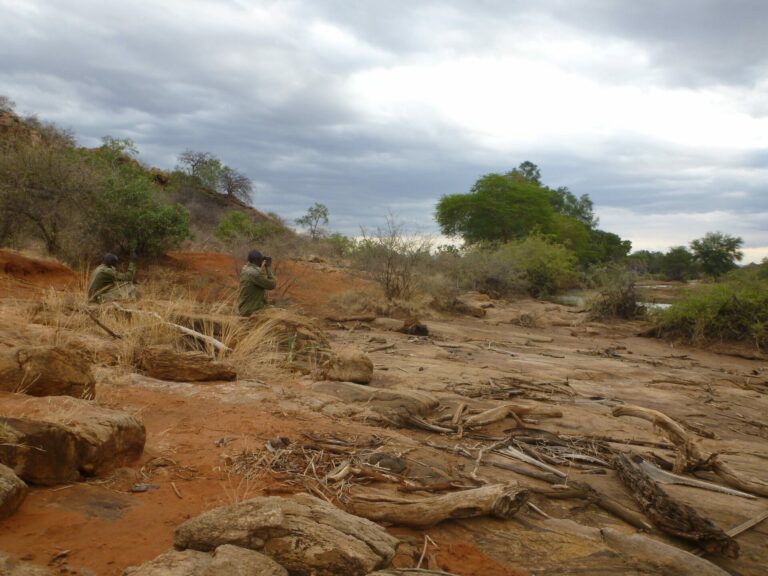 REST STOP.
Our rest stops were mainly intended to give the crew a chance to refresh their hyper alertness.  Here, Lajori is scouting for animals while his brother, Washii, is watching the guide's pack.
TSAVO RIVER.
We made 18 river crossings during our 10-day trek.  We'd cross the river wearing 'water shoes' with our boots around our necks (where it was not this shallow, rather knee to thigh deep).  Can I mention that crocodiles & hippos lived in the river, so we needed to cross bunched together so as to mimic an elephant…
OUR GUIDE.
Our guide's Scottish family immigrated to Kenya when he was a child, pre-independence.  He began organized walking safaris in Tsavo shortly after big game hunting was banned (although poaching has continued).  (His first walking safari is chronicled in The Shadow of Kilimanjaro written by Rick Ridgeway.)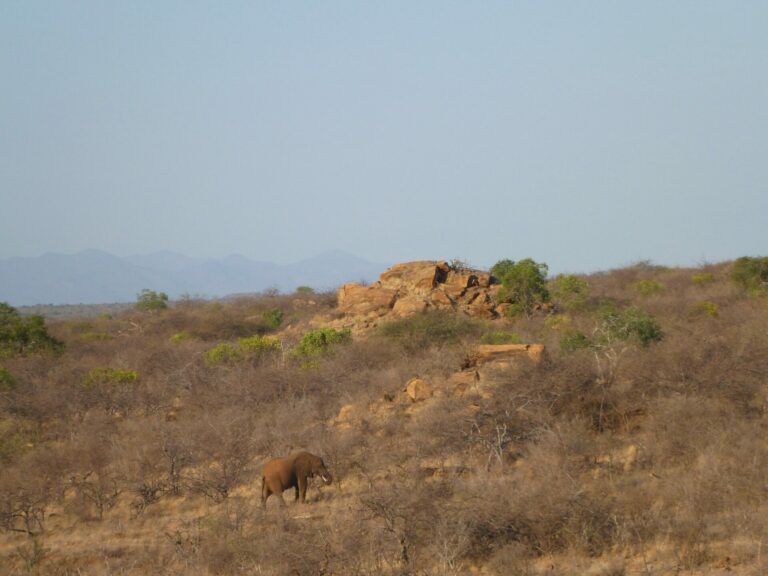 EARLY MORNING VISTA.
We did see lots of animals as we moved through their landscape, but rarely stopped to take photos.  In fact, this day we ran from a bull elephant—scrambling up a rocky outcrop…  Older elephants in Tsavo all know of a family member or friend who was killed by poachers.  So humans are not looked upon kindly.  We also ran from a charging mother hippo who fortunately turned around for her baby…